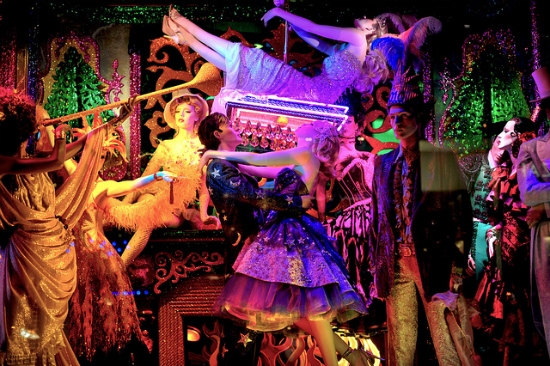 For most college students, the dreaded finals week is over and winter break is in full swing — Huzzah! However you celebrate the holidays, one thing is for certain: there are a slew of parties going on this time of year. Whether you're attending a family affair or a get-together with friends, this is a great time to try a new look and dress to the nines.
Still trying to figure out what you'll be wearing to all of these holiday events? Here are five stylish holiday party outfit ideas to try out this year and an outfit example for each:
Outfit Idea #1: Dress Up Your LBD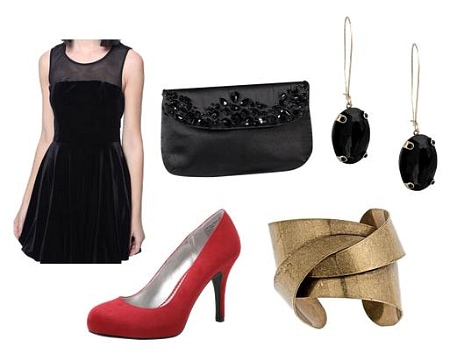 Dress, Clutch, Earrings, Pumps, Bracelet
This wardrobe staple is always a great choice for any party. To make it holiday-appropriate, amp up the style factor with some gorgeous accessories. The LBD I chose is a season-appropriate velvet and looks great when paired with some bright red pumps. This gorgeous cuff bracelet and these delicate earrings will give an elegant vibe to the outfit. Add a beaded clutch and you'll have a look that would be perfect for a fancy holiday soiree.
Outfit Idea #2: Stand Out with Bold Accessories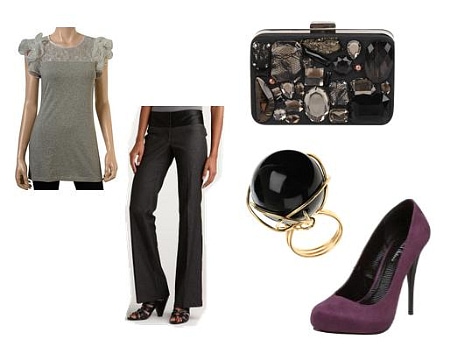 Top, Pants, Clutch, Ring, Pumps
Make a statement at your next holiday party by pairing a stylish outfit with some one-of-a-kind accessories. A luxe gray top looks chic when tucked into these feminine wide-legged tuxedo pants. Add some interesting accessories like this structural ring and unique clutch — they're total conversation pieces! Finally, add a pretty pop of color with some sky-high violet stilettos.
Outfit Idea #3: Try Mixed Metallics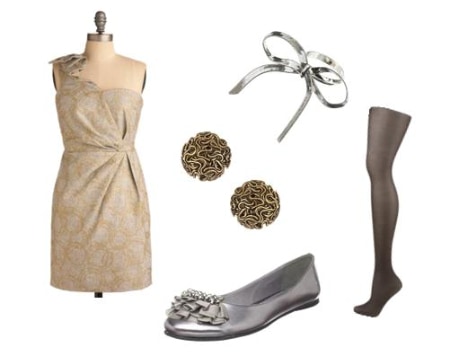 Dress, Rings, Earrings, Tights, Flats
Want to achieve a glamorous holiday look? Try mixing different shades of gold and silver to create a beautiful, shimmering ensemble. This one-shouldered dress has a delicate print that reminds me of Christmas ornaments, while the ring reminds me of a bow on a present. Some sheer tights add interest while the metallic flats will keep you comfy all night long. Finish this look with unique stud earrings.
Outfit Idea #4: Wear a Jewel-Toned Dress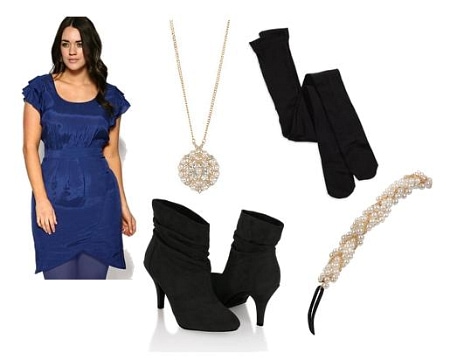 Dress, Necklace, Tights, Booties, Headband
Red and green frocks seem so cliché this time of year, so mix it up by wearing a piece in an unexpected hue — like this sapphire-colored dress from ASOS. Opaque tights will keep you warm, while these heeled booties add a fab boost of style. Finish this outfit with a pretty pearl-adorned headband and matching pendant necklace for an edgy yet sweet look.
Outfit Idea #5: Play with Texture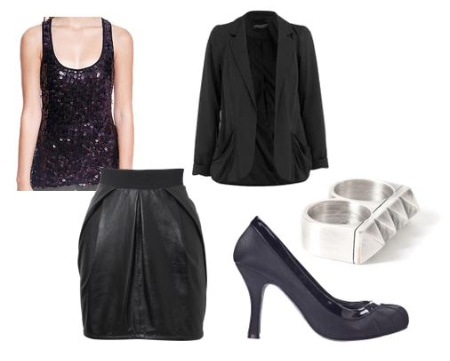 Top, Blazer, Skirt, Ring, Pumps
For all you fearless fashionistas out there, this look is for you! I love mixing lots of different textures in one outfit — it creates a lot of visual interest and will give you some serious holiday style cred. For this outfit, try pairing a tough-looking faux-leather skirt in a feminine shape with a sparkly top in a purple hue. Add a satiny soft blazer and some matching pumps to tie the look together. Finally, a pyramid studded knuckle ring gives off an industrial vibe and adds yet another contrasting texture.
What do you think?
Which outfit is your favorite? Will you be going to any holiday parties this year? What do you normally wear? Let me know your thoughts by leaving a comment!