This post may contain affiliate links, which means we may receive a commission if you purchase through our links. Please
read our full disclosure here
.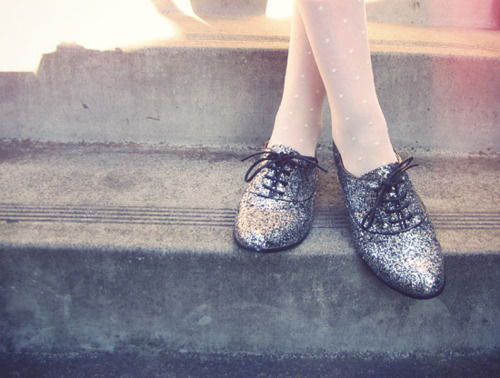 Finals are FINALLY coming to an end! After a grueling month of December, I'm sure you're just as excited as I am to go home and have a nice break for a change. There are plenty of reasons to celebrate this time of year, and a great way to look festive is by rocking sparkly pieces.
But where's the challenge in throwing on a sparkly dress for night? That's too easy. To make things a little more interesting, this week's challenge is all about rocking glitter, sequins, and sparkly pieces when they're least expected – during the day. Think you can handle it? Read on for some tips and looks to try!
Tips and Tricks for Wearing Sparkle During the Day
Test the waters with accessories. If you're unsure how you feel about this look, try rocking a glitter belt or a shiny headband for just a bit of sparkle. Glitter oxfords and flats are a huge trend as well, and work perfectly for daytime.
Try to stick to one glittery shade at a time. It's easiest to pull off this look when you stick to one shimmery color at a time – if you're wearing a sparkly silver top, for example, wearing silver jewelry keeps your look monotone and intentional-looking. That said, if you're daring, feel free to disregard this tip!
Watch out for too many other textures. I love mixing fabrics and patterns, but don't go too crazy. An outfit with glitter, faux fur, lace, and leather will probably overwhelm you.
When in doubt, keep it simple. You can't go wrong with pairing a sequin top with a pair of jeans, or an armful of bejeweled bracelets with a basic white tee. One sparkly piece can often be more than enough for day!
Product/Outfit Ideas
Sparkly Accessories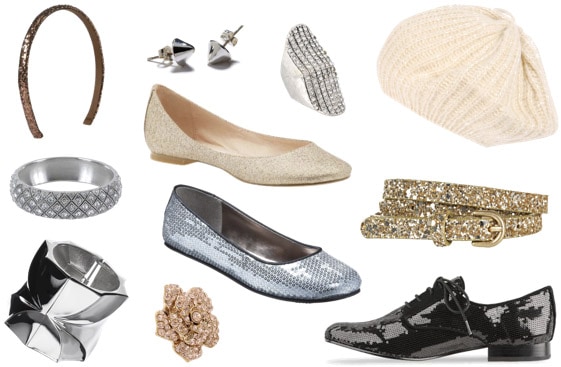 Product Info: Headband, Earrings, Knuckle Ring, Beret, Rhinestone Bracelet, Gold Flats, Belt, Silver Flats, Silver Cuff, Flower Ring, Oxfords
A glittering accessory is the perfect way to add some panache to a basic outfit. A hat or headband is both class-appropriate and fun, while the sequined oxfords and sparkly belt will turn heads wherever you go.
Outfit Idea: Try a Sequined Top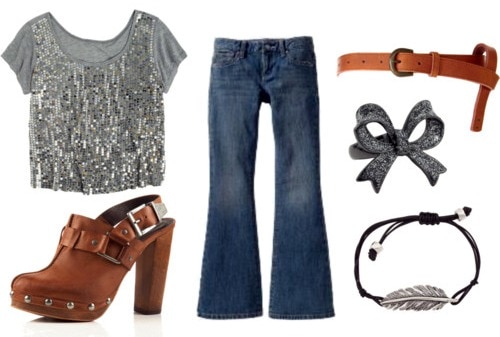 Product Info: T-Shirt, Flared Jeans, Clogs, Belt, Ring, Bracelet
This outfit is very trendy, but the earthy vibe mixed with the sequins makes it work. This top is slightly cropped, so it will look great with a pair of slightly higher-waisted, '70s-style wide leg flare jeans. Add a pair of clogs, a boyfriend belt, and a little bit of sparkly jewelry to finish the look.
Beauty Products with Sparkle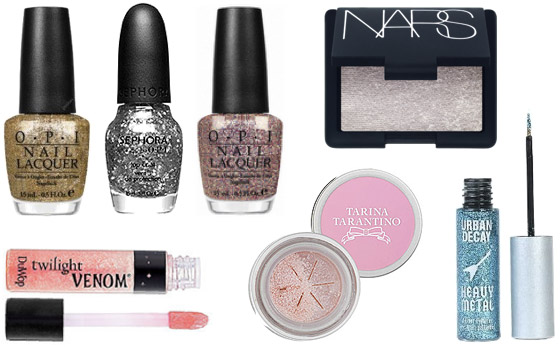 Product Info: Polish – Gold, Silver, Pink; Silver Eyeshadow, Gloss, Shimmer Dust, Glitter Liner
Scared you'll look like a disco ball in glittery clothing? Add a little shimmer to your beauty look instead, for a low-risk way to try this challenge. Glitter nail polish is a huge trend, and OPI's Burlesque-inspired polishes (gold and pink, above) are some of the hottest shades out there right now! Or bring the sparkle to your face – add a hint of glitter liner, shimmery gloss, or highlighting powder to your normal beauty routine for a holiday-perfect look. Just keep the rest of your makeup low key to stay daytime-appropriate.
Took the Challenge? Send Us Your Photos!
Did you wear sparkles during the day this week? Send a photo of you along with your name, school a description of what you're wearing, and your blog's URL if you have one to fashionchallenge AT collegefashion.net. We'll feature your photos here to give inspiration to other CF readers!
Can't wait to see your submissions!
Thoughts?
Do you like wearing sparkle during the daytime? Are you planning on taking the challenge? What challenges would you like to see in the future? Let me know with a comment!