Although high fashion may be exclusive, the trends that it highlights are accessible to all. Thankfully, high fashion trends trickle down to popular fashion brands all the time. So all of us can achieve these looks if we just do a little digging.
This week, let's check out ways to rock the fun glitter boots trend:
HIGH FASHION TREND: GLITTER BOOTS
These extravagant boots made their debut in YSL's Fall 2017 runway show:
A little over a year ago, Rihanna and Kendall Jenner were both photographed in the $10,000+ YSL boots within a few weeks of each other, and the trend went viral on Instagram:
Flash forward to this season, when Jeremy Scott did a version of glitter boots in his runway show. His boots were translucent and ornamented with confetti-like jewels, adding a splash of color to the look:
These boots were paired on the runway with a spliced white tee-shirt dress adorned with zippers and a matching corset belt cinched at the waist.
Even Michelle Obama got in on the trend recently, when she wore a glitter version of Balenciaga's popular Knife boots.
How to Buy Glitter Boots on a Budget
If you want to get in on this trend yourself, you can do it without dropping thousands of dollars. Below, we'll show you how to get the high-fashion trend for less:
Affordable Glitter Boots, Option #1: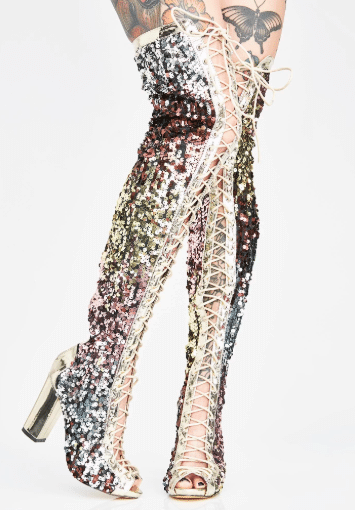 These thigh high boots from Dolls Kill are the perfect boots for catching eyes! They can be worn with a variety of colors to really make a statement, or paired with a black outfit to better showcase the bold shoes.
With glam all-over sequin detailing and a sturdy heel, at $68, they come at a bargain price.
Affordable Glitter Boots, Option #2: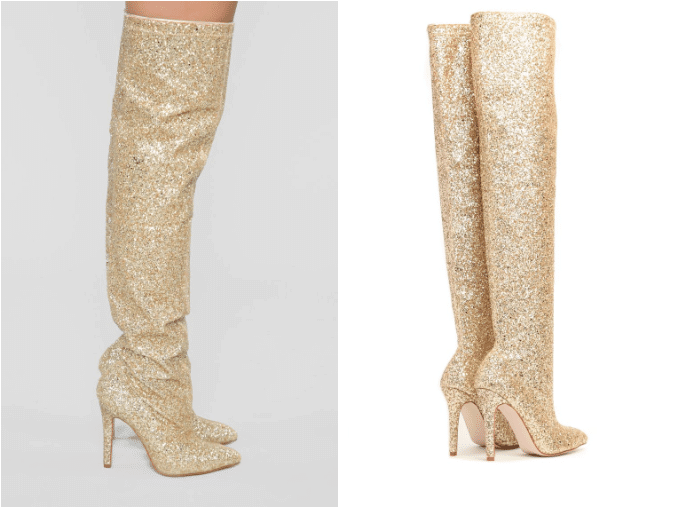 You can get these beauties in Gold or Silver from Fashion Nova, at a budget-friendly price of $49.99. Although the holidays are over, the glitter and fun doesn't have to end.
Thanks to their light tones, these gold boots can spice up a neutral outfit or nicely accentuate bold colors.
These are incredibly versatile, as well. Pair them with dark skinny jeans tucked in, a dark sweater, and a scarf during the week. On the weekend, pair them with your best party dress!
Affordable Glitter Boots, Option #3: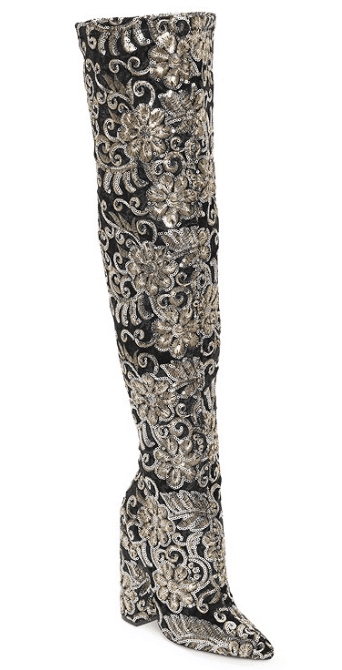 I personally love these brocade boots. While statement-making, they are, in a way, more subtle than the other boots. Thanks tho their classic black and soft gold pairing, these will look great with most things already in your closet. Think a little black dress, skinny jeans, or a mini skirt.
At $79, they are priced slightly higher than the other pairs, but Venus is a great company with solid quality. These are sure to last.
Affordable Glitter Boots, Option #4: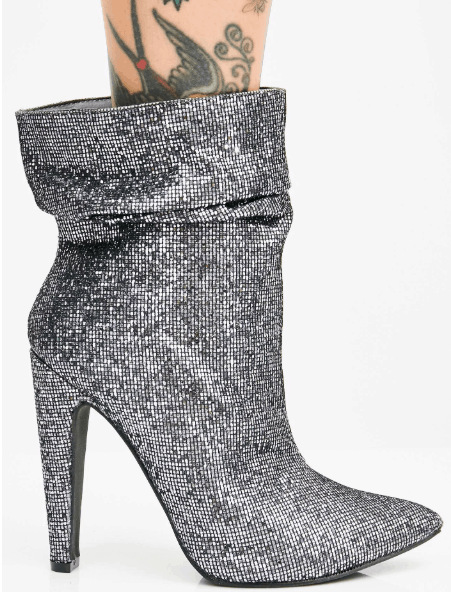 Be your own knight in shining armor in these YSL-inspired boots! These are a shorter option from Dolls Kill for those who prefer to skip out on the thigh-highs.
These glamorous boots still have the shine of the YSL boots, but with a lower cut. Like most boots, these are great with skinny jeans. These boots will also look great under some flared pants if you want just a peek of the shine. Additionally, as it's still chilly out, you can pair these with tights under a mini skirt and sweater.
At $45, these are a less expensive option to let you try this trend.
Bonus! DIY Your Own Boots Inspired by Jeremy Scott: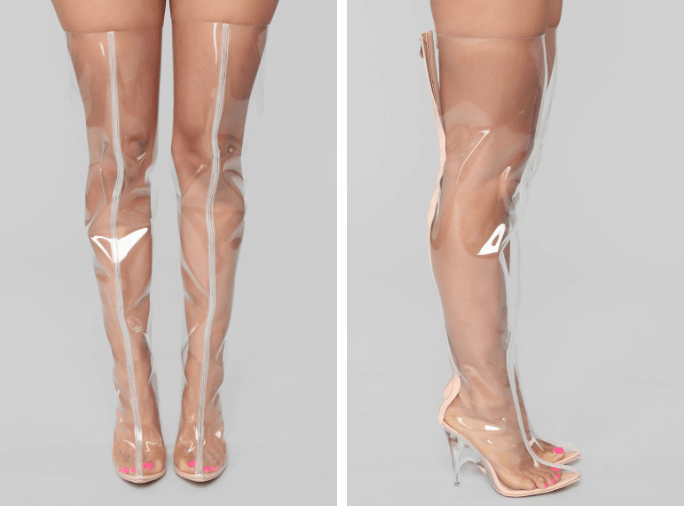 Here's a bonus addition for our creative readers who aren't afraid to do some DIY!
These translucent thigh highs from Fashion Nova would make an amazing starting base for DIY glitter boots! Bejewel the boots with your own hand-selected gems, sequins, glitter, or anything else that shines.
Get creative and share your results with us by tagging us on Instagram!
What do you think about this trend?
Share with us what you think about this latest high fashion trend. Do you love it? Hate it? How would you change it for the better?
What high fashion trend would you like to see me explore? Share with us in the comments below!