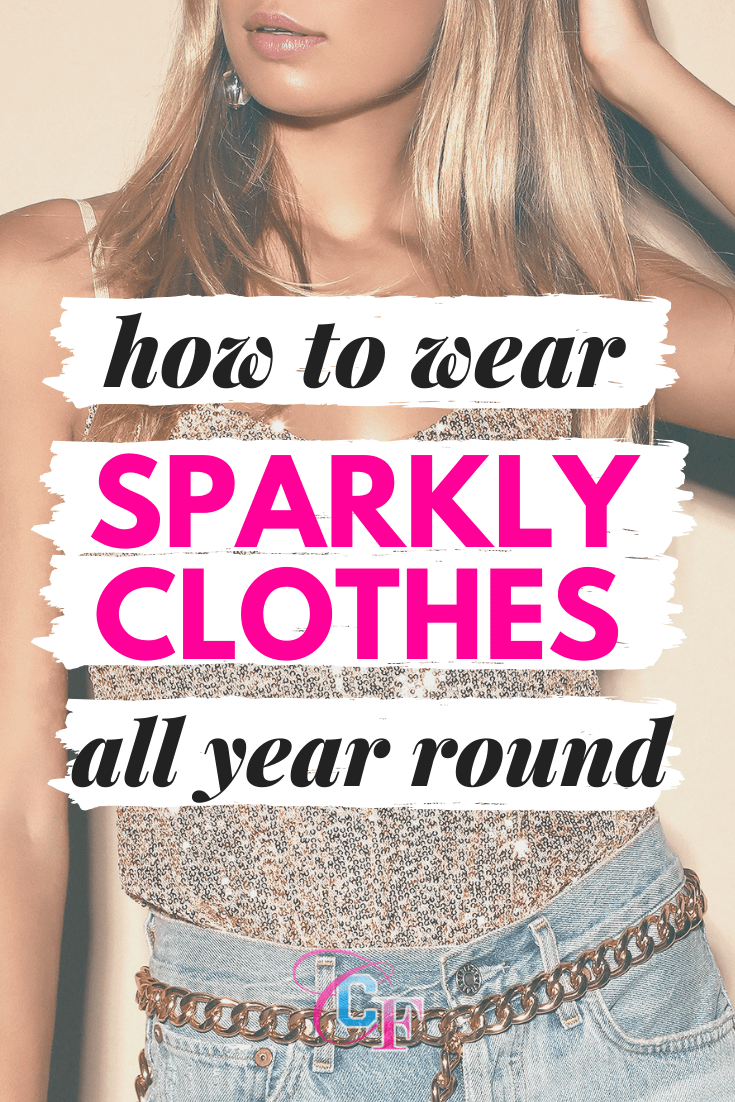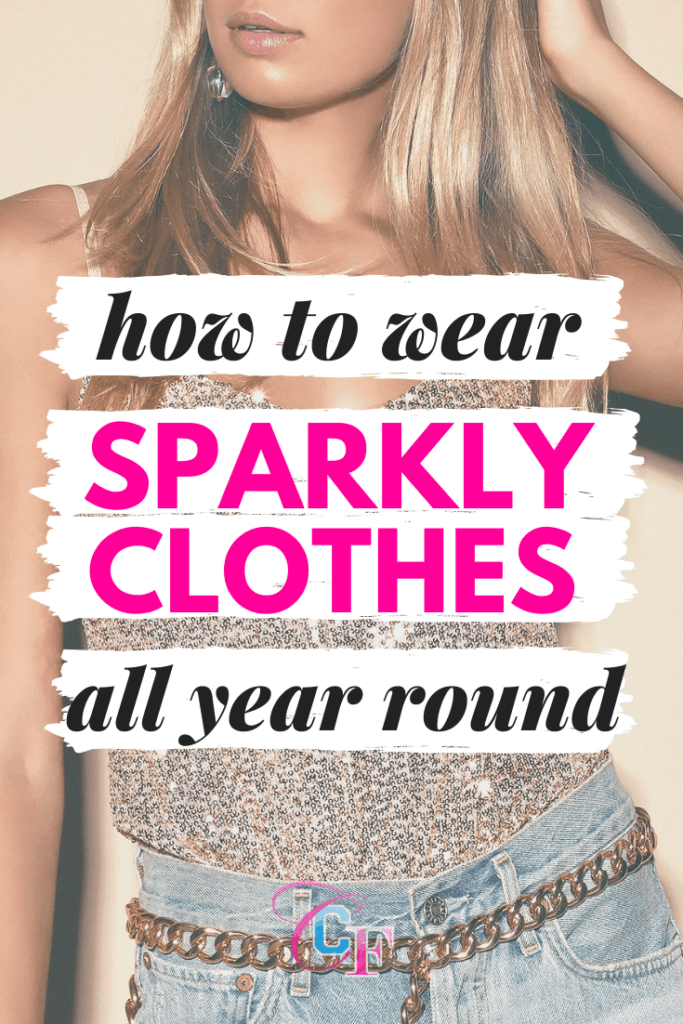 December holidays and New Year's Eve are notorious for bringing the glitz and glam to your end-of-year wardrobe. That's why it's my favorite time in the retail year!
As someone who loves sparkle, I'm always looking to incorporate glittery clothes into my outfits year round, rather than being confined to one part of the year for all of my eye-catching attire.
Sparkles can be super bold and dominating in any outfit, so the key is to wear them sparingly and to wear them well. By focusing on one sparkly element of an outfit, you can make your look pop and still get to shop for the glittery pieces while not looking like the 2021 New Year's ball.
Here are three examples of sparkly items and how to style these glitter clothes to fit into your everyday ensembles.
Related reading: How to Wear Sequins + Metallics (Plus Tips & Outfit Ideas)
All in the Accessories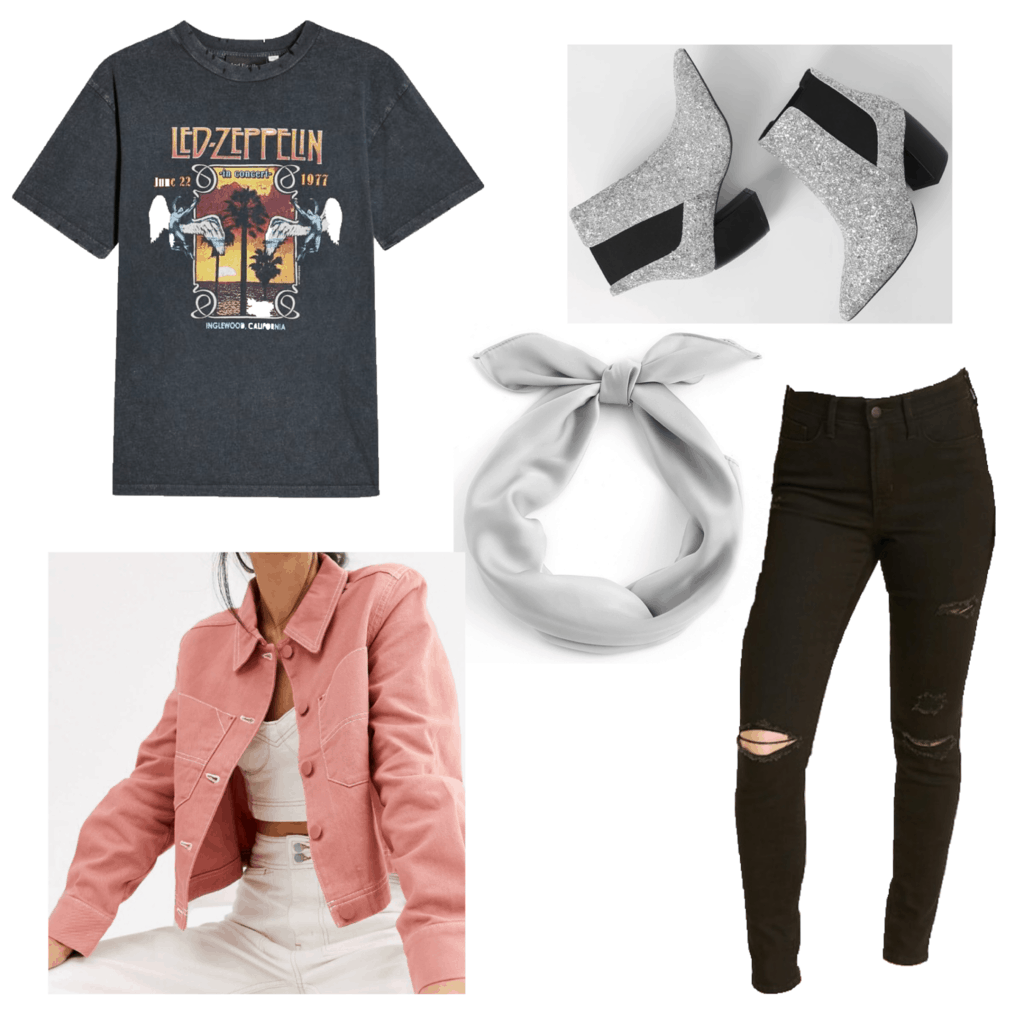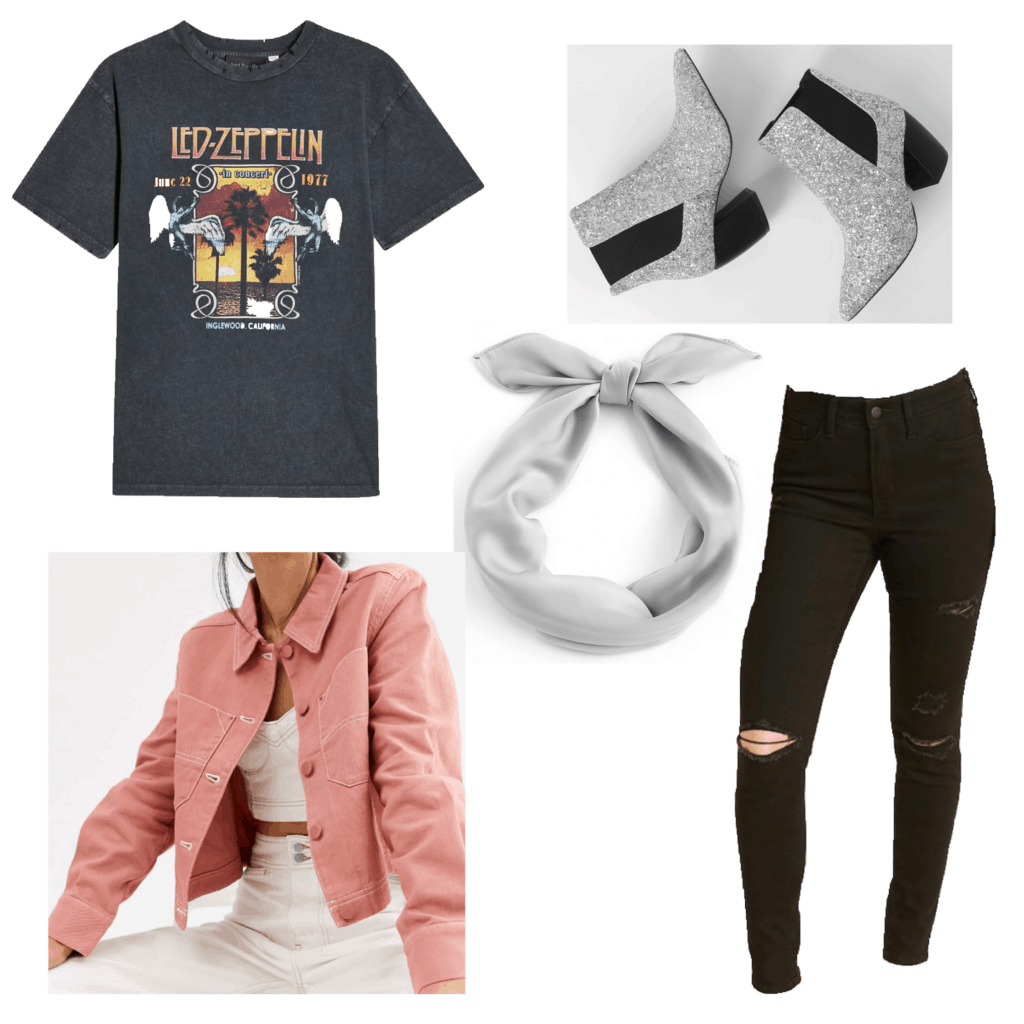 Products: Shirt – Nordstrom, Jeans – Old Navy, Jacket – ASOS, Booties – Lulus, Bandana – Romwe
For our first glitter clothes outfit, some sparkly booties are a subtle centerpiece. (See our post on affordable glitter boots for more on this look!) If you want to keep the sparkle casual in your every day looks, dressing down the clothes and playing up the accessories is the way to go!
To pick up the silver from the booties, pair a metallic bandana used in your hair or tied as a neck scarf to bring the color throughout your look!
Black ripped jeans and a faded concert tee give a monochromatic, sophisticated vibe to the outfit so as not to detract from the silver accessories. Finally, a pink utility jacket adds a pop of color that complements the graphic tee and the sparkles.
Dressed for the Weather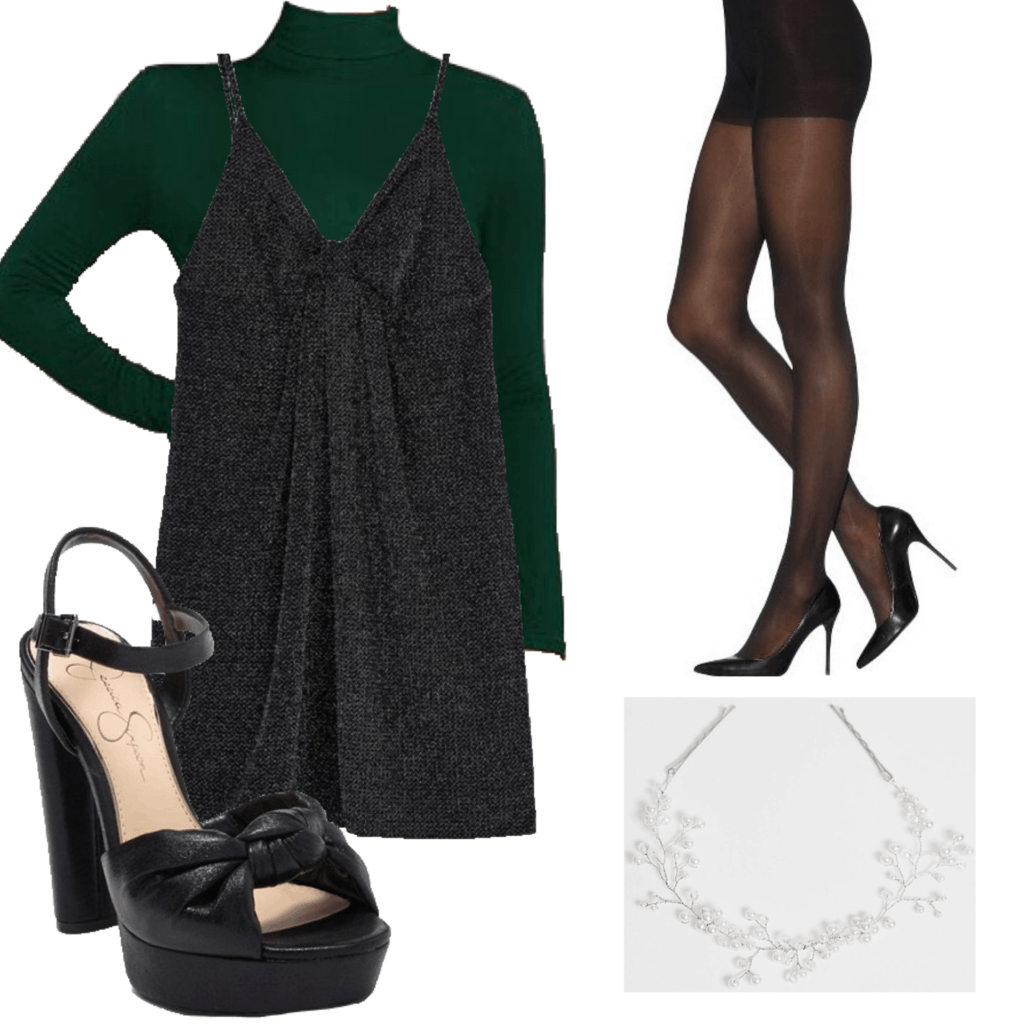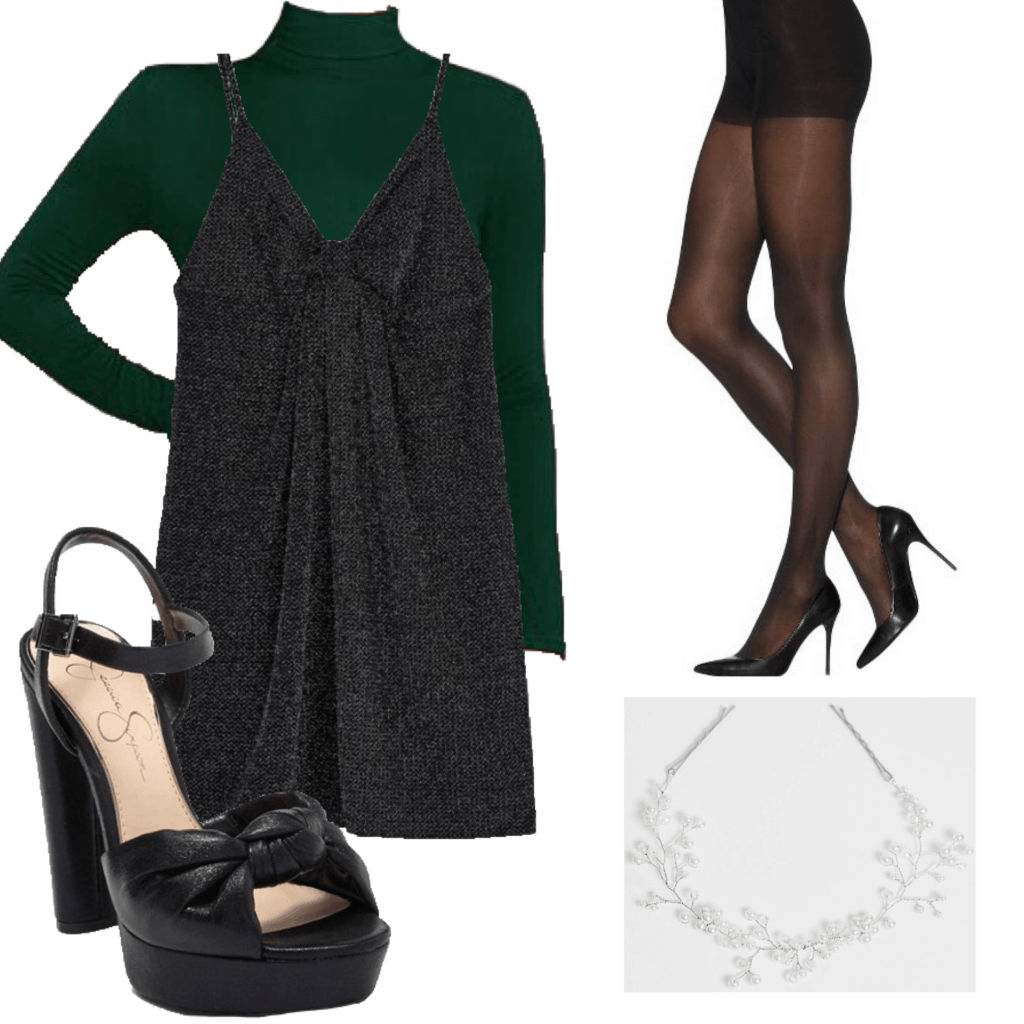 Products: Shirt – Shein, Dress – Urban Outfitters, Tights – Target, Shoes – Nordstrom Rack, Headband – ASOS
We all have that super cute dress from a dance or party that we would love to wear again, but don't always have a place to wear it.
This black sparkly dress is a perfect example of how our cutest pieces can be dressed down and warmed up comfortably for a date night or dinner with the fam and friends.
Under the dress, layer a turtleneck in a dark, jewel-toned color (I LOVE a good dark green) so you don't overpower the dress with bright colors. Keep the rest of the outfit simple – add sheer black tights for a bit of wind coverage on your legs and an elegant black pump for a classy and preppy touch.
Finally, a silver headband adds a bit more sparkle, but mostly makes you look like a goddess when accompanied by a gorgeous dress like this one.
Take It from the Top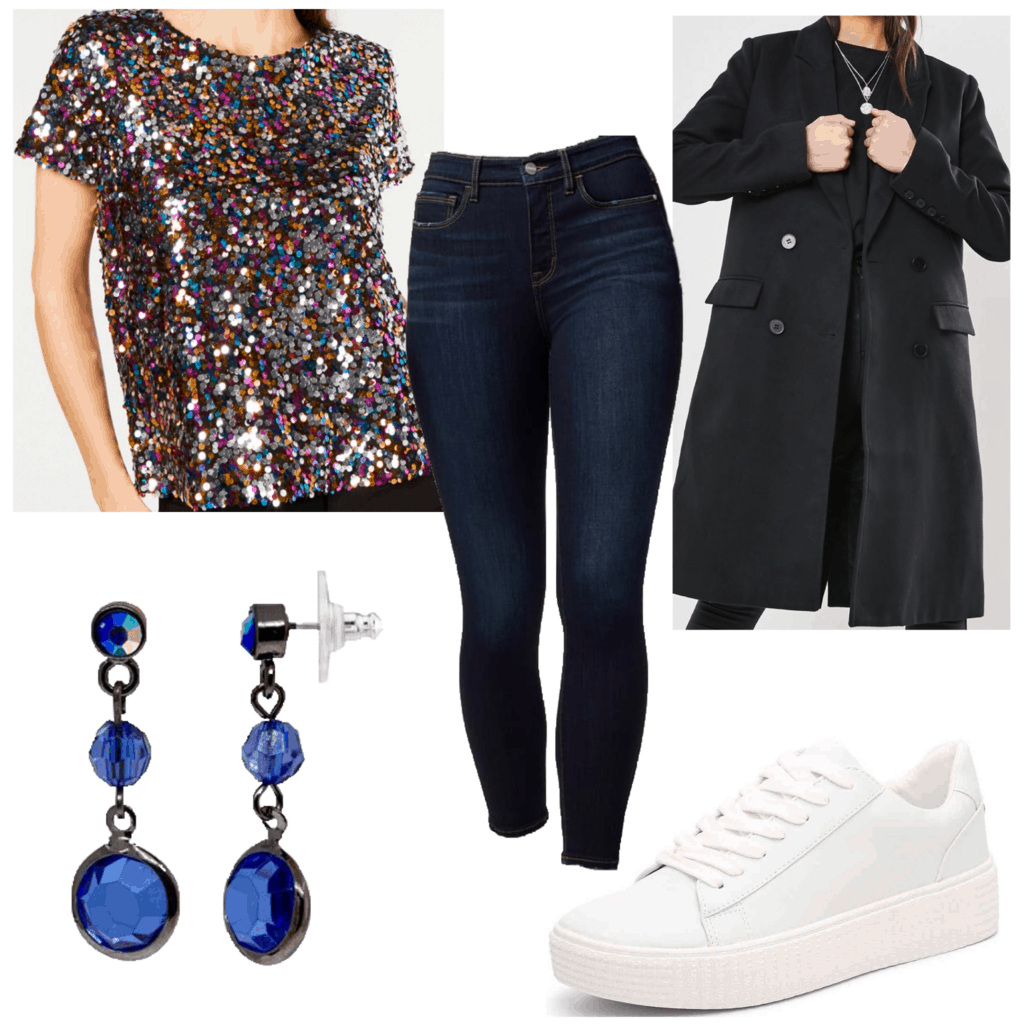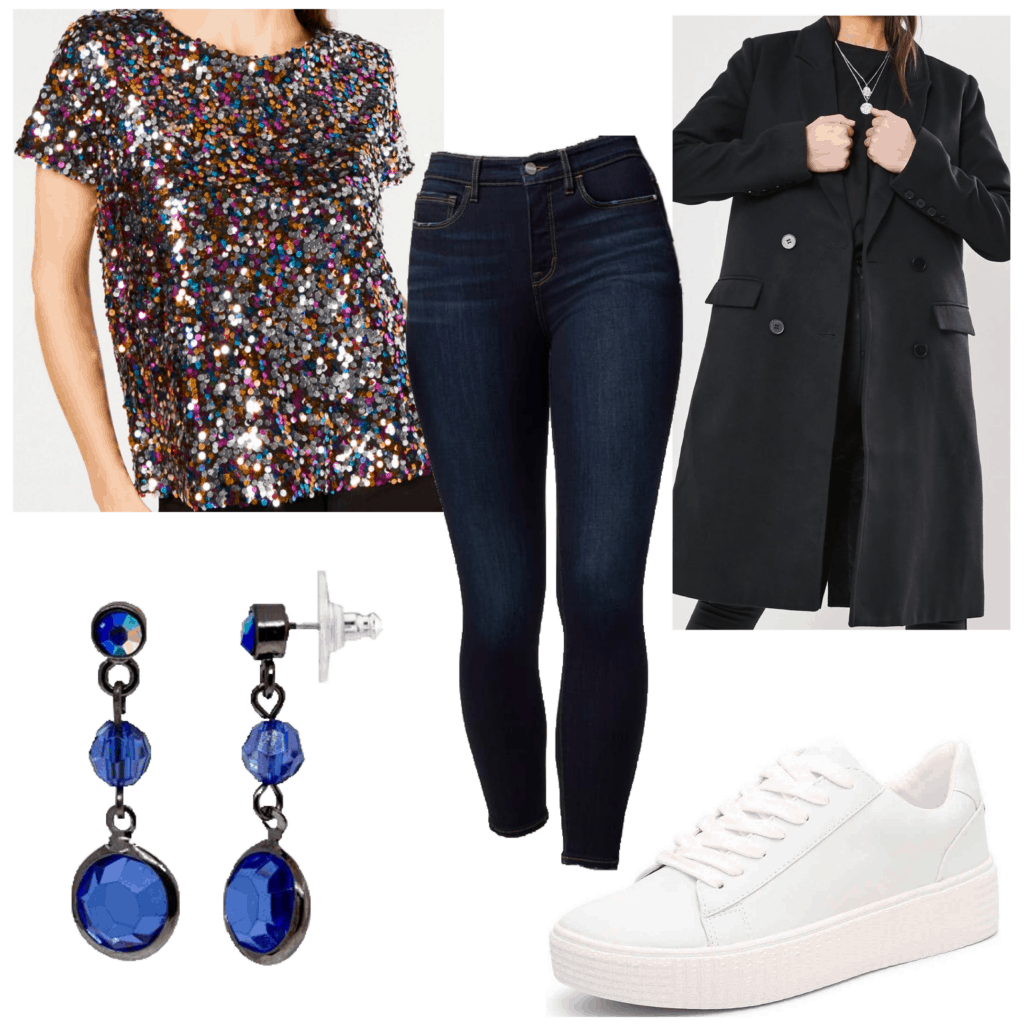 Products: Shirt – Macy's, Jeans – Nordstrom, Coat – Missguided, Sneakers – DSW, Earrings – Macy's
When it comes to glitter clothes, sequined pieces probably spring to mind first. A multi-colored sequin top like this one can be super fun to shop for in those post-holiday sales, and an outfit like this is a perfect combination of shimmery style and a casual coolness that you can wear just about anywhere.
Dark blue jeans keep the focus on the shirt while picking up some of the blue tones of the sparkles. These royal blue dangle earrings are another great reflection of color, and an understated way to keep the color and the sparkle going through the outfit.
To bring this look down to earth, a black double-breasted trench coat is a great piece to throw over this outfit so you can look professional and put together while still keeping the sparkly fun alive. White tennis shoes do the same, and are comfortable and casual enough for a day out walking around.
What Do You Think?
What do you think of these outfits? How do you re-wear old holiday pieces? What's a sparkly item you can't wait to get in your closet?
Let me know in the comments!