This post offers 15 new years makeup ideas.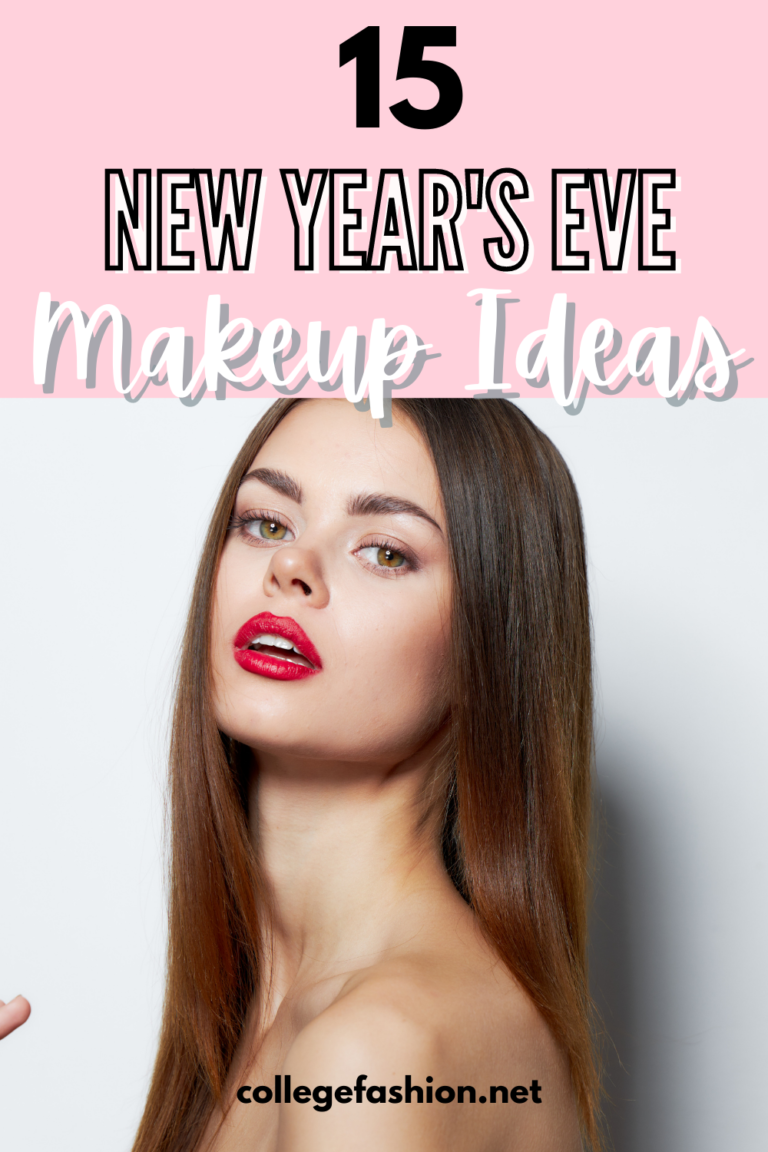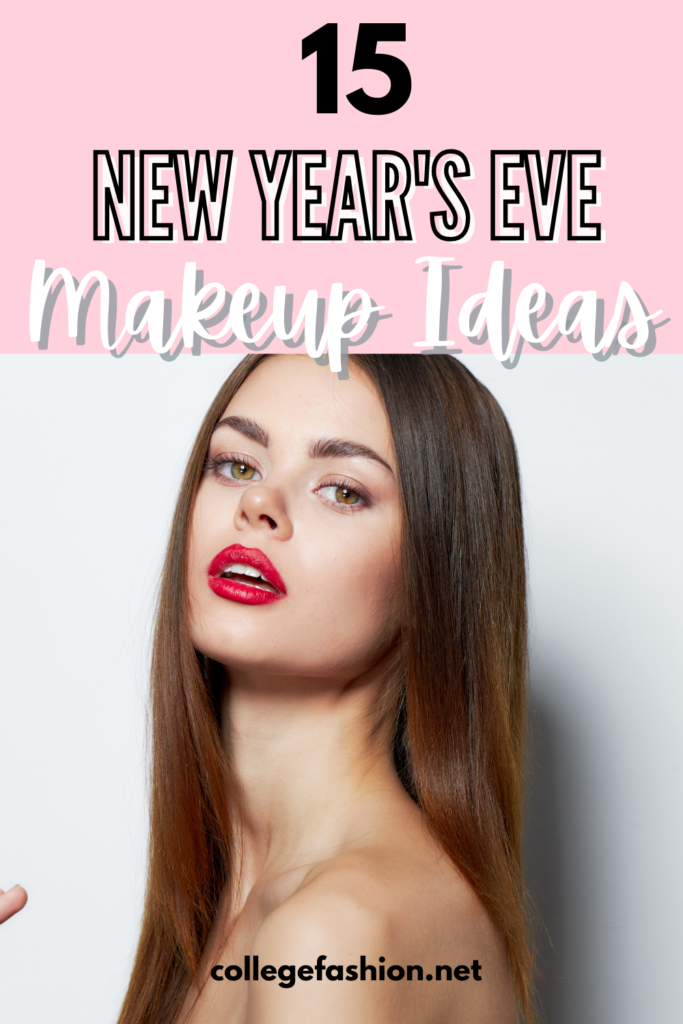 New Year's Eve is probably the most hyped night of the year. Everyone's expectations are high for a night where anything is possible. It's glitzy, it's glam, and it always deserves a fabulous face of makeup.
Since the countdown for Christmas has started, I think we can start the countdown for New Year's Eve too. You might already be planning your New Year's Eve fashion choices, so why not also start planning your makeup?
Remember to choose a look that excites you and makes you stoked for the night. Don't choose the trendiest option… go with the one that you love! The more confident in your own skin, the more likely you are to have that unforgettable New Year's Eve night you so desire.
Here are the 15 best New Year's makeup ideas from the depths of YouTube, our go-to source for beauty tutorials. Influencers, makeup artists, and celebrities alike are all the inspiration you need to pick your one and only New Year's Eve makeup look.
One key thing to remember in order to have a blast on New Year's Eve is that it doesn't have to be a perfect, picturesque evening. After all, when it's over, a whole year full of opportunities begins.
Related reading: Our Favorite Christmas Makeup Ideas for the Holiday Season
1. Smoky Eye
Doing a smoky eye is the first makeup trend I ever tried to master and this is the video that got me there. It's a makeup staple, however it isn't that easy to nail. A smoky eye doesn't leave a lot of room for error; if you make a mistake, you almost have to start from scratch.
The main lesson I learned when I was first on a mission to rock a smoky eye is to always start with lighter browns rather than black, because black is an unforgiving eyeshadow shade. Oh, and don't forget to blend.
Related reading: We Found the Cutest New Year's Eve Dresses Under $75
2. 90's Model Makeup
Unless you've been living under a rock, you're likely aware that the 1990's has made a comeback in everything from fashion to makeup. I do feel some pride in being a 90's baby! Odds are that your New Year's Eve outfit will be 90's-inspired, so here is a makeup style that will match your look.
The simple, yet sleek 90's supermodel face is so Kate Moss. I can already picture it with a jeweled-toned, faux leather outfit. The main thing I learned from this tutorial is the importance of eyeliner and I have to say that although it's not my strength, I feel confident that I'll get it mastered by the big night.
3. Jewel Tones
If there is one night to go all out, it's New Year's Eve! Being extra is the dress code, so don't hold back on the sparkles and colors. I'm obsessed with jewel tones and can already see this glimmering eyeshadow with a shimmering pink dress.
Try this simple, jewel-toned eyeshadow look that will have everyone complimenting your eyes because they'll be popping more than the fireworks. Try an ultra-shiny lip gloss to finish off your face.
4. Ombre Lip
This is one of my favorite New Year's Eve makeup ideas. This video made me so intrigued by the ombre lipstick trend that I actually went out and bought my first ever lip liner pencil. I know, it's taken me a long time, but I've never understood its purpose. But now that I do, I will never go back!
If you're like me, you usually don't line your lips but this is a brilliant opportunity to do it. An ombre lip will make your whole face pop. Trust me, this one is a lot easier than it may seem!
5. Shimmery Eye Lid
Shimmery eye shadow may bring up memories of high school prom. But there's a reason every 16-year-old girl wants that look on the best night of their high school lives… because it makes your eyes pop! This is especially necessary if you're planning on going somewhere that will be predominantly dark.
When it comes to layering on the shimmer, you can't forget your eyeshadow primer. You definitely don't want to be losing your sparkle throughout the night.
6. Jet Black Smoky Eyes
Have you mastered the classic smoky eye? Are you ready for a challenge? Level up to a jet black smoky eye. You'll look fearless, but if you don't follow the tutorial strictly, you'll end up looking like a raccoon. There's a fine line between the two when it comes to this makeup style.
This is one of those New Year's makeup ideas that will go with anything, so if you're not sure what you're wearing yet, this is a good look to start practicing now, because it will go with any outfit you choose to wear.
7. Classic Red Lip
I'll admit, no one does a classic red lip like Ms. Taylor Swift. But since she wasn't available for a consultation, Gossip Girl's new Blair Waldorf can step in. Her makeup look is simple and elegant, but her red lip is precise and bold.
A classic red lip can be a whole makeup look in itself, just remember that your outfit has to be picked to make your lips stand out. Something like a simple LBD will ensure that all the attention on your face, as it should be!
8. White Eye Liner
When Sharpay Evans does a NYE makeup tutorial video, we must watch. And to be expected, it's simply amazing.
If you're scouting out an easy, yet unique look for the 31st, look no further. Rocking white eyeliner is a showstopping choice and really celebrates the fun of New Year's Eve.
You will likely need to purchase some white eye liner, but after sporting this makeup look, you'll be convinced to use it all the time! You can wear this look with a shimmery black dress to experience the full effect.
9. Natural Glow
NYE immediately brings about an image of glam makeup, but it doesn't have to be. A natural, dewy look is one of our favorite ideas for a New Year's Eve makeup style.
The truth is, it's quite challenging to get a flawless no makeup, makeup look. But this video definitely makes it easier! I would start practicing now so you're ready for the big day when it rolls around.
Pro tip: Wearing a sequin dress will really bring out the shimmery undertones of this makeup look.
Related reading: The Best Makeup For People Who Hate Makeup
10. Classic Elegant Makeup
Ashley Graham is just so fun and cool to listen to. I would watch her videos even if she was horrible at makeup! But of course, she's not.
In this video, she gave us the dreamiest, elegant look for New Year's Eve. With just some light shading in the right spots, you'll have a look that brings out your best features and is model-worthy.
While this face could go with any extravagant NYE look, I quite love the simple black dress she throws on at the end. Bonus point for also nailing her side braid!
11. Pink Glow
Are you looking for that glossy pink makeup look? Well, if you're at a party dancing, you'll be getting that naturally! All jokes outside, this is the perfect tutorial for a romantic NYE look if you have high expectations around a special someone. If you're looking for a midnight kiss, this pink, powerfully feminine look is your ideal video.
Pair this with a simple baby doll dress, perhaps in black or crème to really nail the romantic lead part you were meant to play.
12. Colorful Eye Makeup Look
Maddie Ziegler isn't one to play it safe, but she's also a perfectionist, so who better to try out some risky makeup ideas? If you're looking to be a little more adventurous in the new year, why not start now?
Blue liner strays a little off the beaten path when it's applied properly. If you've ever wanted to try a high fashion, runway model makeup look, this is going to be your go-to.
13. Copper Glow
Since Naked 3 from Urban Decay came out, I've been obsessed with copper makeup looks. With just the right tan, you'll look like you just flew in from St. Tropez. It may feel a little daunting at first, but once the look is finished, you'll be so glad you tried a copper look.
The key is to use makeup that allows for your natural glow to come out because you'll need that glow to rise up to the level of the glow from your eyes.
14. Pink Glam
Rihanna, queen of R&B, charity, lingerie, makeup, and the world. We simply couldn't do this list without a video by the genius that brought us the world of Fenty.
Here she gives us the look that I will be doing this New Year's Eve. The bold popping pink is fun, youthful, exciting, and sultry. I can't wait to try it on with my new champagne colored shimmery dress. I'm not even nervous how it will look because this makeup tutorial is Rihanna-endorsed and I would trust RiRi with my life.
15. Electric Eye Liner
Want shimmer, but too scared to go for the full look? Well don't fear because this video will show you how to do it without going over-the-top.
This is a great look to wear either with a silver dress or a colorful, sequined outfit. This makeup look will go with everything, so whatever makes you feel the most confident, try it out!
What are your favorite New Year's Eve makeup ideas?
Have you picked out a dress yet? What are your plans for this NYE? Let us know below!
If you find this makeup for new years guide helpful, you might want to consider the related posts below –