This post will show you over 30 of the best New Year's Eve dresses under $75.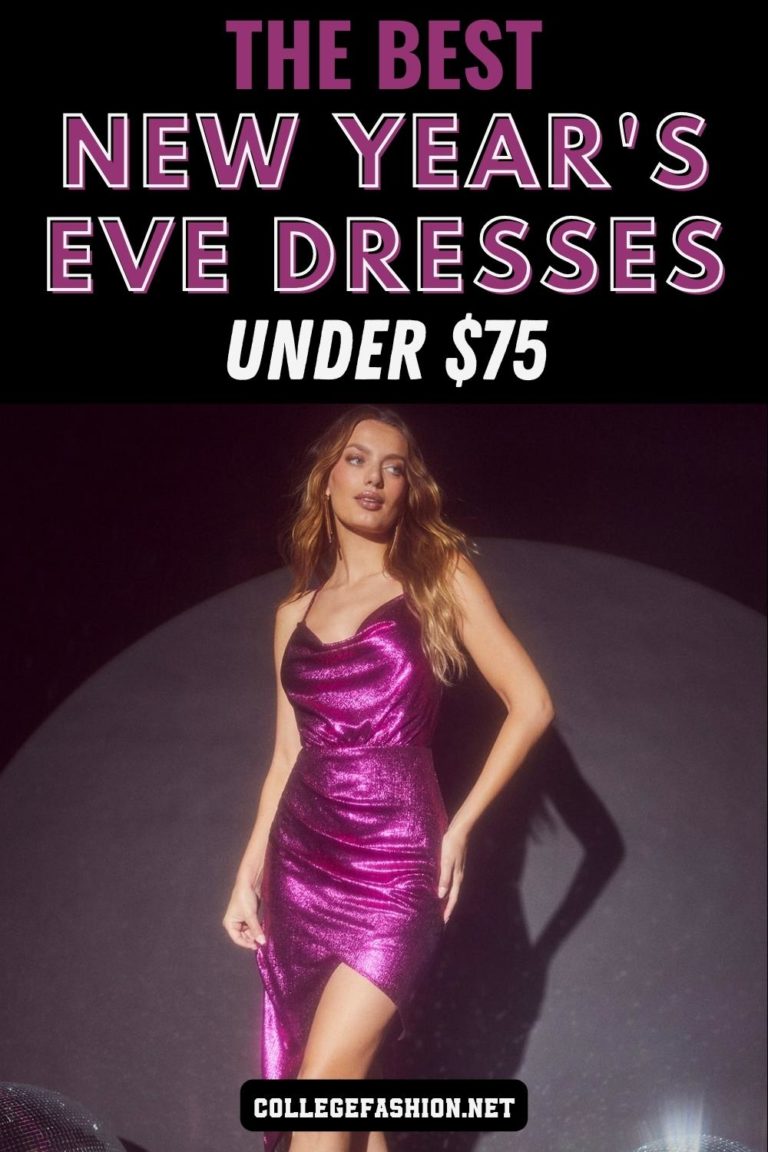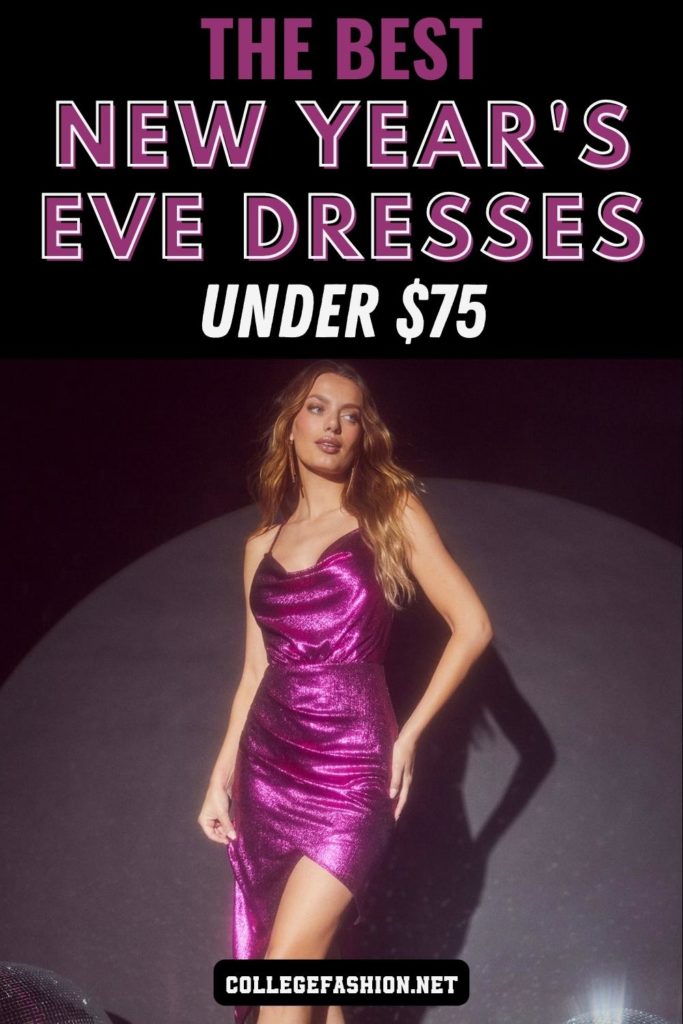 New Year's Eve is just around the corner, and what better way to bring in the New Year than in a cute outfit?! Yes, it is already time to start planning your perfect NYE look (especially if you're online shopping — you want to consider shipping timeframes and make sure it gets to you in time for the celebration!).
When it comes to NYE, I'm a firm believer that more is more. I'm talking sequins, satins, velvets, you name it – it is the ultimate occasion to get dressed up and have fun with your look. Rather than play it safe, I say go all out and get ultra-glam for this special occasion!
And while you'll want to look like a million bucks, after all the holiday shopping you've done, you probably don't want to spend a ton on your NYE outfit. That's why I've scoured the web to find more than 30 of the cutest dresses for NYE that are all under $75, so you won't have to break the bank.
Read on for over 30 New Year's Eve dresses under $75 that will have you starting 2023 off in style.
Best New Year's Eve Dresses This Year
Black Glitter Mini Dress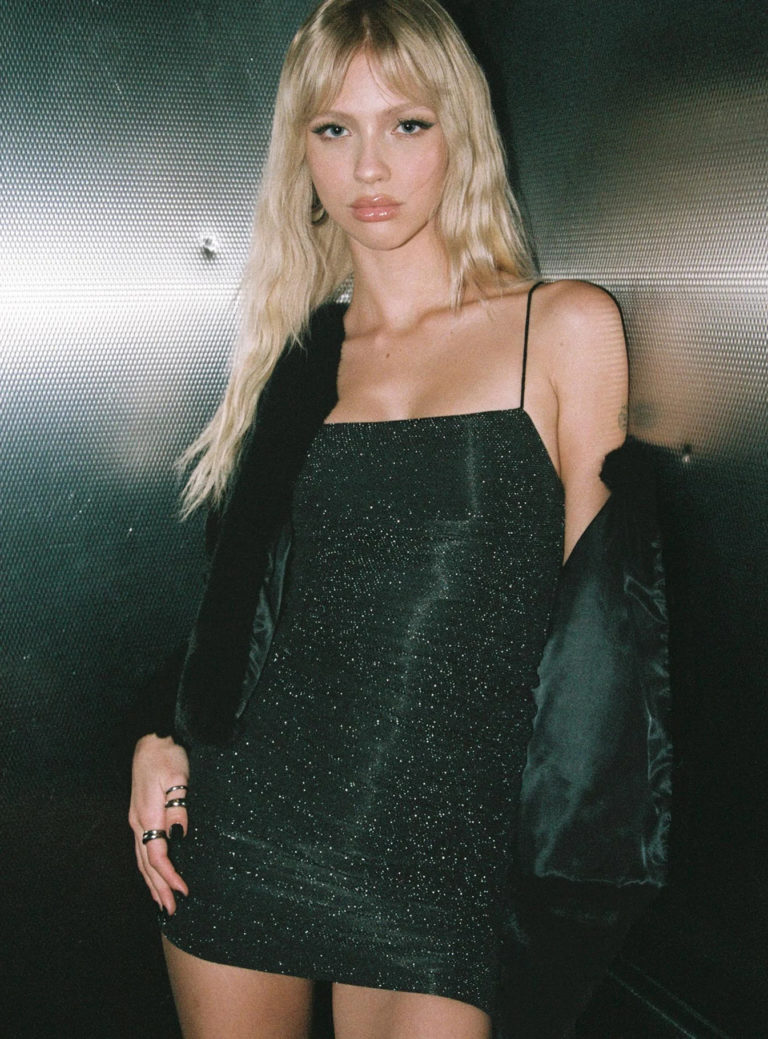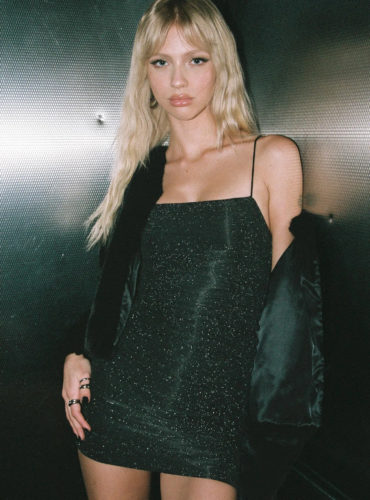 Nothing says New Year's celebration like glitter does, and this black glittery mini dress is sure to make you sparkle — literally.
This cute New Year's Eve dress has a bodycon fit with a straight neckline and pinched detailing down the sides, giving it a flattering effect.
Wear it with some platform heels on New Year's Eve, and layer a faux fur jacket or moto jacket over top to keep warm on your way to the celebration.
Magenta Metallic High-Low Dress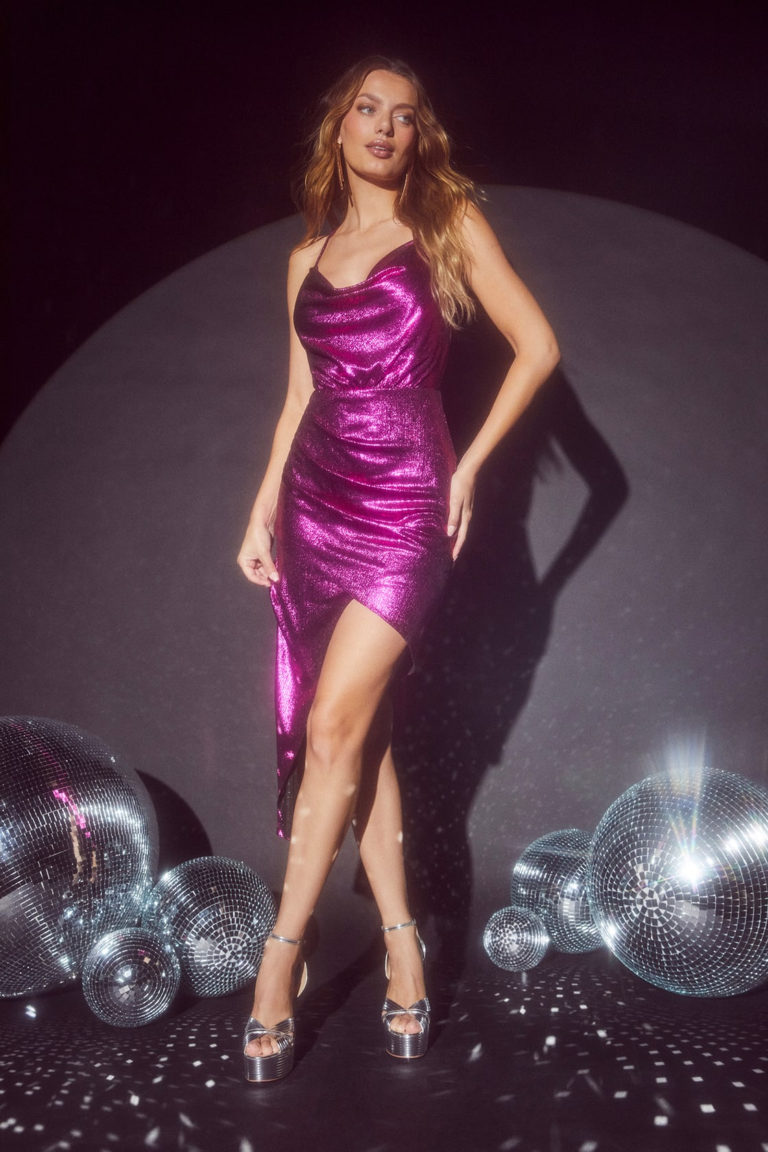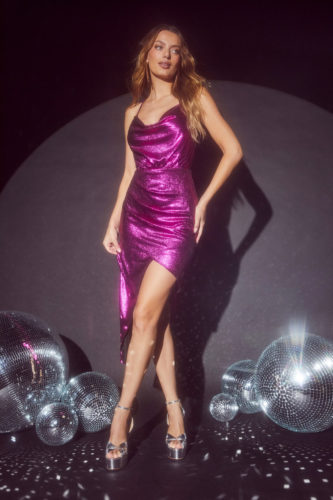 I'm all for LBDs on NYE, but why not shake things up with a metallic magenta dress? The shiny metallic finish on this slinky cowl-neck dress makes it feel appropriate for New Year's, and its eye-catching color is sure to pop in the sea of black dresses you're likely to encounter while out for the special night.
This dress also features slinky knit fabric, an asymmetrical high-low skirt, and a tulip silhouette, plus an open back with crisscross spaghetti straps for a sexy touch.
Rhinestone Mini Dress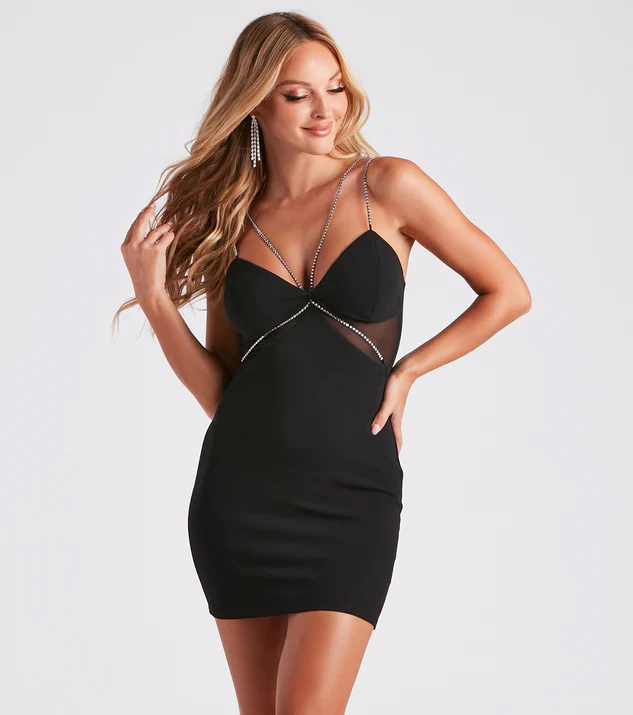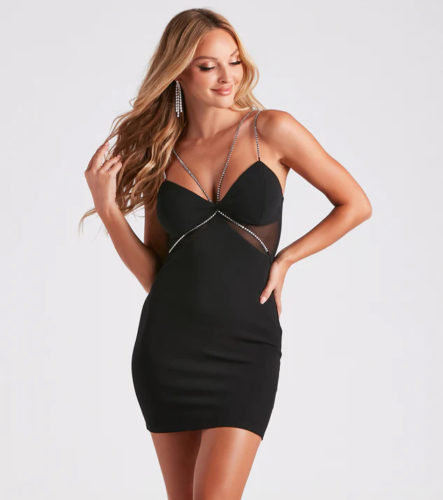 This is not your average LBD. Rhinestone draping adorns the bodice of this bodycon mini dress for a glam look, along with adjustable rhinestone spaghetti straps and mesh cut-outs under the padded bust (which means you don't have to wear a bra with it).
You'll hardly need to accessorize this dress with jewelry since it's already bejeweled — though a pair of sparkly drop earrings would complement it well.
Sequin Cut-Out Mini Dress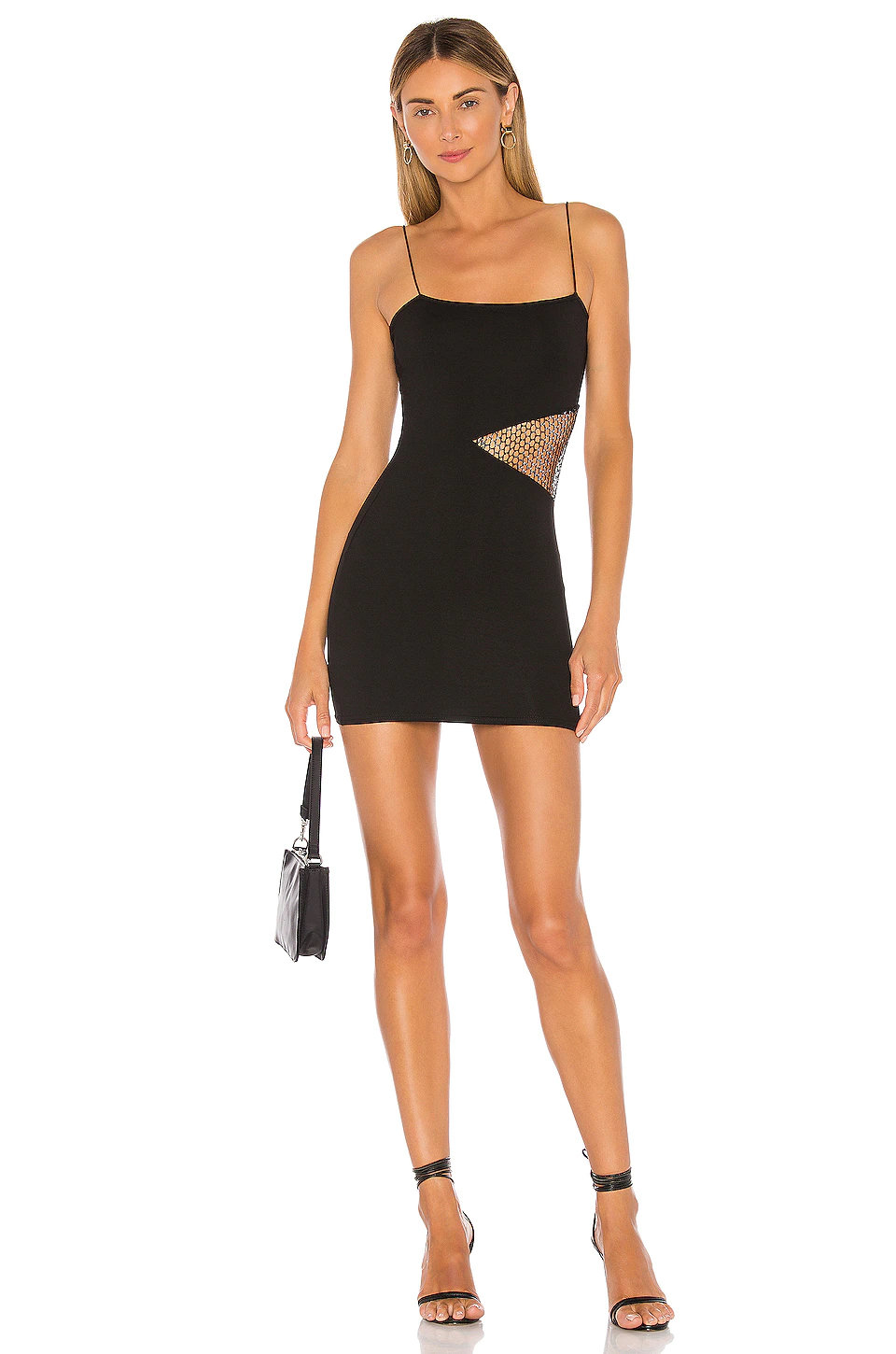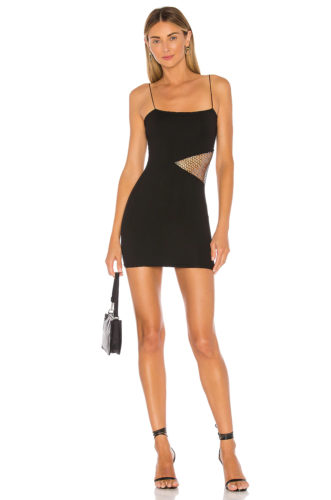 An unexpected way to incorporate some bling into your NYE look? With a sequin-embellished cut-out at the waist.
This bodycon mini dress has a major "wow factor" thanks to its sequined netted waist cut-out that shows a hint of skin through the sparkles. Plus, the dress is stretchy for added comfort, meaning you'll have no trouble dancing the night away in this one.
Sparkly One-Shoulder Midi Dress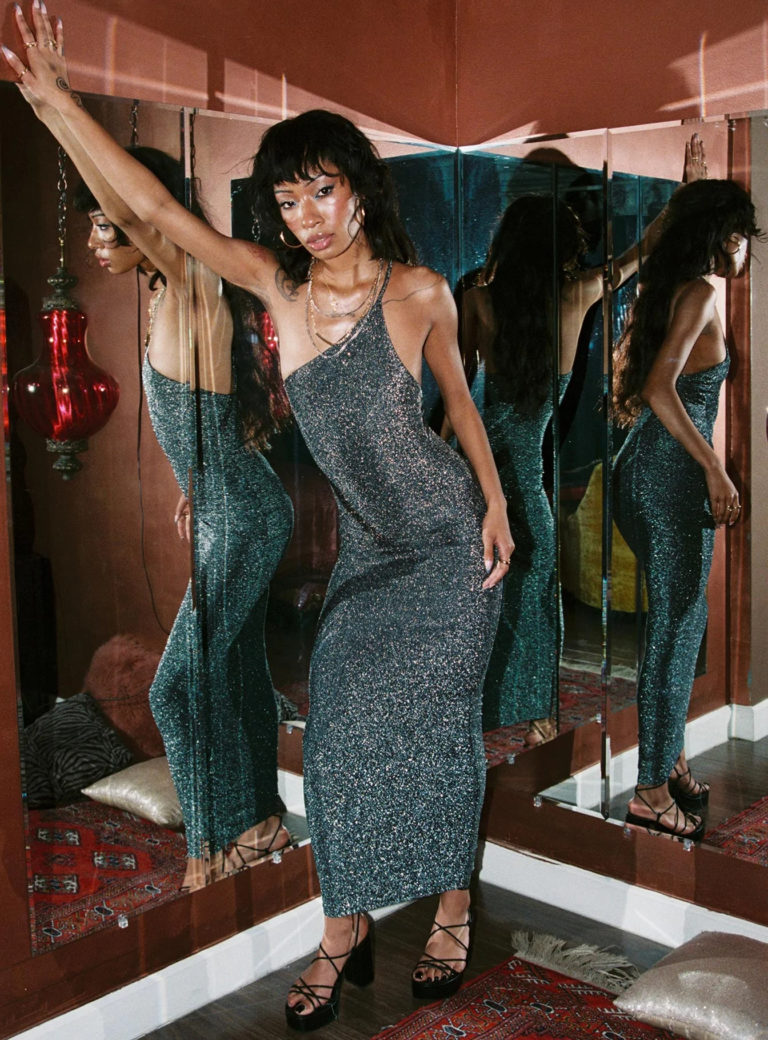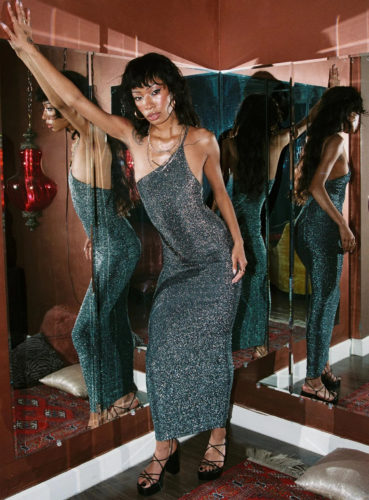 You'll envy the New Year's ball drop in this sparkly gray one-shoulder midi dress. Its tight, stretchy silhouette will hug all of your curves, while its sparkly material makes it feel super festive.
The longer length also makes it a unique choice for NYE, and you can rock a faux leather moto jacket over it for a cool look.
Satin Blazer Mini Dress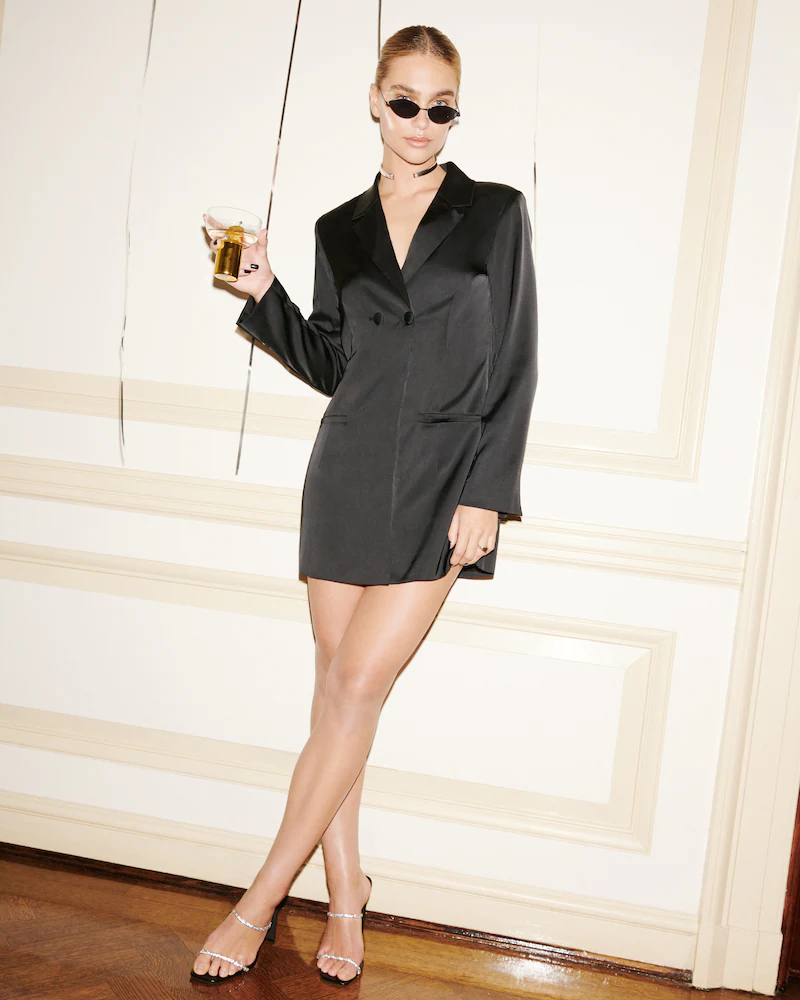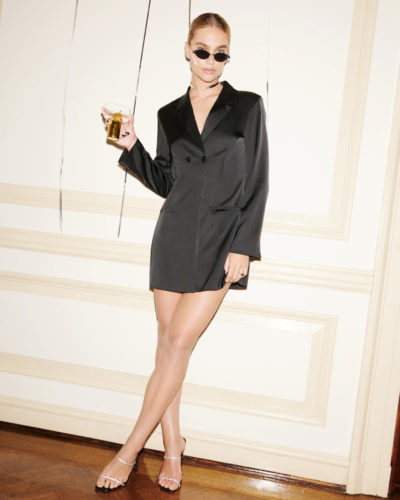 Go for an ultra-chic look by wearing a blazer-style mini dress on NYE. Blazer dresses are super on-trend right now, and opting for one with a satiny material will give it a dressier, more party-ready vibe — plus, the short length doesn't hurt, either.
Be sure to grab this dress while it's on sale and under budget! It comes in cream and teal green, too.
Sparkle Lace-Up Mini Dress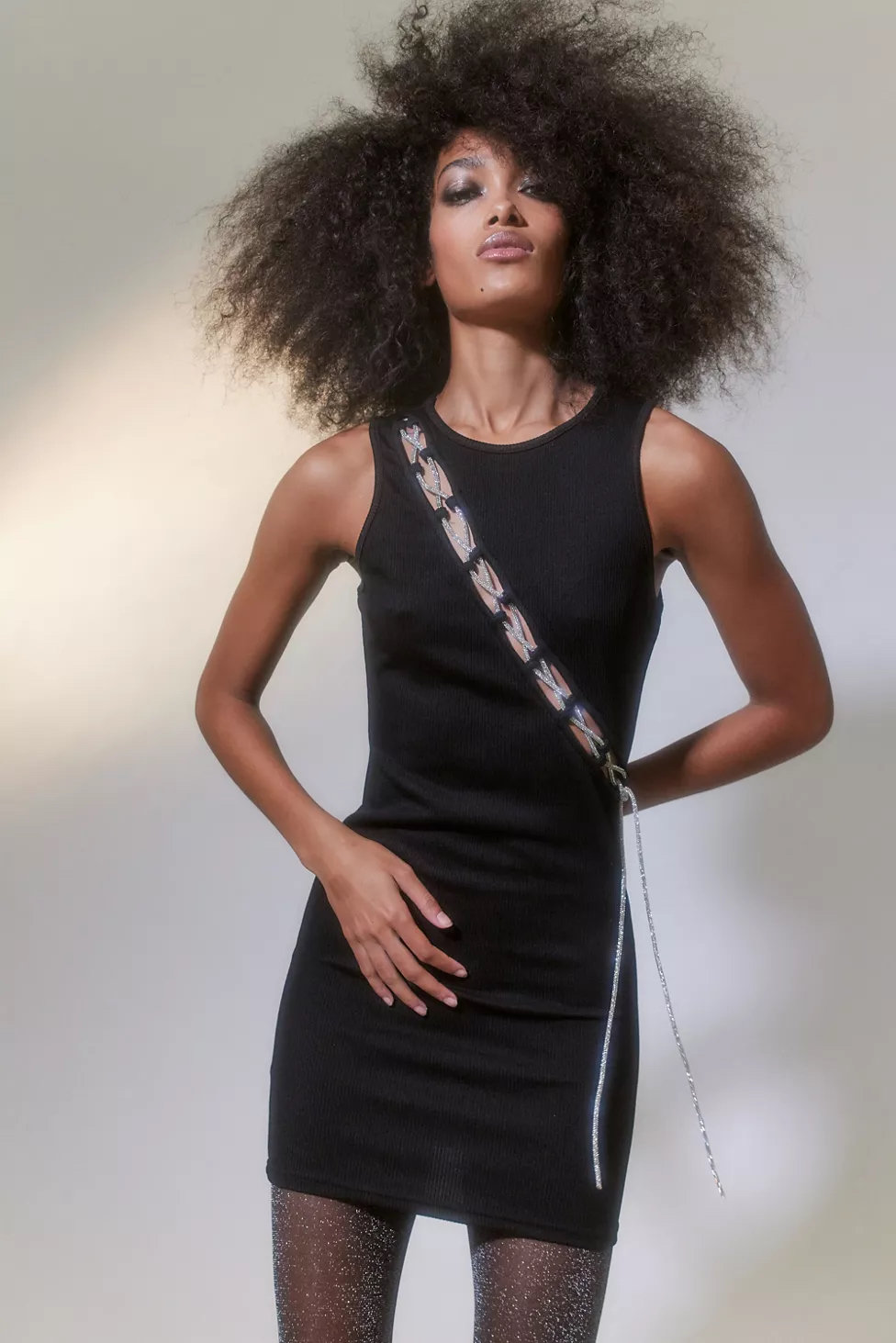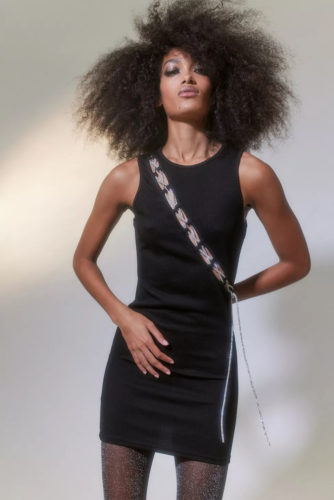 I am obsessed with the sparkle lace-up detail on this mini dress — it is so extra and so perfect for New Year's Eve!
What starts as a simple black sleeveless mini dress is transformed by a glimmering lace-up design (which shows a hint of skin), making it subtly sexy. I also adore the way it's been styled with glittery tights, which make a style statement while also helping to keep you warm on January 1st.
Gold Metallic Ruffle Mini Dress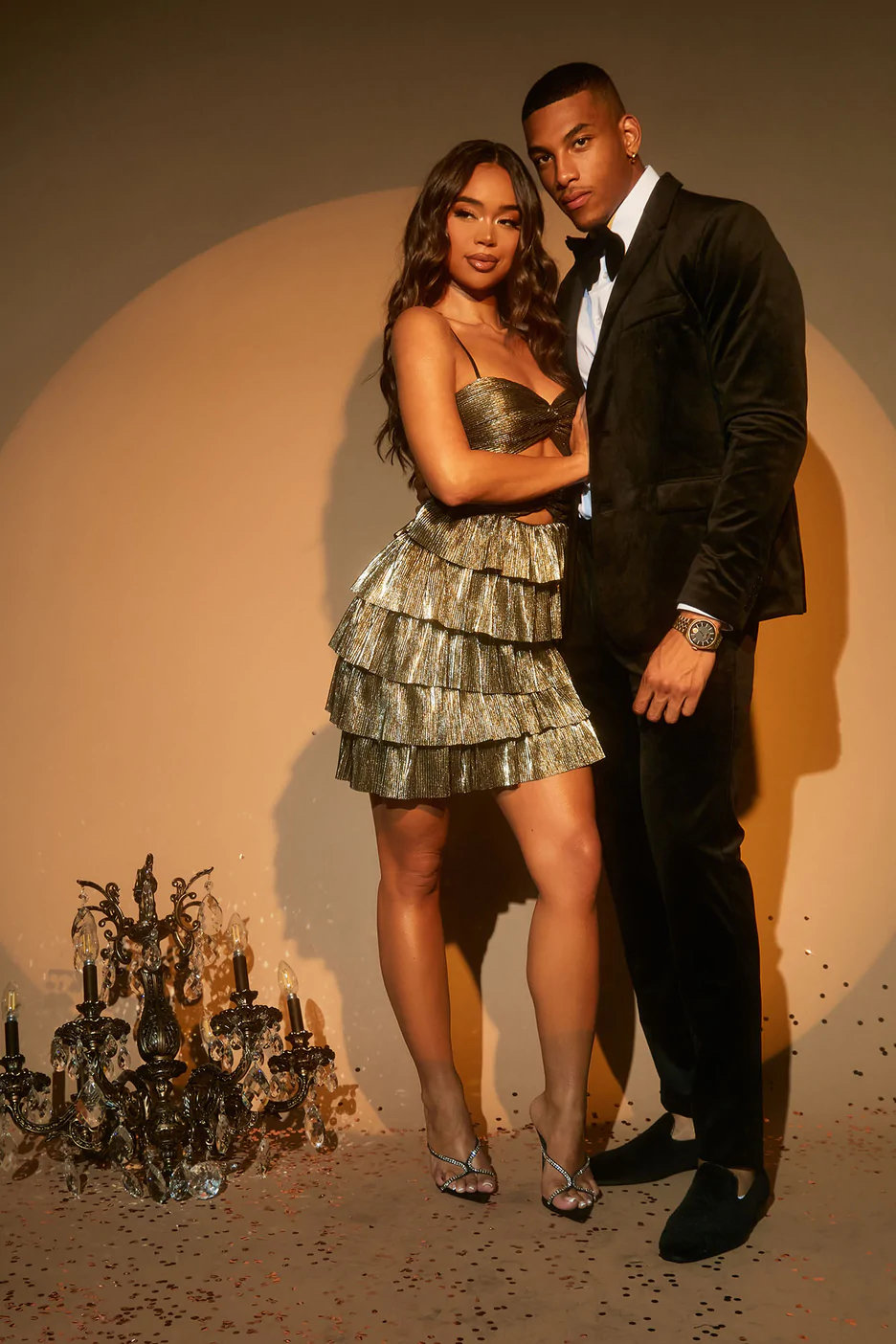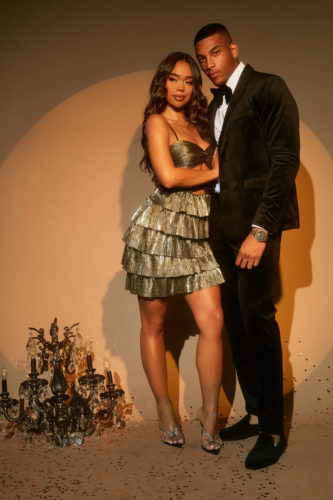 Did you know that gold represents prosperity and wealth? NYE is the perfect time to wear this auspicious color to welcome abundance in 2023, and this gold metallic ruffled mini dress was made to party in.
The dress features a double-knot front with cut-outs and a tiered ruffled skirt that is super flouncy (a.k.a. it will be fun to dance in). Be sure to accessorize with gold jewelry to match!
Asymmetrical Rhinestone-Fringe Midi Dress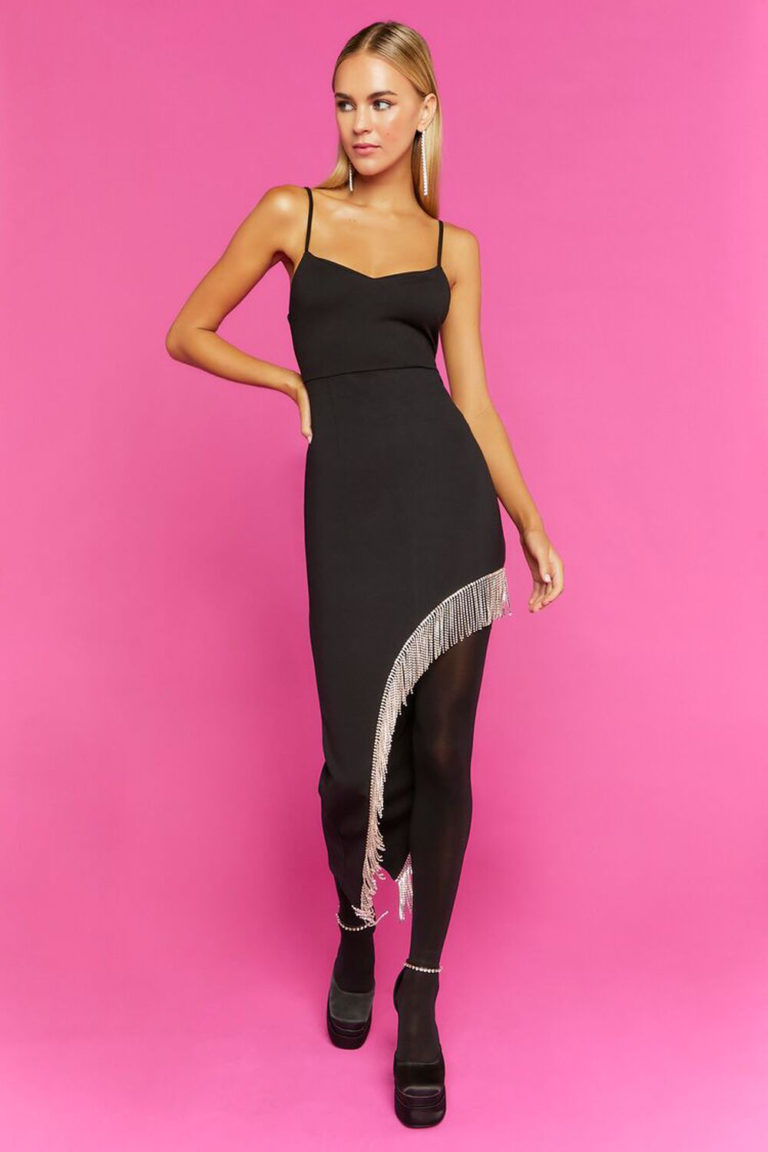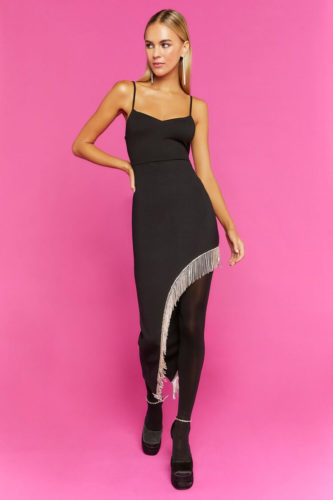 All you'll want to do is shimmy and shake the night away in this rhinestone-fringe midi dress. It features an asymmetrical hem with a dramatic high slit with rhinestone fringe that will move with you.
The ponte knit material is stretchy and form-fitting, and the sweetheart neckline adds a feminine touch, as well.
Velour Open-Back Mini Dress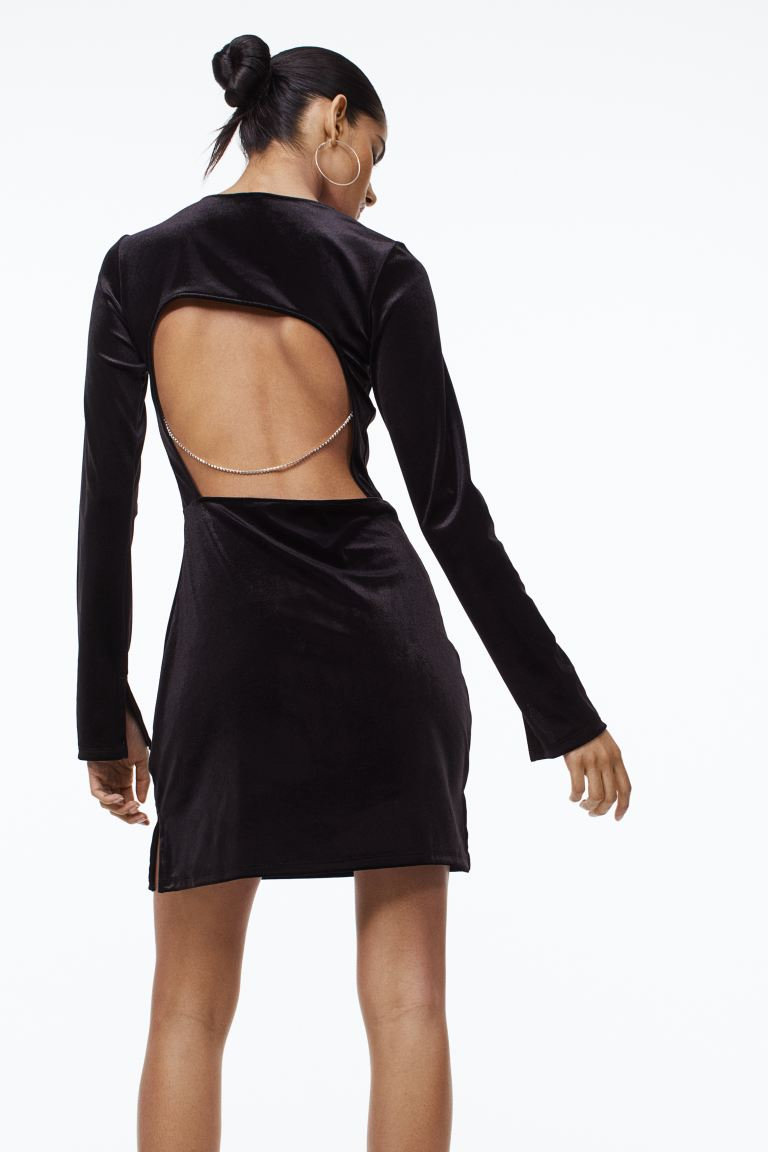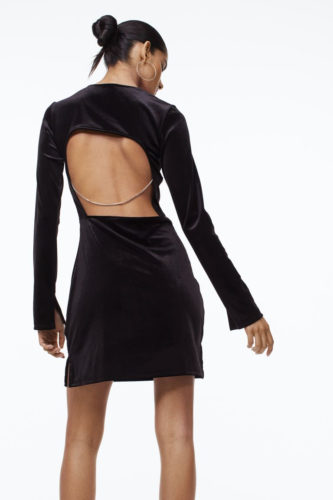 Snag this velour mini dress up ASAP — coming in at under $25, it is super affordable! Its soft velour fabric lends the dress a luxe vibe, while its open-back with a hanging rhinestone chain gives it a dose of glamour.
Plus, the long sleeves are ideal for this time of the year, which tends to be chilly… especially if you'll be out past midnight!
One-Shoulder Gathered Velvet Dress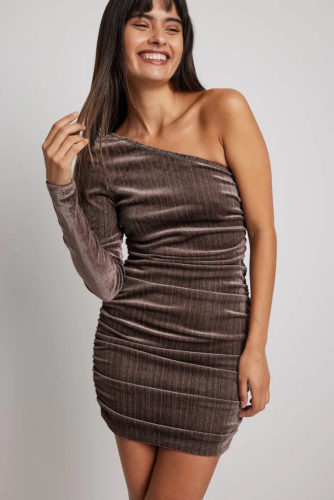 Velvet and velour are perfect for NYE, and considering they are heavier (a.k.a. warmer) fabrics, they're a great choice during the winter seasons.
This one-shoulder mini dress gives you the best of both worlds with a velvet construction that also features silver metallic threading throughout so that you'll shine! The dress also has ruching down the sides for an extra-flattering fit and comes in black, as well.
Crushed Velvet Cowl Neck Midi Dress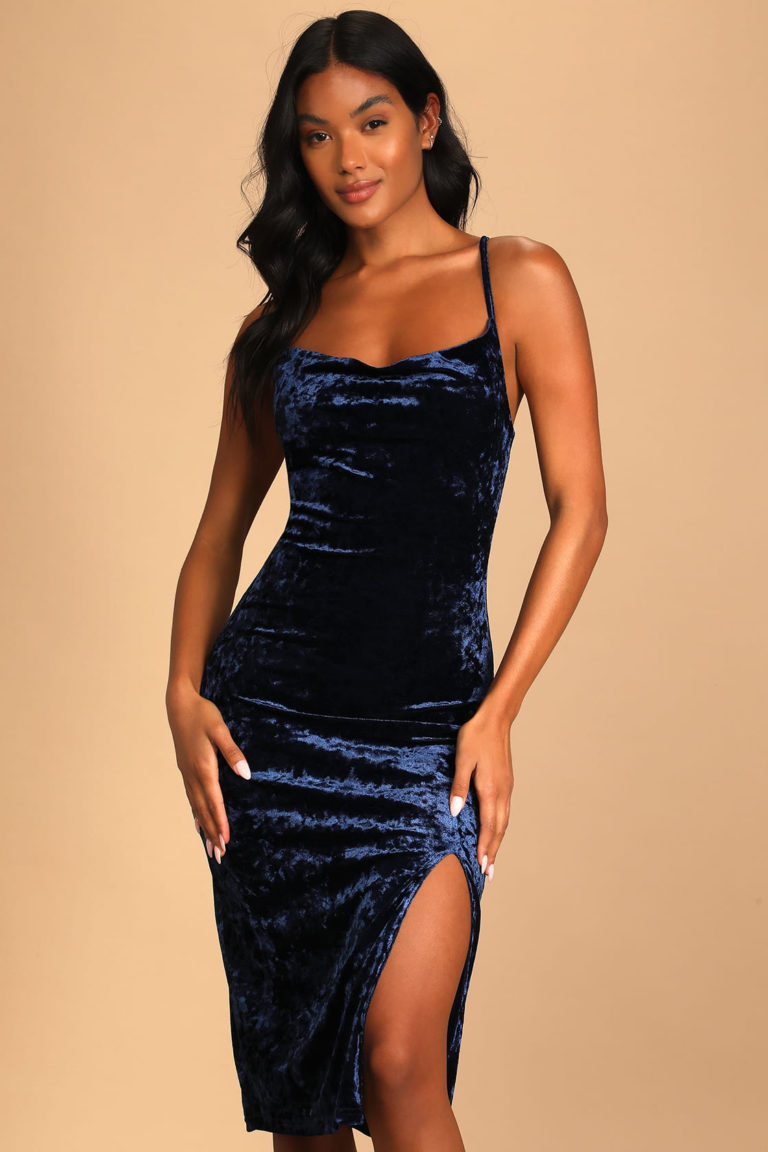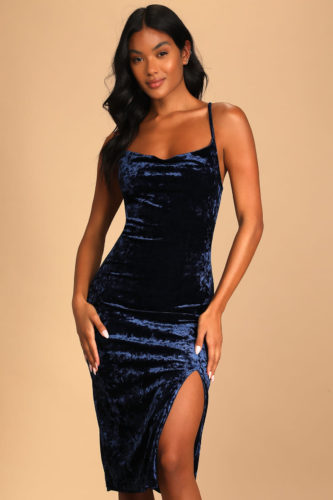 Wearing midnight blue for a midnight celebration couldn't be more appropriate! The crushed velvet texture of this midnight blue midi dress makes it stand out and look ultra-luxe.
Its figure-skimming silhouette with a cowl neckline and sultry front slit, plus crisscrossing back straps, make this frock a winning choice on NYE.
Satin Mini Dress with Detachable Gloves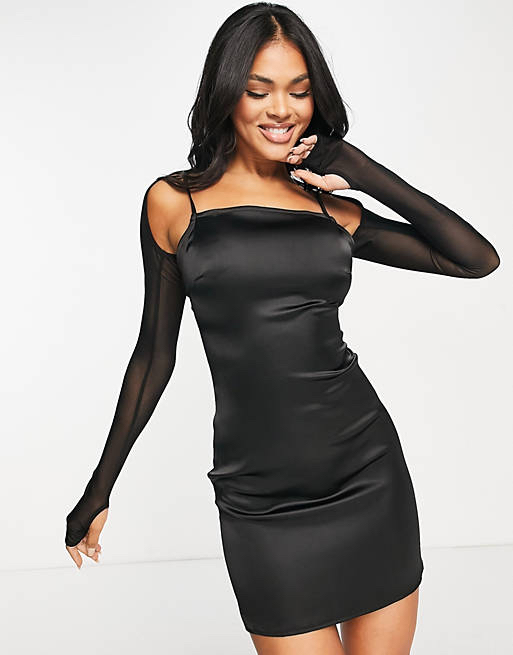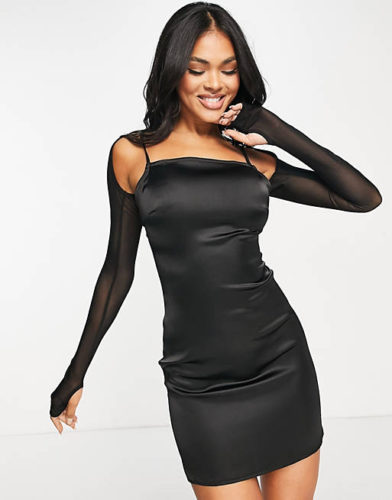 Long gloves are a significant fashion trend this season, especially when attached to a dress. And what better occasion than New Year's Eve to try out this over-the-top (but in a good way) trend?
You're getting two looks in one with this dress since you can wear the black satin square-neck mini dress on its own or with the mesh fingerless-glove sleeves. They are worn the same way as a bolero, which is another item that is currently trending. You'll also be able to wear these with other items in your wardrobe, too, like tank tops and camisoles.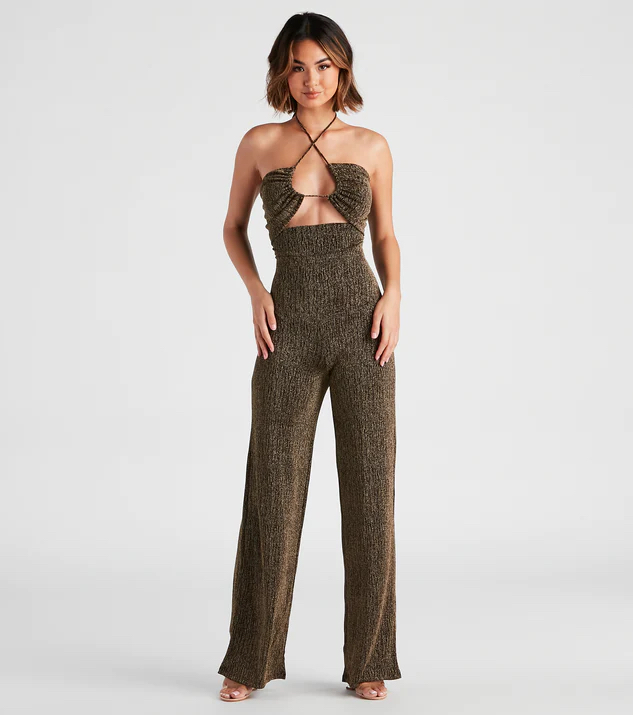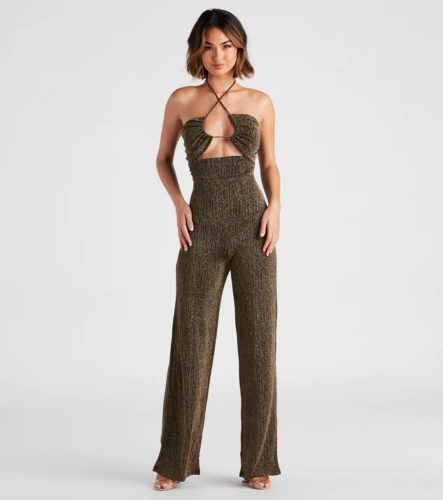 A jumpsuit on NYE? Absolutely! You'll feel like a '70s disco queen in this sparkly jumpsuit with a halter neckline and front keyhole cut-out — it couldn't be more perfect for dancing the night away or celebrating with friends.
Pair it with some sky-high platform heels for the full retro glam effect. This jumpsuit is available in black with gold glitter (pictured above) or in a glittery taupe combination.
Mixed Fabric Corset Mini Dress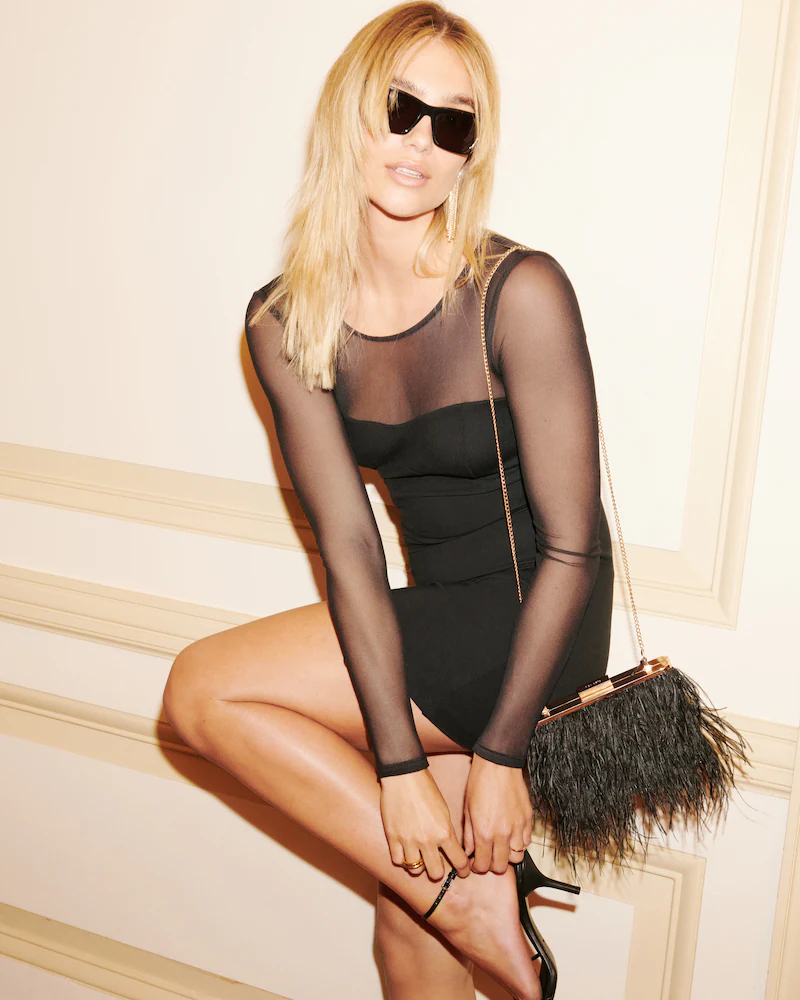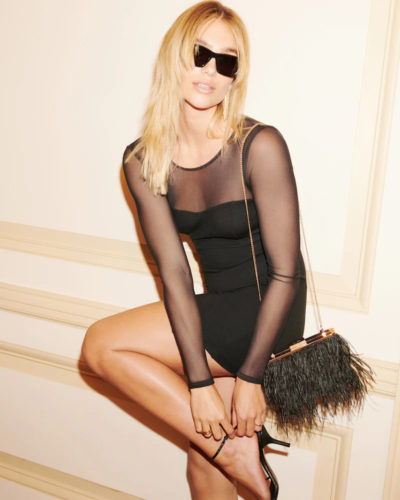 Corset-style? Check. Mesh details? Check. Sculpting knit fabric? Check. This long-sleeve mixed fabric corset mini dress has it all!
The contrasting mesh fabric of the upper bodice of the dress adds major appeal, as do the corset-style seaming details, which will flatter your physique and give you that trendy look of a corset.
This dress would also pair perfectly with sheer black tights, which are always a good idea when trying to keep warm during the winter.
Cut-Out Shimmery Mini Dress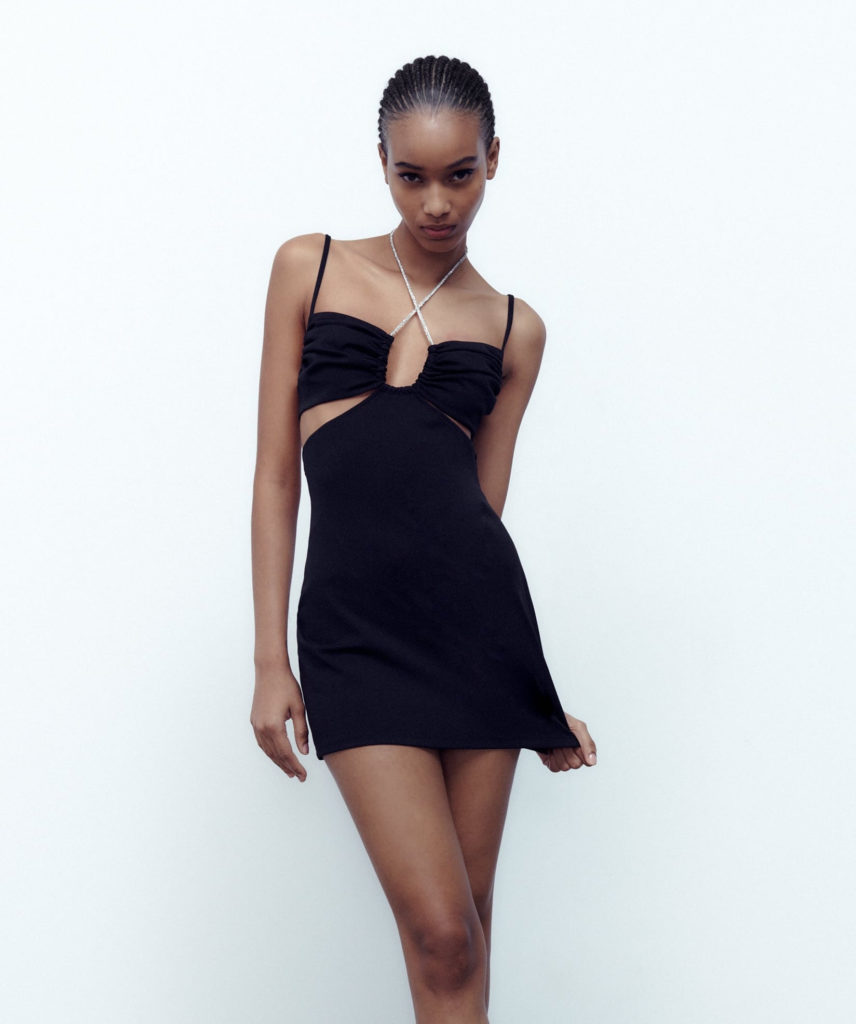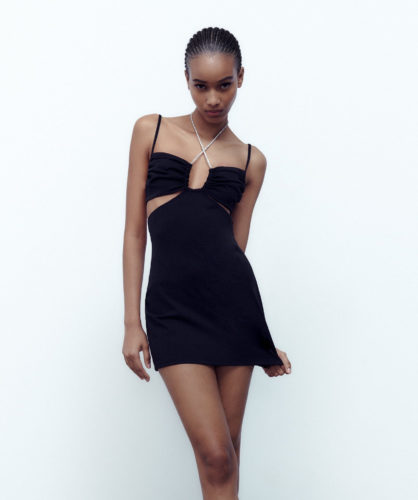 It's incredible what cut-out detailing and a touch of shimmer can do to transform an LBD into a total show-stopper.
This black mini dress has front and side cut-outs with a rhinestone lace-up neck tie that makes it pop; no need to wear a necklace thanks to this fabulous feature!
Glitter Backless Mini Dress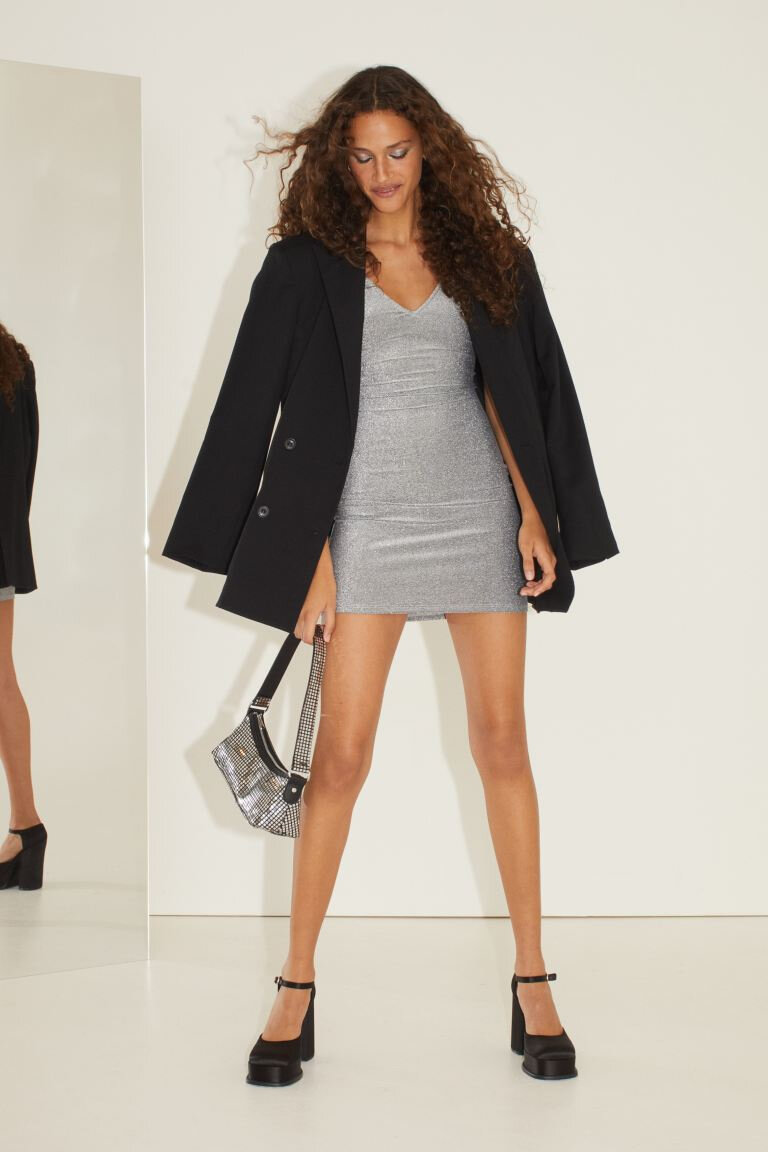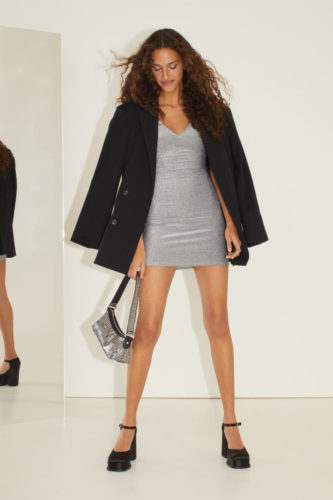 This dress is under $15, making it one of the most affordable ones of the bunch, but you'd never be able to guess its cheap price tag from the looks of it! With a stretchy silver glitter fabric and low, partially open back design, it will make you shine like the New Year's Ball.
I also love the idea of styling this mini with an oversized blazer and platform heels for a fashion-forward look.
Velour Dress and Bolero Set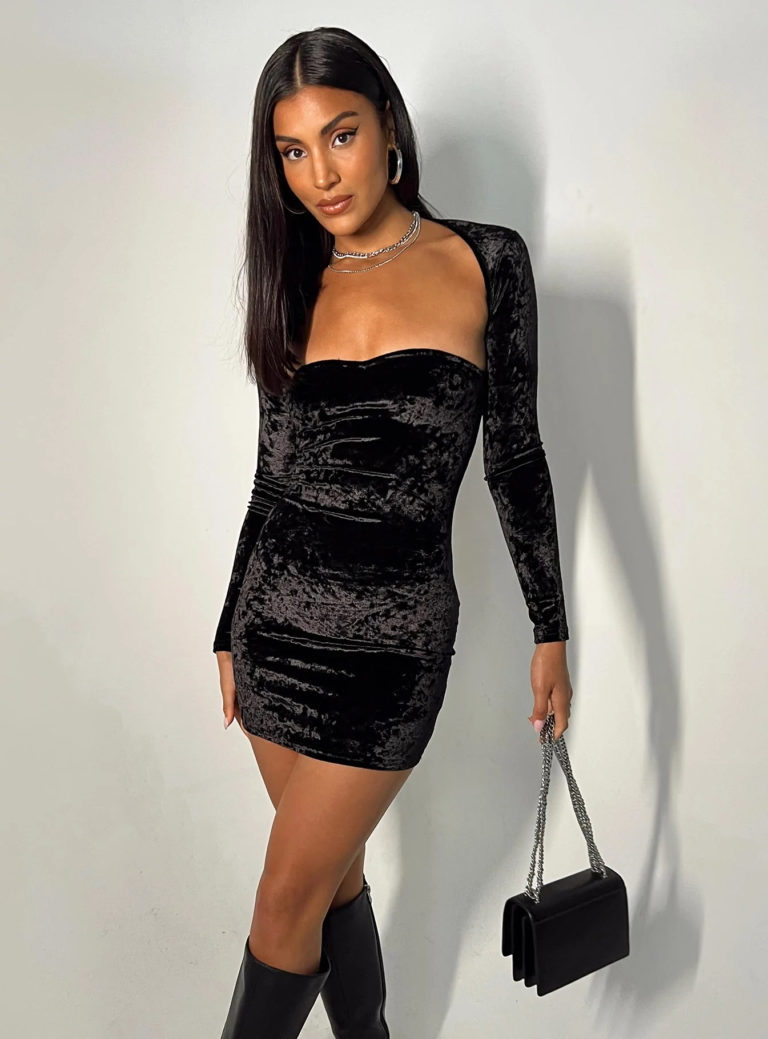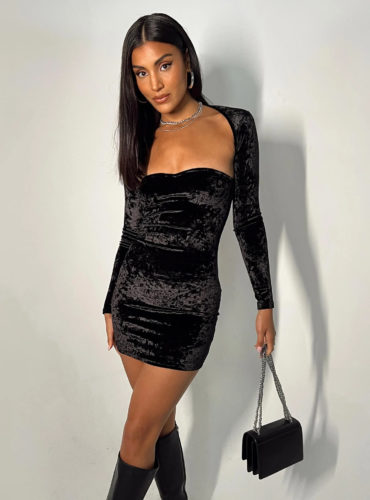 Embrace this season's bolero fashion trend with this sleek velour set featuring a black velour strapless mini dress and coordinating long-sleeve bolero shrug.
While these pieces can be worn on their own (making this set a great value), together, they create a super cool look that is trendy and perfect for celebrating New Year's.
Sequin Bardot Bodycon Dress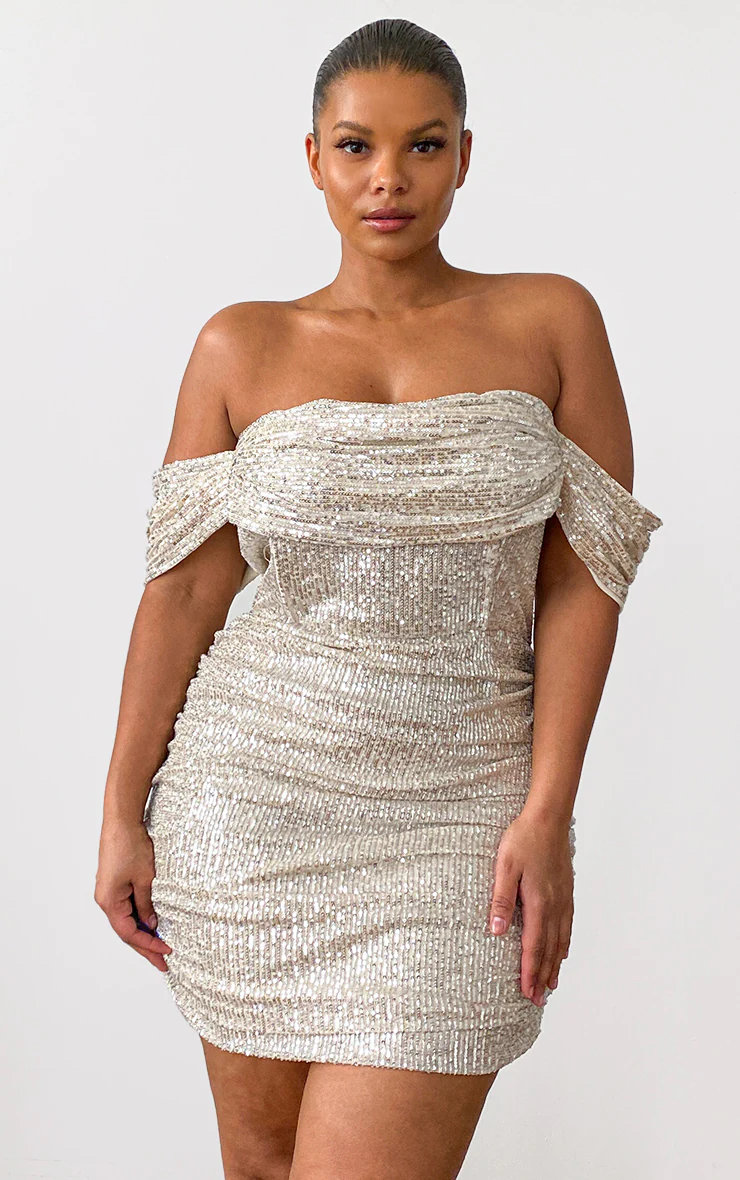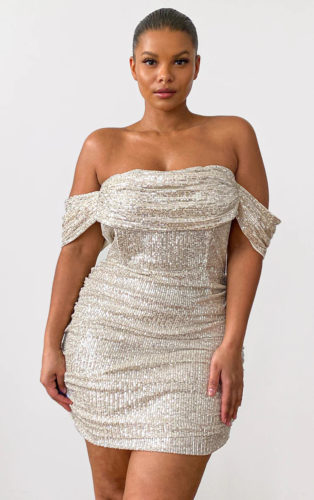 How stunning is this sequin bardot bodycon dress with ruched detailing? This plus-sized dress is available from size Large to 5X, and comes in five different (sequined) colors, giving you plenty of options to choose from.
Its off-the-shoulder design looks elegant, while its sparkly sequins keep it festive.
Lurex One-Shoulder Midi Dress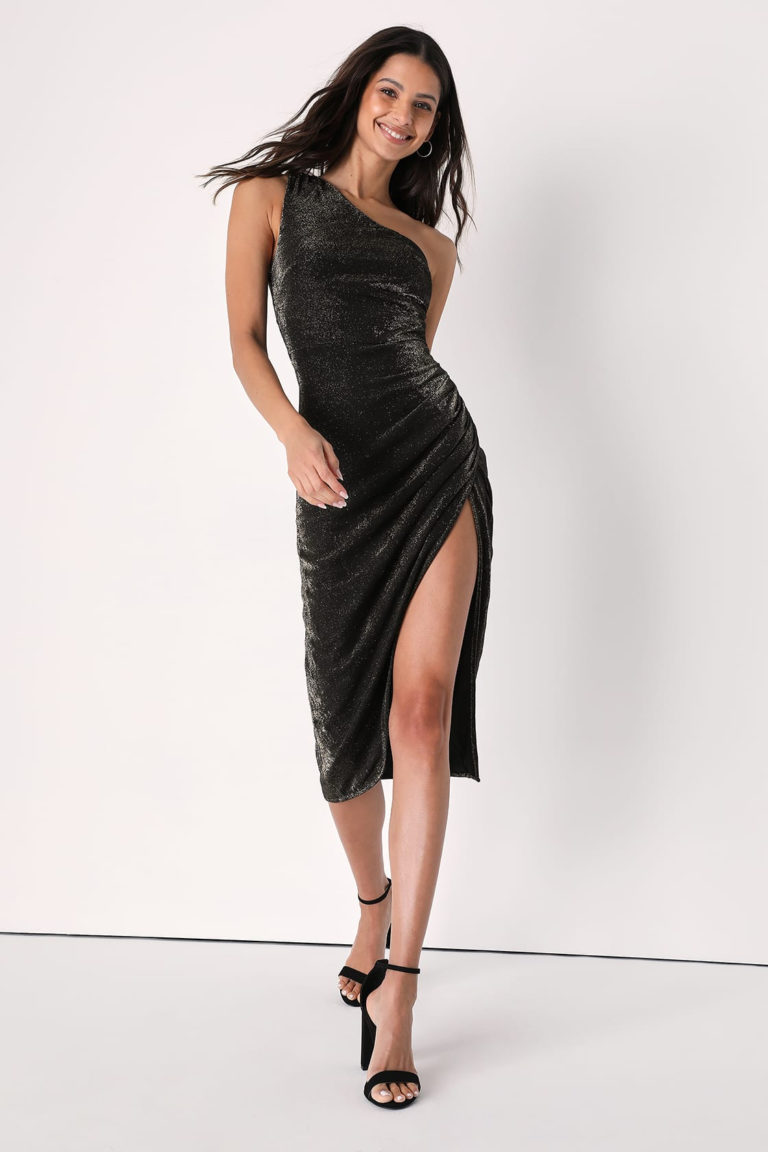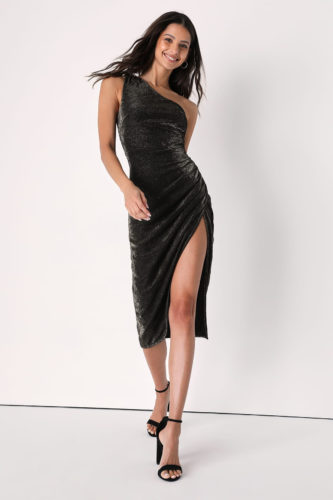 Equal parts sexy and elegant, this one-shoulder midi dress features a flirty slit at the slide for major drama and sparkly gold Lurex for shine.
This dress is made from stretchy knit black fabric that is threaded with gold Lurex and has a draped silhouette with ruching at the sides for an ultra-flattering fit.
Accessorize it with gold jewelry and some black heels for the perfect NYE look.
Glitter One-Shoulder Mini Dress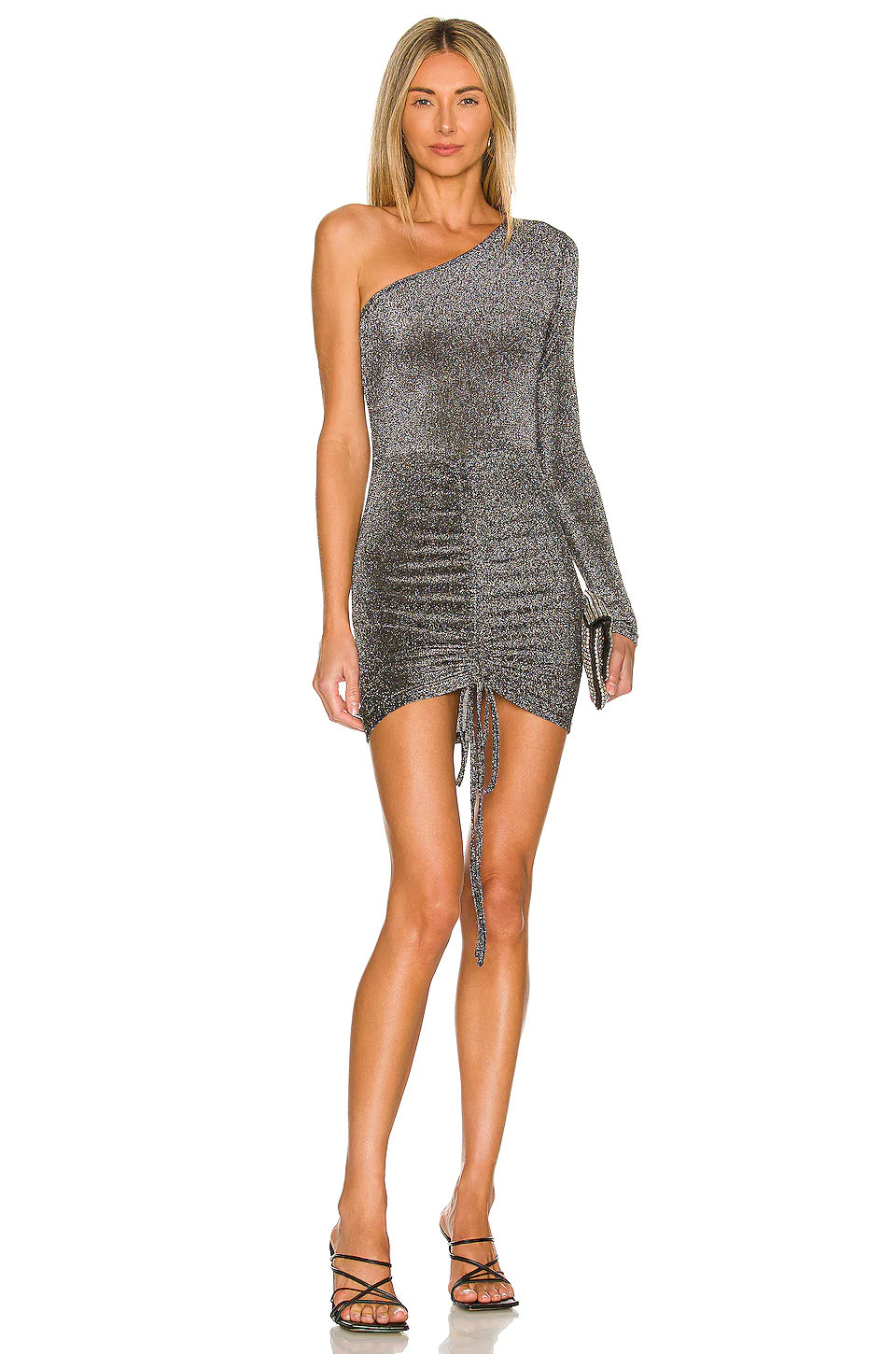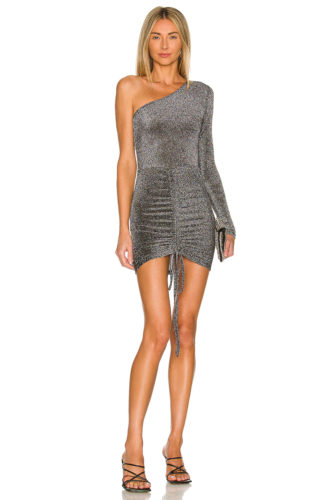 Sparkly silver just feels right on New Year's Eve, especially in the form of a one-shoulder mini dress with a ruching detail down the front.
The dress's hem is adjustable thanks to its drawstring feature, and it would look just as fantastic with tights.
Velvet Halter Midi Dress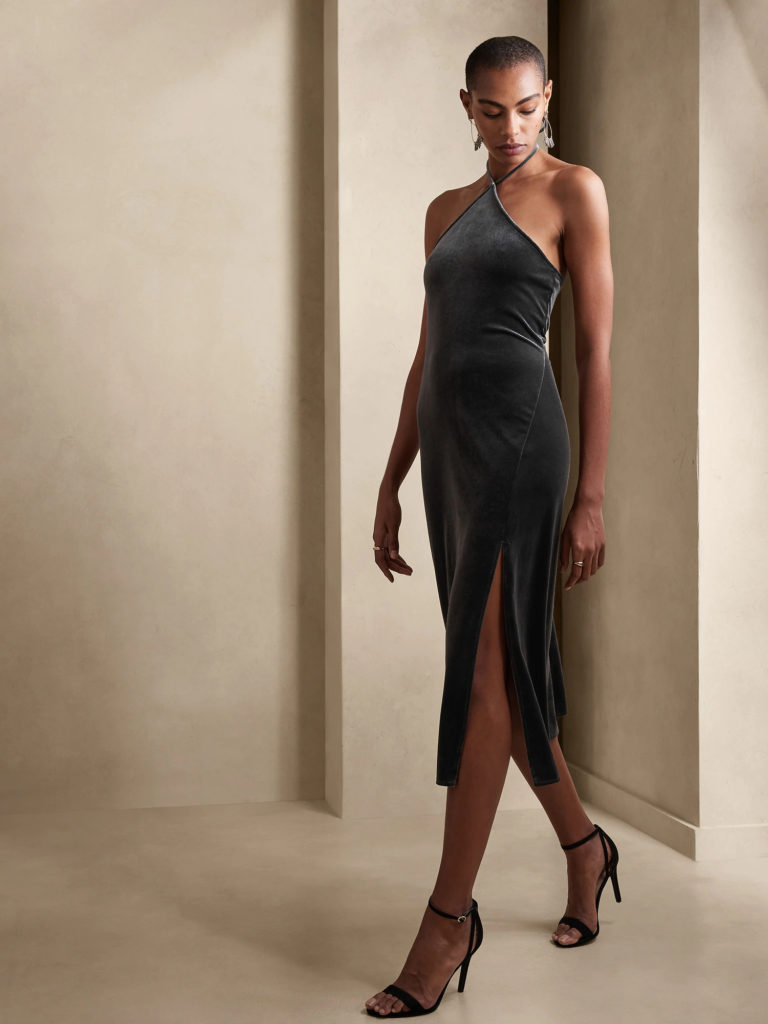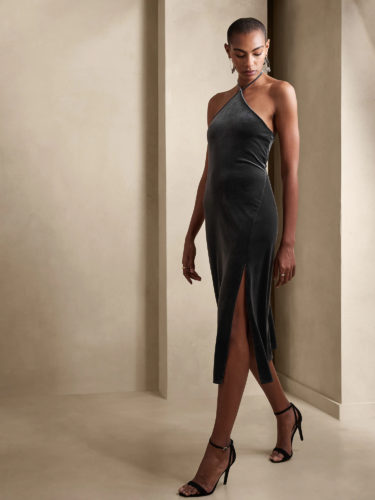 For a more elegant, dressy New Year's affair, try this gray velvet midi dress with a halter neckline and front slit. It drapes beautifully and has a simple yet statement-making design thanks to its luxe velvet fabric and silhouette.
Consider pairing it with a faux fur jacket for an especially glamorous look, along with sleek heels.
Ombré Sequin Bandeau Mini Dress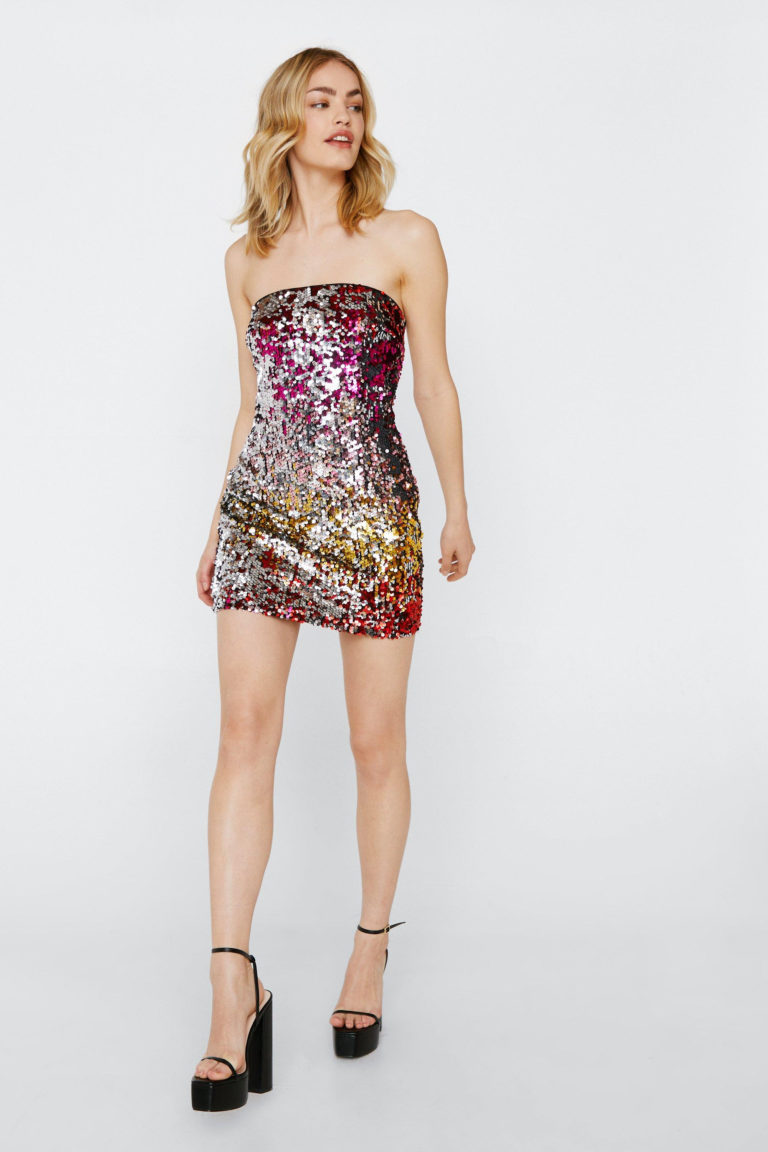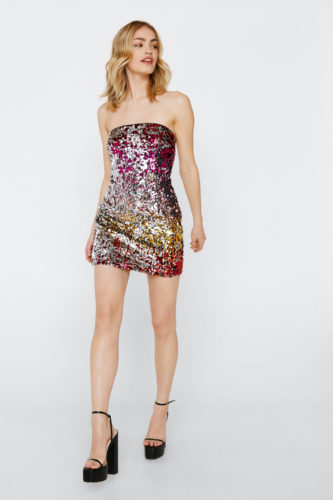 Command the room in this ombré sequin bandeau mini dress with shades of silver, pink, red, and yellow. It's so unique and completely eye-catching!
This strapless mini would look amazing with some dangly earrings and an oversized blazer worn over top. You can either go bold with your makeup by matching your eyeshadow to the dress's color palette or keep it simple and let the dress shine the brightest.
Embellished Velvet Strapless Mini Dress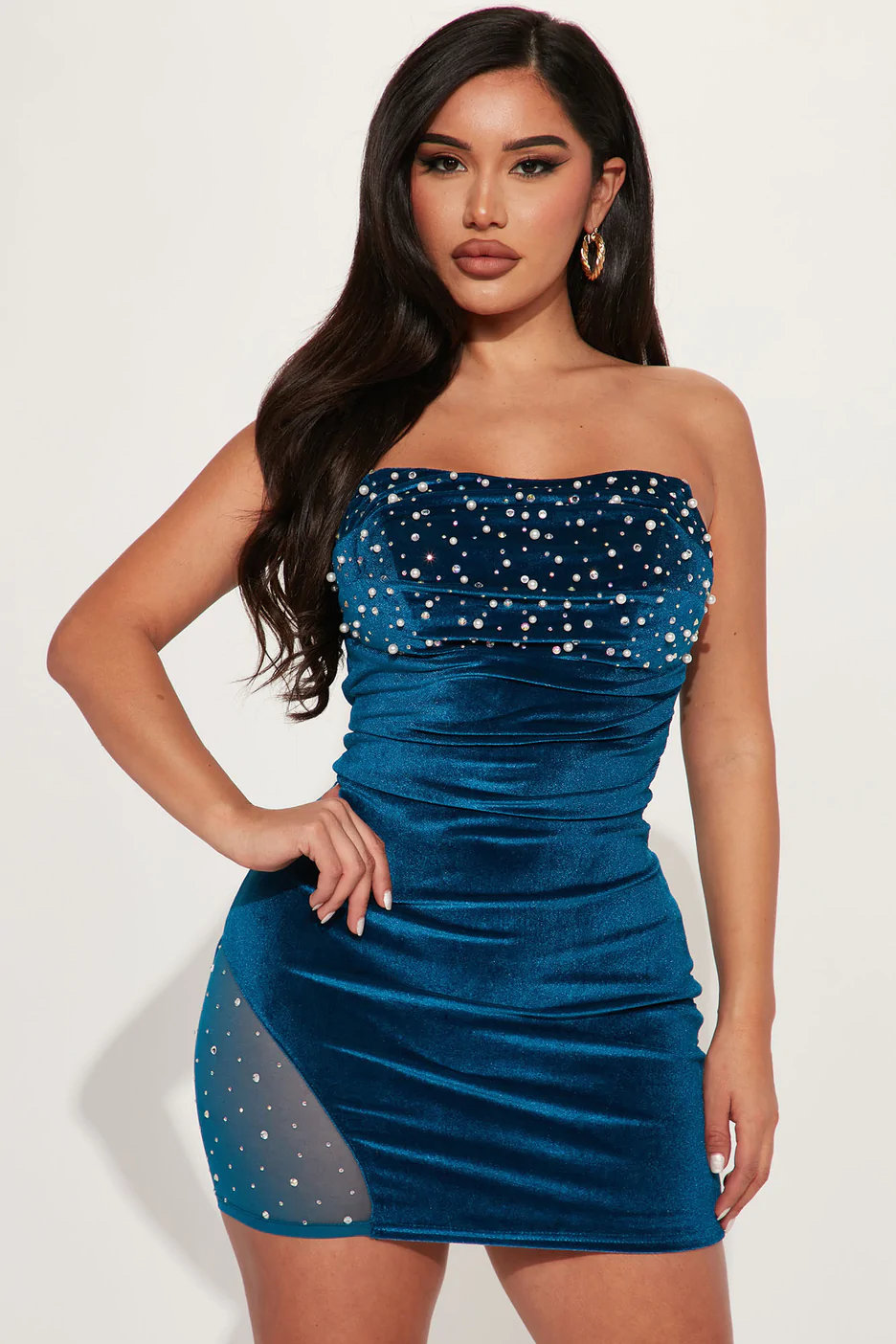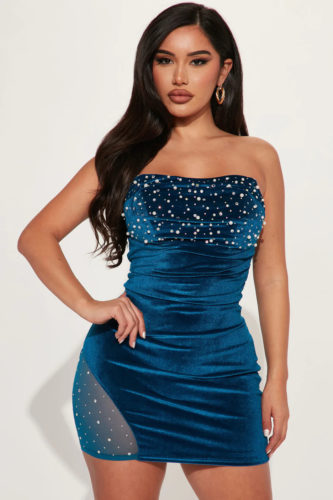 Pearls and rhinestones adorn this blue velvet mini dress for a dazzling NYE look. Its teal blue hue emphasizes the dress's luxe velvet fabrication and highlights the mesh side panel, which almost acts as a slit.
Try to match your jewelry to the embellishments — pearl or rhinestone pieces would complement this dress (which also comes in black) so nicely.
Backless Metallic Midi Dress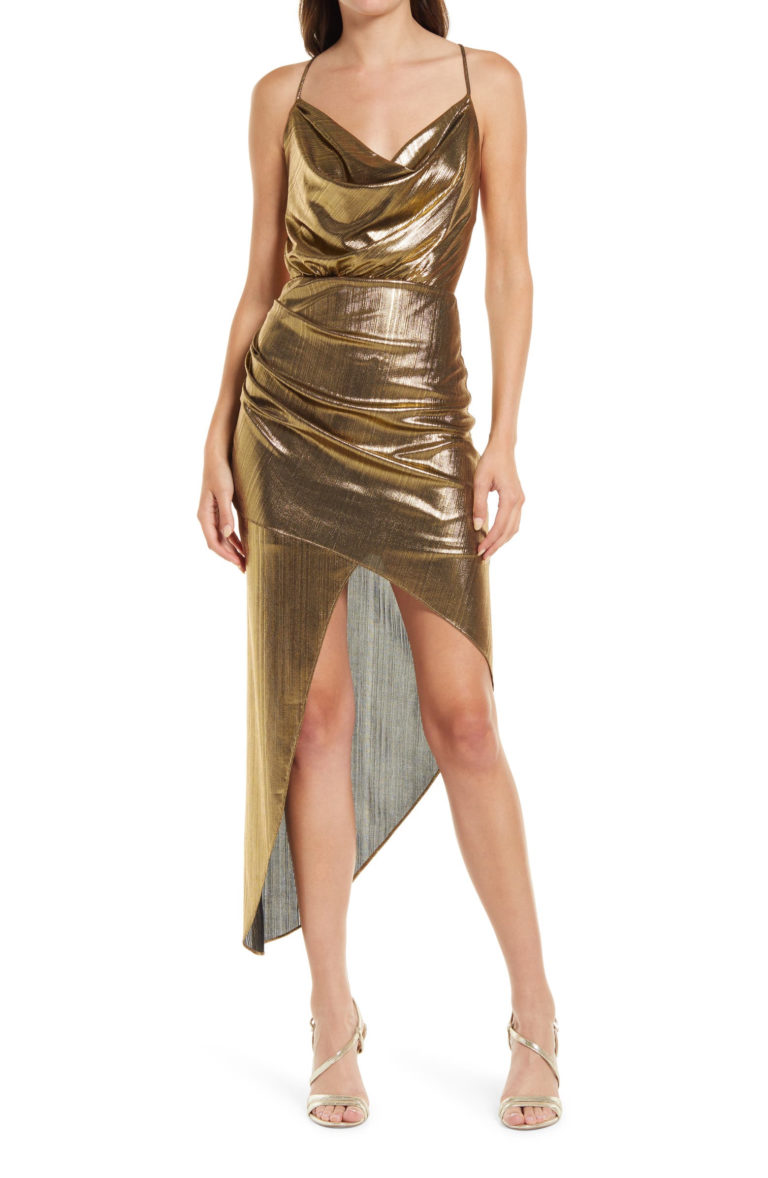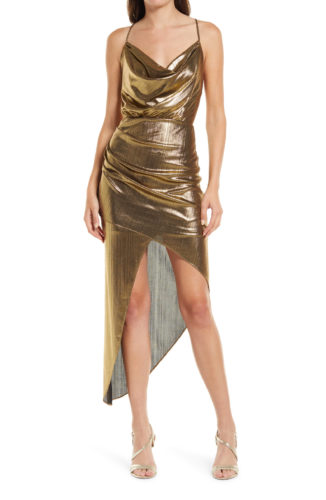 Go bold in gold! This metallic gold midi dress will turn heads on New Year's Eve.
It features a high-low hem with a midi length in the back and a mini length in the front, giving you the best of both worlds. Plus, it has a draped cowl neck and an open back with crisscrossing adjustable straps for added effect, taking this shiny stunner to the next level.
Be sure to accessorize the dress with gold jewelry to match (obvi).
Sequin One-Shoulder Mini Dress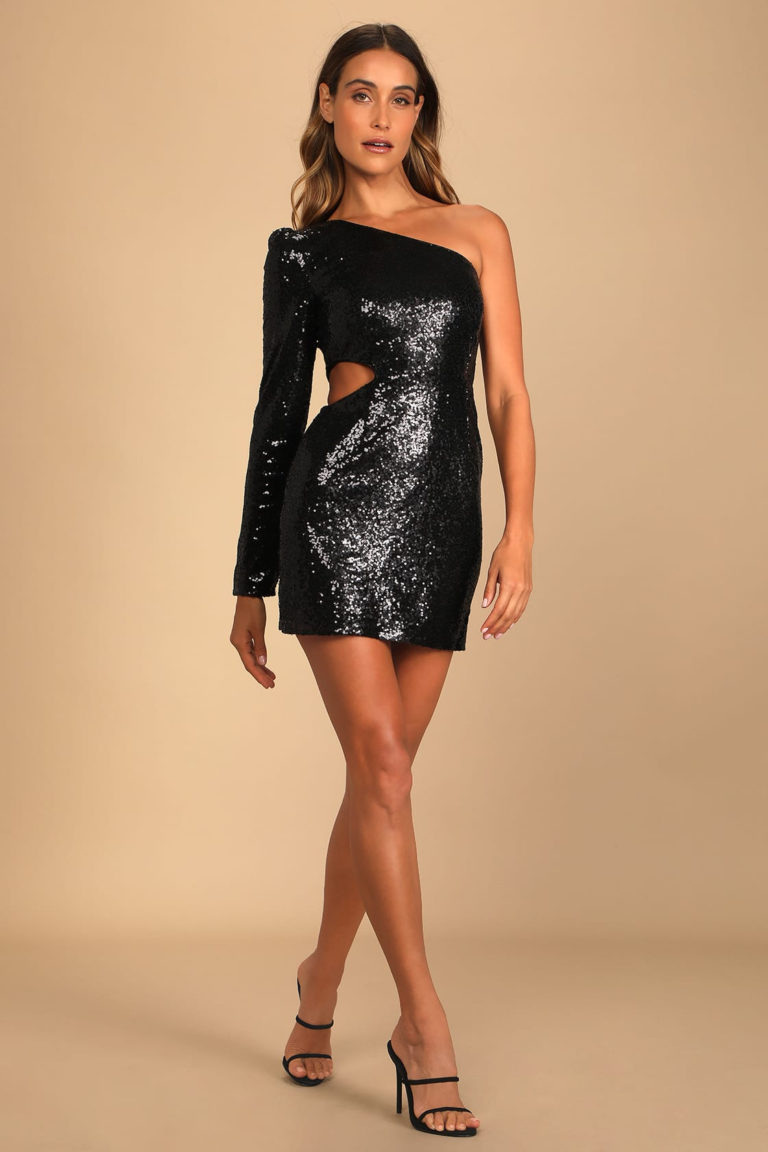 With a one-shoulder design, side cut-out, and all-over sequined mesh overlay, this frock has all the elements of an iconic NYE dress.
Available in black and magenta, this dazzling dress will help you slay the night. And best of all, it has padded cups, so you may not even need to worry about finding the right strapless bra to wear with it.
Satin Slip Mini Dress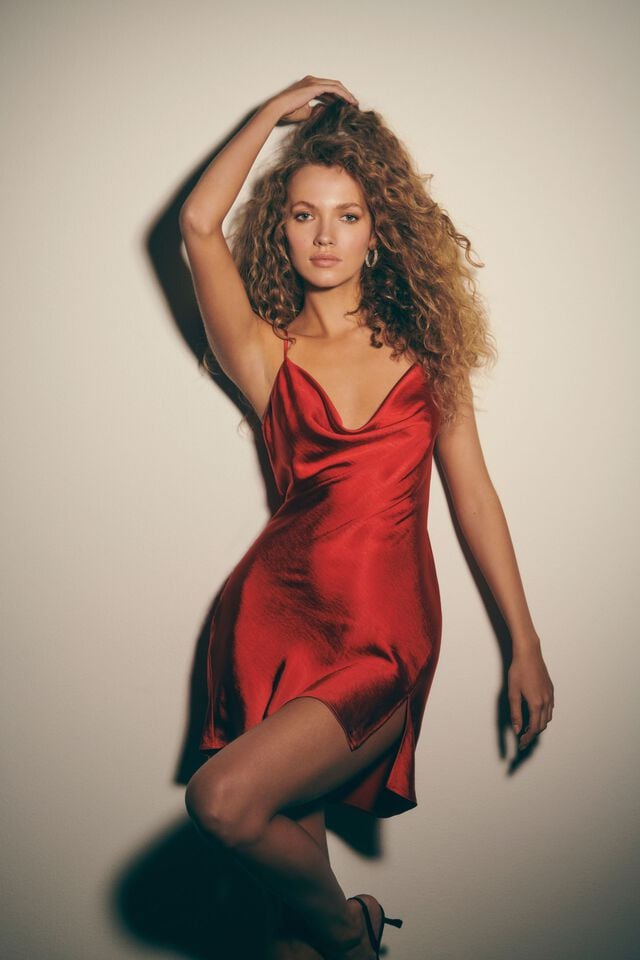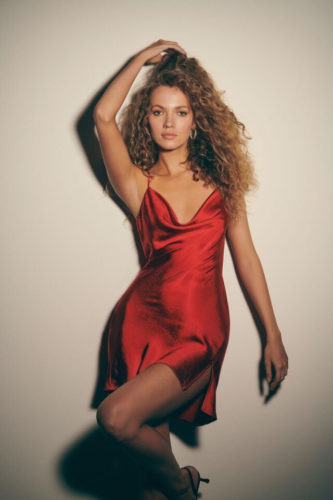 Red is a bold choice to wear on New Year's Eve, and I am so here for it. Make a power move this NYE by wearing this red satin slip dress with a draped cowl neck and a small side slit. The slip-style design has a classically feminine look, while the captivating color will make you stand out in the crowd.
P.S. — if red isn't your thing, this slip dress also comes in purple, pink, and black.
Velour Rhinestone Dress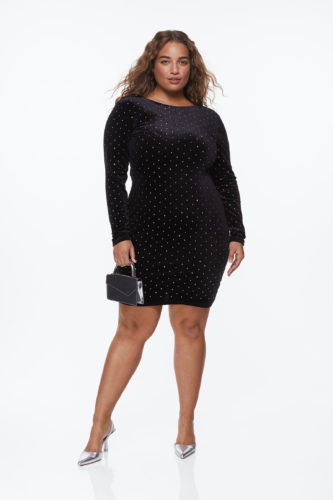 Velour or rhinestones? How about both, instead?
This long-sleeved black velour dress is adorned with allover rhinestones for a glam look, while also being on the warmer side (especially if you wear it with tights and over-the-knee boots). It comes in sizes XS – XXL and is under $15 — a total steal!
Satin Wrap Mini Dress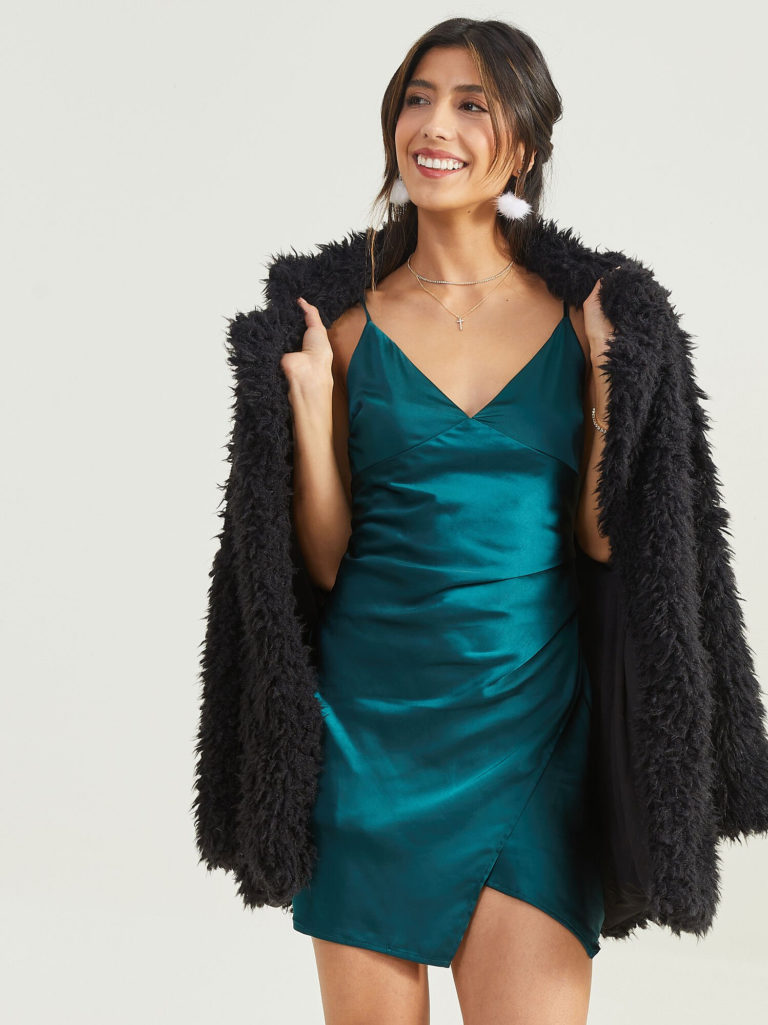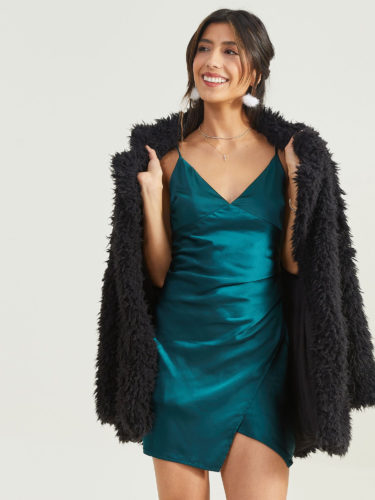 Hunter green is a totally unexpected hue to wear on NYE, but it looks gorgeous — especially in the form of a hunter-green-colored satin wrap mini dress.
The satiny material looks luxe, while the V-neck and wrap-style skirt add to the stylish appeal of this dress.
Sequin Cut-Out Mini Dress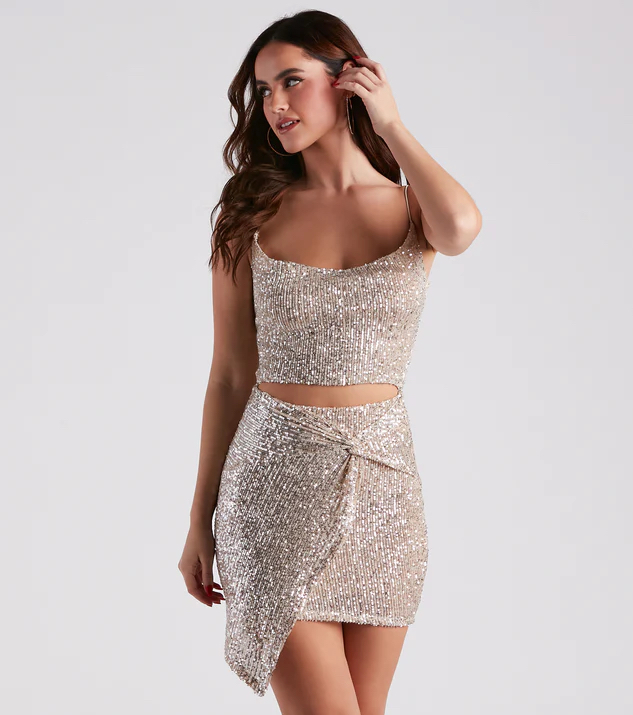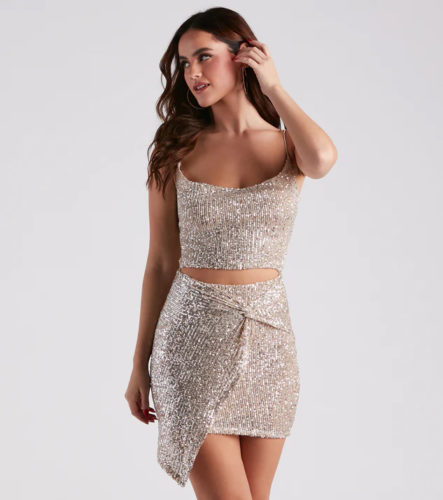 While this looks like a crop top and a skirt, it's actually a dress with an eye-catching cut-out across the front, giving it dimension.
This stretchy, sequined number, which also has an asymmetrical hemline and a cowl neckline, is sure to turn heads on NYE.
Velvet Mesh Cut-Out Mini Dress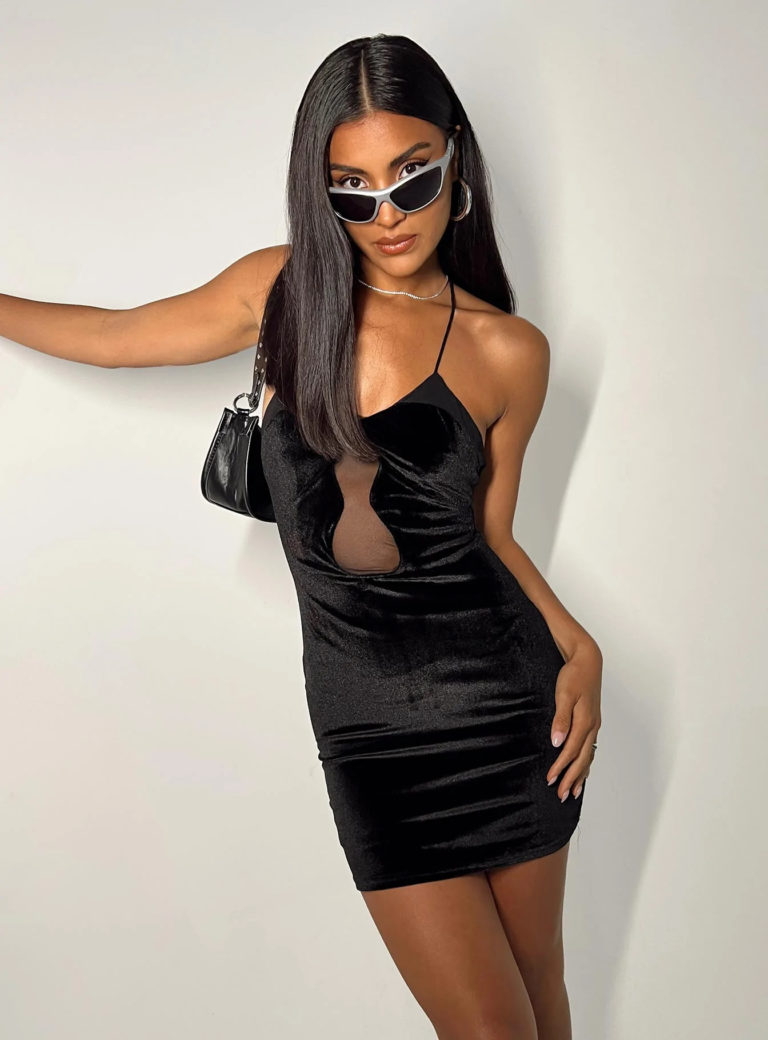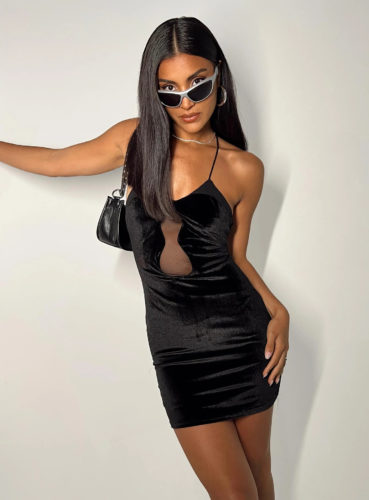 Take on New Year's Eve in this sultry black velvet mini dress with a mesh cut-out at its center. Between its luxurious velvet fabric and sheer mesh offering a hint of skin, this dress is a perfect pick for NYE.
What do you think of our New Year's Eve dresses?
Will you be dressing up for New Year's Eve? Which look is your favorite? Leave a comment and let us know!