This post will show you some cute new year's eve outfits for every dress code.
Merry Christmas to those of you celebrate this day and to those who don't, happy Friday!
We're less than one week away from the end of 2020, which means it'll be over in what will feel like a month. And while we can only dream the seven plagues will stay behind in 2020, we still have reasons to celebrate.
More than ever, we should celebrate making it to another year, and what a year. I'm not a fan of handing out participation awards, but I think making it to 2021 makes us all winners. So, pop a bottle of sparkling and have a good social distanced time with your bubble.
We're all in different situations, with different protocols in place, so everyone's New Year's Eve will look different this year. Just remember that if we want 2021 to go better than 2020, we have to adhere to those rules on New Year's Eve and beyond.
All of that being said, it can be hard to decide what to wear when most of us won't be celebrating how we would have hoped to this year. While NYE is the night everyone pulls out their sequins and rhinestones, what if your plans are to have a night in with your family? Or a zoom call with your friends?
Whatever your plans are, chances to celebrate have been rare in 2020, so no matter the dress code, you should still wear clothes to mark the occasion. From chilling in your couch with a sequin gown to attending a social distanced party with your bubble in shimmery sweatpants, we've got you covered.
Tips on What to Wear on New Year's Eve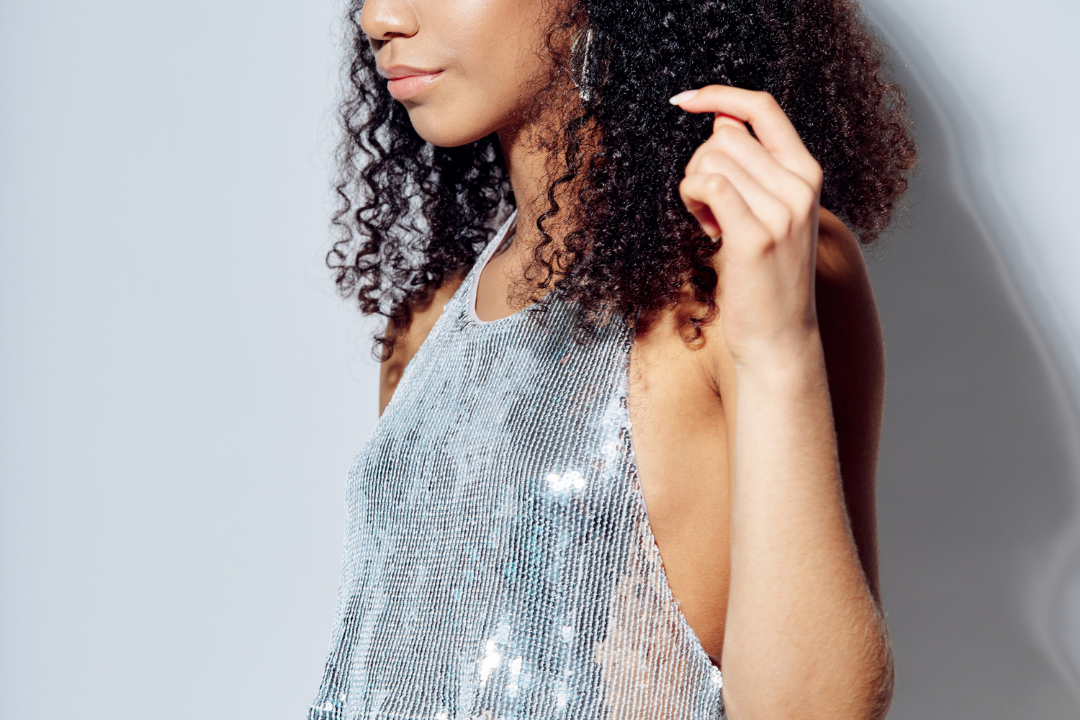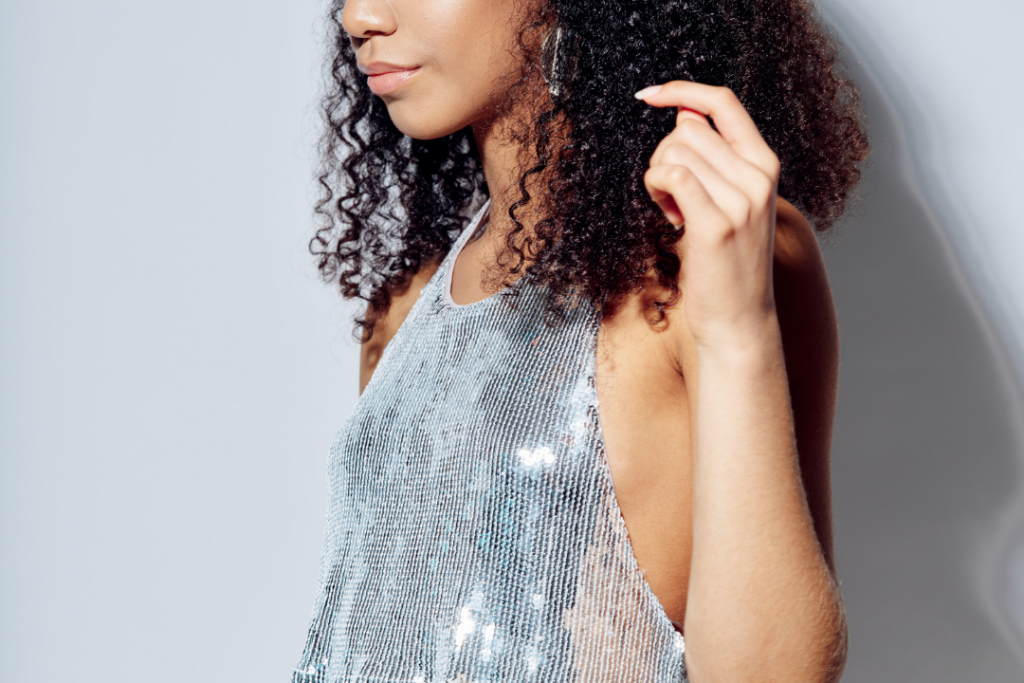 First, let's get to a few very general tips on dressing for new year's eve.
Regardless of whether you're hitting the hottest club (those were the days) or just staying home to watch the ball drop on TV, infuse some sparkle into your New Year's Eve outfit with these tips and suggestions:
When wearing a sequined or sparkly garment, keep your jewelry on the smaller, more minimal side. Unless you're going for a more-is-more look, understated jewelry will balance your look.
Sequins are popular, but try experimenting with other fabrics that shine for a more unique look. For instance, in New Year's Eve outfit 1 below, we use a velvet matching set and a shiny knit hat for a touch of glam sans-sequins.
Try one bright pop of color. In look three below, we pair a bright green dress with a bunch of neutral accessories. If you love color, this is a great way to stand out in your NYE outfit.
Take beauty risks. Changing up your usual makeup routine is a must for special nights out on the town. Try false eyelashes for an instant dose of glamor or put on a bold red lip color. It's especially fun to
Now on to the New Year's Eve outfits! Here is some outfit inspiration for all your NYE plans:
Cozy New Year's Eve Outfit
While we've all been wearing our money's worth of our sweatpants over the past few months. It doesn't mean they can't look cute, though! This shimmering sweatpants and crop top set will make any casual event super festive and exciting.
Pair the sweats with equally comfy and glittery winter accessories, like this rose gold beanie and these gold slippers. You'll feel so comfy and have so much fun, you'll wonder why you ever dressed any other way for a party.
Rock 2020's monochrome trend with your whole outfit by following one color tone like this shimmery gold to rose to chocolate look. Finish this NYE outfit off with some rings for an effortless cool vibe.
Casual New Year's Eve Outfit
Crop tops and leggings are so freshman year 2018. The new casual has some new must haves. First, combat boots, because if they can handle combat, they might just handle New Year's Eve celebrations. Second, straight white jeans, which are cute and classy, while still giving the edgy look you want.
Pair these basics with a sequin top to keep with the festive spirit, like this cute lace light blue one. Match the look with silver jewelry that brings out the sparkles in your top.
Don't forget a comfy coat if you're planning on being outside in the winter.
Casual Chic NYE Outfit
Casual chic is the only way I go anywhere, to Walmart or to meet the Queen. Casual chic is never wrong. Why? Because you're never overdressed nor underdressed.
For this casual chic New Year's eve outfit, first, you need a little shimmer. This princess-inspired pink sequin top is the perfect item for NYE. Also, it's very on trend for 2020, with puffy sleeves and a bustier neckline. Pair it with even more glitter, namely these low-key shimmery pants.
Finish off your look with these '70s meets western-inspired boots that have 2020 written all over them in the best way possible.
Chic NYE Outfit
This dress almost makes me want to be overdressed for my at-home NYE celebrations. If you're having a fancy social distanced event or party in your bubble, this is the way to go.
With a sequin turquoise dress like this, you don't want any coat getting in the way of you shining through the night, so keep yourself warm everywhere else. Some white tights will keep you cozy and will add an extra stylish vibe to your look.
Finish off your look with western inspired accessories to remember 2020 in the best way possible. I love this contoured bag and the cowboy boots.
Whether your plans are casual, or chic, or casual chic, one of these outfits will get you there looking great. Even if you're going to a super chill cozy NYE event, don't forget to wear clothes that make you feel like celebrating.
Also, please remember to stay safe. Follow the rules wherever you are, so we have more reasons to celebrate. We're almost there, and let's be real, this is the longest countdown to NYE ever.
What does your New Year's eve outfit look like this year?
Which is your favorite outfit? What dress code is your NYE event? Be honest, how many sequin items do you have in your outfit?