This post will show you some cute new year's eve outfits for every dress code.
NYE is here! This is one of my favorite holidays because it's all about celebrating a fresh new start and getting excited for what's to come in the new year.
However you choose to celebrate the new year, I have picked out some super cute and festive outfits that are sure to make a statement.
For New Year's, it's all about the sparkles, sequins, and rhinestones. Black, gold, and silver are also popular colors to wear, as well as anything shiny!
Below you will find 24 super cute, trendy, and sparkly outfit ideas for New Year's Eve!
Related reading: 15 Perfect New Year's Eve Makeup Ideas
Tips on What to Wear on New Year's Eve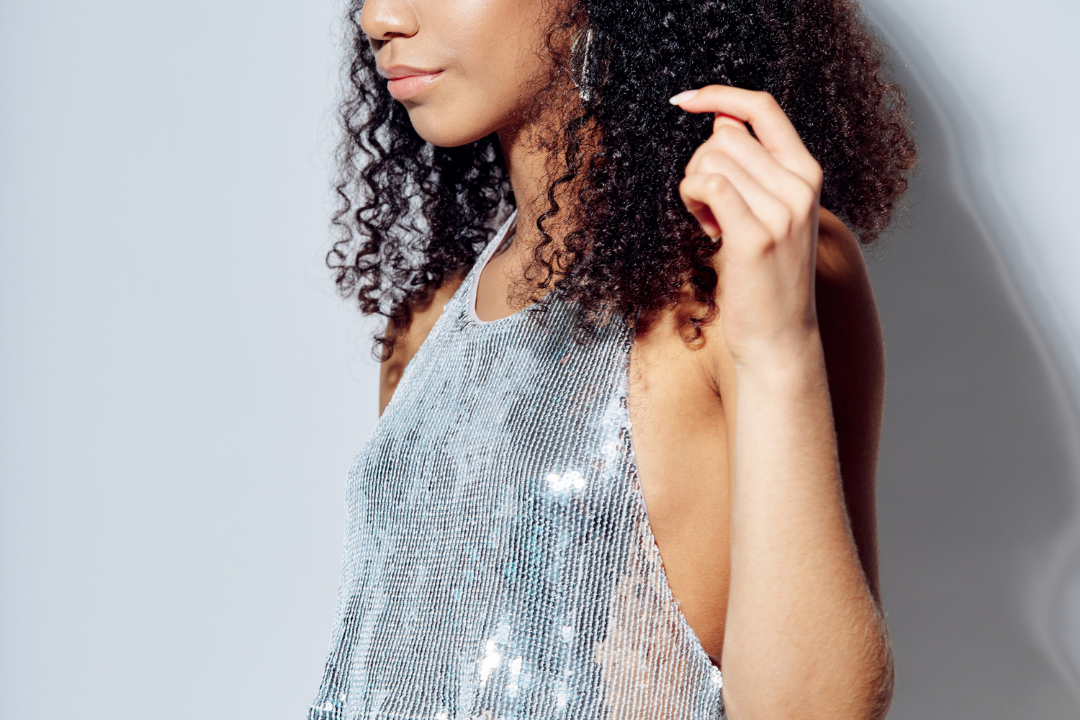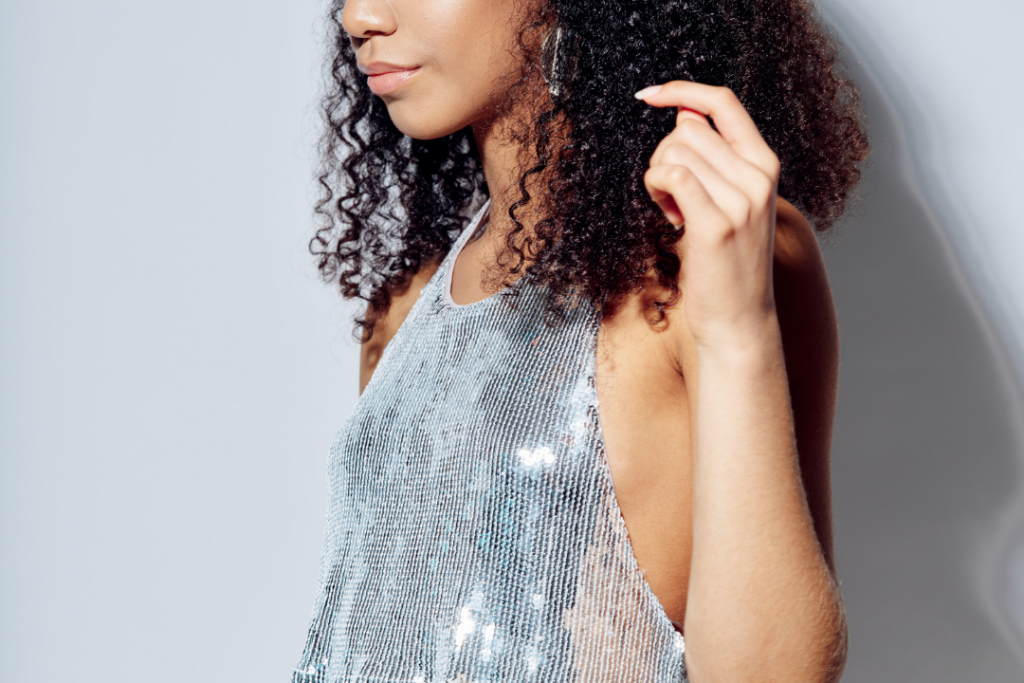 First, let's get to a few very general tips on dressing for new year's eve.
Regardless of whether you're hitting the hottest club (those were the days) or just staying home to watch the ball drop on TV, infuse some sparkle into your New Year's Eve outfit with these tips and suggestions:
When wearing a sequin or sparkly garment, keep your jewelry on the smaller, more minimal side. Unless you're going for a more-is-more look, understated jewelry will balance your look.
Sequins are popular, but try experimenting with other fabrics that shine for a more unique look. For instance, in one of the casual outfits below, we use a velvet matching set and a shiny knit hat for a touch of glam sans-sequins.
Try one bright pop of color. In another one of the looks below, we pair a bright green dress with a bunch of neutral accessories. If you love color, this is a great way to stand out in your NYE outfit.
Take beauty risks. Changing up your usual makeup routine is a must for special nights out on the town. Try false eyelashes for an instant dose of glamor or put on a bold red lip color. It's especially fun to try out looks you wouldn't normally — that's the beauty of a fresh, new start!
Now onto the New Year's Eve outfits! Here is some outfit inspiration for all your NYE plans:
Related reading: Celebrate New Years Eve With These Fashion Finds (All Under $50!)
24 Cute New Year's Eve Outfit Ideas
1. Sequin Party Dress
This first outfit is centered around this amazing sequin mini dress from Zara. Zara has so much great clothing out right now for all of your party needs. They're always one of my favorite stores to check out if I am in need of the perfect outfit.
This black dress has a straight neckline with spaghetti straps and is covered in sequins. It looks great with a pair of simple black heels, black booties, or white booties!
Related reading: We Found the Cutest New Year's Eve Dresses Under $75
2. Gold Sequin Bodysuit
This NYE outfit styles this gold sequin bodysuit from Lulus. Lulus also has some great party clothes out right now on their website, and their prices are always affordable.
This bodysuit is covered in gold sequins, has a low neckline, and has a dramatic cowl back. I love how it's styled with this nude patent mini skirt and some white cowgirl boots. It would also look great with some leather pants, or black denim mom jeans.
3. Green Sequin Crop Top
This next outfit is a little more casual than the last few, but definitely still special. This top from Hello Molly is amazing! It's not a traditional NYE color, but I love it and love the way it looks.
It's this green sequin crop top with a subtle scoop neckline and a corset-style cut. The style is so of-the-moment and will look amazing either worn alone or under a blazer.
Pair with some oversized wide leg jeans or trousers and black booties to make the top the statement piece. I would also add a black mini shoulder bag and some silver hoops, to keep the jewelry simple.
4. Rainbow Glitter Blazer
This blazer from Nasty Gal is gorgeous and screams New Year's Eve. It has all-over sequin embellishments and an adorable oversized fit. And it even has matching pants available if you want to go all out! The rainbow sequins are a must-have and a show-stopper for sure.
I would style this with a cute top underneath and some light wash or black denim, or even a leather mini skirt. For shoes, try some black or white heeled booties, or some knee-high boots if you are wearing a skirt.
5. Pink Sequin Pants
Flared pants have been super trendy lately, and these are the perfect take on them for NYE. These high-waisted sequin flare pants are from Nasty Gal and are in this bright pink color; another non-traditional color for NYE, but I love the way it pops!
These pants have a flared silhouette, elasticized waist, and sequin detailing throughout. They would look super cute styled with a black crop top, oversized blazer, and some strappy black heels.
6. Cutout Jumpsuit
If you are not into all the sparkles and sequins, a statement black outfit is perfect for you. This black jumpsuit from Lulus is super flattering and chic. It's one-shoulder, with long balloon sleeves and a relaxed bodice. It also has an asymmetrical cutout at the waist with cinching and drawstring detail. The pants are also high-waisted!
If you are wanting to dress this jumpsuit up even more, you could add some sparkly heels or boots and some statement earrings.
7. Casual New Year's Eve Outfit
Crop tops and leggings are so freshman year 2018. The new casual has some new must haves. First, combat boots, because if they can handle combat, they might just handle New Year's Eve celebrations. Second, straight white jeans, which are cute and classy, while still giving the edgy look you want.
Pair these basics with a sequin top to keep with the festive spirit, like this cute lace light blue one. Match the look with silver jewelry that brings out the sparkles in your top.
Don't forget a comfy coat if you're planning on being outside in the winter.
8. Sparkly Romper and Boots
This next outfit is this super cute romper, perfect for a night out! Rompers are super comfortable and cute for NYE. This one has wide bell sleeves, a low neckline, and some gathered detailing. It's covered in silver sparkle accents and twinkling black fabric.
The front tie is also adjustable for the perfect fit. this romper would pair great with some knee-high boots and dainty jewelry. To dress it up, even more, pair it with some black heels!
9. Sequin Bustier
This outfit styles this super sparkly sequin bustier from Windsor. The bustier features a rose gold sequin patterning. It has a sweetheart neckline, built-in underwire, and a hook-and-eye back closure.
This bustier is perfectly paired with some leather flared pants or a velvet mini skirt. For shoes, I would add some classic black heeled booties that have a pointed toe. Finish off with some large silver hoops and a black mini purse, and your look is all complete!
10. Long-Sleeve Sequin Top
This next top is long sleeve, so if you're someone who prefers more coverage, this shirt is great! It's this super sparkly sequin crop top from Windsor in black and silver. It has long puff sleeves, a ruched sweetheart neckline with padding, and a fitted crop hem.
Pair with some faux leather pants and platform black heels for the perfect look. If you're trying to make it a little more casual, a pair of light-wash mom jeans and white square-toe booties would also look great with this top.
11. Little Black Dress
This little black dress New Year's Eve outfit is from Princess Polly, one of my all-time favorite brands to shop from. They always have sales going on, and their clothing is pretty affordable, to begin with. They have such cute party clothes out on their website right now, and so many different dresses to choose from.
This dress is one of my favorites they sell. This is the Reeva mini dress in black. It is super flattering with its pinched detailing down the sides and straight neckline. It comes in this shimmering material, perfect for NYE.
This dress has a bodycon fit and is fully lined, so it is still super comfortable. Add some booties or heels to finish off the look. For more warmth, layer on top a faux black leather jacket, an oversized black blazer, or a fuzzy cropped sherpa jacket. All three of these options would look amazing with this dress!
12. Cozy New Year's Eve Outfit
While we've all been wearing our money's worth of our sweatpants over the past couple years. It doesn't mean they can't look cute, though! This shimmering sweatpants and crop top set will make any casual event super festive and exciting.
Pair the sweats with equally comfy and glittery winter accessories, like this rose gold beanie and these gold slippers. You'll feel so comfy and have so much fun, you'll wonder why you ever dressed any other way for a party.
Rock the monochrome trend with your whole outfit by following one color tone like this shimmery gold to rose to chocolate look. Finish this NYE outfit off with some rings for an effortless cool vibe.
13. Sequin Shorts
This next outfit styles these full-sequin shorts from Zara! I love the look of sequin shorts for NYE and these are super cute. They are high-waisted and super flattering.
Pair with a silky black tank top, some sheer black tights, and some chunky heeled booties for the perfect look!
14. Rose Gold Mini Skirt
For outfit number twelve, I styled this rose gold sequin mini skirt from Asos. I love the look of rose gold and pink for New Year's Eve, and this skirt is adorable! It is embellished with sequins, high waisted, with a wrap front and a figure-hugging cut.
Pair with a white corset or bustier, and some white booties to finish off the outfit. This white lace bodysuit they paired with the skirt looks amazing and adds some feminity to the edginess of the skirt.
15. Black Bodycon Dress
A simple black bodycon dress is the perfect staple piece to wear for NYE. You can style it so many different ways, and they are always super flattering on all body types. This one from Pretty Little Thing features a black rib material with a bust detail and high neckline.
To style this staple piece, add an oversized faux leather jacket, some sparkly pointed-toe booties, and lots of dainty gold jewelry. I would also layer on some necklaces and add some gold hoops.
16. Velvet Top and Jeans
This outfit brings some velvet into play; another super popular fabric to wear for NYE.
This velvet bodysuit is from Abercrombie and is super girly and flirty. It has dramatic puff sleeves, a square neckline, seaming details, and added stretch so it is still super comfortable to wear all night.
Style it with some light wash jeans, heeled booties, and a bright-colored purse to add a pop of color. For jewelry, I would add some sparkly statement earrings to pair with the velvet.
17. Casual Chic NYE Outfit
Casual chic is the only way I go anywhere, to Walmart or to meet the Queen. Casual chic is never wrong. Why? Because you're never overdressed nor underdressed.
For this casual chic New Year's eve outfit, first, you need a little shimmer. This princess-inspired pink sequin top is the perfect item for NYE. Also, it's very on trend for the year, with puffy sleeves and a bustier neckline. Pair it with even more glitter, namely these low-key shimmery pants.
Finish off your look with these '70s meets western-inspired boots that are still trending hard this year.
18. Vegan Leather Blazer Dress
The next outfit idea is one of my favorites! It is this amazing vegan leather blazer dress from Abercrombie.
Blazer dresses have been super on-trend lately and are perfect to dress up for New Year's Eve. This one is slim-fitting, has a classic collar neckline, and a single-button closure detail on the skirt. The vegan leather is super soft, so it won't be stiff or uncomfortable all night while you're wearing it.
Add some gold or black heels, a sparkly gold purse, and gold hoops and you are good to go. You could also pair this look with some knee-high black boots, or pointed white booties to make it a little more casual or if you are not a fan of wearing heels all night.
19. Brown Leather Pants and Boots
Mixing brown and black is a popular trend right now, and one that is super cute to try out for New Year's Eve. These brown vegan leather pants from Akira are high rise and flared, so they are super flattering and stylish.
These would look amazing styled with a black sparkly cropped top, an oversized black blazer, and some black heeled booties. Finish off the look with a rinestone bag and some oversized earrings.
20. Rhinestone Ankle Boots
Okay, this isn't an outfit idea per se, but you could do so much with these amazing booties!
If you're looking to make your shoes the statement piece of your outfit, these boots are perfect for you! These chunky silver booties have sparkles everywhere and a comfortable chunky heel to make them easy to wear all night.
These would look super cute styled with a little black dress and an oversized leather jacket. Make your shoes the center of attention!
21. Sparkly Two-Piece Dress
This next outfit is more dressy and fancy, for everyone going to nice parties or you just love to dress up!
This matching sequin crop top and skirt set is from Forever 21 and is stunning. It is a knit set that comes with a cropped cami that is covered in sequin embellishments. The cami has a flattering cowl neck and adjustable straps that criss-cross in the back. The matching midi skirt features a high-rise waist, knotted side, and a flattering leg slit.
This is seriously the perfect outfit for NYE and it's super easy to style because it's a matching set! This would look cute paired with some black heeled-booties that have a patent, shiny finish.
22. 2000s Silver Rhinestone Top
This 2000s inspired outfit styles a cowl neck rhinestone top. These tops are super trendy because they are really flattering and look so great on. This one has sparkly chain straps, a cropped hem, and a high-polish finish to make you sparkle all night.
I would pair it with some black or light wash mom jeans, or some black faux leather leggings. Add some chunky heeled black booties and you're all set!
23. Chic NYE Outfit
This dress almost makes me want to be overdressed for my at-home NYE celebrations. If you're having a fancy social distanced event or party in your bubble, this is the way to go.
With a sequin turquoise dress like this, you don't want any coat getting in the way of you shining through the night, so keep yourself warm everywhere else. Some white tights will keep you cozy and will add an extra stylish vibe to your look.
Finish off your look with western inspired accessories to remember the year in the best way possible. I love this contoured bag and the cowboy boots.
24. Black Sequin Romper
The last outfit is a sparkly sequin romper from Fashion Nova. I love wearing rompers for special occasions because it's a super cute outfit all in one! No need to stress up finding a top and bottoms. This romper is long sleeve with a tie waist, pockets, and sequins. It also comes in emerald, bronze, red, and orange.
Pair with some white heeled booties, a white mini shoulder bag, and some sheer black tights underneath for warmth and layering!
What does your New Year's eve outfit look like this year?
Whether your plans are casual, or chic, or casual chic, one of these outfits will get you there looking great. Even if you're going to a super chill cozy NYE event, don't forget to wear clothes that make you feel like celebrating.
Also, please remember to stay safe. Follow the rules wherever you are, so we have more reasons to celebrate. We're almost there, and let's be real, this is the longest countdown to NYE ever.
Which is your favorite outfit? What dress code is your NYE event? Be honest, how many sequin items do you have in your outfit?
Looking for a more casual new years eve outfit? Here are some of our favorite outfit ideas from our archives that might also inspire you this coming new year. –