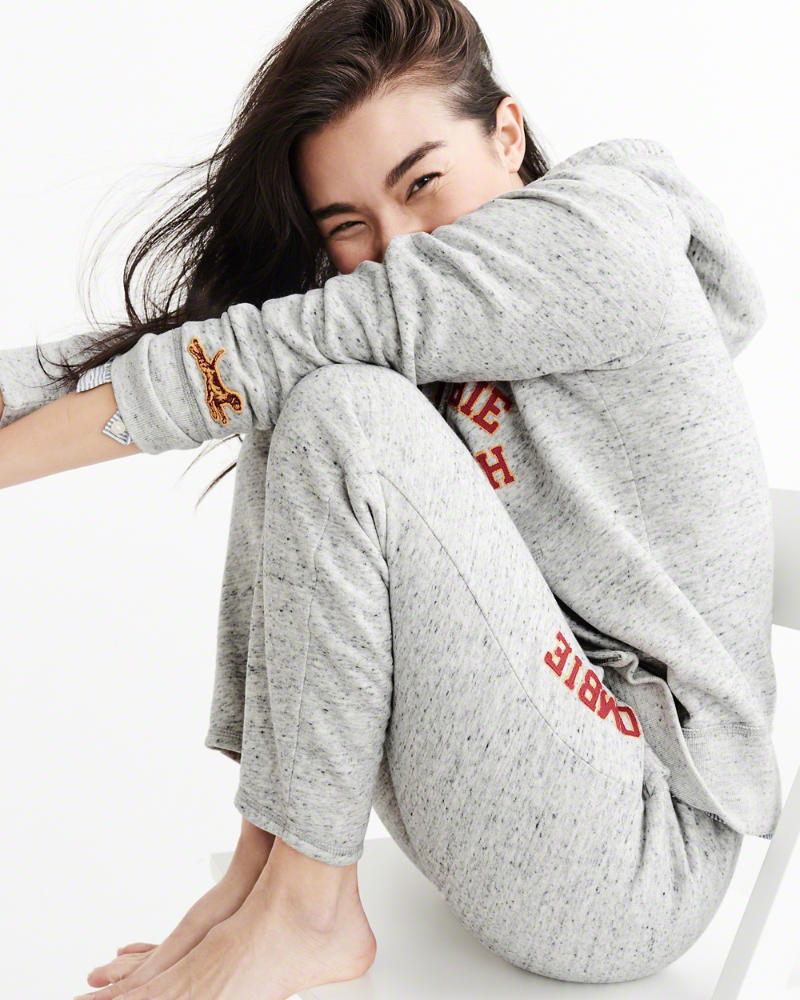 Welcome to the latest edition of Ask CF! Every two weeks, we select a reader fashion question and answer it here on the site. Do you have a specific fashion question for us? Scroll to the bottom of this post to learn how to send it our way!
Ask CF Question
Dear CF,
I've seen your many articles on sweatpants (and I love them! I love sweatpants!) but I've been searching around the Internet and I can't seem to find a certain thing. You see, I have a pair of grey heather sweatpants with the purple logo of my hockey team on the leg. I'm stumped as to how to style these in a way that matches, except with a plain black t-shirt, and that's kinda boring. Can you help?
Our Response
Dear LW,
For many college students, sweatpants are one of those things that you just throw on when you want to be comfortable and don't care much about how you look; so kudos to you for wanting to make this old standby look stylish and cool!
The good news is that styling sweatpants in a way that is exciting and trendy is not so difficult; in fact, the only real thing that you have to keep in mind is that you're going for a streamlined and modern look, as opposed to something that just blends in.
This means that, when looking for clothes to pair with your sweatpants, you should search for pieces that are structured and modern-looking and that have little details that stand out, so as to avoid the dreaded I-just-got-back-from-the-gym look, when you definitely haven't gone to the gym!
Before we begin with the actual looks themselves, though, I just wanted to note that I was unable to find any heather gray sweatpants with a purple logo specifically.  So, for the purposes of this article, I will be using these sweatpants, which have a mostly-red logo on the leg, as this was the closest thing to a purple logo that I could find.
Now, on to the looks!
Sweatpants Outfit #1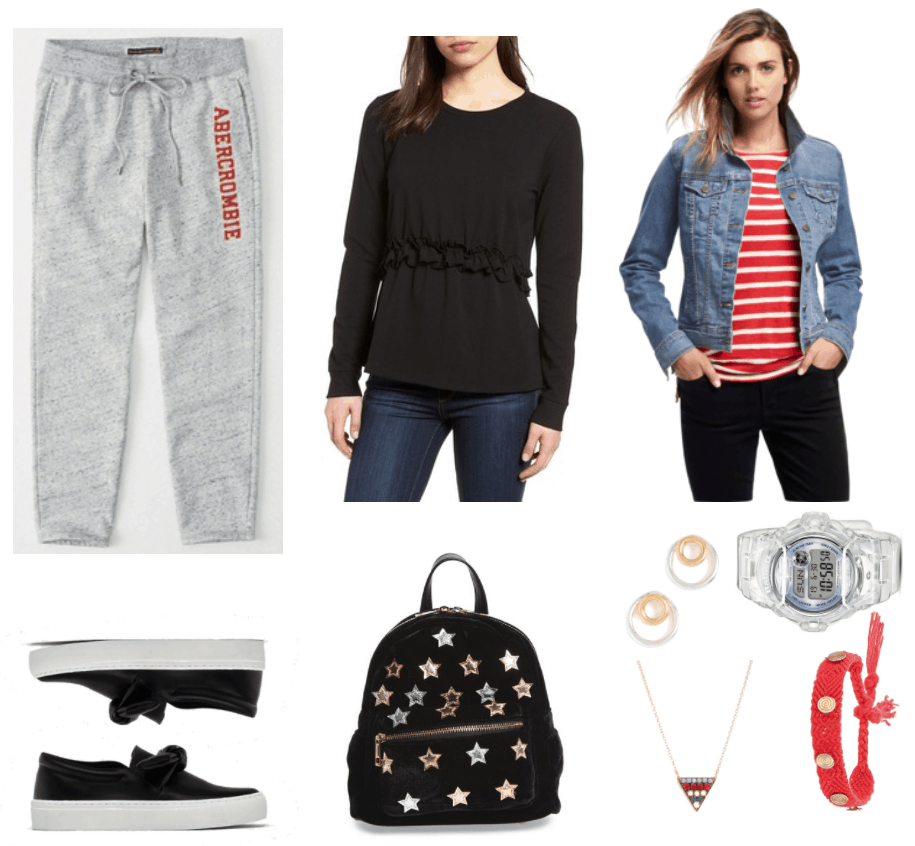 Products: Sweatpants – Abercrombie & Fitch, Sneakers – Zara, Sweatshirt – Nordstrom, Backpack – Nordstrom, Jacket – Old Navy, Earrings – Shopbop, Necklace – Nordstrom, Watch – Bloomingdale's, Bracelet – Zappos Luxury
For the first look, I decided to go for something that is a bit of an upgrade from the standard black t-shirt that you find boring — I paired the sweatpants with a black ruffled sweatshirt instead.  Not only are the ruffles a fun detail, but the placement of the ones on this sweatshirt in particular make it quite feminine, as it emphasizes your waistline.
Black bow sneakers make for a sporty yet sophisticated look, while a classic denim jacket provides some contrast in texture.
As far as jewelry goes, I chose to keep things modern by picking bright and quirky geometric pieces — such as these front-to-back circle stud earrings, a multi-colored triangle necklace, and a bright red woven friendship bracelet — along with a '90s-throwback Baby-g digital watch.
To complete the outfit, grab a cute mini velvet backpack with metallic stars.
Sweatpants Outfit #2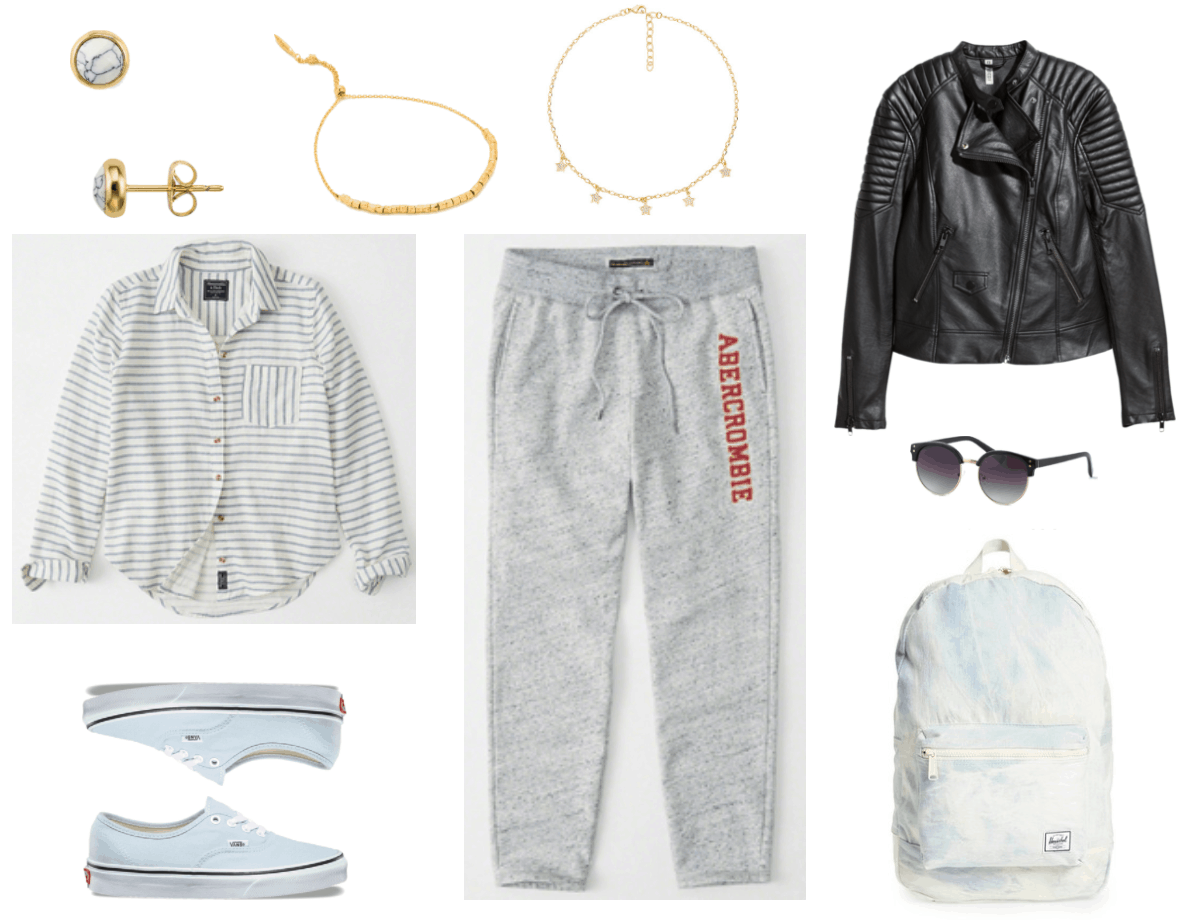 Products: Earrings – Bloomingdale's, Shirt – Abercrombie & Fitch, Sneakers – Vans, Bracelet – Bloomingdale's, Necklace – Revolve, Sweatpants – Abercrombie & Fitch, Jacket – H&M, Sunglasses – American Eagle Outfitters, Backpack – Nordstrom 
This slightly more dressed-up look demonstrates how surprisingly versatile sweatpants can be!
To get it, style the sweatpants with a button-up shirt whose horizontal stripes make it a bit more casual than the standard vertically-striped versions. Be sure to roll up the sleeves for a stylish touch.
Next, add some pretty pale blue Vans sneakers and a cute tie-dye backpack to the look.
Keep the chill vibe going by putting on some dainty jewelry; think interesting marbled stud earrings, a goes-with-everything gold beaded bracelet, and a playful star choker.
Finally, throw on a classically cool faux-leather motorcycle jacket and round sunglasses to finish off the look.
Sweatpants Outfit #3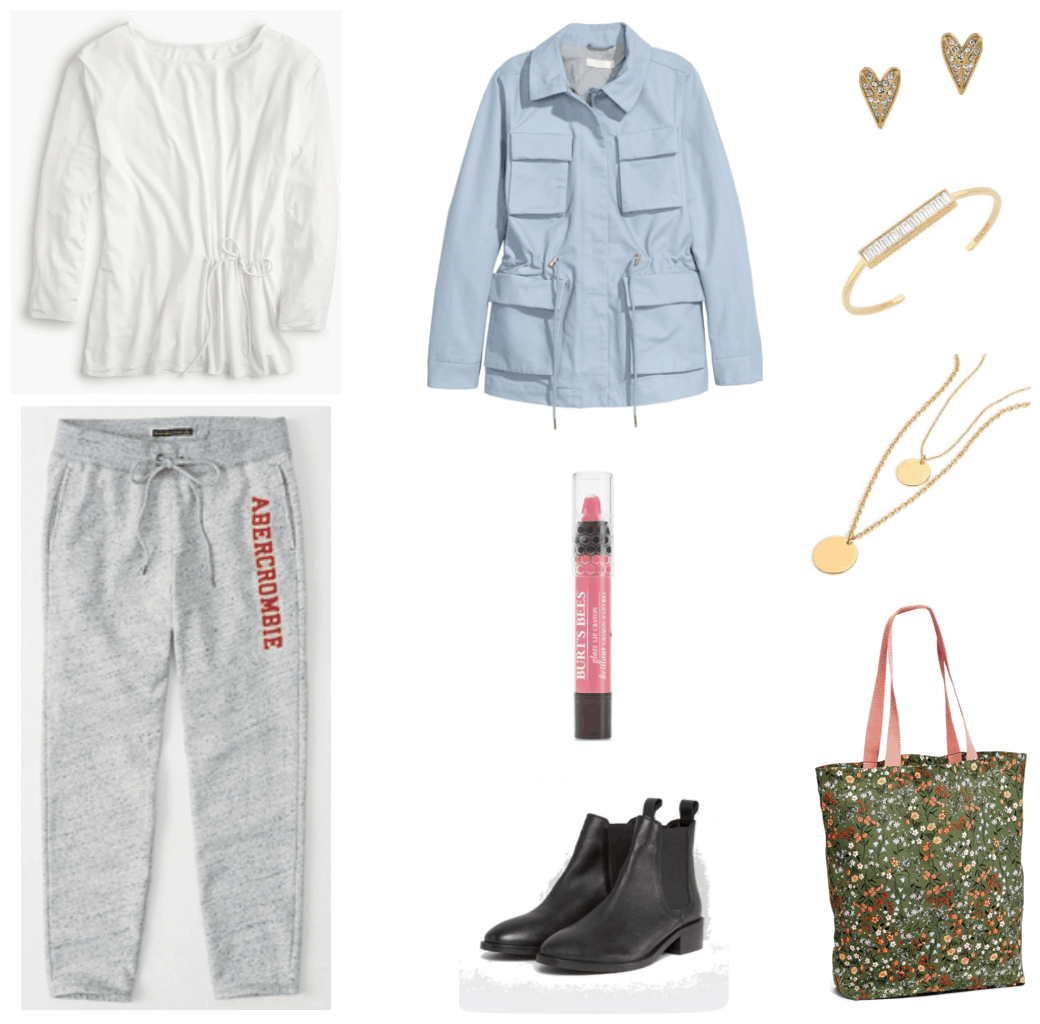 Products: T-Shirt – J.Crew, Sweatpants – Abercrombie & Fitch, Jacket – H&M, Lip Crayon – Macy's, Chelsea Boots – ASOS, Earrings – Lord & Taylor, Cuff – Lord & Taylor, Necklace – J.Crew, Tote – Old Navy
This laid-back yet fashion-forward look is perfect for class, since it's so easy to just throw on and go!
Begin by pairing the sweatpants with a simple but feminine white t-shirt with a waist-defining tie. Then, put on a cargo jacket in a lovely shade of pale blue.
Chelsea boots go well with almost any casual outfit — and this one is no exception — so put on a pair of timeless black ones.
Pyramid heart stud earrings, a double-layer pendant necklace, and a cuff bracelet jazz this simple outfit up a little, as does an adorable ditsy floral-print tote. Add some color and shine to your lips with this Burt's Bees Gloss Lip Crayon, and you're all set to go!
I hope that these outfits have provided you with some inspiration on how to style your sweatpants in a non-boring way. Thanks for your question!
Do you have a fashion question? Send it to us!
Is there something in your closet that you want to wear but have no idea how to style? Do you need advice on what to wear to an upcoming event? Do you have a specific fashion conundrum?
If you have a fashion-related question that you would like to see answered in this column, simply email it to askcf @ collegefashion.net, and one day you might see your question answered right here on the site!
What do you think?
How do you like to style sweatpants?  Would you wear any of these looks?  Do you have any more suggestions as to how to wear sweatpants in a fashion-forward way?
Let me know in the comments!