Want to find the cutest best friend bracelets? This post will has 17 on-trend options.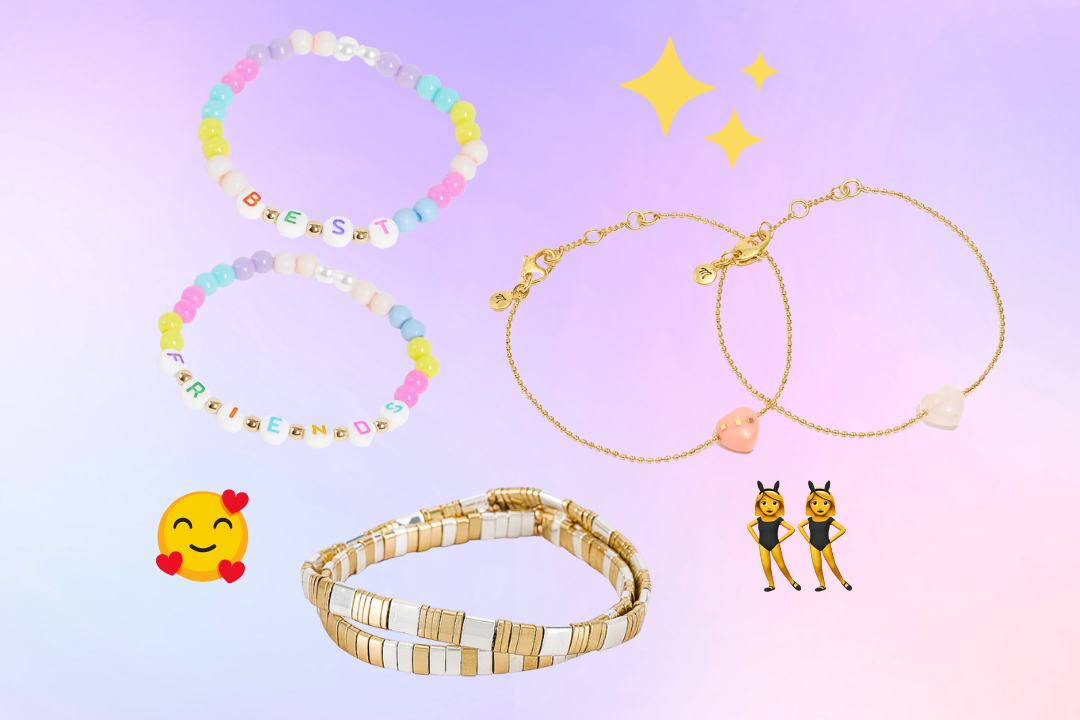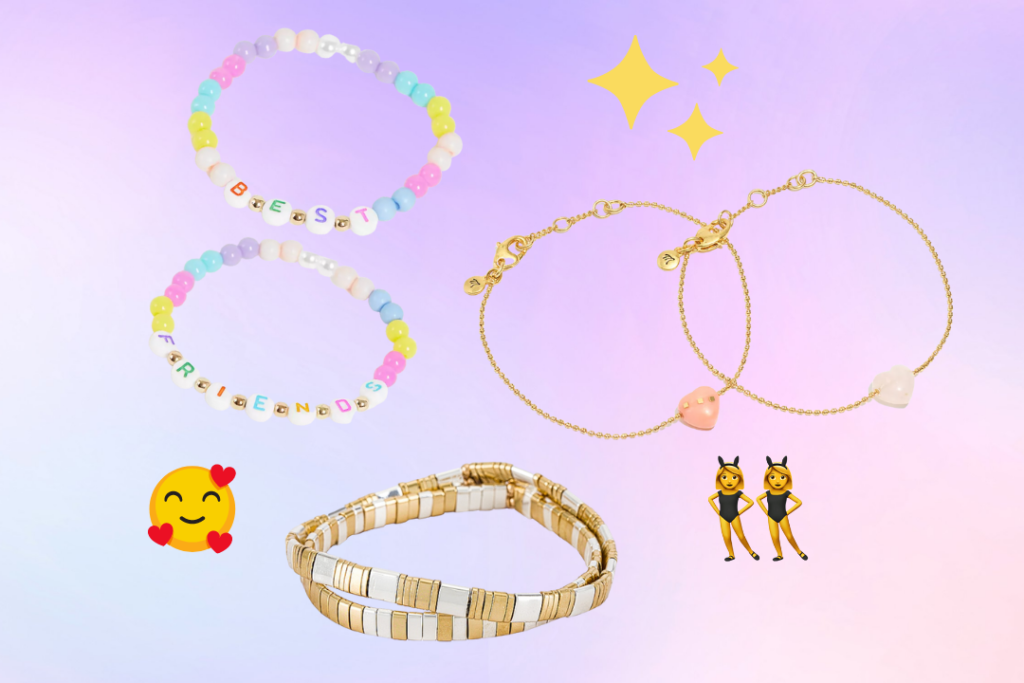 With the return of all things 2000s, we've seen a resurgence of bold, colorful jewelry over the past few seasons. We're talking bold enamel rings, candy-colored chokers, and, of course, the return of all types of friendship bracelets.
This season's friendship bracelets aren't the matchy-matchy "BFF" half-heart bracelets of the past. There are so many new takes on the trend, perfect for sharing with your most stylish pals.
Here are the trendiest best friend bracelets to rock in 2023:
Best Friendship Bracelets Ideas:
UO Classic Woven Friendship Bracelets Set
Okay, so could you DIY these woven friendship bracelets at home? Yes. Do you really have the energy for that? Well… if you do, I'm envious of you.
These cute little bracelets are less than $2 for the set, so order them as an anytime-gift for your bestie.
Shashi Pearl Friendship Bracelets
Pearl jewelry is an insanely popular trend in 2023, so why not embrace it with these cute matching pearl friendship bracelets?
This set from Shashi comes with two bracelets made of cultured freshwater pearls. They're so pretty and unique, perfect for layering with all of your favorite jewelry. The best part is, they aren't explicitly friendship bracelets, so you can wear yours for every occasion.
Lauren Rubinski "Dreamy" Bracelet
Here's the ultimate cool girl take on friendship bracelets.
Lauren Rubinski is a major jewelry designer with pieces that can cost upwards of $10,000 a pop. But if you want to treat a friend without completely emptying your bank account, her designer friendship bracelets are (relatively) affordable.
My favorite thing about her beaded lurex bracelets is that they come with a variety of different sayings. So buy "dreamy" for yourself and "joy", "hope", "strong", or "smile" for your friends.
Kendra Scott Heart Friendship Bracelets
Kendra Scott is a huge name in trendy jewelry and the brand makes tons of cute and unexpected takes on friendship bracelets.
In particular, I'm loving this colorful beaded heart bracelet (which also comes in pink and red). It's unique, it stands out, and it fits most people thanks to Kendra Scott's signature adjustable fastener. Oh, and did I mention it has 14k gold beads? Perfect for the galentines you can't live without.
Vintage Inspired '90s Best Friend Bracelets
If you really want to go for a throwback look this season, these '90s-inspired beaded friendship bracelets are perfect. Their pastel colors are so on-trend and the mix of colorful beads, pearls, and letters make them so cute and eclectic.
Also, if you're crafty, you could easily DIY these yourself like you did when you were a kid. (Here's a cute tutorial that walks you through the process, if you're a little rusty.)
Nordstrom Pink & Green Friendship Bracelets
I love the concept behind these mismatched friendship bracelets from Nordstrom: "Commemorate a friendship in sweet, sophisticated style with this set of sparkling bracelets that are complementary yet distinct—just like you and your bestie."
This set comes with a pink jeweled bracelet and a gold and neon yellow horseshoe bracelet so you can each pick your fave. The only problem is, both bracelets are so cute, it's near impossible to choose between them!
Madewell Rose Quartz Heart Bracelets
For a more grown-up vibe than our last set, these rose quartz heart chain bracelets from Madewell are adorable and chic at the same time.
I love that both bracelets are nice and subtle, so no matter which one you get, you'll be able to pair it with everything you own. The dainty chain makes these perfect for layering with your other bracelets as well.
Shashi Gold and Silver Bracelets
Here's another sleek and subtle take on friendship bracelets, once again from the brand Shashi. This set comes with two stretch bracelets made of 14 karat gold plated beads.
These beautiful, delicate bracelets would be perfect for sharing with a friend who has a sophisticated sense of style. You'll both wear these for years and years to come.
Mixed Metal Bar Friendship Bracelet Set
These mixed metal friendship bracelets from Madewell are stunning and super affordable! I love that they match but not exactly. One has a gold bar with silver on top and the other one is reversed. I can't decide which one I prefer!
The best part about these is, it's only $20 for the set — these look so much more expensive than they are.
Powerpuff Girls Best Friend Bracelets
In contrast to the chic and subtle options above, sometimes you just want a bright and fun bracelet set to share with friends.
If you have two best friends (or two sisters), these Powerpuff Girls-themed friendship bracelets are seriously perfect. For less than $20 you get three throwback bracelets that are sure to put a smile on your face whenever you look at them.
These would make such a cute gift, and they'd also be perfect for rocking with a Powerpuff girls group Halloween costume this year.
Yin/Yang Friendship Bracelets
With the return of everything '90s and 2000s, the yin yang symbol is popping up on fashion items everywhere. (And even on our nails.) So naturally, we're seeing yin yang friendship bracelets all over our Instagram feeds.
This set from Amazon is less than $10 for two so it's an amazing deal. Give one to the BFF who's the yin to your yang, or vice versa.
Gold and Silver CZ Metallic Friendship Bracelets
If you and your bestie love all things glam, definitely snag these gold and silver metallic friendship bracelets. They come with CZ detailing for an extra hint of sparkle.
Once again, these bracelets are super affordable and look a lot more expensive than they are! Also, metallics are neutrals, so these will look good on everyone.
Blue and Red Beaded Friendship Bracelets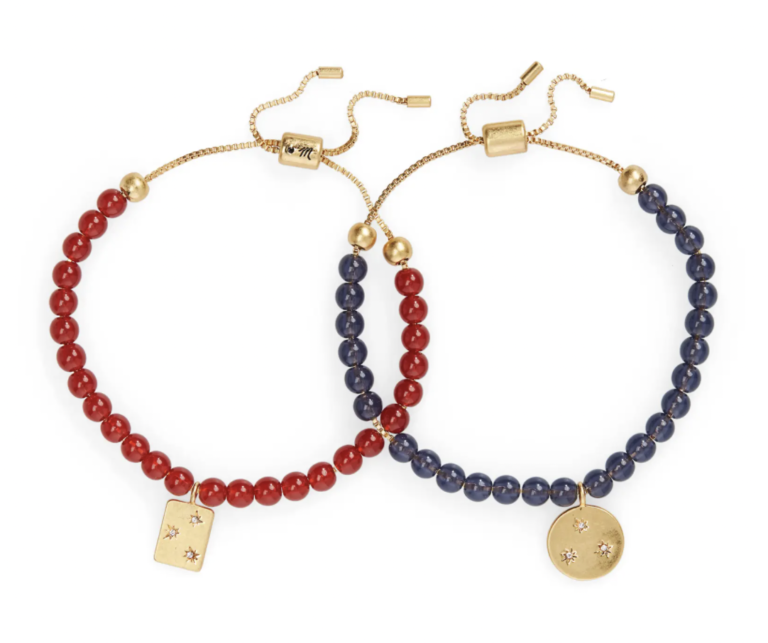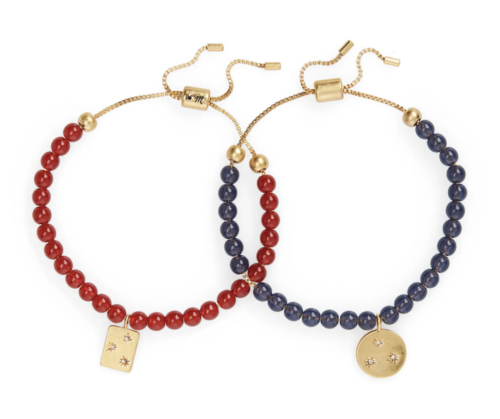 How cute are the celestial charms on these red and blue beaded friendship bracelets? They're one part whimsical, one part bohemian, and they're totally wearable with any casual outfit.
These would also look super cute stacked with your other favorite bracelets, to add a little color to any look.
"Friends Are Like Stars" Bracelet
Here's a super giftable take on a friendship bracelet with an incredibly sweet message attached.
This "friends are like stars" bracelet from Etsy comes packaged with a cute card that reads: "Good friends are like stars. You don't need to see them to know they are there." It's also a stunning sterling silver-plated bracelet featuring beautiful star charms.
This would be a perfect gift for a friend you don't see as often, but who you want to make feel extra special! Seriously so sweet.
Long Distance State Bracelet
Here's another great best friend bracelet for a BFF who lives far away, in a different state to be exact.
This personalized bracelet from Etsy allows you to combine your state and your bestie's state for a completely custom bracelet that's also super cute. You can also add your initials and get whatever shade of gold each of you prefers, for bracelets as unique as you are.
Mini Infinity BFF Bracelet
This cute little BFF charm initial bracelet is one of the most traditional styles on this list, but I love it because it's subtle and can be completely customized to accommodate all of your besties.
Available in silver tone, brass, sterling silver, or 14k gold, this bracelet can be customized with up to six mini charms to include the initials of your whole squad!
Ride or Die Bangle
Finally we have a friendship bracelet in disguise. From the side, it looks like just a normal gold bangle, but when you look at this bracelet from the top or bottom, you'll see the hidden message.
On the side, it's engraved with the words "Ride or Die". (You can also personalize it with a different saying of your choice, so get as creative as you want!) Available in two different metals, this is the perfect choice for gifting to your most stylish partner in crime.
What do you think of these best friend bracelets?
Now that you've seen all the cutest friendship bracelets on the market, I want to finish off with a quick reminder to show your besties some love today, even if it's just a quick text to check in. As Woodrow Wilson famously said, "Friendship is the only cement that will ever hold the world together."
Do you like these modern friendship bracelets? Do you think the friendship bracelets trend has staying power? Which of these bracelets would you choose for you and your besties? Do you like the bracelets that accommodate a whole group of BFFs?
Let me know what you think in the comments section below.