This post may contain affiliate links, which means we may receive a commission if you purchase through our links. Please
read our full disclosure here
.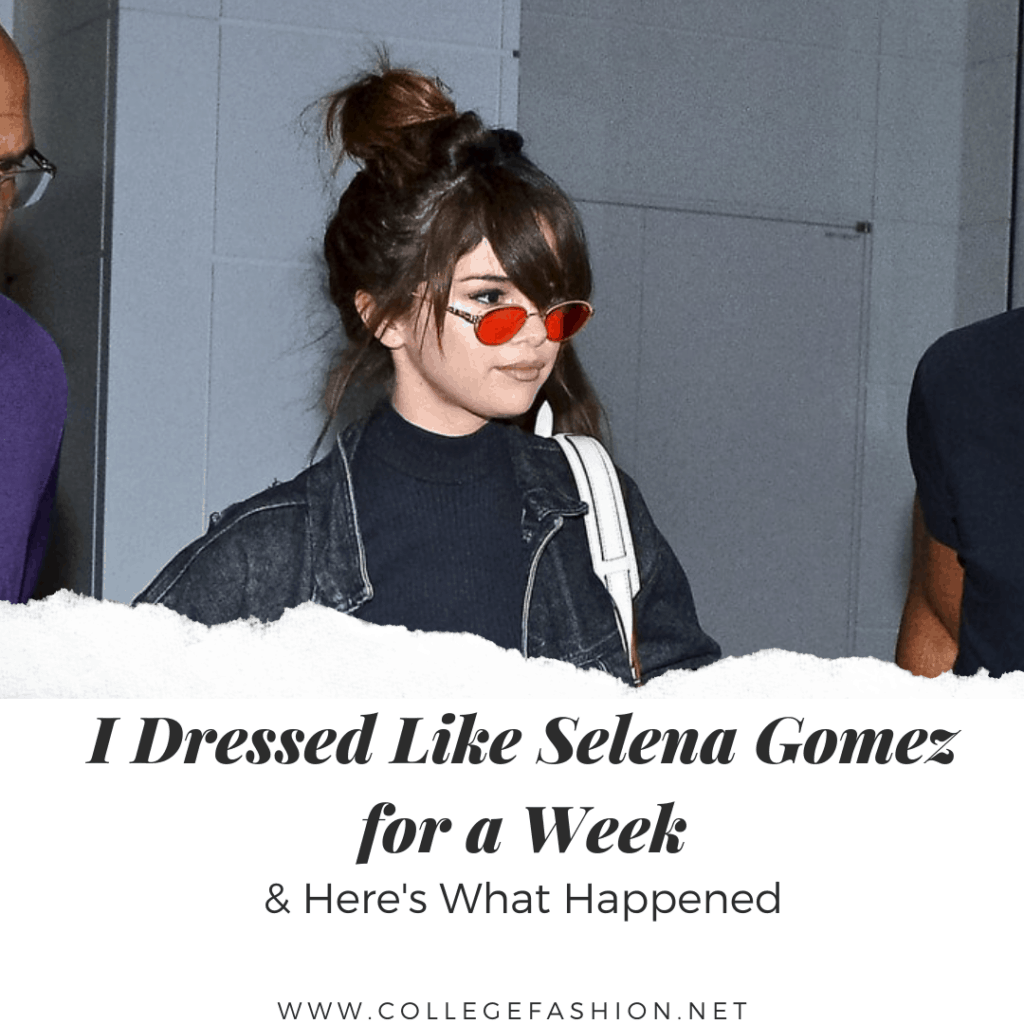 We've all looked to celebrity style for fashion inspiration at some point in our lives. But it's one thing to say "I love her outfit," and it's another to actually copy it in real life.
For this series, I'm going the extra mile and making it happen. Each week, I'm getting inspiration from a celebrity and copying five of her looks as closely as possible. Then, I'm reporting back to you: Did the outfits work in real life? Did I feel comfortable? Did people treat me differently? I'm sharing it all.
In past posts I've dressed like Zendaya, Gigi Hadid, Grace Kelly, Kendall Jenner, Vanessa Hudgens, Sophie Turner, Priyanka Chopra, Millie Bobby Brown, Hilary Duff, Lily Collins, Taylor Swift and Iconic Halloween Characters. This week, I dressed like my Latina sister, Selena Gomez.
Selena Gomez's Fashion Sense:
Selena Gomez's style is incredible. Every single one of her outfits look put together and chic.
After going through her looks in depth, I noticed she favors classic items like jeans, shirts, loafers and structured jackets and blazers. While she does wear bright colors, neutral shades seem to be her favorites. She usually goes for bold, fun and trendy accessories over a classic outfit.
(If you want know more about her style, check out this article we posted about Selena Gomez's outfits in 2019.)
Now, I'll give you the rundown of how this week went!
I Dressed Like Selena Gomez – Outfit #1, Monday
For the first day, I started with this casual, but polished look. In the picture, Selena's wearing a black top, an oversized cardigan, jeans, and a pair of loafers.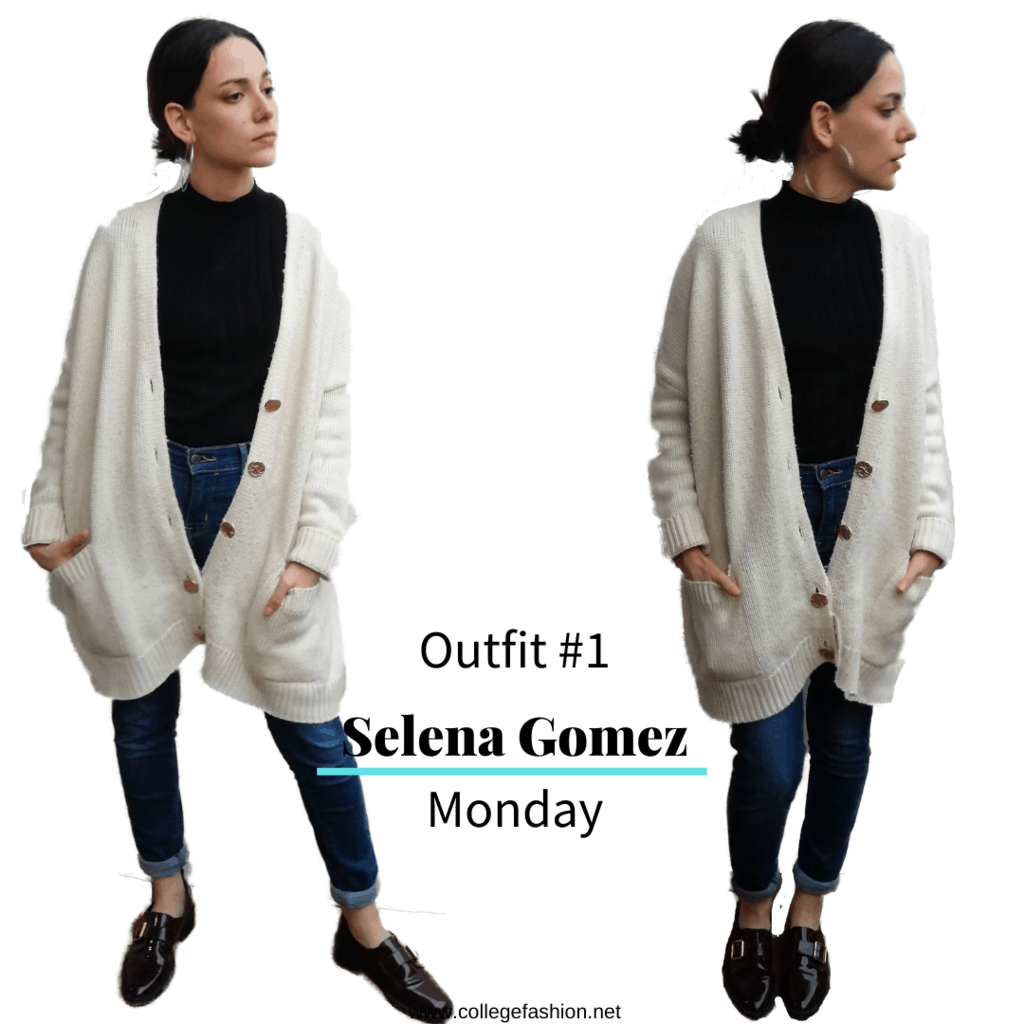 For my interpretation of this outfit, I wore a black turtleneck and tucked it into a pair of medium wash jeans. I borrowed an oversized cream cardigan from my mom and added a pair of burgundy loafers. Selena's shoes are black, but I already had this pair and they looked close enough.
I accessorized like Selena did: with big silver hoops and sunglasses. I also did my hair like she did, just to recreate the vibe of the look as closely as possible.
Mondays in November are not my favorite, generally speaking. I'm dealing with finals at school, and work accumulates because we're reaching the end of the year. For me, wearing this comfortable, but stylish outfit helped a lot with my mindset.
Since I tend to go for lazier ensembles during this time of year, this was a great look to get me out of that routine. The hoops and hair helped me feel more elevated in this outfit, since I don't usually wear earrings or do my hair in such a sleek style.
I Dressed Like Selena Gomez – Outfit #2, Tuesday
For the second day, I chose this street style look. Above, Selena is wearing a grey sweatshirt, Converse, black leggings, and a blue coat.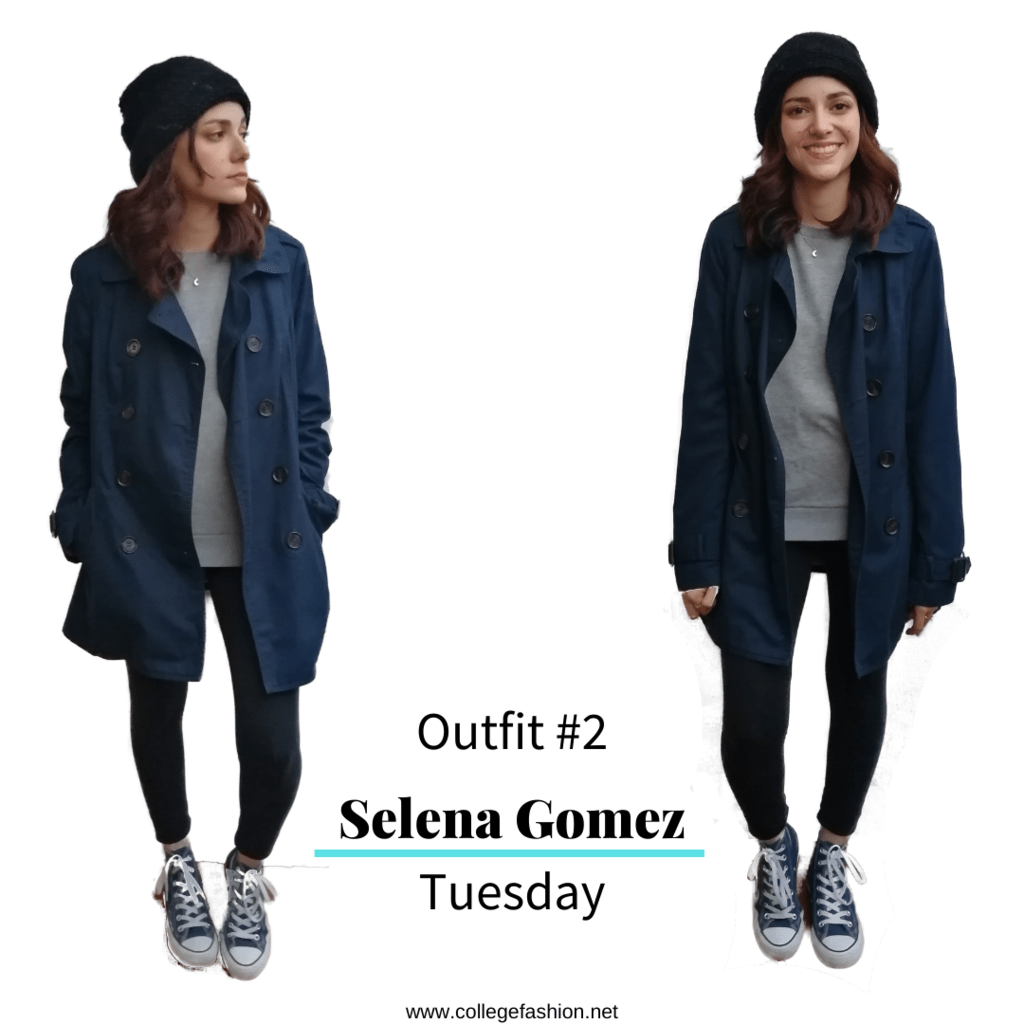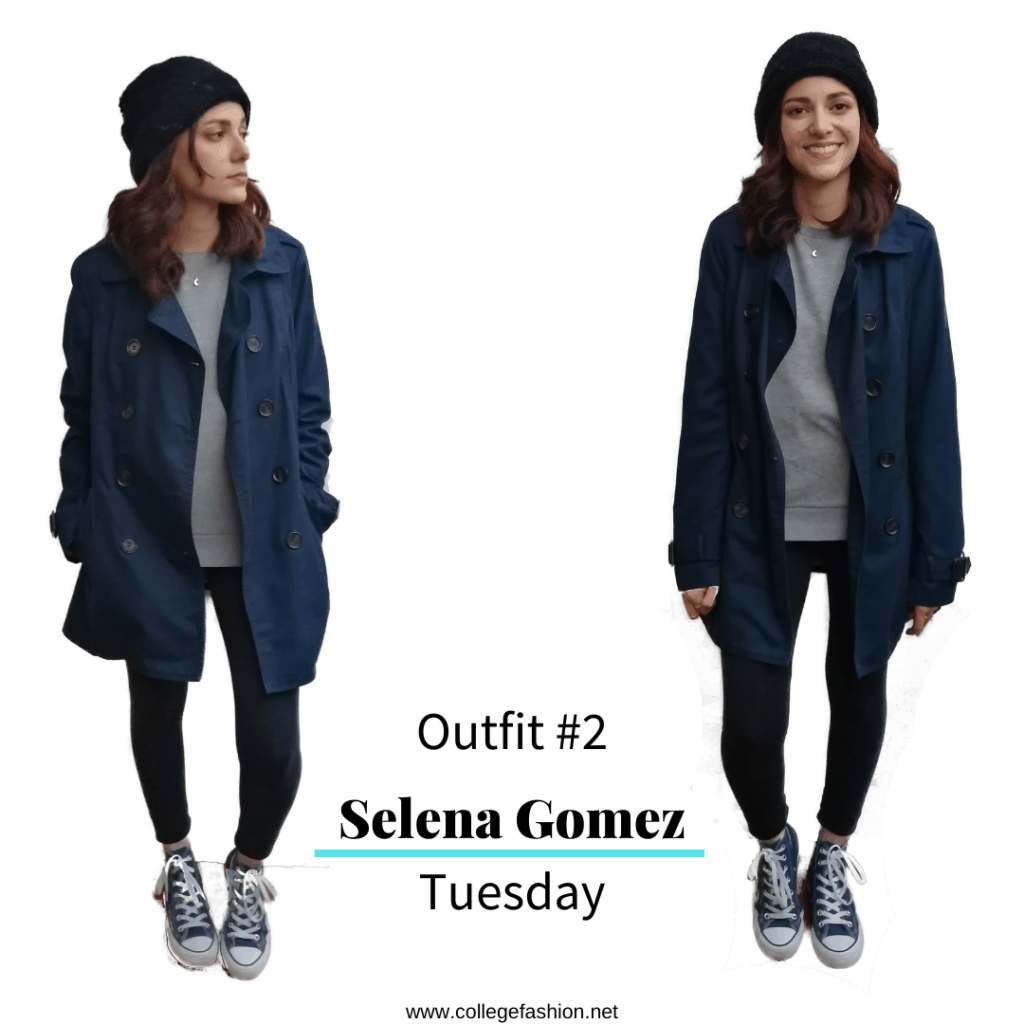 I used a light grey, oversized sweatshirt and a pair of black leggings as a base for the outfit. I didn't have a coat that matched Selena's exactly, but I wore a navy blue coat that I had. Then, I added my high top blue Converse and accessorized with a black beanie and sunglasses.
I adored this outfit. Not only was it comfortable, it is effortlessly cool and edgy.
This look was perfect for the office, since I didn't have any meetings with a client, and it was chill enough for a calm afternoon. We're in the middle of November, so both the coat and sweatshirt helped a lot with the chilly weather, while still looking great.
I Dressed Like Selena Gomez – Outfit #3, Wednesday
For Wednesday, I decided to go for a monochromatic look. Here, Selena can be seen (on the right) wearing a dark grey sweater, grey jeans, and black loafers.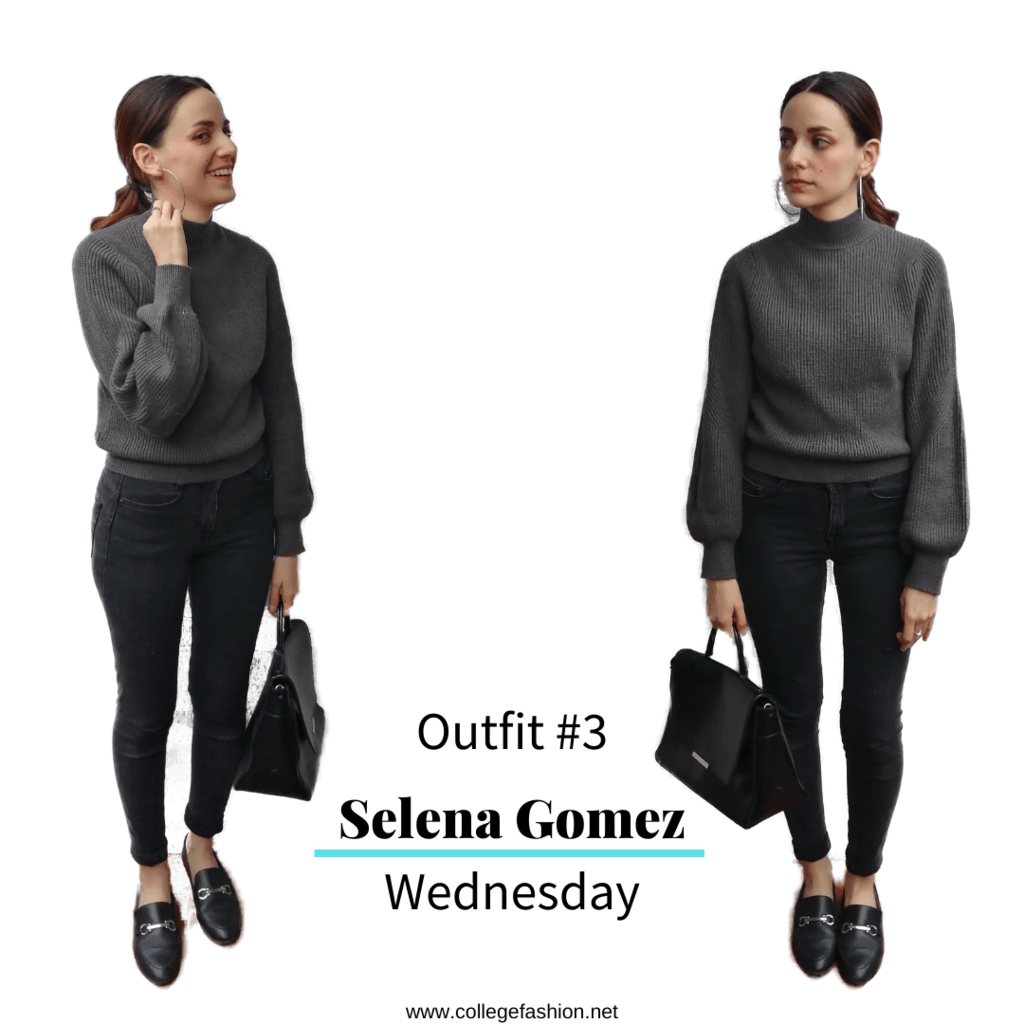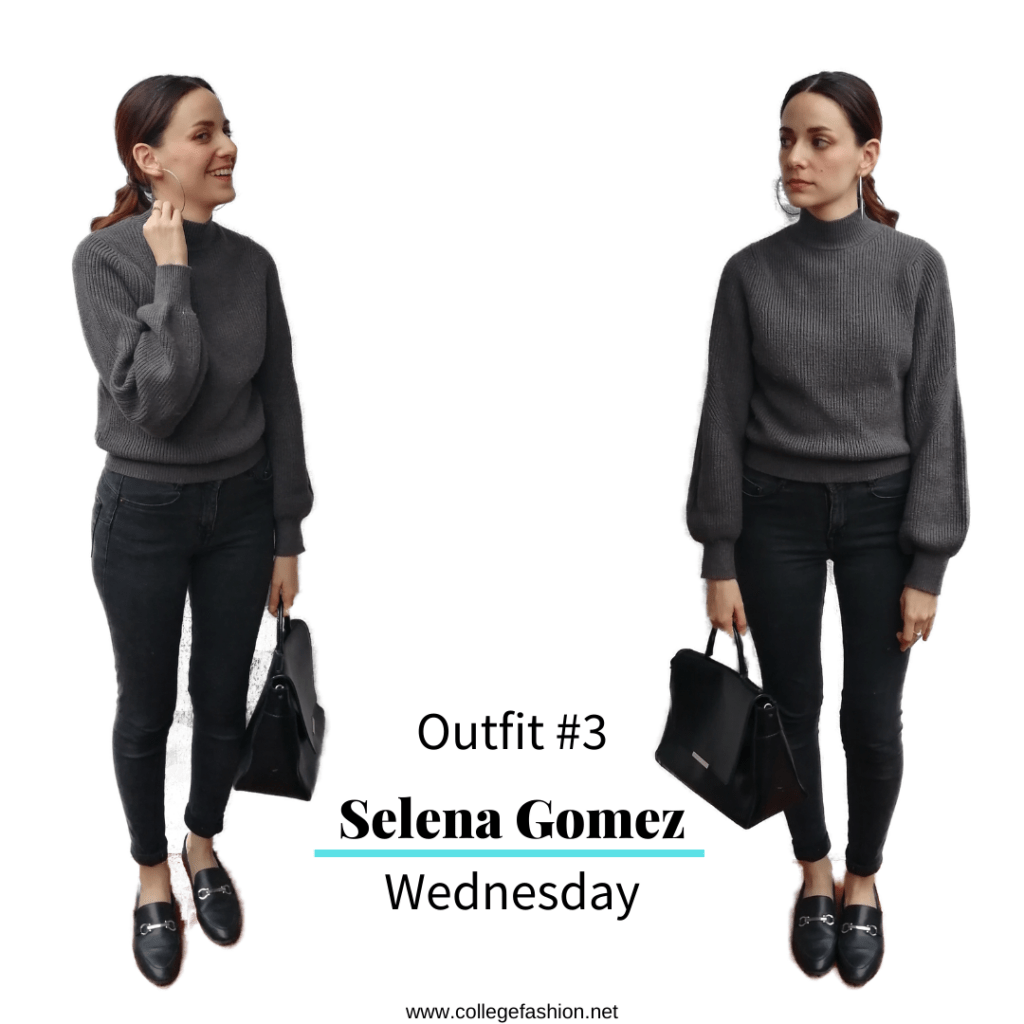 To get this look, I wore a dark grey bell-sleeved sweater with a pair of worn out, faded black jeans. I borrowed the black loafers from my sister. I tied my hair back in a slick bun and accessorized with sunglasses, big hoop earrings, and a structured black purse.
A monochromatic grey look has always scared me, because I feel it looks kind of washed out. At first I wasn't sure about how this looked, I honestly felt like I needed an accent color or something to complete the outfit.
But I ended up loving it!
As the day went on, I realized how sleek and put together I felt. Also, doing the hair and wearing the hoops, again, helped so much with the overall look.
I Dressed Like Selena Gomez – Outfit #4, Thursday
Thursday was a chill kind of day, so I chose this casual outfit. Here, Selena is wearing a crop top, black pants, white sneakers, and a denim jacket.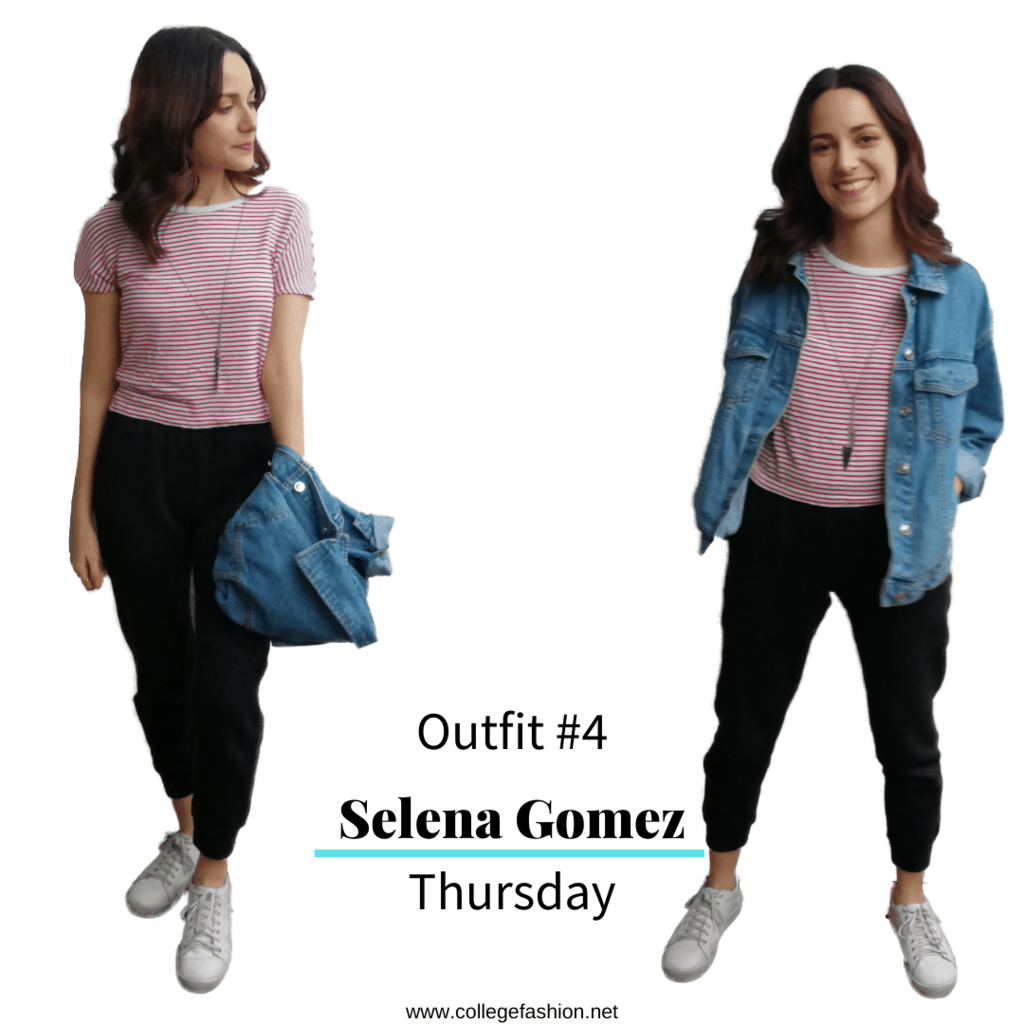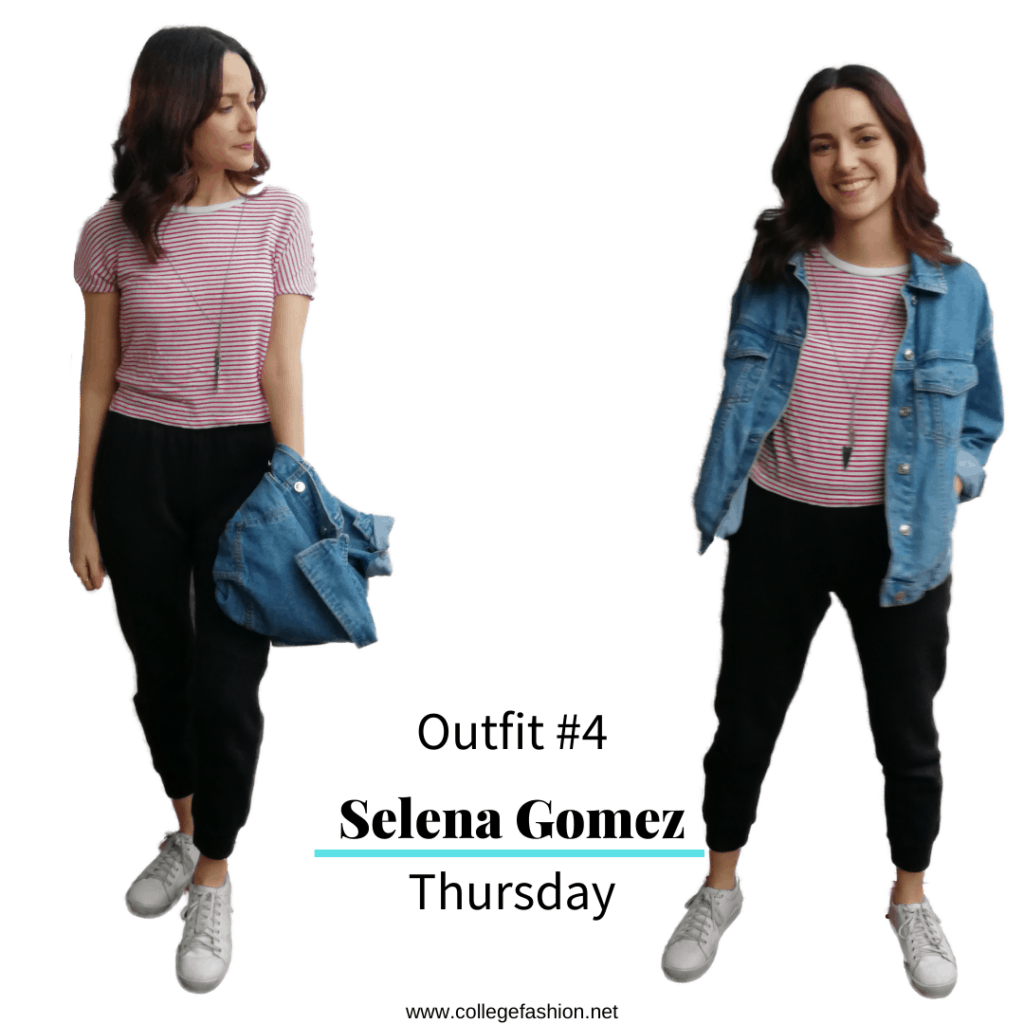 On this day I wore a striped crop top, similar in shape to Selena's, with a pair of black pants. I used my pair of white Nike sneakers, which, if you read this series, you are probably familiar with. Then, I layered with an oversized denim jacket. For accessories, I wore a long necklace, similar to hers.
It turned out that I didn't have to go to the office today, so wearing this outfit was perfect. I did go to school and this look was insanely comfortable for a three-hour lecture. Even though it isn't such an "out-there" look, it is a put together, comfy one, which is always helpful when you're a college student and a working one at that.
I Dressed Like Selena Gomez – Outfit #5, Friday
The last day came and I went for this neutral look. In the picture (swipe to the third picture), Selena is wearing a long coat, white t-shirt, jeans, and loafers.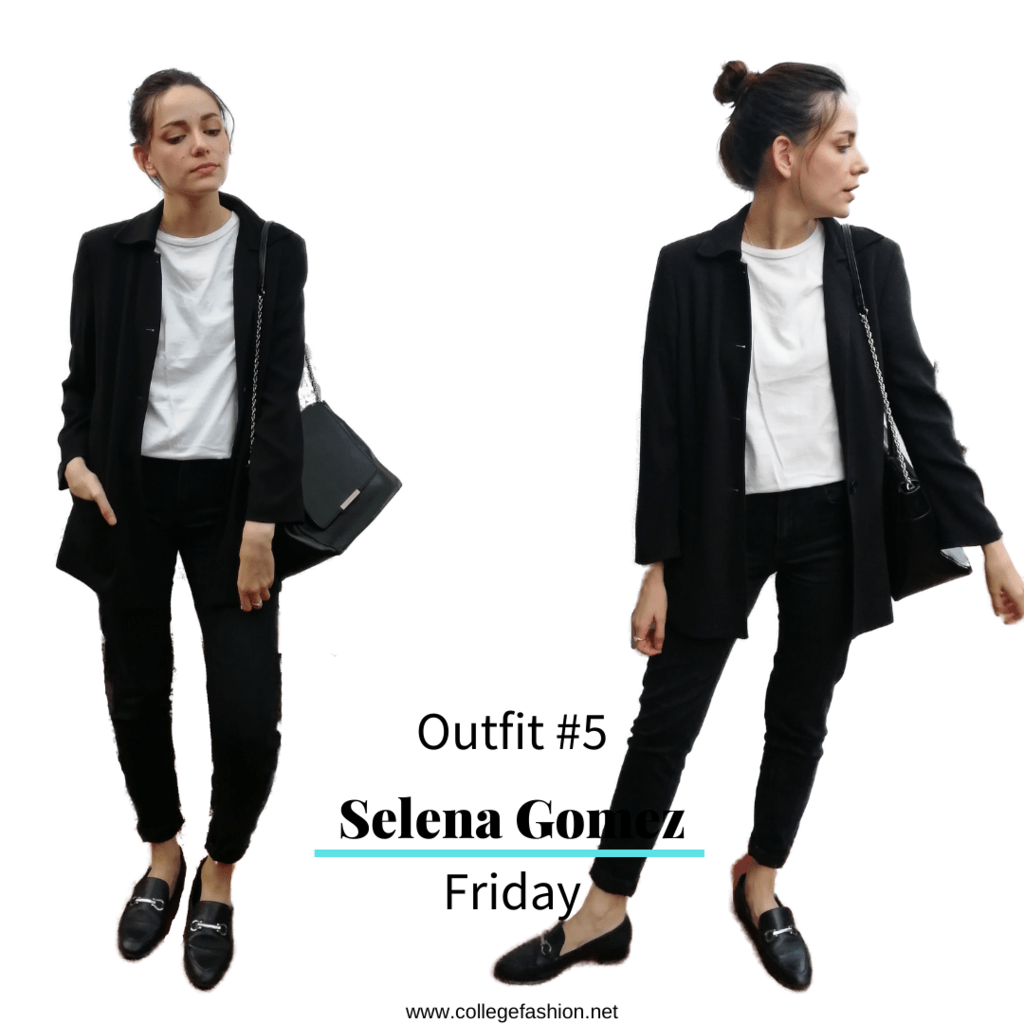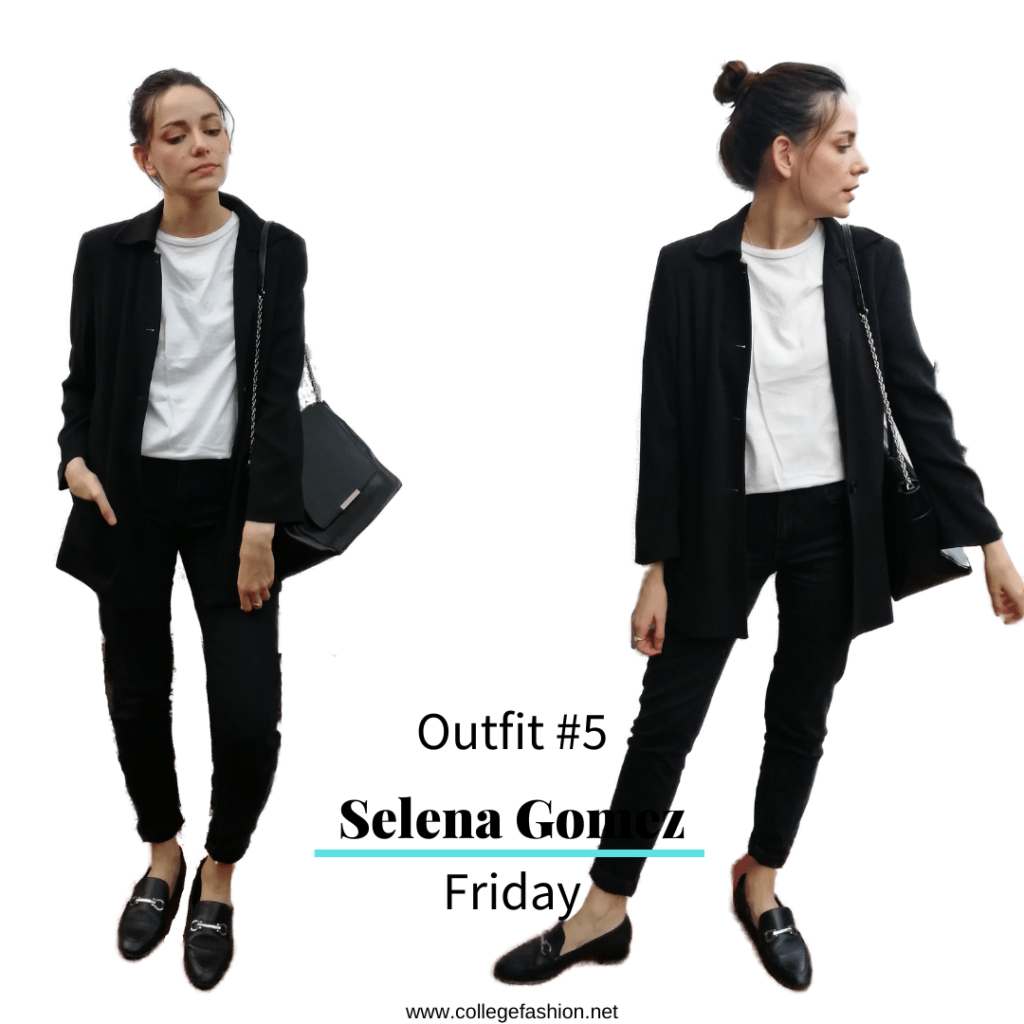 For my recreation of this outfit, I wore a white T-shirt and a pair of black jeans as a base for the look. Then, I layered with a long black coat and added a pair of black loafers.
Selena has a white purse in her look, but I don't own a white one, so I used the same black structured purse I had on Wednesday. Finally, I accessorized with a pair of black sunglasses and I put my hair in a messy bun.
Do I adore this outfit? Yes, yes I do, so much. It is so… classy and fashionable. I really, really love it!
This was a perfect outfit for a long day at the office with a couple of meetings and for an afternoon class, which ended early. I then wore it for going out for dinner and drinks with my friends, which was perfect. I didn't feel like I had to change anything through the day.
Final Thoughts
It was already too late when I realized that every outfit I chose had pants as bottoms and I didn't use any dresses, skirts, or shorts this week. So, I apologize for the lack of diversity in bottoms this week! That being said, I loved every outfit this week. They were all stylish, comfortable, and spot on for the things I had to do every day.
Selena's style, as far as I can tell, gravitates towards preppy, chill, and just slightly edgy looks. I would personally make some changes to adjust those same outfits to my personal style, such as changing the loafers for a pair of white sneakers in a look or adding a leather jacket instead of a cardigan or coat.
Overall, it was easy to recreate Selena's outfits, since she wears simple items in common shapes. The magic of her looks comes in the styling of them: the way she does her hair, the type of shoes and bags she chooses and the jewelry to accessorize changes the look of every single outfit. Also, she's not afraid to wear things that could make her look younger, like overalls, messy buns, or graphic sweaters in colorful shades.
If you love Selena and her style, I do recommend you take inspiration from her. You probably have many of the items necessary to create the looks. And, I promise you, they will be stylish, comfortable, and appropriate for anything and everything that comes up through the day!
What do you think?
Did you like the outfits? Which one would you wear? Do you like Selena's style? Whose style do you think I should do next? Let us know in the comments below!