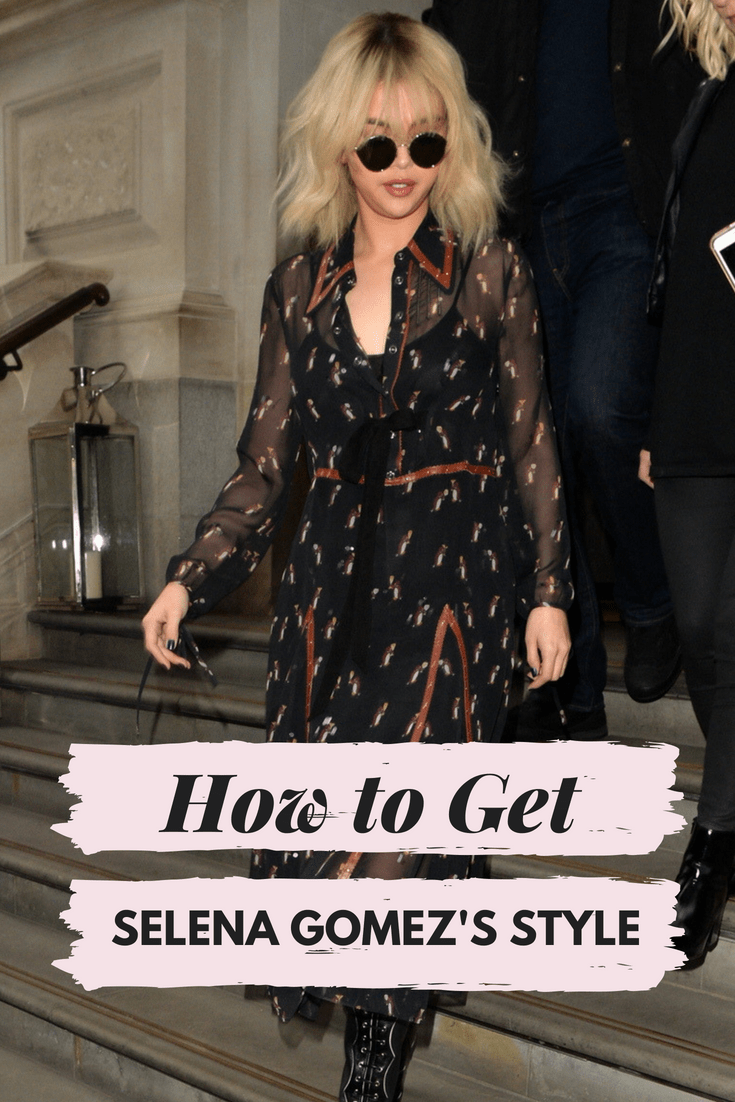 A while back, we listed our favorite celebrity fashion icons, and over the next few months, we'll be breaking down each celebrity's style in depth and showing you how to get her style for yourself. Today, we're showing you how to get Selena Gomez's style.
Selena Gomez has the ability to transform before our eyes, from casual to alluring, sporting many different combinations of styles.
It's no surprise Selena's style is all over the map, after all, as a performer she has the ability to pull off every trend. However, an air of urban class seems to permeate Gomez's looks in her soft, sleek dress and avant-garde combinations of color or design.
We get it–Selena is one intense and memorable style icon. There are hundreds of looks and styles to choose from when it comes to this major female figure, and I've chosen to focus on how to copy three untraditional and unconventional Selena looks.
These are outfits that the everyday, collegiate can wear, and with Selena Gomez as inspiration, they're sure to stand out in a crowd!
Before we dive into the fashion, let's talk a little history on Selena.
Early Life
It's pretty common knowledge that Selena Gomez started as a child/early teen star on the Disney Channel. After a childhood of roles in shows like The Suite Life of Zack & Cody and Wizards of Waverly Place, Selena began starring in her first movies, including Another Cinderella Story and Princess Protection Program.
https://www.instagram.com/p/BnBrn0BANlS
Health Battle
Selena has been extremely open in the media about her "life or death" disease and battle for her life. Diagnosed with Lupus, an autoimmune disease that causes inflammation that affects the joints, skin, kidneys, blood cells, brain, heart, and lungs, the actress and singer shared much of her journey.
For Selena, this ongoing illness meant a kidney transplant. Speaking on the situation at the "Lupus Research Alliance's Breaking Through Gala" Selena said:
"As many of you know or might not know, I was diagnosed with lupus about five or six years ago.I've been speaking out about my situation to raise awareness about the disease. After undergoing so many tests to monitor my kidneys, my doctors told me I have lupus nephritis, one of those complications from lupus. They said I would be needing a kidney transplant. Maybe I wasn't necessarily really good at knowing what that meant, so it actually got to a point where it was life-or-death. Thankfully, one of my best friends gave me her kidney and it was the ultimate gift of life. And I am doing quite well now."
This friend, Francia Raisa, has been friends with Selena for more than eight years, and the process was documented and followed by Selena fans all over the world.
In this heartwarming post, Selena describes what it means to undergo such a process, and have a best friend to endure it with.
How to Dress Like Selena Gomez
As a fierce advocate for health and other causes, and a fierce fashionista, of course, Selena was well-recognized in her early career for her "girl-next-door looks". Selena may have been the ideal Disney poster child, but we all are familiar with the pattern that follows– breaking down the channel's innocent girl stereotype, a coming of age of sorts. Looking at you, Miley, Bella, and Lindsey. 
And after the edgy release of songs like "Good for You", "Bad Liar", and "Fetish", Selena brought her new phase into full swing as a true rockstar and grown-up glamour queen.
However, when it comes to this article and examining Selena style, I'm going a different route- I want to focus more on the everyday and untraditional looks.
We'll start with a set perfect for arriving in a new city in style!
Traveling Trendy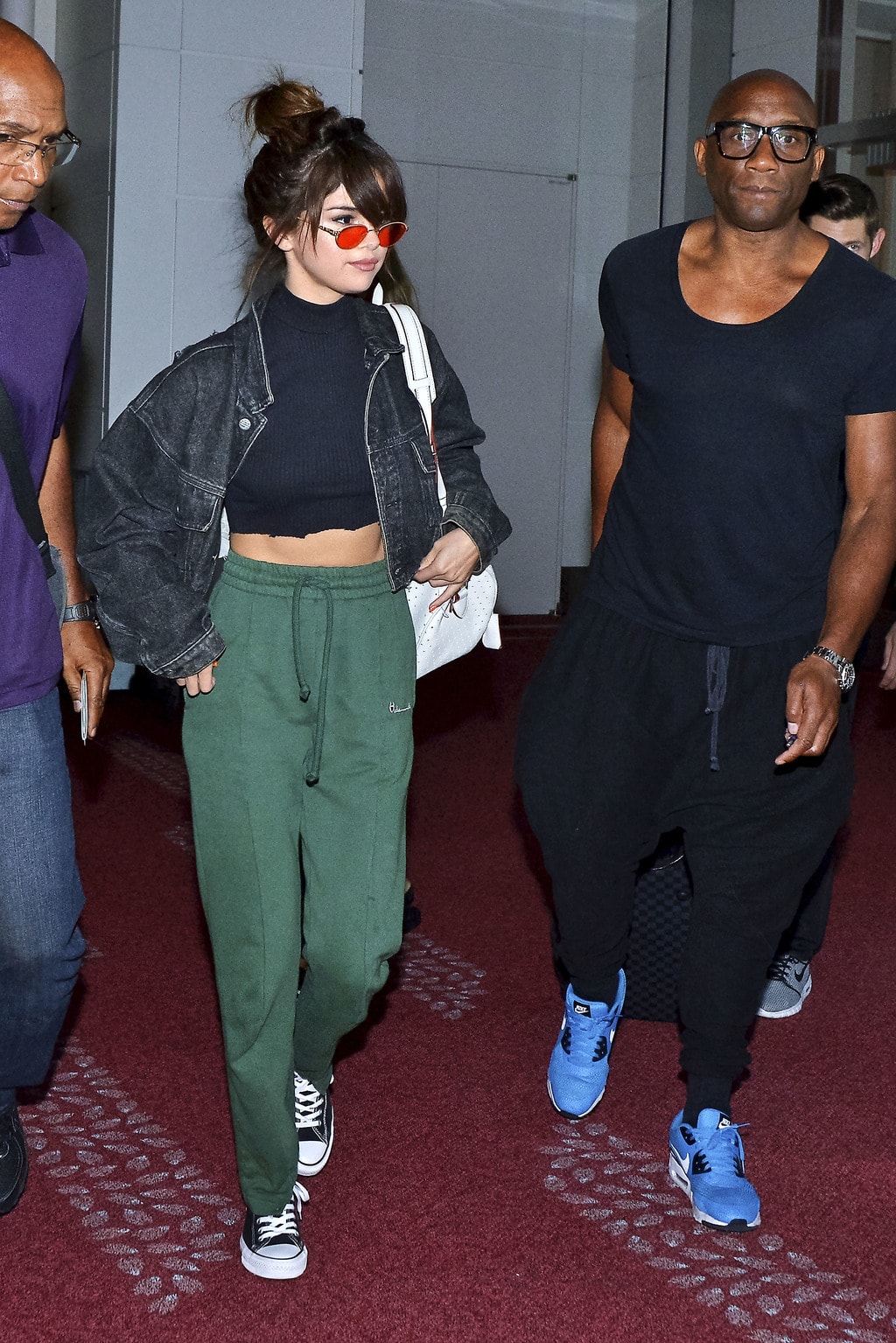 A picture captured as Selena boards a plane, we get to take a look into the world of celebrity travel with this classic and adorable set. This look is fashionable and intentional, nothing sloppy or jet-lagged about it.
And the best part is, it's so easily accessible! Selena wears typical Converse, a messy bun, and sweats, but adds her own personal flair with colored glasses and a cropped turtleneck.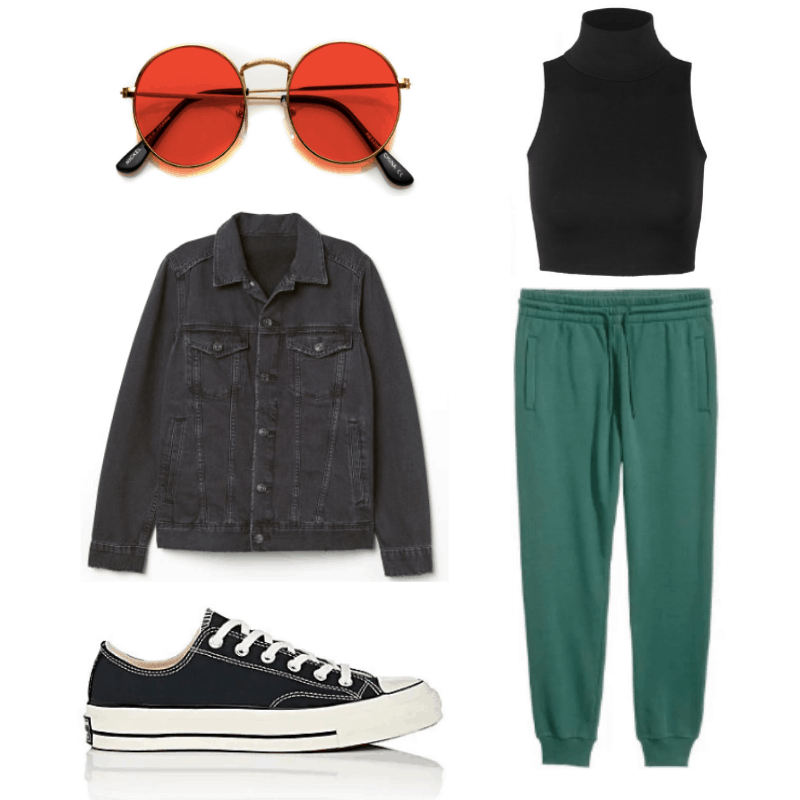 Products: Shoes- (Converse), Pants- (H&M), Sunglasses- (Adelaide), Jacket- (H&M), Top- (Walmart)
Get this look by pairing your favorite Chuck Taylors with high-waisted, drawstring sweatpants (this shade of green is so perfect for Selena's olive skin tone), a plain black cropped top, and a warm and stylish oversized jacket, then pull your hair into the classic messy bun.
One of my favorite parts of this look is her shades–who doesn't want to rock a good pair of sunglasses after a long day of flying?
A Vogue Outing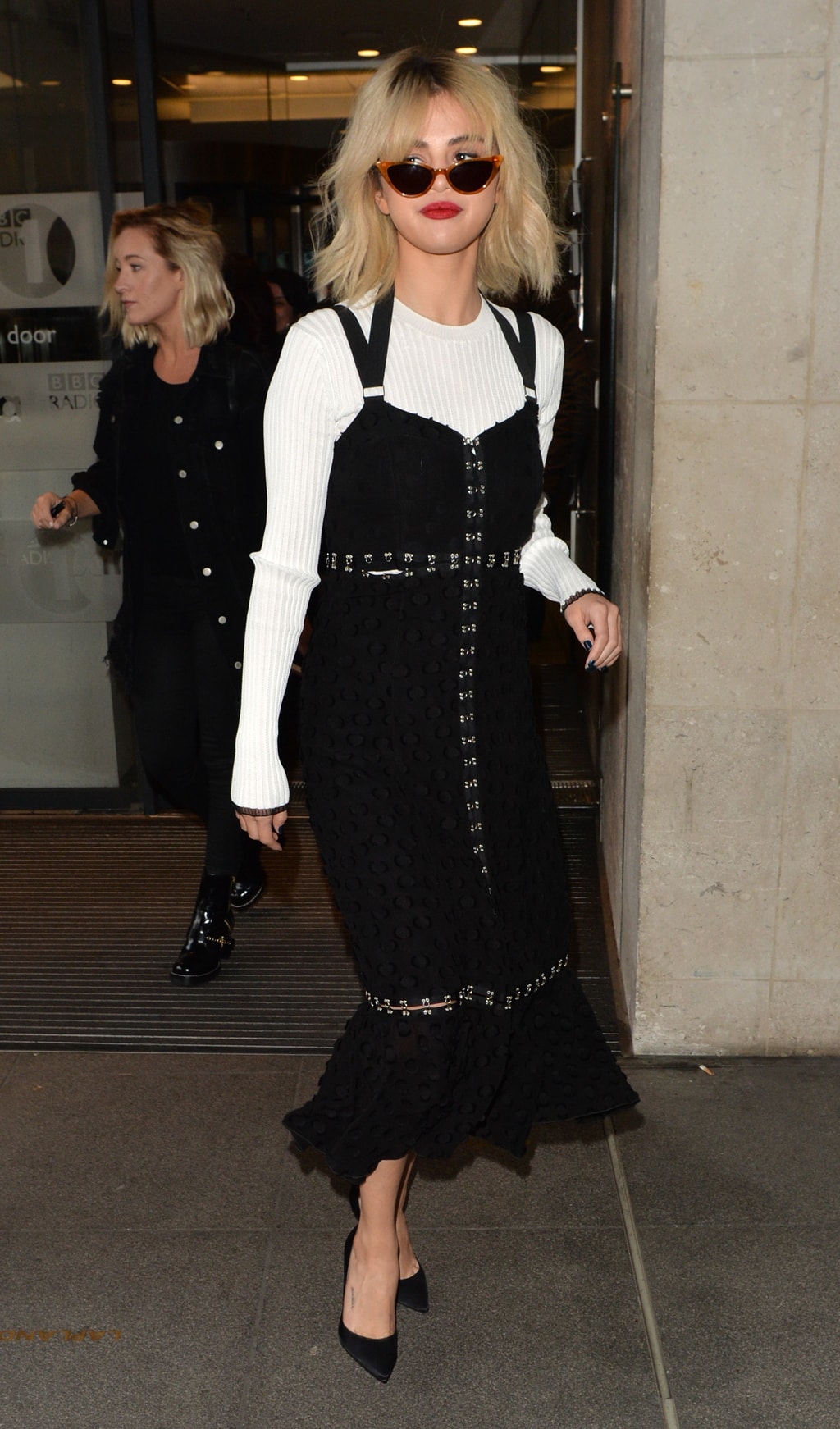 I don't know if it's the cropped blonde bob or the spicy selection of sunglasses, but Selena looks fierce and savage in this outfit. Picking up on the fall trend of a t-shirt paired under a dress, Selena goes big and bold with her makeup, hair, and accessory choice.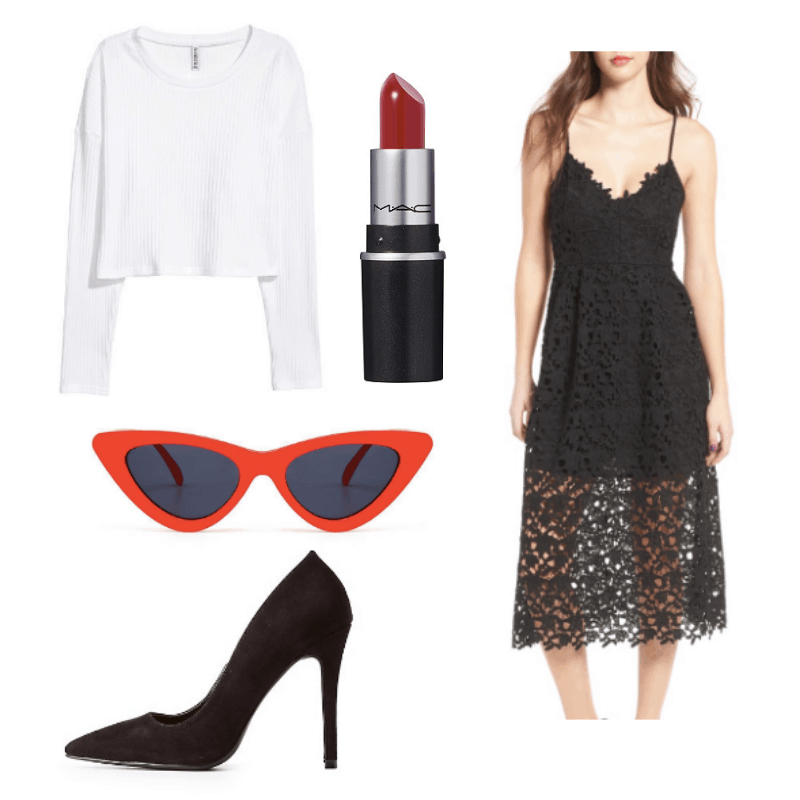 Products: Shoes-(Charlotte Russe), Sunglasses- (Bonanza), Dress- (Nordstrom), Shirt- (H&M), Lipstick- (Ulta)
Dress like a rock star with this ensemble, starting with the pair of black pointed heels. The dress selection is crucial for this outfit (this Nordstrom find is both classy and sexy), as is the right top. Black and cream pair together especially well, so try to stick with that color scheme.
Finally, a classic red lip and a unique pair of half-eye glasses pull the look together.
Rain or Shine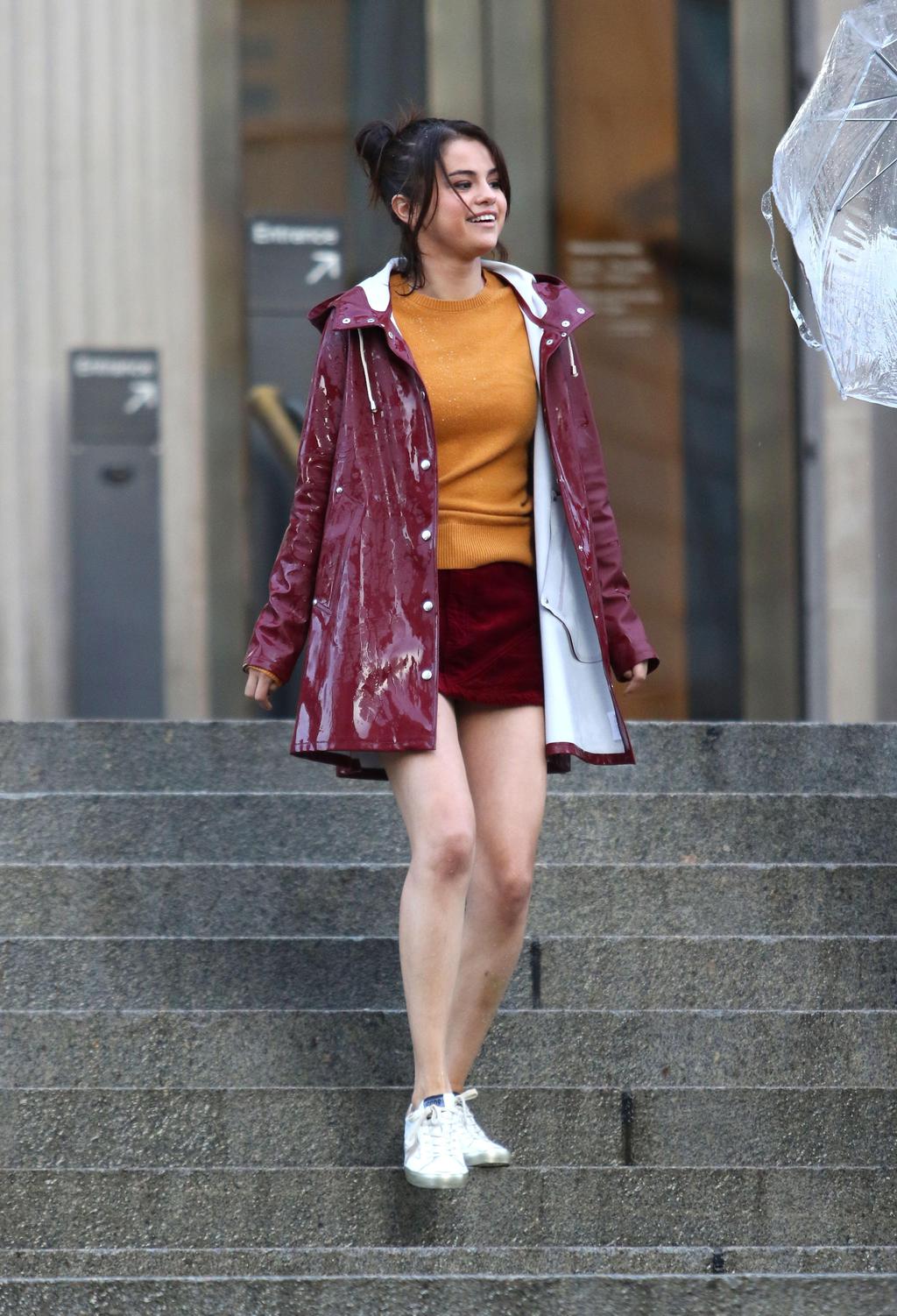 In this ensemble, Selena laughs in rain, probably because she knows she's perfected both style and practicality with this sleek, beautifully-colored rain jacket. I love this outfit also for its causal vibe and color pairing.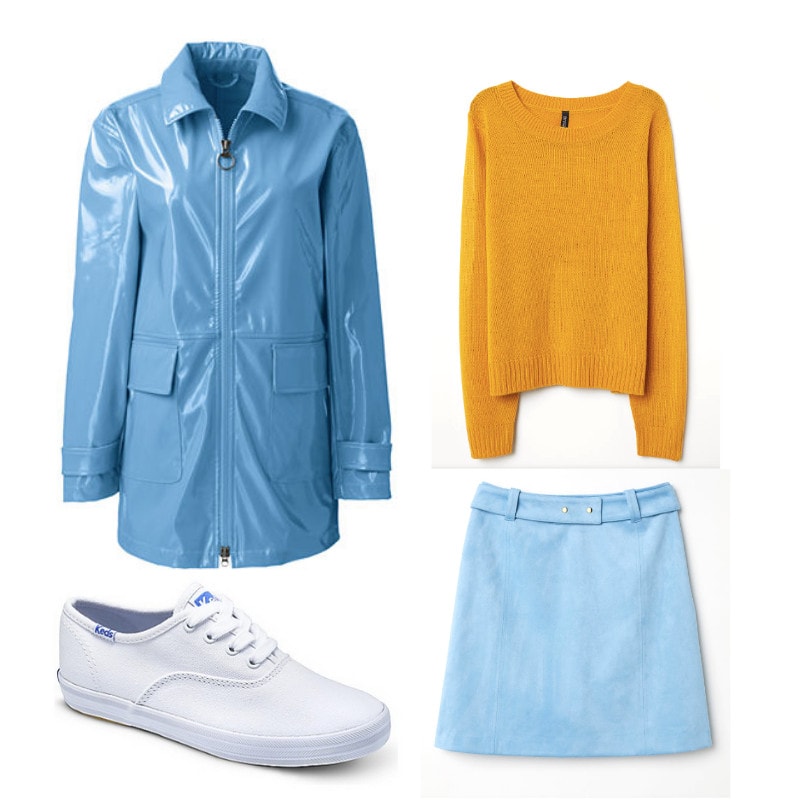 Products: Shoes- (Keds), Skirt- (H&M), Jacket- (Lands' End), Sweater- (H&M)
Feel confident in the rain like Selena with a pair of white sneakers, a matching skirt, a burnt orange (and preferably warm) sweater, and my favorite piece of the look- the jacket! This sky-blue color was chosen for its light and airy vibe, and even though Selena's original ensemble screams "fall fashion" for sure, we love this attention-grabbing blue hue.
Although Selena always has flawless makeup, her hair is casually thrown up–probably because of the weather! You make the call on whatever style you decide for your own hair.
What do you think?
Which everyday girl-next-door look of Selena's is your favorite? Let us know your thoughts on her style and her courageous journey through health battles. Tune in next week!