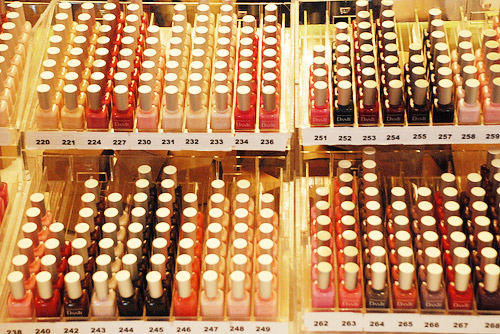 Even though it may feel as though we've been suffering through freezing winter weather for months now, it's really only just begun! Although that thought is a bit depressing, what better way to brighten up cold, dreary winter days than with a great nail polish color that you wouldn't normally be able to rock in the spring and summer months?
Below, I've listed the top four hottest nail polish trends for winter 2010/2011, to give you some inspiration for new shades to try! Read on to see them all.
1. Glittery Metallic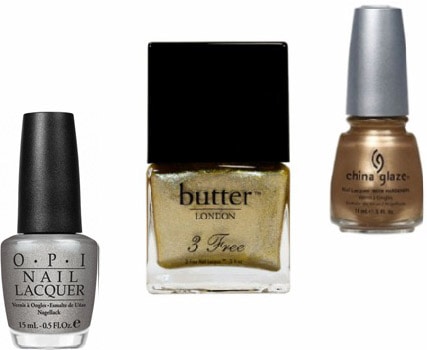 (from left to right) OPI "Lucerne-tainly Look Marvelous!" – Amazon, Butter London "Full Monty" – Nordstrom, China Glaze "Jingle Bells" – Amazon
How can you not be completely taken with these gorgeous, glittery tones? Metallics have been spotted everywhere in fashion this winter season, but right now, it's all about wearing these hues on your nails.
In my opinion, these shades are the best of both worlds: they bring the gorgeous sparkle of your favorite jewelry to your nails, allowing you to rock some bling without piling on the pieces. Plus, in these dark winter months, seeing a hint of sparkle as you glance down at your hands can give you a much-needed pick-me-up. Put blizzards and ice aside this winter and choose to sparkle instead!
2. Greige/Mushroom/Taupe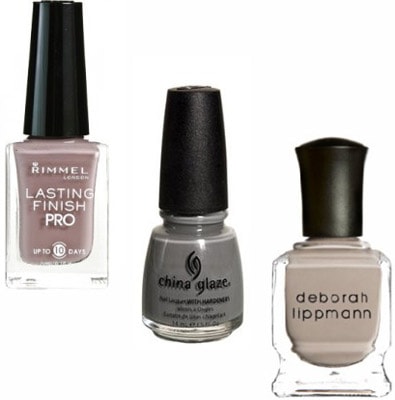 (from left to right) Rimmel London "Steel Grey" – CVS, China Glaze "Recycle" – Amazon, Deborah Lippmann "Waking Up In Vegas" – Bluemercury
This is probably my favorite of all the nail trends this season. The "greige" (a mixture of gray and beige) nail polish trend began this past summer, continued into the fall, and is still super popular this winter. This trend just won't die, and for that, polish addicts are eternally grateful.
These colors are beautiful blends of taupe, brown, gray, and sometimes purple. They seem to be universally flattering, and are truly the new it neutral. Plus, they go with every outfit and are suitable for work or class during they day, while transitioning flawlessly into night. These polish hues are definitely here to stay!
3. Super Dark, Almost Black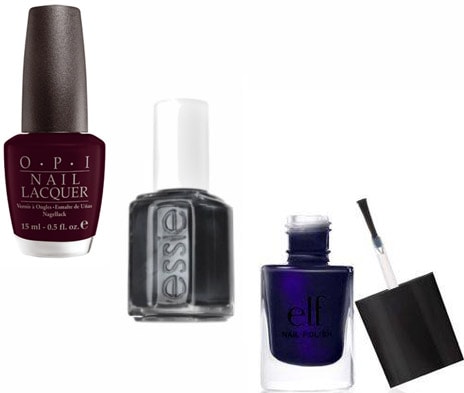 (from left to right) OPI "We'll Always Have Paris" – Amazon, Essie "Over The Top" – Amazon, elf Cosmetics "Dark Navy" – elf Cosmetics
Okay, we know that dark nails are nothing new for the chillier months of the year, but what's different this year is that those dark colors are super dark, and crazily close to black. The most-worn ones seem to be deep plum, dark graphite, and rich navy.
There are so many ways to wear this trend: You can basically pick any color and then find its deepest version! The shades above not your style? Why not try a deep red wine color, or a blue-green variation? If you're feeling extra crazy, spring for some glitter or iridescence! This trend is incredibly versatile and that's what makes it so great.
4. Icy Blues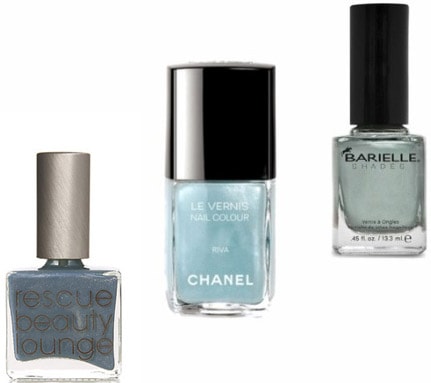 (from left to right) Rescue Beauty Lounge "Catherine H" – Rescue Beauty Lounge, Chanel "Riva" – Chanel, Barielle Shades "Snow Day" – Barielle
This is probably the most unexpected trend for this winter season, but it's surprisingly awesome. While blue may not be the most popular nail color on the market, this season it's making a strong comeback.
You guys probably all know that Chanel has fast become a leader in the nail polish world, and, as usual, they can be credited with starting this trend, when they released "Riva", one of our top beauty products for a winter wonderland. Ever since Chanel created this icy robin's egg blue with subtle shimmer, it and its duplicates have been spotted everywhere – from magazines and runways, to my college campus.
Overall, ice blue nail polish is a fun and unpredictable look that will definitely set you apart from the crowd. I mean, how fun is it to wear a bright, shimmery color in the dreary winter months? Break the rules, and wear one of these blues next time!
Thoughts?
What do you think about these winter 2011 nail trends? Are you guys wearing any of them yet? Are there any other nail trends this season that you're loving or hating? Let me know in the comments!