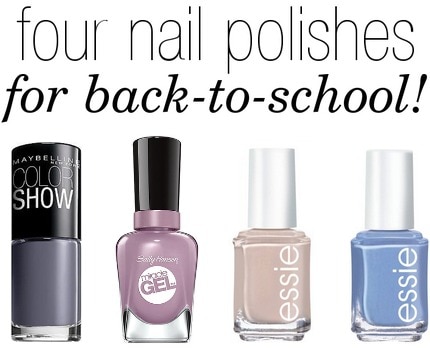 I love nail polish. It's the easiest way to change up your look and incorporate new trends into your life! Heading back to school is the perfect excuse to get a few new colors and experiment with new shades. Personally, I think neutrals and muted brights are the ideal shades to wear to school, since they aren't too offensively bright or distracting.
Read on to see my four picks for perfect back-to-school nail polishes. I also included one bonus nail polish because I want to hear your option about it! Scroll down to check out all of the colors:
1. Essie's "Lapiz of Luxury"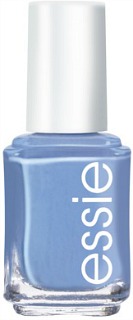 $8.49 at Target
Essie is normally my go-to brand and their colors are always some of my favorites. I love how wearable and on-trend the shades are! This one, called "Lapiz of Luxury," is seriously my new favorite blue.
In the bottle, the polish looks pretty bright, but on your nails, it has a gray tone to it that's ideal for fall. Definitely pick this one up if you're looking to add a pop of color to your outfit without it looking like it's "too much."
2. Maybelline's Color Show "Impeccable Greys"

$3.99 at Ulta
The perfect gray nail polish used to be really hard to come by, unless you wanted to pay a premium for a Deborah Lippmann shade. Well, that isn't the case anymore!
Maybelline's "Impeccable Greys" is perfect for everyday use and even more perfect for that inevitable job fair you're going to have to go to. Trust me, this looks so professional yet put-together and the price can't be beat.
3. Essie's "Sand Tropez"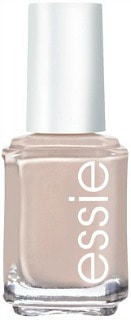 $8.50 at Target
Finding a neutral beige that applies naturally and doesn't look streaky or clumpy is really difficult. However, Essie's "Sand Tropez" applies wonderfully and the color is really beautiful, too.
I'm a little bit obsessed with this nail polish – it's one of my go-to colors. I especially love this for any event that requires a good, neutral polish, like sorority recruitment or a job interview.
4. Sally Hansen's Miracle Gel in "Street Flair"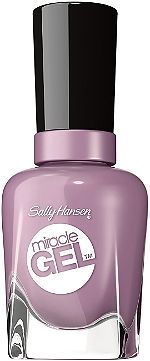 $9.99 at Ulta
This Sally Hansen formula is very new, and it's the first gel polish that doesn't require a UV light. I was quite skeptical, but after picking up and trying the pretty purple shade above, called "Street Flair," I was super-impressed with the polish.
I used two coats, and after waiting for it to dry correctly, I found that my nails were extremely shiny, plus they felt thicker and stronger. I really love this nail polish, and even though it is a little bit on the pricy side, I highly recommend trying one out.
Bonus: Christian Louboutin's "Rouge Louboutin"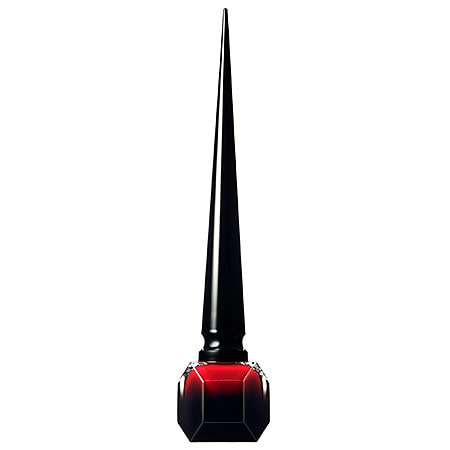 $50 at Sephora
Alright ladies, here we go: I want your opinion! Have you all seen this nail polish yet? I got an email from Sephora about the new Christian Louboutin nail varnish and I was intrigued.
I love the classic red shade on the soles of Louboutin heels, but check out the price. It's $50! While the bottle is absolutely gorgeous and looks like a piece of art, I don't think I can ever justify dropping $50 on nail polish. I did test out this nail polish at Sephora and it applies perfectly. Almost too perfectly.
What do you think? Would you ever spend this much money on a nail polish? Let me know in the comments!
What do you think?
What are your favorite go-to back-to-school polish shades? Have you tried any of these products? Would you like to see more posts like this? Remember to tell us your thoughts by leaving a comment!