This post will show you everything you need to know about the cut out fashion trend in 2021.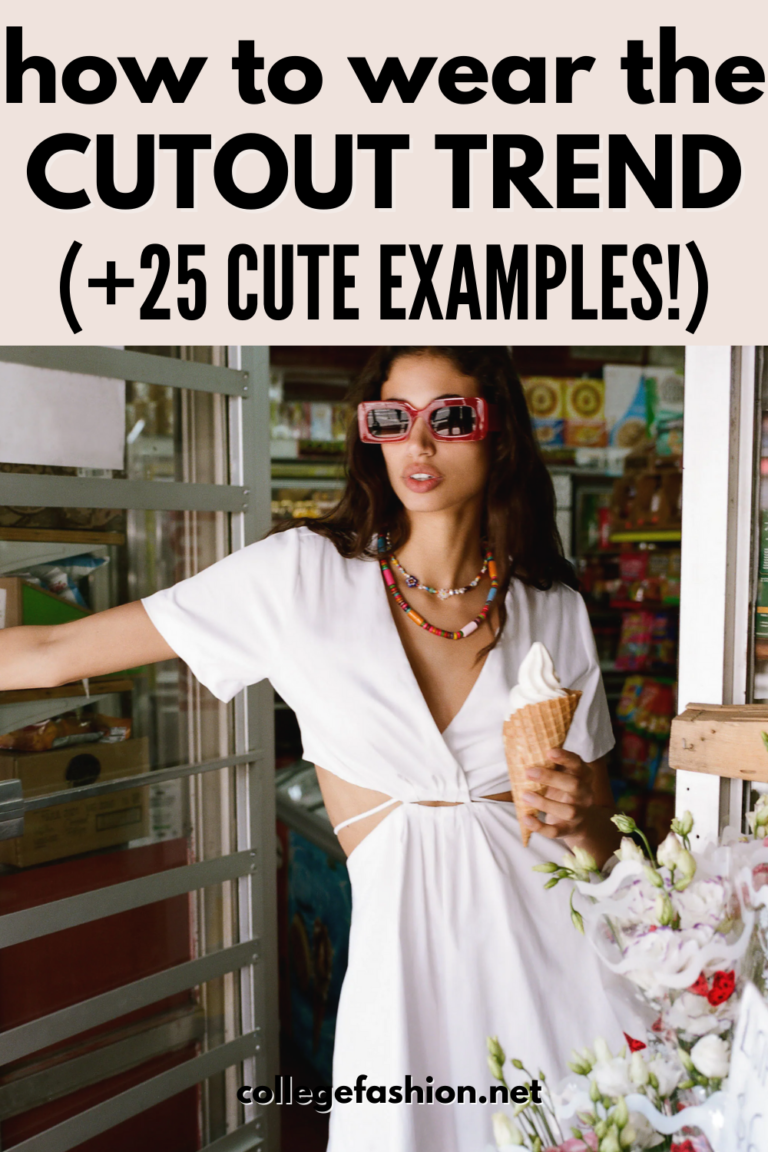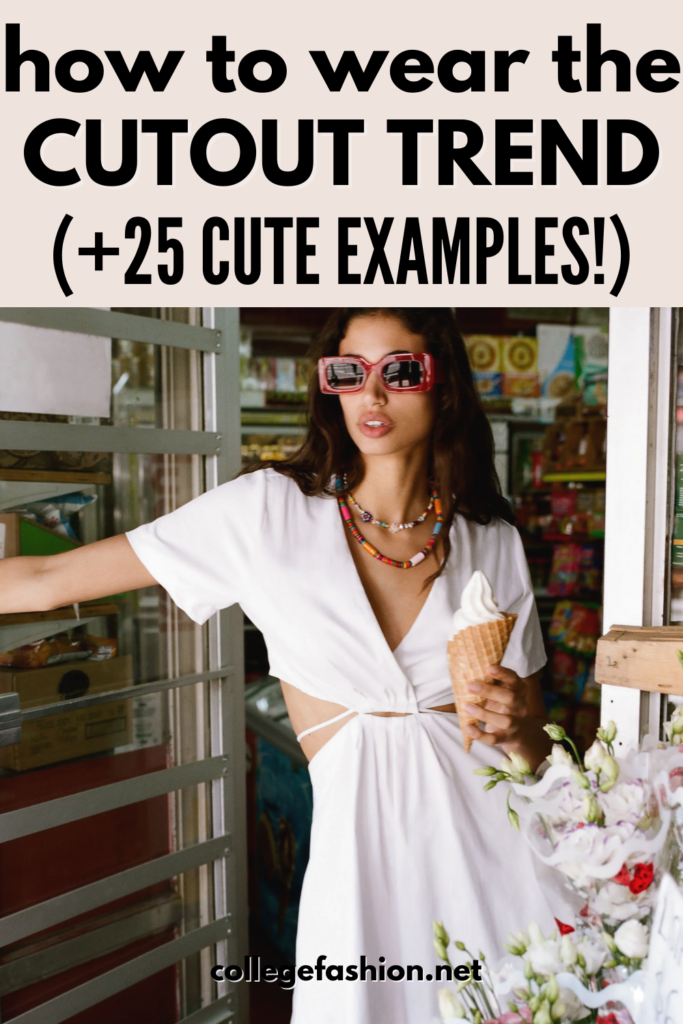 It's hot girl summer! (In more ways than one, the main one being it's so hot!)
Summer is my favorite time of the year, mostly because I'm on vacation, but it does come with some drawbacks. Constantly reapplying sunscreen, touching up my ~glow~ with powder, keeping my hair in a pony tail all the time, the list goes on.
But especially as someone who loves styling, summer can seem a little less exciting than other seasons. Mostly because we're just wearing less clothes so there's less to style. In truth, though, it's just as exciting if not more, because the key to the perfect summer wardrobe is picking standout pieces. The little that you do wear, make sure it's show stopping.
No one delivered quite like Cult Gaia in 2021, with its now-iconic cut out dress. The design has inspired a wave of cut out pieces that are taking over the summer. Stars everywhere have embraced cutout pieces, from Jordana Brewster's gorgeous F9 Premiere dress to Hailey Bieber meeting the President of France Emanuel Macron in a controversial halter top cut out dress.
But no one turned heads more than, well, could it be any one but Kim Kardashian? Kim wore a cut out sheer cross-inspired dress to the Vatican earlier this week, and as expected caused quite the commotion.
By now it's pretty clear that the cut out fashion trend is the go-to style for the summer, no matter the occasion.
You don't have to be on the way to meet heads of State or entering a religious institution to wear cut outs. (Kim did actually follow the dress codes in the places she visited, BTW.)
The pieces below will make you stand out, keep cool and be perfectly on trend. My favorites are the colorful knit cut out dresses — the most 2021 you can get in an outfit, if you ask me.
So here are the best cut out pieces from around the internet:
Cute Ways to Wear the Cut Out Fashion Trend (Under $50!)
Cut outs scare you? Try a peak a boo cut out with this sunset dress that's giving me 70s nostalgia!
Midriff cut outs are so in this summer, and so are organza tops. Make a statement at your next summer dinner party in this cute top.
You're not doing summer right if you're not wearing a swimsuit at least once. The one time you do, make it count in this bright yellow asymmetrical cut out one piece.
Just need a casual cute dress to throw on to go shopping or grab Sweetgreens? Asos has the perfect dress for you!
Preppy? Check! One piece? Check! Midriff cut out? Check! Perfect swimsuit? Check!
I have never been a fan of orange until I saw it on this dress! There's something about cut outs and bright colors that make this the perfect summer dress.
Dinner out in the summer months? We've got the look for you: bright pink cut out jumpsuit. Stay cool and stay classy.
Whether you're staying in your backyard or traveling somewhere safely, this pink back cut out swimsuit needs to be with you. Swimwear is one of the easiest ways to wear the cut out fashion trend.
This reminds me of the OG cut out of 2021. If you're looking for a Cult Gaia-esque dress, this one from Forever 21 is for you.
Start your day with a brunch, then go for a stroll by the beach and grab lunch on the pier, you can do it all in this white cut out dress.
This top will take you from day to night — just switch from daisy dukes to white wide leg pants and you're good to go!
Tiny cut outs are very in this summer but more importantly mint green is so in! This dress combines both for the perfect classy way to try the cut out fashion trend.
I can't get enough fo asymmetrical tops. But a cut out asymmetrical top? Guess I'm going to need to buy a new dresser.
Orange is really making a statement this summer, and I'm loving it! Cult Gaia would be proud of this orange cut out dress that screams summer 2021.
Even bikinis can have cut outs and they're adorable! Add this to your lake packing list.
This dress is simple, elegant, chic and ready for any occasion. Dress it down with sneakers or flats, dress it up with heels. In the winter? Boots and a long coat. This dress can do it all!
You can never have too many cute tops, especially when they have so much 2000s nostalgia to them!
Is it normal to buy a dress to go have a picnic in the park? I don't know, but if this is the dress, I think so!
Animal print is always in, one way or the other, but with a hip cut out, it's the perfect "summer in the city" look.
Have any back-to-normal parties this summer? We've got the dress for you!
Cute and casual or chic and sexy, this top can be either. It just depends how you style it.
70's meets Coconut Girl? Never thought I'd love this combo but it totally works. Bring you hair up into a half do and add a little poof to it for the perfect vintage vibes.
Got an elegant event this summer? A postponed wedding? This Zimmerman-inspired dress will almost make you excited to sit in the heat through the ceremony.
Looking for a casual dress for the summer? Something to just throw on and still end up looking divine? We've got you!
The 90's waist cut out and the 70s peek-a-boo O-ring is 2021 style in a nutshell.
What do you think of the cut out fashion trend?
Cut out pieces make for the perfect effortless summer outfits. Picking the right pieces is half the battle, the rest is just playing around with your accessories. It's a good thing you just found the best cut out pieces out there. Here's to a hot girl summer of over indulgence, not overheating!
What's in your go to summer wardrobe? What are you most looking forward to this summer? Let us know! And Happy Fourth of July!