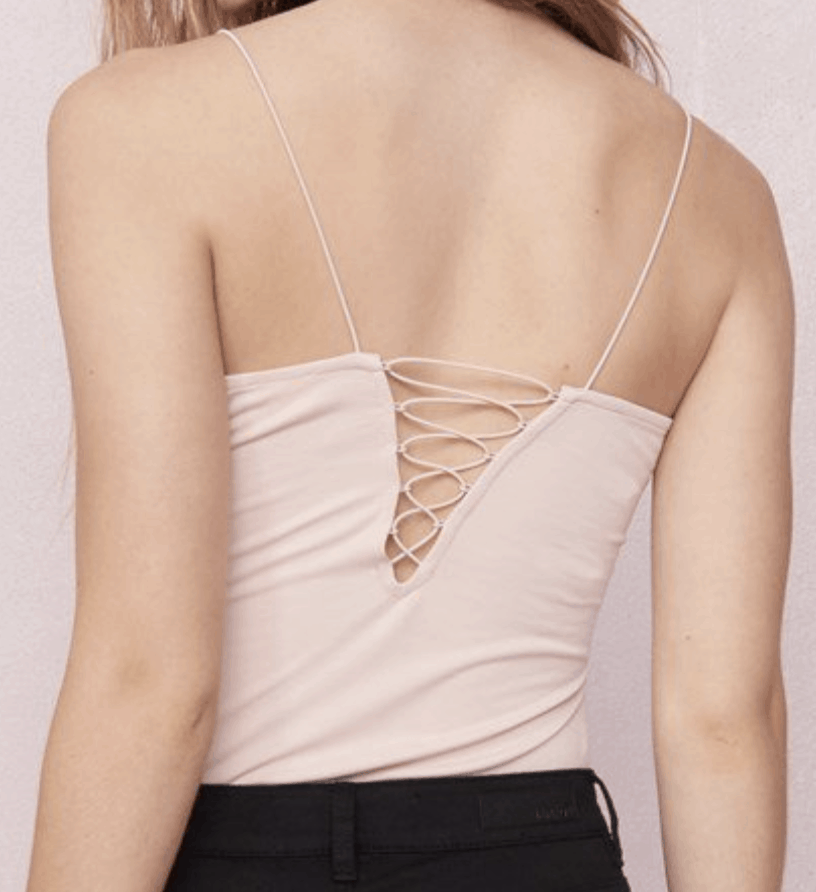 The "Fabulous Find of the Week" column gives you the heads up on all the hottest, most affordable items at your favorite stores!
Going out in college can be really fun but if you're someone who likes to plan out your outfits, it can become a bit stressful. When faced with spending your money on practical clothing items vs. interesting things to wear to a party, it can be difficult to choose.
With this cute bodysuit from Garage, you no longer have to have to have a mind battle! I love shopping at this store because you can always find basic items to fill your closet that'll keep you stylish and within your budget! (Word to the wise, if you're in the market for jeans, Garage is having a BOGO 50% off sale and all of their styles are amazzzing.)
The bodysuit is currently on sale in only one color but honestly, this soft blush pink can go with anything. Dress it up, dress it down…throw a cardigan over it or rock it by itself and really show off your natural beauty!
For some inspiration I put together 3 looks that should get your creative juices flowing!
Pink Bodysuit Outfit #1: Cozy Studying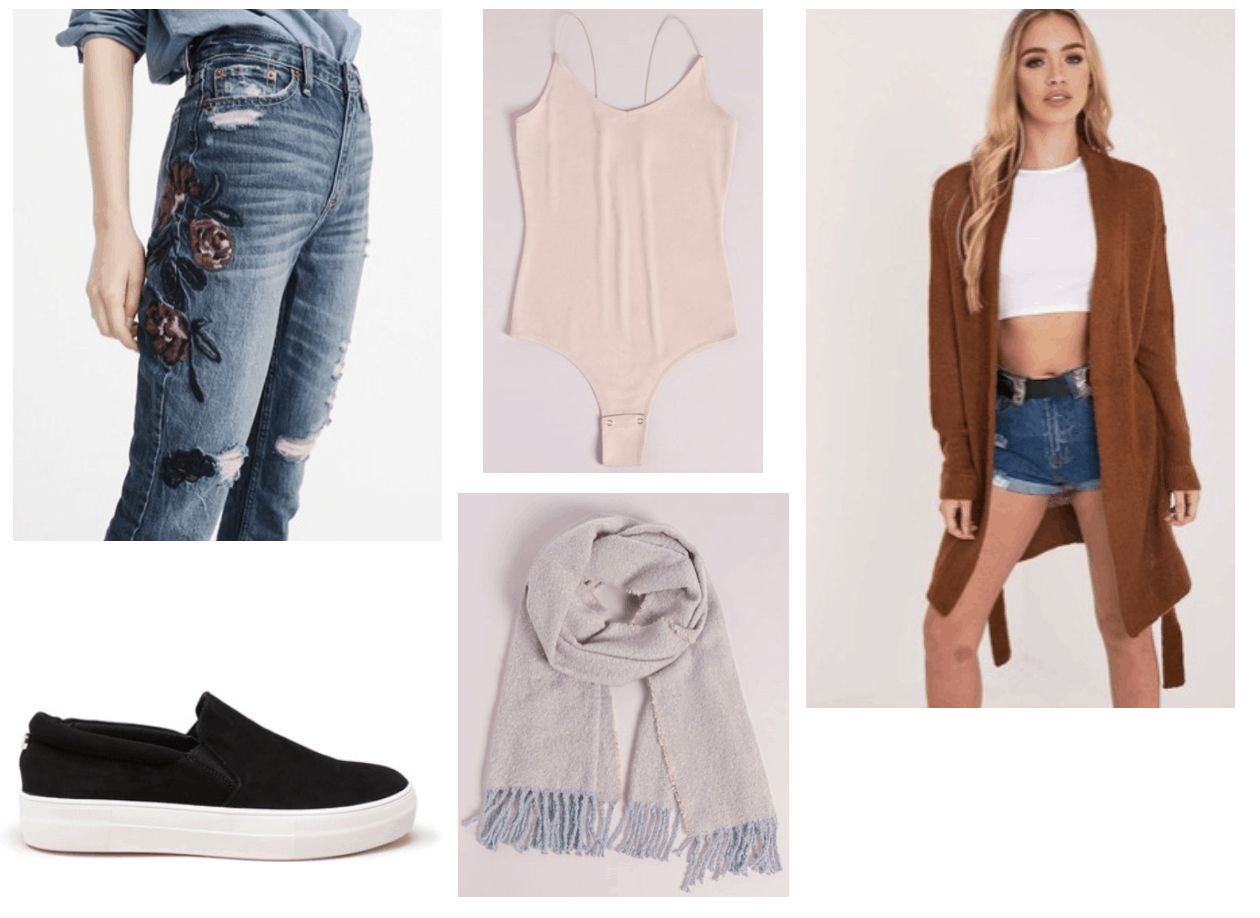 Products: Bodysuit – Garage, Jeans – Abercrombie, Scarf – Garage, Sneakers – Hollister, Cardigan – Pretty Little Thing
As it gets a bit colder here in Massachusetts I like to keep warm and get my layer on! This look is the perfect example of how to take your essential summer items and transform them into the perfect winter outfit. This outfit would be perfect for a day at the library getting some extra credit assignments done before you're too busy to function!
Pair this cute bodysuit with a pair of your favorite jeans, I picked these because the print really brings out the pink in the shirt. The burnt orange cardigan picks up the darkness in the embroidery to make the look really pop!
Throw on a pair of comfy black sneaks and this Garage scarf I found on sale and you're ready to go! I always say it's important when creating an outfit to remember your complementary colors…you'll look pleasing to the eye while simultaneously making your 7th-grade art teacher happy!
Pink Bodysuit Outfit #2: Chic Meeting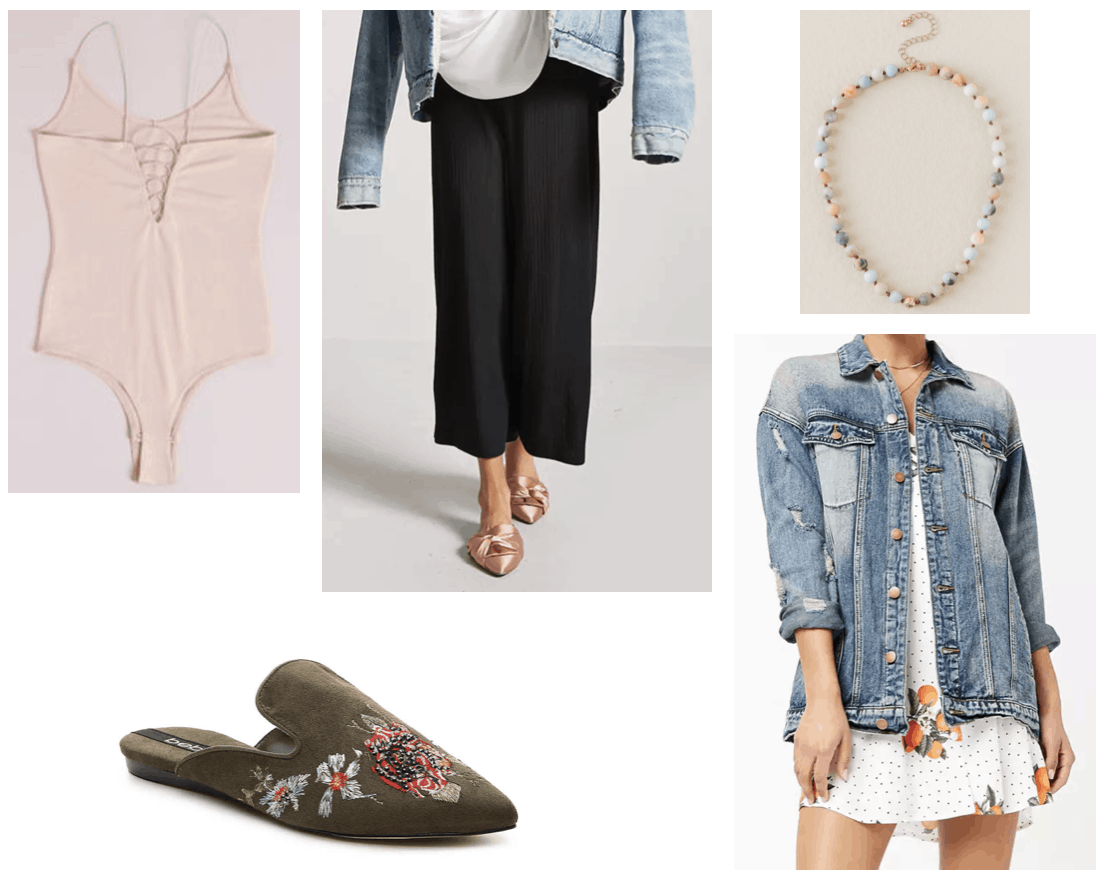 Products: Bodysuit – Garage, Palazzo Pants – Forever 21, Necklace – Francesca's, Flats – DSW, Denim Jacket – Forever 21
This look is incredibly versatile: You could definitely wear it to class and then to a meeting with your advisor, for instance. I decided to create a more laid-back feel with this look by mixing the bodysuit with palazzo pants, embroidered mules (which I'm currently seeing all over the city), and a colorful necklace.
Just to put it out there: palazzo pants are a gift from the fashion gods. They're fashionable, professional, and insanely comfortable! They'll bring this bodysuit to a new level of stylish and cozy. Throw on a distressed denim jacket to look cool and feel warm.
This necklace brings a bit of interest and an earthy feel to the look. As for the shoes, you can't go wrong with a trendy pair of mule flats. They're so elegant and perfect for any outfit.
Pink Bodysuit Outfit #3: Simply…Frat Read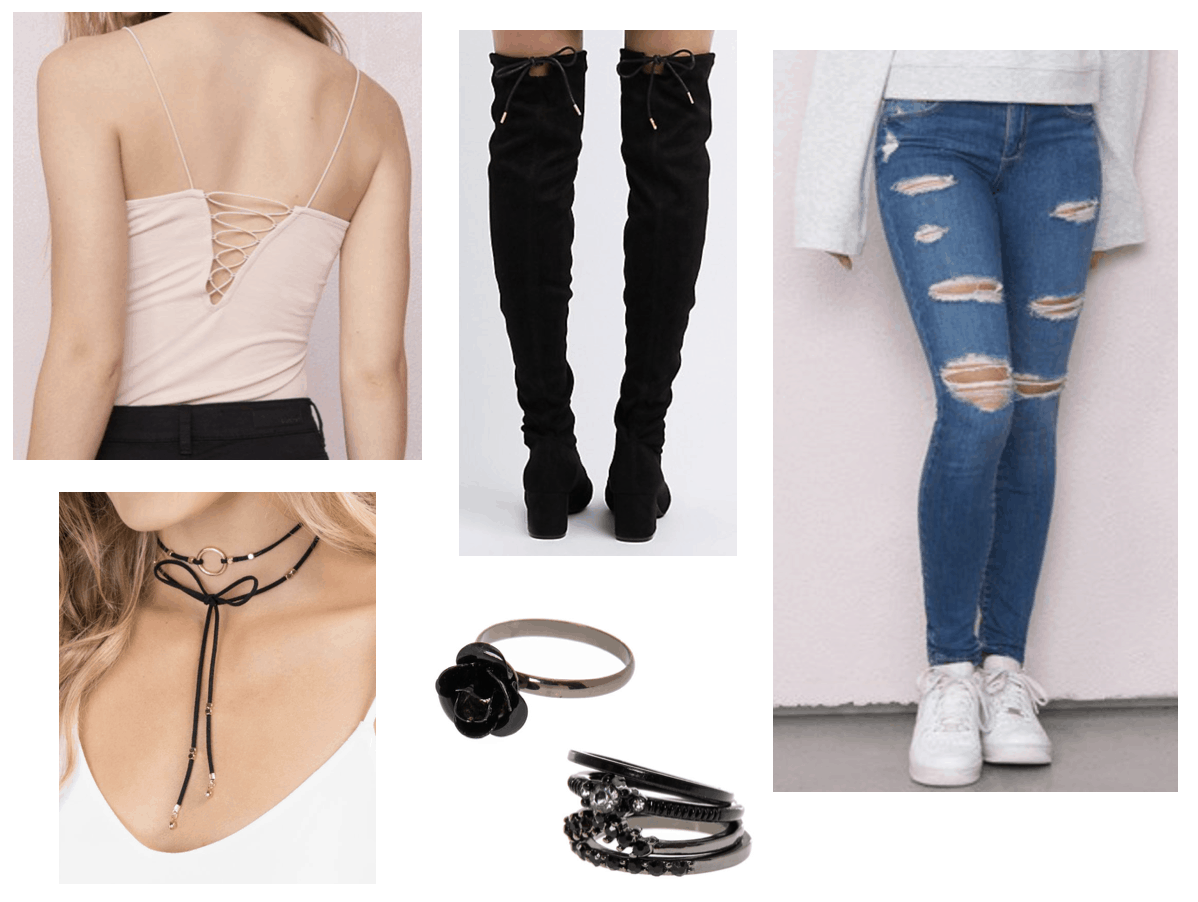 Products: Bodysuit – Garage, Midi Rings – Claire's, Boots – Charlotte Russe, Jeans – Garage, Flower Ring – Claire's, Choker – Francesca's
I think this outfit is perfect for going to a party with friends. It's simple yet very young and fun, which is exactly what you want to aim for when you're off to a party!
The jeans I decided to use are actually my favorite pair sold by Garage. They have a great color and they really accentuate your booty (which never hurts).
Over-the-knee boots are in right now and besides being stylish, they really keep your legs warm (if you go to school in a colder state). Get some black jewelry to give your look some edge and do a light smoky eye to make everything pop! Personally, I'd keep my hair down but that is entirely up to you…this look goes with any hairstyle.
Just a pro tip for going out in the winter: go to your local Walmart or even a Good Will and buy a cheap black sweater/sweatshirt to throw on if you're walking to your party. Once you get there, hide it and if worse comes to worst and it gets stolen or ruined, you're out a few bucks, but you didn't lose a fave jacket!
Are you a fan of this week's Fab Find?
Can you see yourself rocking this bodysuit around campus? Are you going to try palazzo pants? What are some of your party tips and tricks? Let me know below!