Bodysuits are everywhere. Gone are the days when these pieces were reserved for a gymnastics class or a ballet recital. Bodysuits have expanded to all areas of fashion. Worn for fitness classes, casual days, and late nights this is one trend that wins serious versatility points.
Not sure how to style a bodysuit or want more ideas? Below, I'll show you how to embrace this style and take it from day to night.
Bodysuit: Class
To start, I selected a black v-neck bodysuit with blousy sleeves. This bodysuit is classy and chic – great for a night out – but it can still be styled for a casual day.
To dress it down, I paired the bodysuit with basic denim shorts, sandals, and sunglasses. Finally, I added this sun hat because let's face it, summer trends will soon be coming to a close so we need to take full advantage while we still have time. Ditch it, of course, if you're heading to class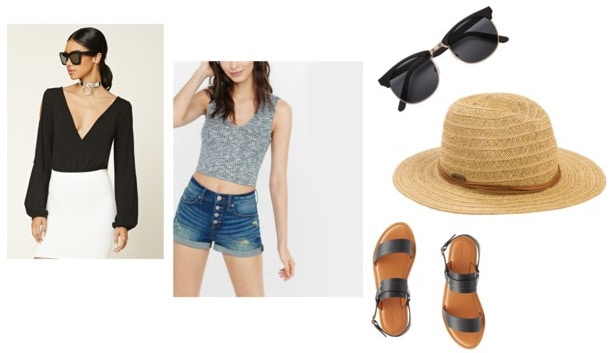 Products: Bodysuit, Shorts, Sunglasses, Sandals, Hat
Bodysuit: Night Out
Dressing in all black is a classic go-to when getting ready for a night out. However, I decided to switch up this statement style just a bit. Patterned shorts like these add a California cool vibe to the outfit, embracing those last days of summer. Sticking with the end-of-summer style theme, I added a trendy choker and gorgeous strappy heels to show off your summer pedi.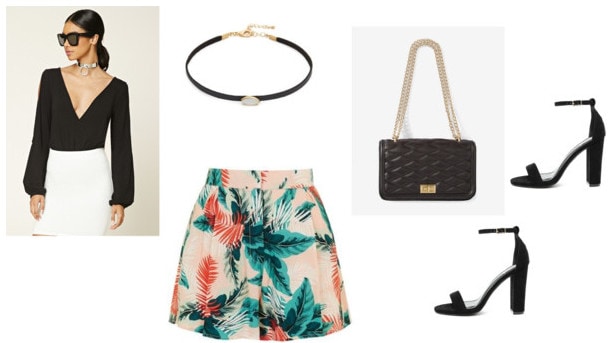 Products: Bodysuit, Shorts, Choker, Bag, Heels
Let me know!
Do you think bodysuits should stick to the ballet barre? Do you like this blousy bodysuit? Which outfit do you think is the perfect end of summer look? Let me know!