This post will show you ten bodysuit outfit ideas, with styling tips and how to pick the best bodysuit for you.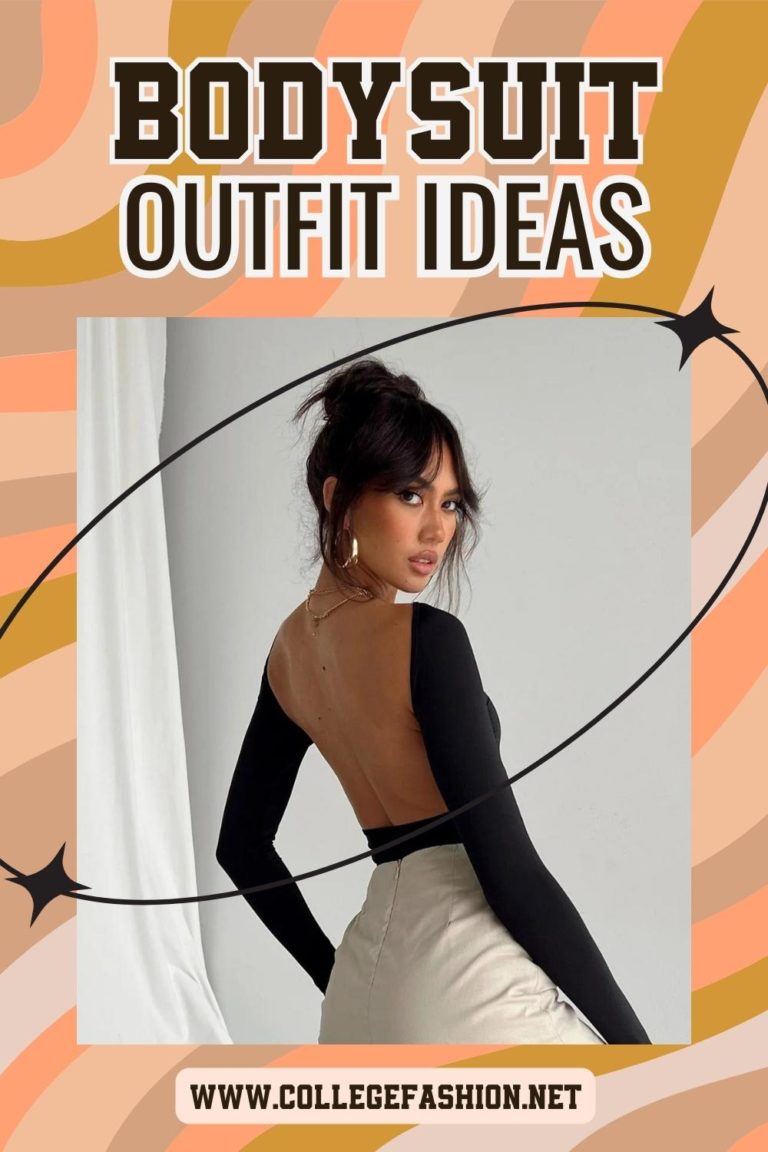 Bodysuits, as we all know, are a style staple these days. They are so convenient because you don't have to worry about your shirt constantly getting untucked from your pants, and they have a knack for enhancing your shape thanks to their body-conscious fit.
While many of us think bodysuits are only weekend wear, that couldn't be further from the truth! Bodysuits are shockingly versatile and can be worn everywhere, from class to an office, all year round.
If you are a bodysuit fan or want to learn how to incorporate bodysuits into your wardrobe, read on for our top bodysuit styling tips, with ten affordable bodysuit outfits for every occasion.
Styling Basics: How to Choose the Best Bodysuit
Here's what to keep in mind when buying and styling a bodysuit:
Know your options. There are so many bodysuits to choose from, from ultra-casual options that are ideal for daily wear, to sexy options that are perfect for a night out. Consider sleeve length (long, short, sleeveless, strapless, etc.) and bottom cut (full, cheeky, thong). The type of bottom cut should correlate to the bottoms you plan on wearing; for example, full bottoms are best for skirts, while cheeky and thong bottoms are best for jeans and pants to avoid VPLs.
Consider the fabric (and sizing). Fabric is a key characteristic of what can make or break a bodysuit, comfort-wise. The last thing you want to feel is uncomfortable, scratchy, or that your bodysuit is pulling at your skin! In this post, you'll find many bodysuits with ultra-soft fabric designed not to cut into your skin or show lines underneath your other clothing. Also, if you can try on a bodysuit before you buy it, I'd highly recommend doing so. IMO, bodysuits can sometimes run small, and I often prefer sizing up to ensure I feel comfortable while wearing a bodysuit.
The extras: If you're searching for a special bodysuit to wear on a night out, look for details like open backs, cut-outs, and eye-catching fabrics, like mesh or lace.
Accessorizing bodysuit outfits: Accessories can transform a basic bodysuit over and over again, allowing you to create various looks with the same piece. Whether you add eye-catching jewelry (like a statement necklace or dangling earrings), a bold belt, or a cute handbag, accessories can make a big impact alongside a bodysuit.
Bodysuit Outfits
Now that we've covered the bodysuit basics, let's get to the outfits! Here's how to wear bodysuits in any season and for just about any occasion, from everyday errands to a fun night out.
Athleisure Bodysuit Outfit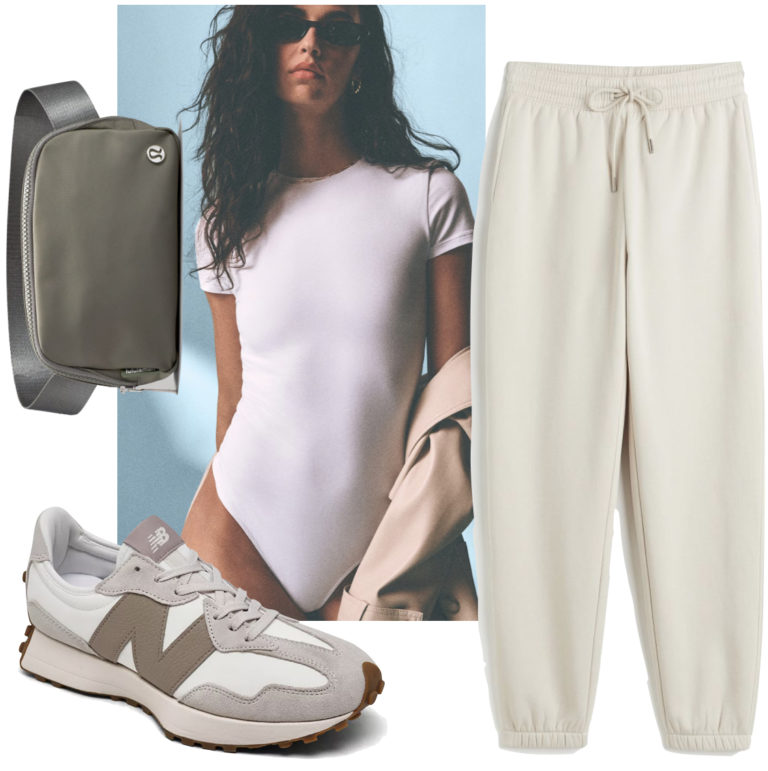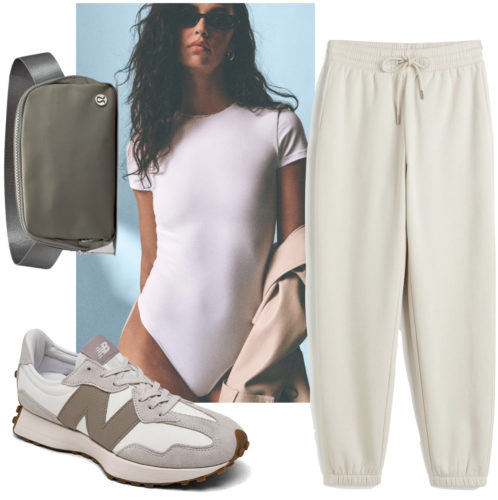 Products: Bodysuit, Sweatpants, Belt Bag, Sneakers
Athleisure is all about elevating your athletic clothing and loungewear a bit (think "model-off-duty" vibes), and a bodysuit is a stylish way to achieve the look.
Of course, you'll want to be comfy, so go for a really soft bodysuit, like this seamless cotton crew neck bodysuit made with super soft, brushed jersey material. It's the perfect basic to add to your wardrobe since you can style it in a ton of different ways.
For this athleisure-inspired outfit, pair it with some neutral-colored jogger sweatpants and sneakers. Throw on a belt bag (worn crossbody-style), and you'll be ready to take on the day in both comfort and style.
P.S. — If you add on gold jewelry and slick your hair back into a bun, you can channel the "Clean Girl" aesthetic with this look.
Bodysuit Outfit for School
Believe it or not, you can wear a bodysuit to school—as long as it's a basic bodysuit, rather than a "going out" bodysuit! Save the low-cut, open-back, and cut-out bodysuits for the weekend, and instead, opt for a bodysuit that looks like a t-shirt, with short or long sleeves and a crew neck or high V-neck.
This t-shirt bodysuit is a great everyday option since it's made with a soft, seamless material that is ultra-stretchy (because who wants to sit in class and feel uncomfortable?). With a crew neck design and a thong-style silhouette, it won't show lines under tighter-fitting bottoms, so it works well with jeans.
To complete this cute, school-friendly ensemble, add in a plaid shacket, layered gold necklace, and some comfy clogs, which are a big trend this season.
Street-Style Bodysuit Outfit
Since bodysuits tend to be slim-fitting, they do a great job balancing baggier bottoms, like cargo pants. And keeping your outfit's proportions in mind is always crucial when putting together an ensemble!
Go for a street-style look by wearing some baggy cargo pants with a fitted black sleeveless bodysuit (this one is made with contouring fabric) and cool sneakers, like a pair of Nike Air Jordan Low sneakers. A cropped faux leather moto jacket and structured crossbody bag with an oversized buckle add to the edgy aesthetic.
You can wear this outfit day or night; it's the ultimate cool-girl look for hanging out with friends, going to a concert, etc.
Bodysuit Outfit for Going Out with a Skirt
Bodysuits are a total must-have for going out and party outfits. Since they are form-fitting, they're a flirty way to show off your physique and try out eye-catching design details like an open back or a low front.
This black long-sleeve bodysuit makes a statement with its low, open back that will turn heads on your next night out on the town.
Though there are many ways to style it, try wearing it with a cargo belted mini skirt and some black knee-high boots. Along with a corded heart pendant necklace, this outfit is as trendy as it gets.
Bodysuit Outfit for Going Out with Faux Leather Pants
Another style staple when it comes to going-out outfits is a good pair of faux leather pants (especially during colder months). The faux leather material is equal parts sexy and edgy, and you guessed it—looks amazing with bodysuits.
Try mixing textures by wearing a sheer mesh corset bodysuit; its mesh material is a stylish contrast to the faux leather.
Since this outfit has some edge, play it up with these cool moto-inspired heels that have metallic accents and a killer stiletto heel.
For a final touch, carry a trendy handbag like this silver metallic faux croc bag with an asymmetrical flap, which was made for hitting the town.
Professional Bodysuit Outfit
Bet you didn't think you could wear a bodysuit to the office. But you totally can, so long as you pick the right kind of bodysuit!
In fact, bodysuits are a top choice when it comes to certain professional outfits since they lay flat under pencil skirts and trouser pants—two bottoms that are ideal for the workplace.
When it comes to picking a bodysuit that is office-appropriate, steer clear of cutouts, low necklines, and sheer fabrics. Instead, look for crew or high necklines like this mock-neck bodysuit with ruching. Its neutral taupe hue is workplace-friendly, and it pairs well with trouser pants that have a wide or straight-leg fit. These beige trousers feature a subtle pinstripe print, helping to break up this tonal ensemble.
Complete the ensemble with some chunky loafers and gold teardrop earrings, which are on-trend but classy.
Fall Bodysuit Outfit
Nothing says fall like plaid does, and a plaid mini skirt is a classic that looks cute every year, especially with black booties. This one, in particular, features a brushed texture with a fall-friendly houndstooth pattern and a faux wrap design for extra style points.
Style it with a long-sleeve turtleneck bodysuit, which you'll be able to wear in the winter, as well. Though this turtleneck bodysuit looks basic, it is made with special design details like 4-way stretch fabric, a double lining, and comfortable compression, and is finished with a subtle crepe texture that makes it appear a bit more elevated. (If it's chilly, add some tights, too.)
Accessories help bring this ensemble to life, especially a faux leather headband, structured mini bag, and chunky earrings. It's giving Thanksgiving slay!
Winter Bodysuit Outfit
Bodysuits are a great way to keep extra warm during the wintertime: since they are so form-fitting, they retain heat better than looser tops and sweaters.
You'll want to opt for a long-sleeve bodysuit with either a crew neck or a turtleneck that has a super cheeky design so that it won't create VPLs with your pants. (Though these adjustable-rise parachute pants have a baggy fit, so you should be fine regardless!).
Winter calls for slouchy knit beanie hats and Ugg Classic Ultra Mini boots, plus a warm puffer jacket. Consider a puffer with a shorter length like this one, which won't overpower your frame and balance out your outfit's proportions.
Spring Bodysuit Outfit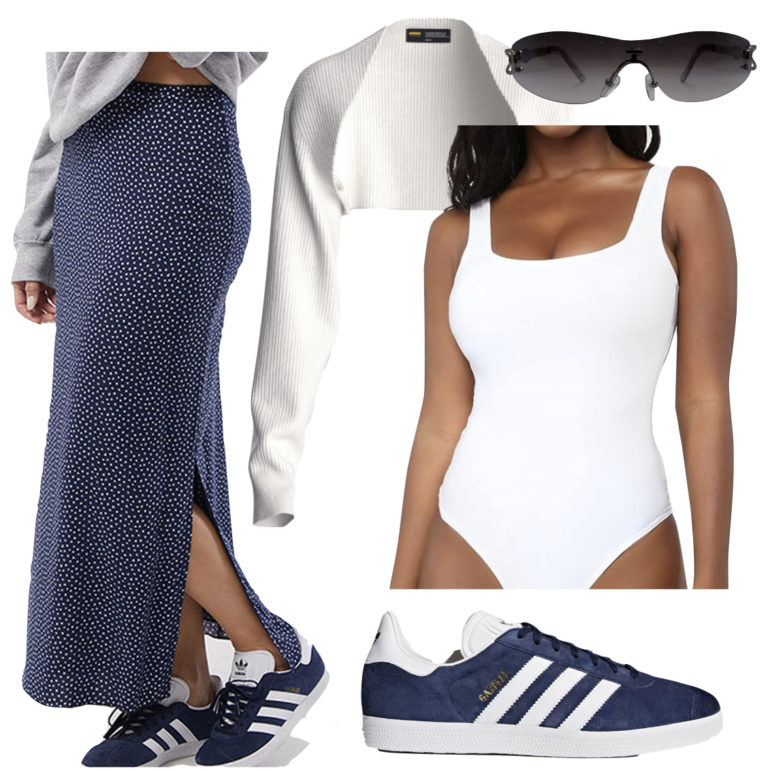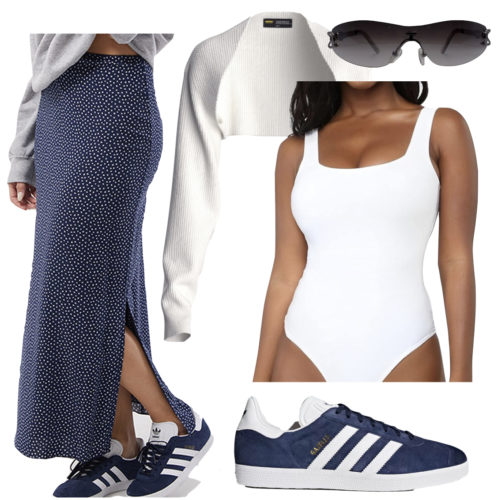 Products: Skirt, Bodysuit, Shrug Sweater, Sunglasses, Sneakers
Step into spring with a white sleeveless scoop neck bodysuit paired with a flowy, printed midi skirt. You won't have to worry about a tank or tee coming untucked since a bodysuit will lay nice and flat underneath the skirt!
Since spring can be a bit chilly, a knit shrug is the ideal lightweight layer to wear over top, since it'll still allow the bodysuit to be in focus.
This outfit combo is the perfect balance of cute and casual, especially with some on-trend sneakers like the Adidas Gazelle sneakers in a matching color scheme, and some vintage Y2k rimless sunglasses.
Summer Bodysuit Outfit
Bodysuits are a no-brainer in the summertime (BTW, one-piece swimsuits can double as bodysuits, too!). So embrace the season by wearing a bodysuit in a bright color, like this bold green tank bodysuit with stitched underbust for a bustier-style look.
Wear it with denim shorts, which are a summer wardrobe staple. The bodysuit's cheeky-cut bottom is perfect for pairing with denim.
Keep the rest of the look ultra laid-back and ready for a day of fun in the sun by wearing some trendy sunglasses, flat slide sandals, a beaded necklace, and a matching trucker hat.
What do you think of our bodysuit outfits guide?
Would you wear these outfits? Which bodysuit outfit is your favorite? Leave a comment and let us know!