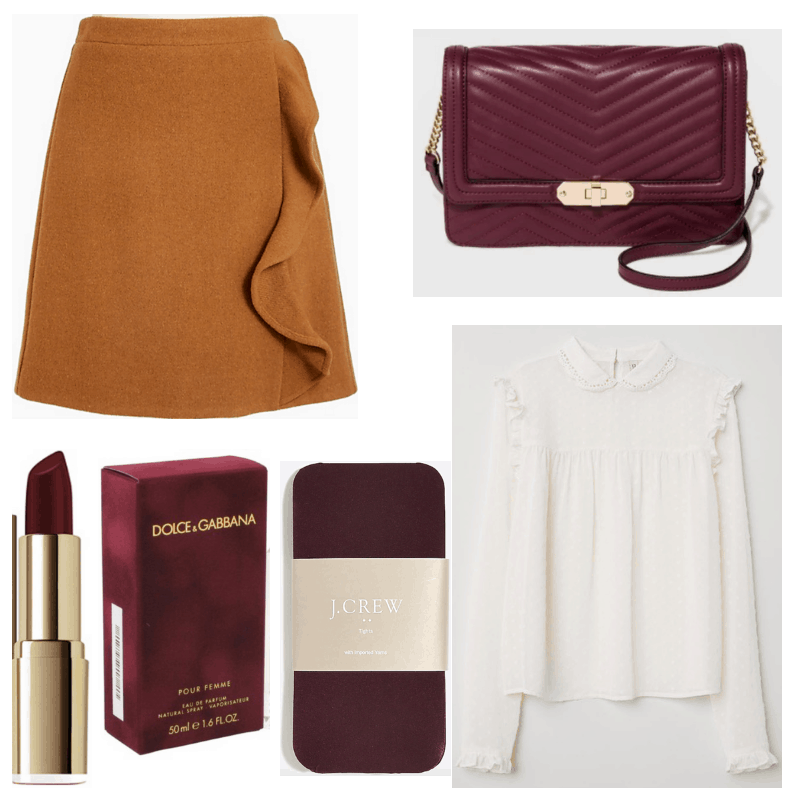 This Thanksgiving is doubly special for me. Not only is it (obviously) a fun holiday made for spending time with family and friends, but it's also my 20th birthday so I'm super excited for that. And as I'm obsessed with preppy style, I'll for sure be wearing a fitting look this Thursday!
For this special Thanksgiving post I'll be sharing three different preppy outfits for Thanksgiving! Each look will work for different occasions so no matter what event you're headed to, you'll have a perfect outfit.
Related reading: 20 Cute and Cozy Thanksgiving Dinner Outfits
Preppy Thanksgiving Outfit 1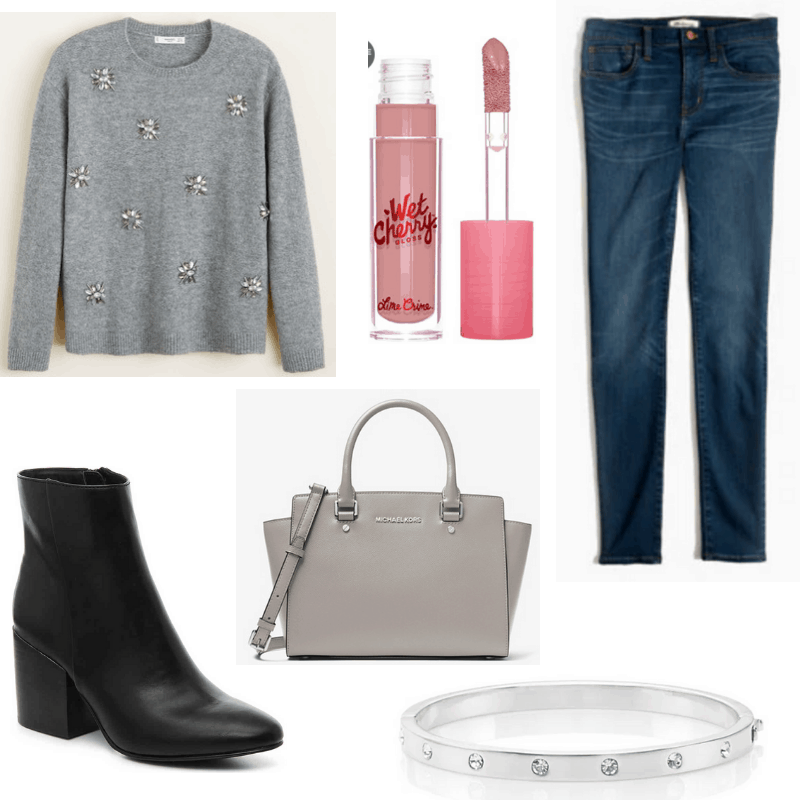 Products: Handbag – Michael Kors, Jeans – Madewell, Lipgloss – Lime Crime (Ulta), Bracelet – Kate Spade, Sweater – Mango, Boots – Madden Girl (DSW)
This is the perfect casual Thanksgiving outfit. The best part is that you could easily wear every piece here with another outfit and make endless variations. You can also easily wear it as-is for a day spent on campus.
I'm in love with the sweater. The crystal detailing is elegant and festive. You can dress it up or down depending on what you pair it with. It's also currently on sale at Mango so be sure to check that out! It was even listed by Town and Country magazine (aka the preppy bible) as one of the 30 prettiest holiday sweaters around! I styled it here with simple jeans, black booties, and a pretty bangle.
Preppy Thanksgiving Outfit 2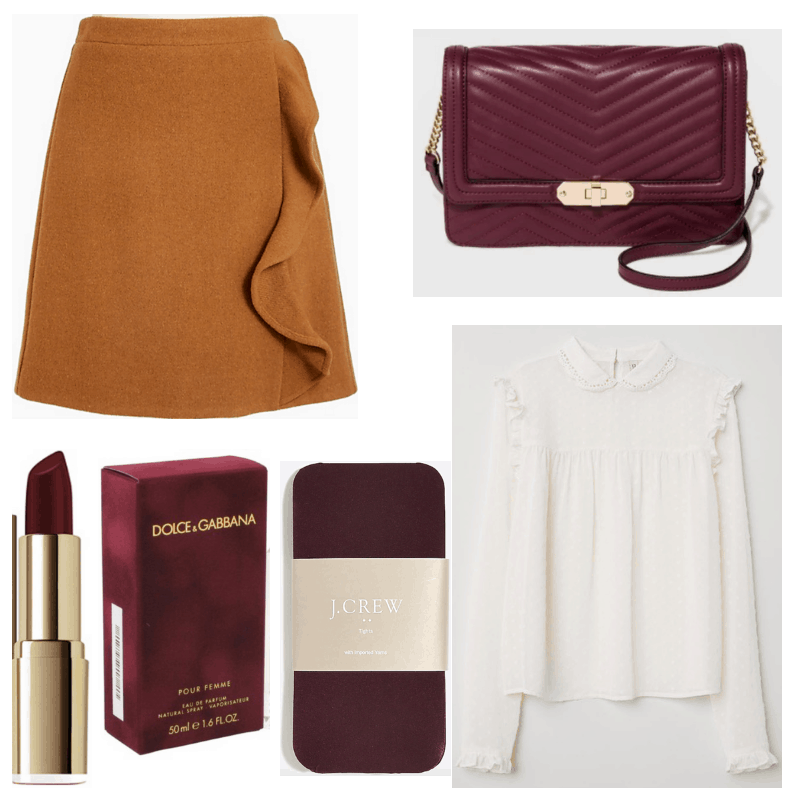 Products: Perfume – Dolce & Gabbana (Walmart), Blouse – H&M, Tights – J.Crew, Handbag – A New Day (Target), Lipstick – Milani (Ulta), Skirt – J.Crew
Every single item in this look is flawless. The ruffle skirt adds a beautiful movement to the outfit and has such a lovely cut. Wool skirts are perfect for the fall, winter and spring! They keep you warm and also look super flattering The chiffon blouse is also incredibly stunning. I love the delicate detailing, it's so ladylike!
The tights are also a must! J.Crew carries such amazing tights. They are durable, comfortable and are perfect for every occasion. Not to mention these tights are only $8.50 so be sure to get them in several different colors.
Preppy Thanksgiving Outfit 3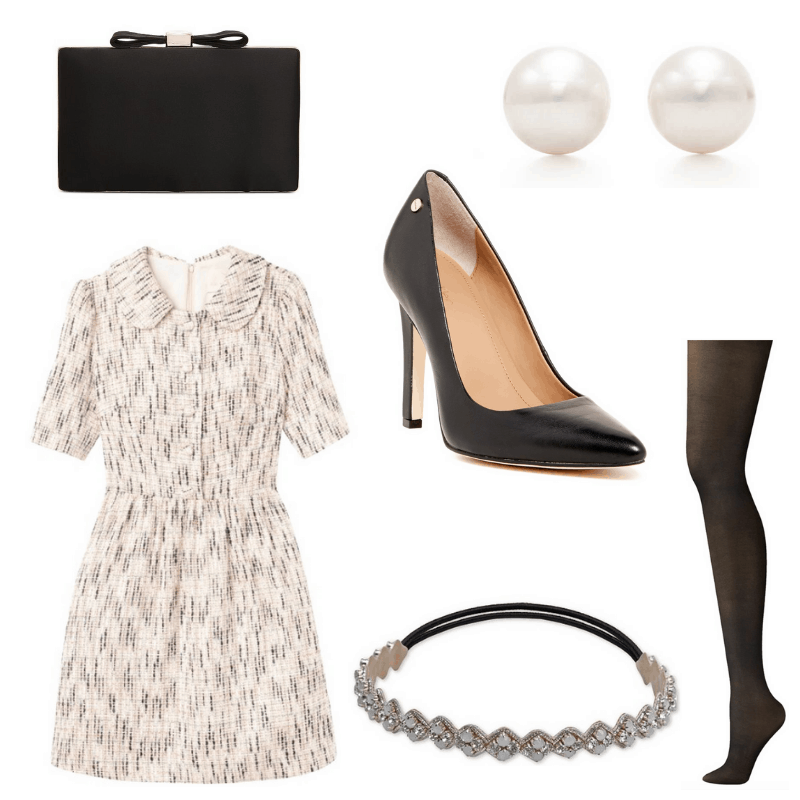 Product: Clutch – Adrianna Papell (Macy's), Tights – DKNY (Saks Off 5th), Dress – Gal Meets Glam Collection, Earrings – Tiffany & Co, Heels – Calvin Klein (Nordstrom Rack), Headband – Deepa (Macy's)
This is such an elegant and feminine Thanksgiving look! The dress is by far my favorite piece; it's from Gal Meets Glam and is the kind of dress you could wear a million different places. Have you all taken a look at the beauty that is the Gal Meets Glam Collection? Julia Engle has outdone herself with the stunning pieces! While the dresses can be a bit pricey for college students, you can check out Nordstrom Rack to find some discounted items.
I also adore the headband in this look. Headbands are my signature accessory and loved by preppy girls everywhere! The beaded detailing is stunning and perfect for any party or event. Preppy girls also can't get enough of bows so the bow clutch is a must. It's on sale now so it can be yours for less than $28!
What do you think of the Preppy Style Series?
Our preppy style series is 100% for you, so tell us: what would you like to read about in future articles? What are your favorite preppy Thanksgiving outfits and styles? How do you feel about fall fashion? Start the conversation below. We love hearing from our readers!