This post will show you 25+ outfit ideas to wear on Thanksgiving, from casual to dressy.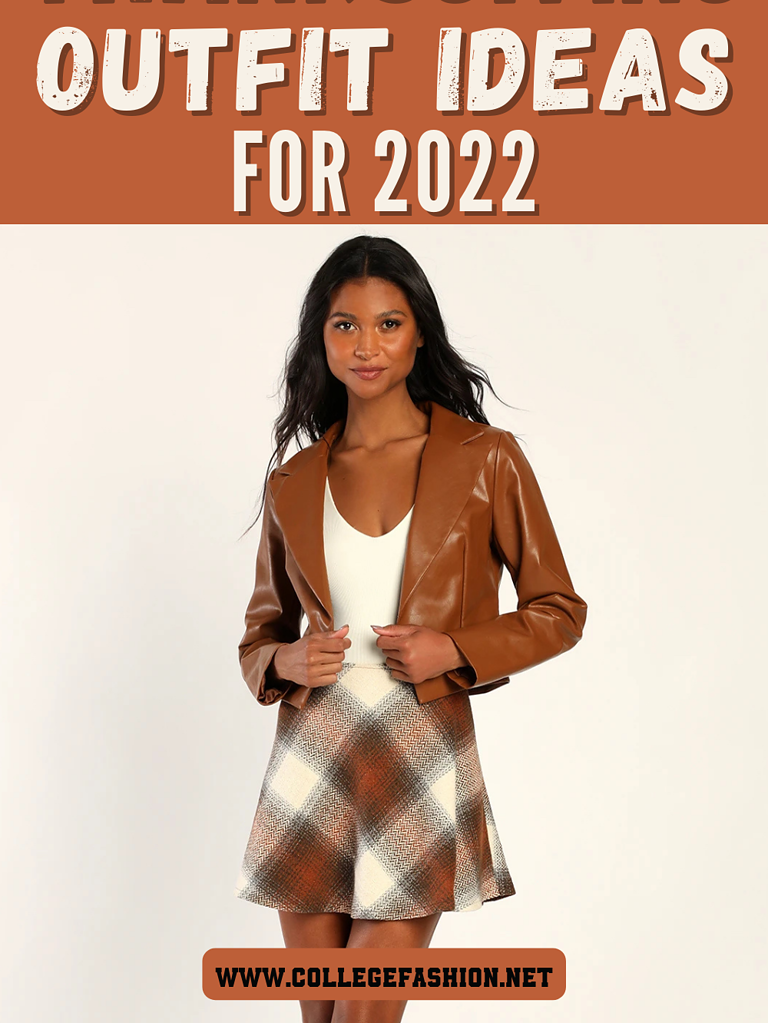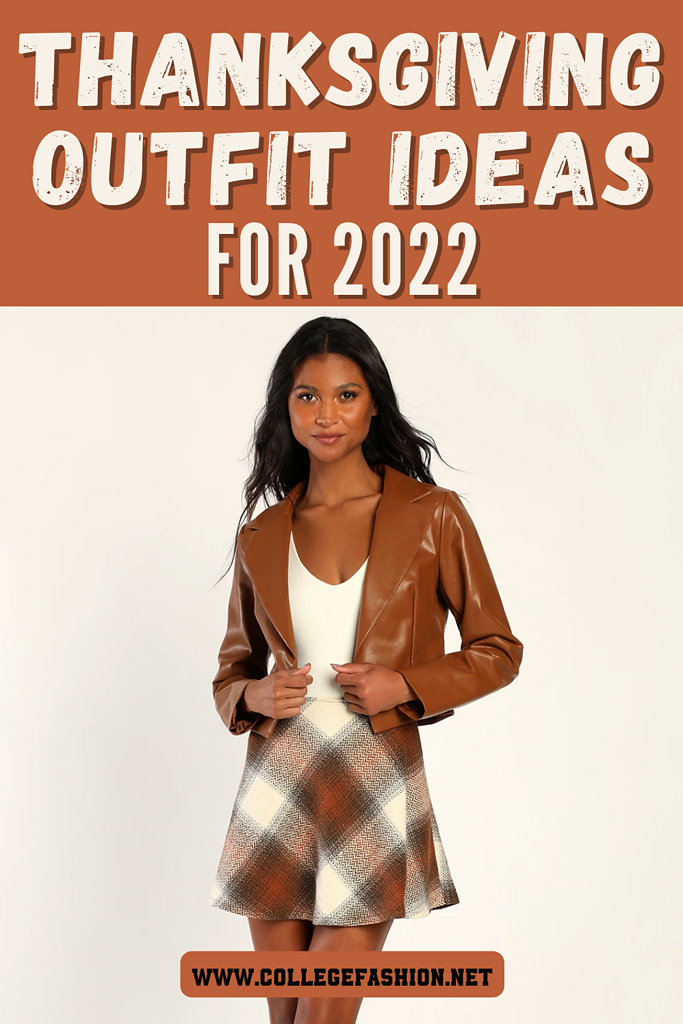 Halloween has come and gone, which can only mean one thing: the holiday season is upon us! Thanksgiving is right around the corner, which means turkey, football, festive outfits, and most importantly, giving thanks.
Whether your Thanksgiving plans are low-key or elaborate, this outfit guide will help you put together the perfect look to celebrate the fall holiday. With outfits ranging from casual to dressy, these Thanksgiving outfit ideas are sure to put you on the living room's best-dressed list!
Read on for your ultimate guide to Thanksgiving outfits, with over 25 looks perfect for Turkey Day and the fall season, and get ready to slay the holiday.
Related reading: 25 Beautiful Christmas Outfit Ideas to Make You Sparkle This Holiday Season
Cute Thanksgiving Outfit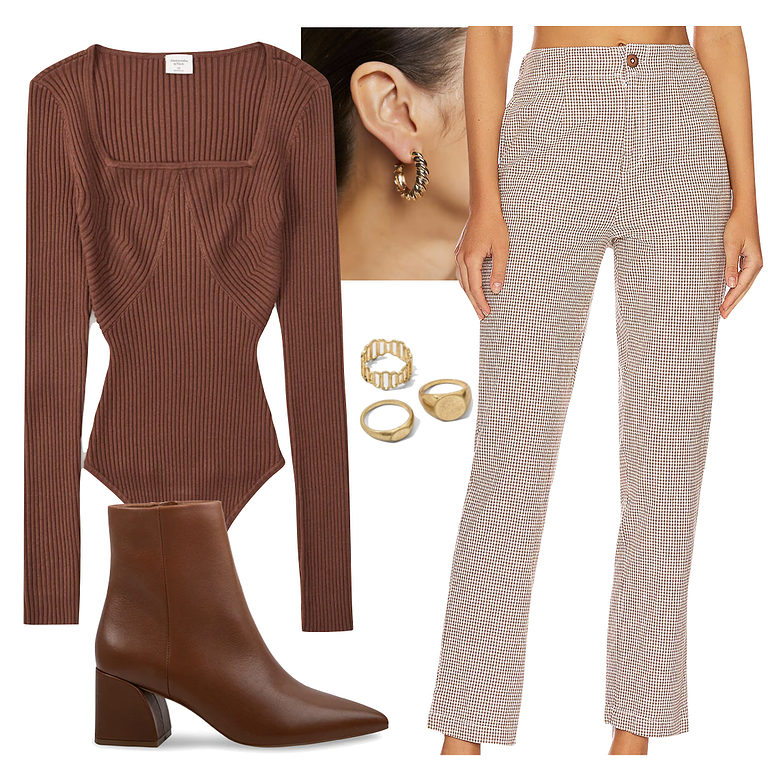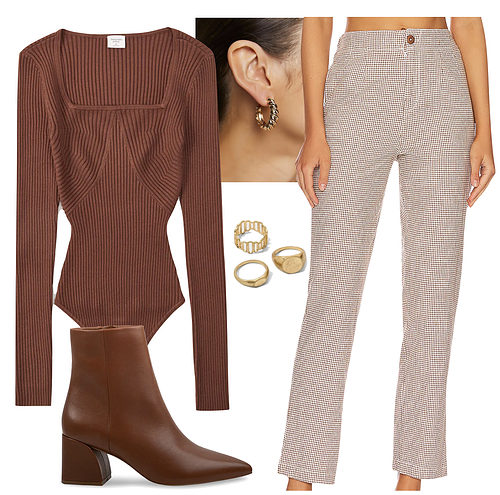 Products: Bodysuit, Pants, Earrings, Rings, Ankle Boots
Celebrate Thanksgiving in style with this cute outfit featuring brown and white plaid straight-leg pants and a brown sweater bodysuit. Elements like plaid prints, autumnal hues, and knitwear have such a Thanksgiving vibe, and this outfit combines them all in a fashion-forward way.
I love the square neckline and ribbed details on the knit bodysuit which give it an elevated look, not to mention how perfectly the bodysuit matches the pant's plaid print. Wear some brown ankle booties — these have a block heel and sleek pointed toe — to bring the outfit together.
Gold jewelry, like some twisted hoop earrings and eclectic rings, adds to the outfit's put-together look.
Festive Thanksgiving Outfit
If wearing plaid on Thanksgiving is wrong, I don't want to be right! I'm all for dressing on-theme and getting festive for any holiday, and this red woven plaid mini dress would look so adorable on Thanksgiving.
In addition to its seasonal print, the dress features balloon sleeves for an elevated touch, plus a flouncy skirt. And did I mention that the dress also features a drawstring waist that you can easily adjust as you fill up on turkey and pumpkin pie?! Talk about functional!
Get in on this fall's cowboy boots trend by wearing some tan knee-high boots that have western flair, and accessorize with boho-inspired pieces like gold stacking rings and stone drop earrings. This eye-catching beige vegan leather fringe bag adds a final boho touch.
Related reading: 20 Incredibly Chic Thanksgiving Hairstyles to Rock This Year
Preppy Thanksgiving Outfit
Would you describe your style as preppy? Thanksgiving is the perfect opportunity to pull out your favorite plaid mini skirt and cardigan sweater.
Be sure to opt for autumnal hues like tan, black, and maroon; this plaid A-line mini skirt combines these fall colors in a chic way and is made from a stretch twill material (so you won't be uncomfortable while sitting at the dinner table).
A classic cardigan in a coordinating maroon shade brings out the skirt's print — this plush knit cardigan also features darling faux pearl buttons for a fancy feel. Play this detail up with some timeless pearl stud earrings.
To fully embrace the preppy look, complete the ensemble with shiny black loafers that have a chunky heel, frill-trim crew socks, and a velour hair bow clip that feels especially festive.
Related reading: 25 Cute & Cozy Thanksgiving Dinner Outfits
Cozy Thanksgiving Outfit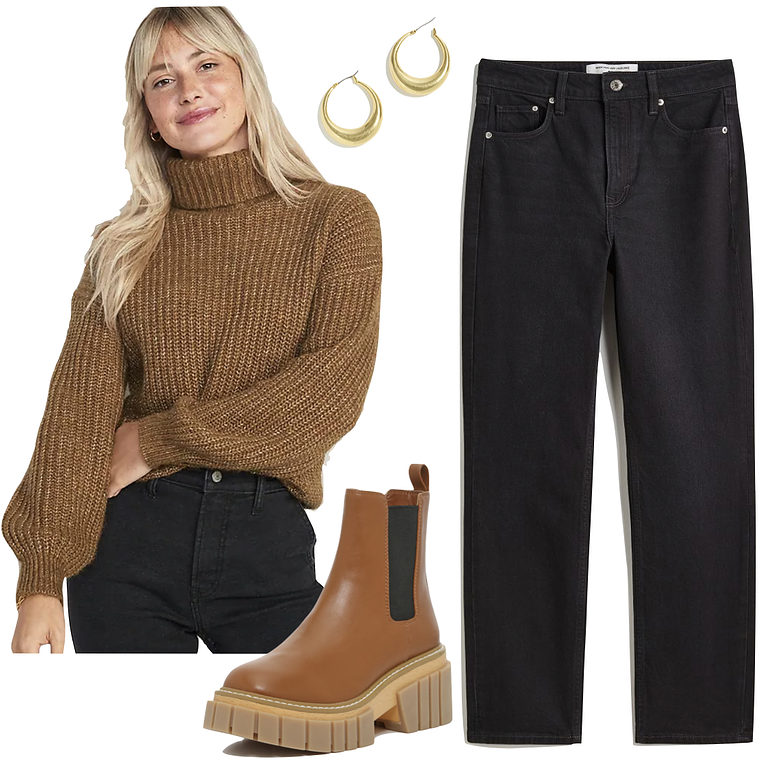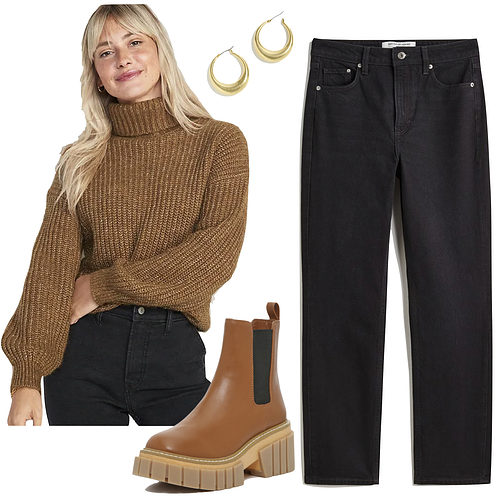 Products: Sweater, Jeans, Earrings, Ankle Boots
When it comes to Thanksgiving dressing, you just can't go wrong with a cozy sweater!
Pick a knit with a rustic or earthy hue, like this marled turtleneck in a dark tan color, and jazz it up with some cute earrings like these gold crescent-shaped hoops. Accessories can help make this outfit appear extra put-together, but you don't need much to make a statement; the unique shape of these hoops gives them extra charm.
Any kind of denim will work with this outfit, but a pair of black jeans with no rips feels a bit dressier, which is ideal since you're dressing for a holiday.
Bring the outfit together with some ankle boots; I adore these chunky Chelsea boots that incorporate all the colors of the outfit for a cohesive look.
Girly Thanksgiving Outfit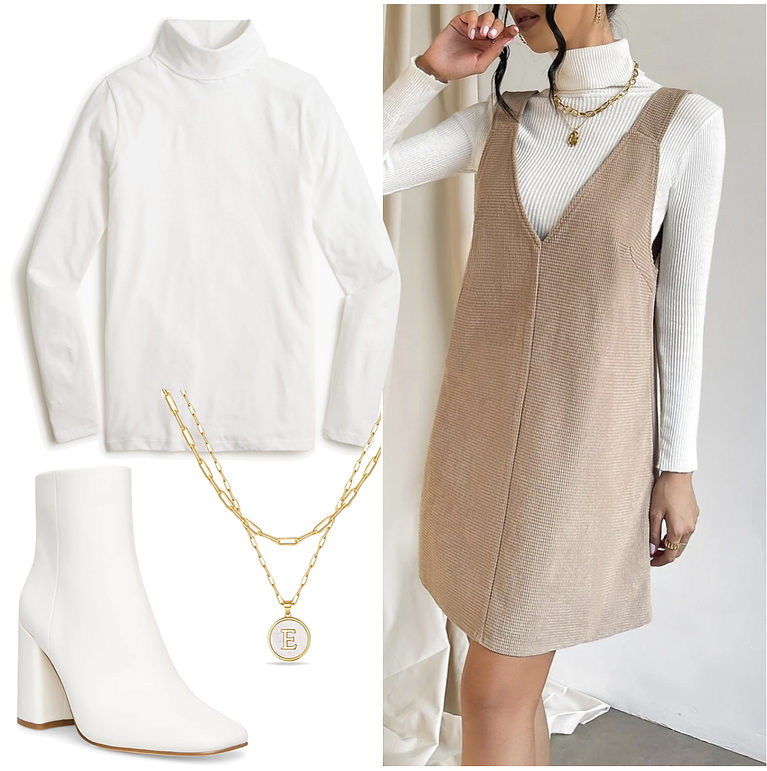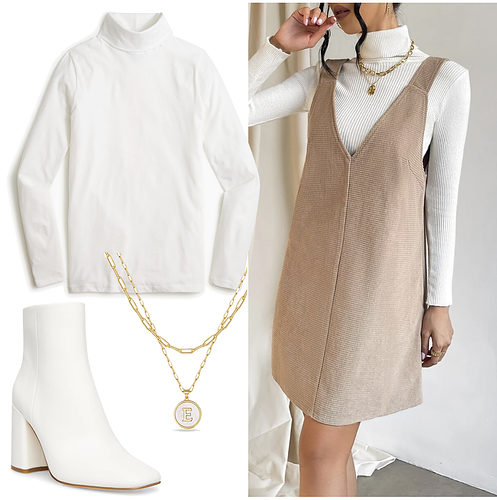 Products: Dress, Turtleneck, Necklace, Ankle Boots
For a feminine, dressy Thanksgiving look, try a cute shift dress layered over a long sleeve top. This beige V-neck overall shift dress looks adorable when layered over a white turtleneck top and accessorized with a gold pendant necklace (worn on the outside).
Keep the outfit looking fresh with some white square-toe ankle booties with a block heel, and add tights if you desire.
P.S. — shift dresses are a great option for Thanksgiving because of their loose, comfy fit; there's nothing worse than feeling stuffed from a large meal while wearing tight or uncomfortable clothing!
Trendy Thanksgiving Outfit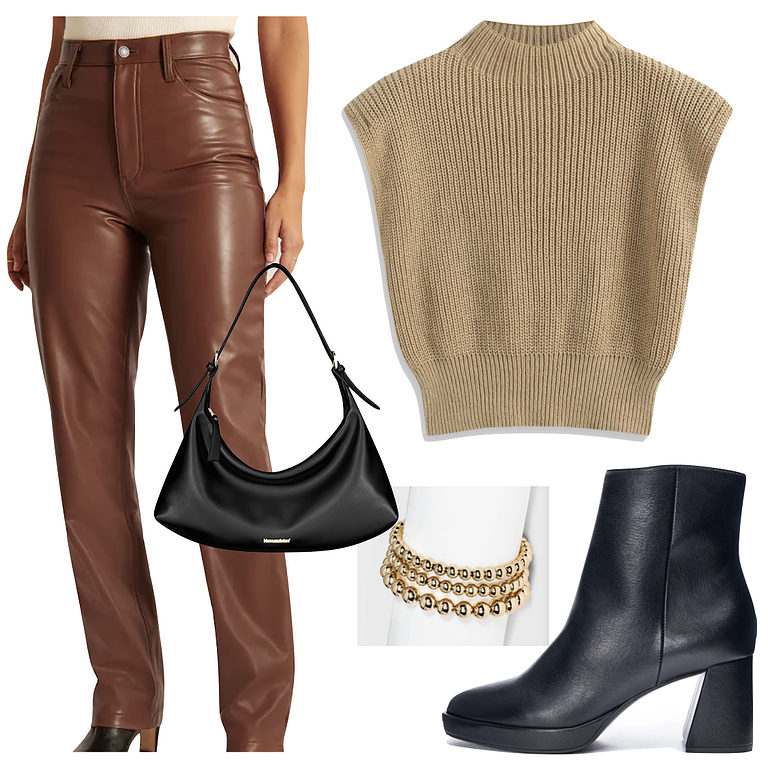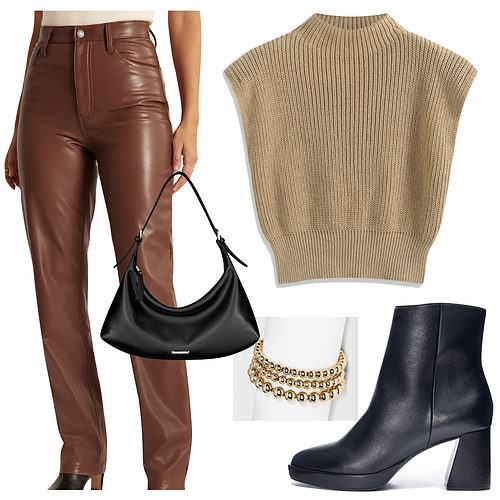 Products: Pants, Top, Bracelets, Bag, Ankle Boots
Calling all trendy girlies: a pair of brown faux leather straight-leg pants and a sweater vest are the perfect combo to show off your style, even if you'll just be hanging in the living room all Turkey Day long.
The rich color of these brown vegan leather high-rise pants couldn't be more ideal for the fall (and Thanksgiving), and the faux leather material gives them an elevated vibe.
Pair them with a camel-colored sweater vest top for added texture; the mock neck detail makes for a chic accent.
One of the hottest trends this fall is wearing brown and black together, and accessories like black ankle booties and a black mini handbag add to the trend appeal of this outfit, creating a cool color contrast.
Complete the fashion-forward look with subtle yet eye-catching jewelry like a stack of stretchy gold beaded bracelets. This outfit would also work well for Thanksgiving Eve or Friendsgiving!
Casual Thanksgiving Outfit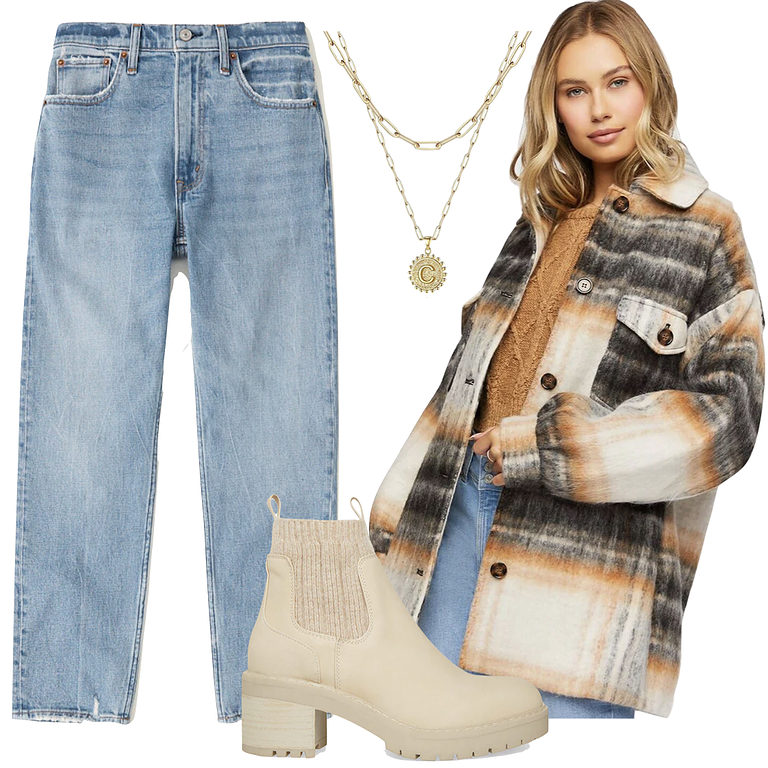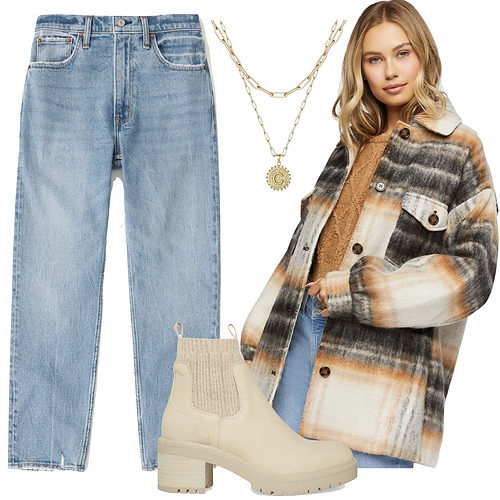 Products: Jeans, Shacket, Necklace, Ankle Boots
Looking to keep things casual this Thanksgiving? This is the perfect laid-back Thanksgiving outfit idea for you. Throw on some mom jeans, a colorful sweater, and a plaid shacket — it's a no-fail combo that looks cute on any fall day, including Turkey Day.
This plaid longline shacket with a soft brushed material will keep you feeling cozy, as will these ankle boots with a sock-like knit shaft for a snug feel. Booties with a short, chunky heel will make you look put-together, but aren't going to be a pain to walk around or stand in like heels can be.
While jewelry isn't necessary, a layered gold pendant necklace is an easy add-on that will elevate the ensemble, whether you're feasting, heading to a parade or football game, or to the movies.
Family Thanksgiving Outfit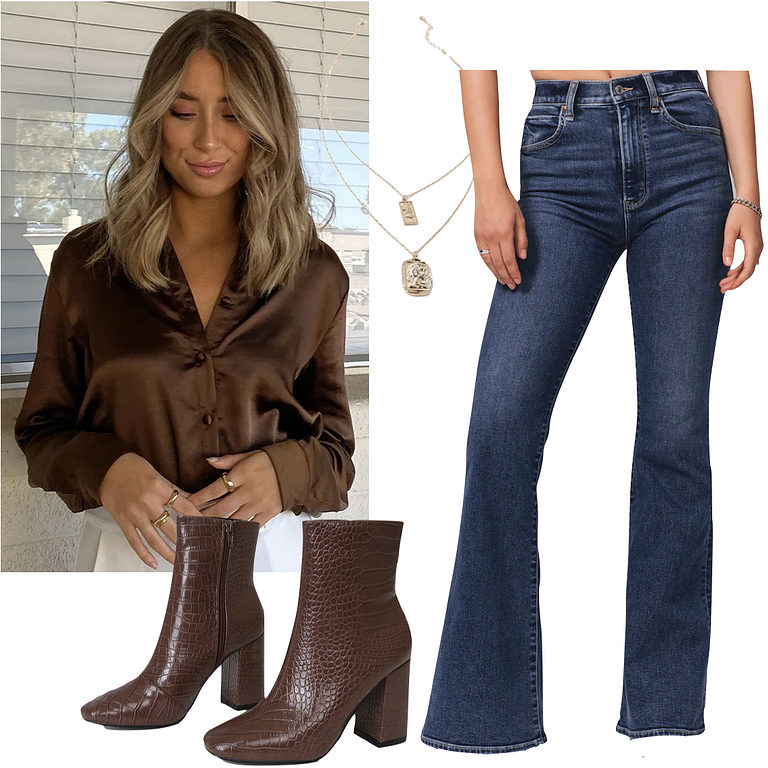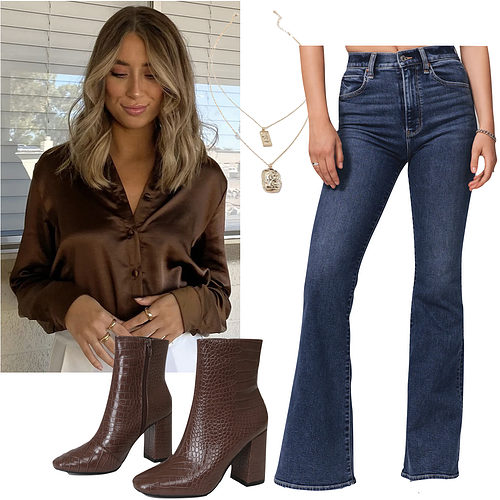 Products: Shirt, Jeans, Necklace, Ankle Boots
Of course, pretty much all of these Thanksgiving outfit ideas will work for a family Thanksgiving celebration, but this particular outfit combo is a great option for Thanksgiving with the fam — it's the epitome of dressy casual.
A button-down shirt or blouse has a polished look, especially one with a luxe, silky material. Wear it with dark wash denim that has no rips; a style like flared high-rise jeans will look a bit dressier than a basic pair, especially when worn with heeled ankle booties. These brown crocodile booties match the brown satin shirt and keep the outfit feeling Thanksgiving-ready.
Wearing gold jewelry like a layered necklace will make the outfit look that much more put-together and adds a bit of shine.
Thanksgiving Eve/Friendsgiving Outfit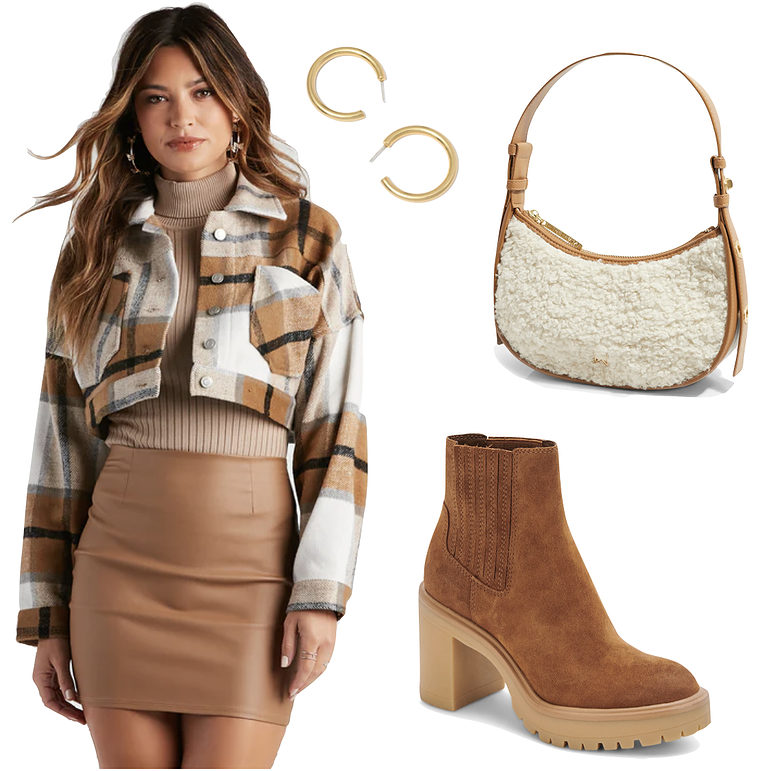 Products: Shacket, Turtleneck Bodysuit, Skirt, Bag, Earrings, Ankle Boots
Will you be going out on Thanksgiving Eve (a.k.a. TGE) or having a Friendsgiving get-together with your pals? If so, you'll want to dress festive, but with extra flair.
Try wearing a cropped plaid shacket with a faux leather mini skirt for your night out with friends. Keep the color palette autumnal with browns, taupes, and beiges, and play with textures: Add a faux leather skirt, some brown suede ankle booties, and even a touch of shearling with this trendy (and completely adorable) mini handbag.
A ribbed turtleneck bodysuit will look flattering with the mini skirt while also keeping you warm if you go out at night, as will the cropped shacket. Don't forget some gold hoop earrings, and consider going for a bronzy makeup look or a bold berry-colored lip.
Baddie Thanksgiving Outfit
Going for a baddie vibe? Black over-the-knee boots with a faux leather mini skirt are a baddie's Thanksgiving uniform.
Wear these pieces with either a black cutout long-sleeve top or a black turtleneck depending on where you're headed. BTW, this brown vegan leather button-front mini skirt features a slightly stretchy material for added comfort, and you can wear it with or without tights.
Accessorize with a black faux leather baguette bag and some hoop earrings (a baddie staple). This outfit would also be perfect for TGE!
Chic Thanksgiving Outfit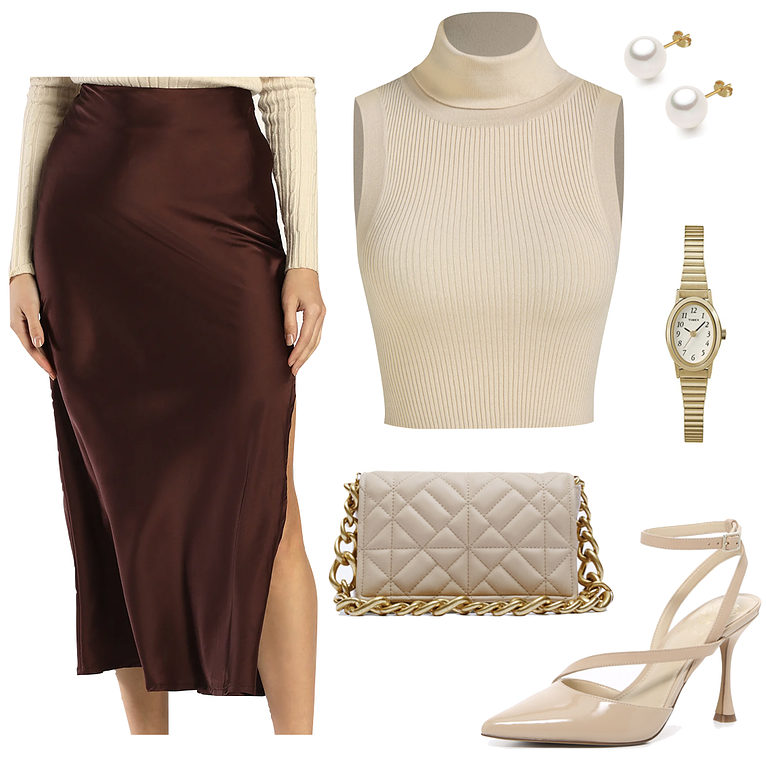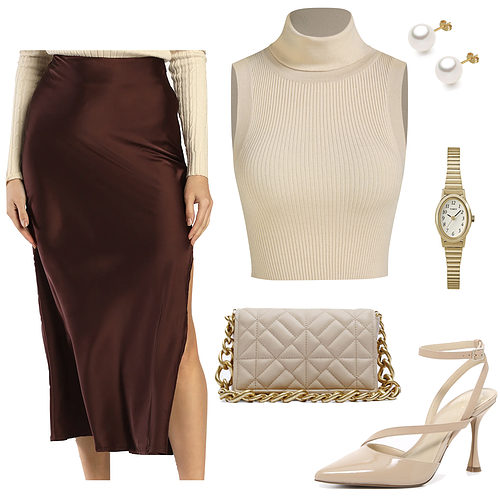 Products: Skirt, Top, Earrings, Watch, Bag, Pumps
If your Thanksgiving celebrations call for a dressy outfit, you can't go wrong with this chic look featuring a chocolate brown satin slip skirt and a beige sleeveless ribbed turtleneck top with matching pumps.
This outfit looks especially elegant thanks to its elevated materials (for example, the skirt's satin fabric gives it a subtle sheen for a luxe look) and neutral color palette, plus classic accessories like pearl stud earrings and a sleek gold watch. Bring the ensemble together with a beige quilted bag with a gold chain strap to tie in the accessories and keep the coordinated color scheme.
P.S. — a sleek, "clean girl" bun would complement this look so well.
Classic Thanksgiving Outfit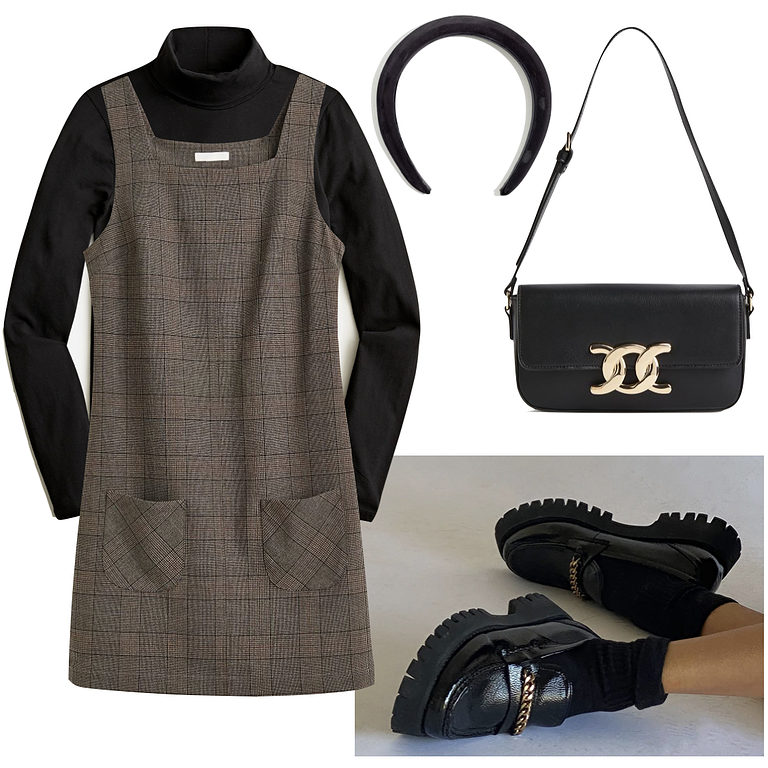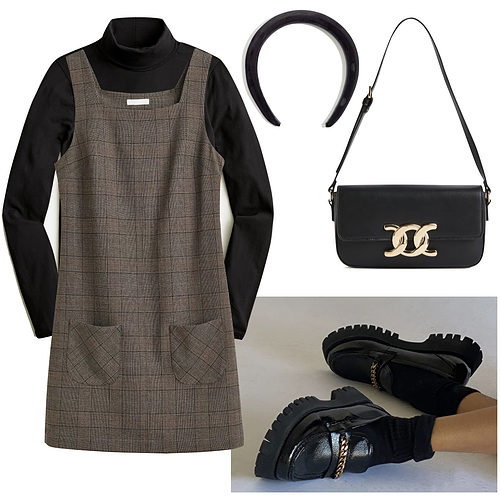 Products: Dress, Turtleneck, Headband, Bag, Loafers
A cute, classic 'fit will always be a good idea for Thanksgiving. Try layering a plaid dress (this one has a square neckline and patch pockets) over a simple black turtleneck top for a classic vibe.
Not only do patent loafers complement this ensemble, but they are super on-trend this season, especially ones with a chunky lug sole.
A black padded headband and structured black shoulder bag add major polish to the overall look.
More Thanksgiving Outfit Ideas:
Want more Thanksgiving outfit inspo? Check out these cute looks with clothing pieces that are perfect for Turkey Day.
Cute Cords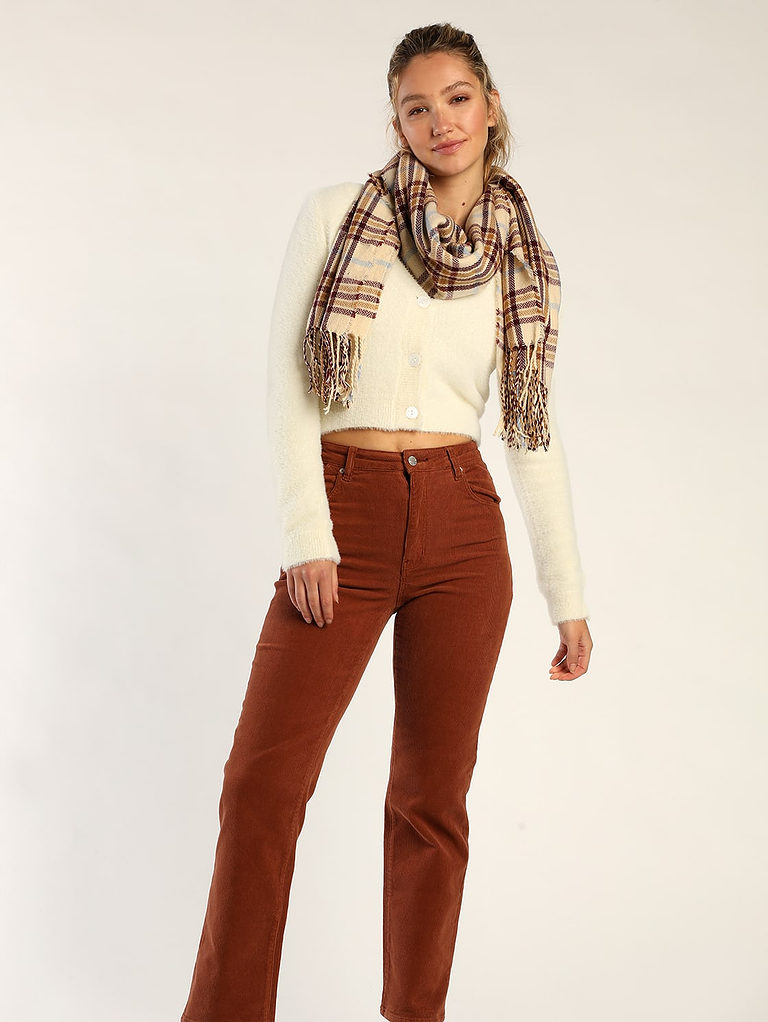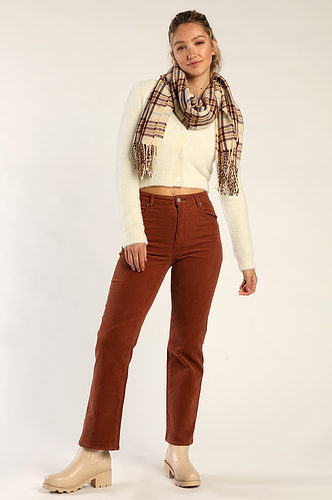 Ditch the denim in favor of some cute cords, since there's no better to wear corduroy than in the fall!
These rust-brown corduroy high-rise pants definitely fit the vibe of Thanksgiving, especially when paired with a fuzzy sweater and plaid scarf. Add some ankle booties, clogs, or sneakers for a cute, casual look.
Cozy Knitwear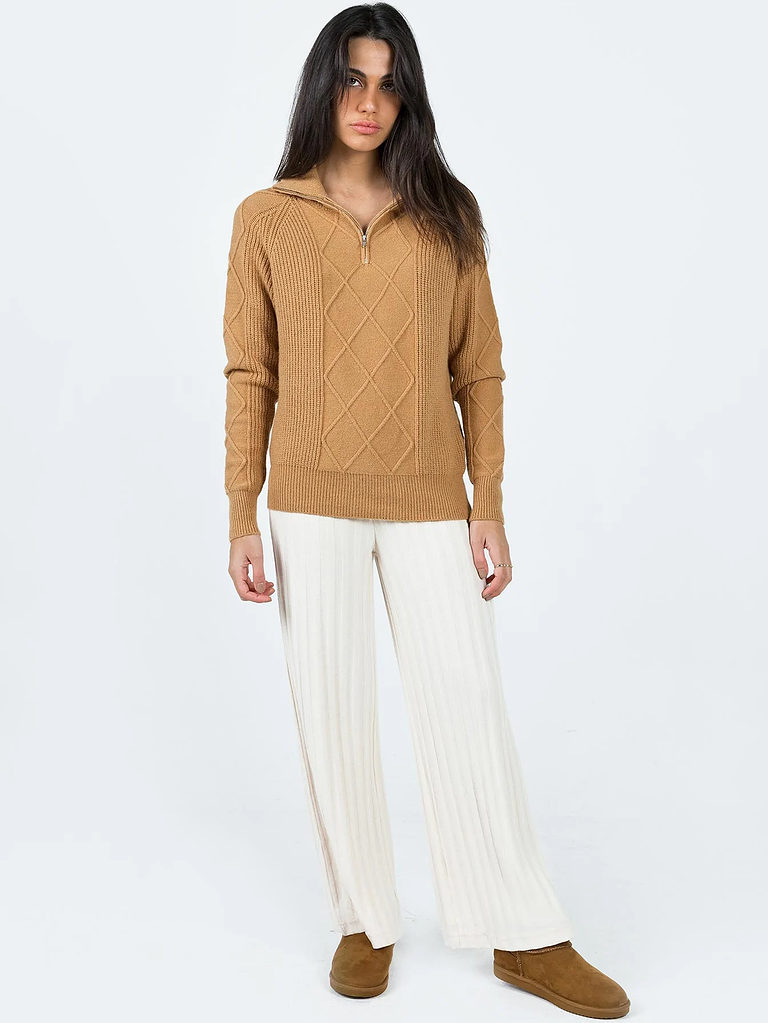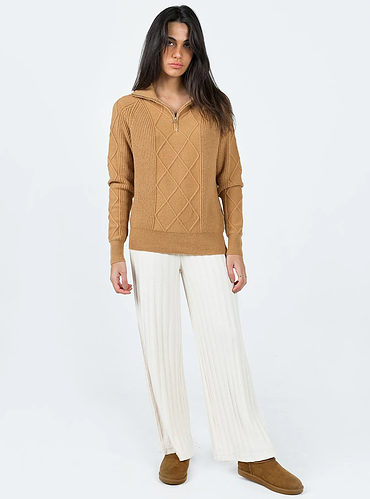 Are you planning on a super laid-back, chill Thanksgiving? Rather than lounge around in sweats, elevate your leisurely Turkey Day look with a stylish quarter-zip sweater and some wide-leg pants, plus Uggs (of course).
You'll feel more put-together while still being ultra comfy, making this outfit combo ideal for a movie or football marathon.
A Long Cardigan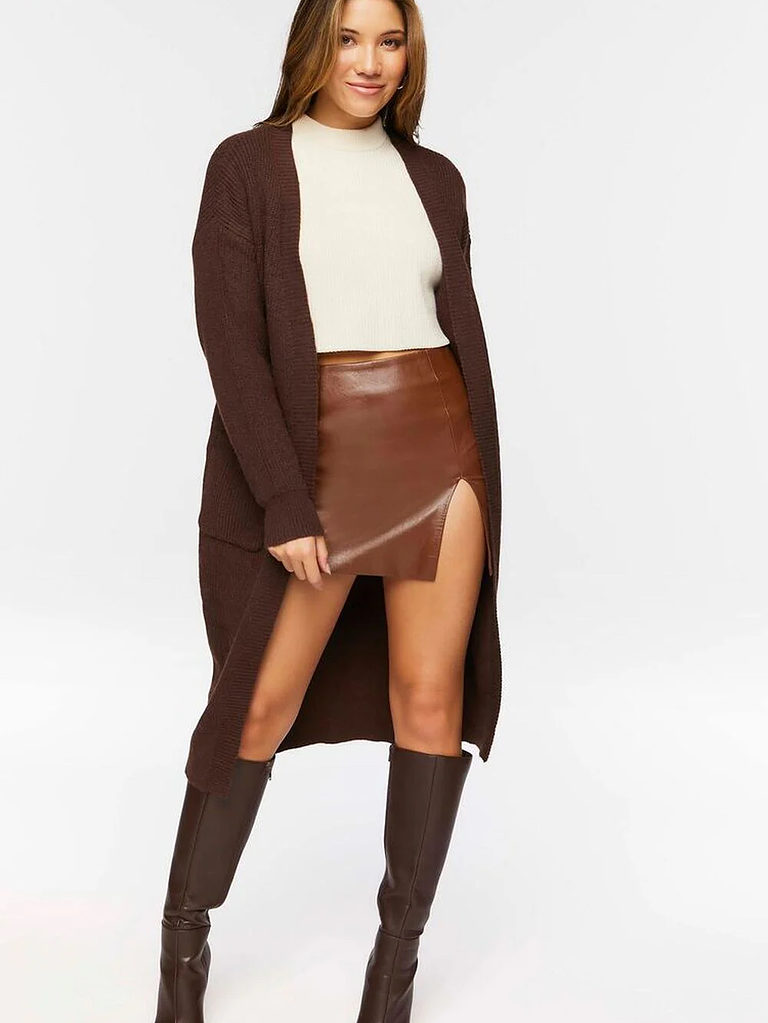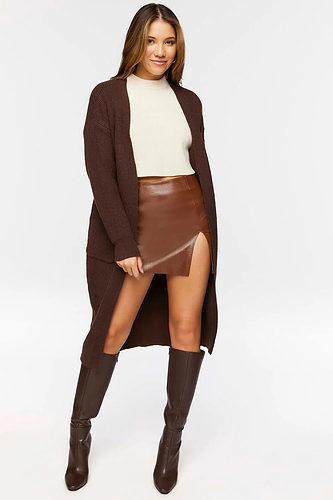 Whether you dress up or down, a long open-front cardigan sweater will make you feel (and look) cozy. I love the idea of wearing a long brown cardigan over a sleek brown faux leather mini skirt and mock neck top, along with knee-high boots for a stylish Thanksgiving look.
Fall Flannel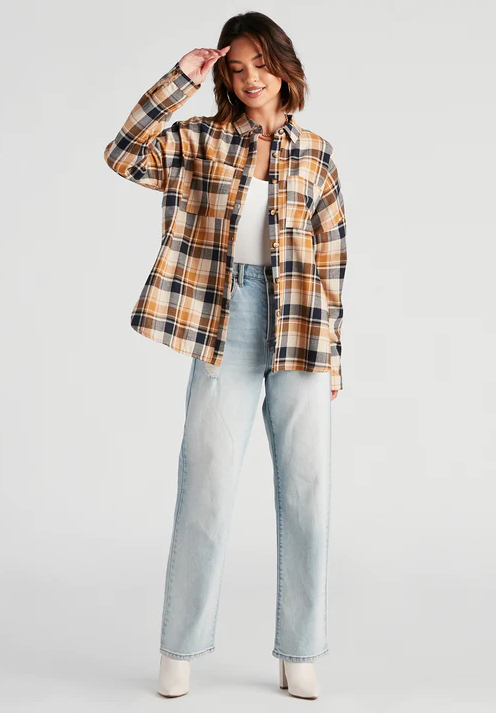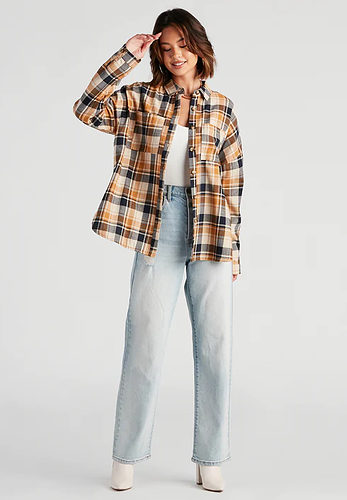 Plaid flannel shirts are the unofficial Thanksgiving uniform, so you can't go wrong with wearing one yourself. Pick a flannel with an autumnal color palette for a festive yet laid-back look.
Even if you just style your flannel with jeans, you can always wear some heeled ankle booties to give the outfit a dressier vibe for the holiday.
Sleek Slip Dress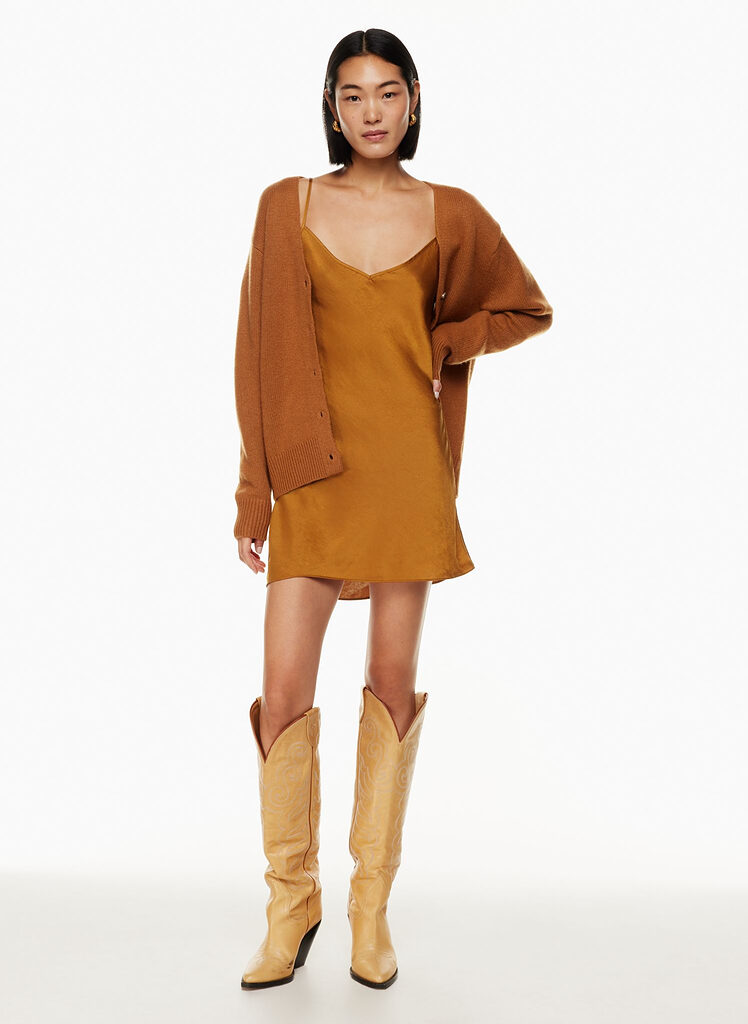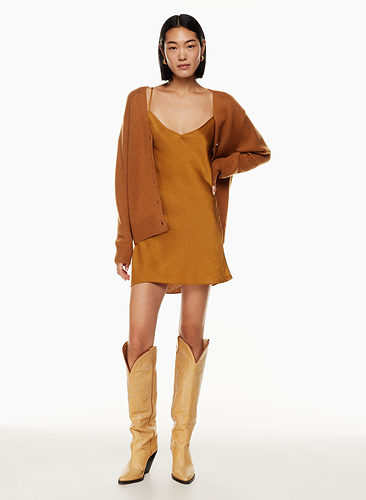 You may not immediately think of a mini slip dress when it comes to Thanksgiving dressing, but think again: when paired with an oversized cardigan sweater and knee-high boots, this outfit combination is a winner.
The rich chestnut hues of the frock and cardigan give this ensemble the ultimate fall vibe, while western-inspired boots add instant trend appeal.
Slip Skirt with Knee-High Boots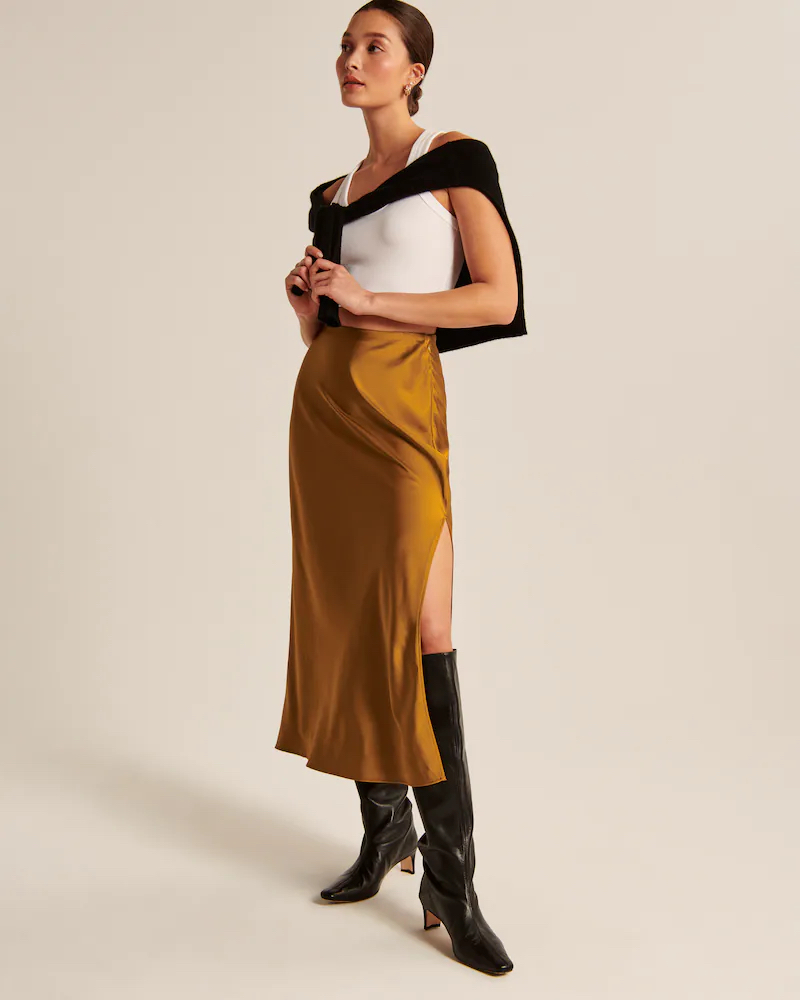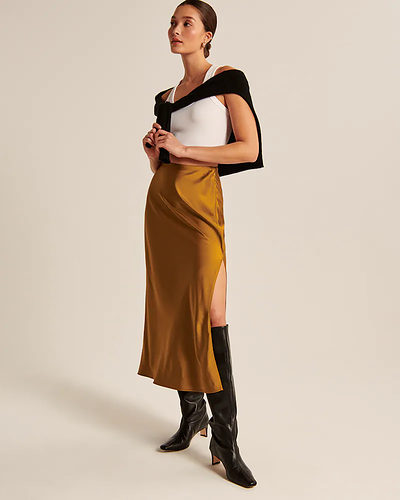 How chic is this outfit?! An ochre-colored satin slip midi skirt worn with black knee-high boots is an unexpected pairing that looks ultra-polished.
You can either wear these pieces with a sleeveless top as shown above or a cozy sweater for a warmer look.
Mock Neck Mini Dress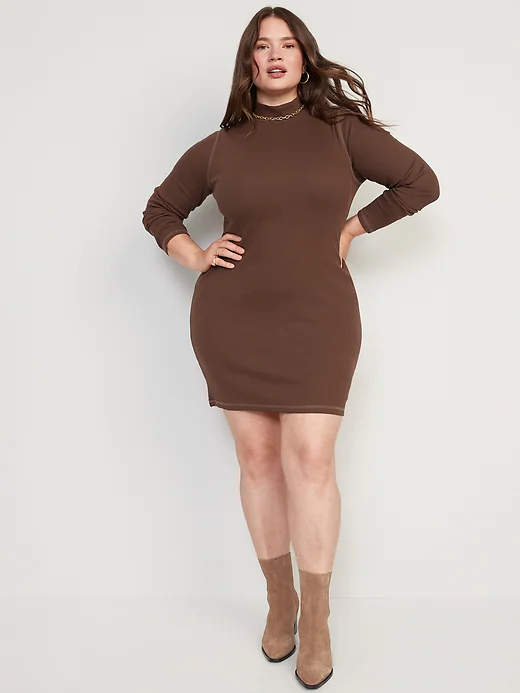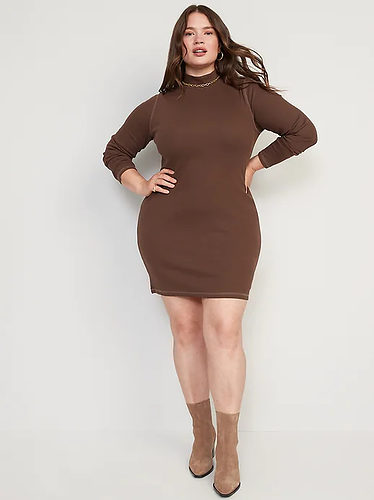 There's something about a mock neck that makes everything look a bit more elevated, including this fitted brown ribbed mini dress. Available in inclusive sizing, this dress gives off total Thanksgiving vibes, especially when paired with matching booties or knee-high boots. A faux leather jacket or long camel-colored coat would look fab with this frock.
Classic Plaid Blazer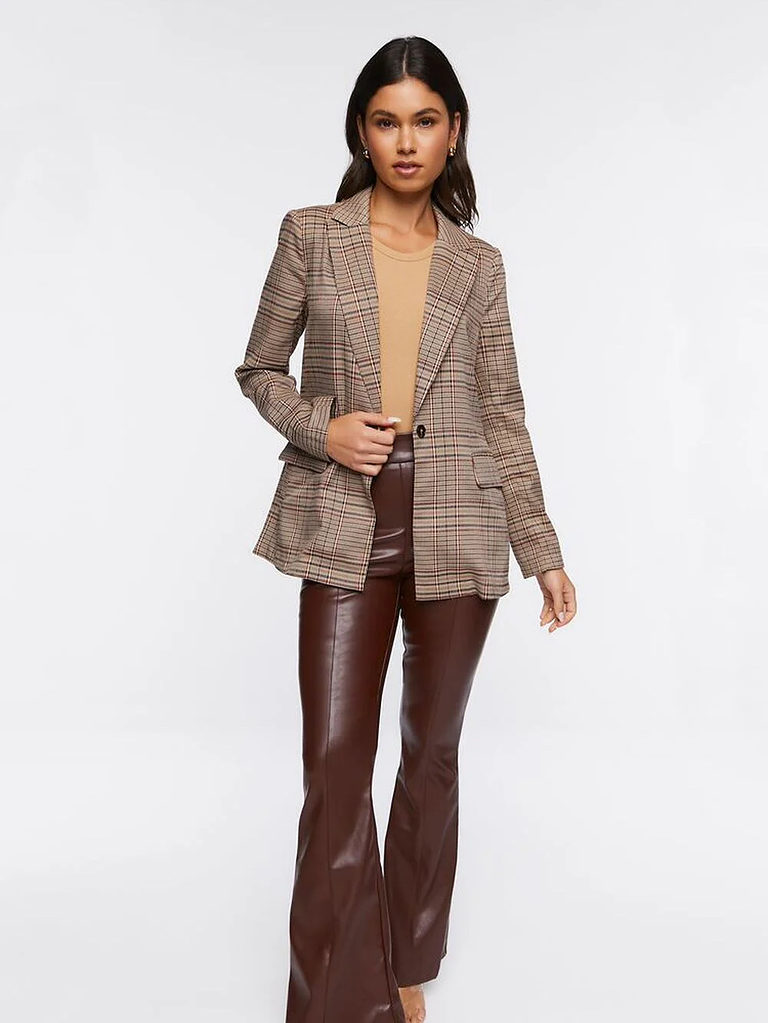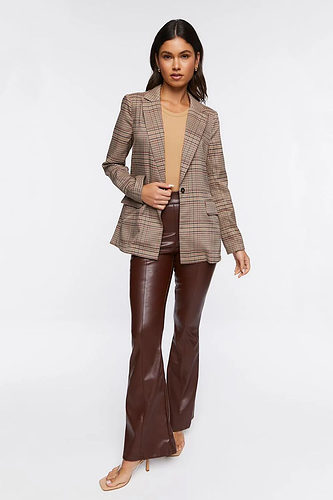 Every girl needs a classic checked or plaid blazer in their wardrobe, and Thanksgiving is a great occasion to wear one. Style your blazer with faux leather pants or dark-wash denim for a sleek look.
Faux Leather Cropped Blazer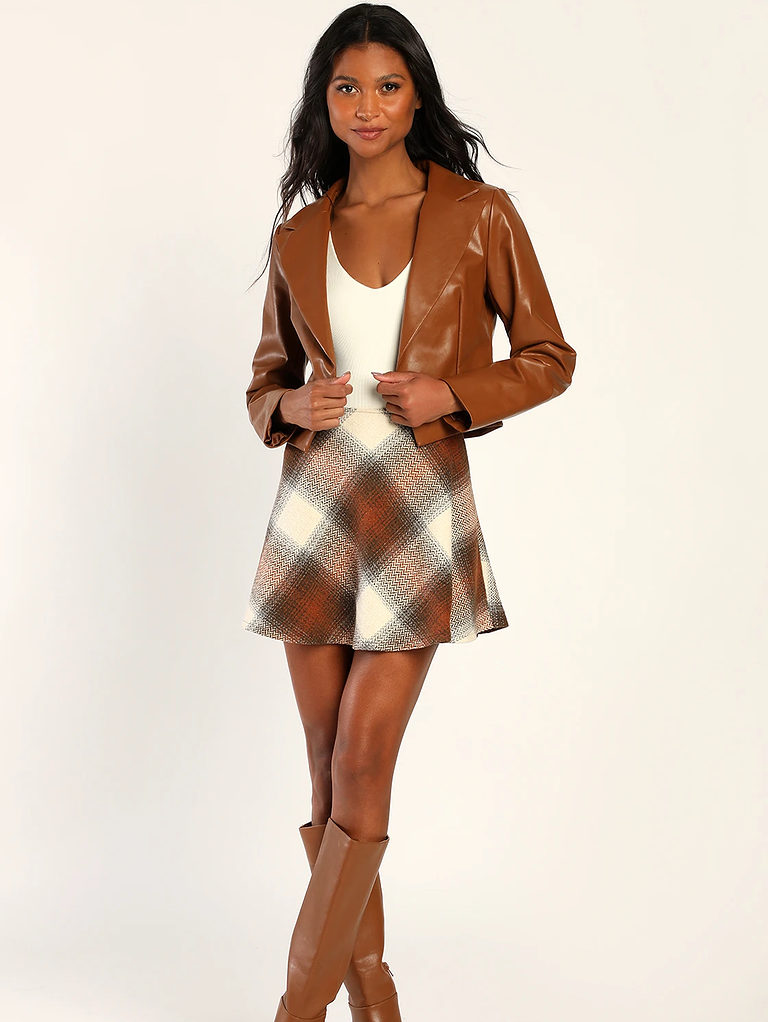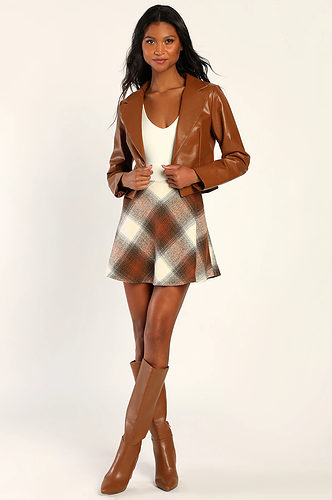 Add some structure to your Thanksgiving outfit with a brown faux leather cropped blazer for a stylish touch. A blazer or jacket with a cropped or short length pairs especially well with anything high-waisted, from jeans to skirts. (I adore this plaid mini skirt which matches the blazer and boots perfectly.)
A Plaid Scarf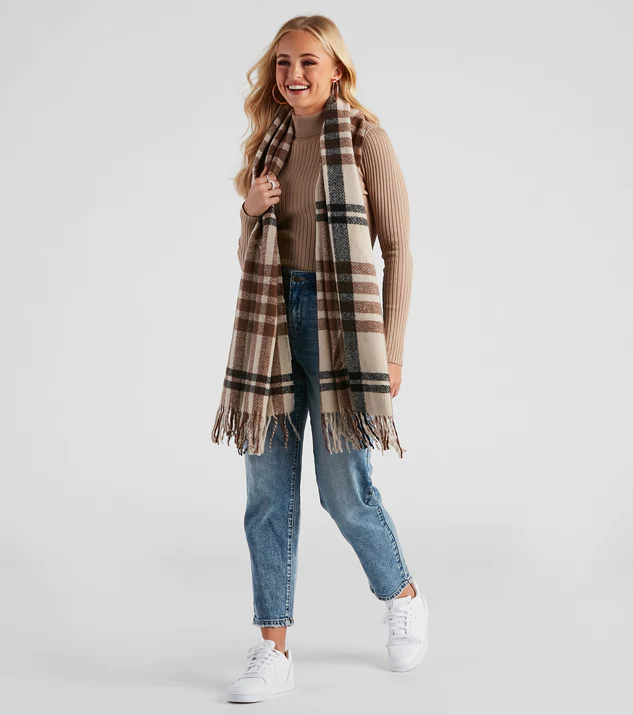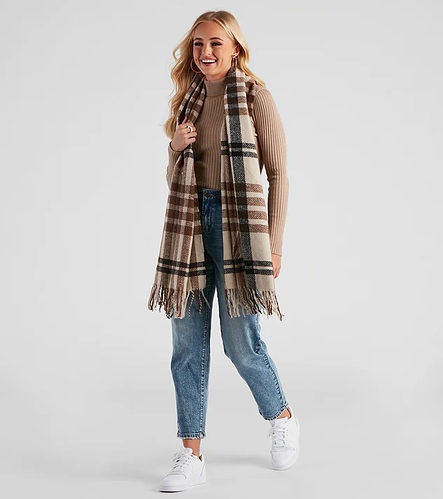 TBH, all you really need is a pop of plaid to make any outfit look Thanksgiving-ready — even a simple pair of jeans, sneakers, and a sweater.
Throwing a printed blanket scarf over your outfit, no matter how simple, will make it appear festive for Turkey Day.
Dark Floral Dress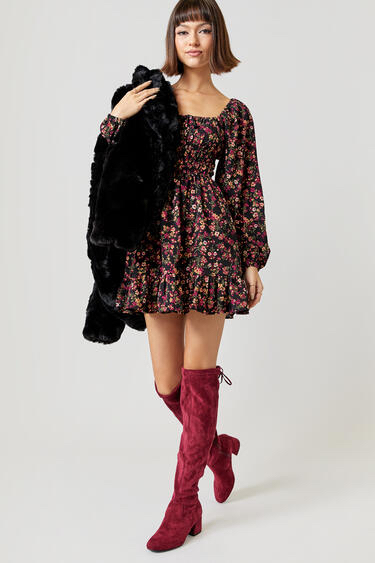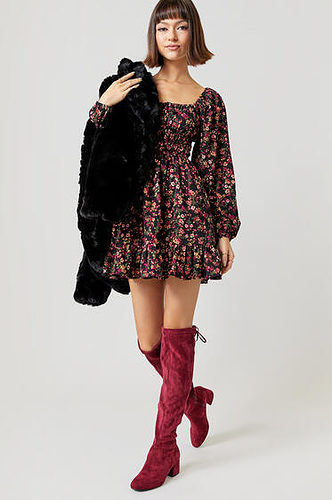 Of course, plaid isn't the only option to wear on Thanksgiving. A dark floral print is another great choice, and because of its darker tones, it feels appropriate for the season.
If you want to get super glam for the holiday, wear a dark floral print dress with a faux fur coat for a main character moment.
Velvet Top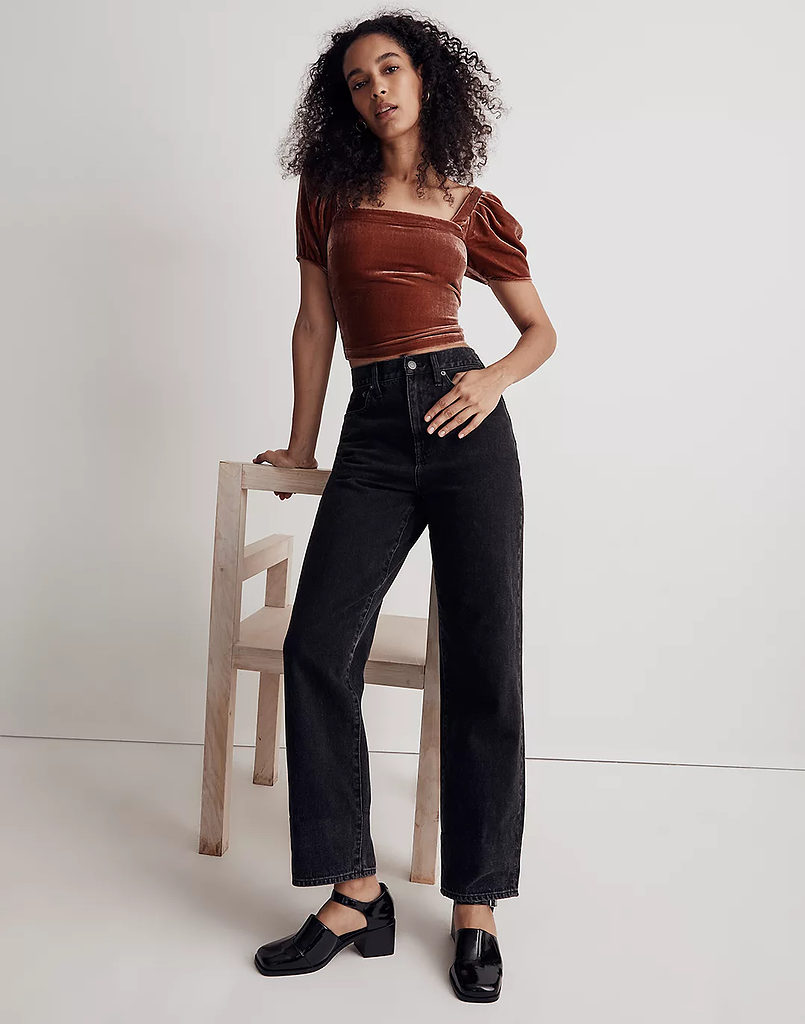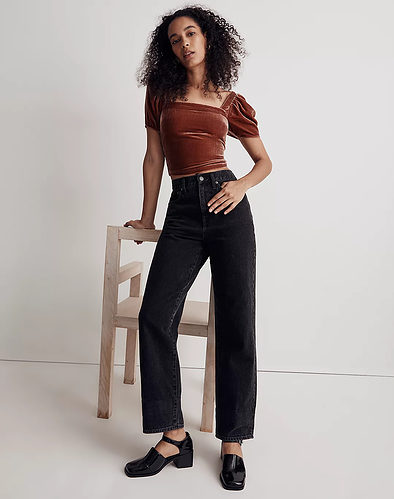 A material like velvet can instantly dress up your jeans, especially a top like this puff-sleeve silk-blend velvet top in a rich rust hue.
Pair it with dark wash denim or a printed skirt with boots for Thanksgiving.
Sweater Dress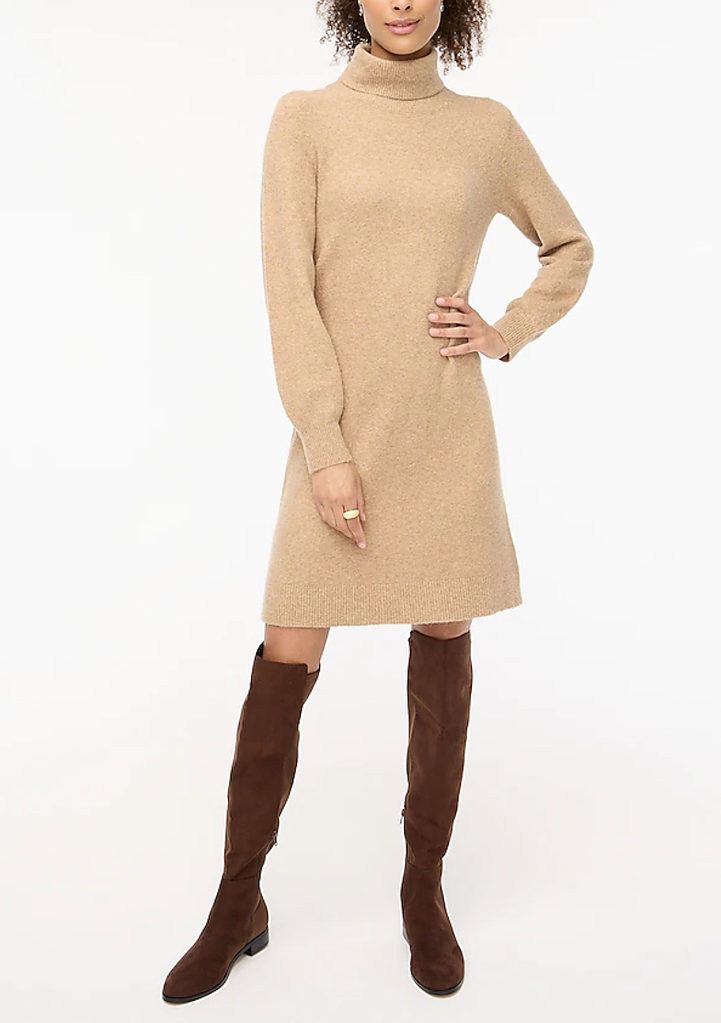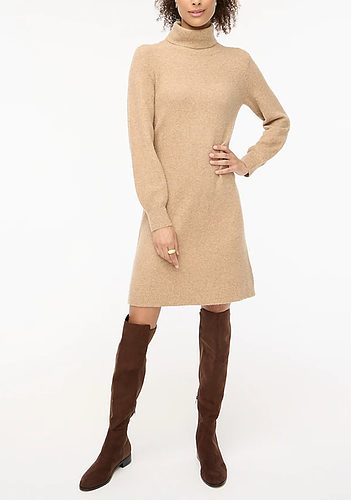 A neutral-colored sweater dress is an item you'll wear for years to come and is a perfect option to wear on Thanksgiving.
Style it with knee-high boots or ankle booties, with or without tights. It's cozy and classy all at the same time.
Faux Leather Mini Skirt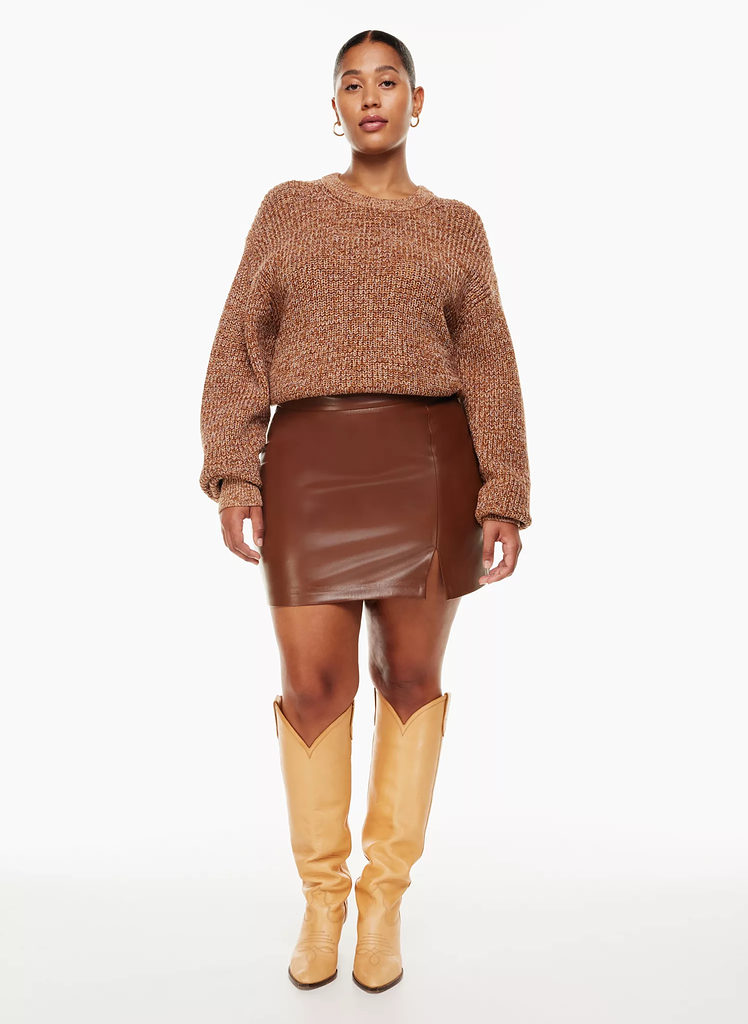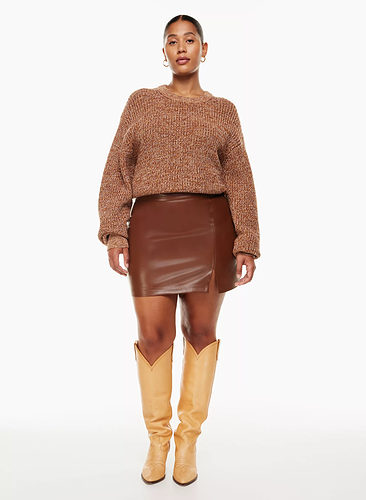 That faux leather mini skirt that you love wearing out on the town? Make it Thanksgiving-appropriate by styling it with a chunky, oversized sweater and some knee-high boots, plus simple jewelry. A slouchy knit will tone make the skirt feel more casual and keep you cozy as you celebrate.
What do you think of our Thanksgiving outfit ideas?
Would you wear these outfits? Which Thanksgiving look is your favorite? Leave a comment and let us know!