Bikinis get a lot of attention for being cute and stylish, but in 2018, one-piece swimsuits don't have to have to be boring or conservative. These days, there are a ton of new options out there with extreme plunges, lace-ups and high cut legs – these one-pieces aren't for the faint of heart! If you're getting sick of bikinis (and trying to match the tops and bottoms) consider a one-piece as a stylish, trendy alternative.
If you don't know where to start looking for the perfect suit, we've got a round-up of the cutest one-pieces to fit your body the best. 
Note: Of course, these are just suggestions and you don't have to stick to the category that's "best" for your body type — you can pull off whatever style you want with confidence! Think of this as a shopping starting point if you're not sure which style to choose. Also, we don't mean this to be an exhaustive list of body types — just a few of the most common categories most people are familiar with.
Related reading: Our Ranking of the 30 Best Bathing Suits on the Market Today (Affordable)
One-Pieces for… Bigger Bust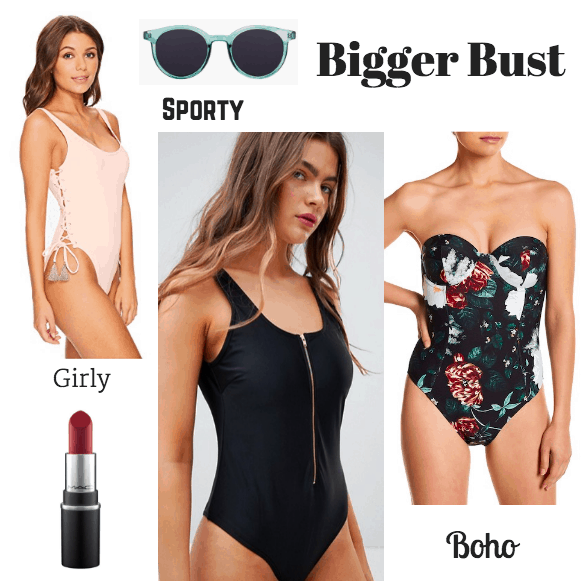 Products: Pink Swimsuit- Vince Camuto, Lipstick- MAC, Sunglasses- Genuine People, Black Swimsuit- Asos, Floral Swimsuit- Nordstrom Rack
For all you ladies looking for more coverage on top – never fear, the one-piece suit has options for you! All of these suits have either extra support (the floral one has an underwire) or added cups to keep you comfortable (and give your back a break). Add some notice-me shades and red-hot lip.
One-Pieces for… Smaller Bust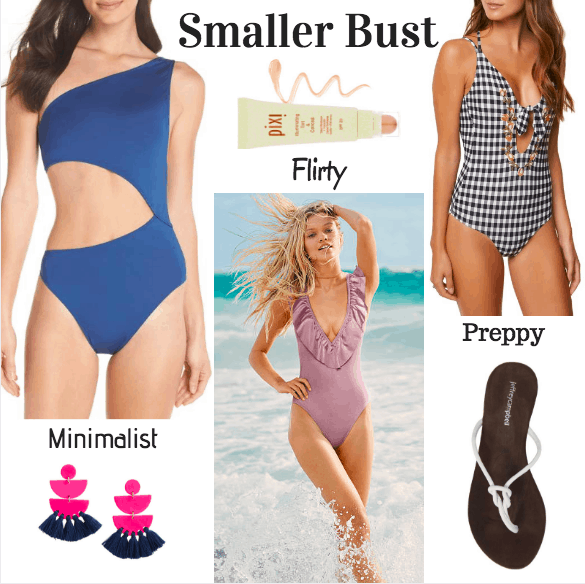 Products: Blue Swimsuit – J.Crew, Earrings – Vineyard Vines, Concealer – Dermstore, Ruffle Swimsuit – Victoria's Secret PINK, Gingham Swimsuit – O'Neill, Flip Flops – Jeffrey Campbell
When you have a small bust, your swimwear options are limitless! Because you don't have to worry about support, you can comfortably pull off any swimsuit, like this one-shoulder piece with a huge cut-out. However, if you like to give yourself a boost on top, look for ruffles and detailing in the chest area. 
Add some sun protection to your skincare – this concealer has SPF. Finally, add bright earrings and flip flops for the perfect poolside look.
One-Pieces for… Curvy All Over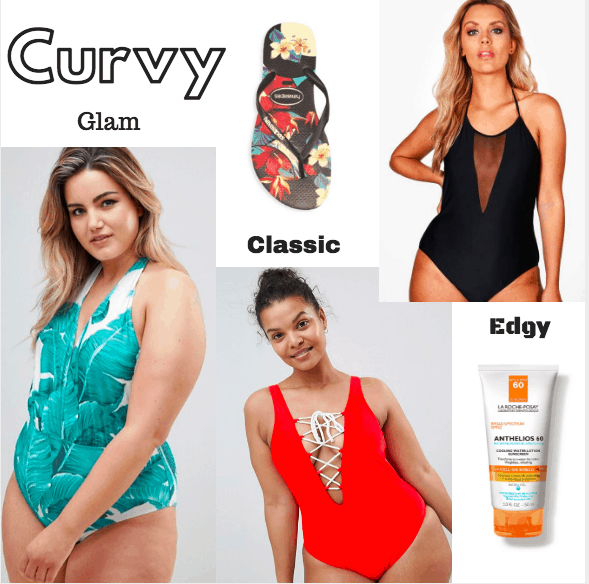 Products: Tropical Swimsuit – Unique 21, Flip Flops – Saks Fifth Avenue, Red Swimsuit – Asos, Black Swimsuit – Boohoo, Sunscreen – Dermstore
A one-piece can be a great way to show off your figure and emphasize your waist, so if you like to do that, look for swimsuits that hit your waist at its smallest point. If you're looking to showcase your curves this summer, don't shy away from fun details like plunging necklines and mesh panels! Don't forget sunscreen and tropical flip-flops.
One-Pieces for… Petite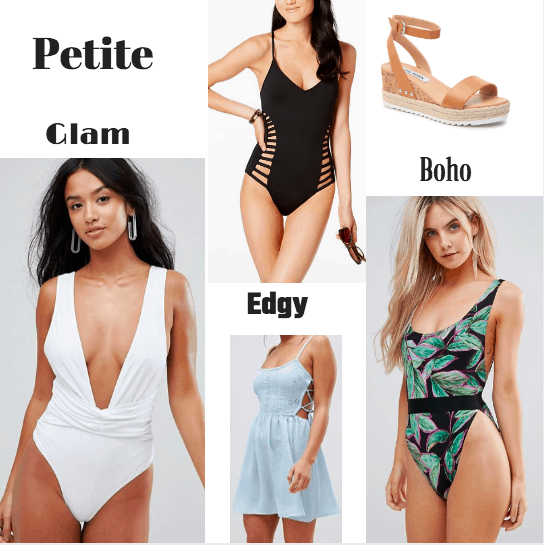 Products: White Swimsuit – Asos, Black Swimsuit – Macy's, Blue Sundress – Asos, Wedges – Steve Madden, Tropical Swimsuit – Asos
For all my petite ladies- you don't have to be tall to show off your killer legs! Go for high-cut swimsuits that'll draw attention to your gorgeous legs. If you're having trouble finding swimsuits in your size, Asos has great options for petite sizes.
This white swimsuit is also a seriously underrated piece – it's so glam and shows off a great tan (faux or not). Last, add a cute sundress and wedges for a cute day-to-night look.
One-Pieces for… Pear-Shaped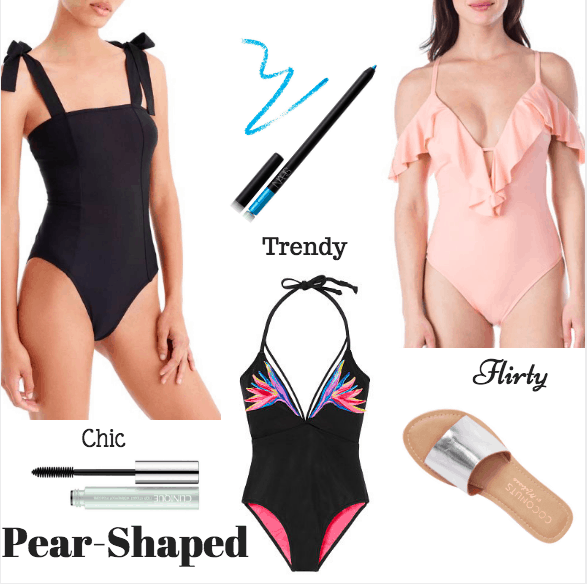 Products: Black Swimsuit – J.Crew, Mascara – Clinique, Blue Eyeliner – NARS, Embroidered Swimsuit – Victoria's Secret PINK, Ruffle Swimsuit – Kenneth Cole, Slides – Nordstrom
Many pear shaped girls seek swimsuits to balance out a wider bottom half. If that's the kind of look you're seeking (balanced on top and bottom), you want to draw the eye up with detailing on top – think off-shoulder ruffles, bows, and embroidery.
Have some fun with your summer makeup with this blue eyeliner. Add waterproof mascara to really make your eyes pop. Slip on some slides to complete your look.
One-Pieces for… Long n' Lean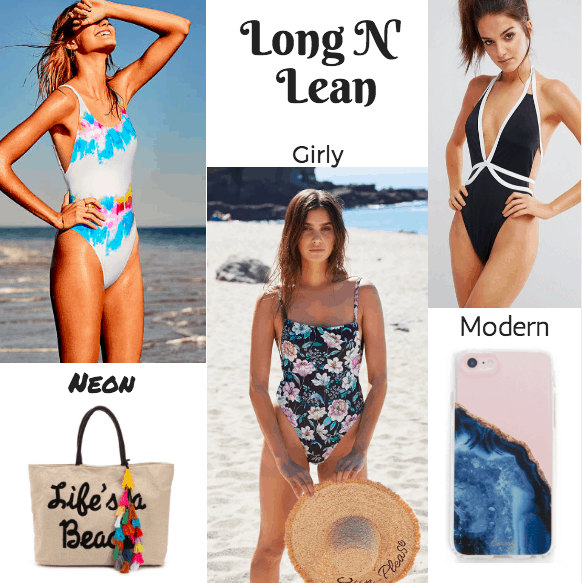 Products: Tie-Dye Swimsuit – Victoria's Secret PINK, Tote Bag – DSW, Floral Swimsuit – Pacsun, Black and White Swimsuit – Asos, Phone Case – South Moon Under
Long and lean girls have legs for days – it would be a crime to not show them off with high-cut swimsuits! If cup support isn't an issue, have fun with plunging necklines and open backs.
Lastly, this sassy tote bag and aesthetic phone case are essentials for any beach Instagrams.
What Do You Think?
Are you a fan of one-pieces? Are you going to wear one this summer? Or are you a staunch bikini gal? Let us know in the comments!