A disclaimer: the best thing about the hot girl summer meme (read up here, though if you haven't heard about it yet, good job avoiding Wendy's tweets, I guess) is that no matter who you are, what your style is, what your vibe is, if you're doing you and having a great freaking time doing it, congrats! You're having a hot girl summer.
This is pretty much my ethos when it comes to writing about fashion and lifestyle on the internet – if you're happy and having a grand old time, and your clothes / lifestyle makes you feel confident, girl. I'm here. to. hype. you. up.
But! My summer 2019 staples also fit squarely with the concept of hot girl summer – being confident and cute but also comfortable and cool, because y'all. Summer is here and she is hooooooooooooot and humid. I am living a hot girl summer, literally and figuratively. RIP my electricity bill.
Here are my staples for Hot Girl Summer 2019:
Jumpsuit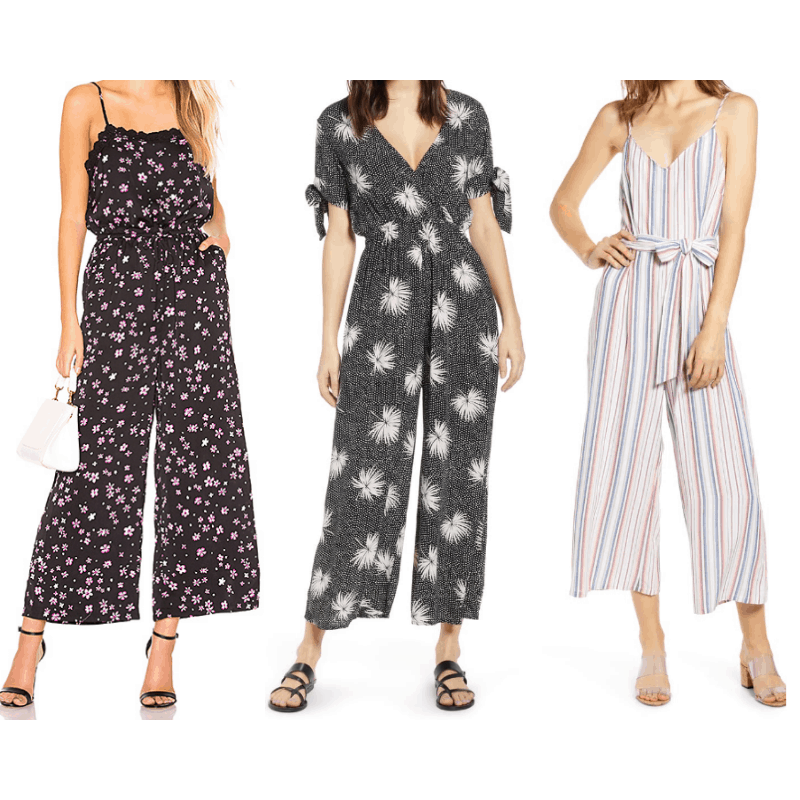 Products: Floral Jumpsuit – Revolve, Abstract Jumpsuit – Nordstrom, Striped Jumpsuit – Nordstrom
When jumpsuits came on the scene in, what, summer of 2016/17 maybe? I gave them the side-eye, hard. They looked try-hardy, gave me peeing in rompers during music festival flashbacks, and generally looked like the kind of thing that only twiggy ladies could pull off without looking like they were wearing a potato sack.
You'd think I'd have learned by now, but I tried a jumpsuit on at Target on a whim and boy. Was I WRONG. Jumpsuits look great on just about any body – they emphasize your waist and make your legs look miles long, and come in a variety of cuts around the bust if you're *ahem* chestier, like me.
Plus they are breathable like dresses but give you the mobility of pants, which is almost an equivalent exchange for the whole using the bathroom downside. Dress it up with minimal jewelry and a blazer, you can wear it to work; add heels and a cute clutch, it's fine for a summer wedding. Buy three. You're welcome.
Normcore Sandals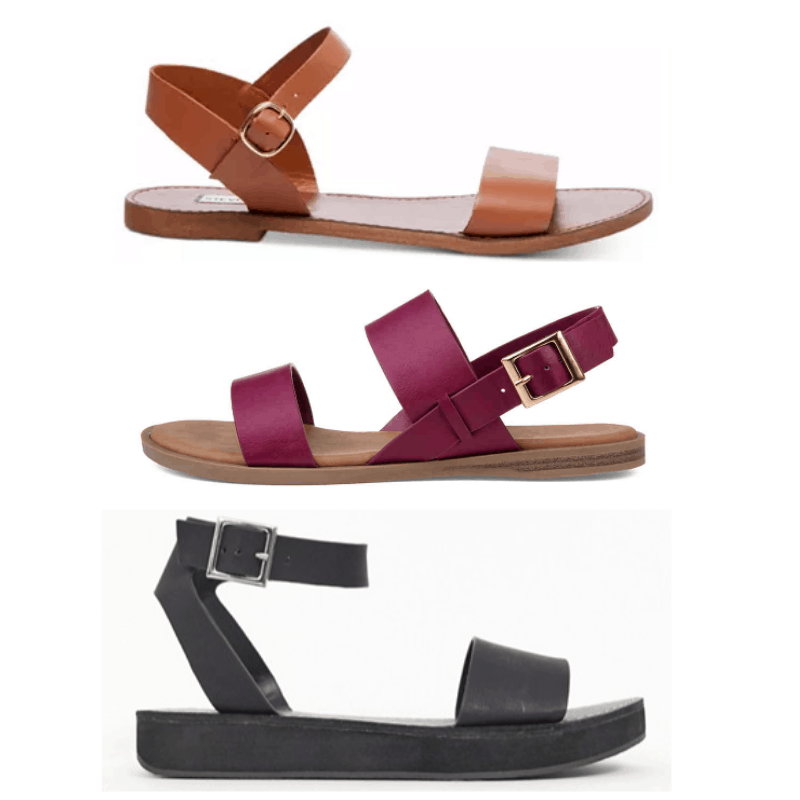 Products: Tan Sandals – Macy's, Raspberry Sandals – DSW, Black Sandals – ASOS
White sneakers are still firmly a trend, and I'm here for it if that's your thing. But wearing socks during the summer sounds like absolute torture and like, what's the point of having a cute pedicure if you're not going to show it off? Summer is toes-out time, y'all. This is a hill I am willing to die on.
I also thought the ugly-sandal trend would die out pretty quick, seeing how long dainty, strappy sandals reined supreme. But normcore sandals are still bold, still beautiful, and go with freaking everything, plus they're hella comfortable. Get yourself a pair in a neutral (or color, like the raspberry here) and wear them all summer, with everything.
T-Shirt Dress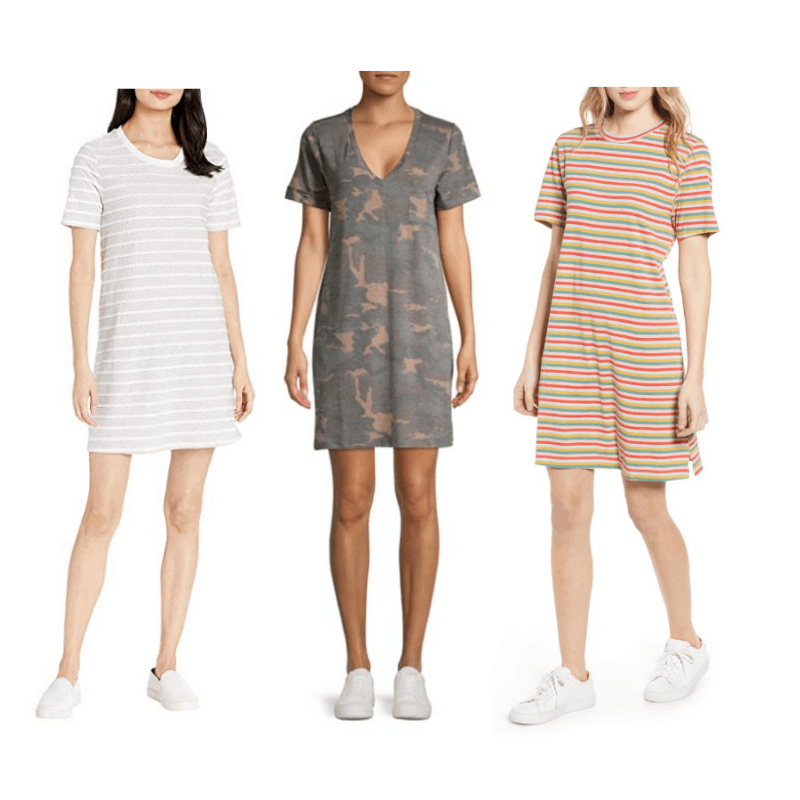 Products: White Striped Dress – Zappos, Camo Dress – Lord & Taylor, Vintage Dress – Nordstrom
I love sundresses and slip dresses and little '90s numbers as much as the next girl, but this summer I've been reaching for something entirely different – t-shirt dresses. I used to not be a fan of the shapelessness of them, but now I dig the no-brainer look. T-shirt dresses also look super cute with more out-there summer accessories, like fanny packs or fashion backpacks, if those are your thing.
I love these for regular ol' summer weekends, running errands or hanging out with friends. But you could totally dress this up with a jean jacket or wedges for a casual date look or something to wear to brunch with your girls.
A Killer Swimsuit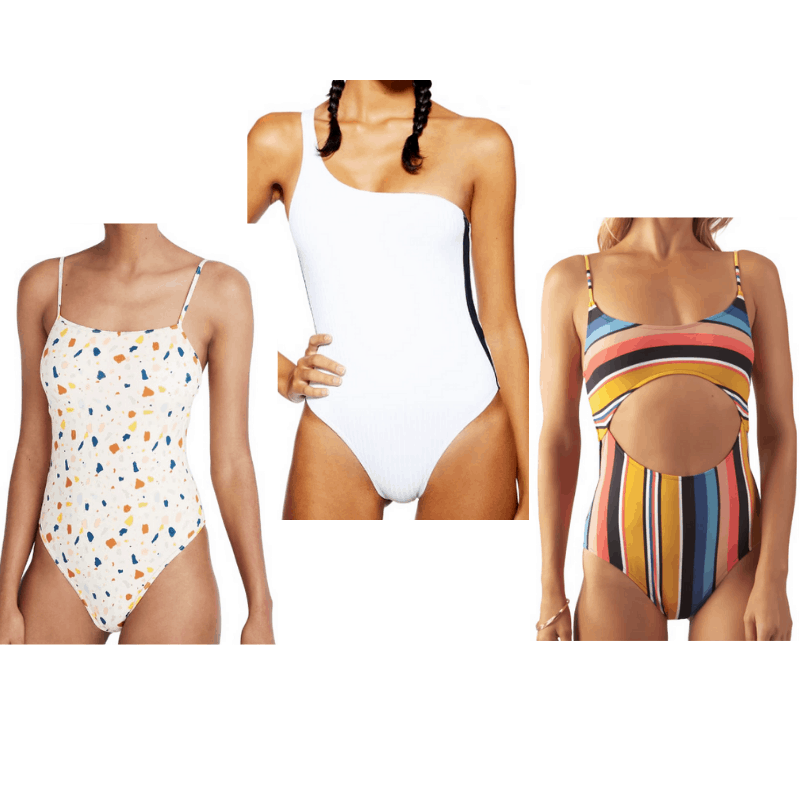 Products: Pebbled One Piece – Nordstrom, Sporty One Piece – Nordstrom, Cutout One Piece – Nordstrom
It's not summer without some kind of swimsuit occasion, even if that occasion is just dipping your toes in a kiddie pool on your apartment balcony. I used to really resist one pieces because they were all so matronly, it seemed. But one pieces now are HOT, from off-the-shoulder numbers to cutouts to cute vintage patterns and shapes.
I feel confident in once pieces in a way I don't in two pieces or bikinis. I don't have to worry about stuff slipping or popping while I'm swimming; I'm way less likely to have straps digging in uncomfortably, which is neither cute nor hot. But if two pieces are your thing, girl, do you. That's peak hot girl summer.
What do you think?
How are you having a hot girl summer? What are your summer staples? Let me know in the comments below!