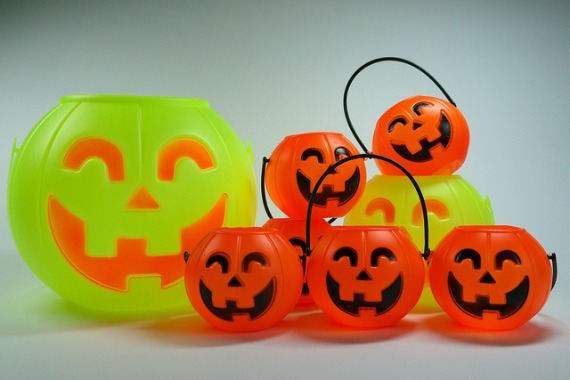 Every year I have these great plans to come up with a creative costume and run around town one weekend to get everything I need. That has yet to happen. Usually the emotional and physical letdown from midterms gets in the way of my shopping plans, so I've gotten pretty good at coming up with cute Halloween costumes that are mostly made up of things I already own.
Below are three costumes ideas for you to try. Each one is based on a specific style aesthetic and can be created with wardrobe staples that are probably already hanging up in your closet. Scroll down to see them all:
1. Marie Antoinette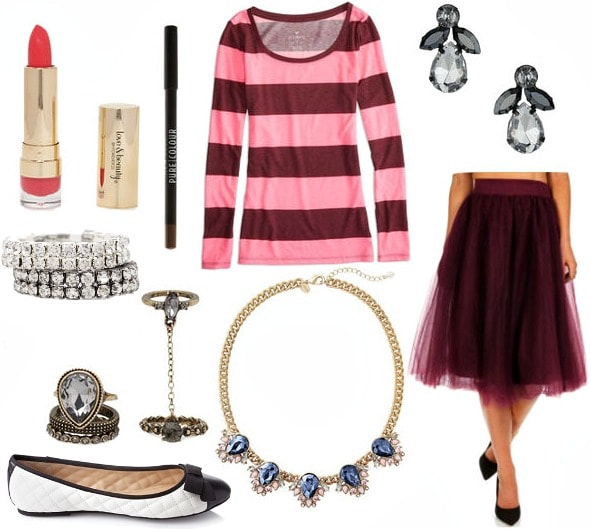 Product Info: Skirt, Sweater, Shoes, Necklace, Stacked Rings, Brass Ring Set, Eyeliner, Pink Lipstick, Earrings
If you firmly believe that ballet flats are a wardrobe requirement (I hear you loud and clear), then you probably have the staples for a normcore Marie Antoinette look. All you need is a feminine silhouette, which is accomplished here with a form-fitting sweater, a full skirt, and flats. Pile on all the statement jewelry you own, then come up with a very well-coordinated makeup plan.
You could definitely switch up this look with a pair of colored jeans and a flirty peplum top, or even a feminine coat. This costume idea is very versatile in that way. The jewelry, however, is a must. What I especially love about the jewelry in the set above is how budget friendly it is. Even if you need to go out and buy another piece or two to really achieve that over-the-top French aristocrat appeal, you can justify your purchases considering how well statement jewelry can function in your daily looks after Halloween… just maybe not all at once.
As for makeup, the fruits of my research (courtesy of ye old Google search engine) showed me some great pictures of Kirsten Dunst, who played Antoinette in the film adaptation of her life. Dunst's eye makeup was minimal, and what stood out as the defining components of her look was a beauty mark above her lip, pink cheeks, and a bold pink lip.
2. Rachel Maddow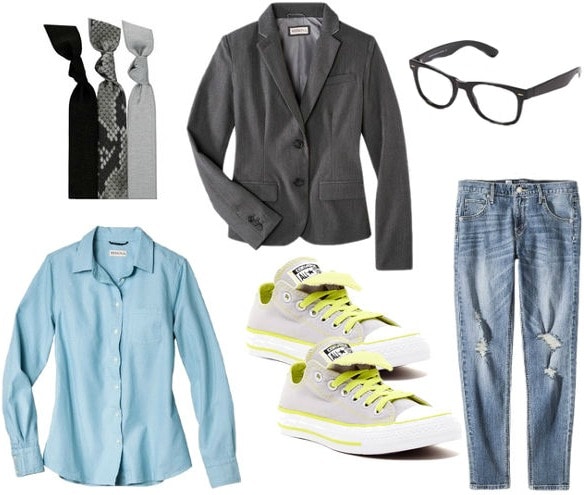 Product Info: Shirt, Blazer, Jeans, Sneakers, Glasses, Hair Ties
Rachel Maddow is a left-leaning political analyst who has her own show on MSNBC. If you have a substantial amount of professional attire in your wardrobe, this costume is ideal.
All you need is a button-up shirt, a blazer, jeans, and fun sneakers. This costume is fairly muted in terms of color, but feel free to experiment with a louder shirt or shoes. Paramount to her look, however, is a pair of black reader glasses, the likes of which can be found at pretty much any dollar store or in the accessory section of your favorite clothing store.
This costume is fairly recognizable because Maddow literally wears the same thing in every appearance on her show. That's no slight – her intention is to make her work the focus as opposed to her outfit. If you love the idea of making a lukewarm political statement by dressing up as a sassy and extremely intelligent woman (Rhodes Scholar, look it up ladies), then I encourage you to take the Maddow blazer out for a spin.
3. '90s Chick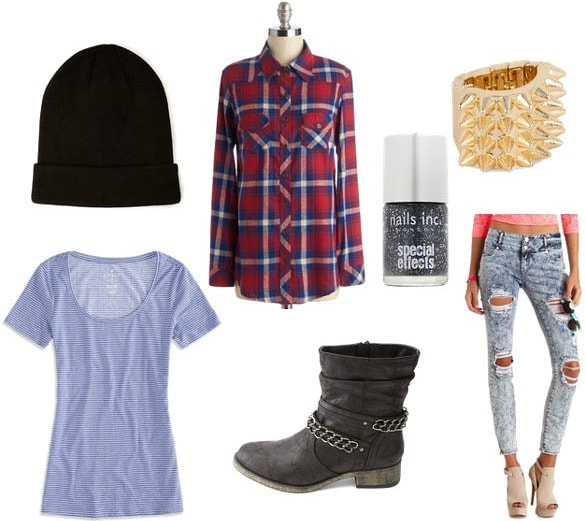 Product Info: Flannel, Tee, Jeans, Boots, Beanie, Nail Polish, Ring
Another Halloween look composed of items you probably already own is a '90s chick! (Cue the Icona Pop song.) Thank goodness for trend resurgence – if you've been shopping around lately, I have a hunch you probably own a pair of mid-rise moto boots and/or distressed jeans and/or flannel. Be liberal with your eyeliner, don't brush your hair, tap into the deep wells of your inner angst, and you're done.
As someone who has maybe possibly always done this look in the past, a fun thing to do is go to your local Goodwill or Value Village and pick up a grungy t-shirt you can cut up without remorse, or even distress some jeans yourself. The possibilities are endless!
What do you think?
Would you be able to recreate these costumes by shopping your closet? Anybody going to try one of these looks for Halloween? Let me know, and of course, happy shopping!