This post may contain affiliate links, which means we may receive a commission if you purchase through our links. Please
read our full disclosure here
.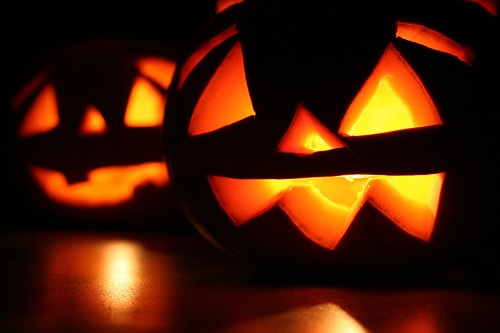 Halloween is fun time of year for lots of reasons, but it's dressing up that really makes the holiday special. Unfortunately, you can easily fall into the trap of wasting too much money and time on a costume that you'll only wear once…and that can be hard on a college girl's budget.
So, before we get to the costume ideas, here are a couple of things to keep in mind to stay on budget for Halloween:
If you're tight on cash, try to use items you already have in your closet, borrow from a friend, or stick to thrift stores. You don't have to buy everything new!
If you do find yourself splurging on some new items, try to buy things that you like and will wear again. While you may never wear that full-body catsuit ever again, individual pieces like black leggings and a black long-sleeved tee can be added to your everyday wardrobe, thus making them a better value in the long run.
Still haven't picked out your Halloween costume this year? Here are five easy costumes that you can put together on a budget:
1. Holly Golightly from Breakfast at Tiffany's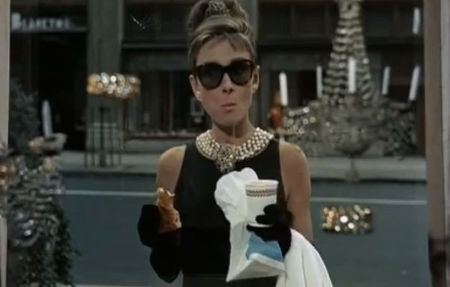 Breakfast at Tiffany's is a classic, especially for us fashionistas, so why not use it as Halloween inspiration? All you need is a fitted little black dress (the one below has the perfect beaded neckline, which mimics Holly's pearl necklace in the movie), some black evening gloves, black pumps, sparkly jewelry, and classic shades. Oh, and don't forget your coffee!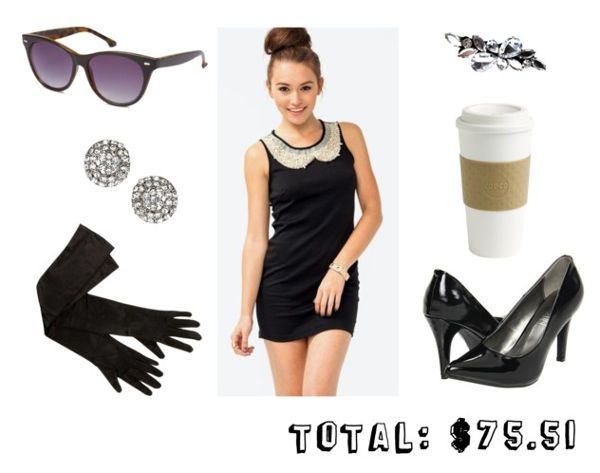 Product Info: Dress – Go Jane, Sunglasses – Forever 21, Earrings – Dorothy Perkins, Gloves – Windsor, Hair Brooch – ASOS, Shoes – 6pm, Coffee Thermos – Amazon
2. Witch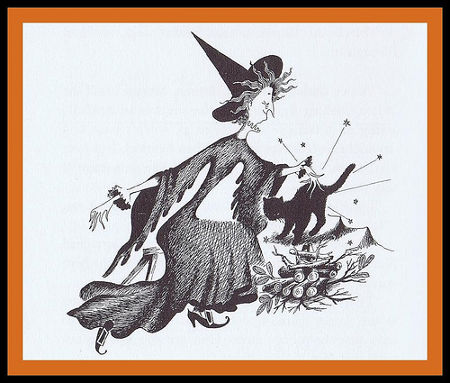 You can't go wrong with a witch costume at Halloween. However, those store-bought, packaged costumes can get very predictable (and expensive), so spice things up by putting together your own chic witch ensemble! I suggest a black lace maxi skirt, black corset top, and a drapey black shawl or jacket. Choose some fun lace-up black heels and accessorize with a witch's hat and creepy spider ring.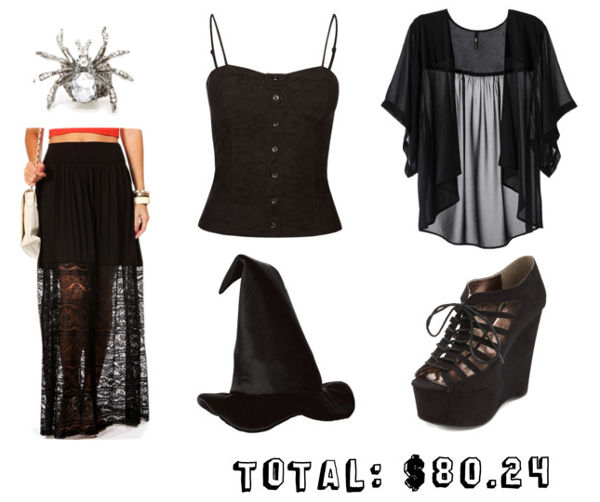 Product Info: Corset – Tilly's, Skirt – Windsor, Jacket – Target, Shoes – Charlotte Russe, Ring – Styles for Less, Hat – Amazon
3. Joel Goodson from Risky Business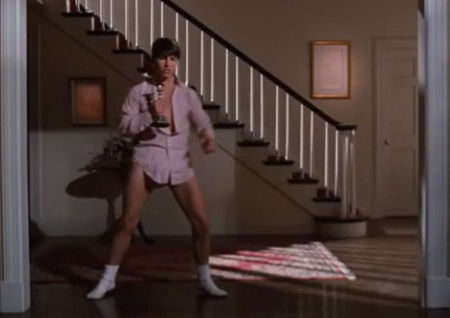 No doubt you've seen the iconic underwear dance scene from Risky Business (if not, you can watch it at the photo link above).Since Joel's outfit is pretty minimal, it makes the perfect costume for a college student on a budget.
All it takes is a men's dress shirt (bonus points if you borrow one from a guy's closet), a pair of cozy white socks, and — if you want a bit more modesty — a pair of men's boxers. (You could also go for white booty shorts underneath.) Grab a pair of classic wayfarer sunglasses like the ones from the movie, and don't forget a makeshift microphone. (Joel uses a candlestick.)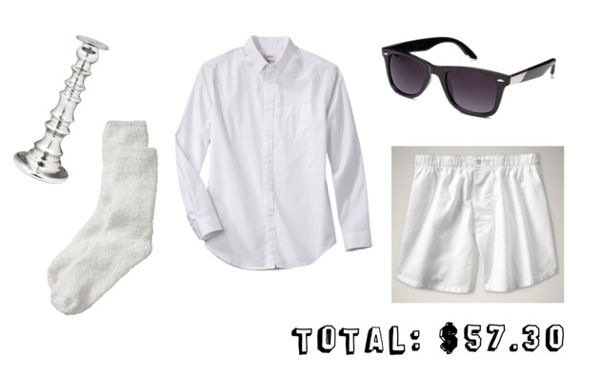 Product Info: Shirt – Target, Socks – Old Navy, Boxers – Gap, Sunglasses – Forever 21, Candlestick – IKEA
4. Pumpkin
Celebrate the best of fall with this cute, comfy, and monochrome costume. Pair an orange sweater with orange jeans and cute pumpkin earrings. Any pair of orange shoes will work — sneakers are a practical and casual choice, but you could do heels or flats instead. Lastly, complete the look with a pumpkin beanie and a coat of orange nail polish.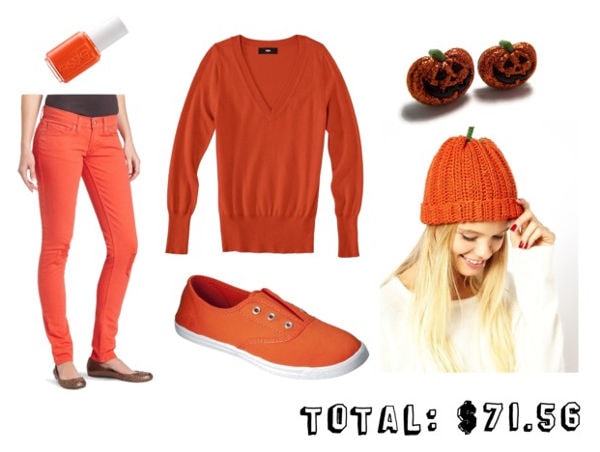 Product Info: Sweater – Target, Jeans – Amazon, Shoes – Target, Beanie – ASOS, Earrings – Etsy, Nail Polish – Essie in "Meet Me at Sunset"
5. Black Swan Ballerina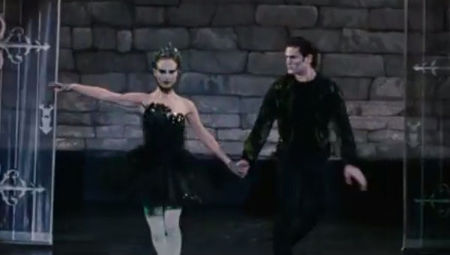 For a darker costume, try something from the movie Black Swan. For an authentic look, find a black ballerina's tutu and black ballet shoes online (if you can find a cheap costume version, that also works). Pair them with feather-printed tights and a feather headband to reference your swan persona, and swipe your nails with a glittery black polish for a bit of dark glam.
If you want, you can attempt the elaborate makeup look from the movie or just pick up some dark red lipstick and a pretty black mask to mimic the effect.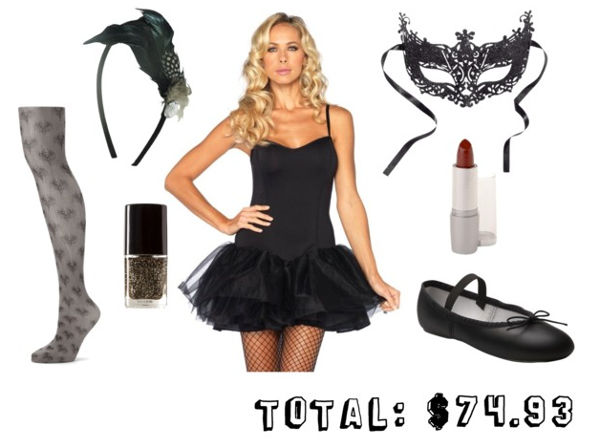 Product Info: Tutu – Amazon, Tights – Kohl's, Shoes – Payless, Headband – Target, Mask – H&M, Lipstick – Wet n Wild Silk Finish in "Mink Brown," Nail Polish – Forever 21 in "Black Sand"
Thoughts?
Which costume would you wear? Do you have an idea for a cheap and easy costume? Do you have a Halloween costume budget? Let us know in the comments!