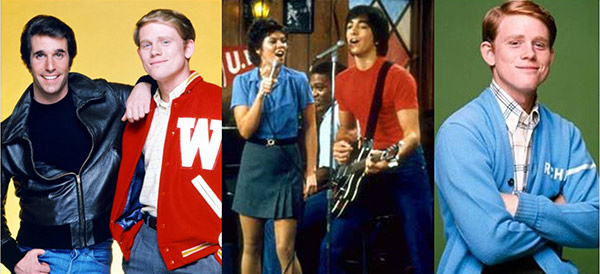 Of all the old school TV shows we've covered here, Happy Daysis perhaps the most nostalgic. Set in Milwaukee, the show tells the story of the Cunningham family during an idealized version of the mid-1950s through '60s. The series, which premiered in the 1970s, was one of the first ever "period" TV shows, depicting the "simpler times" of decades past. The show would quickly become a phenomenon, launching seven different spin-off series and eventually a musical.
Seeking fashion inspiration from a show set sixty years ago might seem strange, but I was surprised to find that clothes worn on Happy Days are actually quite classic and timeless… and can totally be worn today. Read on to see what I mean!
(In case you're new around here, be sure to check out our Old School TV posts on Elaine from Seinfeld, the Fresh Prince of Bel-Air, Three's Company, the Nanny, Saved By the Bell, My So-Called Life, Rachel and Phoebe from Friends, Clarissa Explains It All, the Cosby Show, Ally McBeal, and I Love Lucy.)

Richie Cunningham
Before Ron Howard became one of the most lauded directors of our time, he starred in sitcoms like The Andy Griffith Show and, of course, as Richie Cunningham on Happy Days.
For the first seven years of the show's run, episode plots revolved around Richie and his friends. (In the seventh season, Richie joined the army and Fonzie became the focus of the show.) Richie represented the clean-cut, athletic, All-American teenager of the era. Kind, wholesome, and level-headed, Richie was a '70s parent's dream and a positive role model for kids.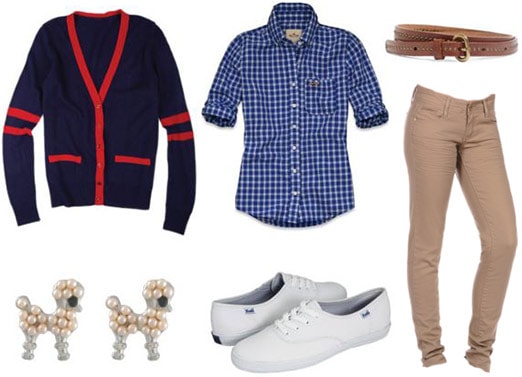 Sweater, Shirt, Jeans, Shoes, Earrings, Belt
Style-wise, Richie had a very clean-cut, midwestern high school student look. Collared shirts, khaki pants, basic sneakers, light-wash jeans, cardigans, and sporty jackets were his uniform.
For a Richie-inspired outfit, I thought it would be fun to pair a checkered button-down with a vintage-inspired varsity cardigan. Pair these with khaki skinnies and a classic belt. Finish the look with your simple white pilmsolls and cute poodle studs, a reference to the poodle skirts of the era.
The Fonz
Arthur Herbert Fonzarelli, AKA "Fonzie" or "The Fonz", represented the greasers of the era, known for their love of hot rod cars, leather jackets, occasional rumbles with other greaser gangs (haha!), and pompadour hair greased back with gel or wax. Fonzie was a high school dropout, and spent his days working as an auto mechanic. The "ladies man" of the show, Fonzie was also the person that Richie and his friends would turn to for relationship advice.
Though most people associate greasers with rebellion, The Fonz was more of a "Greaser with a Heart of Gold". Abandoned by his family, Fonzie moved in with the Cunninghams and quickly became a bonded family member. He was Richie's best friend, and Mrs. Cunningham often confided him about her struggles. In the final season, The Fonz adopted a son, solidifying his transformation from a rebellious renegade to a family man.
Jacket, Jeans, Shirt, Shoes, Rollers, Comb, Hairspray
Fonzie's style stuck to basic "greaser" staples — plain t-shirts, cuffedjeans, Conversesneakers or leather boots, and leather jackets. Of course, the thing that really made a greaser stand out from the clean-cut boys was a head of long, voluminous, slicked-back hair.
Nowadays, a white t-shirt, jeans, and a cropped leather jacket would fit right in with today's current fashion. To give your look more of a '50s vibe, you've gotta work on the hair. Add body to your bangs and crown by teasing or using velcro rollers. Bobby pin a bouffant and spritz with hairspray for extra hold.
Joanie Cunningham
Joanie Cunningham was Richie's younger sister, and spent most of the first few season snooping on her older brother and Fonzie. Although she represented the all-American suburban school girl, she sometimes caved to peer pressure and got herself into trouble. (For example, she took up smoking until The Fonz intervened and told her it was a bad idea.) Eventually, Joanie began dating Fonzie's cousin Chachi, started a rock band with him, moved to Chicago, and earned her own spinoff series.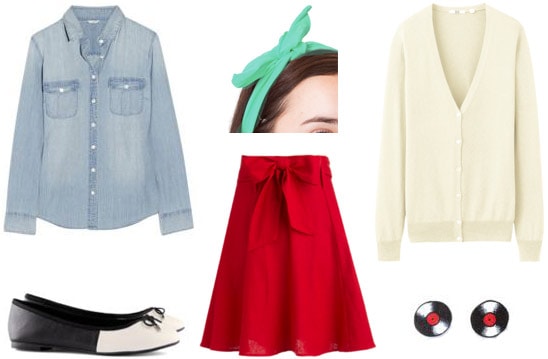 Cardigan, Shirt, Skirt, Headwrap, Earrings, Shoes
Joanie's style was based on midwestern high school girls of the era. Button-down blouses, full a-line and poodle skirts, sweater sets, and saddle shoes were staples. Joanie was also frequently seen in cardigans, varsity jackets borrowed from her boyfriends, and scarves worn in her hair and around her neck.
Stealing Joanie's look is a cinch — you probably have all of these items in your closet! A chambray shirt is not only a '50s throwback, but it's super trendy for 2013. Tuck it into a high-waisted a-line skirt (or tie it up at your waist), and pair it with a thick cardigan that's reminiscent of the '50s without going overboard. Finish with a scarf hair accessory, cute vinyl record earrings, and these saddle shoe-esque ballet flats!
What Do You Think?
Have you ever watched Happy Days? Who are your favorite characters? What are your favorite episodes? What do you think about 50's fashion? What other shows would you like to see CF cover? Leave a comment and let us know your thoughts!