This post may contain affiliate links, which means we may receive a commission if you purchase through our links. Please
read our full disclosure here
.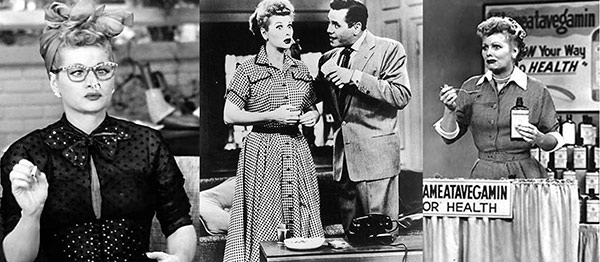 Over the past few weeks, we've taken a look at the styles from some of the most-loved sitcoms of the '80s and '90s… but why not go back a little further? After all, styles from past decades have been coming back around lately, and the good old 1950s is no exception. Full skirts, head scarves, cardigans, and pearl necklaces –what's not to absolutely love?
For today's Old School TV Style post, we're taking a look at one of TV's greatest classics,I Love Lucy. Starring Lucille Ball and her real-life husband Desi Arnez, this show ran for six seasons and is widely considered one of the greatest TV shows of all time. As one of the first sitcoms to feature a woman as the title role, I Love Lucy broke the mold for TV shows of the time and blazed a trail for women in comedy.
Want to learn how to incorporate a little bit of 1950s housewife style into your wardrobe? Read on, ladies!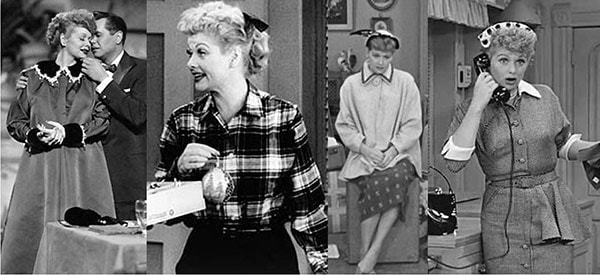 More About I Love Lucy
Lucy Ricardo (played by Lucille Ball) is a stay at home wife who yearns to perform like her singer/bandleader husband Ricky (Desi Arnez). Her crazy antics and schemes to perform on stage or in commercials often get Lucy and Ricky (as well as their best friends, Fred and Ethel Mertz) into trouble.
The show, though fictional, sometimes drew from Lucy and Desi's real lives. For example, the episode when Lucy gave birth to "Ricky Ricardo Jr." was scheduled to air on the same day that Lucille Ball gave birth via Cesarean to her son, Desi Arnez Jr. It was also one of the first TV shows to mention pregnancy or giving birth.
I Love Lucy was among the first TV shows to be recorded in front of a live studio audience. At first, Lucille's striking beauty made it hard for media conglomerates like MGM and CBS to see her as a true comedienne, but her outstanding live performances soon convinced them to green-light the show for production. The "laugh track" featured in I Love Lucy actually wasn't a laugh track at all — the audience reaction you hear even on the syndicated version of the show is genuine, and in many episodes, you can actually hear Desi Arnez's distinctive laugh in the scenes that he's not in!
Lucy's Style
I'm sure you fashion-savvy girls are all familiar with the classic "look" of the 1950s — full poodle skirts, sweater sets, button-down shirts and dresses, lace-up shoes, cat-eye glasses, polka dots, saddle shoes, and more. The era also helped pioneer the "pin up" girl look that has been coming back around lately.
Lucy in I Love Lucy rocked all those quintessentially '50s pieces, but went for a more conservative look. Don't get me wrong – Lucy still looked absolutely gorgeous, but in a more wholesome, rather than sexy, sort of way.
To channel Lucy Ricardo, you need to achieve an eccentric '50s look that's neither June Cleaver matronly nor Dita Von Teese-level sexy. To achieve this look, opt for '50s pieces with just a hint of sexy to them. Try a button-down oxford shirt tied in the front to expose just a hint of skin, or a business-like pencil skirt paired with a boudoir lace camisole. Accessorize with cat-eyed sunglasses, pearl sets, and/or headscarfs for a cute and quirky '50s look. And don't forget a red lip!
Outfit Inspiration
Dress, Scarf, Shoes, Glasses | Photo: Adele on Twitter
How awesome is this dress? I love that it has both polka dots and buttons (very '50s!), but also has side cutouts to keep it modern. To keep from looking costume-eqsue, add just one or two other '50s items to complete your look. High-heeled saddle shoes or cat eye glasses would look swell, for example. A perfectly coiffed beehive updo (like Adele's been known to rock) with a scarf tied around your neck or hair would look awesome as well.
Shirt, Shorts, Shoes, Pearls, Lipstick, Eyeliner | Photo: Pacific Coast News
This outfit is easier to pull off on campus than the first, but still highlights many awesome staples featured in I Love Lucy. A simple Peter Pan collared shirt will look simple and classy when tucked into high-waisted sailor shorts. Add some '50s flair with winged eyeliner, red lipstick, mary jane flats, pearls, and wide, retro waves like Katy Perry's.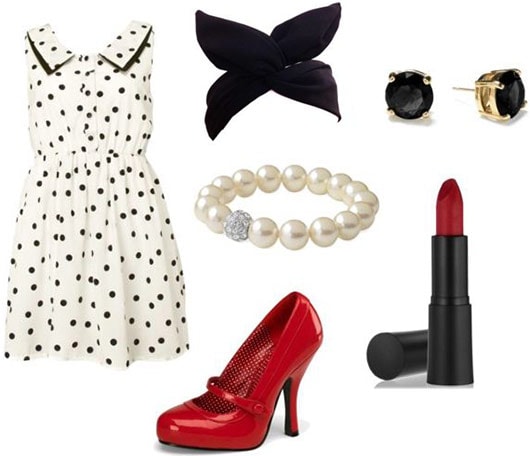 Dress, Headwrap, Bracelet, Shoes, Lipstick, Earrings
This last outfit is a great balance between '50s housewife eccentric and night out appropriate. This simple polka dotted dress can work for so many different occasions, but when paired with a pin-up girl head wrap and red mary jane pumps, it looks insanely retro-chic! Finish with black stud earrings and red lipstick.
What Do You Think?
Do you ever catch I Love Lucy on Nick at Nite or TV Land? What are your favorite episodes? How do you feel about '50s housewife fashion? What other TV shows would you like to see us cover? Leave a comment and let us know what you think!