This post may contain affiliate links, which means we may receive a commission if you purchase through our links. Please
read our full disclosure here
.
As you have probably noticed, over the last few weeks, we've covered a range of old school TV shows and studied the distinctive looks of some of the most memorable characters in TV history. This week, I'm excited to cover one of my favorite shows on Nick At Nite syndication, The Cosby Show!
The Cosby Show (which stars Bill Cosby, of course!) centers around the Huxatables, an affluent family living in Brooklyn, New York in the 1980s. This show is credited as opening the door for future sitcoms centered around African American families, such as The Fresh Prince of Bel-Air, Family Matters, and Tyler Perry's House of Payne.
I know you've heard about the infamous "Cosby Sweater," but I swear, there's much more to the fashions seen on The Cosby Show. Read on, ladies!
(For more Old School TV Style, check out our posts on Ally McBeal, Elaine from Seinfeld, Three's Company, Rachel and Phoebe from FRIENDS, Fran from The Nanny, My So-Called Life, and Saved By the Bell)
More About The Cosby Show…
Bill Cosby maintained most of the creative control over the show, which at the time was unusual for a starring actor. Cosby aimed for the show to be educational, and to tackle issues that were affecting families across America. Most of the "after school special" moments came from struggles that his kids (or his kids' friends) were facing, such as learning disabilities and teen pregnancy.
Unlike other African American-centric sitcoms of the time (The Jeffersons and Diff'rent Strokes, for example), The Cosby Show rarely mentioned racial issues. However, the show was known to subtly educate its broad audience on African culture, fashion, and art. The Cosby show also promoted African American musicians such as Michael Jackson, Miles Davis, James Brown, Stevie Wonder, Duke Ellington, and Dizzy Gillespie.
Although each member of the Huxtable family had a unique look, this post will focus on the style of Cliff and Denise Huxtable, who had the two most distinct styles. Read on to check it out!
Dr. Heathcliff "Cliff" Huxtable
Bill Cosby himself played Dr. Cliff Huxtable, the family patriarch. Dr. Huxtable is an OBGYN and runs his office in the basement of the Huxtables' brownstone. He is a devoted father, jazz enthusiast, and always enjoys some healthy competition.
Even if you've never caught The Cosby Show on television before, you've surely heard people reference Dr. Huxtable's eccentric collection of colorful knit sweaters. He wears one in almost every scene.
Personally, there's nothing I love more than a bold sweater — they're warm and cozy, and there's an element of "geek chic" to them that I adore. You have to admit, wearing a loud knit sweater on a college campus is pretty ballsy, but that's the kind of fearless style that us CF girls love to embrace!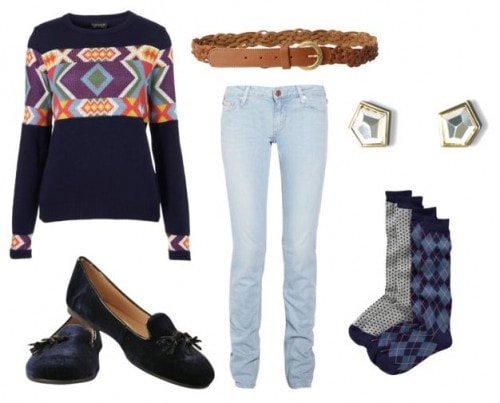 Sweater, Jeans, Shoes, Belt, Socks, Earrings
This first look would be perfect for a chilly day of classes on campus, or meeting up with a study group at your college library. A bright and cozy sweater will look great with some '80s-esque light-washed denim. Highlight the "nerdy" factor with argyle socks and smoking slippers. Finish with a belt and simple stud earrings.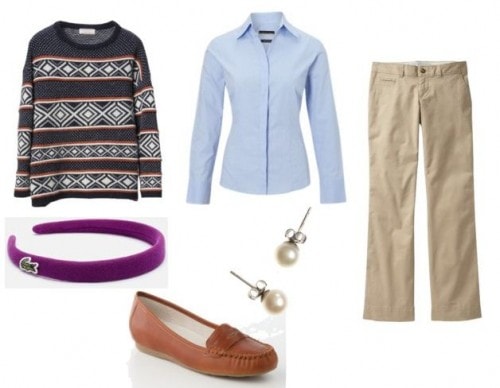 Sweater, Shirt, Pants, Shoes, Earrings, Headband
This look is a little bit more professional, and inspired by something that Dr. Huxtable might have worn under his lab coat. The combination of a blue oxford shirt, khaki pants, and a geometric-patterned sweater strikes the perfect balance between "geek" and "prep." Finish the look with a sleek headband, loafers, and pearl studs.
Denise Huxtable Kendall
Denise (played by the gorgeous Lisa Bonet) is the second daughter in the Huxtable family and is known for her love of fashion, music, and (of course) boys. Many episodes revolve around her boyfriend-related woes. After two years of college, Denise goes to Africa, marries Navy lieutenant Martin Kendall, and adopts his daughter Olivia, played by Raven Symone.
Denise's style is very trendy and eccentric. On the show, she almost always wears outfits that feature geometric patterns, bright colors, unexpected cuts, and a variety of textures. She isn't afraid to tackle bold trends, like parachute pants, cropped tops, or even tutus. Denise also adds bold jewelry or statement-making headpieces to almost every look.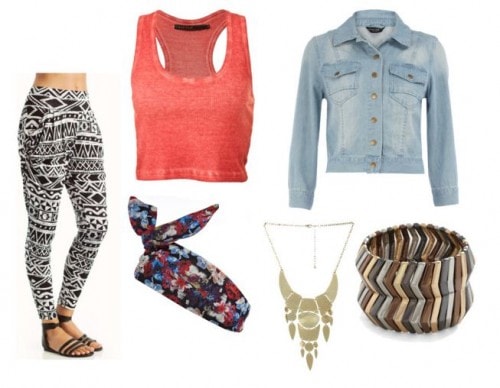 Pants, Top, Jacket, Headwrap, Necklace, Bracelet
Printed pants are sometimes tricky to pull off, but you can't go wrong when you pair them with a solid-colored shirt and a denim jacket. To up the style factor, go for a unique harem-cut pant, a cropped top, and/or a light-washed jean jacket. Finish the look with a statement necklace, geometric-look bangle, and a floral headwrap.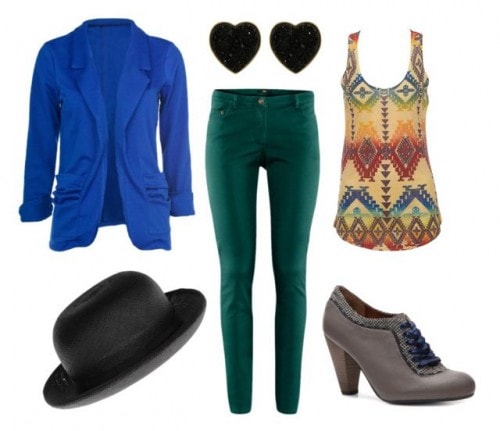 Blazer, Top, Pants, Shoes, Hat, Earrings
This outfit reflects Denise's penchant for bright colors and fun trends. Colorblocking is an easy way to get a statement-making look, so try the trend with saturated pants and a bold jacket. A great way to choose colors for your pants and jacket is to base them off the hues in a graphic-print shirt. Finish with stud earrings, oxford heels, and a bowler hat.
What Do You Think?
Do you ever watch The Cosby Show? Who are your favorite characters? How do you feel about "Cosby Sweaters?" Do you like Denise's style? What other shows would you like to see CF cover? Leave a comment and let us know!