This post may contain affiliate links, which means we may receive a commission if you purchase through our links. Please
read our full disclosure here
.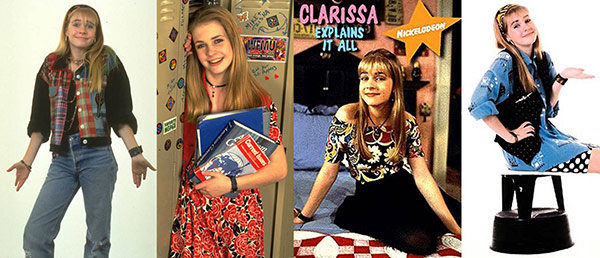 Real talk: Nothing gives me the warm fuzzies quite like old school Nickelodeon. I grew up watching shows like Legends of the Hidden Temple, All That, Doug, Rugrats, and Are You Afraid of the Dark?, and I can't help but feel a little giddy every time they come up in conversation. It wouldn't be right to cover "old school" television shows without touching on the classics from OUR generation — so this week, we're covering one of my favorites, Clarissa Explains It All.
Is it just me, or is pop culture going through a '90s renaissance? Suddenly, there are radio stations dedicated to "Gen-Xers," '90s themed VH1 countdowns, and late-night TV stations syndicating old favorites. Heck, even the Spice Girls made a comeback at the Olympics!
My favorite aspect of the '90s renaissance, though, is the return of '90s fashion. I've been on the lookout for a perfect bowler hat for months now, and have searched relentlessly for a size six pair of pink Dr. Martens. Today's subject, the lovely Miss Clarissa Darling, had a bold style that captured everything I love about the fashion of the decade.
Today we're visiting Clarissa, but don't worry — sneaking through windows is not required!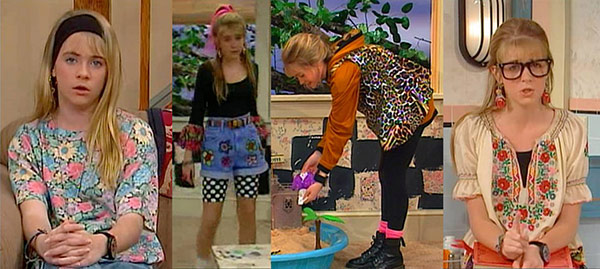 More About Clarissa Explains It All
Clarissa Explains It Allcenters around Clarissa Darling (played by Melissa Joan Hart), a teenager living in Ohio, and the everyday issues she faces as a teenage girl. Her best friend is a boy named Sam, who often visits her second-story bedroom via ladder. Clarissa is often annoyed by her little brother Ferguson, and frequently turns to her former-hippie parents for advice.
Perhaps the most defining characteristic of the show is Clarissa's tendency to "break the fourth wall" and address the audience directly. Clarissa talks out her thought processes when faced with a challenge, and frequently uses charts, graphs, and lists to explain her reasoning.
Clarissa Explains It All was written for kids, but was also considered "ahead of its time" for a number of reasons. Prior to Clarissa, many producers believed that a show with a female lead would only appeal to girls. CEIA debunked these rumors, and paved the way for other female-driven Nick shows like The Secret World of Alex Mack, As Told By Ginger, Zoey 101, iCarly, and Victorious. Also, Clarissa and Sam's relationship remained purely platonic, which was very uncommon for co-ed relationships on TV at the time. Finally, despite being made for children, the show sometimes referenced teen partying and sex in a contemporary, almost tongue-in-cheek way. (It was also one of the first "kid" TV shows to say the word "hell.")
Despite these edgy tidbits, CEIA pretty much stuck to innocent subject matter, like acne, training bra shopping, sibling rivalry, and nuisances at school. It also helped boost the popularity of many famous '90s catchphrases, like "Way Cool!" "Totally," and "As If!"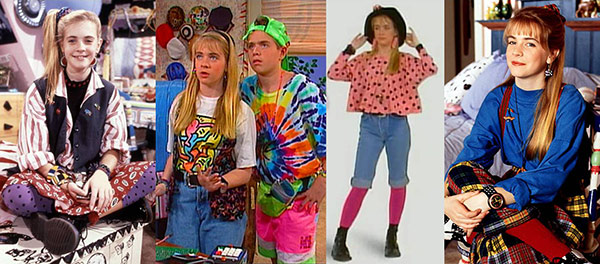 Clarissa's Style
Clarissa was a young teen discovering her style, so she experimented a lot with colors, trends, and textures. Her outfits incorporated nearly every facet of '90s pop culture, from grunge to line dance culture, athletic neons to Clueless-like preppy plaids. She wasn't afraid to mix prints and wear multiple bright colors at the same time.
Clarissa was very into leopard, floral, polka dot, plaid, and even tie-dyed prints. She paired them all together in a sweet, juvenile sort of way, which worked for her considering her age. To get a more "street style-esque" look that will work today, be on the lookout for prints that complement each other. Sticking to similar color families is an easy way to get started, or try pairing leopard print with one other pattern.
In classic '90s fashion, Clarissa often rocked staples of the era like light-washed denim, black or denim vests, baggy items, colorful socks, combat boots, suspenders, and leggings. She also rocked trendy accessories like chokers, chunky earrings, gelly bracelets, and headbands.
Outfit Inspiration
Now that we've studied some elements of Clarissa's look, it's time for my favorite part of these posts…a few outfit examples that capture Clarissa's style without looking completely inappropriate for modern day. Check them out below!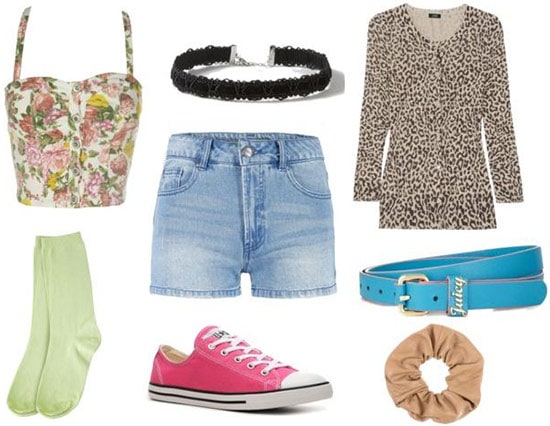 Top, Shorts, Cardigan, Choker, Shoes, Socks, Scrunchie, Belt
This first look is fun and youthful, perfect for a day of running errands or hanging out with your girlfriends. A '90s style cropped top might seem intimidating, so cover up a bit with high-waisted shorts and a leopard-print cardigan. Finish with flats and a belt. For an extra boost of '90s nostalgia, add either a choker necklace, a colorful pair of socks, or a scrunchie.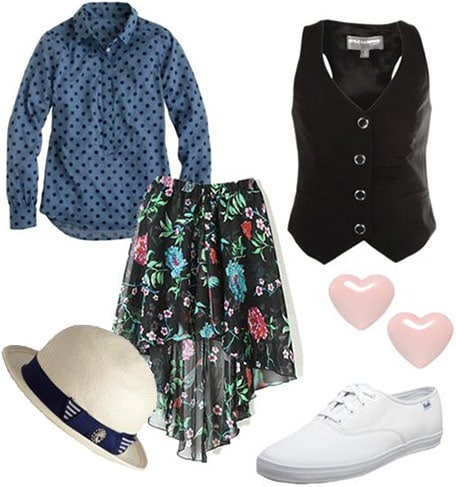 Shirt, Vest, Skirt, Shoes, Earrings, Hat
This next look channels Clarissa's penchant for playing with layers. A polka dot top and floral skirt will look good together because a) neither piece is overly complicated, and b) the black vest tones them both down even further. Finish the look with simple Keds and earrings. If you're feeling really bold, add a fun bowler hat!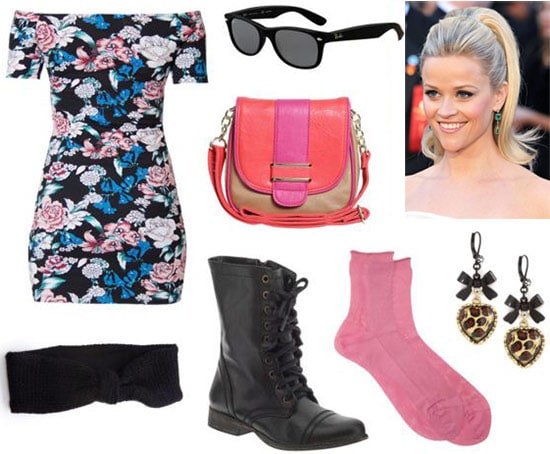 Dress, Bag, Boots, Socks, Headband, Sunglasses, Earrings | Hairstyle photo: ELLE
This last look is super bold and would be completely amazing for a night out. Body-con dresses can sometimes give off, well… a bit of a high maintenance vibe, since they're so sexy and glamorous. By pairing a tight, sexy dress with combat boots, however, you'll give off a fun and confident (but still smokin' hot) vibe. Wear your hair in a high ponytail and add a pair of socks for a super '90s vibe, or keep it simple by just finishing with earrings and sunglasses.
What Do You Think?
Did you watch Clarissa Explains It All? What were your favorite episodes? What do you think about her fun and bold style? What other Nickelodeon shows did you love? What other shows would you like to see CF cover? Leave a comment and tell us what you think!