This post may contain affiliate links, which means we may receive a commission if you purchase through our links. Please
read our full disclosure here
.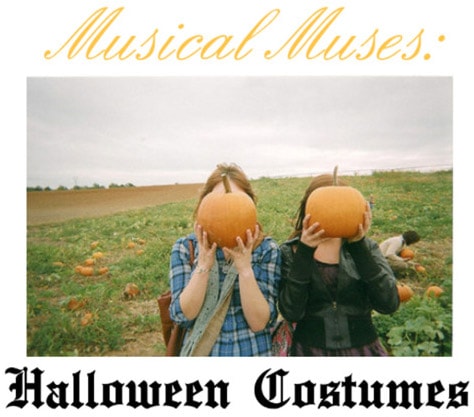 With October finally here, college campuses everywhere are gearing up for one of the best events of the year- Halloween! And college is a perfect time to try out a creative, fashionable costume that all your friends will adore.
If you're stumped for a Halloween costume idea, I'm here to help! Celebrity costumes are always easy to put together and easily recognizable. In the post below, I'll show how you can become your favorite music artist this Halloween while using things you may already own mixed with a few cheap key accessories.
1. Elvis Presley Costume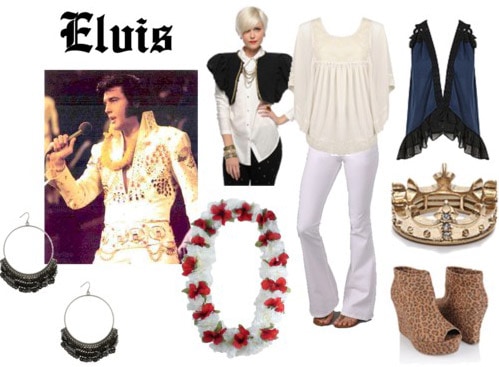 Product Information: Earrings- Forever 21, Lei- Hawaiian Clothing, Jacket- Forever 21, Blouse- Forever 21, Pants- Shopbop, Heels- Forever 21, Ring- Rachel Roy, Vest- Forever 21. (Photo Credit)
Just because Elvis is a guy, doesn't mean a girl can't pull off this Halloween costume! Channel The King with bell bottom pants and a flowy shirt topped with a highly embellished jacket. Accessories like wedge heels, a Hawaiian lei, sequin earrings, and a crown ring, of course, help tie your look together.
2. Lady Gaga Costume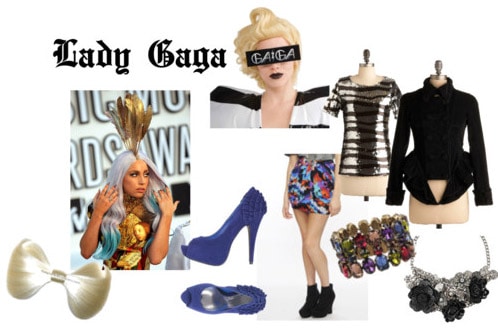 Product Information: Hair Clip- Foxy Locks Extensions, Heels- Alloy, Skirt- Forever 21, Glasses- Buy Costumes, Top- ModCloth, Jacket- Modcloth, Bracelet- Forever 21, Necklace- Forever 21. (Photo Credit)
One of the most popular Halloween costumes this year is everyone's favorite little monster, Lady Gaga. This costume is fun because you can be as crazy and unique as you want! Try replicating a famous Gaga outfit, or just combine a few key pieces like sequin dresses, sky-high heels, bodysuits, and hair pieces. To make your statement even more clear, wear these Gaga glasses and there will be no doubt who you are!
3. Michael Jackson Costume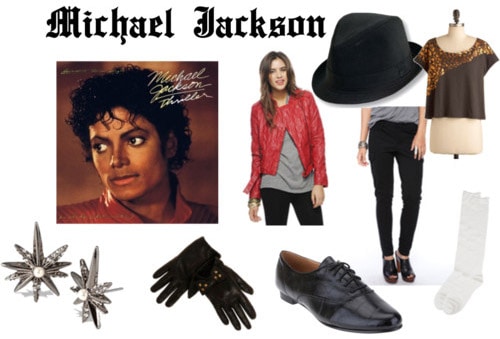 Product Information: Earrings- Rachel Roy, Gloves- ModCloth, Oxfords- Urban Outfitters, Jacket- Forever 21, Fedora- Amazon, Top- ModCloth, Pants- Forever 21, Socks- Forever 21. (Photo Credit)
Michael Jackson costumes have been a Halloween favorite for a while now. This costume is very easy because all you need are some black pants, white socks, black shoes, and a red jacket! Slip on a single glove and add a fedora and you're ready to show off your "Thriller" moves!
4. Madonna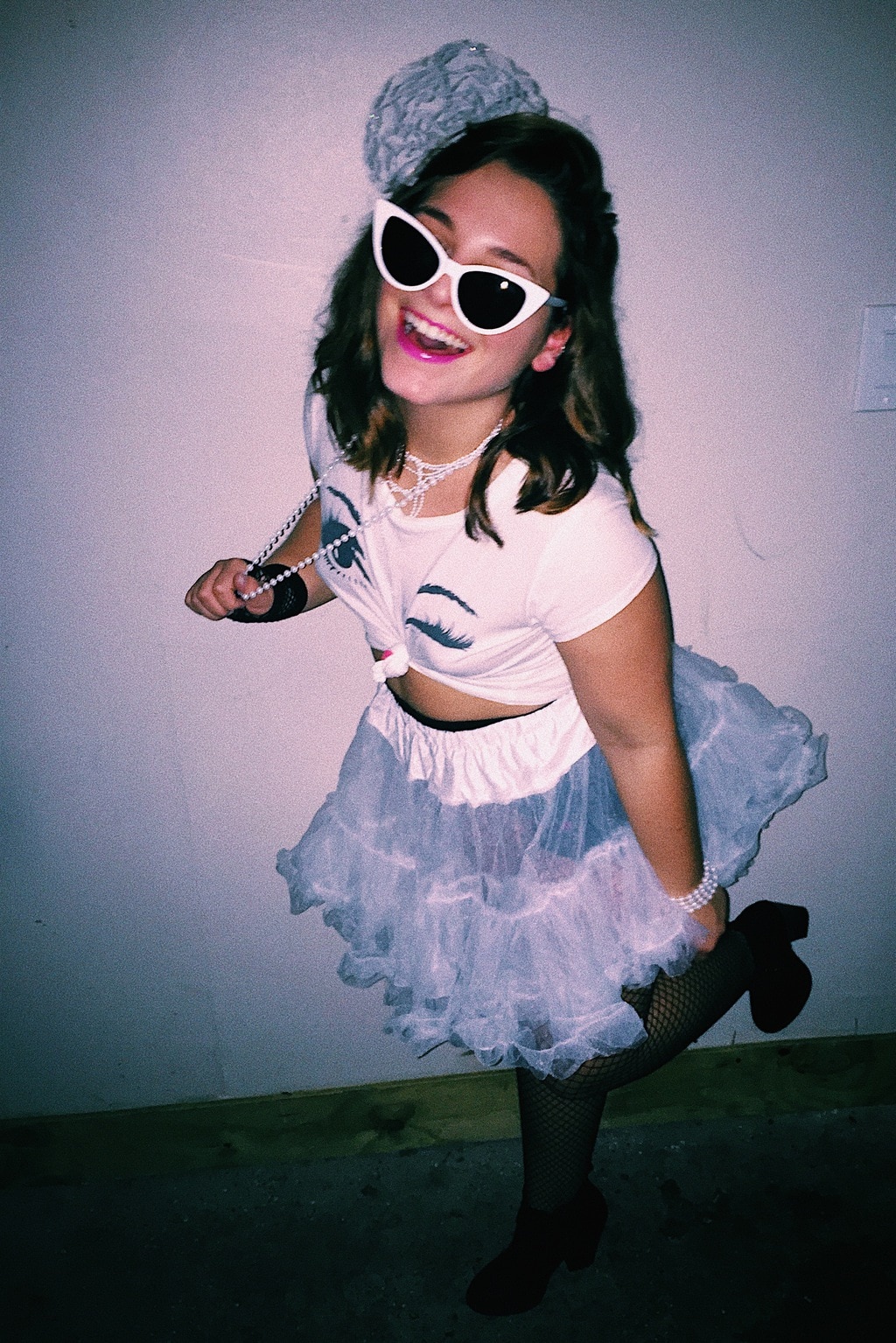 Product Information: Earrings- Forever 21, Ring- Forever 21, Headband- Forever 21, Gloves- Great Gloves, Tank- Net-A-Porter, Lace Top- Delias, Skirt- Free People, Necklace- Forever 21, Flats- YesStyle, Leggings- Forever 21. (Photo Credit)
Madonna is another classic costume that is a cinch to put together. Although there are many Madonna looks to choose from, I've focused on '80s Madonna with the costume above. To get this look, think of '80s clichés like bright neon hues, leggings, cropped and off-the-shoulder tops, tutu skirts, and rosary jewelry. Then just tease your hair, add some retro makeup, and you're ready!
5. Britney Spears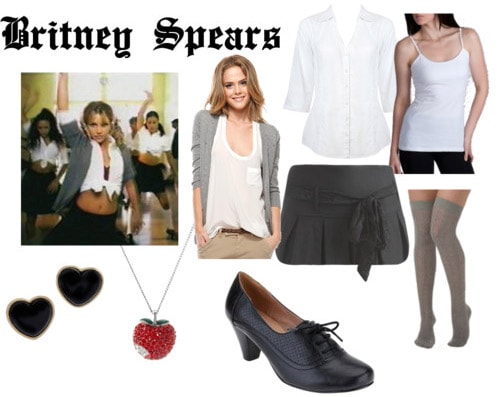 Product Information: Earrings- Miss Selfridge, Apple Necklace- Asos, Shoes- Urban Outfitters, Cardigan- Forever 21, Skirt- Wet Seal, Shirt- Forever 21, Tank- Charlotte Russe, Socks- ModCloth. (Photo Credit)
Admit it: You loved Britney Spears back in the day – we all did! And what Britney look is more iconic than her schoolgirl outfit from the "Baby One More Time" video? If you went to a school that required you to wear uniforms, chances are you already have many elements of this costume. Pair a pleated skirt with a button-down shirt and knee socks, then add oxfords and cute jewelry like this apple necklace. Don't forget the pigtails!
What do you think?
Have you ever been a music artist or celebrity for Halloween? How do you create your own fashionable costumes using things you already have in your closet? What other music artists would you like to see costumes for? Let me know with a comment!