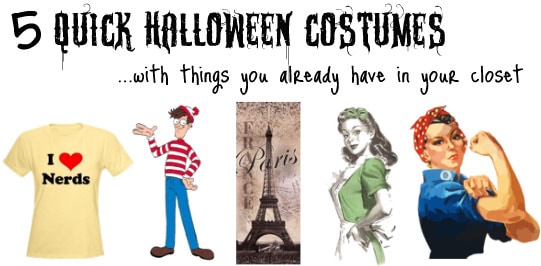 Halloween is right around the corner and if you're like me, you're so buried in homework you just realized it. There's always a great Halloween party to go to and you need a costume, quick! What better (and cheaper) way to put a costume together than to shop your own closet?
Here are five ideas for quick and easy costumes you can make with stuff you already have, perfect for the girl on the go.
The Nerd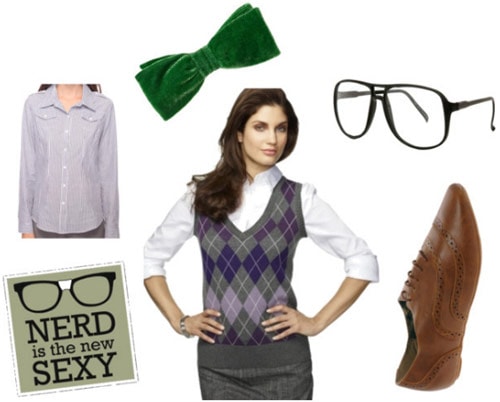 Shirt – Forever 21, Bow tie – Zara, Glasses – Urban Excess, Oxfords – Asos, Sweater Vest – The Limited
All you need for this quick costume is a button down shirt (buttoned all the way up!), a sweater vest, geeky glasses, oxford shoes, and fun bow tie. Bonus points if you wrap tape around the middle of your glasses and put your hair up in some disheveled high pigtails!
Waldo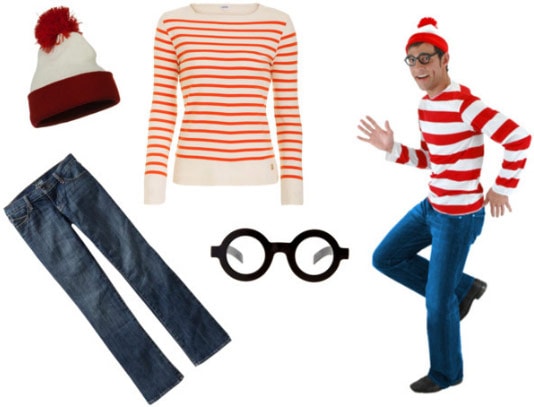 Jeans – Old Navy, Waldo hat – Amazon, Striped shirt – Barneys, Glasses – Asos
So what if Waldo is a guy? His iconic getup makes a great easy costume for anyone, especially someone strapped for time. All you need is his red and white hat, a red and white striped shirt, some jeans, and black rimmed glasses. And play it up at the party: the photobombing potential of this outfit is bound to be fun!
A Parisian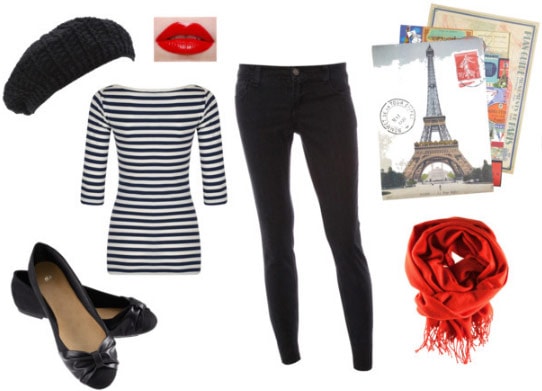 Ballet Flats – H&M, Striped Shirt – Cure, Beret – John Lewis, Skinny Pants – Dorothy Perkins,Paper Set – Modcloth, Scarf – H&M
If you'd like a little comfort and glamour in your Halloween costume, dress up like a Parisian this year. Grab a beret, striped shirt, black skinny pants, ballet flats and add a pop of color with a bright red scarf and you're good to go! If you really want to play up your look, grab a coffee mug and a distinguished-looking novel. You'll look like you just stepped out from a cafe under the Eiffel Tower.
A 1950s Housewife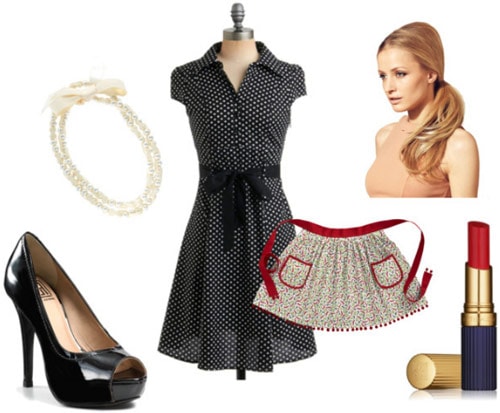 Heels – Bloomingdales, Pearls – Asos, Dress – Modcloth, Apron – Crate and Barrel, Lipstick – Bloomingdales
Full skirted dresses are coming back into style and there's no better way to celebrate than to pull yours out for Halloween! Pair a 1950s-inspired dress with a cute apron, pearls, high heels, poofy ponytail, and bright red lipstick. This outfit is a great way to channel your inner Betty Draper and have some Halloween fun!
Rosie the Riveter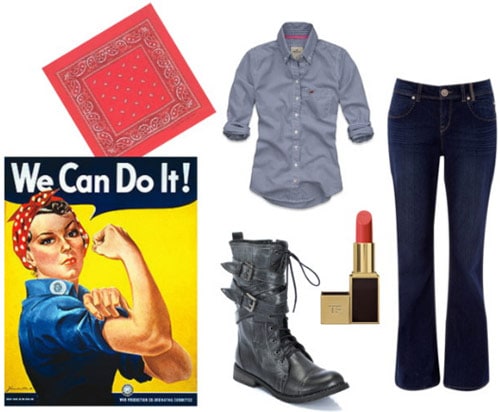 Bandana – Bandanas.net, Shirt – Hollister, Jeans – Peacocks, Lipstick – Nordstrom, Boots – UrbanOg
Rosie the Riveter is a long time icon of female power, but she's also great Halloween inspiration! All you need is a red bandana for your hair, a chambray button-down shirt, jeans, and a good pair of boots. It works even better if you copy the insignia on her collar onto a sheet of white paper and pin it to your collar. Roll up your sleeves and you're good to go!
Let's hear from you!
Did you forget it was Halloween too? Do any of these costumes sound like something you might like to try? What are you going as this year for Halloween? Let me and your fellow readers know in the comments!