I, no joke, have recurring nightmares about scrambling to put together a Halloween costume last-minute.
I LOVE getting my costume together, and I LOVE Halloween. But since I got to college, I've had less time (and energy, and resources) to devote to it. My solution? The past couple years I've gone as characters from fave TV shows and movies (from Cady Heron from Mean Girls to A from Pretty Little Liars) who dress pretty much like normal humans, meaning I can find most of what I need in my own closet.
I want to help you do the same. The following costumes, inspired by some of the most badass ladies in pop culture today, consist entirely of things you or a friend probably already own, and are guaranteed to get you lots of compliments.
1. Olivia Pope from "Scandal"
Olivia Pope is sexy, smart, confident, and so fun to channel on October 31. For an Olivia Pope costume, just throw on that power suit from your last internship interview (preferably in grey or white), some sharp accessories, and a feminine blouse.
You could also totally go the "relaxed Olivia Pope costume" route in loose pants and a wrap cardigan, toting the signature glass of wine and bag of popcorn. If you decide to stick with the power suit option, a picture of the president wrapped around your little finger is a nice touch.
Your Halloween costume: It's handled.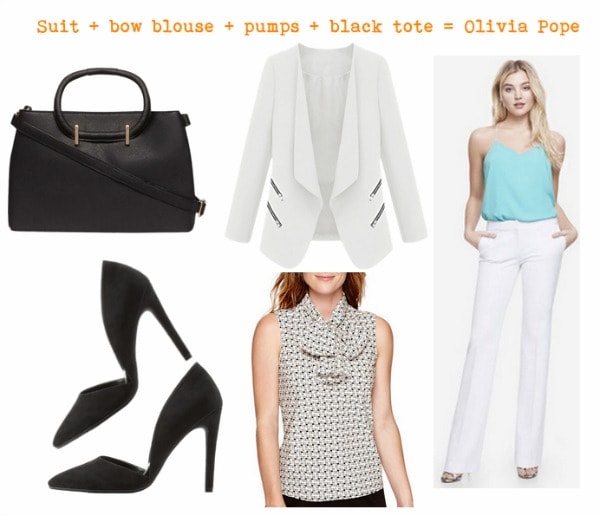 Products: Blazer, Top, Pants, Pumps, Bag.
2. Taylor Swift
Come this Halloween, there are sure to be hundreds of takes on the Taylor Swift costume, from "Bad Blood" warrior to the 1989 Word Tour boots and bustier. Set your Taylor Swift costume apart by bringing along a plush replica of her favorite "accessory": her kitten Olivia Benson. (If you have a grey stuffed cat instead of a white one, Meredith Grey is just as cute.)
All you really need besides the cute kitty is Tay's signature crop top, skirt, and red lip. Then watch the Grammy noms roll in.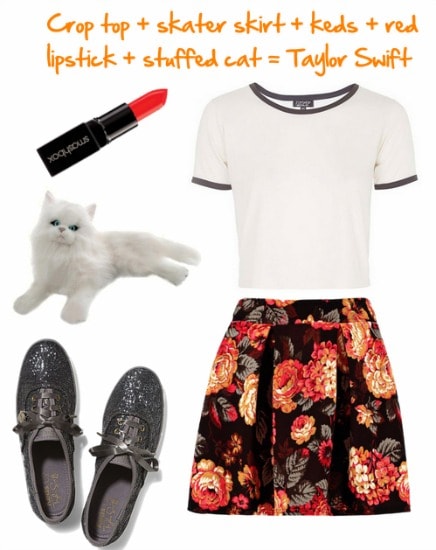 Products: Crop tee, Skirt, Shoes, Cat, Lipstick.
3. Jess Day from "New Girl"
There is no TV character sweeter than Zooey Deschanel's Jessica Day. Thankfully, her style is super recognizable and cute.
Throw on your most adorkable ensemble, and punch the lenses out of some cheap glasses if you don't need a prescription. Rock a cute high pony or half-up half-down 'do. To finish, you could carry any number of Jess-esque accessories. I went with knitting needles here, but a makeshift middle school solar system model or Jess and Nick's special mug (*wink wink*) would work just as well.
Who's that girl? It's you!
Products: Dress, Shoes, Cardigan, Glasses, Needles.
What do you think?
Inspired by any of these costume ideas? How will you be disguising yourself this year? How do you pull together a costume in college? Share with me in the comments!