Jeon Jungkook (stage name Jungkook) is the main vocalist and center of the K-pop boyband phenomenon BTS.
If you aren't familiar with BTS, see our posts on fashion inspired by BTS' Love Yourself in Seoul concert movie, BTS leader RM, singers Jin and Taehyung, rapper Suga and dancers J-Hope and Jimin for more info).
Jungkook was born on September 1st, 1997 in Busan, South Korea. From a young age, he aspired to a career as a singer, auditioning for the national talent show Superstar K when he was just thirteen years old. Although he failed to make the final cut, upon his exit Jungkook received no less than seven offers from various entertainment companies.
Consequently, Jungkook watched future-BTS leader RM perform and was so inspired that he chose to bypass larger, more successful companies in favor of joining RM's label, BigHit Entertainment.
Upon signing his contract, Jungkook became the 4th member to join BTS, which would eventually become a septet. He now occupies the central role as a singer, dancer, and occasional rapper.
Solo Music
Since BTS's debut, Jungkook has released song covers in both Korean and English. Perhaps some of his best-known covers include his 2015 version of Troye Sivan's Fools (featuring RM), his 2016 cover of Justin Bieber's Purpose, and his 2017 collaboration with Jimin on Charlie Puth and Selena Gomez's hit song We Don't Talk Anymore.
Check out the fan-made compilation video above for an extensive list of Jungkook's many song covers!
Euphoria
On April 5th, 2018, BTS released Euphoria: Theme of LOVE YOURSELF 起 Wonder, a nearly nine-minute short film expanding on the continuous storytelling method which characterizes the BTS Universe.
The film doubles as a music video, in which Jungkook introduces his hugely successful solo track Euphoria. Check out the full video above to listen to his mesmerizing vocals for yourself!
Golden Closet Films
Jungkook's talents aren't exclusive to music alone. He also produces YouTube content documenting BTS's everyday lives, from concerts to group holidays. Dubbed Golden Closet Films or G.C.F for short, Jungkook's short video series give fans an intimate look at BTS behind the scenes (no pun intended).
Above check out my personal favorite G.C.F video, VHS-inspired documentation of BTS's 2018 Newark concert.
Jungkook went viral online for his 'power walk' during a performance of BTS's 2018 hit Airplane: Pt. 2. Check out the full video below to witness his natural stage presence and charisma for yourself!
Jungkook BTS Fashion – Look 1: Black Oversize Jacket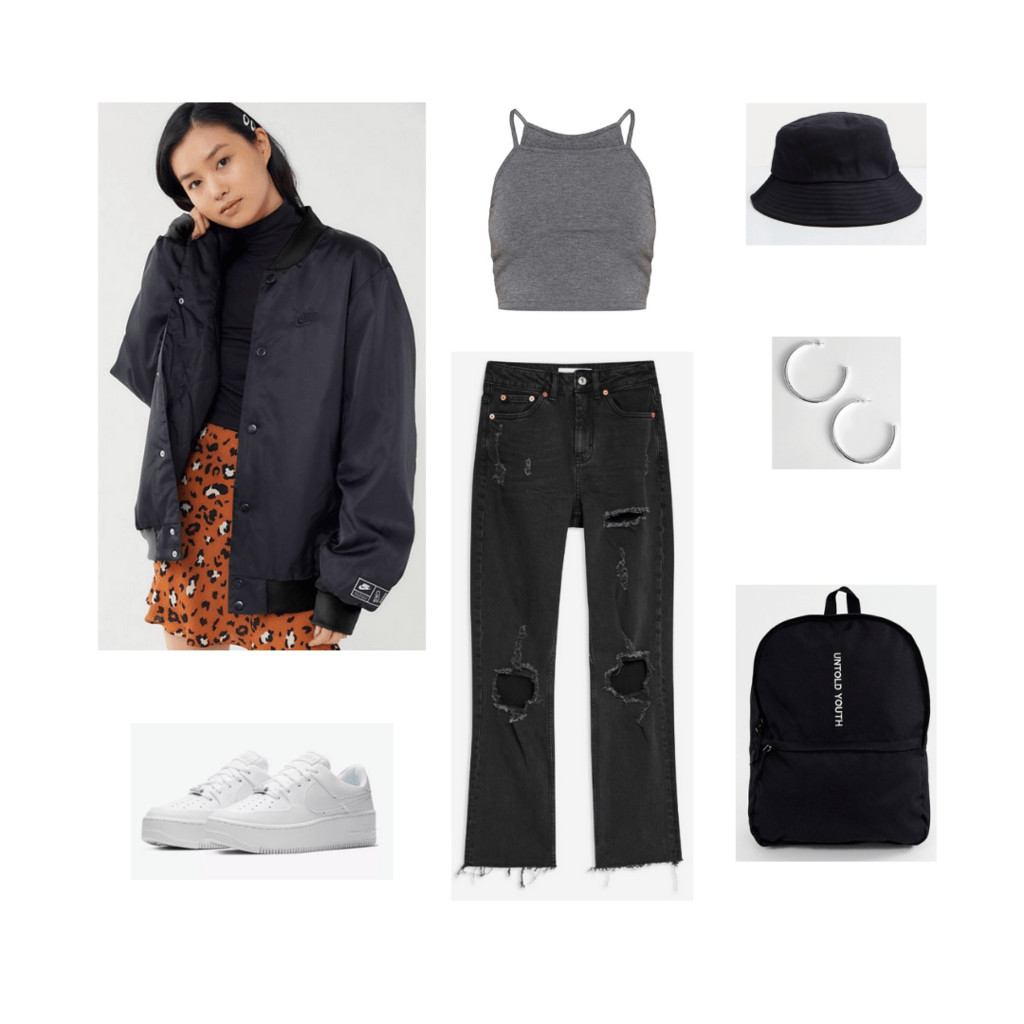 Products:
Like rapper Suga, Jungkook is a big fan of all-black ensembles. This first outfit is inspired by his recent airport look which featured a black satin bomber and on-trend bucket hat.
To get Jungkook's monochromatic look for yourself, simply pair a basic grey tank top with distressed black jeans, silver hoop earrings, and a signature backpack.
Also Read: Euphoria Outfits and Fashion Guide: Rue, Jules & Maddy's Styles
This Urban Outfitters Nike satin bomber is a viable alternative to Jungkook's designer jacket by luxury brand Ports. Although pricey, this jacket could be seen as an investment piece because of its neutral color and timeless street-style aesthetic.
Jungkook BTS Fashion – Look 2: Beanie + Ripped Jeans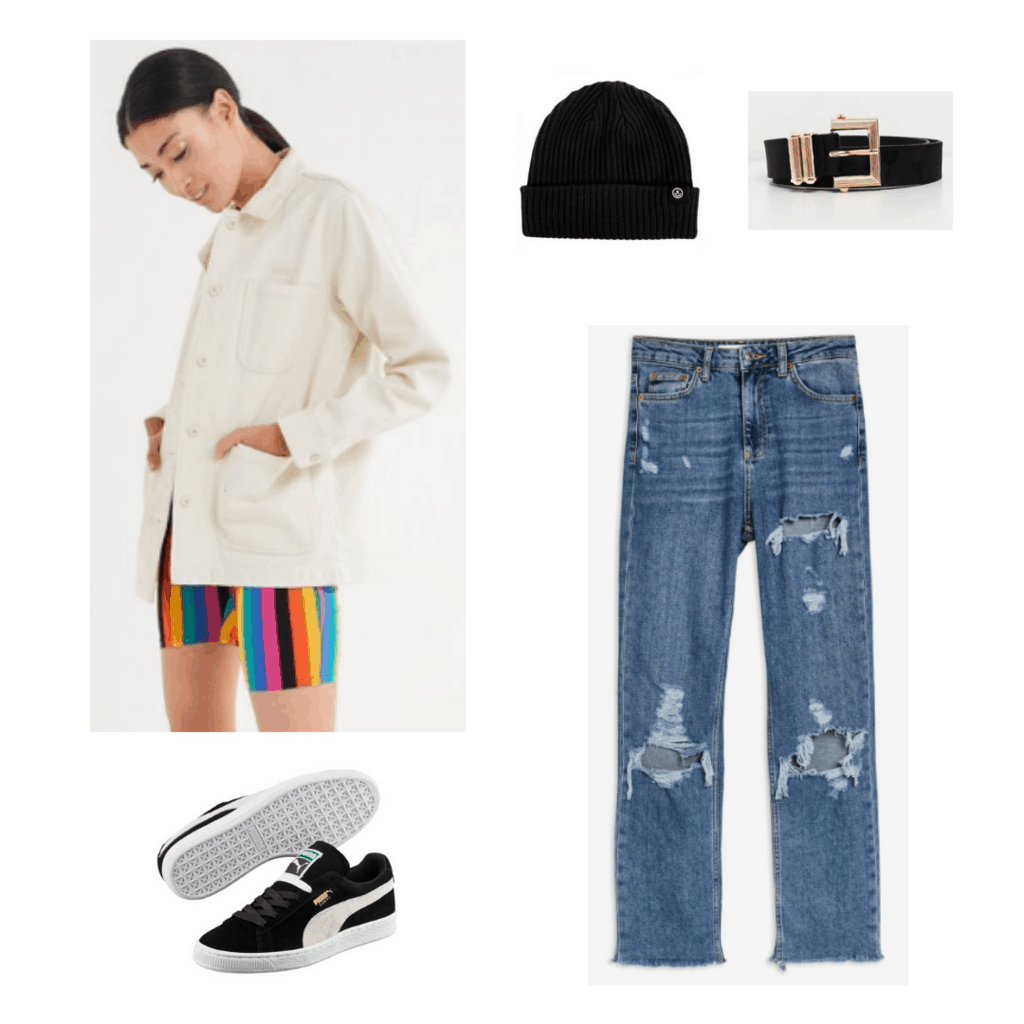 Products:
This second look is one of Jungkook's most iconic outfits.
Known for his signature casual and comfortable aesthetic, Jungkook brings his go-to vibe to his travel style. His airport looks often consist of three key elements: a neutral oversized t-shirt ripped jeans, and a beanie, cap, or bucket hat.
This jacket is also from Urban Outfitters (the store that I think truly embodies Jungkook's personal style) and is by one of his favorite brands, Stussy. The Puma sneakers featured here are an ode to BTS's worldwide collaboration with the brand.
Jungkook BTS Fashion – Look 3: Hoodie + Joggers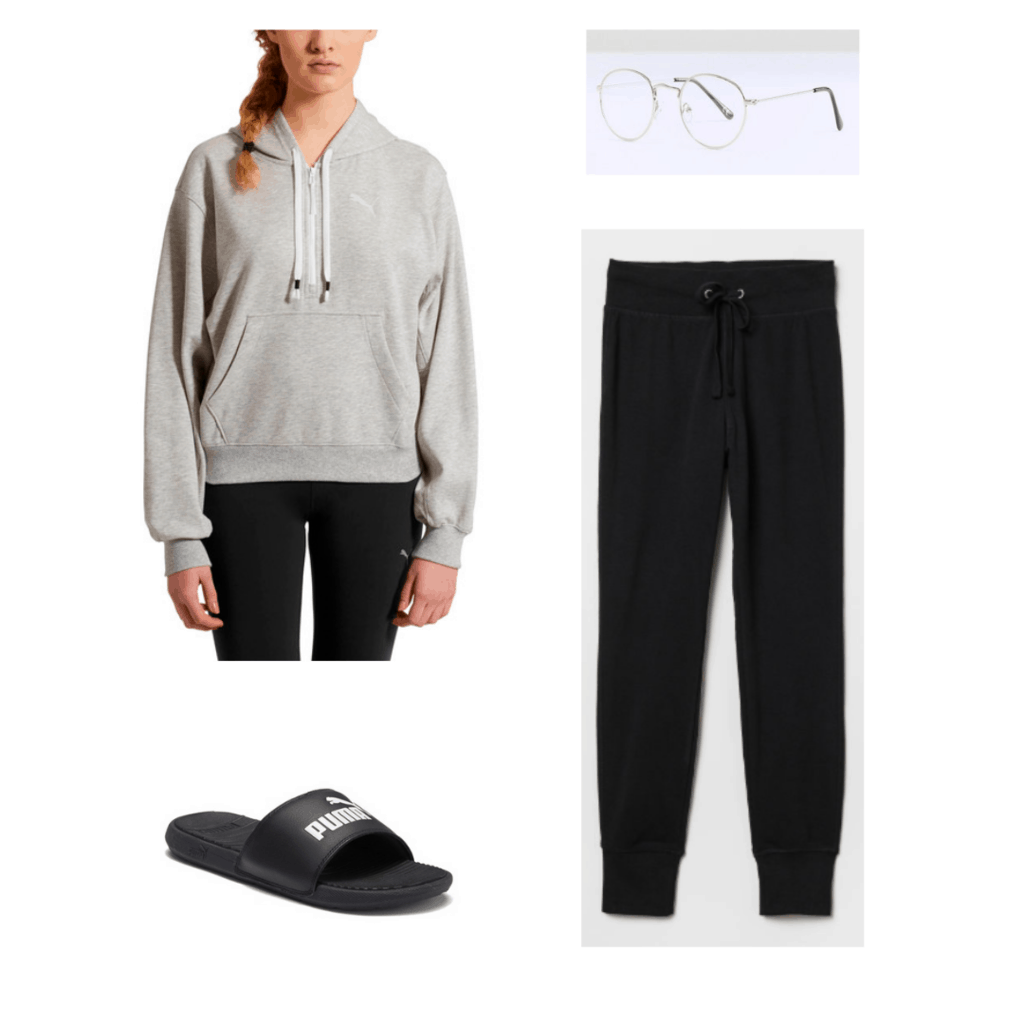 Products:
For this final look I couldn't decide which of Jungkook's everyday athleisure airport outfits to copy, so I just chose all three!
Jungkook can often be spotted in comfortable tracksuit sets consisting of plain joggers and oversized hoodies. For this look, I decided to take a grey Puma hoodie and combine it with black joggers and matching slides (another Jungkook closet staple).
To complete the look, just add a pair of his signature circle glasses (these are from ASOS and they're an absolute steal at under 15 dollars) and you've got a comfy, airport-ready look that Jungkook would love!
Also Read: Easy Outfit Formulas: Joggers + Cropped Tee
Bonus Look: White T-Shirts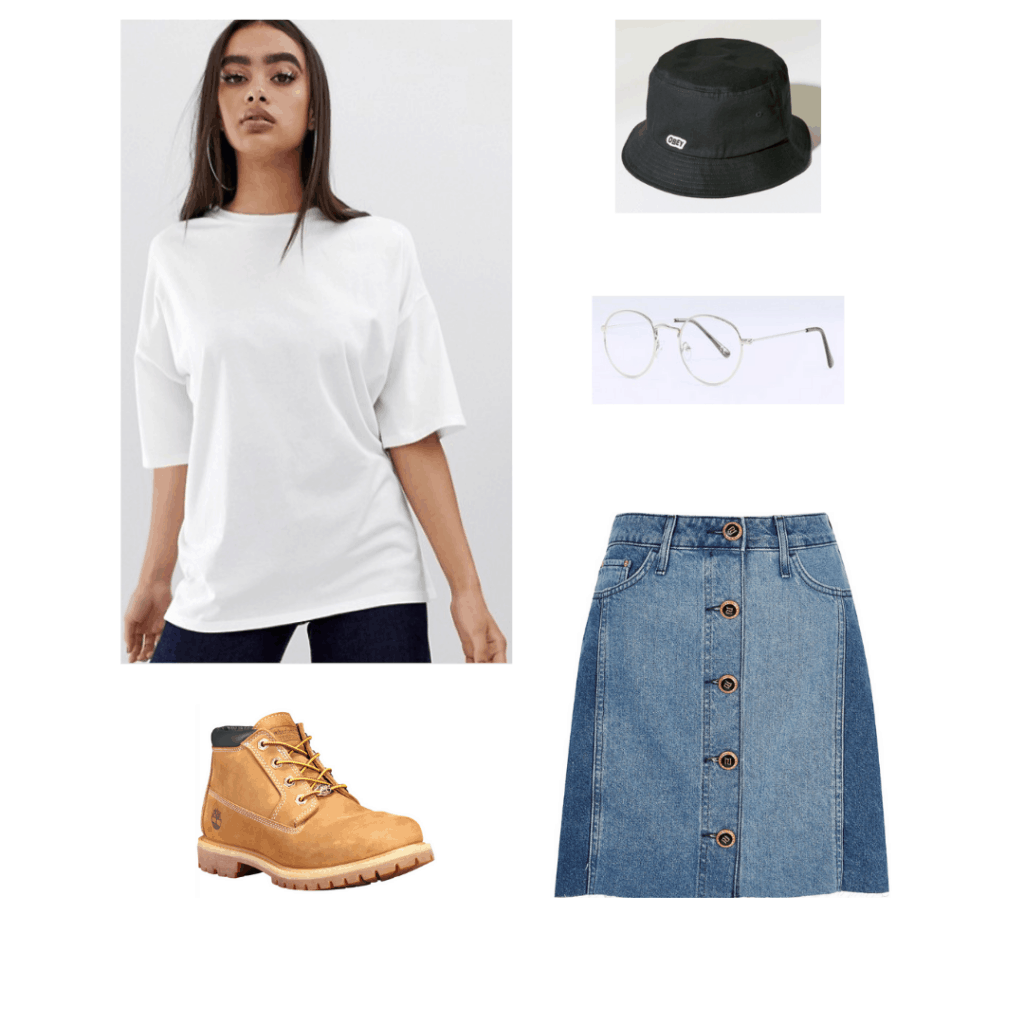 Products:
Of course, no Jungkook style guide would be complete without mentioning his well-documented obsession with plain white t-shirts.
For this bonus look, I decided to put a feminine spin on Jungkook's classic white tee and denim combination. This two-tone skirt is on-trend for 2022 and would be the perfect addition to your Summer wardrobe.
Finally, slip on a pair of neutral Nellie Chukkas (Timberlands are a well-known Jungkook footwear staple) and the look is complete!
Listen to BTS!
For more on all things Jungkook-related, check out the above short film for his 2016 solo song Begin.
What do you think of our Jungkook BTS fashion guide?
Did I cover Jungkook's style well? Which of these Jungkook-inspired looks did you like the most? What's your favorite Jungkook solo track? Who is your BTS bias? Are you going to the newly-announced Speak Yourself stadium tour?
Sound off in the comments below and check back next week for my in-depth ARMY guide on what to wear to a BTS concert!
For more Kpop fashion ideas like this, consider our related posts below –