Park Jimin (stage name Jimin) is the main dancer and lead vocalist of K-pop boyband sensation BTS.
(If you aren't familiar with BTS, see our posts on fashion inspired by BTS' Love Yourself in Seoul concert movie, BTS leader RM, singer Jin, rapper Suga and dancer J-Hope for more info).
Park Jimin was born on October 13th 1995 in Busan, South Korea. His passion for dancing appeared when he was in middle school and this led to his subsequent transfer to the modern dance department at Busan High School of Arts. It was here that he became recognized for his elegant contemporary dance style, auditioning for BigHit Entertainment on his teacher's recommendation.
Upon passing his audition, Jimin joined BTS as the septet's final member. As well as occupying the role of main dancer, Jimin is also the band's lead singer and is known for his sweet vocals and impressive high-notes.
Perfect Man
Perhaps one of BTS' most lauded stages is their 2015 cover of legendary K-pop group Shinhwa's track Perfect Man. The iconic performance sees Jimin take center stage and remains the most viewed MBC K-pop video ever, with almost 57 million views at time of writing.
Jimin also holds the record for the most viewed K-pop fancam of all time. His individual fancam for BTS' 2018 hit Fake Love has amassed over 33 million views since its release. Check out the performance video below to witness Jimin's graceful contemporary dance aesthetic for yourself:
Promise
On New Years Eve 2018, Jimin released his first self-composed solo track Promise, an uplifting pop ballad. The song was released for free on BTS' official SoundCloud account and soon thereafter broke Drake's record to become the streaming services' most played song in 24 hours, amassing 8.5 million streams in one day.
Co-written by Jimin alongside fellow BTS member RM, Promise is an honest commentary on the loneliness epidemic plaguing the young people of today. BTS have previously been outspoken on this issue, stating that with their unprecedented success and busy work schedules, they inevitably have to deal with issues of insecurity and loneliness.

Even if you feel that you are alone,
Don't throw yourself away

Jimin – Promise
(Check out this Billboard piece, which examines how BTS' relatability and willingness to address issues that affect young people have contributed to their meteoric rise, 'as they rally dissatisfied millennials around the globe.')
Having suffered with self esteem issues throughout his career, Jimin's first solo venture places Promise close to home for many fans who can relate to feelings of isolation. Prior to making it big with BTS, Jimin was often bullied online for his looks and weight.
However, his determination and hard-working nature (Jimin is a self-confessed perfectionist) have enabled him to gain legions of loyal fans. Fun fact: Jimin is my BTS bias (that's K-pop code for favorite member to those of you who didn't know)! Check out this fancam of Jimin's performance of his solo track Serendipity, taken during BTS's hit Love Yourself tour:
So, now that you've been properly informed about the power of Park Jimin, here are three looks (and one bonus outfit) that'll show you how to get his sophisticated, monochromatic aesthetic for yourself, all on a student budget!

Jimin BTS Fashion – Look 1: Classic Shirt + Tailored Pants

This shirt and pants combo is a Jimin style staple. Here, Jimin embodies the classic off-duty male model look. He places less emphasis on following trends and instead gravitates towards a clean, put-together aesthetic.
For this look I decided to replace Jimin's classic button-down with a feminized, asymmetric hem shirt. I kept the rest of the look simple, incorporating other Jimin style staples such as his signature sunglasses, a statement belt and sophisticated loafers.
This outfit would be perfect for a job interview – just add a blazer for a more office-appropriate look. It would also make a great first-day outfit for your upcoming Summer internship. Simply replace the black suit pants with variations in lighter shades (pastel trouser suits are in for SS19) and you're good to go!
Jimin BTS Fashion – Look 2: Oversized Jackets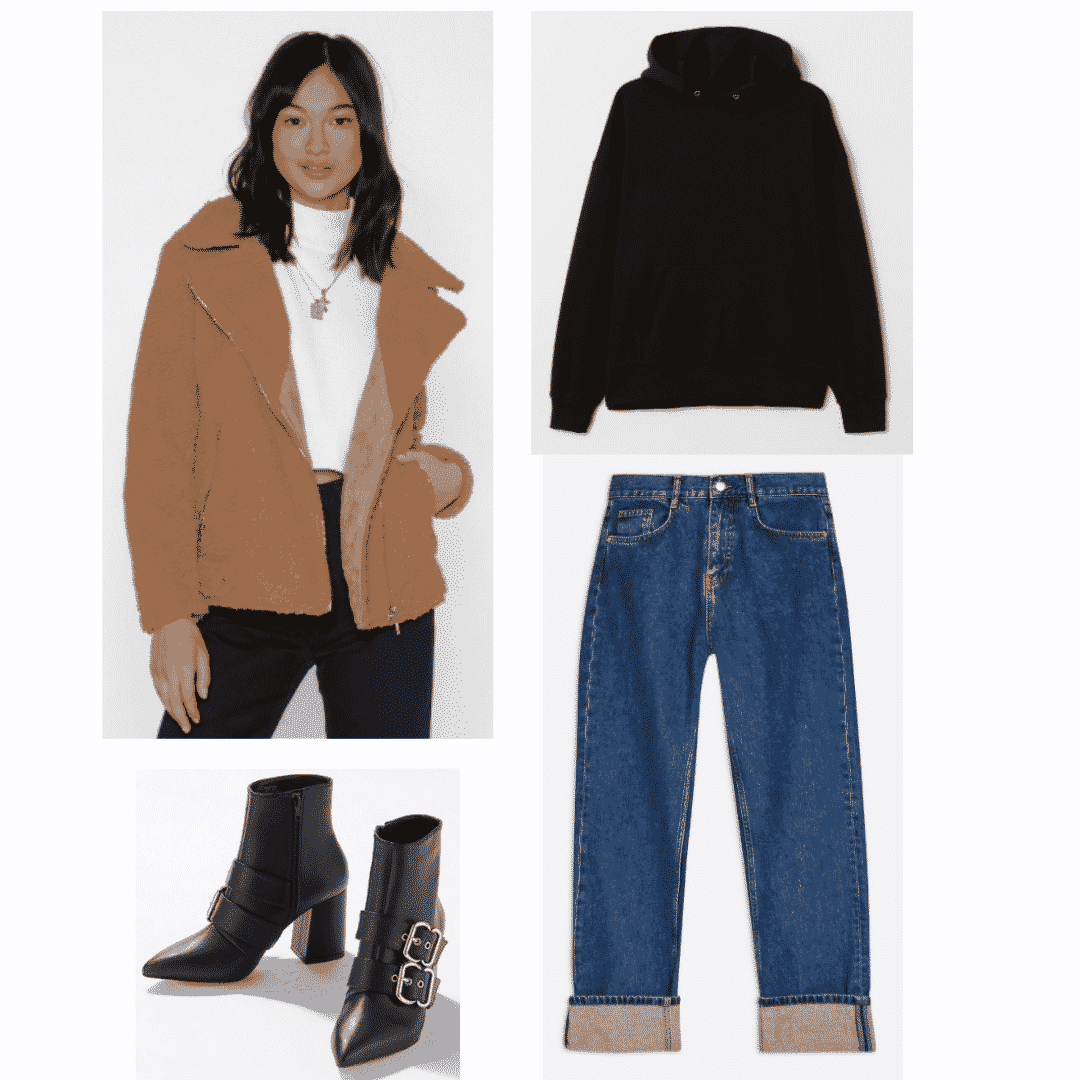 Products: Jacket – Nasty Gal, Hoodie – H&M, Jeans – Topshop, Boots – Miss Selfridge
This next outfit is inspired by a recent Jimin airport look featuring an on-trend teddy coat, black hoodie and blue jeans. Jimin wore this outfit in January while catching a plane to Singapore with BTS.
Okay, so maybe you don't spend your days jet-setting around the world like Jimin and his bandmates. But do you find yourself, like many college students, always running late for class? Then look no further, because this outfit is the perfect style solution for those mornings when you just don't want to leave your cozy bed.
I decided to keep the look as simple as Jimin's, pairing clothing items similar to his own with a pair of statement heeled boots. Jimin is a big fan of flat buckle boots but I thought the outfit could do with a feminine edge. Plus, these gorgeous boots are now on sale for $60! Pricey enough, but classic black boots like these can definitely be considered an investment piece!
Jimin BTS Fashion – Look 3: Stripes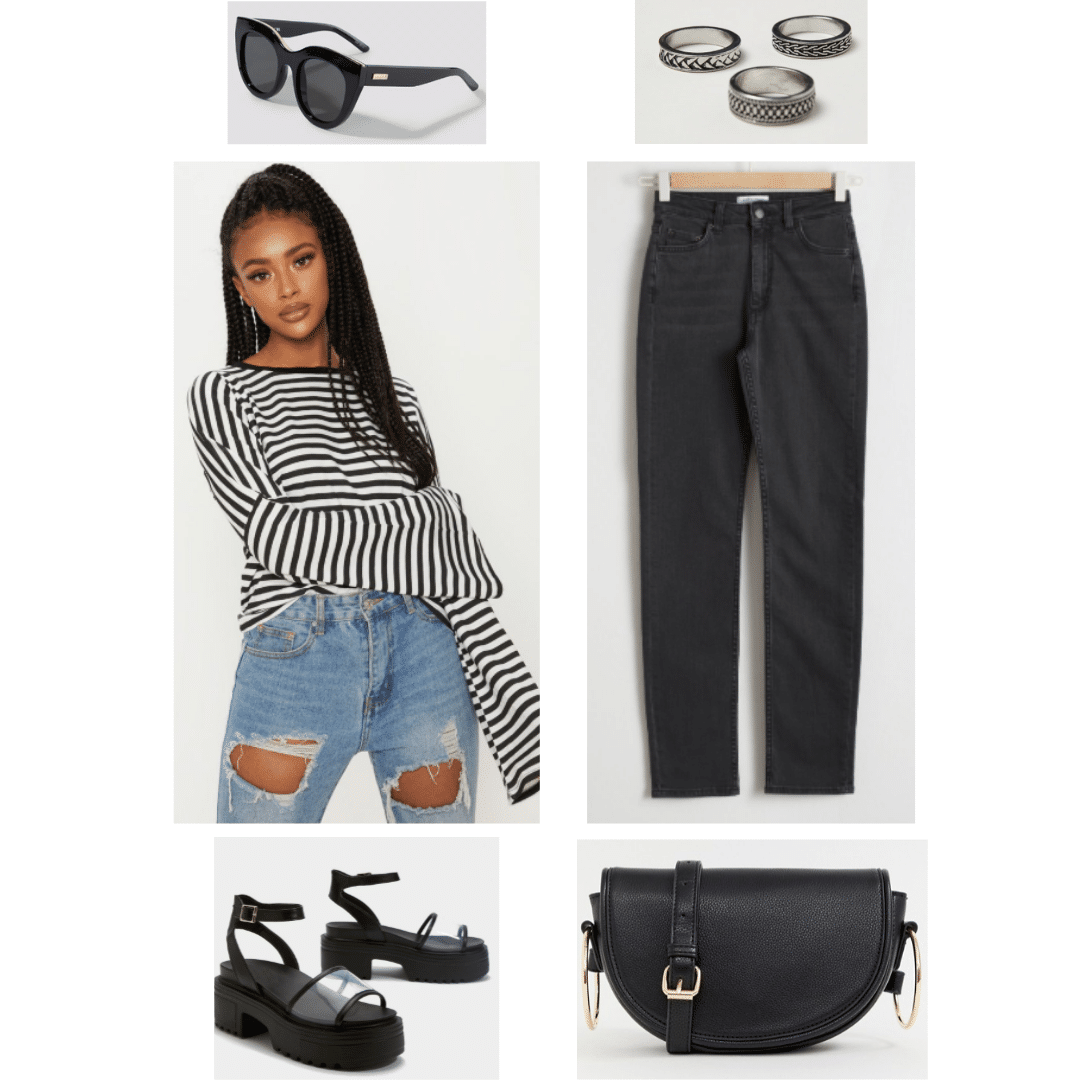 Products: Top – Pretty Little Thing, Trousers – & Other Stories, Sandals – Nasty Gal, Sunglasses – NAKD, Bag – ASOS, Rings – H&M
Finally, this Jimin style guide just wouldn't be complete without an ode to his love of classic stripes. Jimin owns many variations of the striped top, with his iconic black-and-red turtleneck also serving as a wardrobe staple.
This striped top, featuring Jimin's signature extra-long-sleeves-look, is new to Pretty Little Thing. It's so cute (and inexpensive) that I actually plan on buying it for myself next payday!
To achieve Jimin's effortless look, I paired the top with simple black jeans and more quintessential Jimin accessories, including flatform sandals, sunglasses and silver rings. This laid-back outfit could be worn pretty much anywhere: to class, on a shopping trip or even as a casual date-night look.
Bonus Look: Double Denim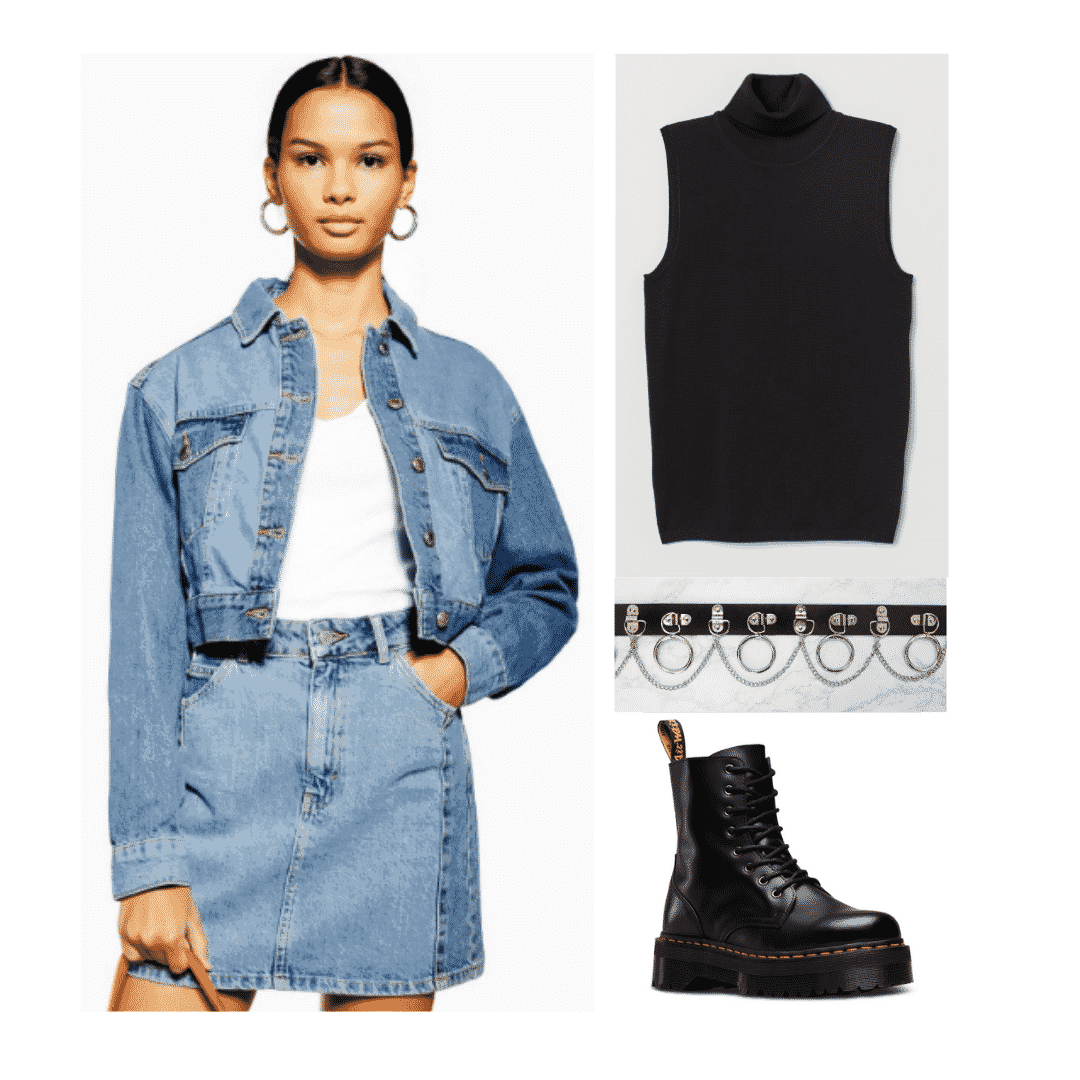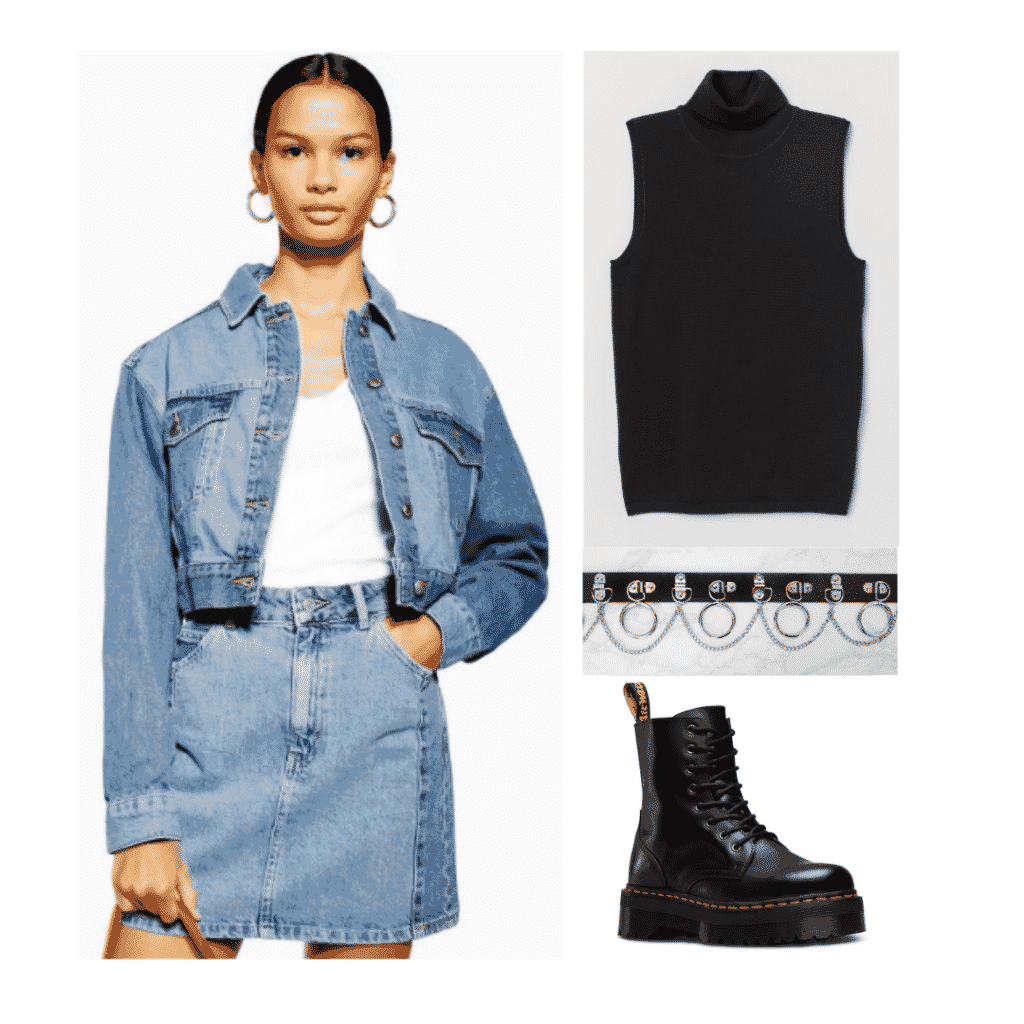 Products: Jacket and Skirt Co-ord – Topshop, Turtleneck – H&M, Belt – Pretty Little Thing, Boots – Dr Martens
For Jimin's bonus look I chose to recreate this iconic double-denim outfit he wore back in 2016. I feminized the look by swapping out his Winter turtleneck for a stylish sleeveless alternative, and incorporated a skirt co-ord because the Summer months are drawing near.
Classic, infinitely wearable Docs and a silver-detail belt tie the look together effortlessly, giving it an edge that Jimin would be proud of.
For more Jimin style inspiration, check out the official music video for Serendipity below:
What do you think of our Jimin BTS fashion guide?
Did I cover Jimin's style well? Which of these Jimin inspired looks did you like the most? What's your favorite Jimin solo track? Who is your BTS bias? Are you going to the newly-announced Speak Yourself stadium tour?
Sound off in the comments below and check back next week for the penultimate post in my BTS series on vocalist Kim Taehyung (V)!