Jung Hoseok (stage name J-Hope) is the main dancer of K-pop boyband phenomenon BTS.
(If you aren't familiar with BTS, see our posts on fashion inspired by BTS' Love Yourself in Seoul concert movie, BTS leader RM , singer Jin and rapper Suga for more info.)
Born February 18th 1994 in Gwangju, South Korea, Hoseok began performing at a young age and trained in dance at Gwangju Music Academy. He spent his formative years dancing as part of the underground street group Neuron prior to being signed to BigHit Entertainment.
Hoseok is now one of three members of the BTS 'rap line' and is known for his unique and colorful rapping style.
Hope World
On March 1st 2018, Hoseok released his first mixtape Hope World. It was thanks to this release that he became the highest charting Korean solo act of all time, with the album debuting at no. 1 in no less than 63 countries.
Speaking to TIME, Hoseok stated that he considered Hope World to be 'my calling card to the world.'
Check out the full album below:

I thought it would be hugely meaningful for me if I can become, like my namesake, hope for someone in the world — not even some grandiose peace but just a small shard of it.

J-Hope, TIME Magazine
Known for his positive attitude and upbeat personality, J-Hope certainly lives up to his name.
He shows his enthusiasm for dance through energetic performances, and his skill is renowned in the K-pop dance community. He even hosts his own V-Live series Hope on the Street, which sees him practice various up-and-coming dance routines.
Check out the dance practice for his solo track Boy Meets Evil below:
Also check out this fancam of J-Hope performing his newest solo track Trivia: Just Dance live from L.A during BTS's hit Love Yourself world tour:
So, now that you're up to speed on all things Hoseok, here are three looks inspired by his fun, exuberant street style aesthetic (sunny personality sold separately)!
J-Hope BTS Fashion – Look 1: Graphic Prints
For this first outfit I decided to emulate one of J-Hope's casual and comfortable airport looks. Hoseok is a big fan of graphic prints, pairing statement pieces with neutral, laid-back separates.
This hoodie and mom jeans combo incorporates key pieces of Hoseok's outfit while adding a feminine twist.
I swapped out the orange accents of Hoseok's outfit with pink alternatives, staying true to his love of cute and functional accessories. (Fanny packs are a J-Hope fashion staple.)
J-Hope BTS Fashion – Look 2: Neutrals + Pop of Color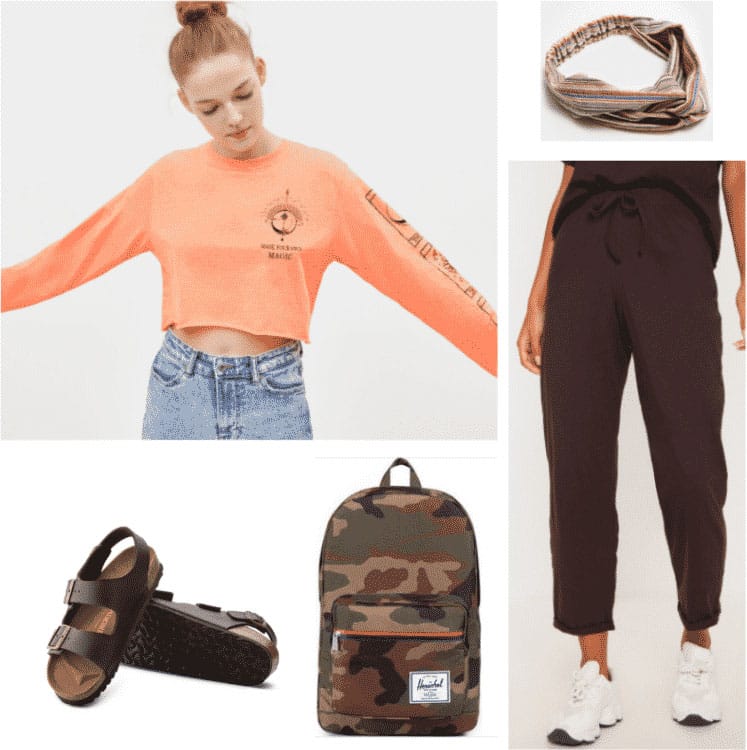 Products: Top – Bershka, Trousers – Pretty Little Thing, Headband – Pretty Little Thing, Sandals – Birkenstock, Backpack – Chain Reaction Cycles
This second Hoseok look is possibly one of the coolest outfits I've ever seen. Not one to shy away from unusual styles, Hoseok combines color with basic neutrals in the coolest manner I've seen.
Instead of directly copying the look, I decided to take inspiration from its color palette instead. The color contrast between the top and trousers gives off an earthly, relaxed feel, and the Birkenstocks are very similar to the type of sandals Hoseok wears on a regular basis.
J-Hope BTS Fashion – Look 3: Athleisure + Accessories
This last look perfectly encapsulates Hoseok's fashion-forward aesthetic. His love of athleisure is prevalent in the majority of his outfits, as is his penchant for trendy accessories.
The jacket I chose is actually from the men's section at Bershka, proving that fashion does not have to be dictated by gender. The trainers also give off a unisex vibe, and are an ode to Hoseok's well documented obsession with Balenciaga's ugly sneaker trend.
Bonus Looks!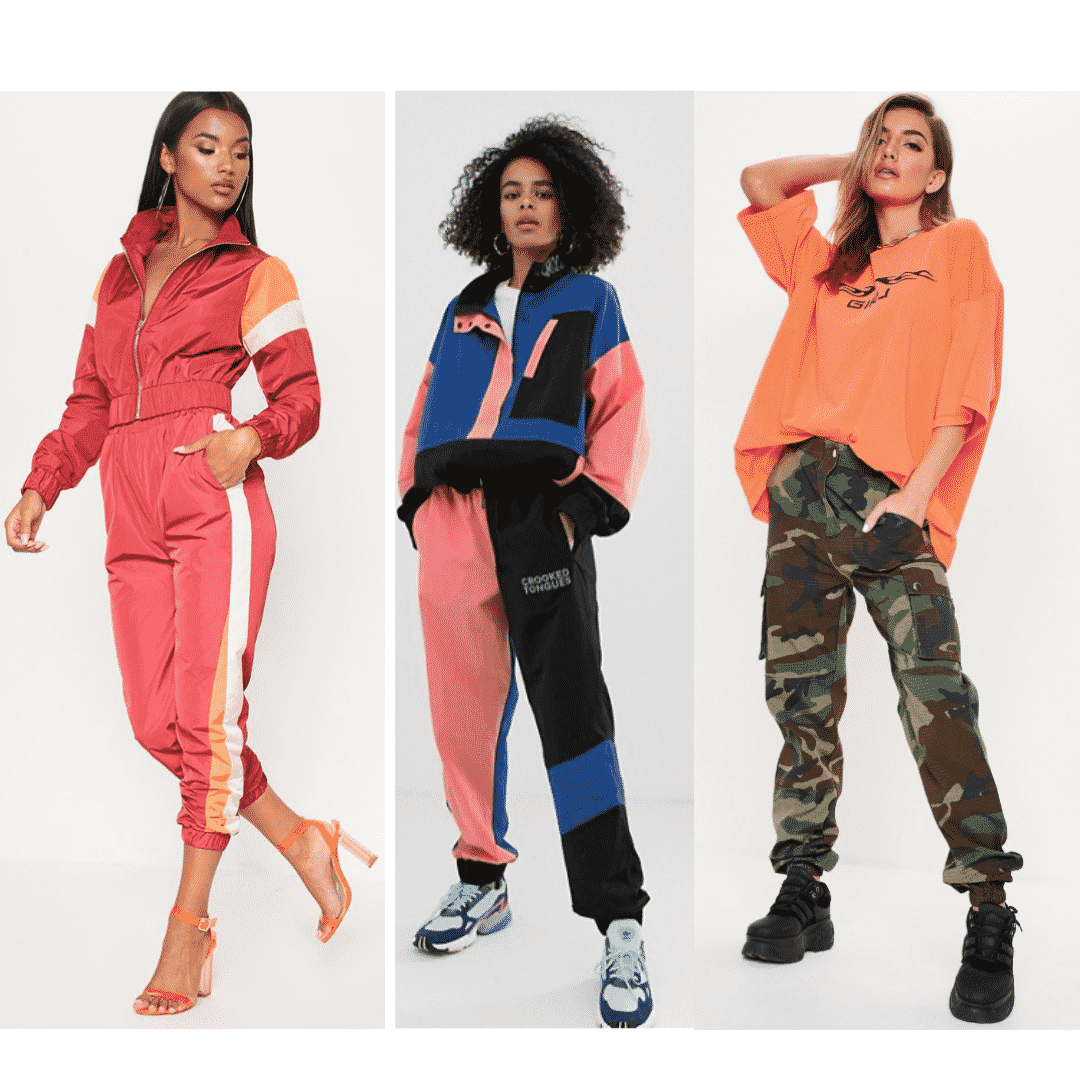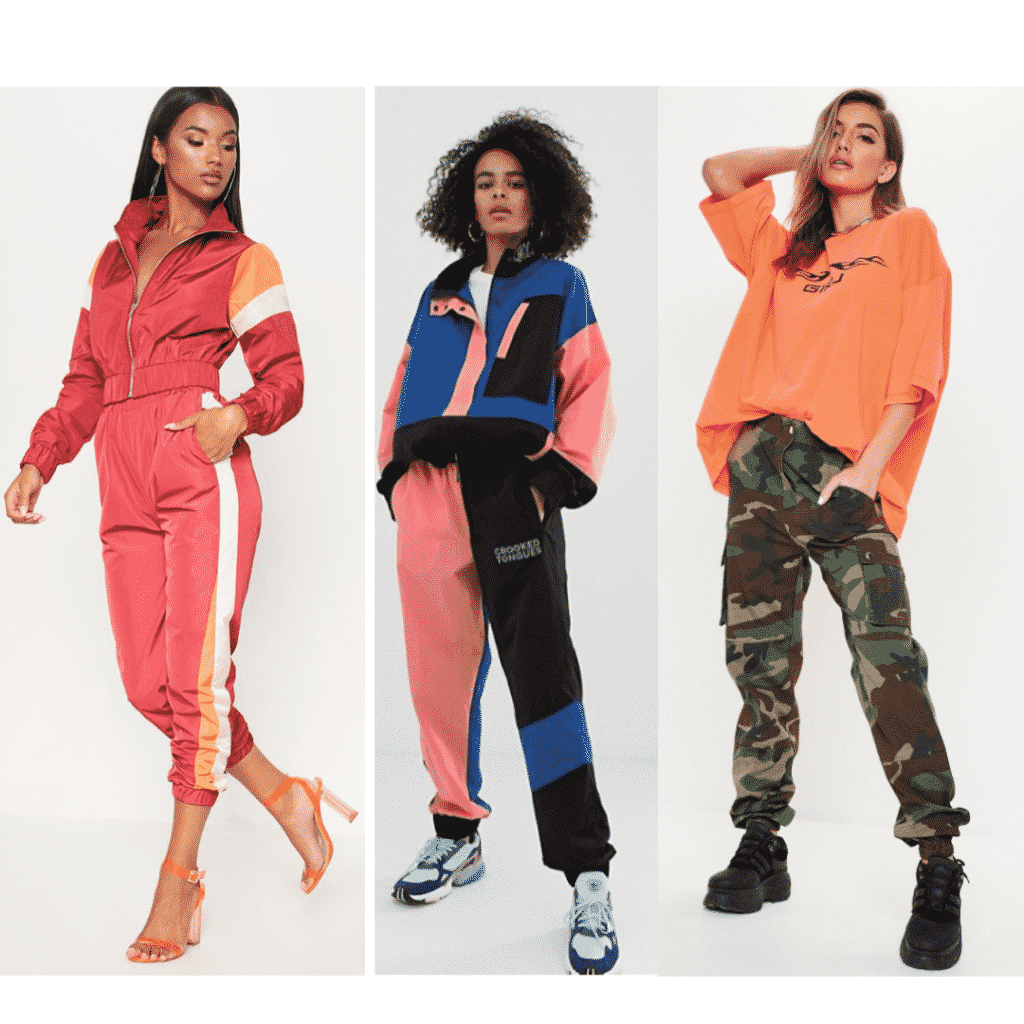 Products: Red Tracksuit – Pretty Little Thing, Multi Tracksuit – ASOS, Camo Set – Missguided
Finally, check out Hoseok's solo music video Airplane for more J-Hope approved fashion inspiration! The pieces above are great ways to get his look.
What do you think of our J-Hope BTS fashion guide?
Did I cover Hoseok's style well? Which of these J-Hope inspired looks did you like the most? What's your favorite track from Hope World?
Sound off in the comments below and check back next week for style inspiration from the next member in my BTS series, Park Jimin!