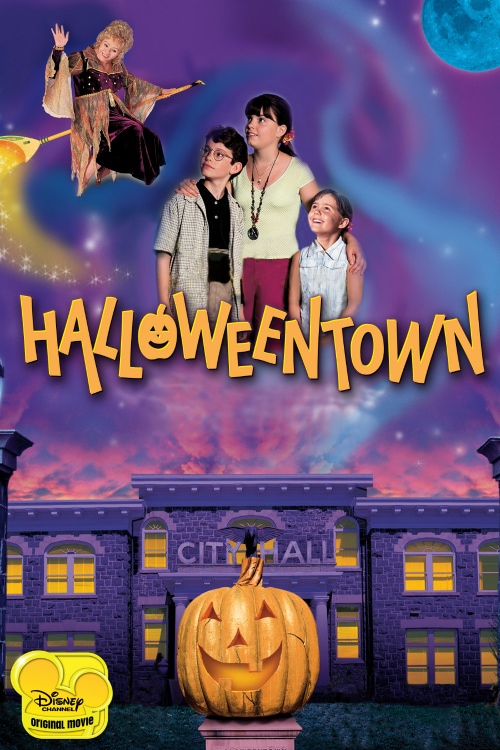 This week, we're throwing it back with fashion inspired by, IMO, the best Halloween-themed DCOM: Halloweentown.
If you haven't seen it (where have you been?), the kids' flick follows Marnie, who, after discovering she's a witch, travels to the magical realm of Halloweentown to help her grandmother fight an evil force. Sounds kind of corny when I write it out, but Buzzfeed breaks down why it's so iconic much better than I ever could.
Below are three chic, totally wearable fall outfits inspired by the characters of Halloweentown. Scroll down to check 'em out!
1. Marnie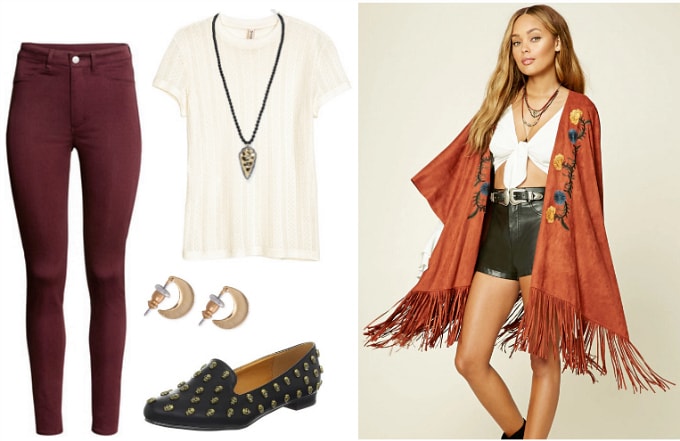 Product Info: Jacket- Forever 21, Pants- H&M, Top- H&M, Necklace- BaubleBar, Earrings- Macy's, Shoes- Amazon
For a look inspired by our fearless heroine and lover of all things weird, start with the basics: dark red skinny jeans and a textured white top. Layer on a pumpkin-colored jacket that's reminiscent of the cape Marnie wears, then step into some Benny-the-skeleton-cabbie-esque studded skull loafers.
Don't forget the "witchy" jewelry. In this case, it's a statement-making pendant necklace and celestial drop earrings.
2. Grandma Aggie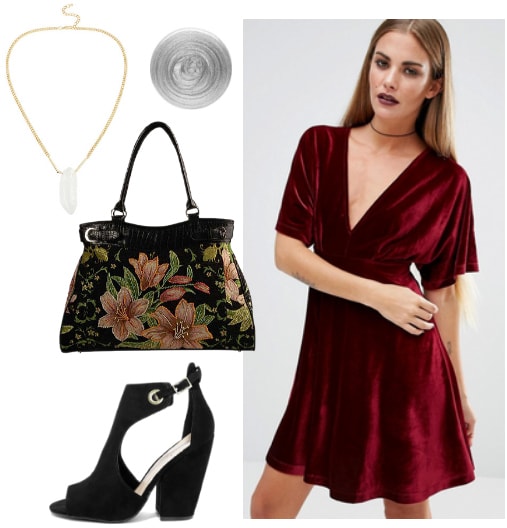 Product Info: Dress- ASOS, Shoes- Lulu's, Bag- Shoe Buy, Necklace- JCPenney, Nail Polish- Nails Inc. "Kings Cross Road"
Make Grandma Aggie's BAMF witch attire work for a night out by choosing a luxe, on-trend red velvet dress and suede peep-toe booties.
Stash your belongings in a tapestry bag similar to Aggie's Mary Poppins-like satchel, and string a large quartz crystal around your neck. Finally, add a bit of magic to your mani with a glitter-packed reflective nail polish.
3. Kalabar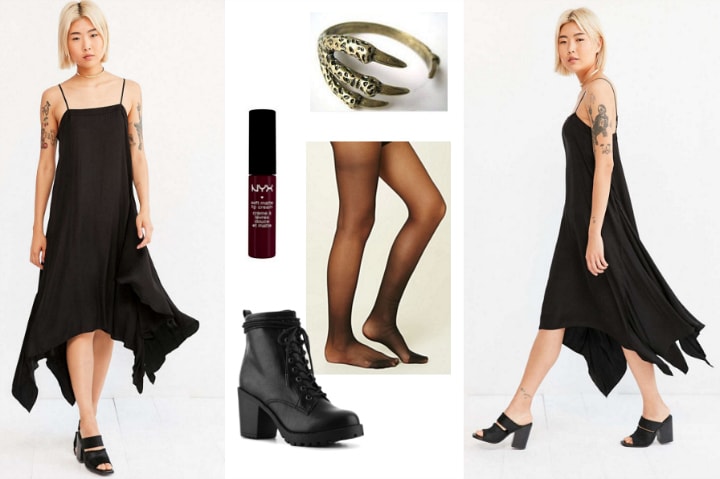 Product Info: Dress- Urban Outfitters, Shoes- DSW, Tights- Forever 21, Bracelet- YesStyle, Lip Color- NYX "Copenhagen"
Halloweentown's big bad is actually quite frightening for a movie meant for children, but I'm loving the idea of an outfit based on his billowing robes.
Since this villain wears head-to-toe black (shocker!), start with a long, flowy spaghetti strap dress. Add sheer tights and lace-up combat boots, then adorn your wrist with a claw-shaped cuff similar to the talisman Kalabar so desperately wants. The finishing touch? A dark, mysterious lip color, of course.
What do you think?
Have you seen Halloweentown? Would you wear any of these outfits? What's your favorite DCOM? Leave a comment below and tell us your thoughts.