For over two years now, thousands of us have been obsessing over the teen mystery drama Riverdale.
It is a show packed full of secrets, romance, and over-the-top-dramatic scenarios, but above all, it has some of the most fashionable characters to grace the small screen since "Gossip Girl." And the most fashionable of all of the Riverdale residents has to be Riverdale's own Queen Bee, Cheryl Blossom.
Also Read: Katy Keene Style: Fashion Inspired by the TV Series}
Continuing on with our Bad Girl Inspiration series, which has previously featured Regina George from Mean Girls and Prudence Night from Chilling Adventures of Sabrina, we're now taking a look at Cheryl's bombshell vibe. (We've actually talked about Cheryl's makeup look before on CF but never her style!)
Cheryl Blossom's Outfit and Style
Cheryl Blossom is a fiery Riverdale Vixen who is always ready to take people down — especially with her bow and arrow — whether it be the Black Hood, the Sisters of Quiet Mercy, or even her own mother. She is smart, manipulative, stylish, tragic, and definitely not someone you would want to mess with. Though she does make a great ally to have on your side, she can switch at any moment, and will topple anyone who gets in her way. As she famously says,
"I simply am. Feel free to tremble."
When it come to Cheryl Bombshell's style choices, she is often, if not always, seen sporting her signature red color, whether from head to toe, or with her red spider brooch, rose embroidery on her top, or red trimming on her sweater. Her vibe might be described as vampy or femme fatale, as her style falls in line of an evil queen from fairy tale. Her style certainly makes her stand out from Betty Cooper's Nancy Drew-inspired getup and Veronica Lodge's city chic look. Though her style might be impressive, it is her sass and plotting skills that truly make her a memorable bad girl.
To get the Riverdale Vixen's iconic look, be inspired by these three stylish Cheryl Blossom outfits perfect for different occasions, especially ruling the world.
Cheryl Blossom Outfit 1: Little Red Riding Hood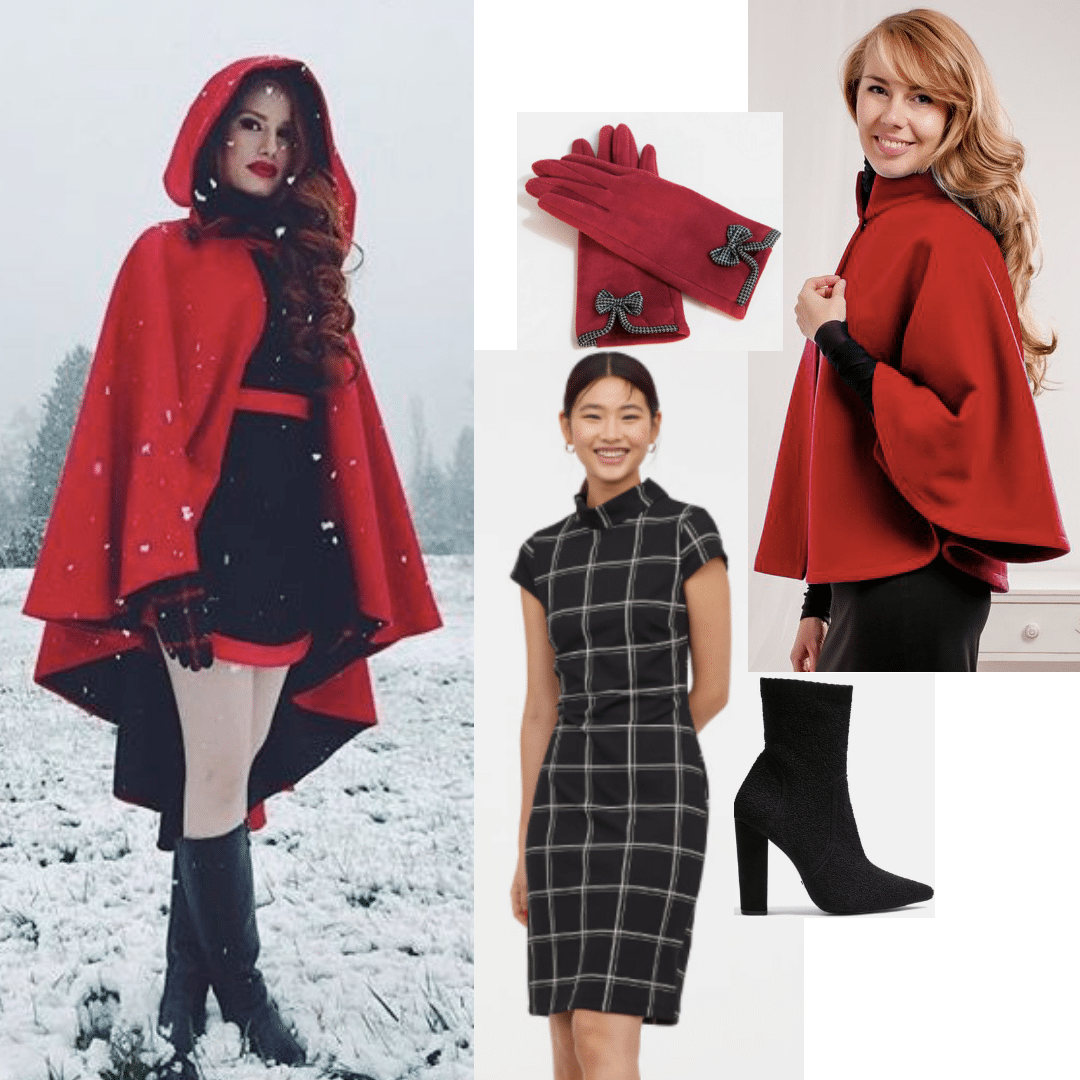 Products:
One thing Cheryl is known for on the show is simply being over-the-top. Every outfit she wears serves the purpose of making her appear as a fairy tale princess gone bad. The best example of this is certainly her all red and black winter outfit completed with the perfect red hooded cape. This outfit emulates the appearance of Little Red Riding Hood, but as we all know, Cheryl is more the wolf than little red.
To get this perfect winter fairy tale look, it is best to go with an all black outfit with hints of red appearing in the accessories. For that Cheryl feel, find a red coat or poncho to be the standout piece.
Cheryl Blossom Outfit 2: Red Hot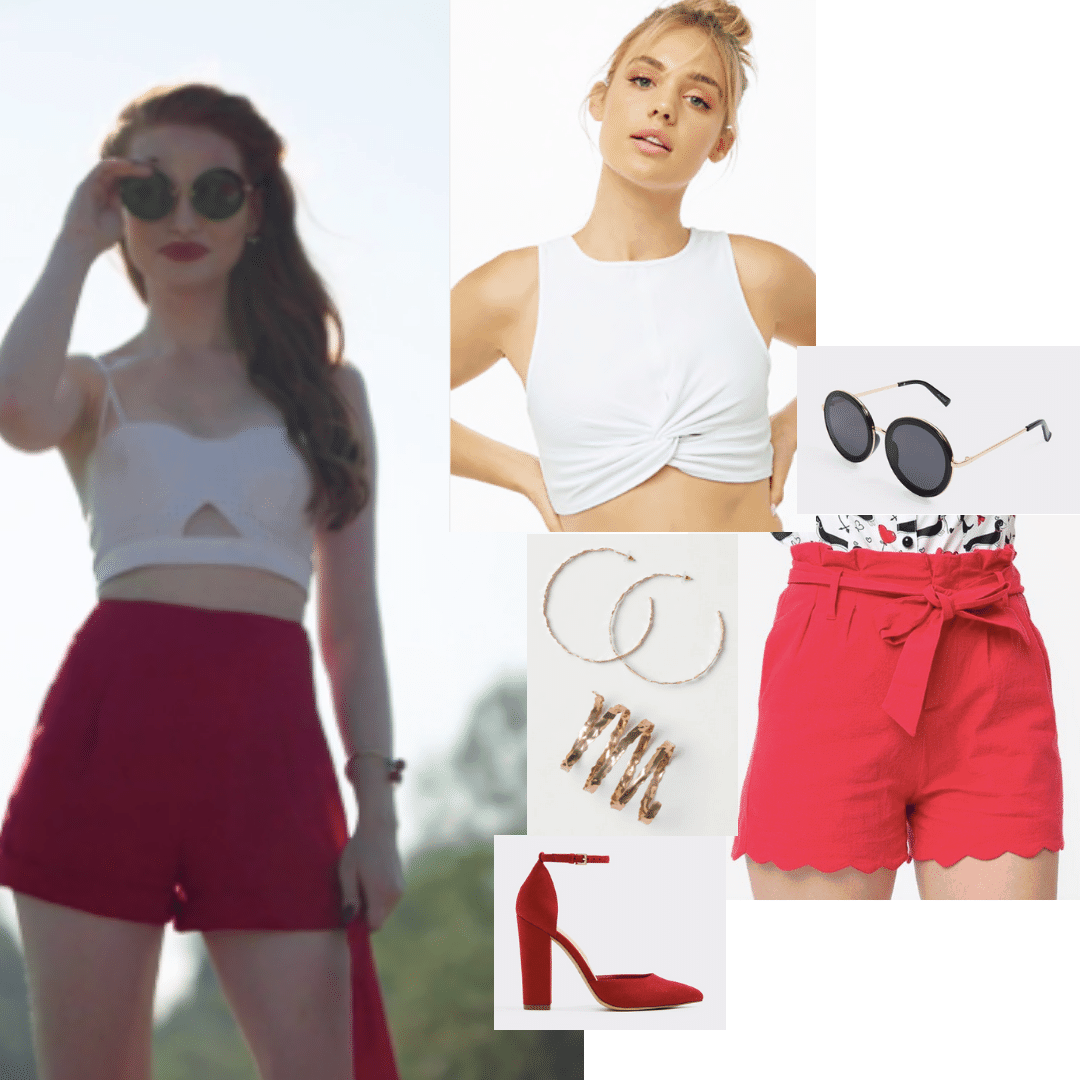 Products:
In one of the most iconic scenes from Riverdale season two, Cheryl plays the role of flag girl for the drag race between the Southside Serpents and the Ghoulies. Though it was a dangerous and serious race, Cheryl treated it as a fashion show, showing up in Blossom red high waisted shorts, a white crop top, sky high heels, and classic black sunglasses.
This look is one of many from the show that has a modern '50s feel. (The show is based on the original Archie comics series, after all!) When channeling this look, think modern retro. Keep it vintage with some high-waisted shorts and a pair of round sunglasses, and then get modern with a crop top and heels. This look would be perfect for spring break or saving for the summer season!
Cheryl Blossom Outfit 3: Bombshell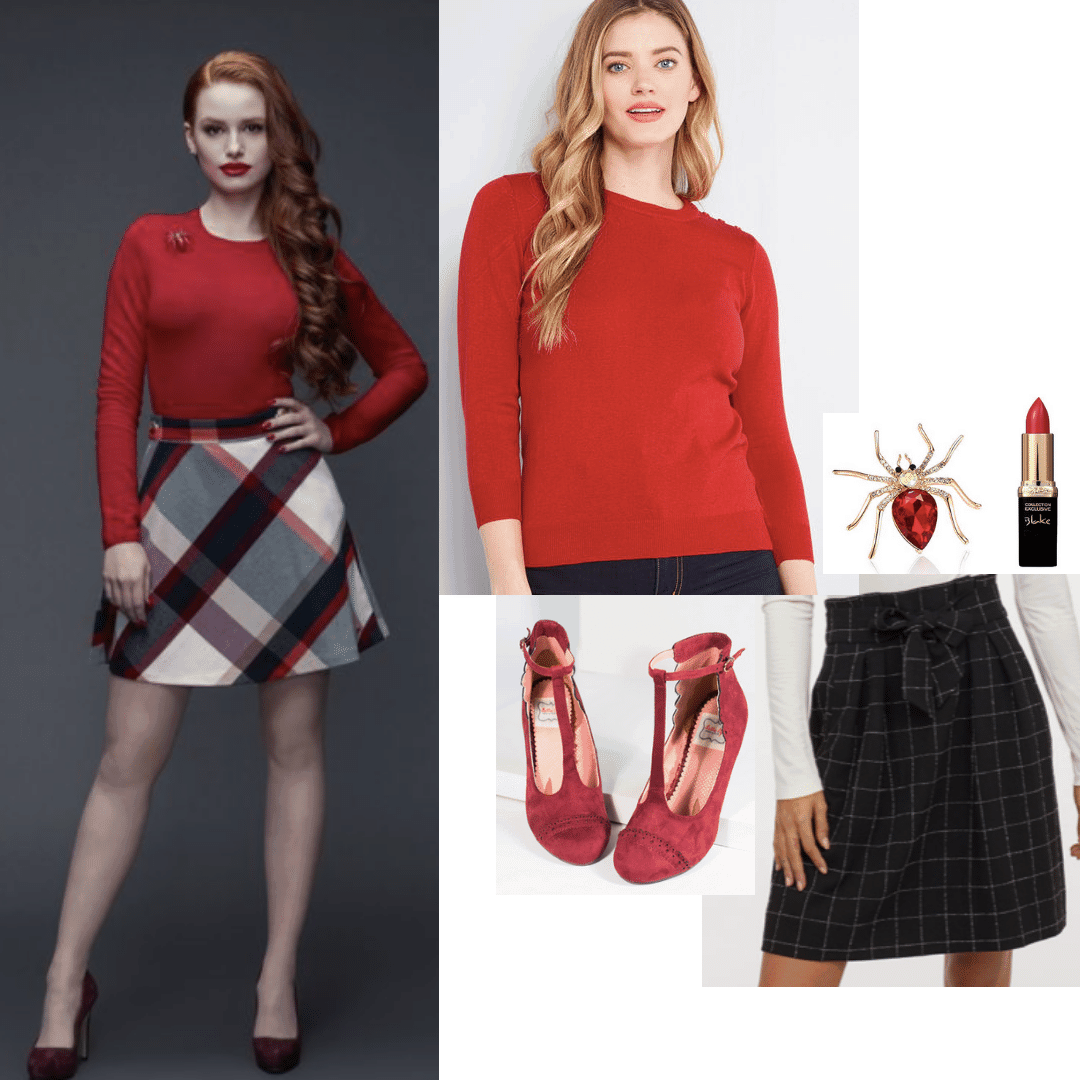 Products:
In nearly every episode of Riverdale, we get at least one glimpse of Ms. Blossom's school wardrobe, which is filled with outfits that evoke power, femininity, and sultry vibes.
To get Cheryl's Riverdale High vibe, mix classic pieces like a basic red sweater and a check mini skirt. This might sound simple, but when you add in a few noticeable accessories, such as a spider brooch and statement red heels, your look will be the talk of the school.
Also Read: The 6 Best Fashion Styles In The Chilling Adventures Of Sabrina Outfits
Black Lace Long-Sleeved Dress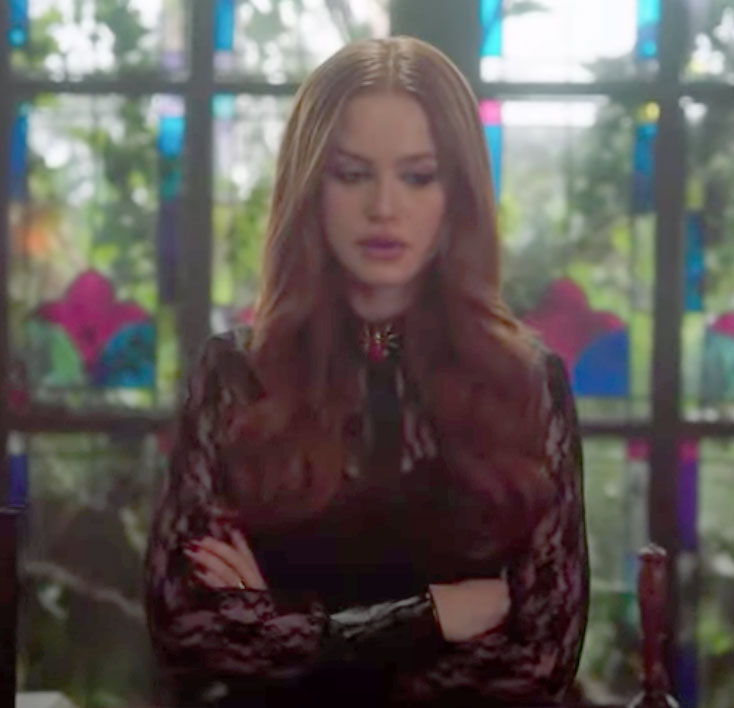 In season 6, Cheryl stunned in this black long-sleeved lace top and killer red spider brooch from her family's collection. The Blossom manner is a moody place and Cheryl's look was right at home in this scene. You can get the look with any sheer lace top you own, layered over a black tank, then just add some red jewelry.
Archery 'Fit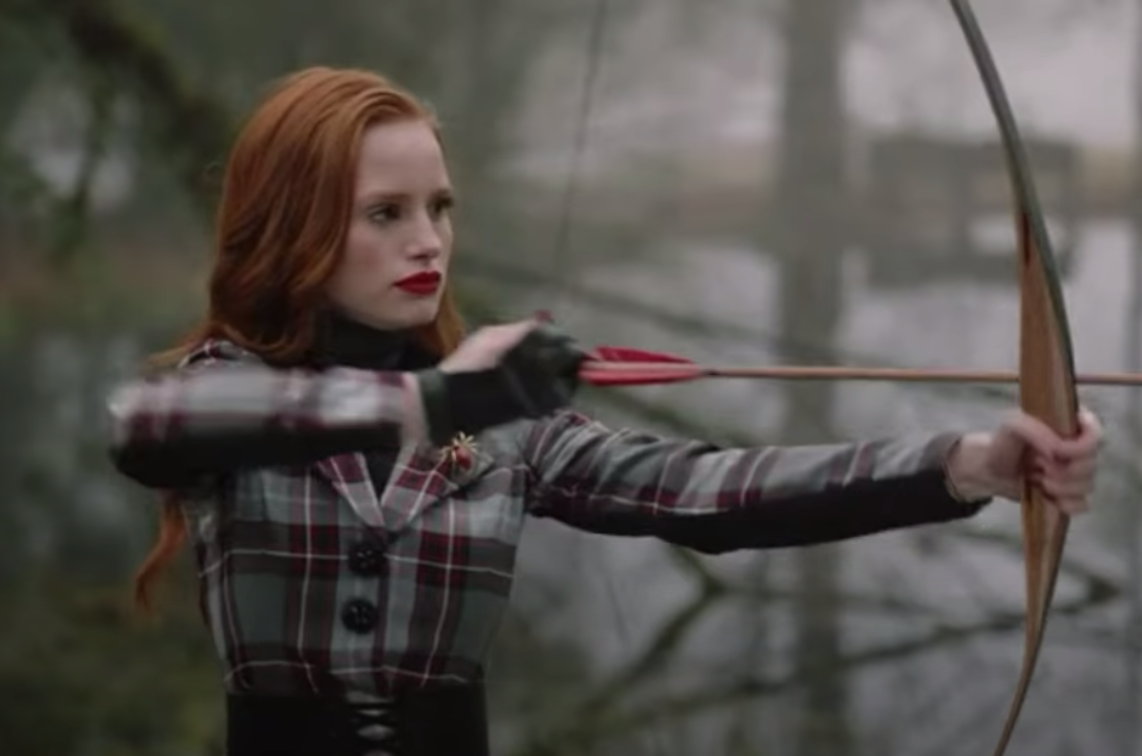 Only Cheryl could look this amazing while practicing archery. Seriously, her style is incredible! Here, she rocks a classic plaid belted coat with her same statement red spider pin and iconic red lip. If this is considered exercise wear, sign me up for archery lessons right now.
Red Pants & Ankle Boots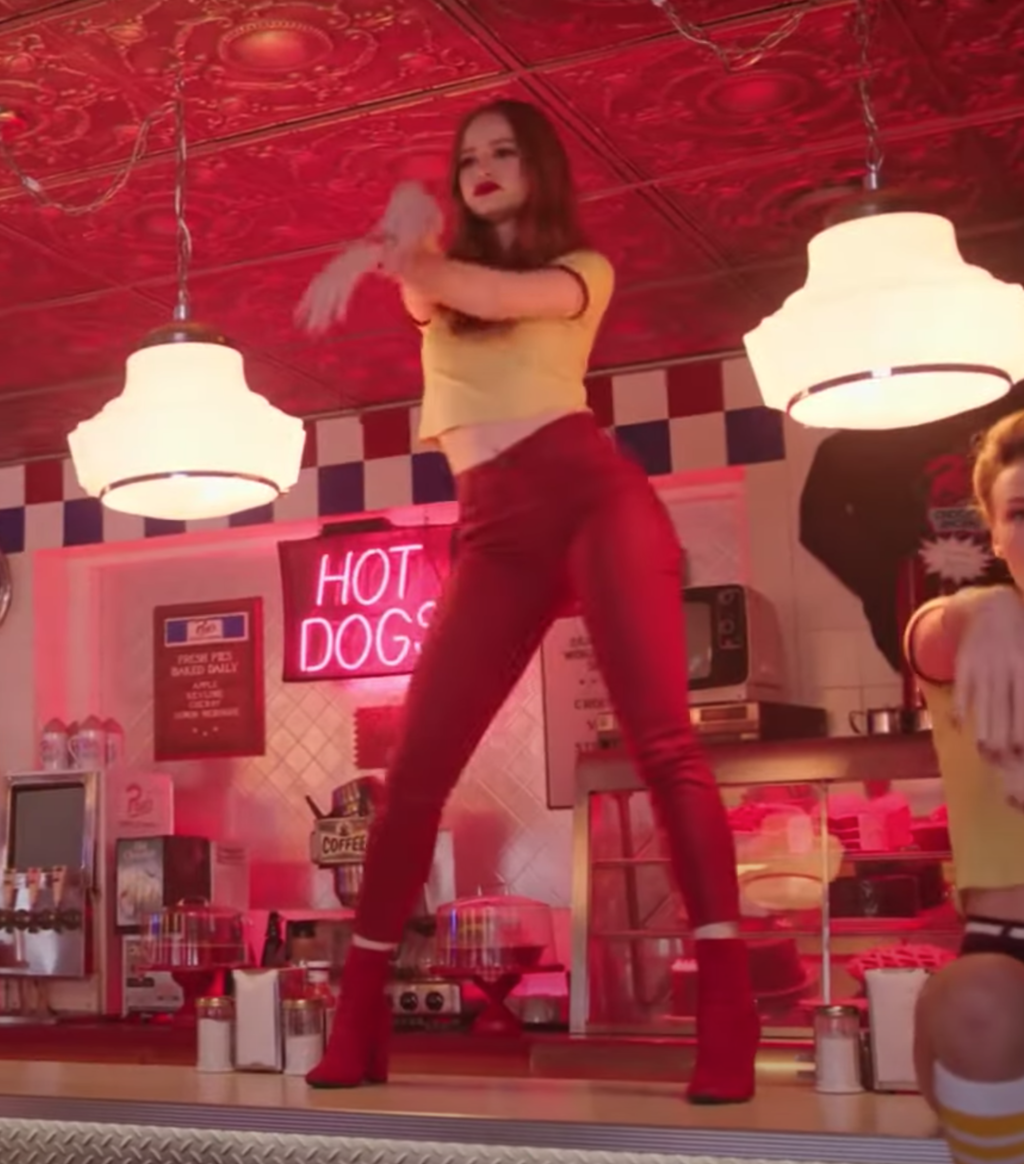 Cheryl rocks this Season 4 outfit during a musical number at Pop's Chock'lit Shoppe. As usual, Cheryl rocks her trademark red in the form of red skinny pants and matching red suede ankle boots. There's something about matching your pants to your shoes that makes your legs look mile long, and Cheryl nails this look.
Are you inspired by Cheryl's style?
With these three inspirational looks you should now be ready to venture out into the world and channel Cheryl Blossom in your own looks. And honestly, who can blame you? Bad never looked so good.
For more Riverdale fashion, be sure to see our guide to the Riverdale stars' street style.
Are you inspired by Cheryl's bombshell vibe? What other villainous women would you like to see featured in this column next? Definitely let us know your thoughts in the comments.
If this post gives value to you, you might want to consider the related articles below: