This post may contain affiliate links, which means we may receive a commission if you purchase through our links. Please
read our full disclosure here
.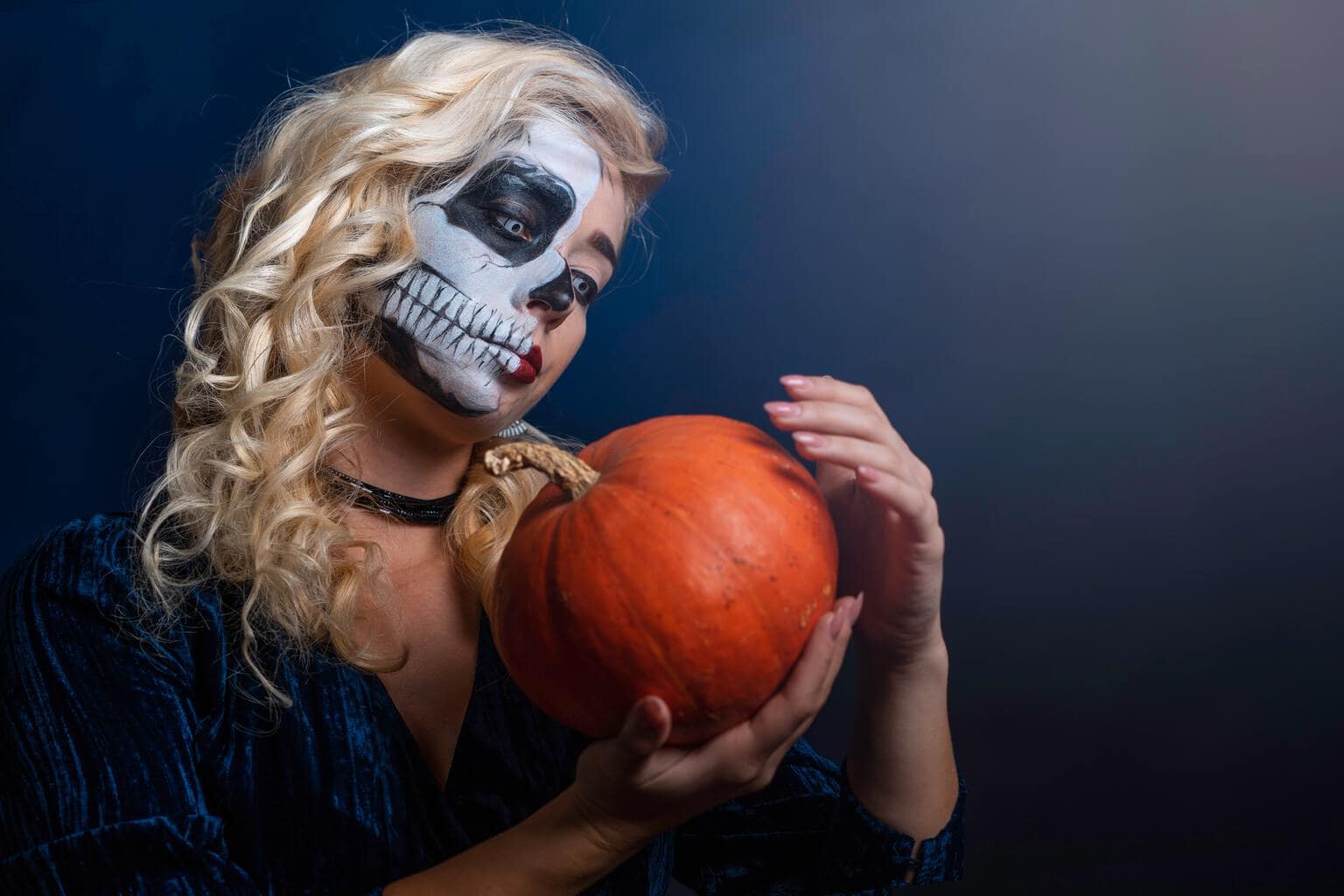 Here's part two of the Cute Halloween Costumes series. In case you missed part one, you can read it here: 10 Cute Halloween Costumes For Any Budget.
Last time we talked about celebrity Halloween costume ideas, TV-inspired costumes, and movie Halloween costume ideas. Today's article focuses on historical costumes, fashion costumes, and even some sexy Halloween costume ideas, if that's what you're going for this year.
Keep reading to get inspiration for your own costume or maybe just pick up some ideas for next year!
Historical Halloween Costume Ideas
1920s Flapper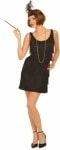 Such a chic costume. 1920s flapper is the perfect Halloween look if you want to be sexy without being slutty in the least. The flapper costume is also a fashionable costume choice, because drop-waist flapper style dresses were all over recent runways.
Flapper costumes are usually inexpensive to buy, which makes things easy, but you could just as easily find a fringe dress at a vintage shop. Add a long necklace (pearls if possible), a feathered headband, and of course, a pair of fabulous heels. Don't forget a long (fake) cigarette holder to finish off the look!
If you'd rather buy a costume, here are some cute & affordable flapper costumes: Silver Flapper Costume ($32.99), Black Fashion Flapper Costume ($32.99), Adult Sexy Flapper Costume ($69.99)
Marie Antoinette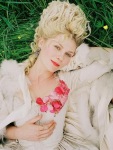 This costume was really popular last year, and will probably be hot again this year!
Why is this costume so great? To start, Marie Antoinette was the original fashionista. In her time, she set all the trends in wardrobe, makeup, and of course hair! She's iconic, rebellious, and all around fabulous. Everyone will know who you're supposed to be when you dress like Marie.
There are tons of great Marie Antoinette costumes available online, and unless you're really advanced at sewing, you should probably buy a costume. The wig is essential too, so don't forget to factor that in to the cost!
A few cute Marie Antoinette Halloween costumes: Sexy Marie Antoinette Costume ($39.99), Miss Antoinette Costume ($100)
Go-Go Girl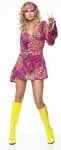 The mini dresses! The knee-high boots! The hair! Go-go girls definitely had style. Not only will you be "in costume" when you wear this, but you'll also be in style. – '60s mod has been a huge trend over the past few years.
To dress up as a Go-Go Girl, you don't need to buy a costume in a bag. Just pair a mini dress (preferably in a bright color or pattern) with some knee-high boots in a light color. Wear frosty makeup and get your hair as big as possible!
Of course, if you're pressed for time, you could always buy a '60s mod costume too. Some options: Mod Girl Costume ($21.95), Sparkling 60's Mod Costume ($39.95), Vintage Mod Dress ($32.95)
"Like a Virgin" Madonna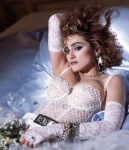 Whether you love Madonna and the 80's or just love Britney's VMA performance with Madonna, you have to admit that the "like a virgin" costume is pretty classic.
This was actually my halloween costume a few years ago, and it was a big hit with everyone! If you want to channel 80's Madonna this Halloween, you have two choices: you could either buy the costume in a bag (I like this one from CostumeKingdom, $32.99), or DIY.
If you choose the do it yourself route, you'll need a lacy white dress/boustier (look for one at a vintage store, or pair a short white skirt with a boustier from Victoria's Secret), tons of jewelry (a long strand of pearls if you can find them), white lacy gloves, and tons of attitude!
Fashion Costume Ideas
Donatella Versace
Go as the fabulous Donatella this Halloween for a costume that everyone who's anyone will recognize.
The keys to a flawless Donatella Versace costume are in the hair and makeup! Find a long platinum-blonde wig, and either get spray tanned or use foundation a few shades darker than your natural skin tone for Donatella's bronzed look. For the outfit itself, make sure it's either a chic pair of black pants + tank top, or a glittering gown in gold, silver, or a neon hue.
Karl Lagerfeld
Who says you have to dress up as a female? Karl Lagerfeld, the mastermind behind the Chanel runways, is a fabulous choice for a Halloween costume. If you're going to go as a guy for Halloween, you couldn't pick a more fashion-forward one.
You can't buy this costume in stores, so plan on doing a little extra work to dress like Mr. Lagerfeld.
You'll need to find a white wig that you can put in a ponytail, a man's suit, and some killer sunglasses. Pair those with a fabulous black tie and shiny shoes. Refuse to take the sunglasses off no matter what anyone says!
Fashion Victim
Another unexpected costume choice is "the fashion victim." If you dress well all year round, why not dress badly for one night?
For ideas on how to dress badly, think spandex leggings as pants, UGG's with a mini skirt, an obviously fake Louis Vuitton purse, mismatched colors, white or bright blue eyeshadow, bleached blonde wig, a horribly streaky fake tan, etc.
Dress as badly as possible for the best effect, and don't forget to tell everyone in your most Paris Hilton voice that you "want a career in FASHION", like the girl in the Sex & The City movie.
Sexy Halloween Costume Ideas
Pirate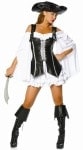 This was another hot costume last year, but because of that, there are tons of cute pirate costumes to choose from this year. More choice means you have a smaller chance of having the same costume as anyone else.
This year, pirate costumes come in every style, color, and size imaginable. Here are some cute pirate costumes I found online: Sexy Pirate Costume ($104.95), Caribbean Pirate Corsair ($59.99), Adult Sexy Buccaneer Costume ($39.95)
Pin Up Girl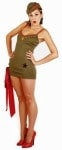 If you're going to go sexy, why not channel the original sexpots – 50's pinup girls?
I love the idea of these costumes, and I think when done right they can be super sexy in a classy way. Think beauty a la Dita Von Tesse – pale flawless skin, dark hair, red lips, and a super-confident attitude to match.
These costumes are definitely sexy, but in a way that seems fresher than your everyday "sexy kitten" or naughty school girl. It's a little bit different than what you see every Halloween, and that's definitely a good thing!
You don't have to buy a costume because the beauty aspect of this is more important than what you wear. If you want to buy, some of the military-inspired costumes would be perfect for a pin up girl look. A few options: Sea Side Pinup Girl Costume ($48), Four Star Pin-Up ($50)
*Top photo by the_hipster_bear
Your Thoughts?
Now that you've seen my costume ideas, I want to hear what your ideas are! What are you going to be for Halloween? Let me know your costume ideas in the comments section!