This post may contain affiliate links, which means we may receive a commission if you purchase through our links. Please
read our full disclosure here
.
Halloween is right around the corner, and if you're like me, you've probably been thinking about what costume you're going to wear.
If you don't have any Halloween costume ideas yet, or just want something easy and inexpensive, this list is for you.
Here are some of my favorite Halloween costumes for college girls, from fashion-inspired costumes to pop culture references, celebrities and more. Even though I don't think Halloween costumes have to be slutty, I've included some of the best "sexy" costumes out there too, in case that's up your alley. I tried to put something for everyone in this list!
Check back tomorrow for part two of this series, where I'll tell you about some great historical and fashion-inspired Halloween costumes, plus my picks for the best of all the "sexy" Halloween costumes.
T.V. Halloween Costume Ideas
Serena or Blair from Gossip Girl
Everyone's favorite upper east siders would make fabulous Halloween costumes! If you're not in to dressing sexy or going out and buying a costume, either of these are a great choice.
You can't buy a Gossip Girl Halloween costume online, so here's how to be Serena or Blair for Halloween: If you haven't checked them out yet, read the articles in my Gossip Girl Fashion series (How To Dress Like Serena & How To Dress Like Blair) – I break down their style piece by piece, so each character's look will be easy to replicate!
To create your costume, take the ideas from my articles & find pieces in your wardrobe that work. Next, see if you can borrow what's missing from friends. If you're still out of luck check vintage stores (vintage shopping is very Serena anyway), and buy new pieces only if you have to. No reason to break the bank for a costume you'll only wear once!
Daphne from Scooby Doo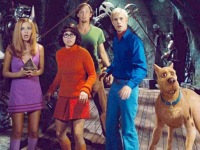 This one's a classic, because it's always fun to go as a cartoon character. If you have red hair or just love the color purple, Daphne is your perfect Scooby Doo costume choice. If you want to channel your inner geek or just feel like wearing orange, Velma's your girl.
Both of these costumes are available to buy online, which makes things really easy (although you might want to buy separate shoes). You can buy a Daphne Costume for $32.99, and the Velma Costume is also available for $32.95.
Rainbow Brite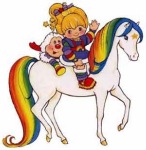 Yes, there's another vintage cartoon on this list – I just think they make great Halloween costumes. Rainbow Brite's outfit is one of my favorites because it's so colorful and fun. It's also great because as we all know, the 80's are back in style!
You can buy a Rainbow Brite costume online (FYI: it's a little on the sexy side), and that would probably be your best bet unless you know how to sew well! Her outfit looks like it would be tough to make yourself, but if you're great with a sewing machine, definitely go for it!
Movie Halloween Costume Ideas
Mia Wallace – Pulp Fiction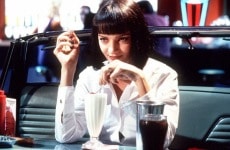 So iconic and so easy to put together, Uma Thurman's look as Mia Wallace in Pulp Fiction makes a great Halloween costume. Guys love Uma Thurman and this movie, so expect to get some extra male attention if you wear this costume on October 31st!
There are 3 essential parts to Mia's look: the black capris, the button-down white shirt, and the hair. If you're doing this costume, you have to get a wig (unless you have her haircut already) because the hair makes the costume. No one will know who you're supposed to be unless the hair is right!
Holly Golightly – Breakfast at Tiffany's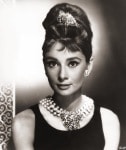 A classic Halloween costume idea. Holly Golightly, played by Audrey Hepburn in the 1961 movie Breakfast at Tiffany's truly invented the idea of the "little black dress." The character's style is what everyone associates with Audrey Hepburn, and it's really become the textbook definition of chic.
To get the Holly Golightly look, here's what you need: A little black dress, a pair of oversized black sunglasses, a huge pearl necklace, white gloves, and an air of effortless chicness.
Cher or Dionne – Clueless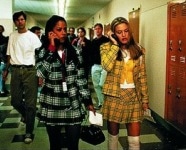 One of my favorite movies ever, Clueless is not only a great film but an amazing source of fashion inspiration. The fluffy purses! All the 90's clothes! The knee-high socks and mary-janes! I could go on and on about the great wardrobe.
To go as Cher or Dionne for Halloween, I recommend looking through vintage stores for yellow or black plaid skirt-blazer sets, worn over a coordinating cardigan and a white tee, knee-high white socks or black tights, a fluffy backpack, and cell phone or shopping bags.
Celebrity Halloween Costume Ideas
Sarah Palin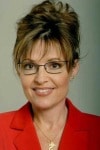 2008's most popular Halloween costume by far (even Lindsay Lohan wore it), the Sarah Palin costume will get you laughs if you live in a liberal state, and probably some evil eyes if you live somewhere conservative. Wear this one with caution!
To dress up as Sarah Palin, you need to wear either a red skirt-suit (or "Miss Alaska" bikini as seen here). Then throw your hair in a beehive updo and put on a pair of glasses. For extra credit, make a few references to "joe six pack" and pretend to fire a shotgun while in costume. For even more ideas, here's a great article on how to make your own Sarah Palin costume.
Kim Kardashian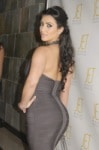 If you have a little extra junk in the trunk or even if you don't, Kim Kardashian is a great celebrity costume choice if you have a sense of humor about it. Bonus points if you have a boyfriend or female friend who agrees to go with you as one of her many boyfriends or a Kardashian sister.
Here's what you need to make a Kim Kardashian costume: a long black wig (even better if you have natural black hair), lots of bronzer & smokey eye makeup, a skin-tight dress, and some kind of padding or butt-enhancer. Also, you need to have the confidence to pull all the costume off well & still be able to laugh about it.
One of the Spice Girls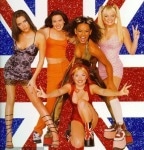 Even if you went as one of the Spice Girls when you were 11, who says you can't repeat a costume?
Grab four of your girlfriends for a group costume everyone will recognize, or three friends for the Spice Girls post-Geri. If you want to go solo, go as Victoria Beckham with a little black dress, killer heels, and no smile.
To make your costume, grab those platform sneakers out of the back of your closet, and don't forget a dress in one of the Spice girl's signature colors or patterns – leopard for Scary, black for Posh, light pink for Baby, etc.
More Halloween Costume Ideas
Need more ideas? See the second part of this article, where I show you some more great Halloween costume ideas and how you can make them or buy them! Don't miss it.
What are you going to be for Halloween? Do you like any of the ideas here, or are you thinking something else entirely? Let me know your Halloween costume ideas, and let everyone know what you think by leaving a comment!