This week, I scoured the entire H&M website and rounded up the most fashionable pieces for fall, so you can save your time and go straight to the fun part: adding to cart!
H&M is always a go-to store when I am looking for affordable basics and trendy items, alike. I especially love shopping there in the fall, because they have such a wide selection of sweaters and outerwear that are budget-friendly.
Read on for the 12 best pieces you can get from H&M right now that won't break the bank, all $60 or less.
1. Oversized Shirt Jacket
Here at CF, we are loving the shacket trend this season – shirt jackets are perfect outerwear for the fall, and can be layered in the winter to stay extra warm.
You can't go wrong with plaid in the fall either, so this blue and white plaid shirt jacket checks all of the style boxes!
I would wear this with jeans and booties for a casual autumn look, and also with faux leather leggings and combat boots for a cool, edgier look.
Also read: Looks on Campus: Shania – University of Bridgeport
2. Lace-Up Boots
Speaking of combat boots, I love these affordable black faux patent leather lace-up boots.
The shiny patent material gives them a sleek look, while the lug soles are as trendy as they are practical. The sturdy soles provide good traction in rainy or snowy weather, making these boots super functional.
Pair them with a shacket, or style them with some plaid print leggings for a fun fall outfit.
Also read: Embroidered Booties Outfit Idea
3. Lace Mini Dress
Just in time for spooky season, H&M recently debuted their collaboration with The Vampire's Wife, a high-end British brand which features a gothic, Victorian aesthetic that has been worn by the likes of Kate Middleton and Alexa Chung.
This lace mini dress is the last available piece of the collection online (the rest sold out quickly), but it's a beauty, featuring vertical ruffles, organza shoulder padding, and flounce details at the elbows.
Founder and creative director of the brand, Susie Cave, describes her pieces as "dark but full of light," and this frock is just that, with its shimmery metallic threading and delicate lace design.
Also read: 25 Stylish Mini Dresses for Every Body Shape
4. Puff-Sleeved Fluffy Sweater
There are three reasons why I really love this sweater: the square neckline, the puffed sleeves, and the fluffy material.
The fluffy, fine-knit material is so soft and looks absolutely adorable, especially in stark white, while the design of the sweater is very on-trend.
Style this sweater with a cute skirt and over-the-knee boots, or with faux leather pants.
Also read: The Sweaters You Need in Your Closet Now
5. Faux Leather Pants
Of course, I had to include a pair of faux leather pants, which are another must-have item this season.
This pair has a slim, ankle-length cut and a high waist, which makes them perfect to wear with booties and crop tops (plus shackets, sweaters, and more).
They are ultra-versatile, and can be worn dressed up for nights out, or casually for the daytime – they even look great with sneakers!
6. Long Shirt Jacket
As soon as I saw the Instagram photo (at the top of the page), I immediately went searching for this longer-length shacket.
The black and white tweed-inspired material gives it a super chic vibe, and the longer length makes it feel a bit more like a coat.
This shirt jacket is the perfect piece to bring together an outfit in a cool way.
Also read: How to Style a Varsity Jacket
This dark dusty rose wool cardigan immediately caught my eye thanks to its beautiful hue and tortoise buttons. It comes in three striking colors (light beige and mustard yellow, in addition to the dusty rose hue), all of which are ideal for the autumn.
The blend of wools in this cardigan give it a soft, fluffy finish which looks oh-so-cozy, and the voluminous sleeves are another fashionable touch.
Also read: Class to Night Out: Kimono Cardigan
8. Bucket Hat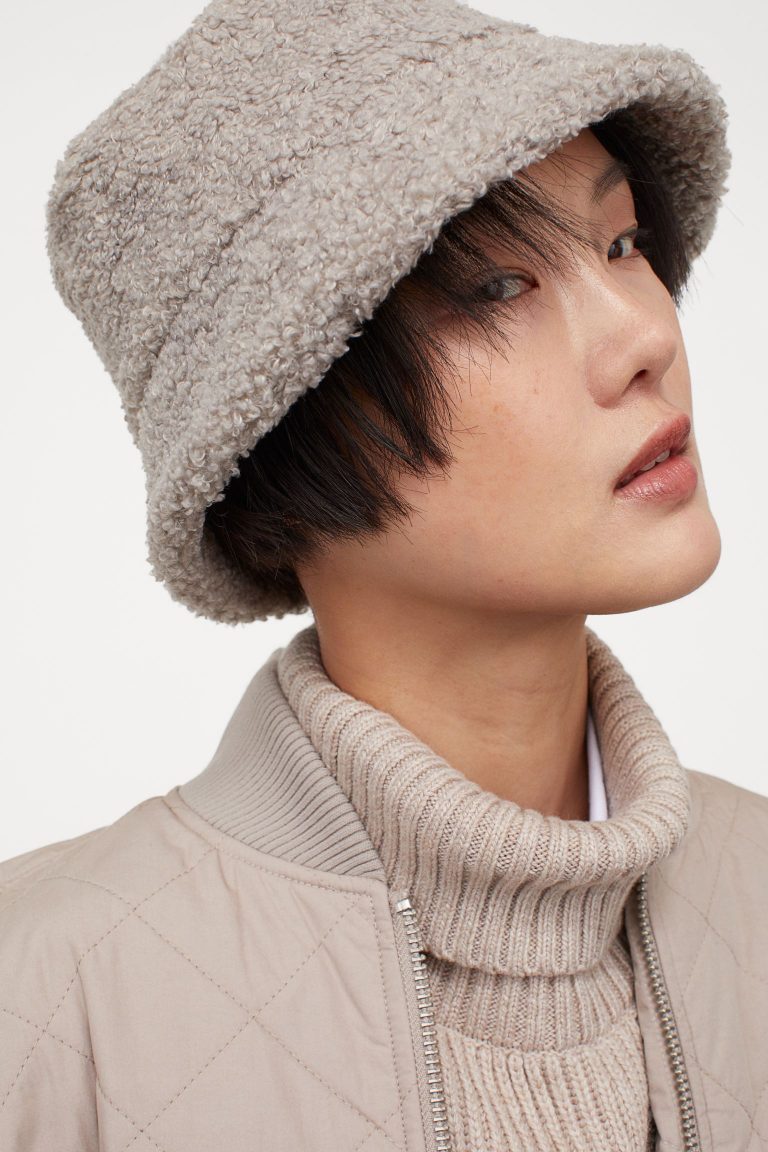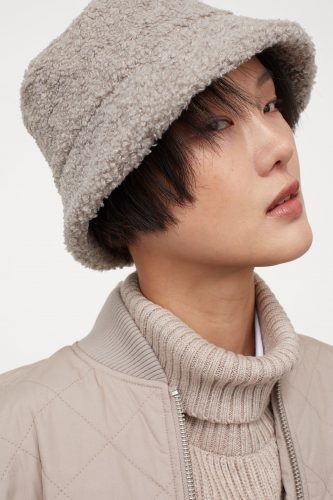 Ok, I am low-key obsessed with this faux shearling bucket hat.
Bucket hats have really been having a moment this year, and this faux shearling hat is the perfect fall and winter hat to replace the summer's cotton version.
The taupe color also makes this hat versatile within your wardrobe, since its neutral hue matches pretty much everything.
Just imagine what a cute touch this bucket hat will add to your selfies this season!
Also read: We're Loving These Cute Bucket Hat Outfits As Seen on Celebrities
9. Belted Patent Puffer Jacket
A patent puffer jacket? Yes, please!
The shiny, faux patent leather material of this puffer, along with the belted detail, gives it a luxe look. Plus, the belted waist helps to flatter your physique and not let the puffer totally overtake your body!
Personally, I think all jackets should have hoods, so I especially love that this one has a hood, too.
Also read: How to Wear a Metallic Puffer Jacket
10. Faux Leather Shirt Dress
Not a shirt jacket, but a shirt dress – I am so here for this piece.
This faux leather dress is a total head-turner, complete with a chest pocket, collar, voluminous sleeves, and snap buttons. And as I mentioned before, a tie-waist belt is a flattering touch to cinch your waist.
I would wear this with both ankle booties and knee-high boots, plus with tights when the weather gets colder. So chic!
Also read: Class to Night Out: Striped T-Shirt Dress
11. Crinkled Puff-Sleeved Blouse
Give me all the plaid in the fall time, even in more unexpected clothing pieces like blouses.
This puff-sleeve blouse has a feminine design that gives a cool contrast to the more earthy color and print.
The square neckline feels super fresh this season, as well. Wear it with some dark-colored denim for a cute look.
Also read: The Best Organza Blouse Ever (& 5 Organza Blouse Outfits)
12. Ribbed Jersey Bodysuit
Every college girl needs a basic black turtleneck in their wardrobe, and this bodysuit version is a chic, inexpensive option.
Bonus points for the concealed zipper and thong bottom, which help to prevent any unwanted lines or bumps and create a sleek look.
This basic piece can be styled a ton of different ways, including with jeans, trousers, skirts, and even under dresses.
Simple black turtlenecks never go out of style, so they make for a good wardrobe investment – but it's even better when you find an affordable option like this H&M version!
Also read: 3 Cute Pink Bodysuit Outfits to Try
What do you think of my H&M picks?
Would you wear these styles? Which item is your favorite? Leave a comment and let us know which other stores you'd like to see featured!
Related posts: