This week's Fabulous Find is a trendy top that can be dressed up or down. The off-the-shoulder top trend is flooding the market as one of those must-have summer items. H&M is featuring this light blue, striped, off-the-shoulder blouse for only $17.99!
This light blue top is absolutely perfect for summer — it's so versatile. Below, I'll show you three ways to style it:
The Top: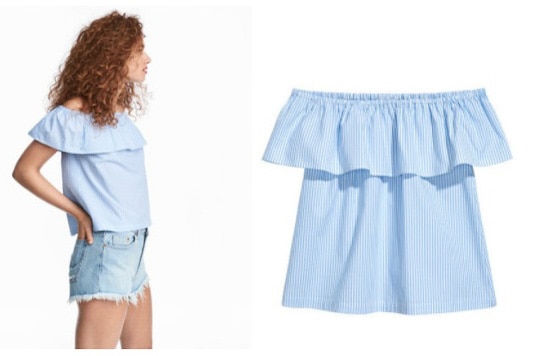 H&M Off-the-Shoulder Top: Outfit 1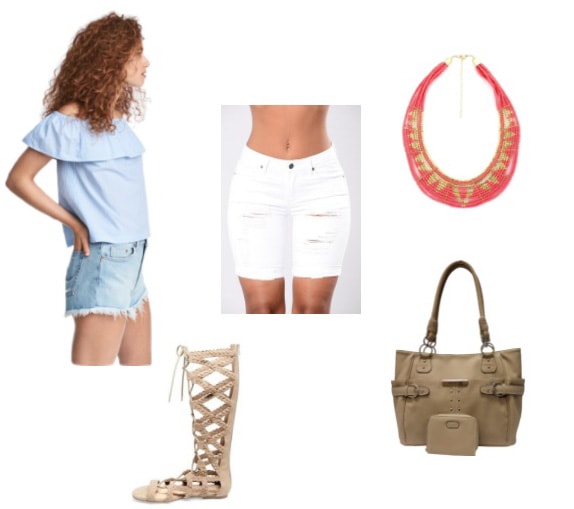 Products: Shorts – Fashion Nova, Purse – JCPenney, Shoes – Target, Necklace – Walmart, Top – H&M
"When in Rome…" Roman sandals work well alongside this off-shoulder top and these distressed shorts for those dog days of summer. The coral necklace makes the outfit pop and brings it all together simultaneously. This is a simple yet fun outfit for an outdoor event such as a day in the park.
H&M Off-the-Shoulder Top: Outfit 2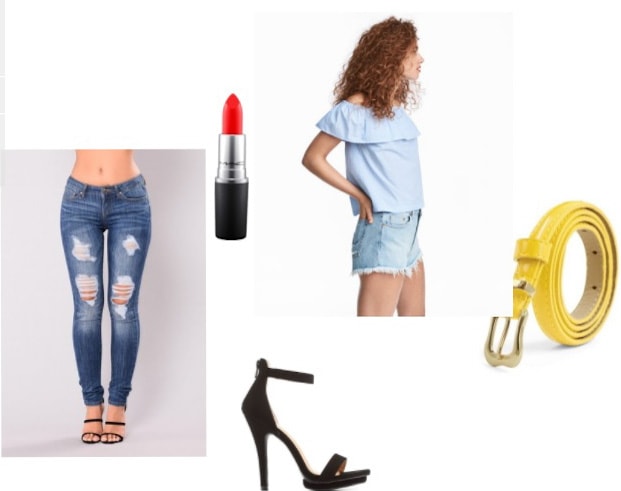 Products: Jeans – Fashionnova, Heels – Charlotte Russe, Belt – Walmart, Lipstick – Mac, Top – H&M
Dressing up and keeping cool can be tough to pull off at once. However, this look is a perfect jean-heel combination to achieve that goal.
The lipstick, shirt, and belt are the perfect primary color combination to construct a classy yet casual after-five style. You could absolutely wear this for a fun night out.
H&M Off-the-Shoulder Top: Outfit 3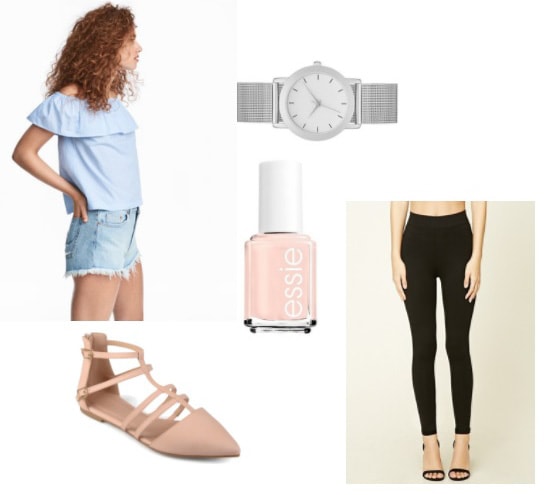 Products: Shoes – DSW, Leggings – Forever 21, Nail Polish – Ulta, Watch – Target, Top – H&M
For those of us who like to "chill" in style, this off-the-shoulder top hangs low enough to make it perfect for paring with your favorite all-black leggings.
Pink is a go-to color for us this season, and a splash of blush shade of pink on your feet and nails along with a classic silver watch brings to life a perfect outfit for a stylish lazy day.
What About You?
What are your thoughts on this week's Fabulous Find? Are you hopping on the off-the-shoulder shirt trend? How would you style a simple light blue blouse? Don't forget to leave a comment letting us know what you think.