WVU is back in session and students like Morgan aren't letting the cold bother their aesthetics. I spotted this fashionista on the way to class and I was immediately drawn to her embroidered booties and cozy trench coat.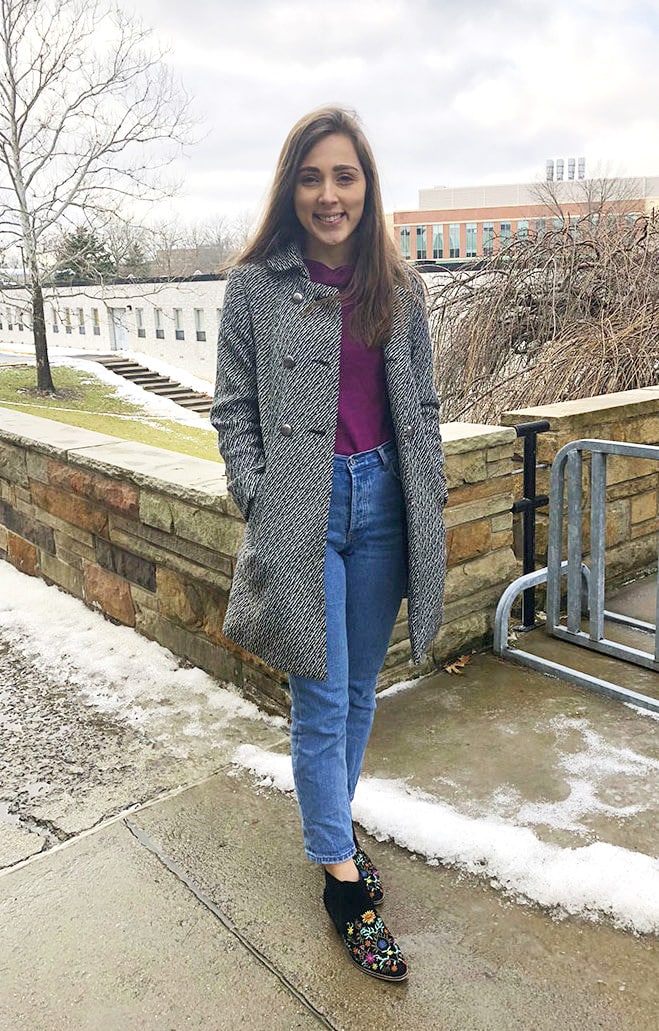 Morgan 101
Name: Morgan
School: West Virginia University
Major: Fashion Design
Year: Freshman
Hometown: Buckhannon, WV
Let's Talk Fashion
Who or what inspires your style? "I really like '70s [and] '80s fashion; I get inspiration when looking back at what people wore then. I also am obsessed with Vanessa Hudgens's style. She pulls off so many trendy, classy, hippie-ish, or just comfortable outfits and always looks stunning."
Where do you like to shop? "I love to thrift shop. I really like the idea of reusing clothes that already exist and wearing them in our own way or turning them into something new. I love Poshmark. It's basically an online thrift store. What more can you ask for? I also love to support small local boutiques because I know how much it would mean to me if I owned a small shop and people supported me. And of course, I'm a fan of Forever 21, Urban Outfitters, Brandy Melville, H&M, Zara, etc."
Why did you choose this particular outfit? "I chose to wear my coat because it's cold outside. [My coat] is super warm and cute at the same time! I chose my sweater also because it's warm and so soft, plus I love the color. It goes perfectly with my embroidered booties. I chose my pants because they're my favorite jeans. I'm crazy about the high-waist[ed], vintage 'mom-jean[s]' look."
What fashion advice would you give to other students looking to improve their style? "Rely on the closet staples. I think that if you build your closet at the base and own quality versions of the basic pieces (black dress, jeans, white t-shirt, black turtleneck… the things that match everything), you could have a relatively small closet but be able to create so many outfits. Then it's fun to add statement pieces you love."
What are your favorite trends right now? "I love the embroidery trend. Also I'm a total fan of the athleisure trend because it's stylish and sleek-looking, yet so comfortable."
Do you have any favorite fashion designers? If so, who? "I love the work of Ralph Lauren. He has such quality pieces that are incredibly fashionable. I'm also a huge fan of Sherri Hill dresses; I stalk each new dress season that she releases."
What do you do for fun – do you have any unique hobbies or interests? "I love to travel, read cool books, do pottery, or any kind of art. I sell thrift clothes on Poshmark."
If you could raid anyone's closet, who would it be and why? "A fashion blogger I've been following for a couple years; Cara Van Brocklin (@caraloren on IG). She has such a unique and fabulous wardrobe. Her shoes are killer and she has her own line of clothing that is amazing."
Elements of Morgan's Outfit
1. Black & White Coat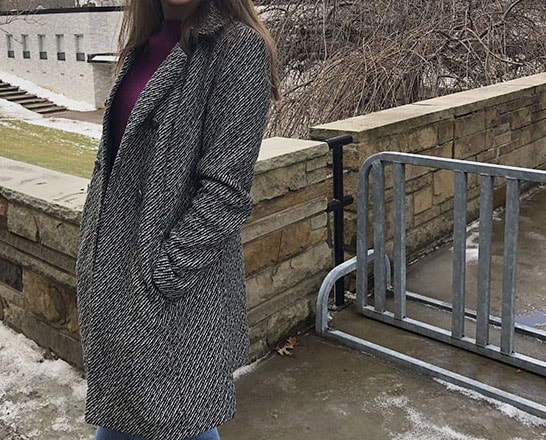 Morgan's black and white coat is the ultimate outerwear piece for any cold winter day. This versatile style is perfect coat for any occasion. It would be fantastic to dress it up for a night out, or as Morgan demonstrates, to wear casually to class.
2. Cashmere Sweater + High-Waisted Jeans
The rich color of Morgan's cashmere sweater pops under her coat. This is one of her many finds from thrift shopping. She pairs it with high-waisted mom jeans and rocks both pieces with confidence.
3. Embroidered Booties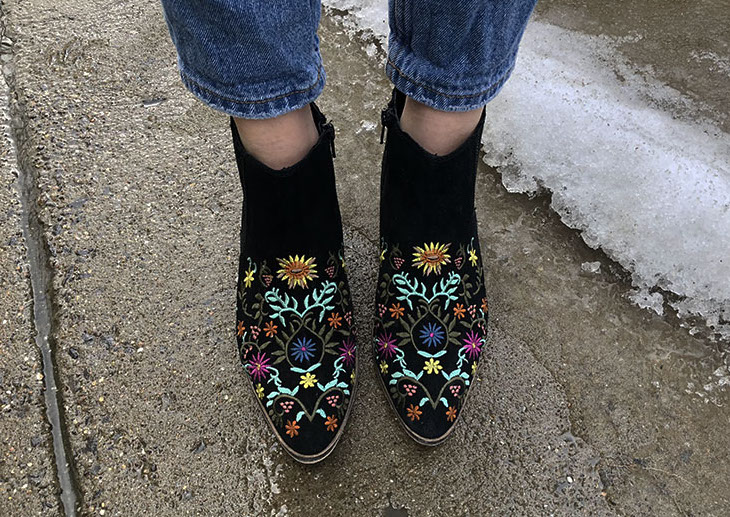 Morgan's embroidered booties from DSW complete her outfit; they're the perfect statement-makers. I've got major shoe envy over these brightly embroidered babies!
Now we want to know your thoughts!
Would you wear Morgan's embroidered booties? Do you have any mom jeans in your closet? Leave a comment below and let us know!