Shania's look confirms two very important things: 1. Fall is officially here and 2. Classes are back in session, and we need to dress accordingly.
I love that Shania wore some of her summer pieces to class, in order to transition her personal style from poolside temperatures into the cooler months.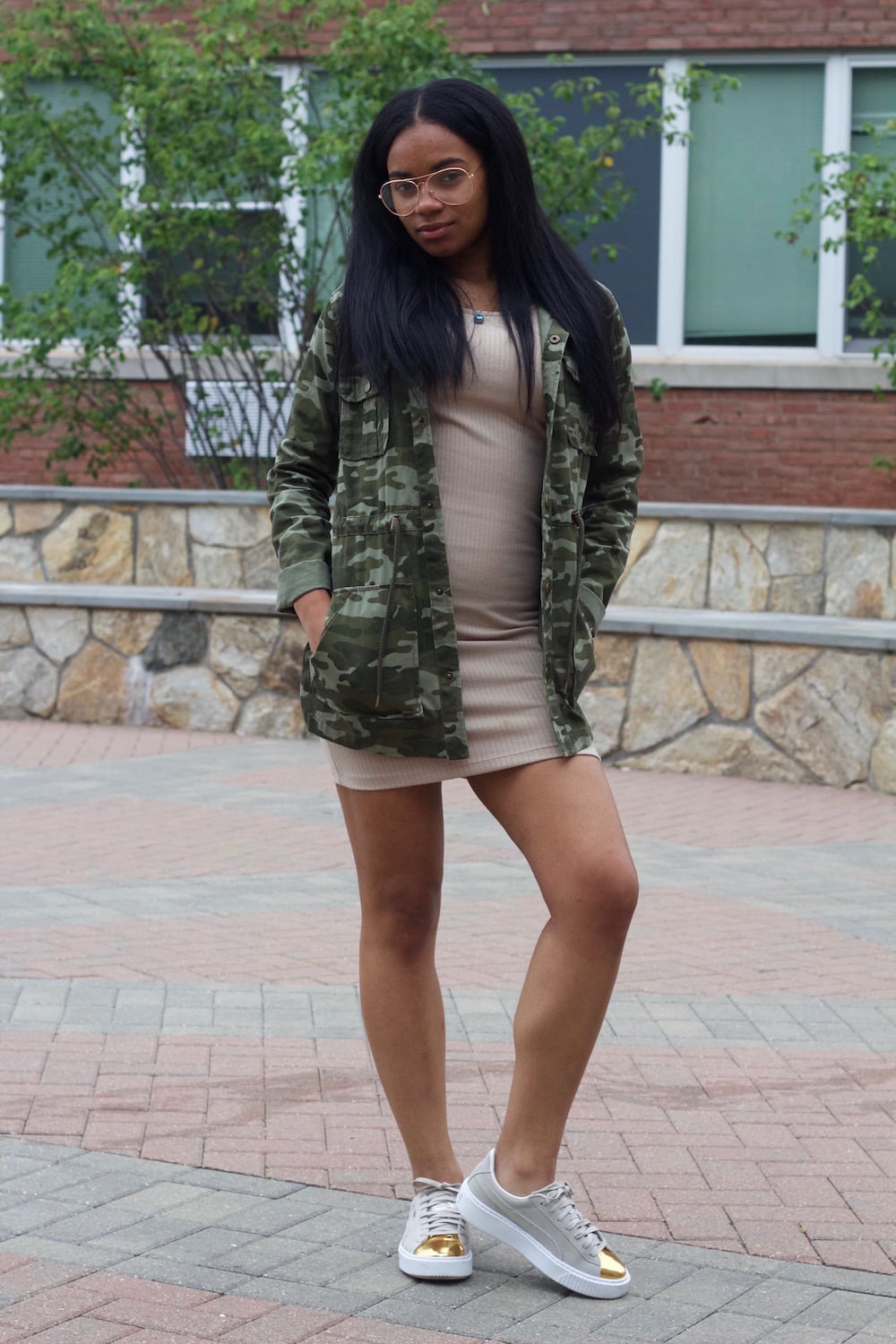 Shania 101
Name: Shania
School: University of Bridgeport
Year: Sophomore
Major: Fashion Merchandising and Communications
Hometown: Bronx, New York
Let's Talk Fashion
Who or what inspires your style? "When it comes to style I tend to be inspired by Rihanna's street style as well as many different people on Instagram."
Where do you like to shop? "I like to shop at Forever 21, JCPenney, H&M, and Windsor. I love mixing trendy items with what's already in my closet as well."
How would you describe your sense of style? "I would describe my sense of style as trendy and comfy. Since I have to walk a lot around campus [staying comfortable is a must.]"
Why did you choose this particular outfit? "I was inspired by my platform Pumas. I really wanted [them] to be the statement piece of the outfit so I decided to just play off of the neutral color scheme of the shoes."
What fashion advice would you give to other students looking to improve their style? "Start with accessories to help spice up your outfits without having to step out of your comfort zone too much. Even the little things in an outfit can make a world of a difference to a look."
What are your favorite trends right now? "Oversized clothing and millennial pink. I'm excited to wear my hoodies and sweatshirts as [dresses] with over-the-knee boots."
Do you have any favorite fashion designers? "My favorite designer is Jeremy Scott. I love how vibrant his designs are and how wild his themes can get."
What do you do for fun – do you have any unique hobbies or interests? "I'm into YouTube so I spend a great amount of time watching tutorials and vloggers. They give me inspiration."
If you could raid anyone's closet, who would it be, and why? "Karin Jinsui. I feel as though we have similar styles and I feel that she captures the essence of what I see as being comfy and stylish. "
Elements of Shaina's Outfit
1. Simple Necklace & Camo Jacket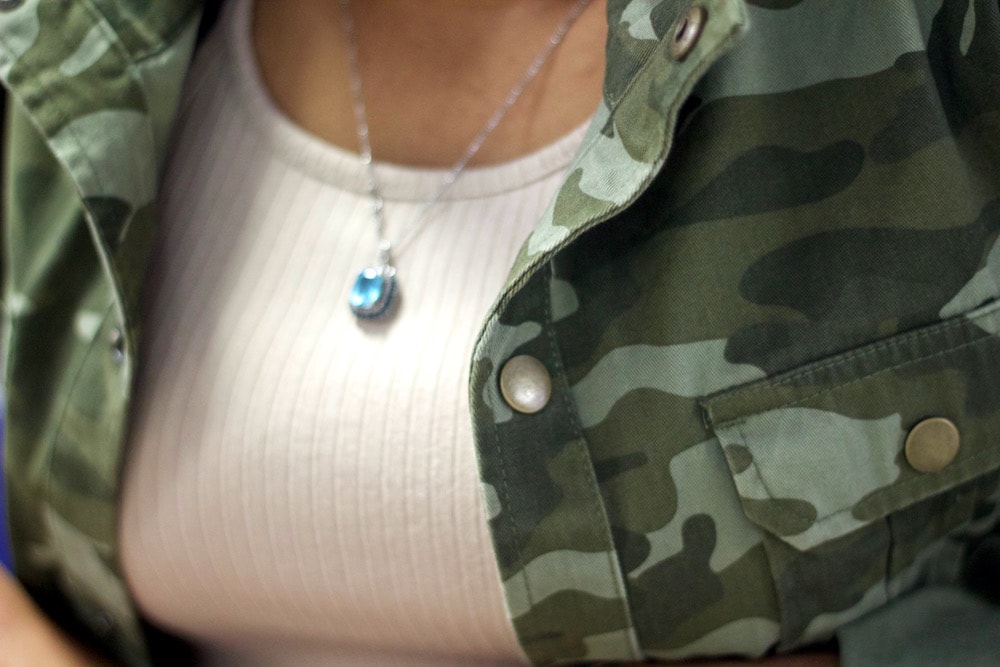 Shania's aqua stone necklace caught me off guard – it's such a great little statement. Paired with her camouflage jacket and nude dress, it accents her look in a simple, yet dramatic way.
2. Backpack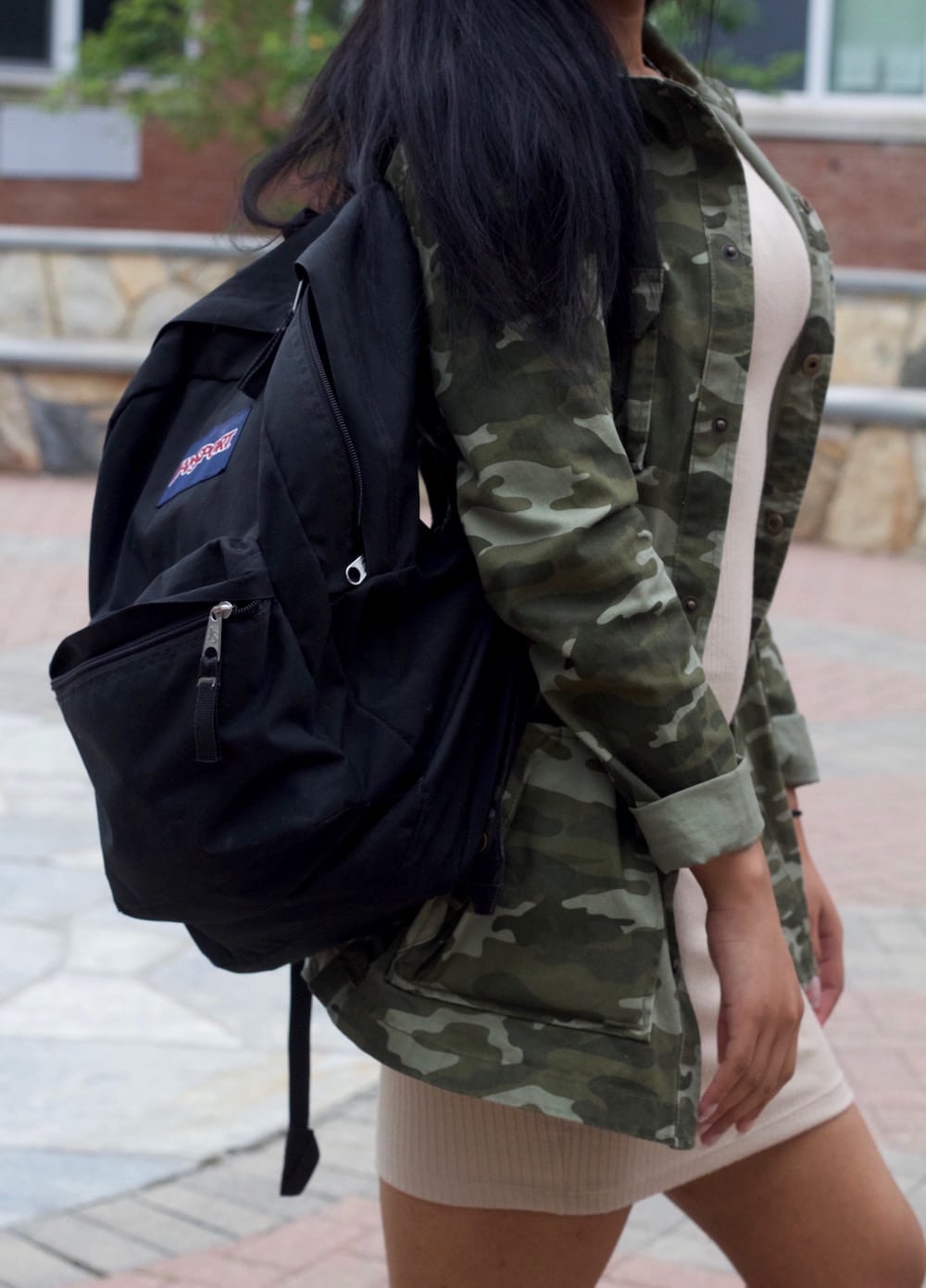 You can't leave home without a backpack when headed to class. Sometimes the most simple bags can make the biggest impact and Shania's is no exception. This black Jansport bag is utilitarian, making it the perfect addition to her cool camo outfit.
3. Gold-Toed Sneakers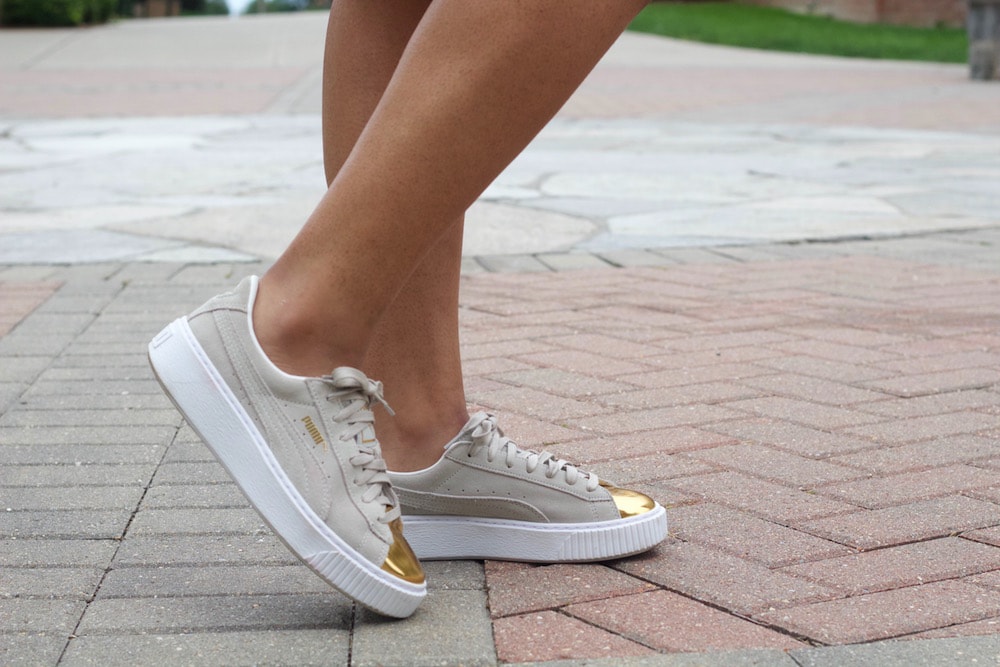 Thanks to Shania, these platform Pumas are next on my list of fall must-haves. The bold gold toes accent the simple grey style that's currently so popular around campus.
Now we want to know what you think!
Are you obsessed with Shania's schooltime style? Would you wear her camo jacket? Let us know below!