Trying to transition your wardrobe to adult life? It's something we all deal with at one point or another — for most of us, right before we graduate — and it's important to consider. Will the clothes you have now last into your first real job, grad school, or other future plans? If you find yourself leaning towards "no," it might be time to start adding more sophisticated and polished pieces to your wardrobe. Now, no one says you have to drop a bundle on a new closet, but the next time you make a purchase, think about if the piece will last into your incoming adult life.
If you want to give it a try, check out this week's Fabulous Find. These printed pants from H&M are the perfect blend of fun college style with adult sophistication, and they're under $15! Plus, they're so versatile you can wear them now, for your summer internship, and beyond. Here's a closer look:
The Pants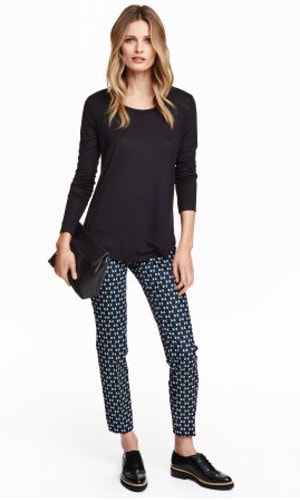 Slacks in Dark blue/patterned – $14.99 at H&M
Outfit Inspiration
Here are some ways to style these pants for different occasions:
Outfit #1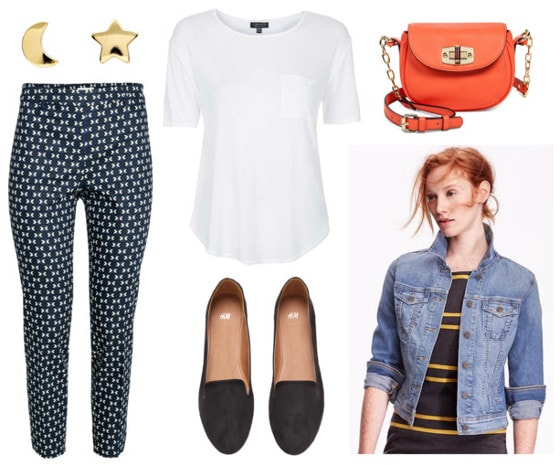 Products: Pants, Tee, Jacket, Loafers, Bag, Earrings
This look mixes casual basics with chic, polished pieces for a slightly preppy feel –perfect for a lunch date, day of classes, or meeting with a professor. Pair these standout pants with a simple white tee and denim jacket, then slip on a pair of black loafers. Add some fun details with a neon orange crossbody bag and mismatched gold earrings.
Outfit #2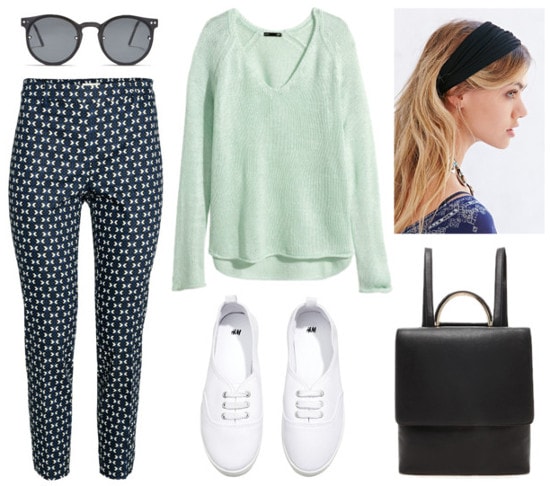 Products: Pants, Sweater, Sneakers, Backpack, Headwrap, Sunglasses
For a laid-back, just-thrown-on look, try pairing these pants with a loose, drapey mint sweater and white sneakers. Just rolled out of bed on Monday morning? Hide those dark circles with trendy sunglasses and pull your slightly-messy hair back with a black headwrap. For a touch of minimalist polish, grab a sleek faux leather backpack as you head out the door.
Outfit #3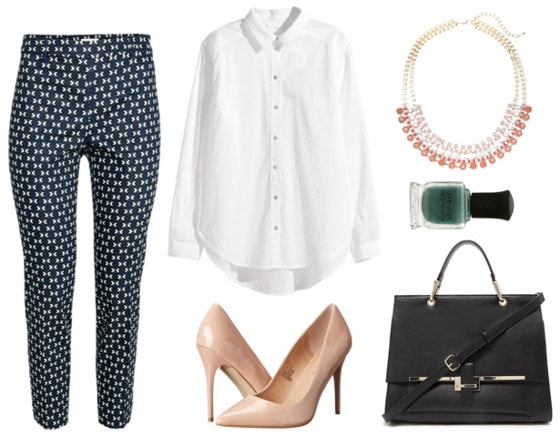 Products: Pants, Shirt, Heels, Necklace, Bag, Nail Polish
If you work in a professional yet stylish environment, it's always fun to mix up your work wardrobe with eye-catching colors and prints. Try pairing these pants with a white button-down and nude heels for an office-appropriate look — don't forget a sleek black satchel, too. Add just a little more color and sparkle with a jeweled statement necklace and a unique emerald green nail polish.
Thoughts?
What do you think of this week's Find? Are you working towards #adulting your wardrobe? Let us know in the comments!