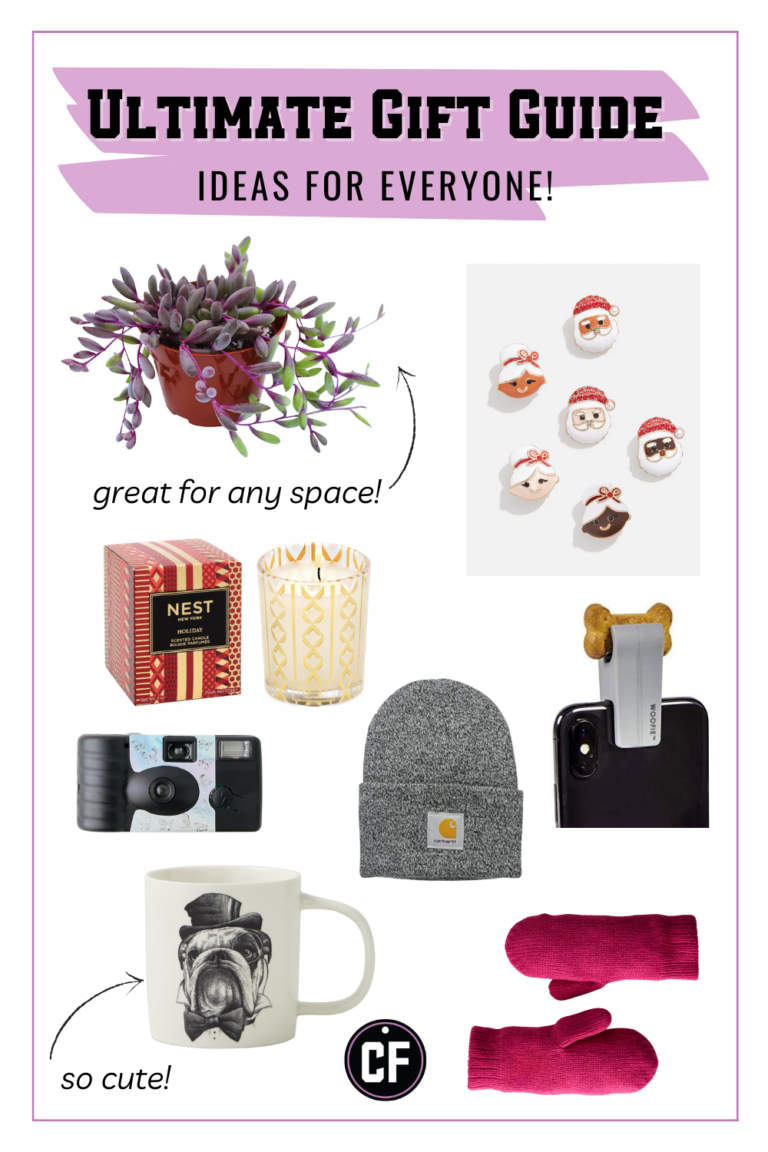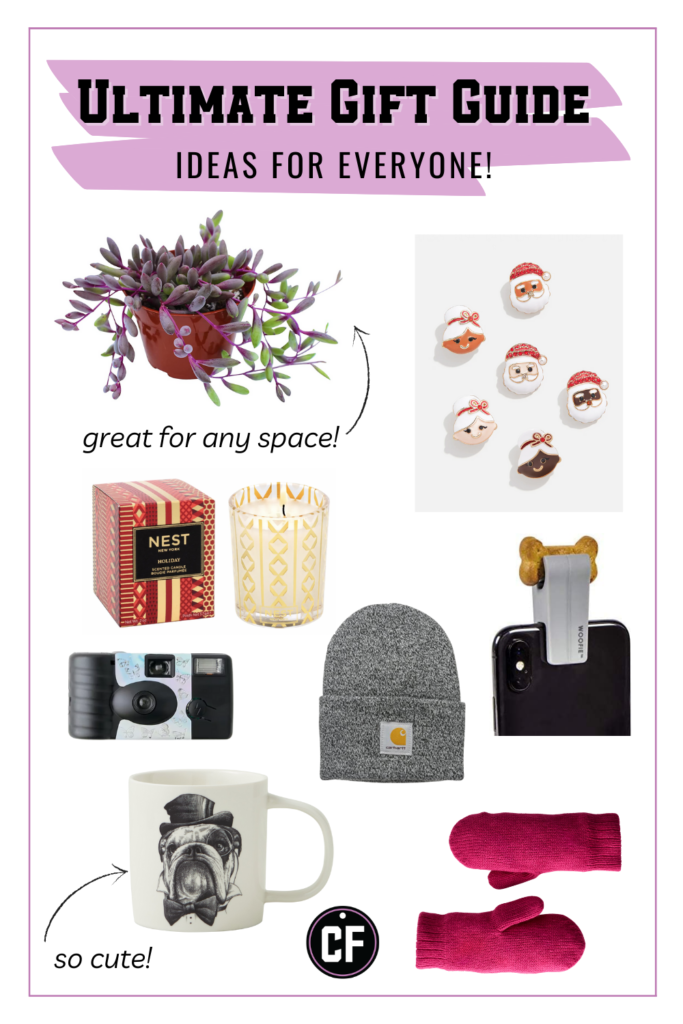 Christmas is literally right around the corner. Holiday parties with friends and gatherings with family are pretty much what's left of December, tbh.
If you didn't have a chance to purchase your holiday gifts during Black Friday, you still have time to shop for holiday gifts. This week's gift guide is for anyone else who may be lingering on your shopping list.
We know that it's difficult to find the perfect gift for everyone on your list, so we've got you covered! Over the past few weeks, we've done a gift guide for your parents, a gift guide for your boyfriend's parents, a guide to gifts under $20, a gift guide for your boyfriend, a gift guide for a girlfriend or other significant other, a white elephant gift guide, a gift guide of gifts under $50, and a gift guide for your best friend.
Now we've reached our final ultimate guide of the year by giving you tons of items for everyone on your list. An ultimate, ultimate gift guide, if you will.
Here are our fave holiday gift ideas for just about anyone, and most are available at stores near you (if you don't want to shell out for overnight shipping).
Last Minute Holiday Gift Ideas
We've selected multiple holiday gift ideas for those left on your shopping list. This could include your sisters, friends, cousins, classmates, or just about anyone!
Glow Recipe Dewy Skincare Kit
This is the perfect gift for friends or relatives who love skincare. This pretty skincare set has a Glow Recipe serum and hyaluronic cream for glowing, plumped skin in an instant. It will give your giftee the dewy skin of their dreams, and it's the perfect way to relax after a long study session.
Buy it now at a Sephora near you!
Assorted Desert Rose Succulent Plants
Who doesn't love succulents? These cute ones, available at your local Home Depot, come in a set of three and give you the most bang for your buck!
They're perfect for adding some green to any space during these dull winter months. Plus, they're tough to kill, so your giftee need not possess a green thumb.
Game of Phones
This is a hilarious card game that would be fun to play with a group of friends. You already use your smartphone every day, so why not make extra use of it?
Here's a quick description of the game:
Just gather your friends and their smart phones (sorry, flip phone users, you're not invited), draw a prompt card, and see who can use their phones the fastest to create an emoji masterpiece, show off the last photo you took, or find the weirdest Google Image result for your name. Collect the most points to win.
Uncommon Goods offers shipping by Christmas, so you can buy this right now and still get it in time! It's one of my favorite holiday gift ideas that everyone loves.
Amazon Prime Gift Subscription
Amazon Prime is essential when you want your items quickly. It offers free two-day shipping for multiple items, plus comes with music, books, and so much more!
I'm sure many of you already have it, so you already know why it's an awesome gift. Order it for a friend right here.
Barnes & Noble Gift Card
We all know someone who loves reading, but sometimes, it can be tricky knowing if they'll like the book you chose for them.
This Barnes & Noble gift card is the perfect solution, and it's great for last-minute gifts because you have the option to choose between a physical card or one delivered via email.
Woofie: Dog Selfie Tool
Does anyone else have a hard time getting their dog to take a picture? (It can't be just me.) This pooch selfie tool is essential to get the candid shots you're looking for! Seriously, so genius. Just pop their favorite treat into the holder, and your dog will smile for the camera.
If you have Prime, this is an item that's listed as "arrives before Christmas," so scoop it up ASAP.
Starbucks Holiday Gift Card
Sometimes we all just need a coffee break, especially during finals. You can't go wrong with a gift card from Starbucks! This is a great gift for just about anyone.
Run over to your local Starbucks location if you don't want to pay for shipping.
Holiday Candle
This pretty candle is the ultimate "holiday" scent, featuring "notes of pomegranate, mandarin orange, pine, cloves and cinnamon with a hint of vanilla and amber."
And if you have a Nordstrom near you, they should have it in stock! Almost all of the stores do. (Use the Nordstrom website or app to double-check before you go.)
Also, if you are gifting this to a college student, just ensure that the person you're gifting it to is allowed to have candles in their room.
Keurig Compact Single-Serve Coffee Maker
Again, some of us really have to have a cup of coffee in the morning. This compact Keurig is perfect for a small apartment or dorm room and is pretty affordable as far as Keurigs go.
Stanley Insulated Coffee Mug
Another great gift for a coffee lover: This insulated mug from Stanley works well for both hot and cold beverages. It's also leak-proof and will fit in your car's cup holder! Stanley is the "it" brand of the year when it comes to travel cups, so your giftee will look fashionable while they sip their beverage.
Plus, with over 18,000 positive reviews, you know this one has to be good.
DIY Holiday Gift Baskets
Maybe you waited too long to start your holiday shopping, and now you aren't sure whether your gifts will arrive in time. Or you panicked because you couldn't find the perfect holiday gift idea for that one friend who dabbles in everything. The bottom line is that you need to figure out how to pull a last-minute gift together. And you want this gift to dazzle.
If this is you, consider making a DIY gift basket out of things that you can find in any store! No more frustration because that perfect gift is sold out.
Here are three gift basket ideas to get you started. You should be able to find all of the components at your local mall or shopping center. Oh, and these aren't mutually exclusive categories – mix-and-match to fit your friend/roommate/sisters' unique personality!
The On-the-Go Gal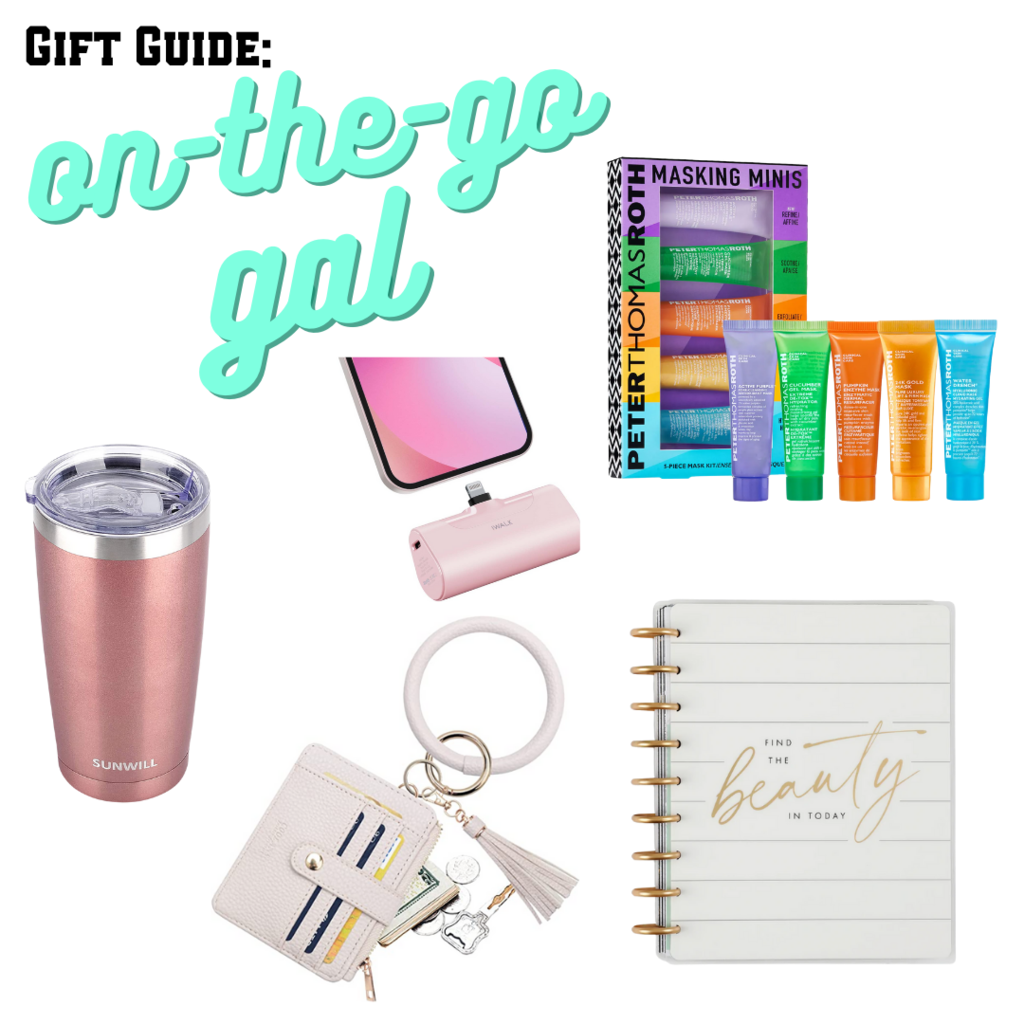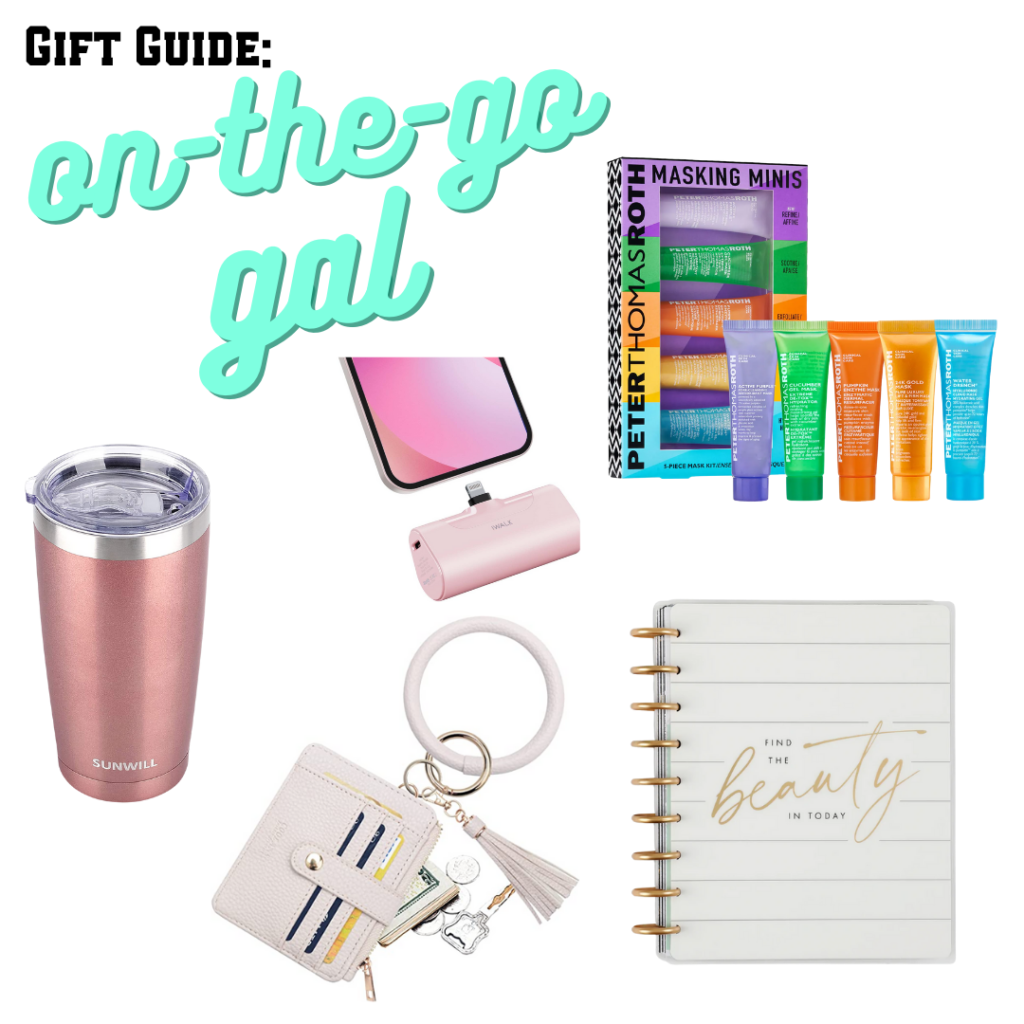 Your super-busy friends will appreciate stuff to keep them organized and a little something special to help them relax.
A 2023 planner guarantees they'll be organized in style this coming year. (See our full review of The Happy Planner here; it's our favorite.) A key fob is great for making sure that those loose keys and mini cards don't get lost. I'm obsessed with this cute little portable charger, which fits inside any bag.
Of course, no on-the-go gal is ready to leave the house without sustenance, which is why a tumbler is perfect. Finally, face masks remind your do-everything friend to take a night off every once in a while.
The "Netflix and Chill"-er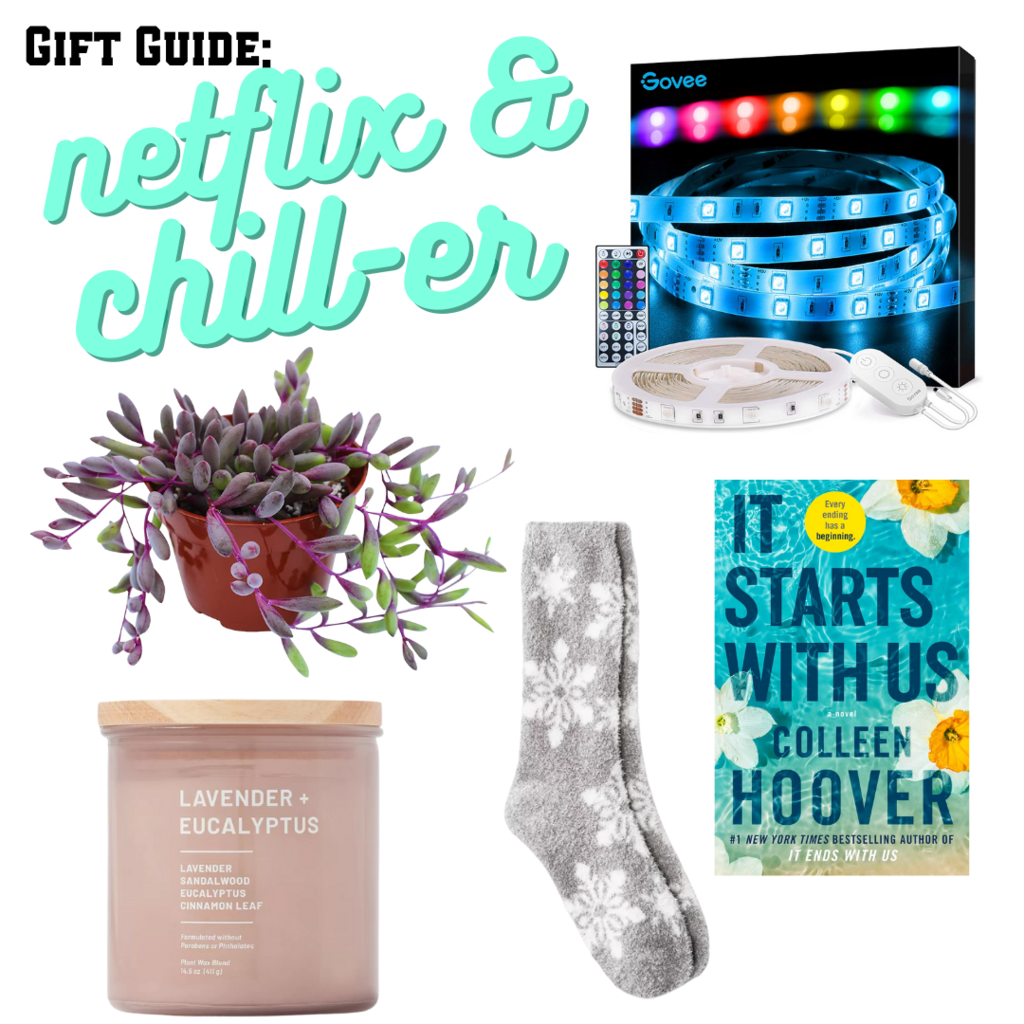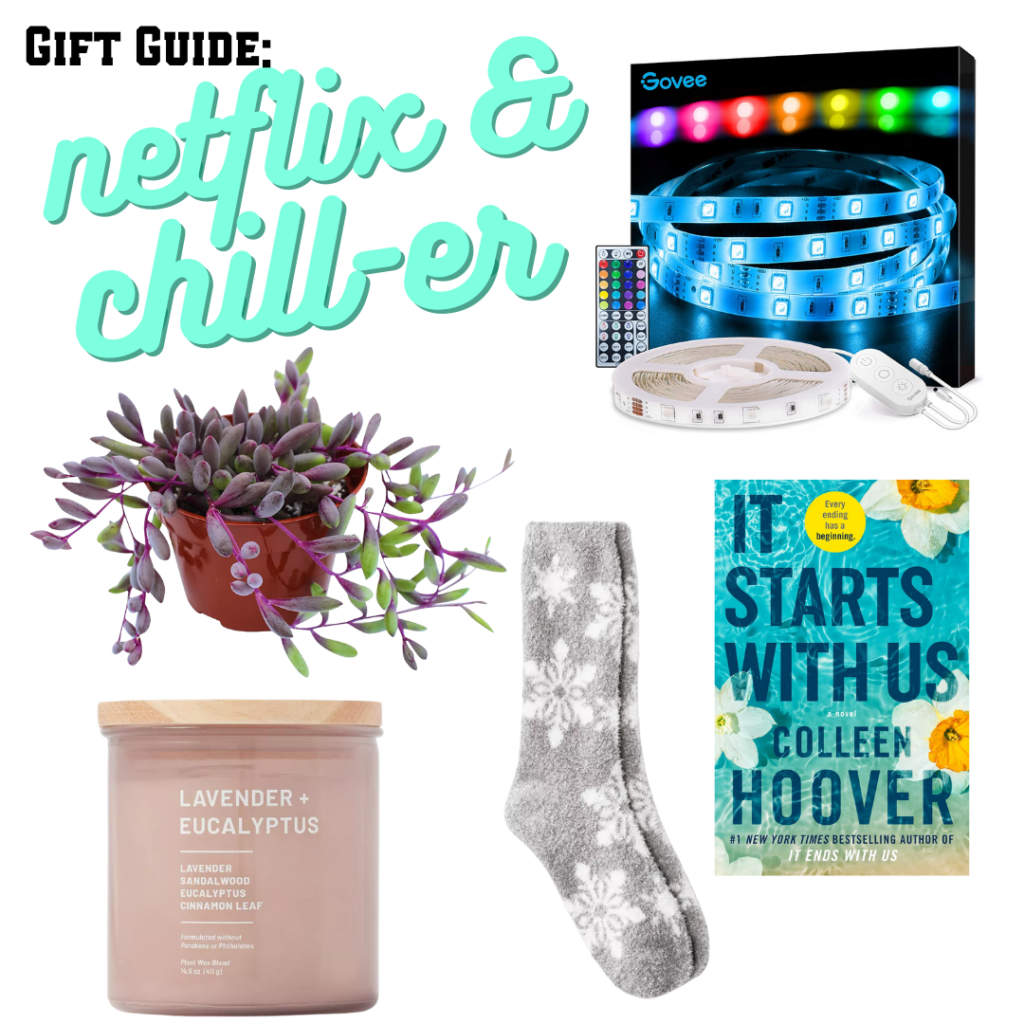 For your friend who prefers a night in Netflixing to a night on the town, get her space ready with these gifts!
A set of strip lights is shockingly affordable and is perfect for lighting up a dark room. If you know someone with a green thumb, this plant comes in a pot ready to go and is so beautiful! Fuzzy socks are a must if you want to get cozy in the winter, and she'll need a candle to set the mood.
If you know a reader, get them their favorite book in hard copy or a novel you think they'd enjoy! (Anything Colleen Hoover is a winner these days.)
The Party Animal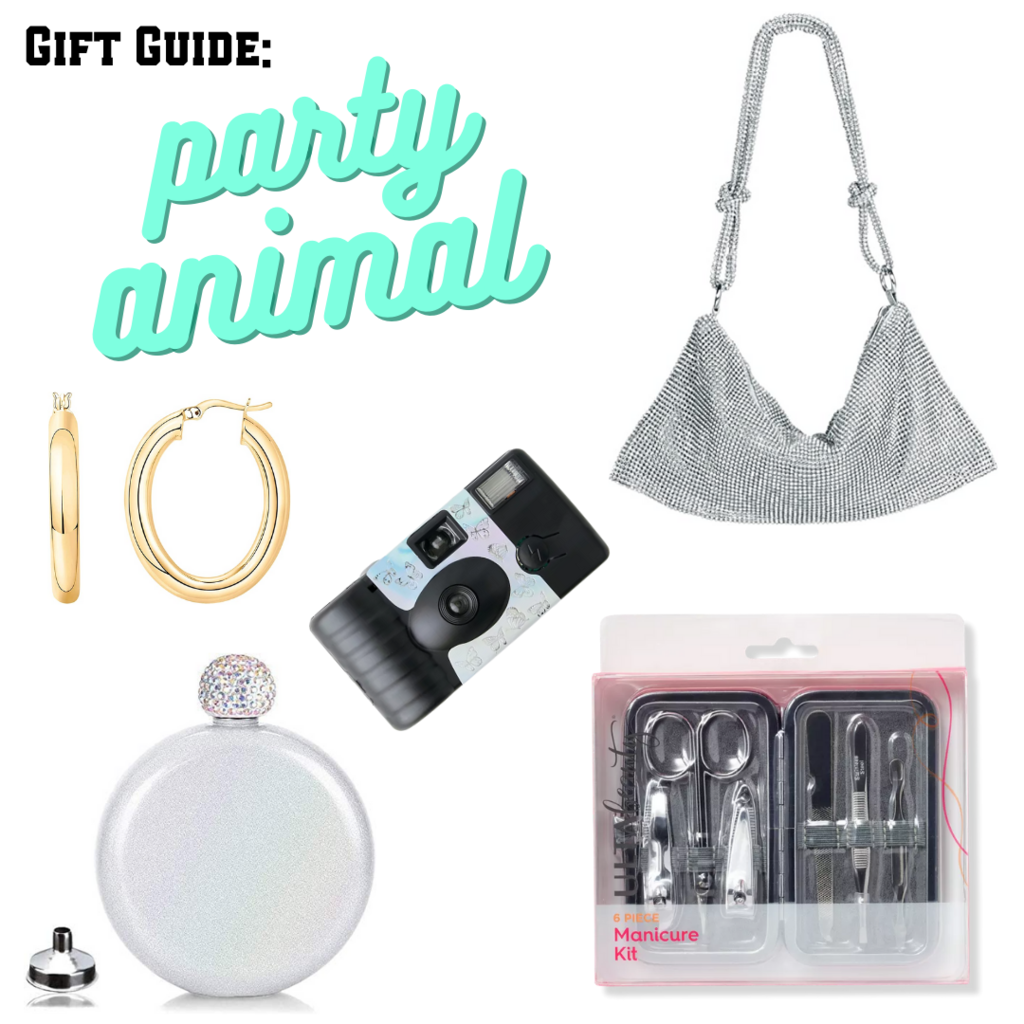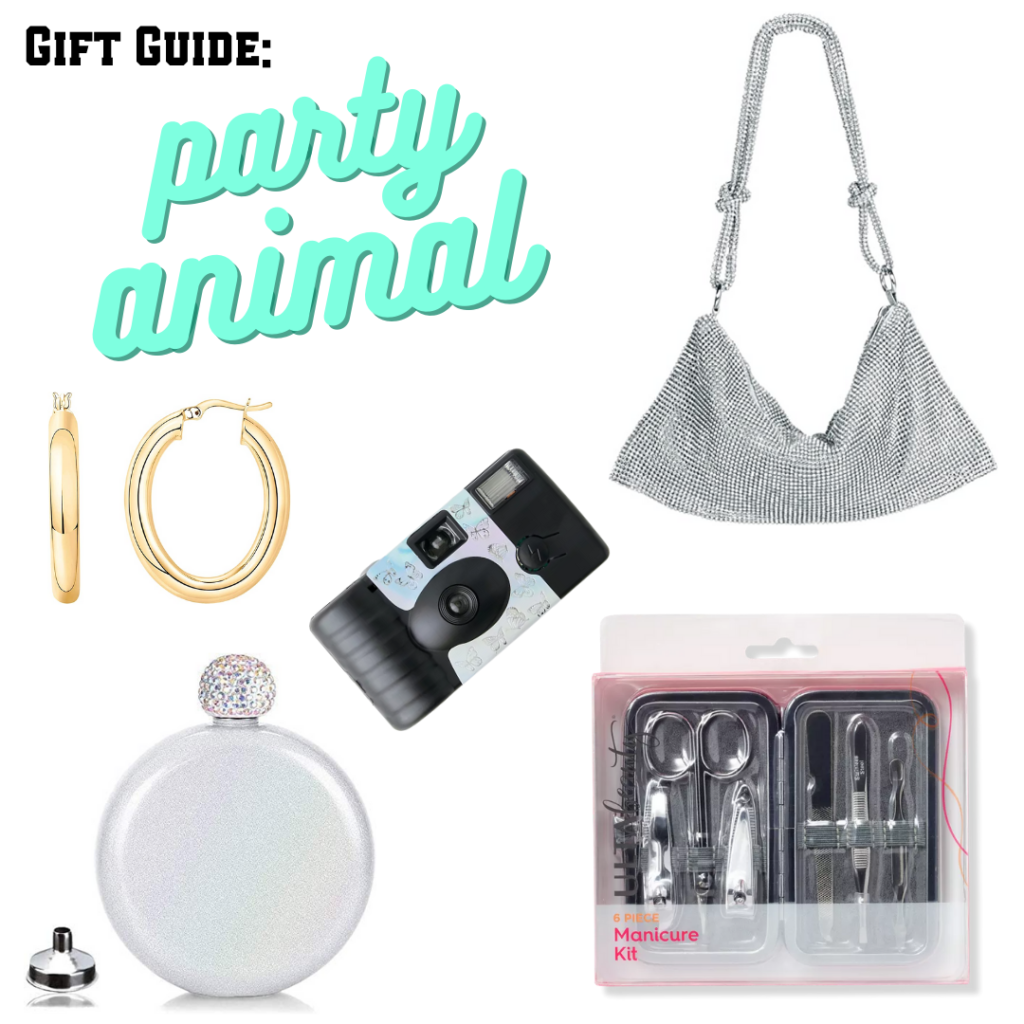 For the girl who loves being social, make her night even more special!
If your giftee is 21-plus, a funny flask is always appreciated, whether it makes it out on the town or not. Manicure kits ensure your friend is looking her best without spending a ton of cash.
Jazz her up with some chunky hoops and a sparkly bag that can be rotated in and out with outfits. Finally, include a disposable camera for old-school memories that can be displayed forever.
Related reading: The 20 Prettiest Christmas Nail Designs to Dazzle This Year
Cute Christmas-Themed Gifts Under $50
Whether you need something for the office Christmas Party, the dorm's Secret Santa exchange, or simply to fill up the 'ole stocking at home, these fun Holiday-themed items are sure to satisfy every one of your giftees. Yes, everyone.
Christmas Sweaters
Honestly, an ugly Christmas sweater will always get a laugh and you don't have to worry too much about sizing since these look fine oversized.
Your gift recipient will be the talk of the town with these merry tops, featuring Santa riding a unicorn, and one happy llama. You can bet they'll be rocking these for many Christmases to come.
Christmas Beanies
Beanie hats are cool. Holiday-themed beanie hats are even cooler.
Bring a little joy to your giftee's novelty headwear game with these cool-cat beanies. If they love being the life of the party around the holidays, they'll love the light-up beanies above. (Bonus: These are super cheap; a 2 pack is just under $15!)
Fun Christmas Earrings
Baublebar's Xmas earrings are cult favorites for good reason — they're extremely high quality, make a serious statement, and are under $50 a pop. And mega bonus points for the racially diverse Santa options!
If you have a friend or loved one who's seriously into the holiday season, this is the perfect fun gift for them. More great recipients: your SO's mom, a study buddy who's really helped you out this semester, a friendly coworker, and your very upbeat Secret Santa pick.
Christmas Slippers
Dressier than a sock yet comfier than shoes, slippers are the perfect medium to achieve peak Christmas day comfort.
For your holiday shopping needs, faux fur reindeer slippers are always a good idea. Or, if your gift recipient is a fan of Disney, opt for The Nightmare Before Christmas-themed slippers. They're spooktacular!
Christmas Socks
So you're not sure if they'd love a Santa slipper—but who doesn't appreciate socks of the fuzzy variety?
With their bright patterns and adorable animal characters (RUDOLPH), these socks are sure to warm the heart of even the coldest, most anti-Christmas Grinch around. This pack is great because it comes with 6 pairs — so gift yourself a pair, too. (Hey, it gets cold at night for you too.)
Gifts for Mom or the Other Leading Female Figures in Your Life
As the holiday season draws closer, it's apparent that you'll need a quality gift for one of the most important people in your life: your mom. You need a gift that's both personal and of use to her, so here are our favorite gifts for moms or leading female figures in your life.
For the Mom Who Wants to Spend More Time With You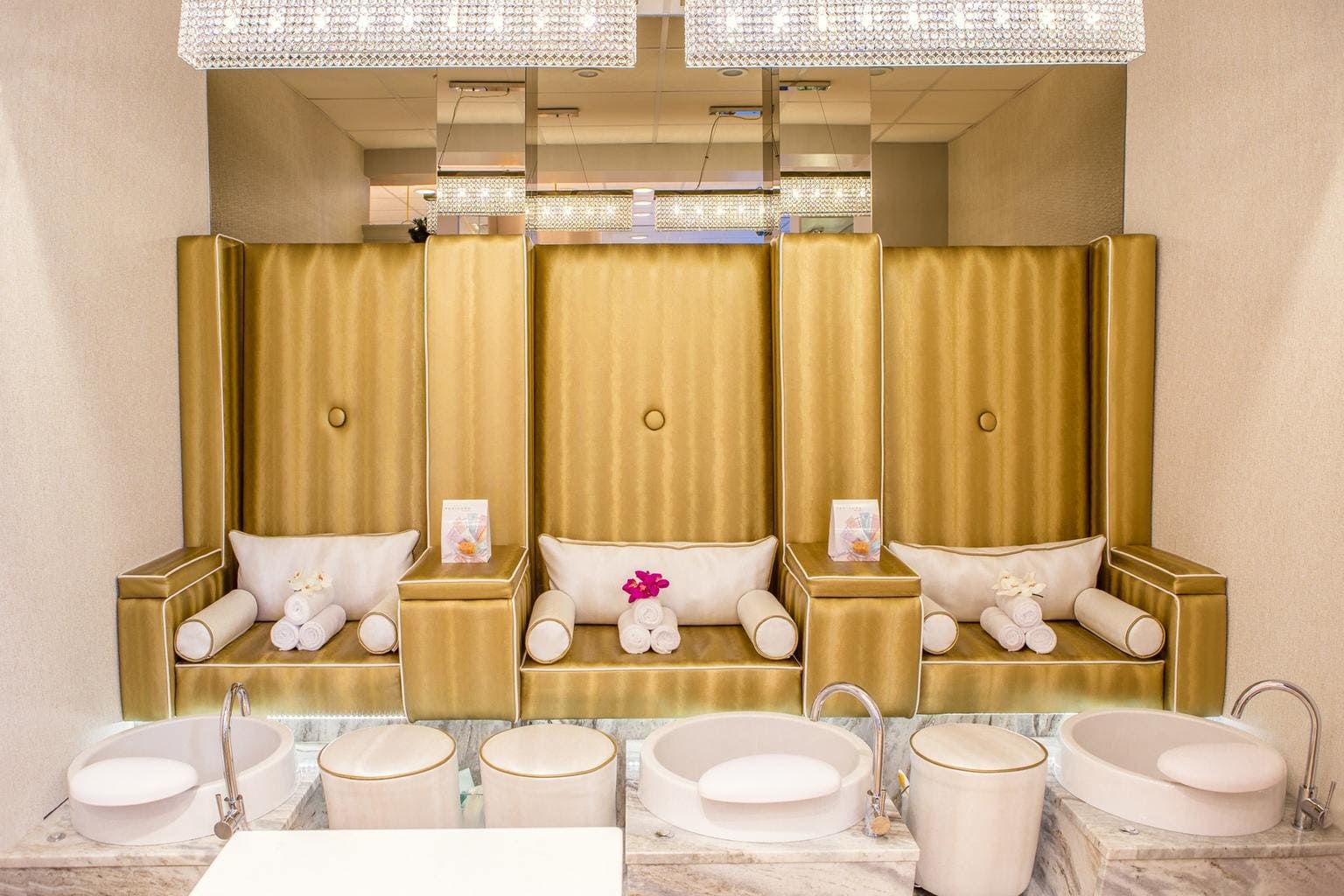 Personalized day trips to the spa, hiking, or volunteering with kids all have something in common: quality time with your mom.
If your mom has been mentioning how much she's missed you since you've gone to college, or you have an old favorite tradition you want to bring back with your mom, this is a gift that she'll really appreciate. Feel free to bring out your DIY card skills, too; this is a gift that allows you to get a little creative with the presentation!
For the Foodie Who Loves a Flatlay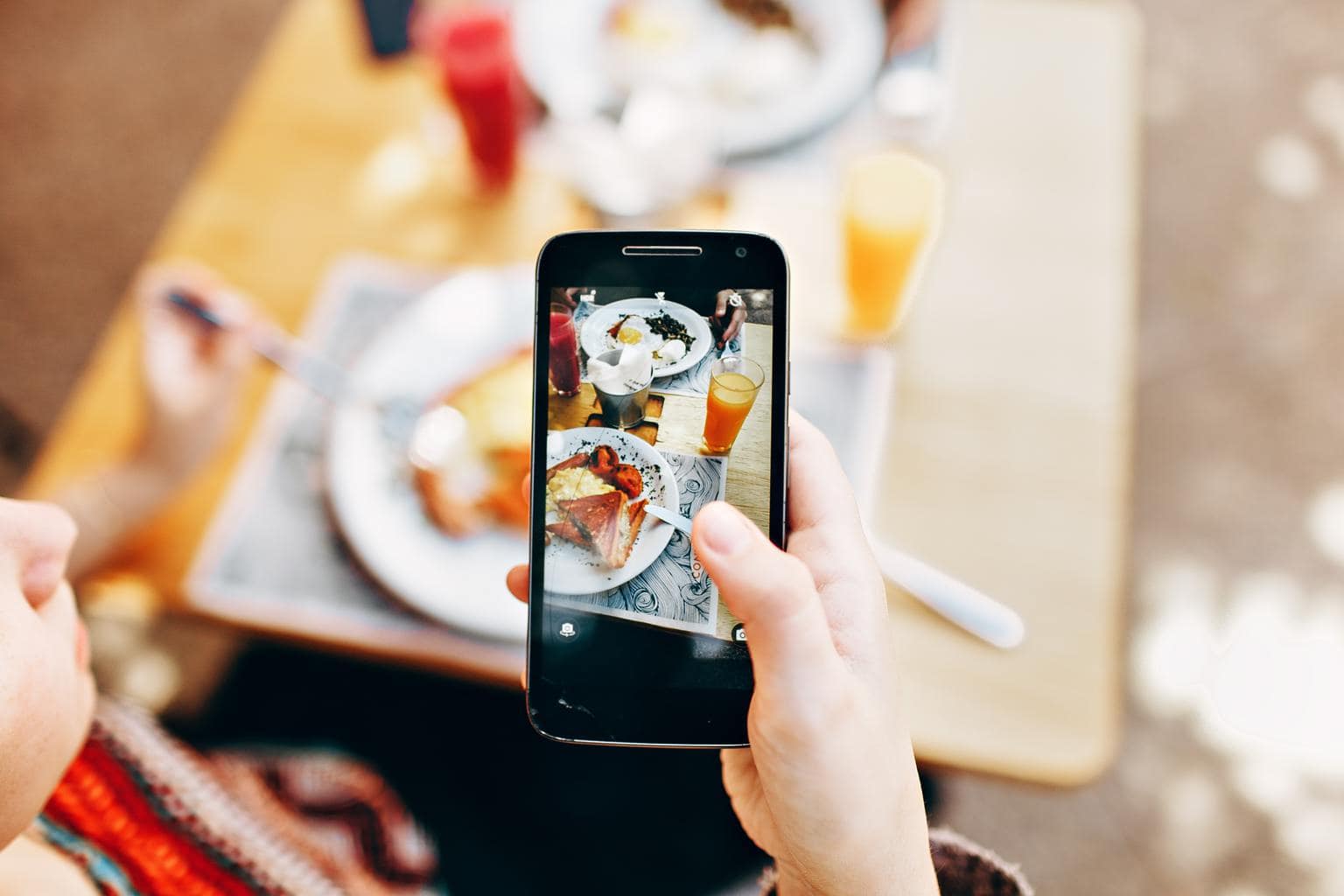 Brunch, or a nice afternoon tea, is always a great gift and gesture. If you live close to NYC, a classic favorite is doing tea at the Palm Court in the Plaza Hotel.
If your mom prefers casual dining, brunch is always a fantastic choice as well! Try to pick a place that has foods your mom loves on the menu, and check out the atmosphere on Google Reviews.
For the Skincare Fanatic
This Tatcha Dewy Skin Essentials Set has many of their best-selling products; it's pricey at $82, but as a cult favorite, you'll be getting your money's worth out of this set.
The set includes The Rice Wash Skin-Softening Cleanser (travel size), The Dewy Serum Resurfacing and Plumping Treatment (travel size), and The Dewy Skin Cream Plumping & Hydrating Moisturizer (full size).
These skincare favorites will help your mom cleanse, treat, and revitalize her face after a hard day's work. Plus, the packaging is absolutely beautiful! Tatcha doesn't mess around when it comes to skincare.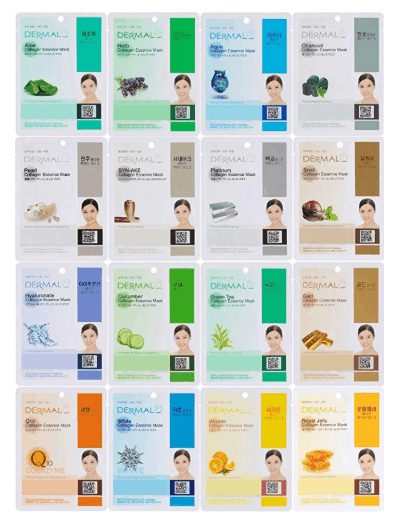 Alternatively, this pack of 16 Korean sheet masks is more affordable at $12 from Amazon, and it has 4.5 stars and 3200+ reviews.
I've actually purchased this set myself before, and I highly recommend it for your mom or for your own use! It's a great value for the price, and the many scents are fun to try!
For the Coffee Connoisseur
This Cold Brew Press is another favorite from Amazon with a price tag under $30 and thousands of happy customers!
If your mom enjoys iced coffee, consider buying her this cold brew press so she can have her caffeine ready to go in the fridge at all times. This quart-sized container will brew cold brew that is stronger and less acidic than average coffee.
For the Writer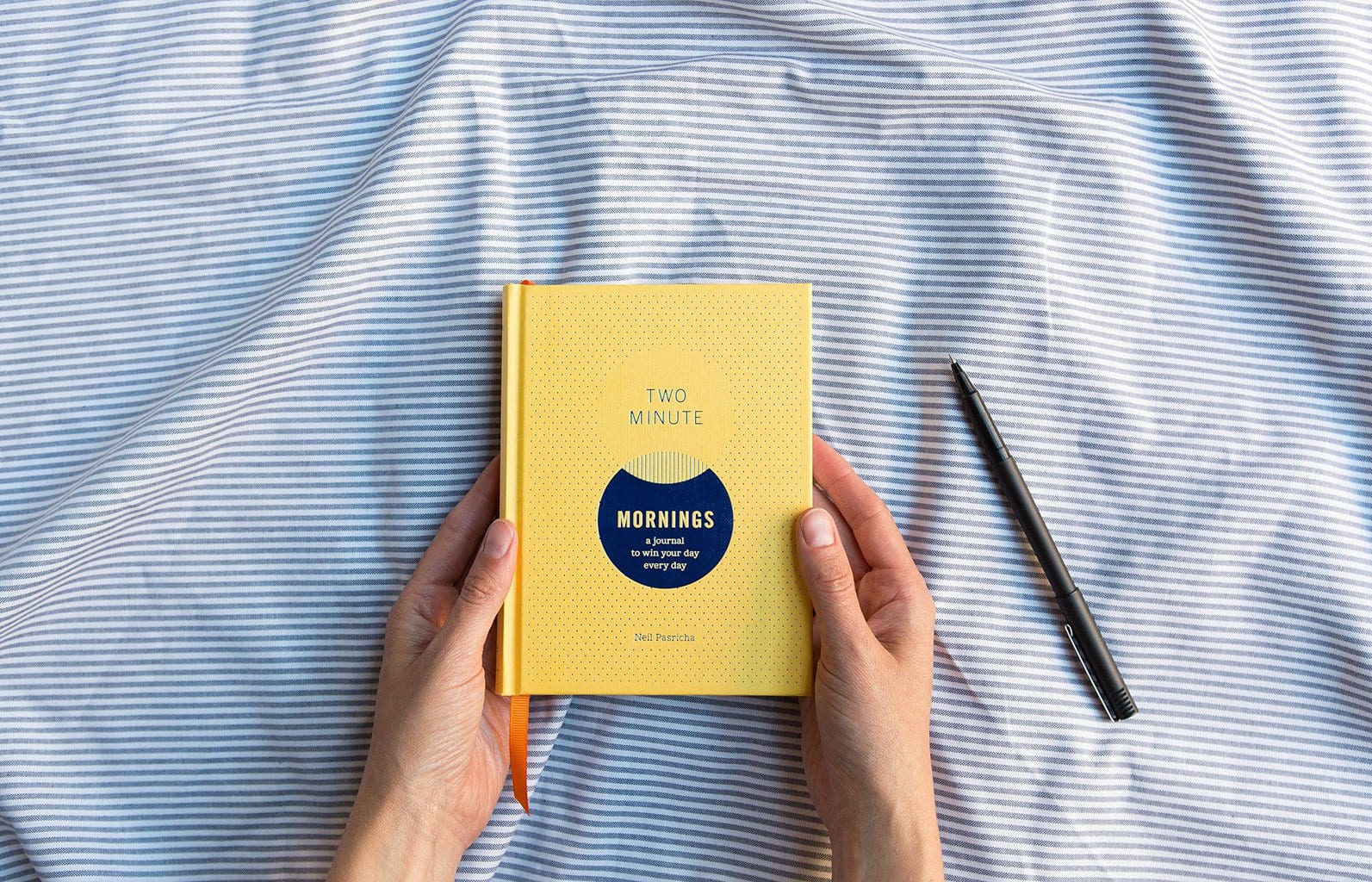 This Two Minute Morning Journal is a great mindfulness exercise! The pages are well-designed, and the journal can last for up to two years.
For the Plant Mom
If your mom loves plants and Guardians of the Galaxy, this Baby Groot Planter is absolutely adorable! It also doubles as a cup holder and storage container if your mom suddenly has a change of heart. This would look great on a desk or kitchen counter!
If your mom isn't a huge Marvel fan, this Bluebird Planter is also an adorable option. It honestly looks so much more expensive than it is!
Great Gifts for Him for $50 and Under
Looking for something for the guys on your list? Here are some of our favorite go-to holiday gift ideas for men, all under $50.
Slim-Fit Henley Shirt
This is one of those basics that every man should have in his wardrobe. A classic henley in a neutral color never goes out of style. This one from Amazon Essentials is insanely cheap at just $16, and the quality is excellent.
Carhartt Beanie
I don't know any guy that doesn't love Carhartt, so you can never go wrong with a Carhartt beanie as a holiday gift. The best part is that one fits all, so you know it will fit him. (Also, this is great to get for a boyfriend because then you can steal it!)
The Ultimate Sneaker Book
If you know a guy who is obsessed with sneakers, this is the best gift to get him! Taschen is known for its stunning coffee table books, and this epic volume has details on ALL the hottest sneakers of the past 100(!) years. It's basically an encyclopedia of kicks, and he'll love it.
Stanley All-in-One Boil & Brew French Press
If he loves the great outdoors, he'll flip over this Stanley All-in-One French Press. It heats up quickly over a stove or fire so he can have a perfect cup of coffee even when he's completely off the grid. Plus, it stays hot for ages!
Cozy Winter Socks
Here's another foolproof holiday gift idea for guys. Every guy I know is horrible at remembering to buy the basics for himself, like new socks. Make his life a little easier by gifting him a three-pack of super cozy winter socks — he'll definitely thank you!
And once again, this is a gift that fits everyone, so no worry about sizing.
Chic and Stylish Holiday Gifts for Her for $50 and Under
Still need a gift for a woman on your list and don't want to spend a lot? Below are some more stylish holiday gift ideas for women, all under $50.
Pompom Beanie
Let's face it: most of the winter accessories we see are more practical than fashionable. But this definitely isn't the case with this cute purple beanie, which will add a little pop of cheer to any outfit!
Anastasia Mini Glam to Go Eyeshadow Palette
Eyeshadow palettes tend to be clunky and hard to travel with, but this one's small size makes it easy to just throw in your bag and go. Plus, the rosy pink and brown shadows are very pigmented and flattering on just about everyone, making this a gift you can't go wrong with!
2023 Rifle Paper Co. Planner
I love Rifle Paper Co.'s planners, and this spiral-bound one is perfect for anyone who wants to stay organized and look impossibly stylish while doing so. It features sections for each day, along with a dedicated to-do list on the opposite page that makes it ideal for keeping track of your daily achievements.
Bulldog Mug
This super-cute dog mug is guaranteed to be treasured by the canine enthusiast in your circle. The best part is it's available in a variety of different breeds so that you can pick your giftee's favorite.
Custom Glitter Ballpoint Pen
If you know someone who's constantly complaining about losing pens, get her a custom engraved ballpoint glitter pen.
With their fun colors and floating glitter, these pens are something she'll definitely keep under close watch–meaning that you'll never hear the phrase, "Hey, can I borrow a pen?" again!
Hot Pink Mittens
As a devotee of Aritzia winter gear in general, I couldn't pass up the chance to feature a pair of their cozy mittens in this guide! Their unexpected hot pink color and reasonable price point will definitely make you want to get a pair for every fashion lover on your list!
Sleepy Shower Gel and Body Lotion Gift Set
If you know someone who's in need of a little TLC in the form of a good night's sleep, get her this lovely gift set from Lush. The calming lavender scent of the shower gel and body lotion is sure to help her finally relax before bed.
Oatmeal Cookie Scented Jar Candle
Speaking of scents, holiday time brings with it a host of good ones, often in the form of freshly-baked holiday cookies. But, if you're short on time and can't whip her up a batch, I guarantee that she'll love this oatmeal cookie-scented candle just as much, not to mention that it will last much longer than actual cookies!
Floral Structured Pouch
Most of us can always use more storage space, and that's especially true when it comes in the form of a pretty floral pouch. Its versatile shape means that she can use it to store makeup, jewelry, writing utensils…the list goes on!
Glossier Balm Dotcom Trio
For the beauty lover, you'll definitely want to scoop up a set of these moisturizing balms. Whether they're used to soothe dry cuticles or nourish chapped lips, she'll definitely want to have these convenient tubes on her at all times. (P.S.: Read our review of Balm Dotcom here!)
Faux-Pearl Necklace
We all have that one friend who has champagne taste when it comes to gifts. So, get her this timeless faux-pearl necklace from J.Crew Factory; she'll have no idea that you bought it on a soda budget!
YSL Black Opium Gift Set
While we're on the topic of expensive taste, this fun YSL fragrance set is the perfect way to let your recipient indulge in something designer without you having to drop a ton of cash. What's more, I love how it contains two scents rather than one, so you don't have to make the difficult decision of deciding which perfume to buy her.
Crescent Moon Mood Ring
This crescent moon mood ring is ideal for anyone with a boho-style sensibility and a taste for '90s nostalgia. This piece would look super-cute worn either on its own or layered with other rings.
DIY Holiday Gift Ideas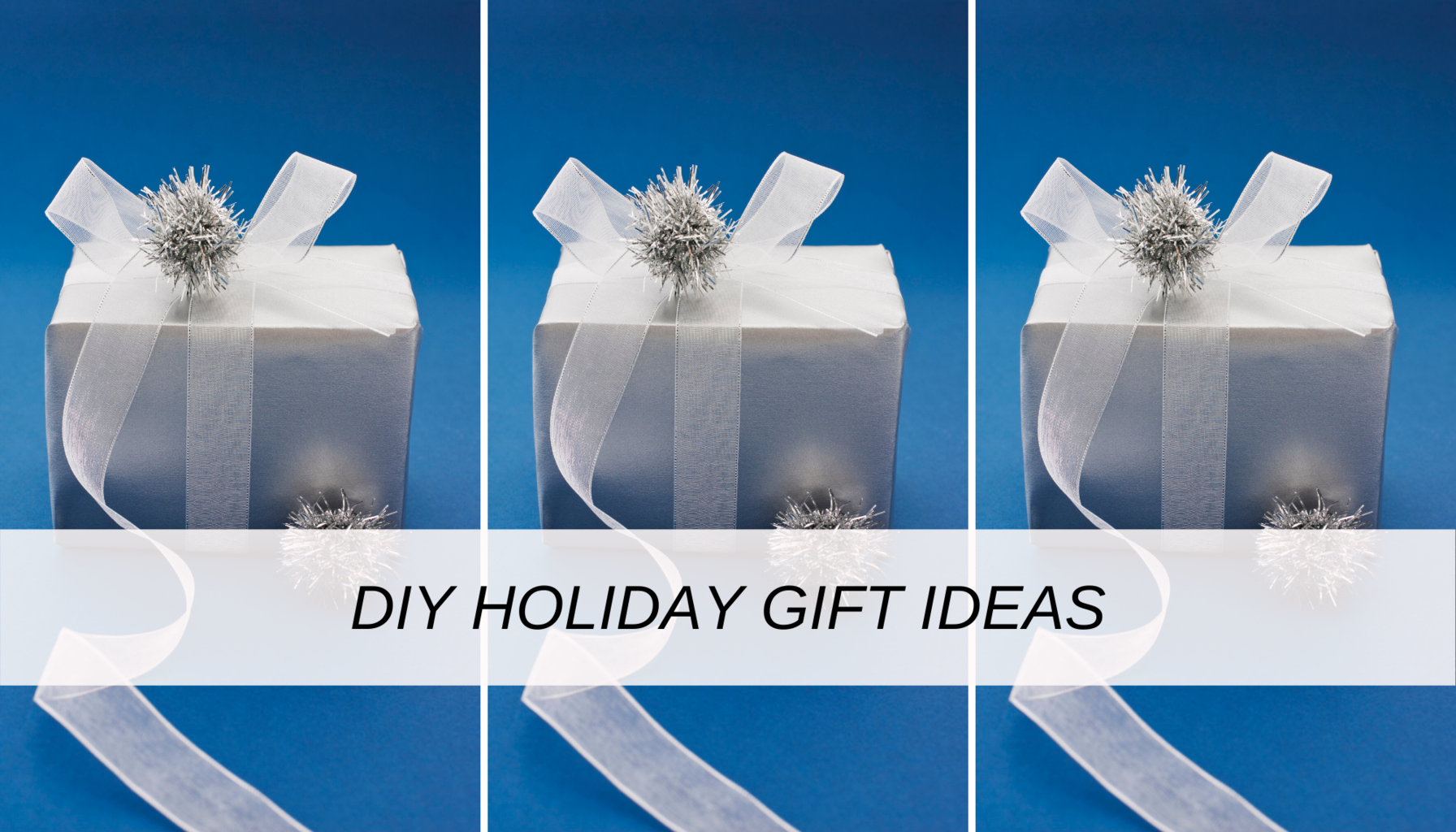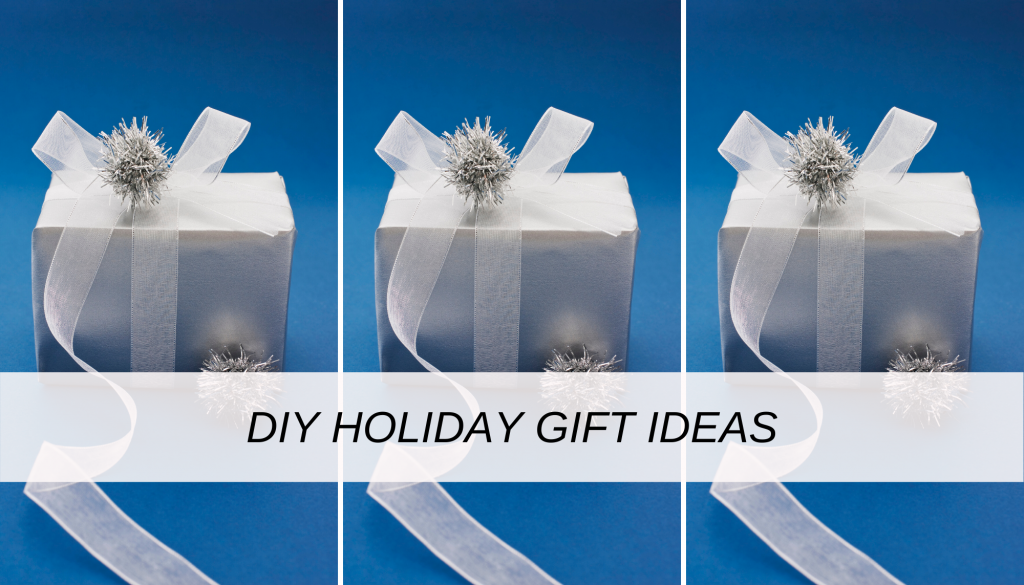 If you want to gift something from the heart, you might be thinking of what gifts you could make for people. I've collected a few of my favorite DIY holiday gift ideas that I've seen around the internet, listed from beginner-friendly to more advanced.
Embroidered Hoop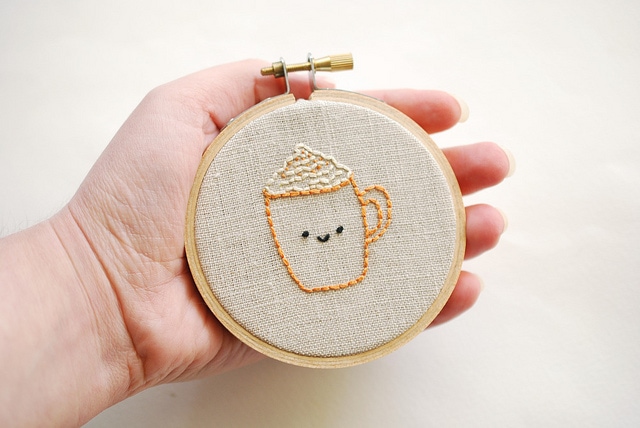 Not only is this one super cute, but it's also a good way to use fabric scraps.
A pattern for the PSL in the photo above can be found at the source here but feel free to embroider whatever you like into the hoop: hearts, flowers, or even a nice message. Or, for a quick refresher, check out our sashiko embroidery tutorial from a while back!
If you don't feel like sewing, you can even treat the embroidery hoop like a canvas and paint a design over some colorful fabric to make personalized wall art.
Cookie in a Jar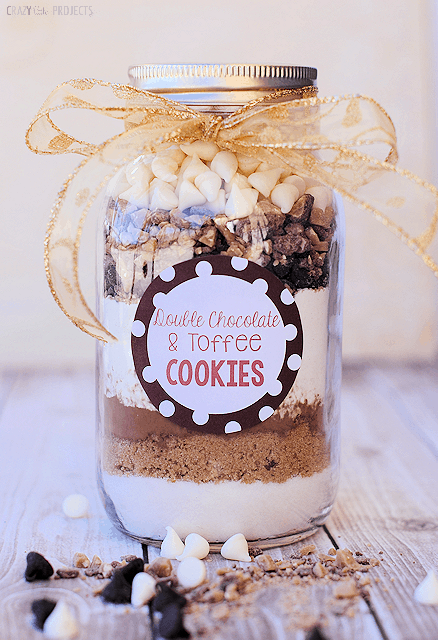 Who doesn't love cookies? The holiday season is the perfect time to spend a cozy weekend baking up a storm. For a friend with a sweet tooth, why not build this cookie in a jar?
Just layer all the ingredients into a mason jar, and tie on the instructions with a ribbon. You could also attach a cookie cutter for extra cuteness! The one I've linked here has both the recipes and a printable, so you're all good to go.
Sleeping Mask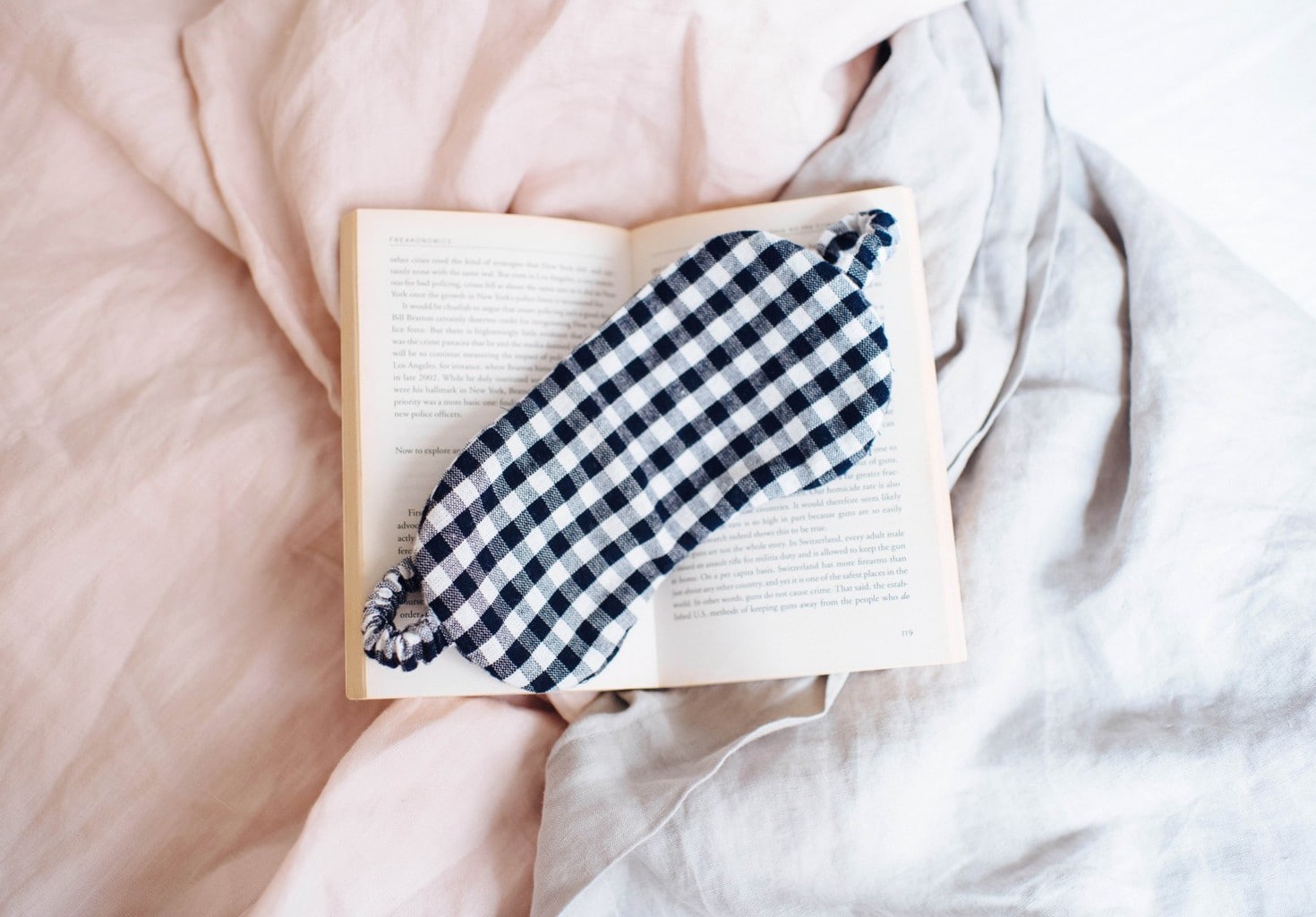 Are you a night owl rooming with an early bird? Make your roommate this sleeping mask to avoid having to study in the dark (and give them better sleep)!
This DIY is small enough that you should be able to use up some fabric scraps that you've collected along the way. Just be sure to choose a soft fabric that won't irritate your giftee's skin or eyes. Bonus: it's super easy to do!
DIY Desk Calendar
Do you have a friend who is constantly at their desk? Make them something they'll use every day by DIYing a mini desk calendar.
The tutorial above does require a printer and some chipboard and a binding (available on Amazon). Otherwise, it's all made of items you probably have at home. Personalize it to your giftee's style and they'll love this!
The Dos and Don'ts of Handmade Gifts for the Holidays
We just shared some DIY holiday gift ideas for your loved ones, and now I'm going to tell you to do the complete opposite. Well, not exactly, but take this as a warning to save your DIY gifts for people you think will truly appreciate your efforts. Nothing is worse than someone not appreciating something that you've invested a lot of thought, love, and time into, like a hand-knitted sweater or intricate embroidery.
It's important to make sure that your recipient will value and enjoy your gift, especially if you opt to do DIY. There are a few ways to do this:
1. Think about your recipient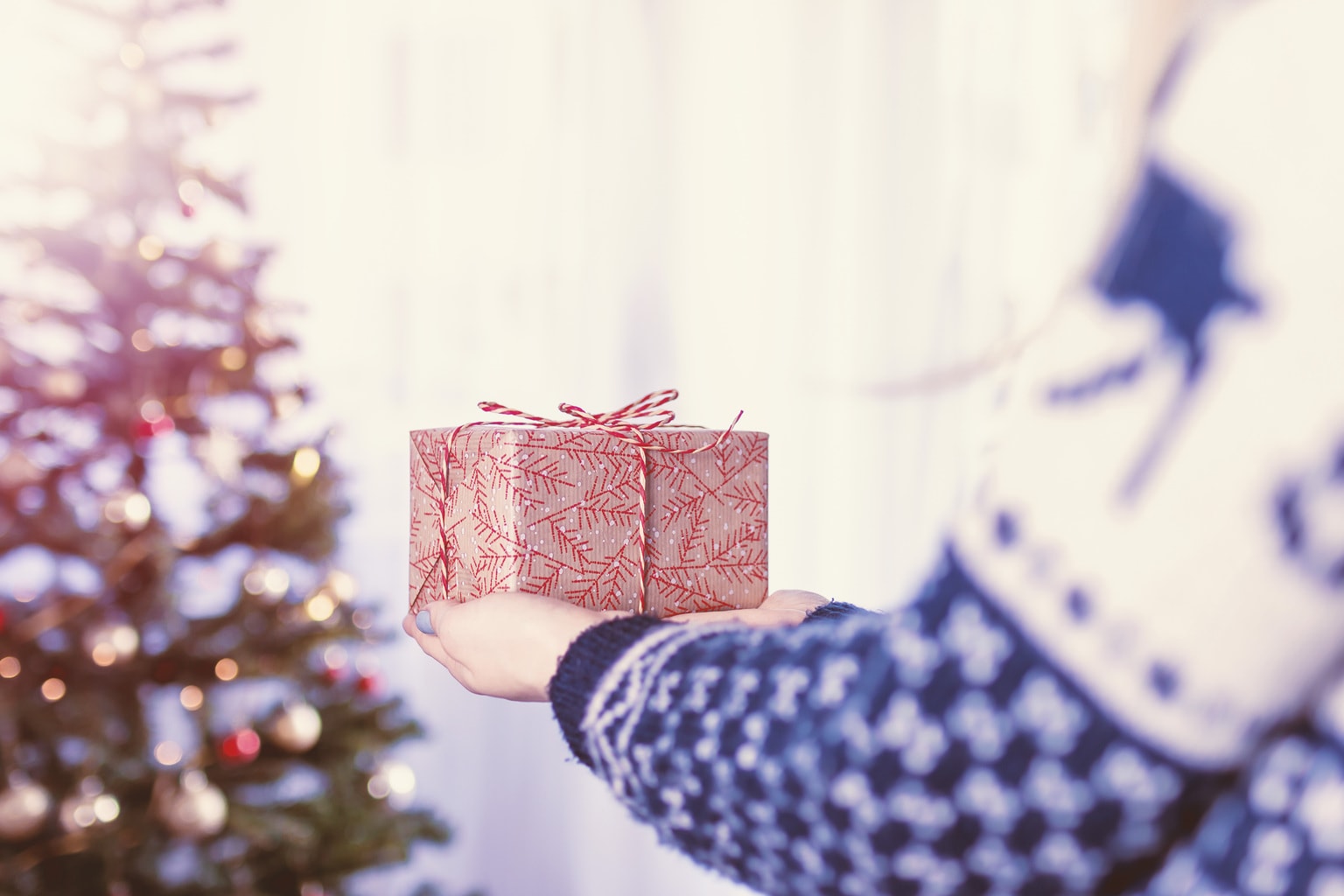 Are they someone you've known for years, and have they seen you making things for other people? Or are they an acquaintance that you've been assigned to during Secret Santa?
If it's the latter, you might want to think again about a handmade gift simply because it's a very personal thing to give to someone you don't know very well. Not only will it make them feel more comfortable to get something less personal, but opting away from handmade is a better use of your time in this case.
2. Do your research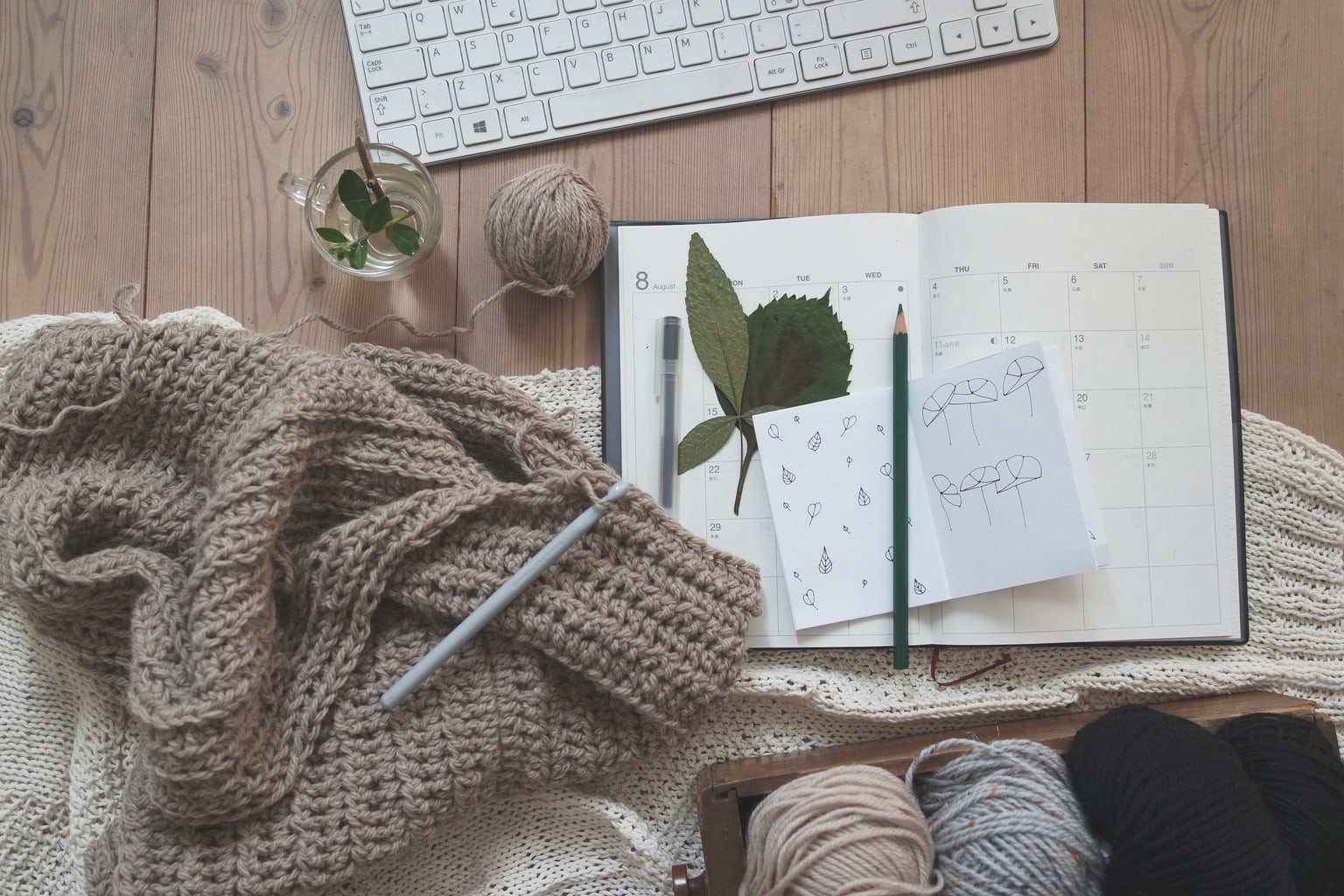 I once spent a month knitting a scarf for my mom, only to have her put it in the back of her wardrobe and never wear it. Why? Because I had knitted it in a color that she didn't like to wear, and that didn't match her overall style.
The moral of the story is: do your research to avoid disappointment. Don't spend hours making something that your recipient does not truly want (even if she appreciates your effort).
3. Make it obvious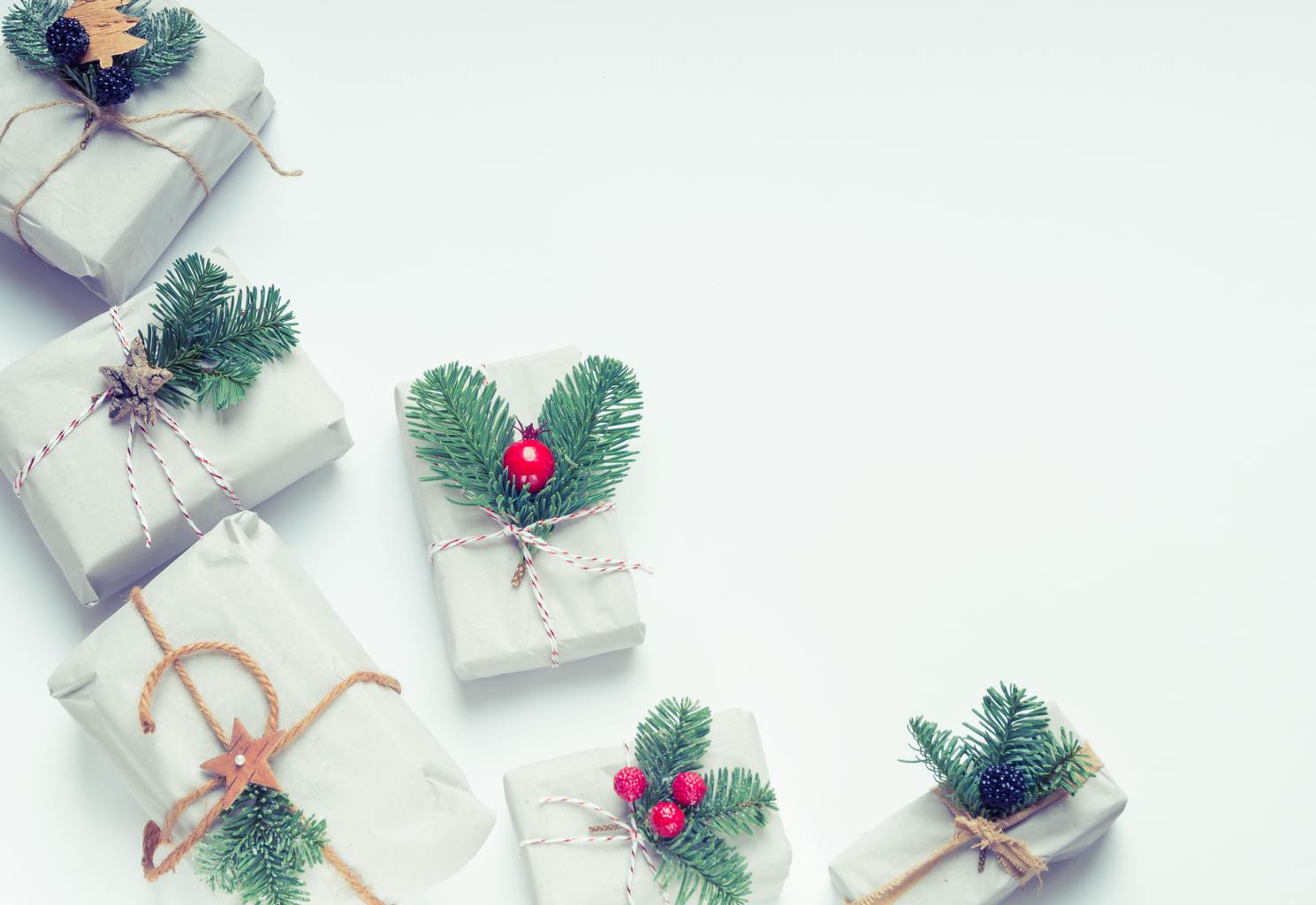 If you've already made a gift for someone who does not know much about DIY, they might not understand the effort it takes to create something from your own two own hands. They might not even realize that it's handmade!
It's generally a good idea to write on the card 'here's a handmade gift from me to you'. Or even the simple change of saying 'I knitted this for you' instead of 'I got this for you' can help the recipient understand its value.
Bonus: plan ahead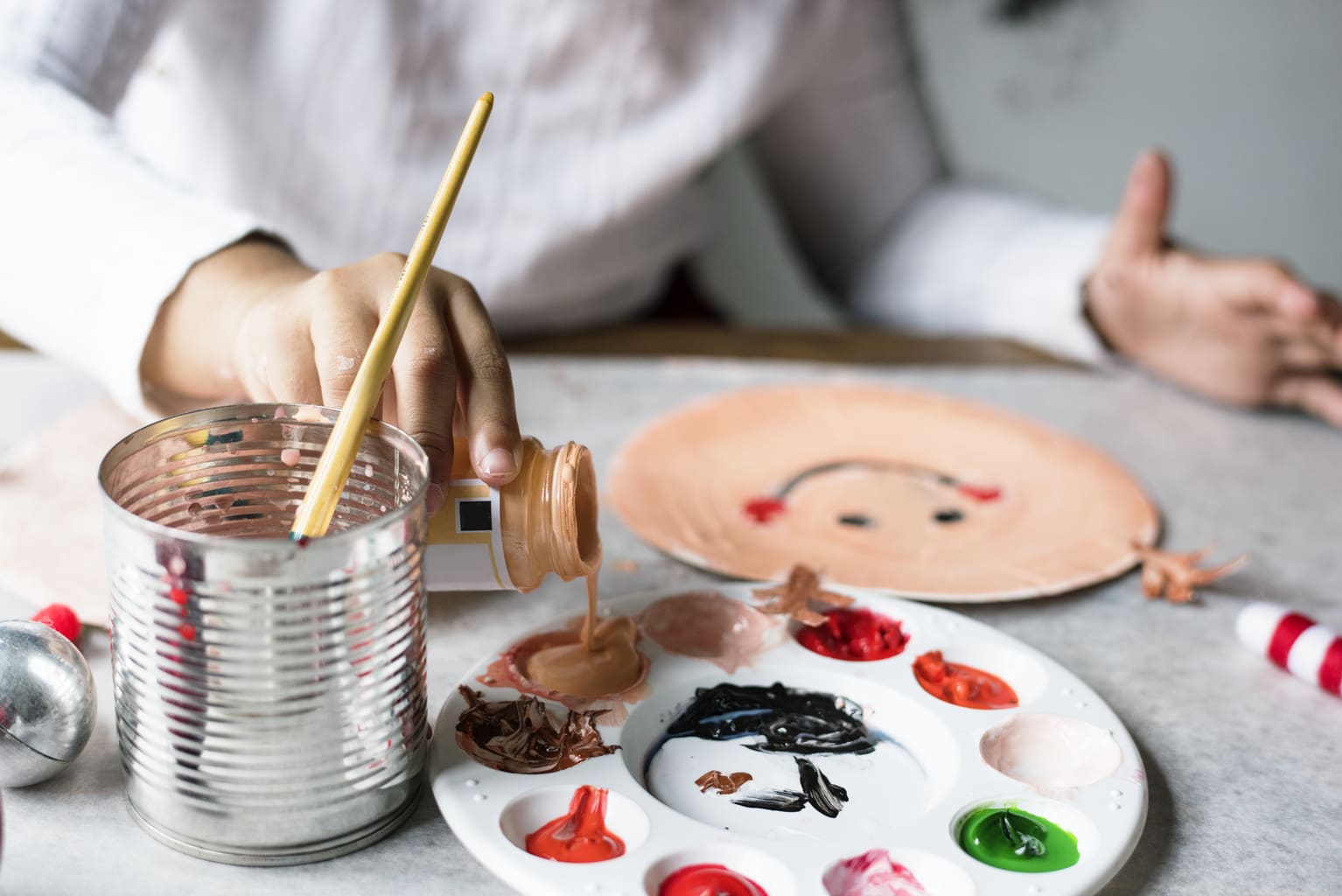 I'm sure all of you have seen the 'expectation-reality' photos online. The nature of DIY is inherently finicky—you could run out of thread before sewing your last seam or spill some paint where you don't want it—so be prepared to have your DIY projects not turn out exactly the way you want them to.
When factoring in the hectic mood of the holiday season, make sure that you have enough time to do your DIYs, or at the very least, have a backup gift in mind!
What do you think of these holiday gift ideas?
What holiday gifts do you plan to get this year? What did we miss that isn't on the list?
We hope you've enjoyed our ultimate holiday gift guide! Tell us about your favorite holiday gift ideas in the comments box below!
Editor's note: This post was originally published in 2017; it was completely updated and revamped in 2023 with new photos and information.