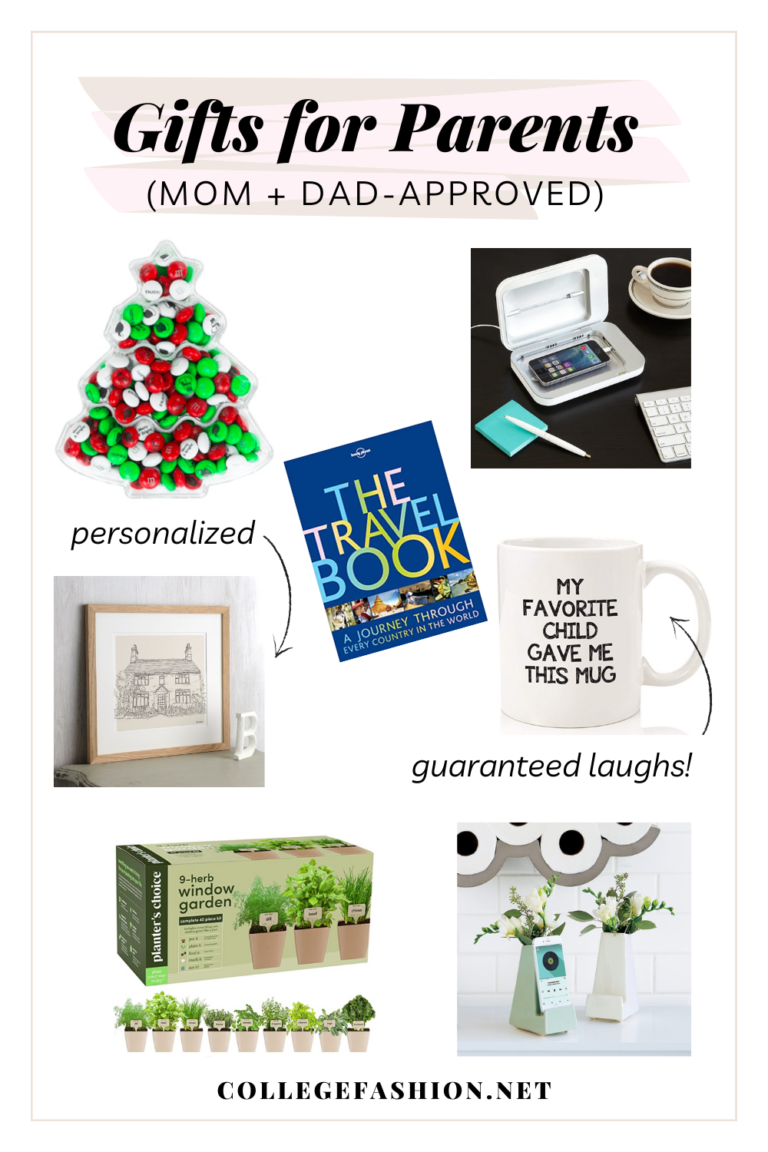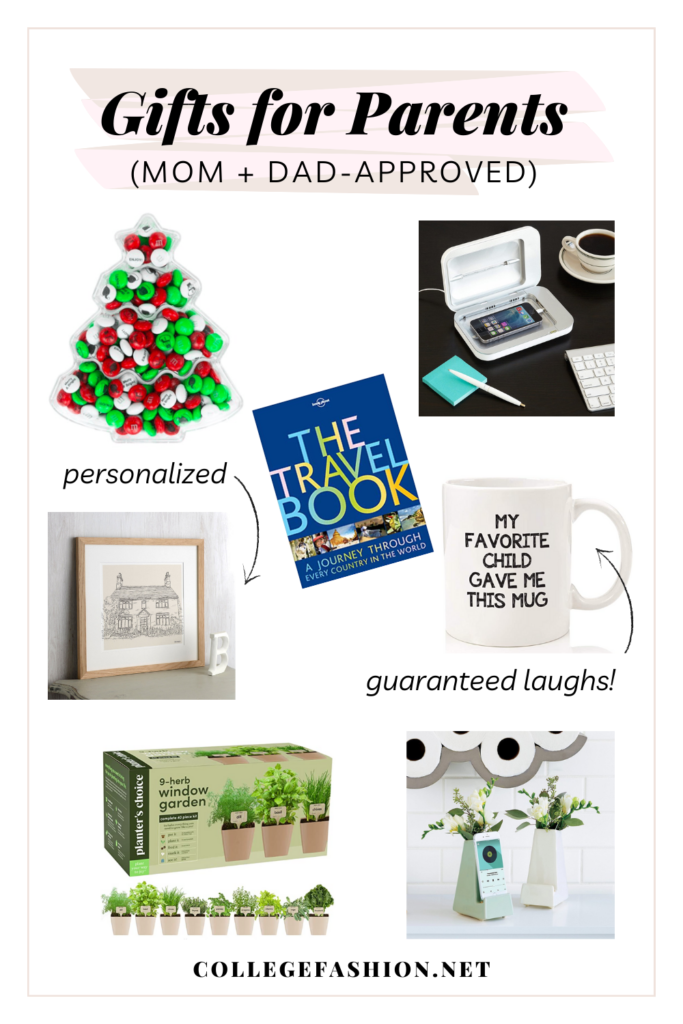 This post will show you the best gift ideas for parents.
By now you probably know that here at CF, we're doing our holiday shopping early this year.
There is, in fact, a method to our madness. The best way to save money on gifts while also being thoughtful is to start your holiday shopping early. If you plan your gifts ahead of time, you'll be ready to go when Black Friday hits (hello, sales!), and won't experience the unique misery of scrambling around to buy presents during finals.
Plus, shipping this year is going to be a hassle. We need to plan ahead.
With this in mind, we've already been suggesting thoughtful and unique gifts for everyone on your list. (See our guides to gifts for college students, gifts for girls, stocking stuffers, best friend gifts, Christmas gifts for boyfriend, beauty gifts, gifts for nerds, gifts for women under $30, and gifts under $50.)
Today, we're featuring holiday gift ideas for parents — always a tricky one! Here are our 20 fave affordable gifts for your mom and dad, with sections for each, plus a list of gifts for both parents. (See also, our list of gifts for your boyfriend or girlfriend's parents.)
Holiday Gift Ideas for Mom
Whether your mom is a tech-savvy lady or aligned with mother nature, we've got our best picks to fit the likes of many personalities.
1. Bedside Smartphone Vase
With everything being online these days, mom is most likely staying up-to-date by using her smartphone. This smartphone vase will work as a beautiful space for flowers while also serving as a charging dock.
2. Personalized Family Mugs
These cute coffee cups are perfect for mom's morning coffee or tea, and they can be personalized just for mom, or for every member of the family. The perfect choice to be sure mom has a smile on her face to start the day.
This one is great for moms with green thumbs. If she can't garden where you live in the winter, this convenient kit will get her started on growing a mini garden in her own kitchen!
Not to gross you guys out, but it's a fact: Smartphones are incredibly dirty. But not to worry: This handy gadget will blast away those germs for mom! (And you can always borrow it when you come home.)
Mom's going to love these new measuring spoons and I bet she doesn't have any like these in her kitchen! The gold look is sure to wow her, plus these are double-sided so the skinny end will fit in all of her spice jars.
The best part is, these are magnetic so they're super easy to store.
Holiday Gift Ideas for Dad
Sometimes shopping for dad can be rather difficult, however, we've composed a list of gifts whether your dad is rugged or relaxed.
The ideal gift for dads who are grill masters. Your dad may already have a grill set but how long has it been since he's replaced it? Plus, this awesome set has a digital temperature fork plus a carrying case to keep him organized.
Let dad reminisce about the good 'ol days with this nostalgic record player! It's also Bluetooth-friendly and can play CDs, FM radio, and cassettes!
8. Jack Black Skin Saviors Kit
Who said dad didn't like to be pampered as well? Well, this Jack Black Skin Saviors Kit is everything dad needs to start his own skincare regimen. Plus, each item comes in a TSA-approved size so he can take them on the go.
Beards have been a trending thing lately yet I'm sure dad has rocked his beard for years (if he has one)! Help him take care of his with this bamboo beard kit that also adds shine and softness.
You can never go wrong with a new duffel bag. Whether dad is taking a casual trip (never too early to plan ahead) or needs a new gym bag, he'll be sure to make use of this!
Gifts for Both Parents:
Matching pajama sets may seem like they are reserved for corny Christmas movies, but they can totally make for the best gift ever!
These buffalo plaid print pjs will make your family a matching unit. Just imagine what the family photos will look like! Wearing matching pajamas with your family could even turn into a holiday tradition.
Your parents will love the idea of pajamas bringing the family even closer.
This customizable recipe plate and towel bundle will win the hearts of your family!
You can put your family's favorite homemade recipe on these handmade goodies! As the holidays are all about cooking at home, this gift will help you revel in the joy of a home-cooked meal.
This kind of gift will make a lovely addition to kitchen decor and will always remind your parents of fun Christmas dinners.
Very on-theme for sentimentality, this custom portrait of your house will be loved by your parents.
Your childhood home is full of so many memories that both you and your parents cherish. By getting a framed sketch of the house, you'll help them reminisce about the good times.
This is one of those gift ideas for parents that's a total classic for a reason. A picture frame makes for a simple, yet heartwarming gift they'll treasure.
The best part is, it's totally budget-friendly: This gift is effective at making your family smile without breaking the bank.
Add priceless photos of your family and watch them smile. Plus, you can DIY the frame with some crafty modifications.
If your parents seriously love to reminisce, a photo book from a special trip or year will have them swooning. It's easier than ever to create photo books online, and it's so much faster than making a traditional photo album.
You can even make a Christmas-themed album by gathering photos from the holiday over the years. The best part is, you can make a few copies, one for everyone in the family.
This custom dog ornament can be personalized with your dog's name and photo from an Etsy seller.
Obviously, the family pet is the star of the family. This ornament will be such a cute addition to the Christmas tree.
Getting your parents a Christmas-themed gift box is the perfect way to give them holiday-spirited goodies. This is an affordable, cute and simple gift idea for parents that your folks will definitely enjoy.
The box includes a variety of fun stuff: sea salt caramels, a ceramic mug, gingerbread tile cookies, a golden tea spoon, a coaster, a soy wax candle, and your choice of beverage (coffee, tea, hot cocoa) to complete the box.
Nothing beats a home-cooked meal. Let your parents know how much you love their cooking with this set of spices. Ranging in flavor and spice, these organic flavors will add even more flavor to your meals.
Especially if your parents are foodies, they will love any addition to their kitchen.
This Christmas-themed tray of M&M's can be customized with your own messages and designs. Everyone loves to eat sweet treats during the holiday season and this is the kind of gift your whole family can enjoy. The custom aspect of the gift will make it more personal for your family.
To give your parents a chuckle during the gift opening, this mug will get the job done! The cheeky assertion will be fun to gift.
Even better, get mugs for you and all of your siblings to individually gift to your parents at once. Alternatively, you can tag this as a gag gift in light humor on the holiday.
What beats family vacations? Get this book for your parents to inspire your next family trip! Pro tip: go through the book before wrapping it and post-it note the locations you know your parents would love to visit!
22. Make Them a Gift with This 24pc Acrylic Paint Mini Easel Set
If your parents aren't really into materialistic items, save yourself the money and simply make them something. A painting made by you will be treasured by them and they can hang it on the wall to admire your efforts. Doing a DIY is a fun activity and makes your gift so personal!
What are you getting your parents?
What do you think of our gift ideas for parents? Do you plan to buy your parents gifts from this list? What gifts did we miss that aren't on the list?
Tell us about your holiday gift ideas for your parents in the comments box below!
Editor's note: This post was originally published in 2017; it was completely updated and revamped in 2023 with new photos and information.