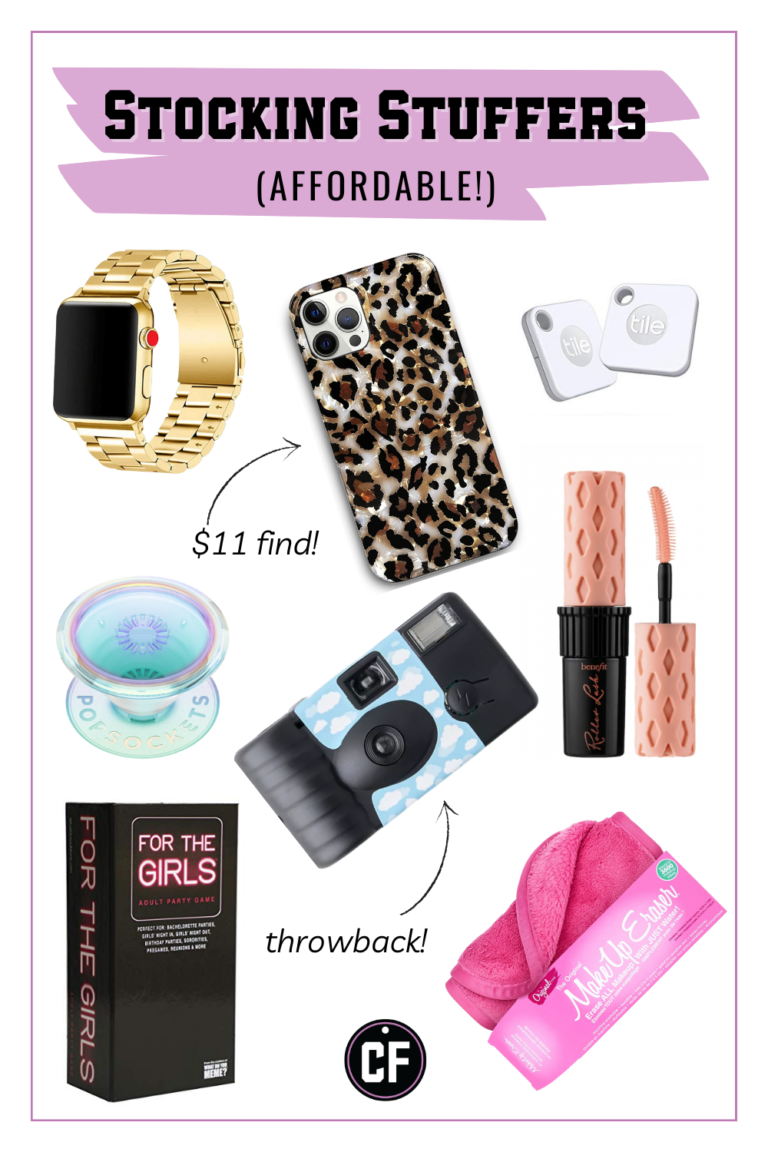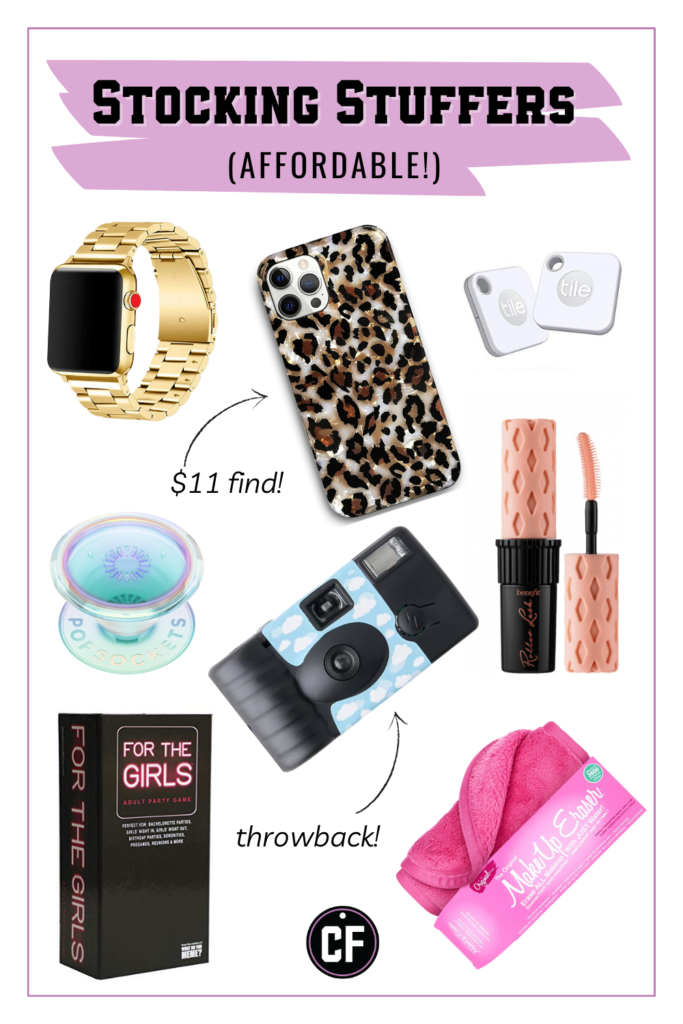 This post will show you the best stocking stuffers for college students.
Every holiday season, I find myself both looking forward to and dreading giving gifts. I love picking out things that I know that my friends and family will love, but sometimes I just can't think of anything that would be a perfect fit for my friends. That gets stressful.
Especially now that I'm in college, I have a small budget when it comes to buying gifts. So, what do I give my other college friends as stocking stuffers for this year's holiday season?
We've already talked about the best gifts for college girls, Christmas gifts for boyfriend, and the best gift ideas for best friends, but check out the article below for 22 easy, cheap, and useful stocking stuffer gifts for college students. They're perfect for any friends on your list (or parents, take note!).
1. Disposable Camera
Disposable cameras used to be an insanely popular item until people started using their phones to take pictures.
But, thanks to the '90s and '00s throwback revolution that's happening these days, disposable cameras have been coming back as a popular item for parties or events so that you can get some quality pictures without a professional camera.
This disposable camera is affordable, and it also has a really cute cherry design on it to make it a special stocking stuffer item!
Card games are always so fun to play, and most card games are small enough to fit into a stocking, which gives you the opportunity to buy games as stocking stuffers!
There are all kinds of card games that you could purchase, but if you really want to have fun with your girlfriends, you should purchase this For the Girls card game. It's definitely not for family game night, but it's perfect for girls' night in — it will have you laughing nonstop for hours.
3. Under Eye Mask
Everyone loves spa treatment, so why not use this as a gift for this Xmas?
Eye masks are perfect because they will be able to fit in stockings. These gold eye treatment masks are highly-rated and contain pure 24k gold, which will make people even more excited to use them when they get them in their stockings!
(For more ideas like this, be sure to see our guide to the best beauty gifts this year!)
Another great stocking stuffer for college students is a mini speaker. A lot of people already have speakers, but they may not have thought about getting a shower speaker.
This wireless LED shower speaker will be the perfect stocking stuffer gift because who doesn't love listening to music in the shower?
A lot of waterproof speakers can be expensive, but this one is affordable and small enough to fit in a stocking!
5. AirPods Case
AirPods are super popular now, and it seems like almost everyone has them.
But, what a lot of people may not have is a case for their AirPods. There are so many different kinds you can choose from, but this floral AirPods case with pearl strap is just too cute to pass up!
Get this as a stocking stuffer, and people will be able to keep their AirPods safe while also carrying around this stylish case.
Being able to carry around makeup is super important for those of us who are out all day and may need a touchup.
Getting mini makeup items for stockings is a great idea, especially if your giftee travels a lot or is otherwise on the go.
This Benefit Cosmetics mini mascara is a great choice because it is mini and is also a highly-rated mascara that people will love!
Chunky heart charm bracelets are coming back into style as a trendy jewelry item, so why not get one as a stocking stuffer for this Xmas?
This Urban Outfitters x Juicy Couture bracelet is adorable because it has a Juicy Couture logo-embellished heart charm on a chunky yellow gold chain. It's another cute little 2000s throwback item that everyone will love this year.
Self-care days are super important for everyone, and they would not be complete without a bath and a bath bomb.
Therefore, you should definitely get a bath bomb like this one as a stocking stuffer. Lush is THE BEST place to buy bath bombs, so you can't go wrong with any of their offerings.
That said, I love this pink one. Its design is super cute, and it will make a bath smell really good. Also, when it melts, it creates a pretty pink color in the water.
9. iPhone Case
Who doesn't want a super cute phone case for their phone? You should definitely get one to fill your stockings this year.
Cute silicone iPhone cases are really popular right now, and this pearlescent leopard print iPhone case will make everyone excited to show off their phone case.
Also, this one is totally affordable at just $10.99 — an absolute no-brainer of a stocking stuffer idea for college students!
Candles are also a great stocking stuffer idea, especially if you get mini candles.
Mini candles are adorable and can be placed anywhere. This mini Volcano candle will be the perfect stocking stuffer item because people will love the scent — it smells exactly like an Anthropologie store! (AKA the best smell in the world.) Also, the white exterior is so pretty and will look good with any decor.
This is a stocking stuffer idea you probably haven't thought of, but with throwback everything trending, it's such a fun choice this year.
The large magic 8 ball used to be very popular, but now everyone is adoring the small magic 8 ball like this mini magic 8 ball.
This is great because it will fit perfectly in a stocking, and people will really enjoy being able to ask it questions.
Succulents are an adorable decor item for anyone's home, especially when they are mini succulents like these.
This can be used as another stocking stuffer for college students because you will have no trouble fitting these into stockings, and people will be able to have fun decorating their homes with these!
Plus, succulents are among our top picks for the best dorm room plants, so they're totally college-friendly.
13. Butterfly Clips
Butterfly clips for hair are really popular right now and will be an adorable gift for stockings.
This butterfly clip set is one of my personal favorite stocking stuffers for fashion girls because they are mini, and they come in different colors, so people will be able to wear these with almost any outfit!
Everyone needs some lip balm, so naturally, we had to include it on our list of stocking stuffers for college students.
This strawberry lip balm will do the trick because it will keep your lips moisturized without breaking the bank. It's a classic, and it works — I've been using this for years!
A compact mirror will also be a great stocking stuffer item because it is something that everyone needs to carry around in their bag.
This marble print compact mirror has an adorable design and will make it much easier for people to check their makeup or how they look while they are out.
You know that friend who always takes 20 minutes to come outside just because they lost their keys or wallet? Well, this is the perfect gift for them.
The tile is designed to be attached to your easily lost objects. All you need to do is connect it to the app on your phone, and it will tell you where your lost item is. This is the perfect gift to save both you and your friend time and frustration.
17. Gold Apple Watch Band
It seems like everyone in the world has an Apple Watch these days, so a great stocking stuffer for college students is a gold Apple Watch band.
This makes the watch look 10x more stylish and expensive, plus it's really affordable at under $20! (It's also available in silver, mixed metal, and a cute rose gold for a girlier look — it's up to you.)
The worst part of everyone's day is looking at their phone and realizing they are at 20% with no charger in sight.
For the friend that is always on their phone or complaining about their phone battery, a portable charger is a fantastic little gift. Now you can spend endless time together taking the best photos without having to worry about whether their battery will survive the night.
19. Battery Operated String Lights
The best way to make a small space, such as a dorm room, look infinitely better is by adding string lights. They take any space from drab to fab. They are also just really pretty to look at. So why not gift your friend a little pack of battery-operated string lights this holiday?
This is a fun stocking stuffer for college students that will ensure your student will have the best-looking room on campus. Believe me, their room will become the new hot spot.
Remember when you were younger, and you absolutely dreaded getting socks for Christmas? Now, there's nothing better.
Socks are always a simple and fun gift idea. You can get fuzzy socks, socks with sayings on them, socks with pictures, long socks, short socks: it doesn't matter. (These cozy winter socks come in a five pack for under $10!) Socks are a great present to give to your friends in their stockings this year.
Pop Sockets are as popular as ever, and they make for a great addition to the back of the phone. They make phones easier to grip, can double as a phone stand for those nights of watching Netflix, and are just cute accessories.
Not to mention, they're cheap! This is one of the cutest and most affordable stocking stuffers for college students. It also makes a great gift for nerds, as you can get one with their favorite character.
This makeup eraser towel is such a cute stocking stuffer idea for college girls who wear makeup, as it's an eco-friendly alternative to makeup wipes!
Just get it wet, and it flawlessly removes all of your makeup. Then, just toss it in the washing machine, and it's good to go for next time.
What are your go-to stocking stuffers for college students?
The holidays are a time to spend with your family and friends — so don't get too caught up in what you're buying for them. Although most of these options are under $30, you can find cheaper options that your friends will still love. Try making them a homemade gift or treat them to dinner the next time you hang out. Remember: it's the thought that counts.
What do you get your college-aged friends for the holidays? Do you have a stocking stuffer gift that you love? Let us know in the comments!
Editor's note: This post was originally published in 2018; it was completely updated and revamped in 2022 with new photos and information.