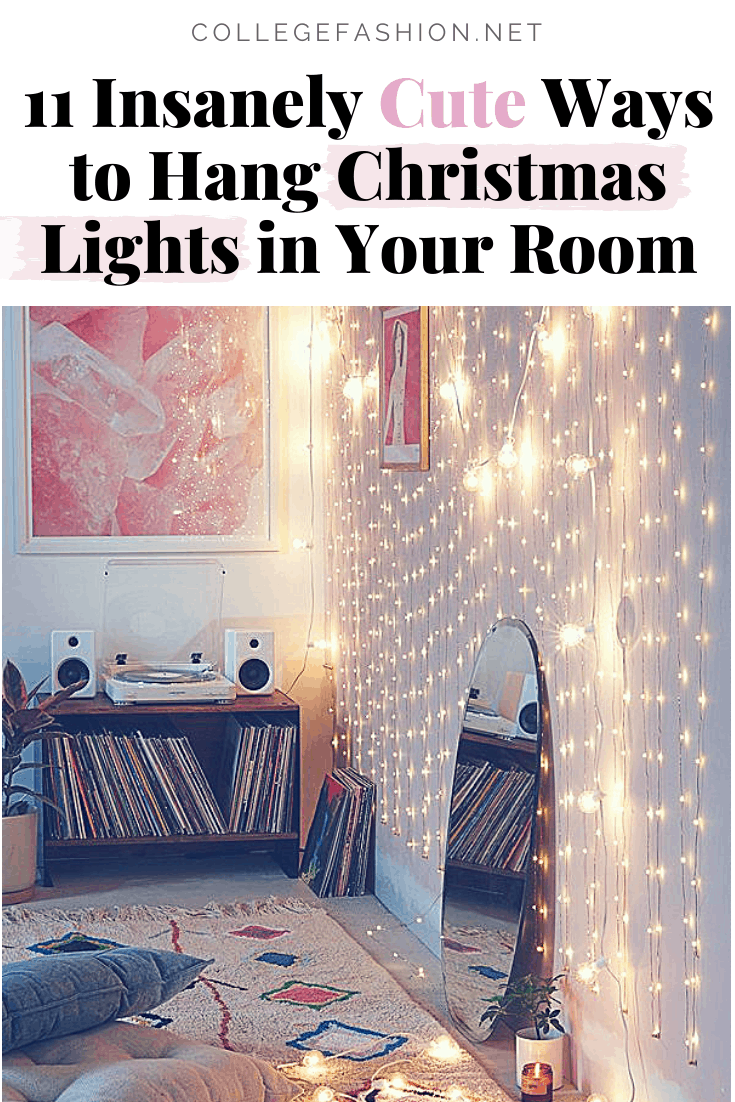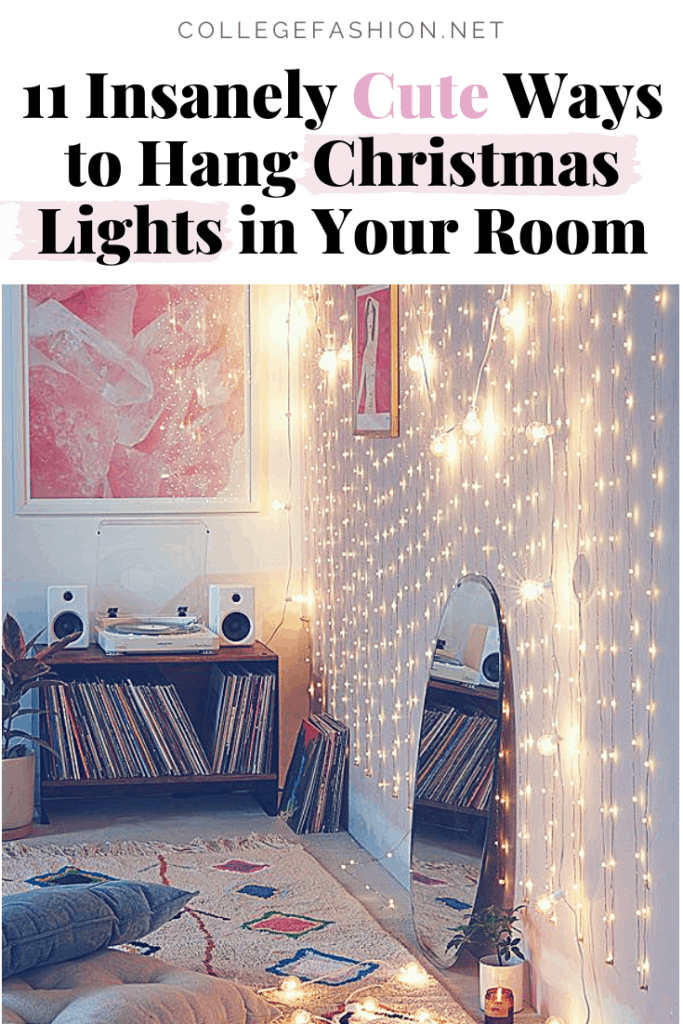 This post will show you how to hang Christmas lights in your room, plus some super cute Christmas lights in room ideas, perfect for dorms or apartments.
Whether you're a first-year or a seasoned upperclassman, you've undoubtedly seen plenty of other people's dorm decor, and have mentally bookmarked a few good ideas to remember for your room next year.
But what if you want to take your room to the next level, quickly and easily? Maybe even add a cozy holiday feel? Today's post will help you do that. It's all about hanging Christmas lights in your room for maximum coziness.
Photo walls, which we wrote about recently, are only the tip of the iceberg when it comes to decorating ideas. In this article, I'll do a quick breakdown on dorm room lighting, specifically how to hang Christmas lights in your room for those cozy vibes.
Related reading: Our All-Time Favorite Christmas Dorm Decor Ideas
Without further ado, let's get started!
Christmas Lights in Room 101: Everything You Need to Know
The quintessential dorm room accent lighting, Christmas lights can be found in nearly every stylish room, in countless arrangements. (They made our official college packing list for a reason!)
They're inexpensive, chic, and can make a room instantly feel warmer and cozier.
You can find Christmas lights at any local store that carries home furnishings, like Target, Christmas Tree Shops, or on Amazon. You can also find fancier lights on sites like Urban Outfitters (example seen above). These lights usually come in either white or dark green cords, and a multitude of bulb colors, so make sure to keep the colors consistent when you buy them!
Related reading: The Best Aesthetic Room Ideas We're Stealing ASAP
Things to Do with Christmas Lights in Your Room:
Create an entire wall of fairy lights and add photos with clips:
This is a classic way to deck out your room with string lights — it's so pretty and allows you to add your favorite photos. We also love the idea of using these same lights to spell out words, as seen here.
Use them to illuminate your mirror, as seen below: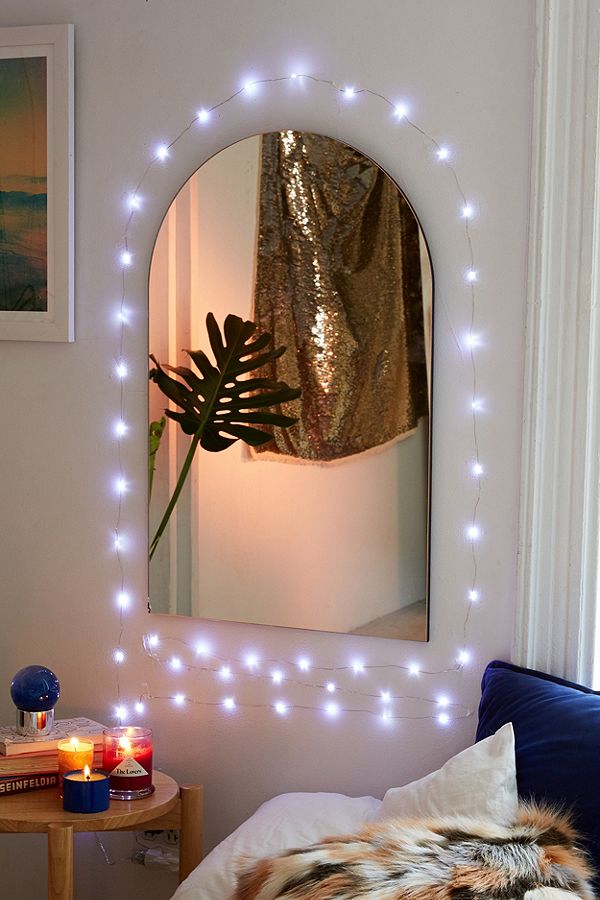 Recreate this look:
This has fairy tale vibes and we are here for it! It will make getting ready that much easier, too — you gotta have that good lighting.
Related reading: 16 Cute Room Ideas That'll Make Your Space Instagram-Worthy
Hang them where the wall and the ceiling intersect.
Recreate this look:
You'll get a pretty ring of light around your ceiling — I love how the photo above uses blue for this effect.
Or string them across your actual ceiling.
Recreate this look:
Note: Some dorms are going to tell you you can't do this, as even if they're LED they can be considered a fire hazard if your dorm is old school. Check if it's OK first!
Wrap them around the metal frame of your bed, or string them across a headboard.
Recreate this look:
How pretty is this? Such a cute upgrade for a boring standard-issue bed.
Use the lights to create a faux headboard for your bed.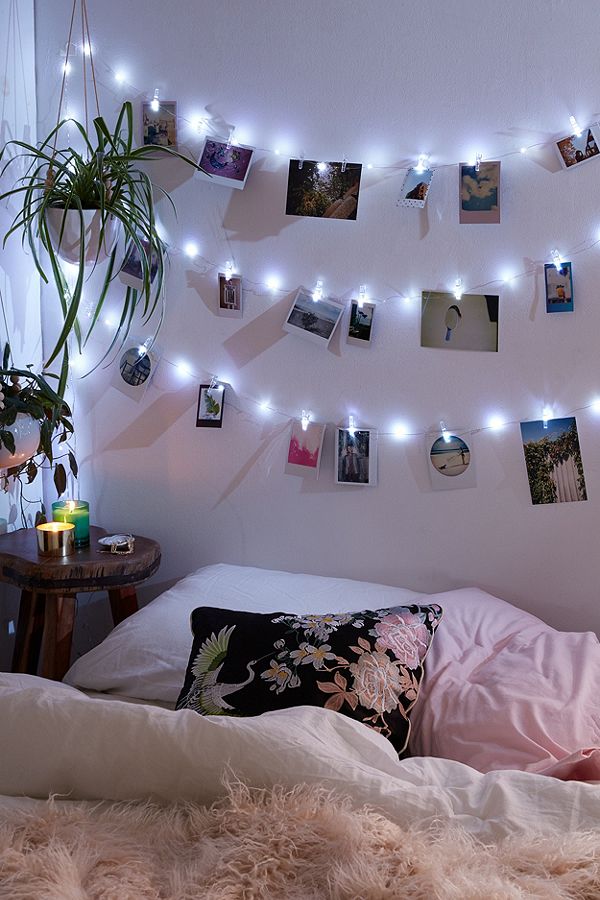 Recreate this look:
Complete the look with photos clipped on, as seen above. Or try the idea below, stringing them vertically:
Recreate this look:
If you're allowed to hang things from your ceiling, and are feeling a bit like Michelangelo, create a swirly or crisscross pattern with lights on your ceiling, as seen here.
Or go all out and cover an entire wall with strings of lights.
Recreate this look:
How cool! Your room will be so glam and photo-worthy.
Or try meandering them through your wall decor for an abstract feel.
Recreate this look:
This is perfect for that *boho* vibe in your room, and it's also a great way to highlight your favorite photos and prints.
Use strip lights to line your ceiling and corners
If you've been on TikTok this year, you've seen the strip lights trend that's everywhere. These super cool lights are sound-reactive and the color can be changed with a remote, so they're extremely customizable.
The most popular way to attach these is to string them along your ceiling and down the corners of your walls, but you can definitely get creative and use them in other ways. (A lot of people like to put them under or behind furniture for a backlit look.
Put them in a clear glass jar or vase and use it as a lamp.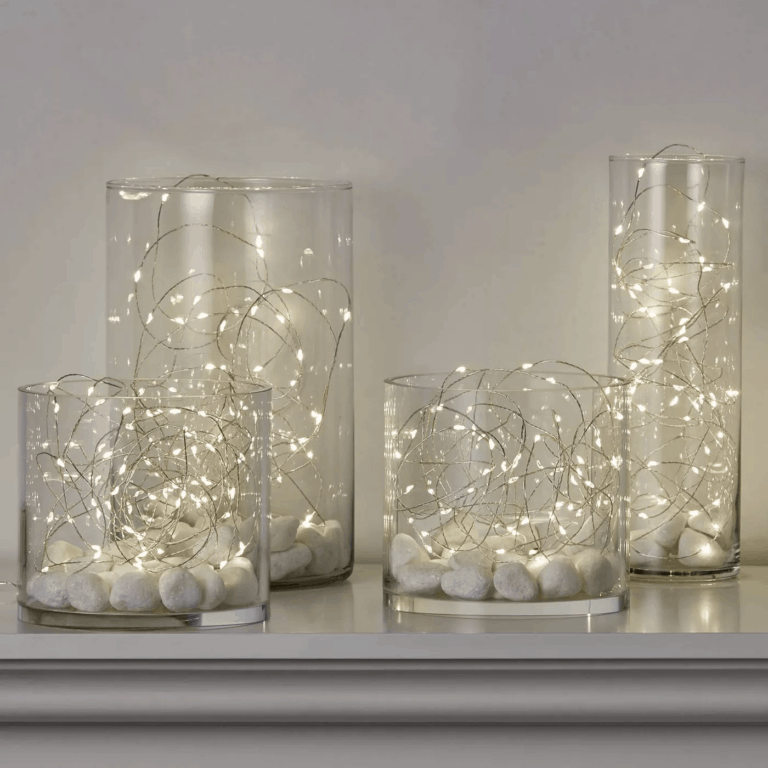 These are actually battery-powered lights from Target (and they're under $10!), so you can put them anywhere without worrying about plugging a cord into the wall!
How to Hang Christmas Lights in Your Room:
Clear packing tape on the cord works well, especially for when the lights climb the wall.
If you're hanging your Christmas lights, Command hooks work wonders. (There really doesn't seem to be an occasion where Command hooks or strips don't work in a dorm.)
If you are allowed to put holes in your walls, you can use tacks to hang them easily — just be sure not to puncture any of the wires with the tacks.
Want to outline a window in lights? If you're feeling brave, wrap twisty ties around the cord and staple the ties to the window frame. The staples will come out with a staple remover. (Just make sure you're allowed to make holes in your walls before you do this.)
What Do You Think?
Were these tips helpful? How do you arrange your Christmas lights? Have you ever used fairy lights before, and if so, what style and color did you choose? Do you have any lighting shopping tips? What other sorts of fun lighting do you like for your dorm? Let us know with a comment!
Editor's note: This post was originally published in 2011; it was completely updated and revamped in 2021 with new photos and information.