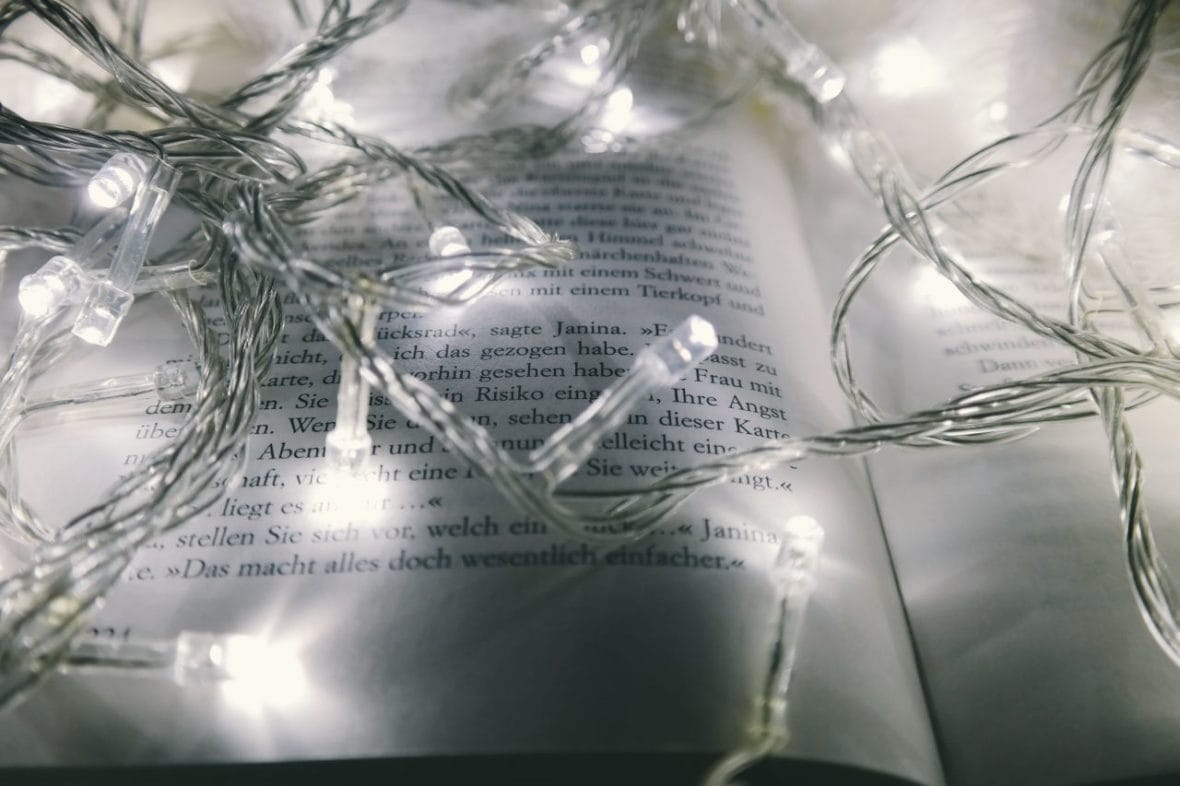 By now, many of you will have moved into your rooms already. Whether you're a first-year or a seasoned upperclassman, you've undoubtedly seen plenty of other people's dorm decor, and have mentally bookmarked a few good ideas to remember for your room next year.
Photos and posters, while classic and personable, are only two of a myriad of decorating ideas. In this article, I'll talk about how to incorporate a lesser-known decorating technique: lighting. Without further ado, let's get started!
Dorm Room Lighting 101
The key element in any interior design scheme is light. Just as light can make or break a photograph, light is incredibly important to keep it in mind when setting out to decorate your living space.
There are plenty of lighting choices on the market, but many of them are on the expensive side, so we'll focus on more affordable (and creative!) ways to create a warm and ambient feeling. In today's article, we'll cover Christmas lights and lanterns. First, here are some quick tips to know:
Things to Know About Lighting Dorm Rooms:
Consider your room. Will a tall floor lamp be able to fit through your door? Do you have enough table space for accent lamps? Most importantly, are there rules and regulations about what sorts of lights you can use? Knowing these beforehand will save you a lot of grief.
Know the difference between fluorescent, LED, and incandescent lighting. In case you don't, fluorescent lights are four to six times more energy efficient than incandescent bulbs, are more commonly found in offices, and last longer. LED lights are the most energy-efficient light on the market, though also the most expensive. Incandescent bulbs, on the other hand, burn a thin filament, and therefore emit a lot of heat. Incandescent bulbs are cheaper (but less energy-efficient) than fluorescent and LED bulbs, so take your pick.
Incandescent lights can pose serious fire hazards. LED bulbs, especially on Christmas lights, are much safer than regular bulbs.
Less is more. Three lamps in one dorm room is quite enough, but this number can shift to accommodate larger rooms like triples and quads. A good rule of thumb is to have one accent lamp on every large surface.
Use small mirrors across from lamps to make your room seem larger. You can arrange them in a nice pattern on your wall, or you can try shaped mirrors (like these super cute heart ones).
Christmas Lights
The quintessential dorm room accent lighting, Christmas lights can be found in nearly every stylish room, in countless arrangements. They're inexpensive, chic, and can make a room instantly feel warmer and cozier.
You can find Christmas lights at any local store that carries home furnishings, like Target, Christmas Tree Shops, or on Amazon. You can also find fancier lights on sites like Urban Outfitters (example seen above). These lights usually come in either white or dark green cords, and a multitude of bulb colors, so make sure to keep the colors consistent when you buy them!
Things to Do with Christmas Lights:
Hang them where the wall and the ceiling intersect for a right of light around your ceiling.
Use them to illuminate your mirror, as seen below: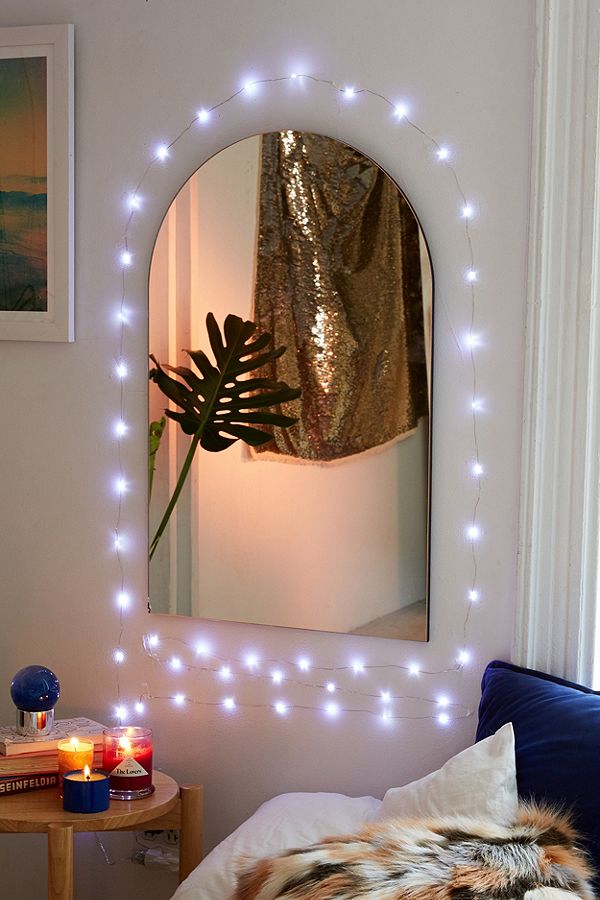 Wrap them around the metal frame of your bed.
Dangle them vertically from the ceiling, or attached to the wall, to create visual interest and to draw the eye upwards.
Buy icicle Christmas lights and attach them to the highest part of your wall.
Use the lights to create a faux headboard for your bed, complete with photos clipped on, as seen below: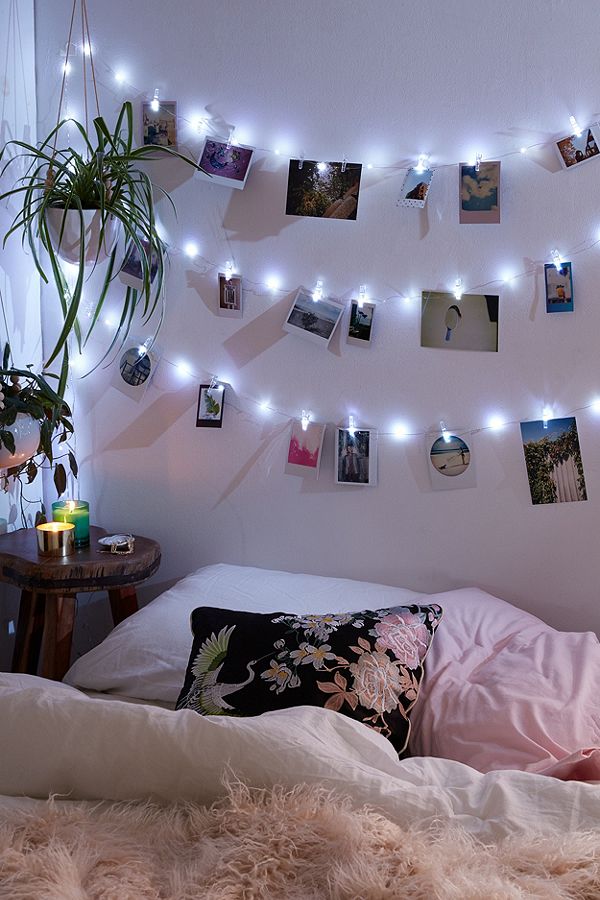 If you're allowed to hang things from your ceiling, and are feeling a bit like Michelangelo, create a swirly or crisscross pattern with lights on your ceiling, as seen here.
Put them in a clear glass jar and use it as a lamp, as seen here.
How to Hang Christmas Lights:
Clear packing tape on the cord works well, especially for when the lights climb the wall.
If you're hanging them, Command hooks work wonders. (There really doesn't seem to be an occasion where Command hooks or strips don't work in a dorm.)
Want to outline a window in lights? If you're feeling brave, wrap twisty ties around the cord and staple them to the window frame. The staples will come out with a staple remover. (Just make sure you're allowed to make holes in your walls before you do this.)
Paper Lanterns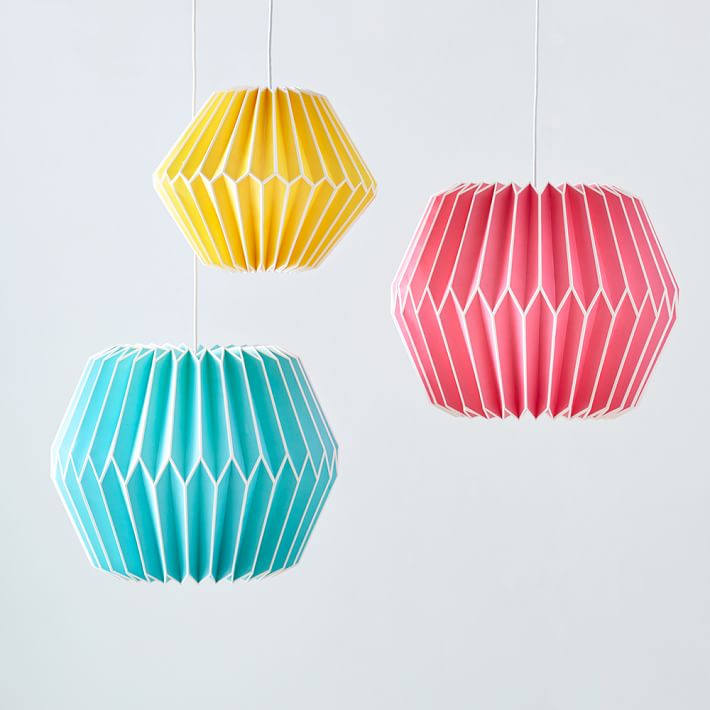 I'm a sucker for paper lanterns, especially those with lights in them. They add such a calming vibe to rooms, and make use of highly-available ceiling real estate. Of course, they are potential fire hazards, and as such, are not allowed in most dorms, so try them without the lights, or buy a string light version as seen below:
Some of Our Paper Lantern Picks: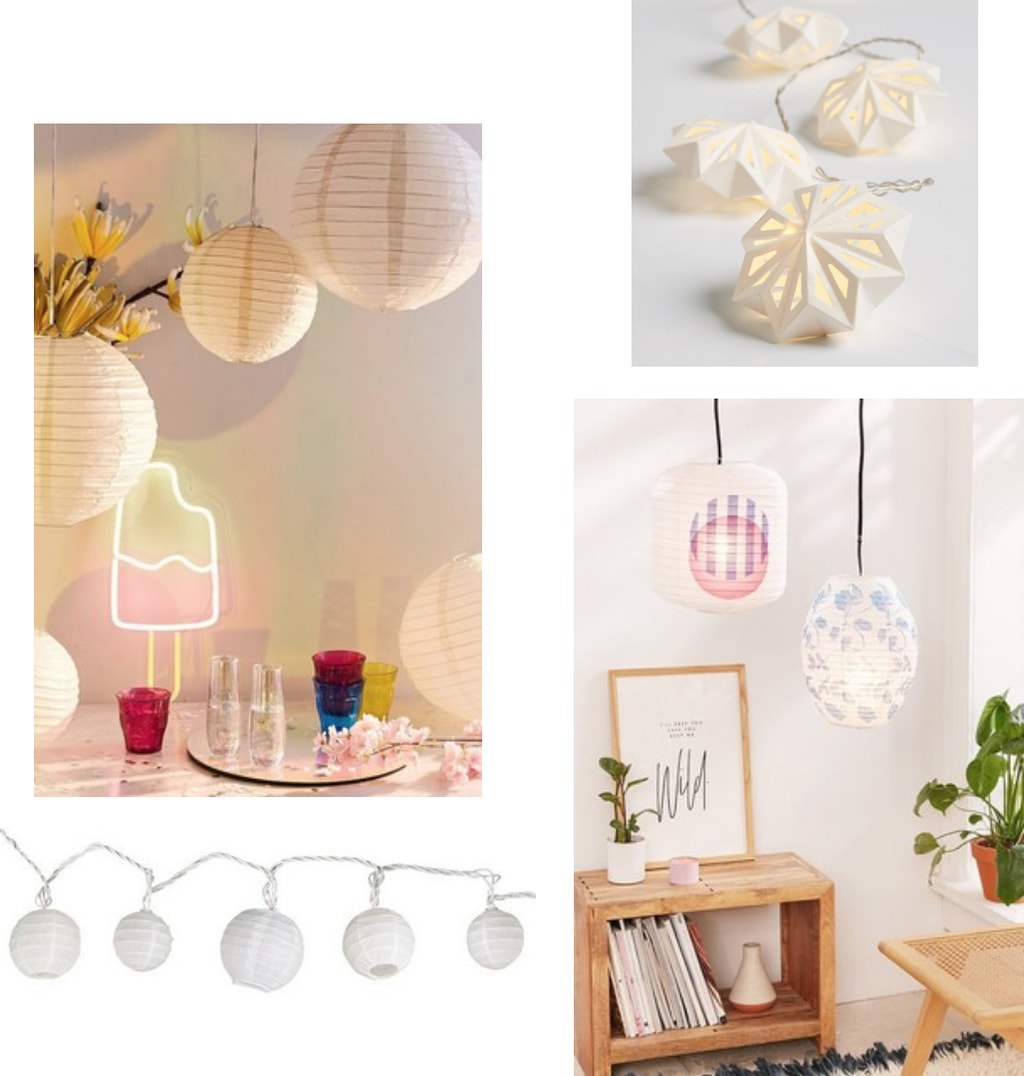 Products, clockwise from top left: Paper Lantern Set – Urban Outfitters, Snowflake LED String Lights – Rejuvenation, Printed Paper Lantern Pendants – Urban Outfitters, Multi-Size Ball String Lights – Target
Tips for Hanging Paper Lanterns:
Stick a Command hook onto the ceiling and tie the lantern string to it (or make a loop with the lantern string and tie that to the hook with another piece of string).
Ribbon is really cute for hanging lanterns, especially white ribbon. Try wire-lined ribbon for sturdy construction.
Mini lanterns in a neat arc over your bed look sweet, but they can also line the tops of windows or mirrors. Hang these with Command hooks or packing tape.
Battery-powered lanterns are great! They don't have the perfectly-spherical look of regular lanterns, but they save you so much effort — hooking up a paper lantern light can be costly and time-consuming.
Try applying paint to a plain white paper lantern (in your room's color scheme), as seen in the tutorial here.
What Do You Think?
Were these tips helpful? How do you arrange your Christmas lights? Have you ever used paper lanterns before, and if so, what did they look like? Do you have any lighting shopping tips? What other sorts of fun lighting do you like for your dorm? Let us know with a comment!