This post may contain affiliate links, which means we may receive a commission if you purchase through our links. Please
read our full disclosure here
.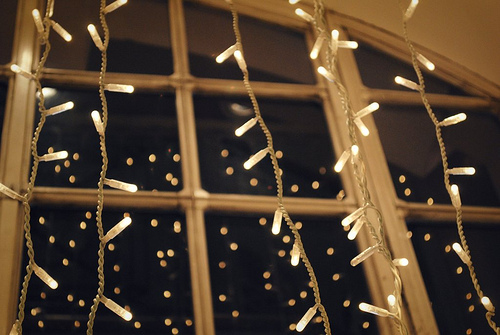 As I'm writing this, I'm playing the Glee Christmas album at full volume with my door wide open — sorry, floormates! The holiday season puts me in such a good mood that I find it difficult to keep a straight face whenever I hear festive music or see colorful decorations – I'm sure many of you can relate.
Of course, I couldn't truly be a sucker for holiday spirit without bringing it into my dorm room! Seasonal dorm room decorations are always a fun creative outlet, and Christmas is the mother of all decorating holidays — you only need to venture outside to see giant red ornaments and bedecked trees everywhere.
In this article, we'll show you some gorgeous (and inexpensive!) ways to decorate your dorm room for the holidays. Whether you celebrate Christmas, Hanukkah, or Kwanzaa, it's impossible not to be drawn into the wonderful giving spirit that December brings us.
Turn on the Pandora Christmas station, throw on a cozy sweater and a grin, and let's get started!
1. Christmas Lights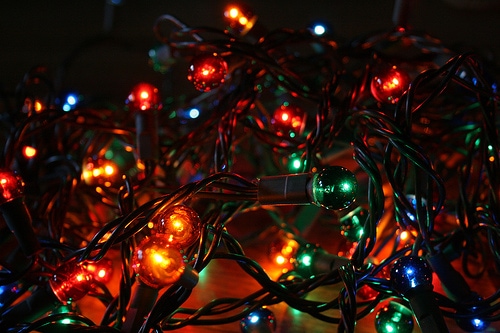 The quintessential dorm room lighting choice takes on a whole new dimension during the holidays! Christmas lights are the cheapest and easiest way to decorate for the holidays, and have a myriad of uses:
Wrap multicolored Christmas lights around your bedpost and bed frame for sugarplum dreams!
Drape icicle Christmas lights from your closet or dresser top.
Create a glowing illusion by running lights all around the perimeter of your room where your ceiling meets the walls.
Use Christmas lights (white or multicolored) to create a faux headboard over your bed.
Crisscross the lights from wall to wall near the ceiling to really make the room feel cozy.
Stuff the cord of lights inside a large jar or around an empty bottle for simple and festive decor.
Use the lights to make an outline of a Christmas tree, Star of David, or Kwanzaa symbols on your wall or in the hallway.
To hang your lights, use Command hooks or strong, clear tape (I use packing tape) to keep them from falling and keep your walls in tact.
2. Wrapping Paper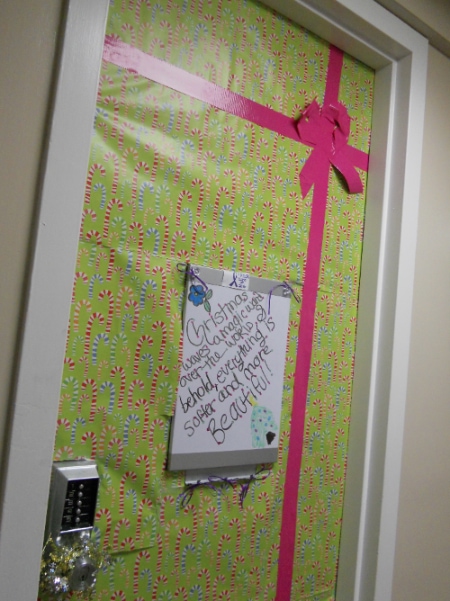 Taylor, who lives on my floor, wrapped her door like a present!
I always seem to end up with an excess of holiday wrapping paper, so this holiday season, I'm putting all that extra Christmas paper to good use for a chic and inexpensive way to decorate my dorm! Here are my ideas for using wrapping paper:
Like Taylor did above, wrap your door in wrapping paper and use either ribbon or duct tape (shown above) to create a bow. Every time you come back to your room, you'll smile!
Cover a few medium-sized pieces of flat cardboard in wrapping paper and add some ribbon, bows, or colorful duct tape to make presents you can hang on your wall like posters.
Cover your bulletin board with wrapping paper for a festive touch.
Wrap your lampshade in wrapping paper for an instant and noticeable change (Just be sure to do this with a shade that doesn't get hot!)
3. Wreaths, Stars of David, Kinaras
I used to think wreaths were only made of evergreen branches and the occasional silk flower — but then I stumbled across this gorgeous wreath made of teabags, and the whole world of creative and DIY wreaths was opened up to me. There are also fabulous DIY tutorials for making Hanukkah wreaths, Stars of David, and even for making Kwanzaa Kinaras and other symbols!
Check out Apartment Therapy's roundup of 8 cheap DIY Christmas wreaths, complete with tutorials — I'm absolutely in love with the pom pom one!
Support the local community and buy a wreath in town! Hang it on the inside or outside of your door, depending on how rowdy your building gets on the weekends.
Try your hand at making this Hanukkah wreath out of wire and toilet paper rolls.
For a return to childhood craft days, make this Kwanzaa garland or this egg carton kinara!
Grab your camera, take some photos of your (hopefully snowy) campus, and arrange them in a ring with a big bow for a cute customized wreath.
A few more ideas…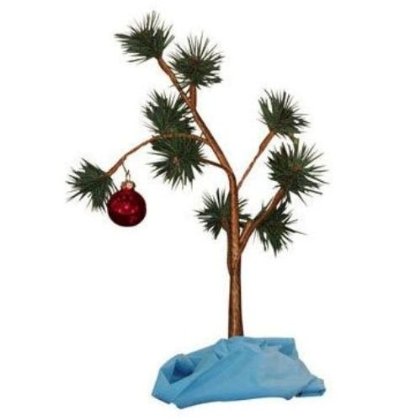 Charlie Brown Christmas Tree – $19.95 at Amazon
Bring the Peanuts spirit into your room with this adorable Charlie Brown Christmas tree! At barely 18″ tall, it's right at home on your dresser or desk.
Cut snowflakes out of printer paper (we're particularly fond of making 3D paper snowflakes) and hang them from your ceiling or stick them onto your window!
Throw a Santa hat on your bedpost or pillows for instant decor.
Hang up some stockings, or make some out of felt or cardboard wrapped in paper, with your name written in glitter or puffy paint on top.
Replace the bulbs in your lamp with red or green ones!
And of course, don't forget the mistletoe above your doorway!
What do you think?
Do you like our holiday decorating tips? How have you decorated your dorm room for the holidays? What's your favorite part of the holidays, and how do you bring it to your decor? Let us know with a comment!