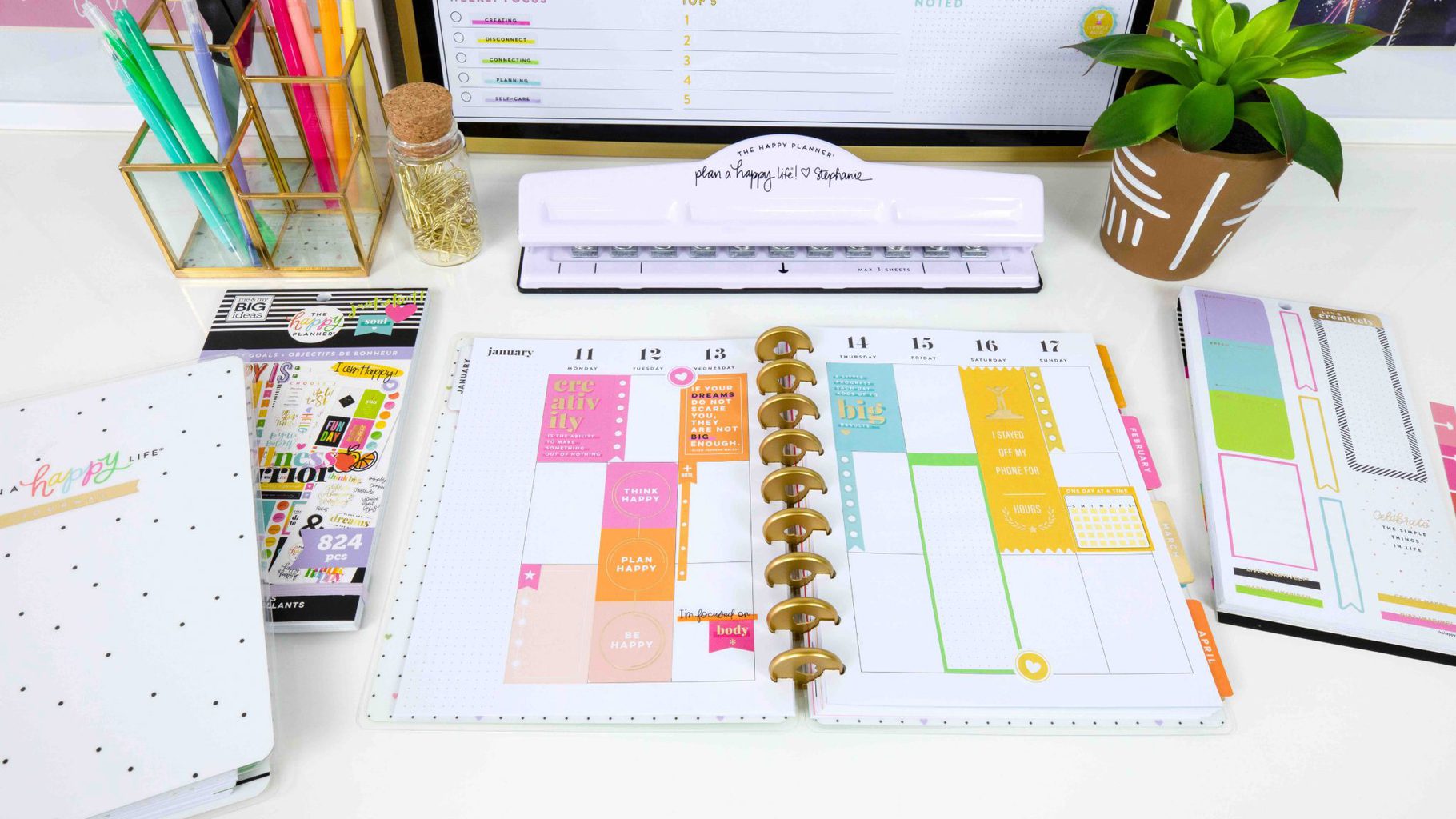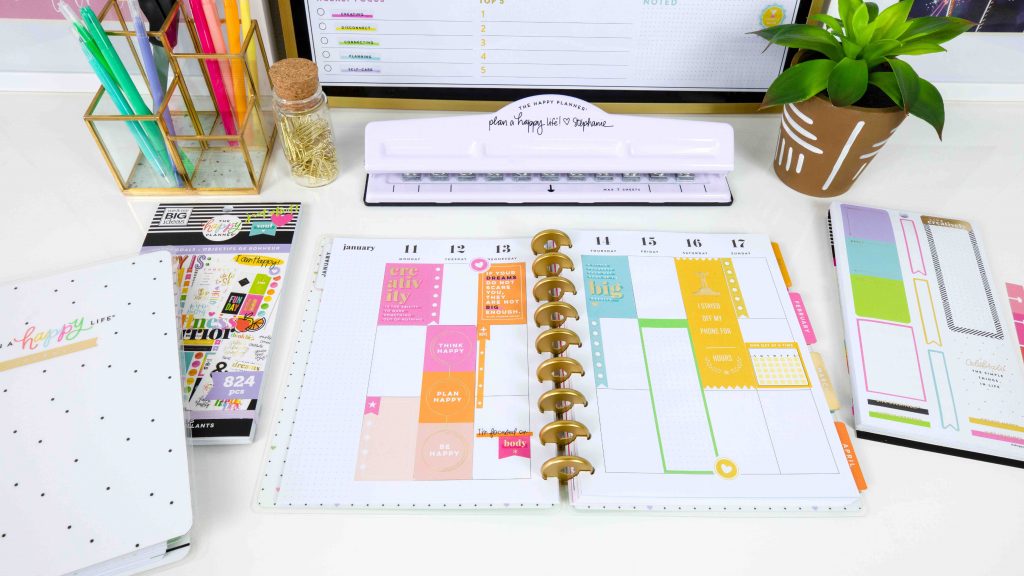 I love stationery and paper, and I obviously need to be organized. Plus, I'm always trying (trying!) to detach as much as possible from my phone. This means I am a big fan of paper planners.
At the moment, I'm extremely busy working from home and juggling a million other errands and tasks, and my to-do list always has loads of things on it. So I need a planner that will keep me organized and on task (as much as is possible).
This year I was fortunate to receive a sample of The Happy Planner, which is a 12-month planner that's known for its aesthetically-pleasing designs. The brand also comes with additional packs for fitness, school, faith, budgeting, and other aspects of your life that might need extra planning.
Keep reading for my experience with my Happy Planner!
Related post: The Best Planners for College to Keep You Organized
Happy Planner 101
The Happy Planner comes in three sizes; classic, big, and mini. I chose the classic size, which is around 8″ by 10″. It fits in my mid to larger-size bags really well. The planner comes with laminated covers, which is nice because my planners usually get pretty destroyed by the end of the year.
I chose the Minimalist Classic Planner, above, which reads "this is your year," with rose gold and white marble design. My style is minimal and mainly neutrals (super colorful planners give me a headache!), so this is perfect for me.
In the past, I was hesitant to try the Happy Planner because I thought their designs were too colorful, so I'm super excited that they have this minimalist line now to better fit my vibe.
All of the Happy Planners come with twelve months worth of pages, with a monthly spread and then weekly spreads. Mine comes with some super cute minimalist dividers, too:
The planners are bound by discs instead of typical metal rings, which has its pros and cons.
The biggest negative is that turning the pages can be a little tricky at times until you get used to it. However, there is a benefit to this: The pages have slots which means you can take them out of the planner and then write on them and then put them back in.
Therefore, if you buy any of the add-ons, you can put them wherever you like, and if you put too many add-ons in your planner you can buy expanded discs, which is helpful.
Plus, removing these pages doesn't leave little bits of paper behind on the binder that you need to pick out. (Does this annoy anyone else?)
Compared to other planners I've used, I really like the fact that I can take the pages out and write/decorate them to my liking. Plus, I can remove pages throughout the year if I want to slim my planner down as the year goes by or only plan a few months at a time.
Using & Decorating the Happy Planner
Now for the other big selling point of the Happy Planner: The prettiness aspect. While I don't really decorate my planners (maybe a few stickers or colored pens here and there, but nothing time-consuming or super artistic), I do love the fact that you can decorate them.
I would love to be someone who decorates her planner perfectly, but if I'm being honest, it's not something I really want to spend time on when I'm busy.
Instead, I like to use my planner as functionally as possible. The pages are divided into three sections, and I put appointments or meeting times into the boxes based on the morning, afternoon, and night/evening. (You could also do this for class times.) I use the monthly spreads for large events or big projects (you could use them for tests or huge work projects) and then transfer them onto the same day on the weekly spread. I use post-it notes if my to-do list grows too long for the page.
Each month also comes with a "pre-month" page where you can write what you have loved in different categories, whose birthday it is that month, and then major holidays with spaces for you to fill in. This is a cute aspect of the planner that helps it stand out from the rest.
So… how does the Happy Planner stack up against other planners I've used?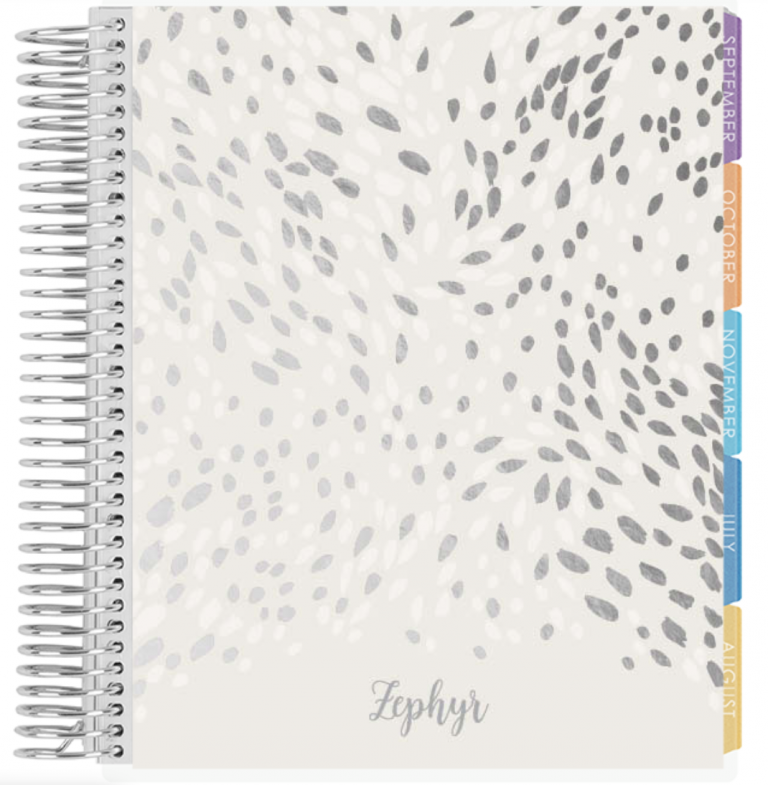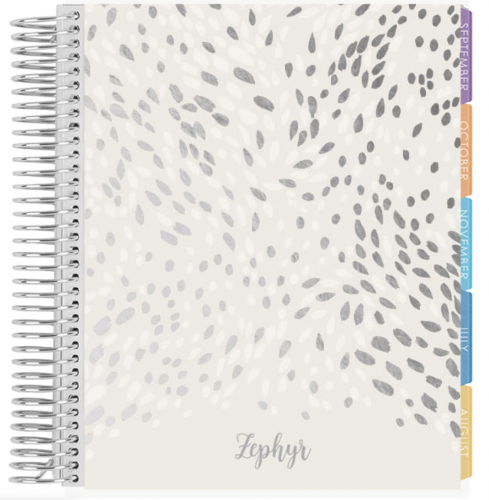 Last year I used a planner from Erin Condren, which has a similar style to the Happy Planner in terms of its layouts and how many months you get. (Erin Condren does come in 15-month versions, although I prefer a 12-month planner.)
Most Erin Condren planners come with twelve months and have a monthly layout and weekly layouts for every day. Each planner has a small section in the front for yearly notes. It comes with a layout of the year at the front, as well as a zip pocket (that I always remove) and some extra stickers, note pages, and coloring pages at the back (which I never used).
While Erin Condren has been my fave for the past four or five years, I couldn't justify repurchasing this year. My main issue with my Erin Condren planner is the high cost — it's nearly double the price of The Happy Planner ($60 vs. $32.99), and in terms of features I use, it doesn't have anything that the Happy Planner doesn't.
The only difference is the binding (rings vs discs), and Erin Condren's paper is slightly heavier in weight than The Happy Planner's (not important to me).
To be honest, I am annoyed at myself for paying $60 for a planner when such a great alternative was available for half the price! But now I'm excited to know better and save money going forward.
The verdict on the Happy Planner
Overall I really love my Happy Planner, and I love that it has all the features I loved from my Erin Condren planner without the high price tag. Though I got this planner as a sample, I will be re-buying it with my own money when I use this one up.
I think the Happy Planner is best for individuals who like their planner to look cute as well as be functional. It gives you a lot of flexibility thanks to its add-ons, and they offer the planner in a million styles to fit your aesthetic. (For instance, if you love color, they also have more colorful planners as opposed to my minimalist one.) Plus, at just $32.99, it's way more reasonably priced than other similar planners.
I think the Happy Planner is a really good planner and product, and it is the perfect fit for me right now. I definitely recommend giving it a try — it could very likely be a perfect fit for you, too!
As always, it's important to experiment to see what you like in a planner. Trying new planners and organizational systems, to me, is half the fun of organizing your life.
Bonus: Learning to Plan with Plan a Happy Life Book
One thing that really inspired me to up my planning game this year was reading Stephanie Fleming's book, Plan a Happy Life. (Stephanie is the founder of The Happy Planner.) I received this book in PR, and I'm not exaggerating when I say it was game-changing for me.
I've always approached planning as simply keeping track of my to-do list each week and making sure that my work and errands get done. Maybe I'd put some fitness goals in my planner occasionally.
But this book inspired me to start using my planner to plan my entire life. We're talking about big life goals, dreams, long-term plans, hobbies, and making time for the things that actually matter most to me.
I know it sounds like a simple concept, but I've never used a planner to actually plan happiness into my schedule. This book gave me step-by-step on how to do it (the questions and prompts were so helpful to get me thinking about what I want to prioritize) and how to transform my relationship with my planner entirely.
If you're new to planning this way or want to learn more, I highly recommend you check out Plan a Happy Life.
Have you tried the Happy Planner?
For more planner recommendations, be sure to see our guide to cute planners for 2021.
What do you use to organize? Do you also use the Happy Planner or do you prefer something with fewer frills? Let us know below in the comment section!
Editor's note: This post was originally published in 2018; it was completely updated and revamped in 2022 with new photos and information.
For more on happy planners and other agendas, you might want to check out our related posts below –