This post will show you the 25 best DIY gifts for boyfriends.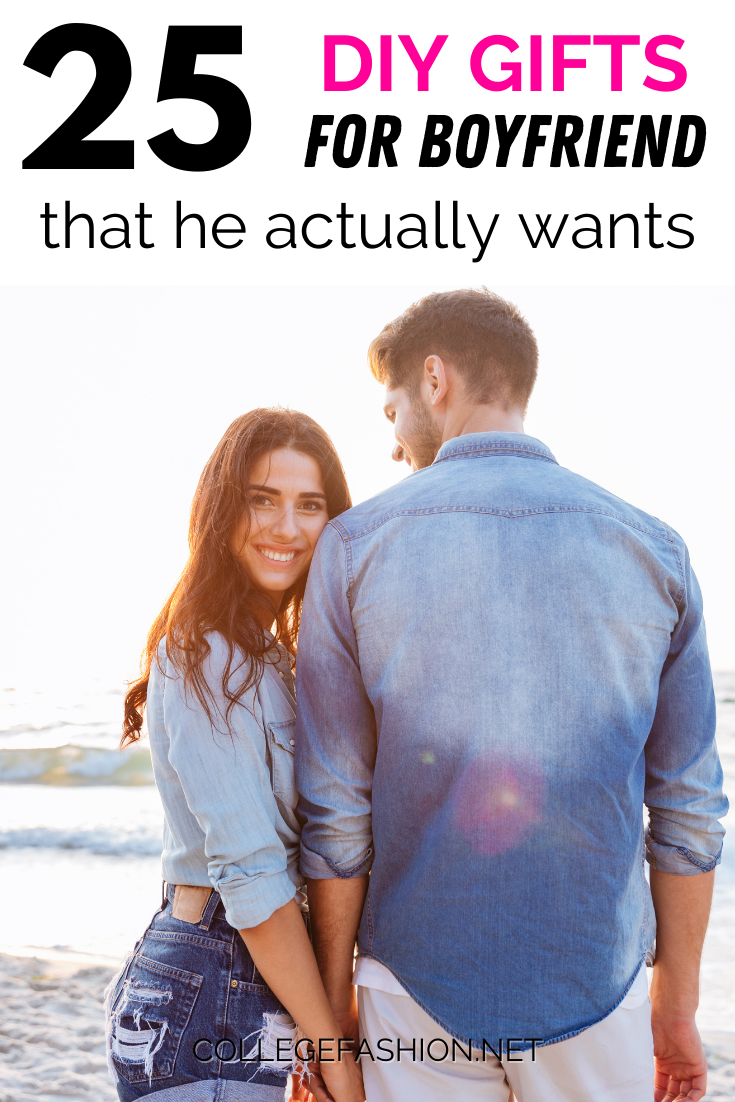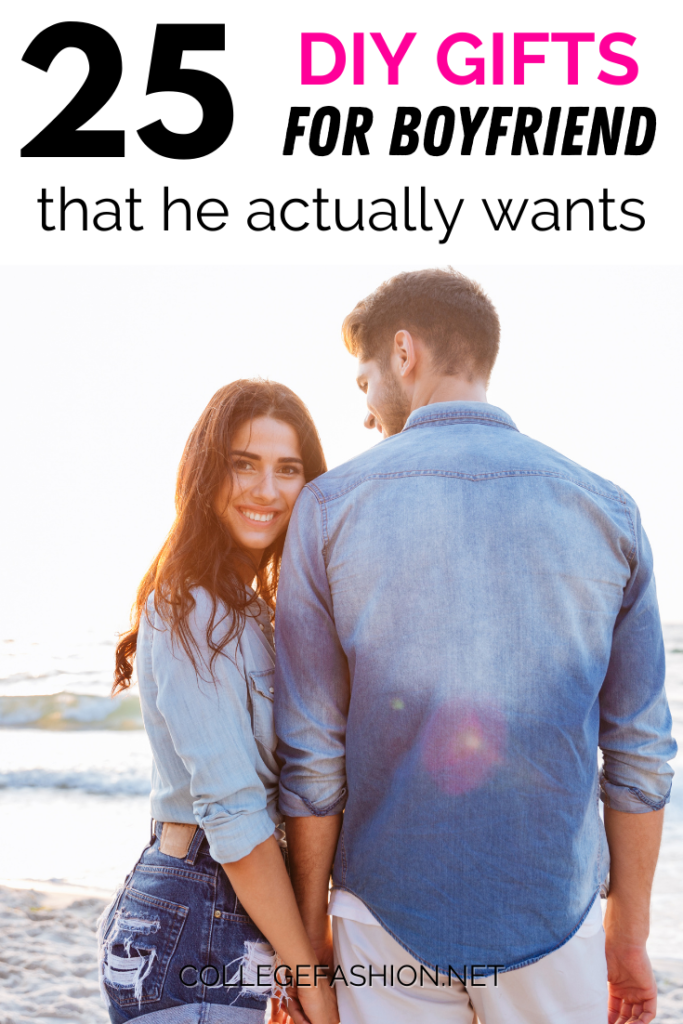 With the holidays fast approaching, you might be thinking about what you want to get your boyfriend for Christmas. Or maybe your boyfriend's birthday is coming up and you want something more unique than getting him cologne…. again.
We've got you covered!
Whether you're a seasoned DIY-er or you just want to do something extra heartfelt this year, we've rounded up the 25 best DIY gifts for boyfriends.
All of these gifts are boyfriend-approved and so sweet! Plus, most of them are easy to make no matter your level of DIY skill.
25 DIY Gifts for Boyfriend
1. Supreme Pillow & Candles
If your boyfriend is into streetwear, this is such a cute DIY gift idea — make him a Supreme pillow and candles for his apartment.
This video shows you how to make custom candles and a cute throw pillow with any logo (you could also do this for a sports team, for instance), and the materials are easy to find at your local craft store or on Amazon.
The tutorial also includes a customized flask tutorial, for boyfriends who are 21+.
2. DIY Boyfriend Gift Box
This is such a cute DIY gift idea that you can completely customize with whatever your boyfriend likes. Make him a customized gift box!
In the video, she includes photos, his favorite candy, a hat and shirt from his college sports team, books, a deck of cards, gift cards to his favorite fast-food restaurant, a tapestry for his room, and a face mask, but you could customize this with whatever your boyfriend likes.
There are so many ways to be creative with this one, so have fun with it!
3. Sentimental Relationship Surprise Box
If your boyfriend loves romantic gestures and sweet gifts, this is a perfect one for him. This pop-up box has room for tons of photos of the two of you, cute cards with sweet notes on them, and more surprises.
My favorite part is the pull-out heart that says "Thank you for…" so cute! And the quote, "I am all yours, no refunds" is adorable. Seriously, so sweet and sentimental.
4. "You're My MVP" Framed Painting (OR Game Pad Coasters!)
This one is perfect if your boyfriend is a gamer — the 8-Bit vibe of this custom painting is so cute! (Tutorial is at 1:26 in the video.) It's also super easy to make even if you have no artistic skills.
For a slightly more advanced DIY, I also love the 8-bit gamepad coasters at the end of the video. Any gamer would love to have those in his room.
Also Read: Fashion Inspired by Art: Alphonse Mucha's "The Arts, Painting
5. "Our Story" Sentimental Flip Book
This is another sweet and sentimental one if your boyfriend is the type of guy who appreciates romantic gestures like this. Make him this cute flip book that tells the story of your relationship.
This DIY is super simple, you just need card stock, foam, a paint pen, scissors, and glue — should be easy to find just about anywhere!
6. Custom Photo Frame with Your Initials
I love this idea if the two of you live together — it would be such a cute decor item for your first apartment with your boyfriend!
For this DIY photo frame with initials, you'll need a few items from the craft store, but it comes together fast. I especially love how she used black and white photos — so pretty.
7. "Our Adventure Book" DIY
If you've seen the Disney/Pixar movie "Up," you know what an Adventure Book is. This is such a cute gift if your boyfriend loves Disney or you watched the movie together at some point.
I love the idea of filling it with your past adventures and leaving plenty of blank pages to fill in as you adventure through life together!
8. DIY Spotify Photo Frame Gift
This DIY spotify photo frame is such a cool gift idea if your boyfriend loves music or maybe you want to highlight your song as a romantic gift!
In this DIY, they use a photo of the couple and the couple's names, but you could totally print out the album art from your favorite song and use that instead.
9. Custom Keychain (from a Takeout Container!)
I love a good eco-friendly diy gift for your boyfriend, and this one is perfect.
This keychain DIY is a great way to upcycle your old plastic takeout containers and you can completely customize it to anything he loves (sports team, college logo, favorite cartoon character, video game logo, etc.)
10. Scrapbook of Your Relationship
If you are good at scrapbooking or just want to give it a try, why not make your boyfriend a relationship scrapbook? This is another super sentimental and sweet one for guys who love those types of gifts.
To make this, you just need a blank notebook, photos of the two of you, and scrapbooking paper and glue. You can also decorate with stickers, glitter, movie ticket stubs, whatever you can think of!
11. Custom Book Safe
I've always thought that book safes were so cool, and I honestly never thought to DIY one. But it would make such a fun gift for your boyfriend!
All you need is an old hardcover book, glue, a utility or craft knife, and wax paper. It takes some time but it's pretty straightforward to do. Bonus points if you can find an old copy of one of his favorite books for this.
12. Customized Mug
This is a DIY gift idea that you know he is going to use all the time. I have yet to meet a guy who doesn't like coffee (although I'm sure they exist). So make him a custom coffee mug!
For this DIY, you just need an oil-based sharpie paint marker and a coffee mug, plus some ideas for cute sayings or shapes to trace on.
13. DIY Jacket with Patches
For the boyfriend who is into fashion or just has an edgy sense of style, makes him a jacket with patches to fit his personality.
You could easily thrift the jacket for this, plus patches are cheap to buy online, so although it looks expensive, it's a pretty cheap DIY!
14. "52 Reasons Why I Love You" Cards
It couldn't be simpler to make this DIY deck of "Reasons Why I Love You" cards. You just need a deck of cards, a key ring, a hole punch, and some paper and glue.
Write down something you love about your partner for each card (or print it out if you want this to look extra fancy), then paste it on. The hardest part is narrowing it down to just 52 things you love about them.
15. Magic Photo Frame
This is such a cute and unique DIY gift idea for your boyfriend — I had never seen this before!
Basically, you take two photos of you guys, and with some DIY magic, you can create a photo frame that shows a different picture depending on which side you're viewing it from. Super cool and fun to make.
16. Nostalgic "Things I Love About You" Photo Frame
This is another variation on the "things I love about you" theme, but I love that it combines the concept with a photo frame and a healthy dose of nostalgia.
In the video, she used a black and white photo from high school and I love how it turned out! So throwback-cute.
17. DIY Gamer Kit Gift for Boyfriend
This is another perfect gift idea for a gamer boyfriend. Make him a "gamer kit" with a game he's been wanting, some refreshments, and a coozie for his drink. Super cute!
18. Light Up Heart Box for Room
This light-up heart box isn't so much a gift on its own, but it would be a perfect accompaniment to a romantic night you might have planned.
This box would be the perfect way to set the mood at your place or his, maybe before you cook dinner or order in! Choose a movie for afterward and you have the perfect night.
19. Number Sign
This DIY number sign gift idea is perfect if your boyfriend plays on a sports team and has a number he always wears.
It looks like it would be a lot of fun to paint and would be a great extra to throw in with the other gifts on this list.
20. DIY Man Bouquet / BROquet Gift Idea
I love the concept of a "man bouquet" — seriously too funny and cute!
This one could not be simpler. Just get a beer glass or pitcher and load it up with all of his essentials, from candy to scratch tickets to cologne, energy shots, chapstick, razor refills, jerky, you name it! Any guy would love this.
21. Custom Shot Glasses
Obviously, this is only for boyfriends who are 21+! Just follow this simple tutorial to make customized shot glasses to fit his personality.
You could do his favorite sports team logo, his initials and yours, a symbol that's important to him, or even a logo of his favorite brand — it's totally up to you.
22. DIY Nostalgic Video Game Shadow Box
This is my favorite gift on the list because every gamer I know would absolutely LOVE this nostalgic video game shadow box! It is such a cool idea for anyone into throwback video games.
This is one of the more involved DIYs on this list and it does require you to seek out his favorite game (which might be hard to find), but it's all so worth it — this one will make his jaw drop!
23. The "5 Senses" Gift Idea
This one isn't strictly a DIY, but it does require some DIY skills on your part to bring it all together.
The idea is to give him a gift that he can experience with all five of his senses, one gift for each sense. The video gives some ideas for each type of gift, but get creative with it and come up with your own!
24. Custom Neon Sign
This custom neon sign DIY is so unique and looks so much fun to make. I also love that you can customize it to say whatever you want, whether it's a quote or a line from your song.
25. DIY Poker Chips
Any guy who plays poker would love a customized set of poker chips. This is a super fun DIY that has so many possibilities, depending on the types of photos you choose.
What do you think of these DIY gifts for your boyfriend?
Which one is your favorite? Will you be trying any of these DIYs? Be sure to let us know what you think by leaving a comment down below!
I love these DIY gifts for your boyfriend, you might want to read our related posts below –