This post may contain affiliate links, which means we may receive a commission if you purchase through our links. Please
read our full disclosure here
.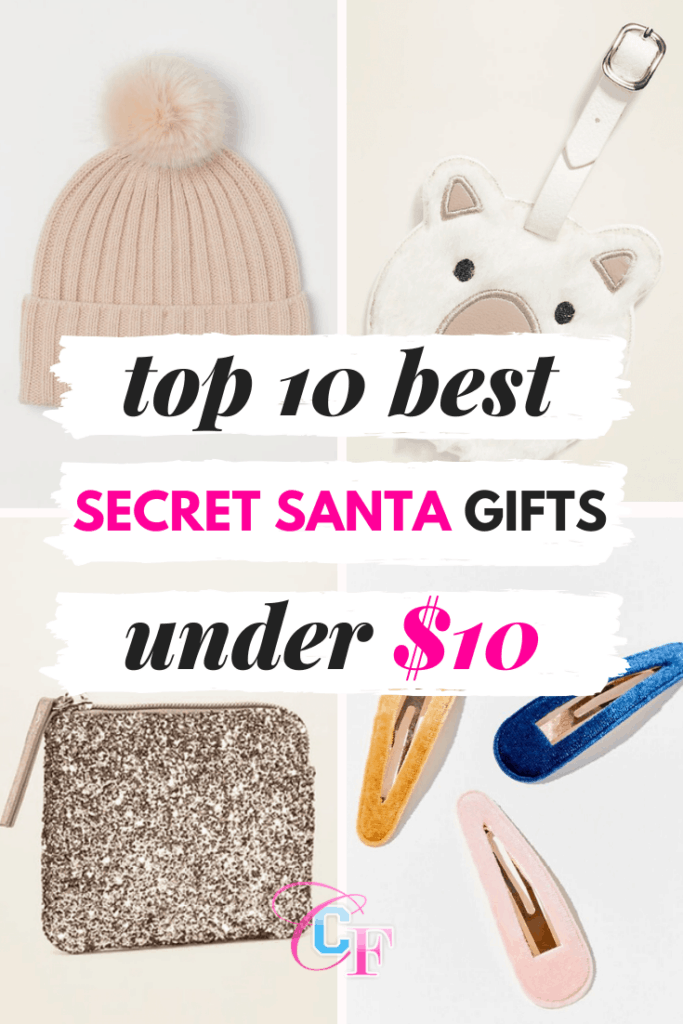 From holiday parties to cooking delicious meals, the holiday season gives us plenty of fun and meaningful traditions to look forward to! However, one of my favorite holiday traditions is Secret Santa. I just love the fun of trying to guess who picked your name. More importantly, I love that fuzzy feeling you get when your recipient genuinely loves the gift you got them.
However, finding the perfect Secret Santa gift idea can be a challenge — doubly so when you're on a tight college-student budget. (Seriously though, is it just me, or do things keep getting more expensive every year?!)
Luckily, I've searched the web and found 10 of the best Secret Santa gift ideas that your recipient is sure to love! The best part? They all cost $10 or less! Moreover, because of their low cost, these items are also great options for stocking stuffers/add-ons/little thinking-of-you gifts for others (or yourself, I won't judge!) as well!
So, just keep scrolling to see them all!
1. Lush Golden Pear Soap
If you want to give your recipient a little bit of luxury this holiday season, you can't go wrong with Lush's Golden Pear soap!
Not only does it smell absolutely delicious (without being overpowering); its cute pear shape will make it something that they'll look forward to using and keeping on display.
2. Ruled A5 Notebook in Blue
Anyone who loves writing/journaling–or just wants to make school note-taking feel a little chicer–will certainly appreciate this ruled A5 notebook.
This cute little secret santa gift idea comes in seven different colors, but personally, I'm partial to this cheery sky-blue hue, which is sure to make your recipient smile every time they reach for it!
3. China Glaze Nail Lacquer with Hardeners in "Bring on the Bubbly"
We all have that one friend whose manicures are always flawlessly on point, so it only makes sense to give them this fun and festive glitter polish by China Glaze!
Because the glitter is suspended in a clear base, it can easily be worn alone, or layered with other shades for a bolder look.
4. Polar Bear Luggage Tag
If your recipient is planning a holiday getaway this season (Lucky them!), they're sure to appreciate this adorable fuzzy polar bear luggage tag! (It also comes in three other designs.)
The perfect cute-yet-practical secret santa gift idea, this tag also has the benefit of helping their bag stand apart from others at the baggage claim.
5. TONYMOLY I'm Real Sheet Mask in Green Tea
Sheet masks are a great way to quickly give your skin some extra benefits, and this popular TONYMOLY I'm Real Sheet Mask is no exception!
I chose the Green Tea version to show here. However, this mask actually comes in a ton of other versions, from hydrating to caring for pores, so you can choose a mask (or mix and match multiple masks) to suit your recipient's needs.
6. Knit Hat with Pompoms in Light Beige
Everyone can think of at least one friend who dreads the cold weather every year. So, make the winter season a little easier on them with this chic knit pompom beanie, which will go well with just about any color they choose to wear it with!
(BTW, if beige isn't your giftee's favorite, this hat is also available in three other versatile shades.) This is such a great secret santa gift idea, I highly recommend it for anyone who is hard to shop for.
7. Red Plaid Performance Fleece Blanket
Anyone who lives in a chilly climate will appreciate this cozy plaid fleece blanket (which also comes in three other prints), whether they use it for sleeping or just cuddling up on the couch to watch Netflix on a snowy night.
Plus, thanks to its large size, they'll probably assume that you spent way more than 10 bucks on it!
8. Sephora Collection Mystic Aura Eyeshadow Palette
Warm neutrals have long reigned supreme in the makeup world. Lately, though, the trends have been shifting towards cooler color stories, like the one seen in this gorgeous Sephora Collection Mystic Aura Eyeshadow Palette.
I love this secret santa gift idea because your recipient will definitely get lots of use out of these flattering shadows, whether they're using it to glam up for festive holiday parties, or just want to *sleigh* their everyday makeup look!
9. Velvet Flip Clip Set
Hair clips continue to reign supreme in the world of accessories, and this velvet flip clip set is no exception!
These clips would look equally stylish worn together or alone, and are sure to add some luxe flair to even the simplest of outfits.
10. Gold Glitter Mini Zip-Top Wallet
Though some people think that glitter is just for the holiday season, I'm of the opinion that it can — and should — be used all-year-round! That's why I'm a big fan of this fabulously festive gold glitter mini wallet. (It's also available in three other designs.)
This accessory is not only the ideal size for smaller bags and clutches, but is also sure to bring your recipient lots of holiday cheer, even long after the holidays are over!
What do you think of these secret santa gift ideas?
Are you participating in a Secret Santa this year? Has this list helped you decide what you're getting your recipient(s) for Secret Santa/the holidays in general? Which of the items on this list would you most like to receive as a gift?
Let me know in the comments!