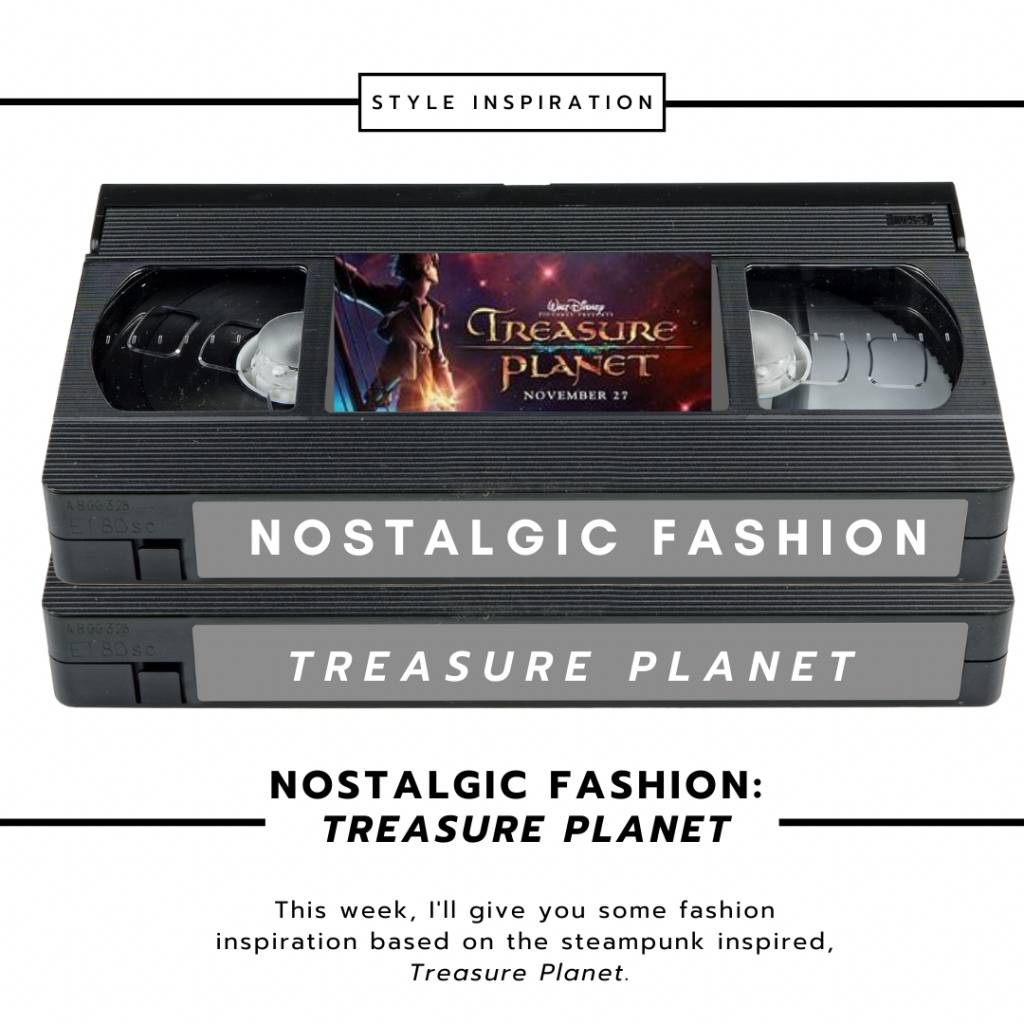 For the past few weeks, I've found myself watching my old VHS movies, especially Disney (and Non-Disney) movies that I watched when I was a little girl. While doing this, I have found some great underrated films that tend to get lost in between all the princesses, Pixar related animation and newest live-action remakes.
They are also a great source of fashion inspiration.
So for my next posts, I'll choose one of these underrated movies and give you a quick recap of the film and its production, a style rundown of each character's style and my own recreation of their style for you to get inspired by.
From Disney, I've covered The Rescuers, Oliver & Company, 101 Dalmatians, Robin Hood and Atlantis: The Lost Empire. From other production companies, I've covered FernGully: The Last Rainforest, Thumbelina, The Swan Princess and Anastasia.
This week, I'm covering the steampunk inspired, Treasure Planet.
About Treasure Planet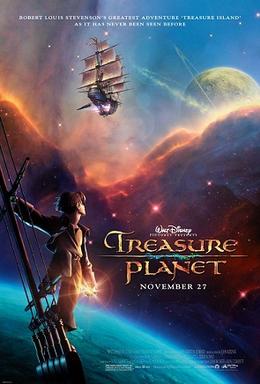 Treasure Planet is the 43rd entry into the Disney Animated Canon and it premiered in 2002. The film is based on the classic novel Treasure Island by Robert Louis Stevenson, with the slight change of it taking place in space instead of on the sea.
Treasure Planet was a part of Disney's continued effort to appeal to an adult audience, just like its predecessor, Atlantis. The film was critically well received and it was praised for its sci-fi setting, visuals, story, and soundtrack. The movie was even nominated for Best Animated Feature at the Oscars.
Unfortunately, just like Atlantis, Treasure Planet failed at the box office — Disney marketed it as little as possible and it premiered against Harry Potter and the Chamber of Secrets.
However, the film gained a cult following over the years and it's not hard to see why.
Treasure Planet is an amazing steampunk adventure. It is filled with space pirates, sympathetic protagonists, an array of interesting secondary characters, and a badass soundtrack. In addition, it deals with mature themes like abandonment, single parenthood, restlessness, and becoming an adult.
A Quick Recap of Treasure Planet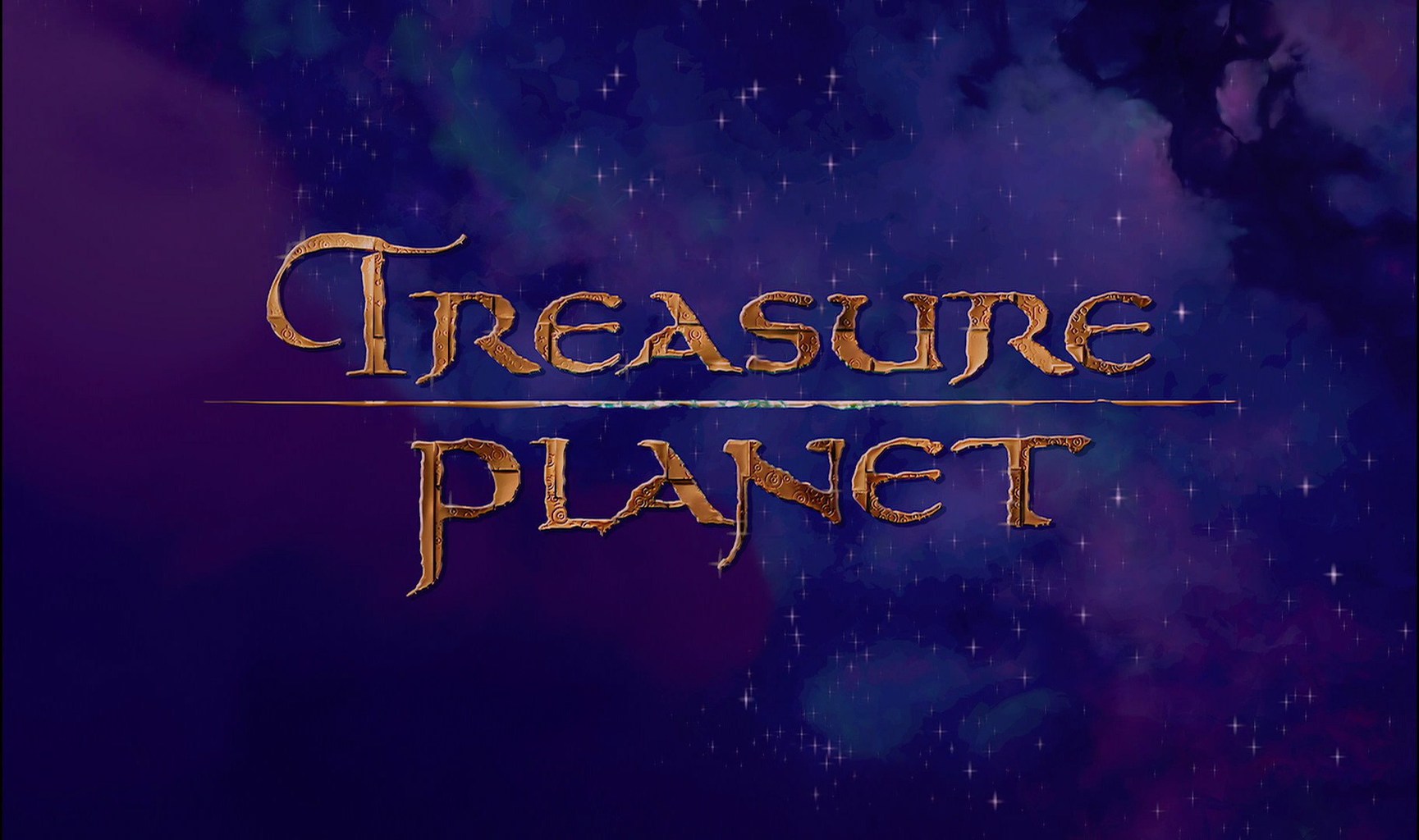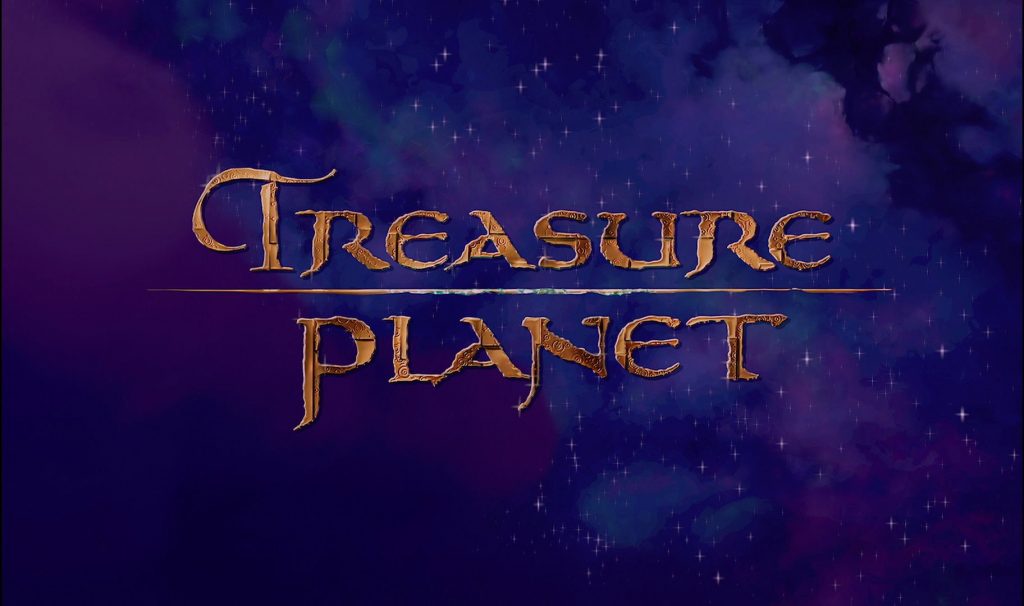 The film follows troubled teen Jim Hawkins. Jim is the son of a single mother who runs a run-down inn for space-travelers. He's always getting in trouble and trying to find his place in the world.
One fateful day, a mortally wounded alien crashes outside the inn, and delivers a mysterious object into Jim's hands with three dying words: "Beware the cyborg!"
After this, Jim begins his search for the treasure of the dreaded Pirate Captain Flint, a treasure believed to be the loot of a thousand worlds.
Treasure Planet Fashion Guide
1. Jim Hawkins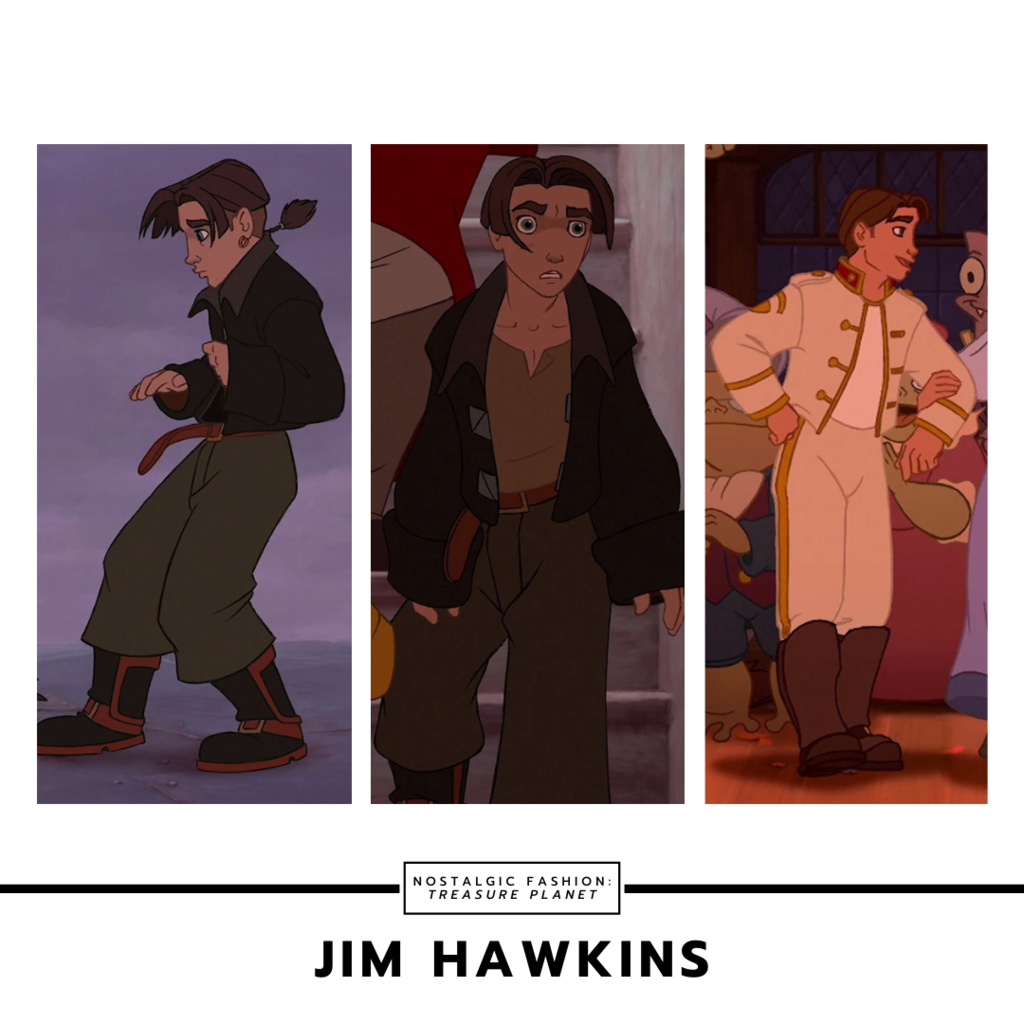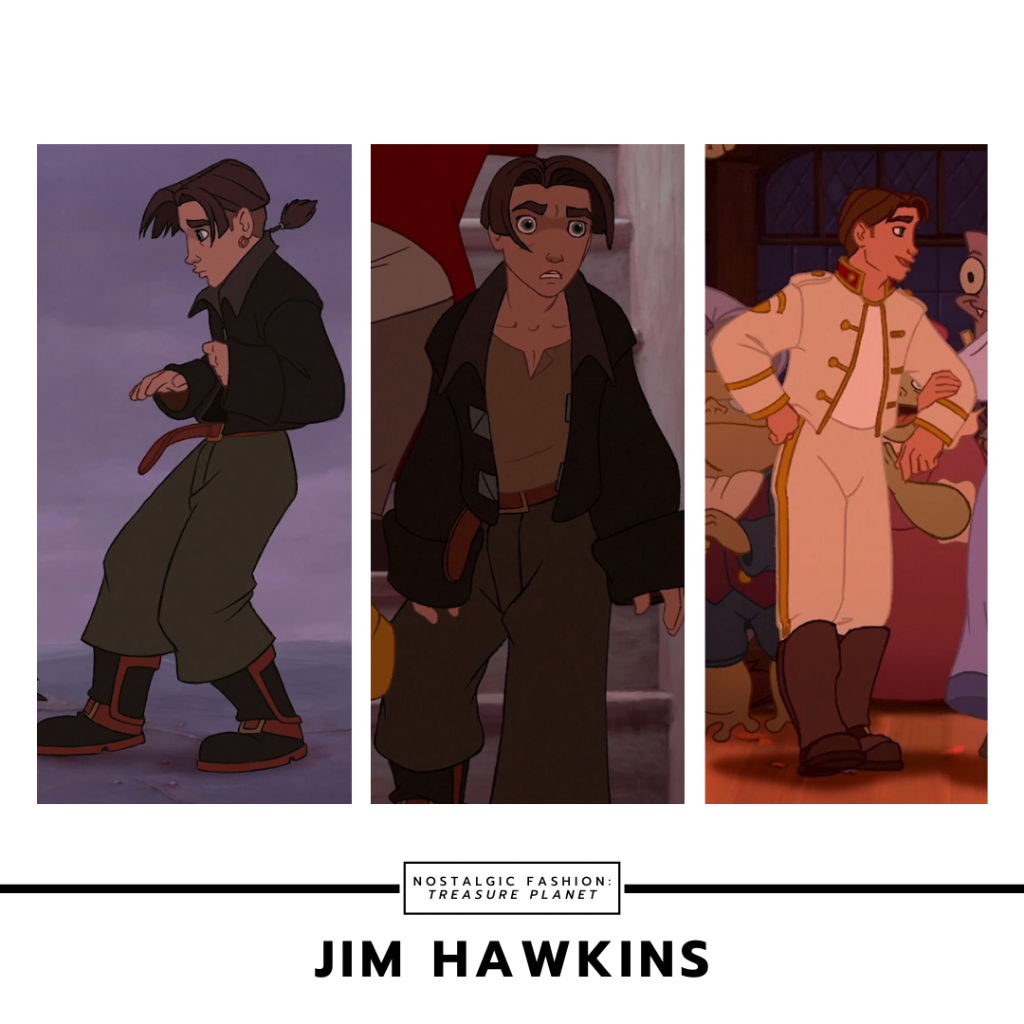 Jim Hawkins, voiced by Joseph Gordon-Levitt, is the protagonist of Treasure Planet.
Brilliant, but lazy, Jim is a rebellious teenager who often gets into trouble with the law. He starts off very guarded and feels alienated from his mother. Through his adventures, Jim begins to open up more and starts to use his intelligence for greater purposes other than amusing himself.
He has a very distinct look throughout the movie and he only changes his outfit at the very end. Jim's color scheme is comprised of dark neutrals: military green, black, and brown. This signals his guarded nature and his tendency to hide himself.
Jim's Style Recreation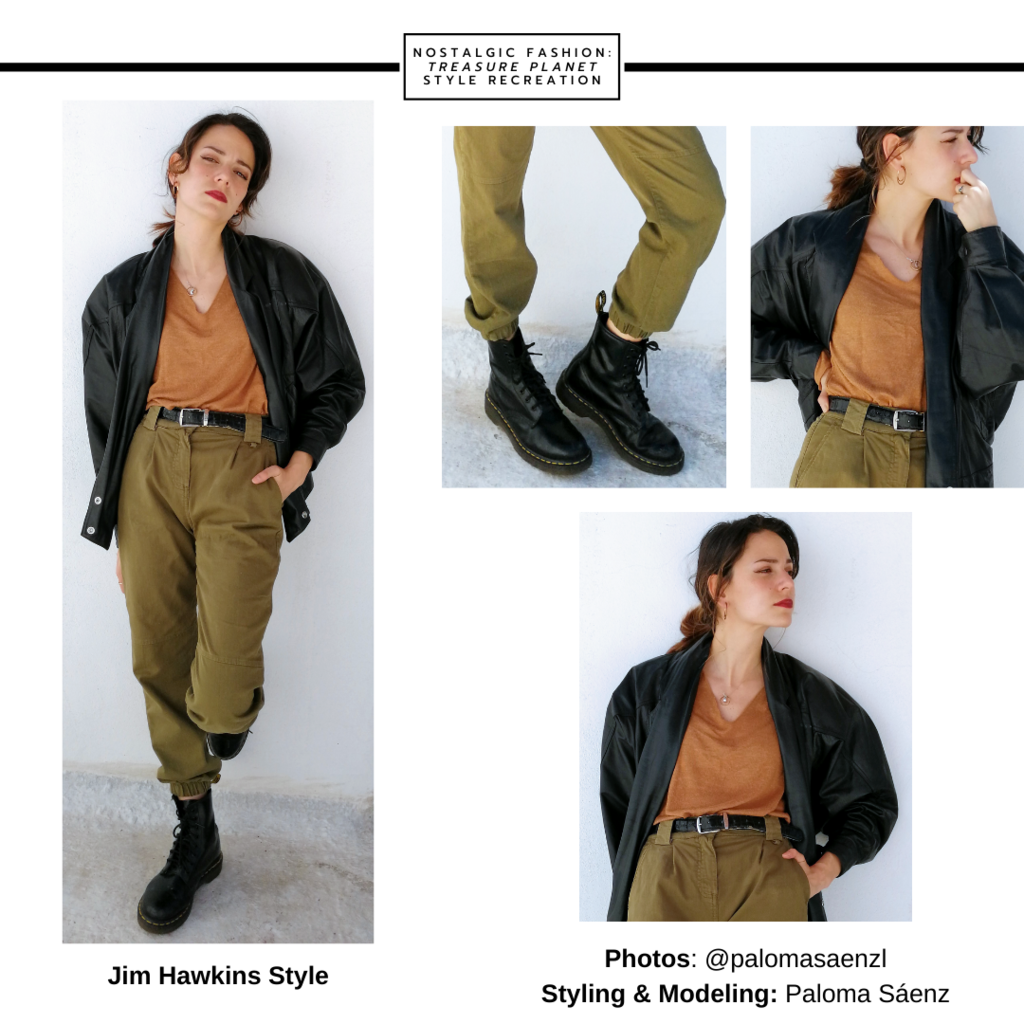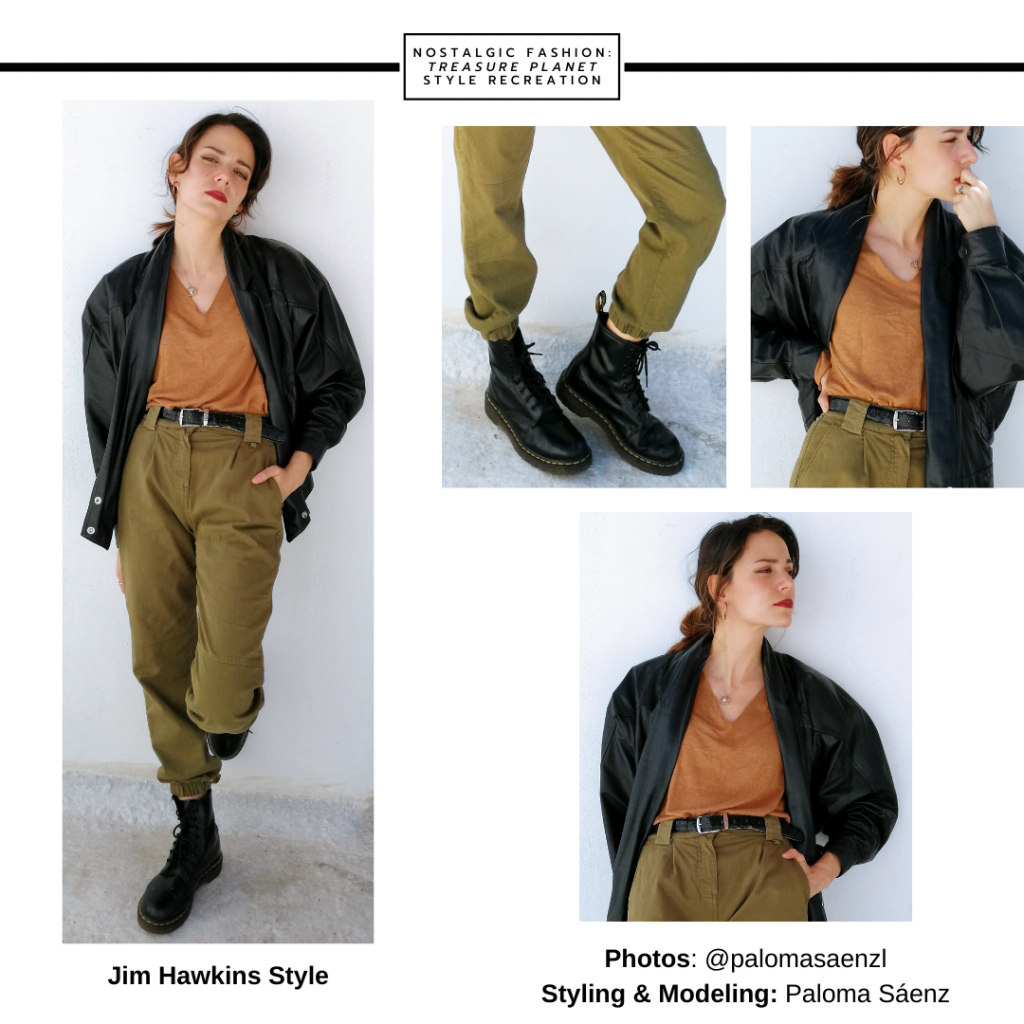 For my recreation of Jim Hawkins' style, I had to pair many items I wouldn't have paired otherwise. For the base of the look, I chose a camel colored V-neck sweater and a pair of green pants. Then, for the jacket, I went for a black leather jacket.
Shoes-wise, I wore my trusted black Doc Martens. To accessorize, I wore a black belt, to tie everything together, and a pair of golden earrings, since Jim wears earrings through the film.
Jim's Style Inspiration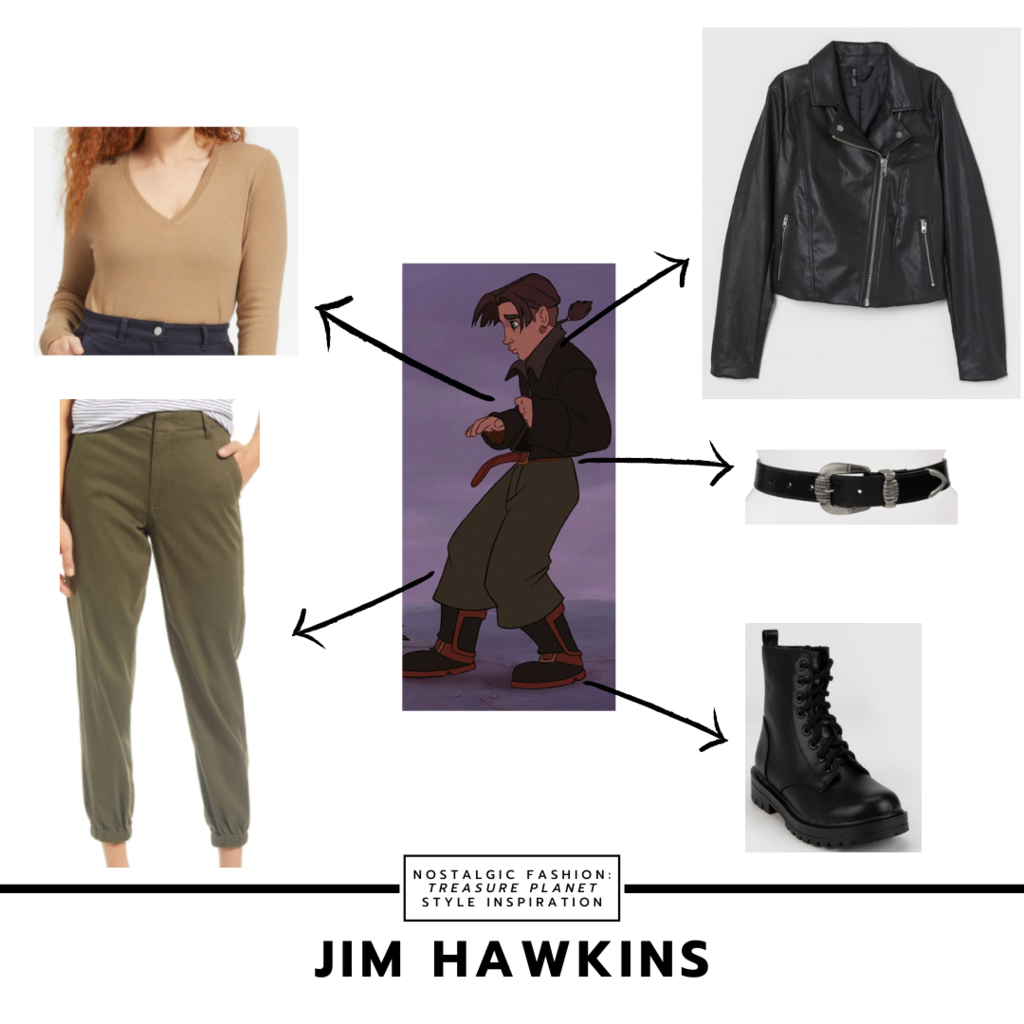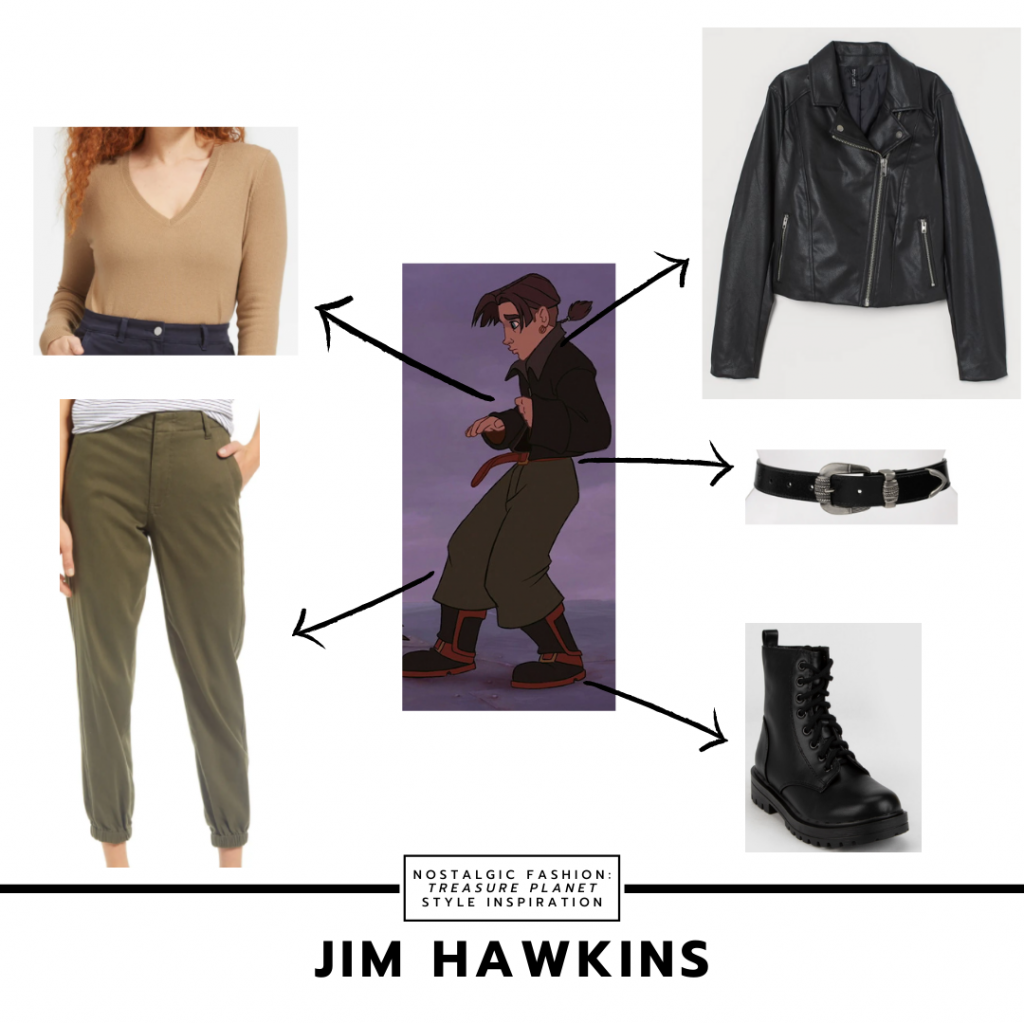 Similar items: Pants, Shirt, Jacket, Boots, Belt
If you want to create a look inspired by Jim, it is really simple! Remember his color scheme: brown, dark green, and black. Items-wise, try to go for simple and comfy pieces for the base of the look and use edgy items for the jacket and shoes.
Try wearing a simple V-neck sweater in a dark beige with a pair of military green pants, bonus points if you use joggers. Layer with a black leather jacket — if you don't have one, any black jacket will do. For shoes, go for a pair of black combat boots. Finally, accessorize with a black belt.
2. John Silver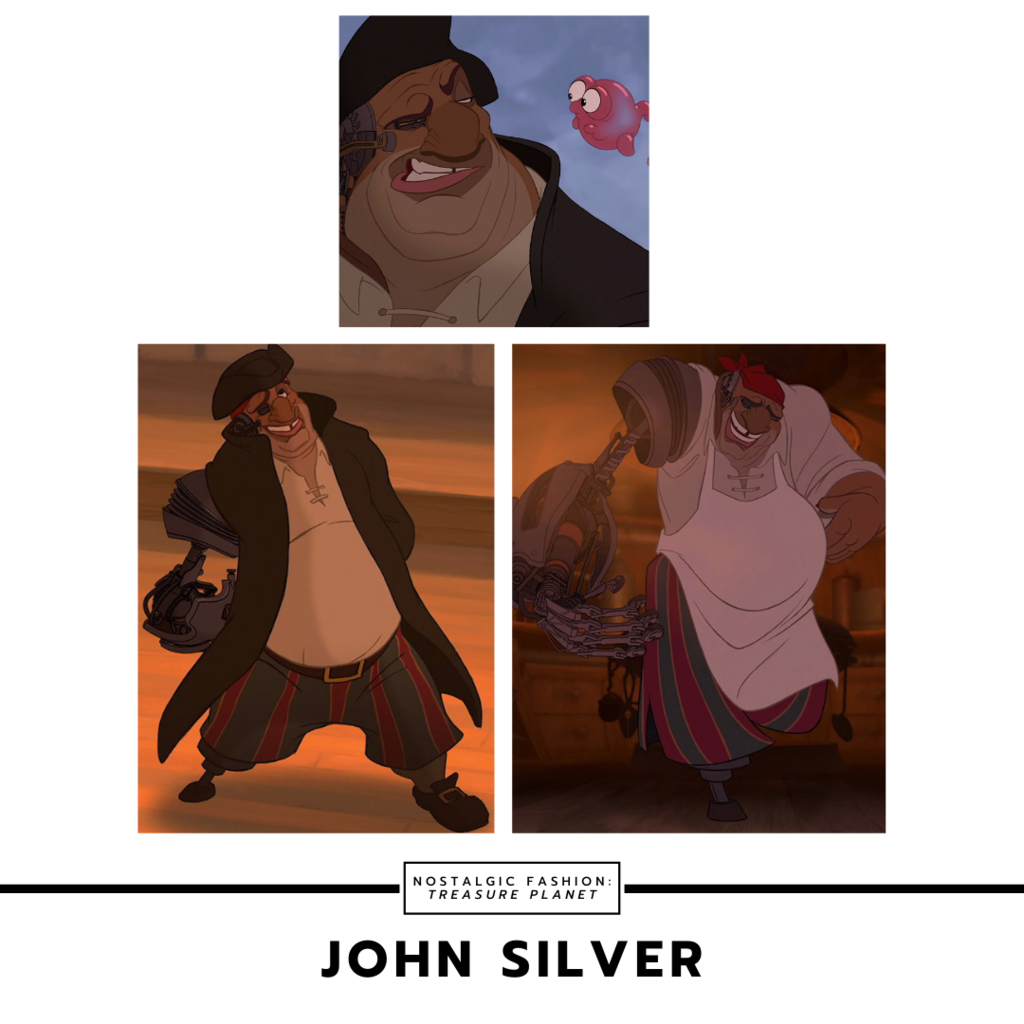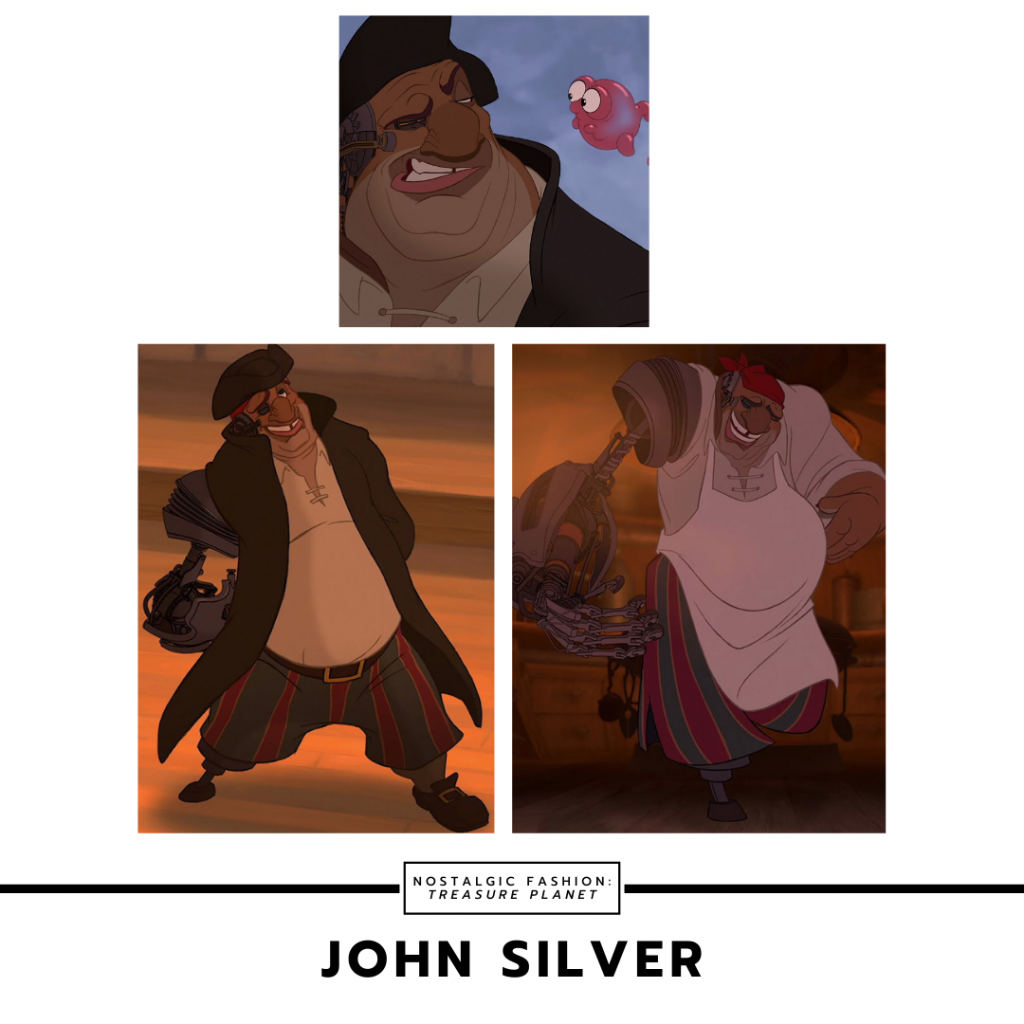 John Silver, only referred to as 'Silver', is the main antagonist for most of the film and the cook of the Legacy. He is a charismatic and affable alien who takes Jim under his wing. In spite of this, Silver is the one that leads the mutiny and there's a good reason why the rest of the pirates fear and respect him.
Silver has a classic pirate look, which only changes a bit if he is cooking. Silver's color scheme is comprised of white, black, blue, red, and yellow. This combo shows his true nature: the gigantic black coat covers up his light colored clothes. He appears off-putting and evil, but has a softer and nobler side to him.
John Silver's Style Recreation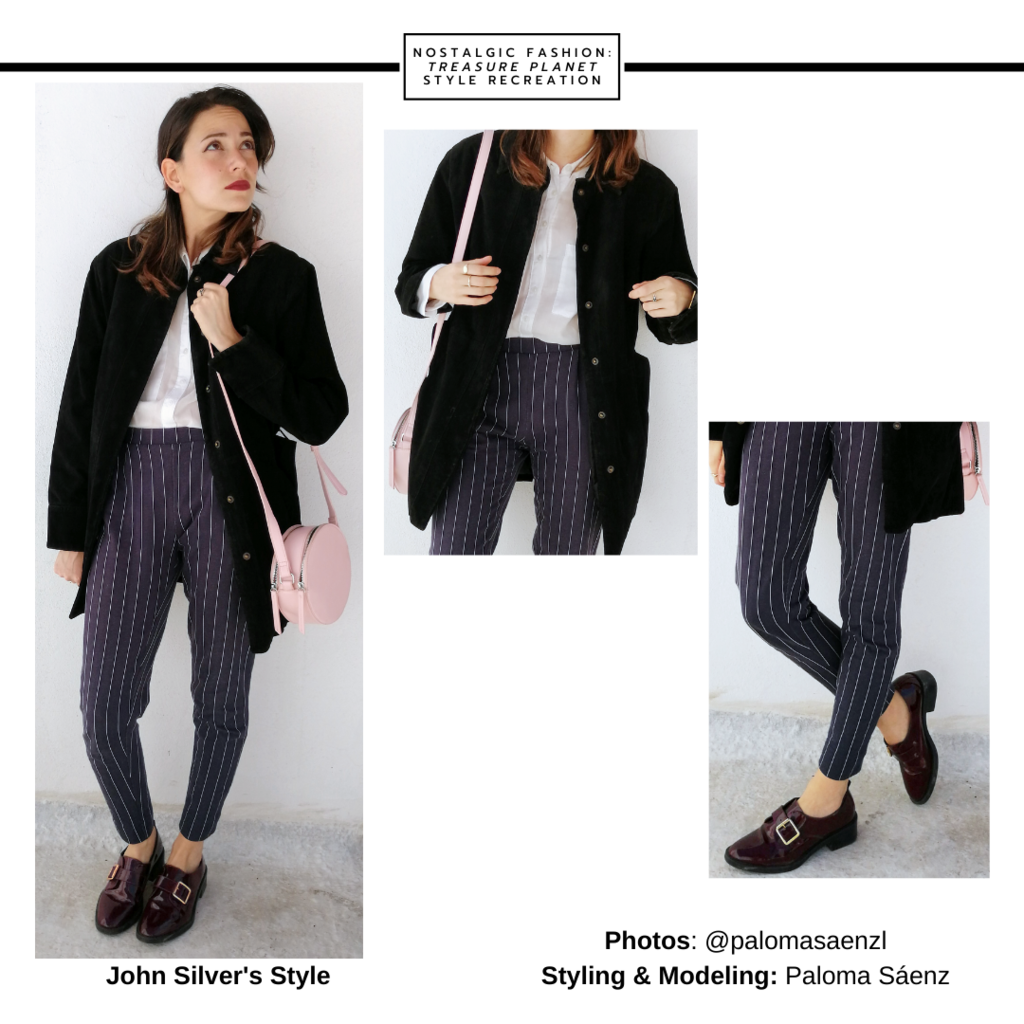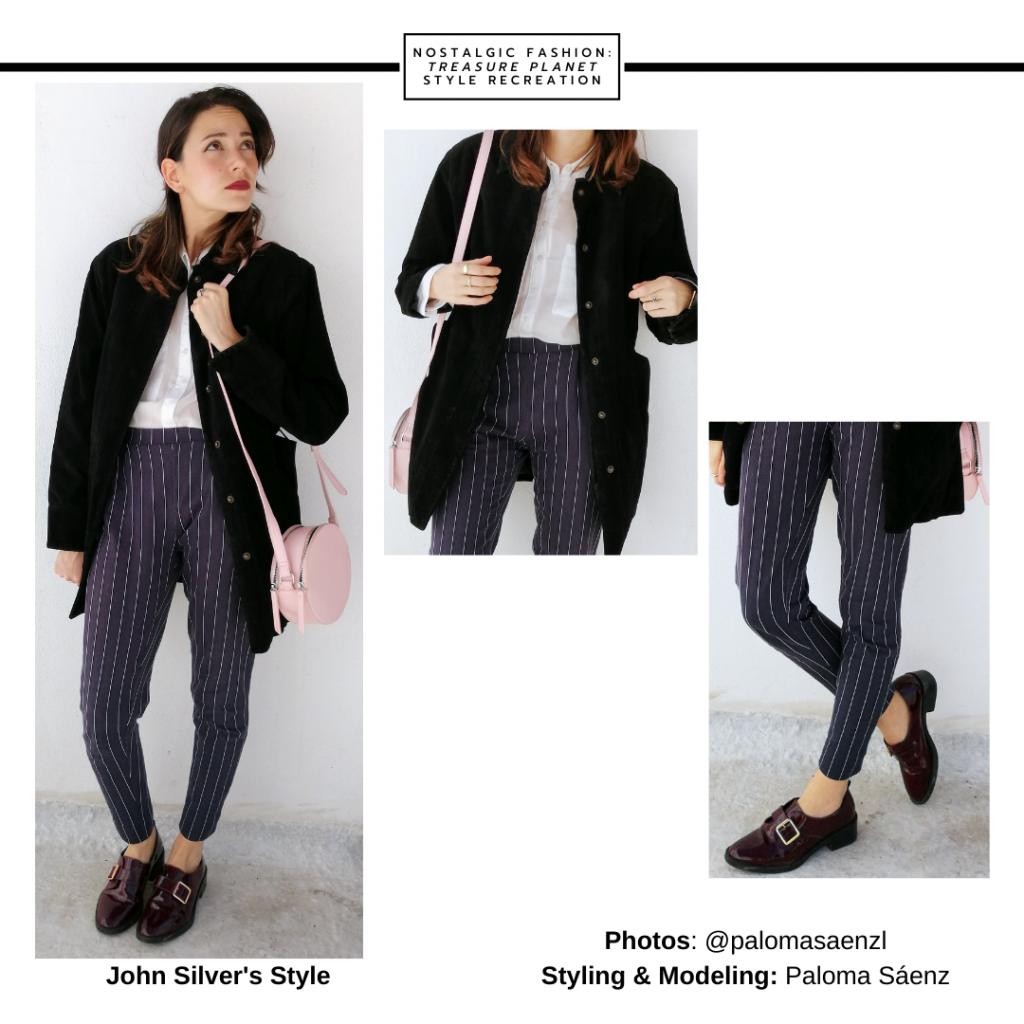 For my Silver look, I had to play a bit with the placement of the colors within the outfit. For the top, I used a white button-up shirt. I tucked it into a pair of blue striped pants. Since I didn't have a pair of blue and red pants, I wore burgundy buckle shoes to integrate red into the outfit.
To layer it, I used a black suede coat. Finally, I used a pink round bag as an accessory, to emulate Silver's companion, Morph.
John Silver's Style Inspiration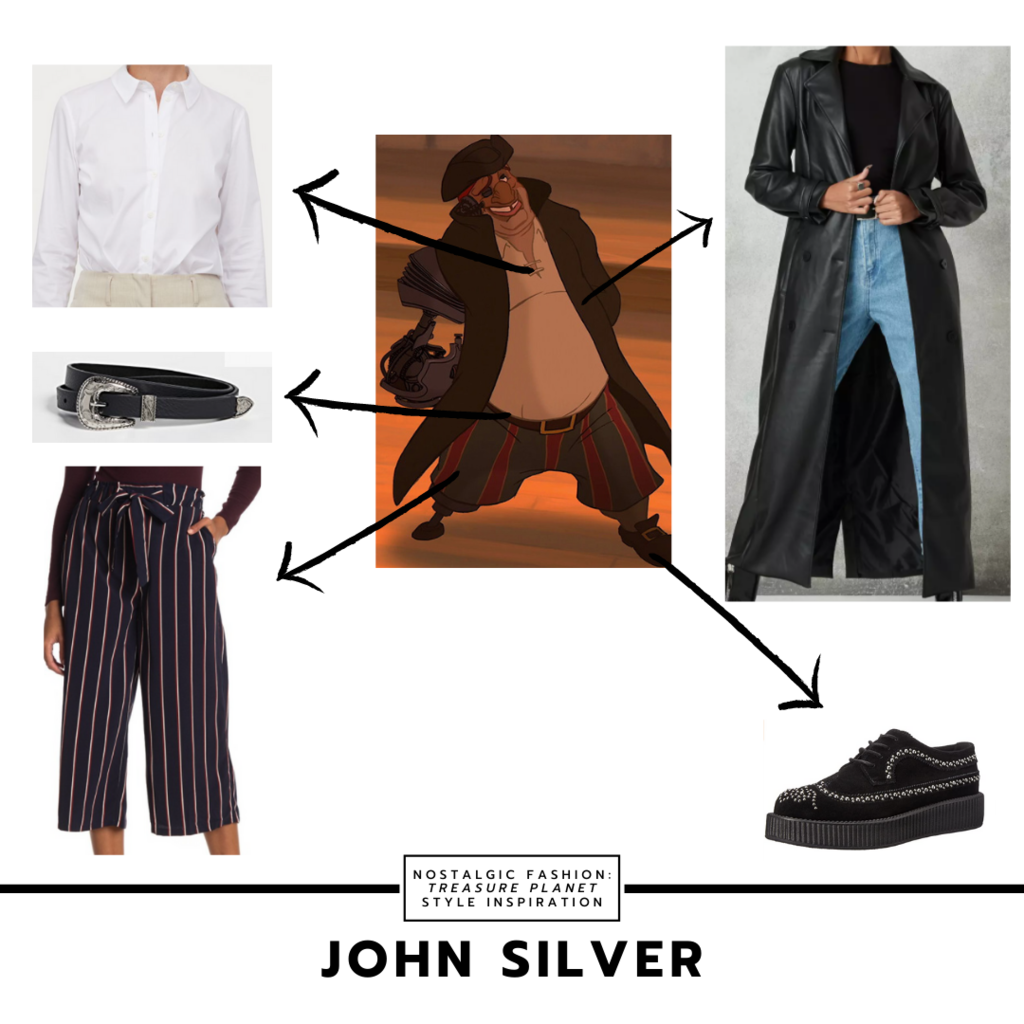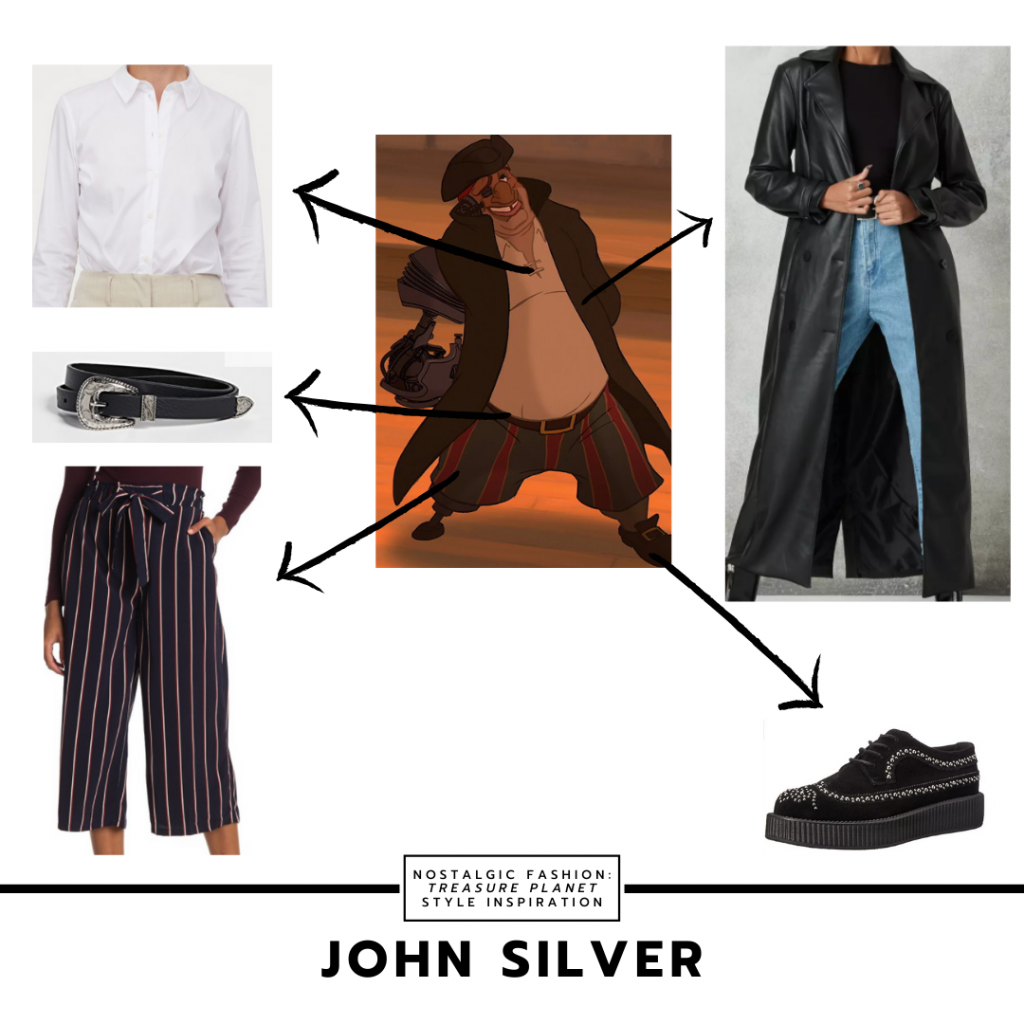 Similar items: Shirt, Pants, Coat, Belt, Shoes
To create an outfit inspired by Silver, remember to use burgundy, navy blue, and white for the base of your look and black for the layering item. You could go with comfy, military inspired items, like Jim, but you could also go for more steampunk or edgy accessories or complementary items.
Mix a pair of striped culottes in blue and red with a simple, white, button-up shirt. Layer it up with a long and black coat in an interesting fabric, like faux-leather. For shoes, try spicing it up with a pair of black platform Oxford shoes. Finally, you can also use a black belt, but most culottes don't need one, so it's up to you.
3. Captain Amelia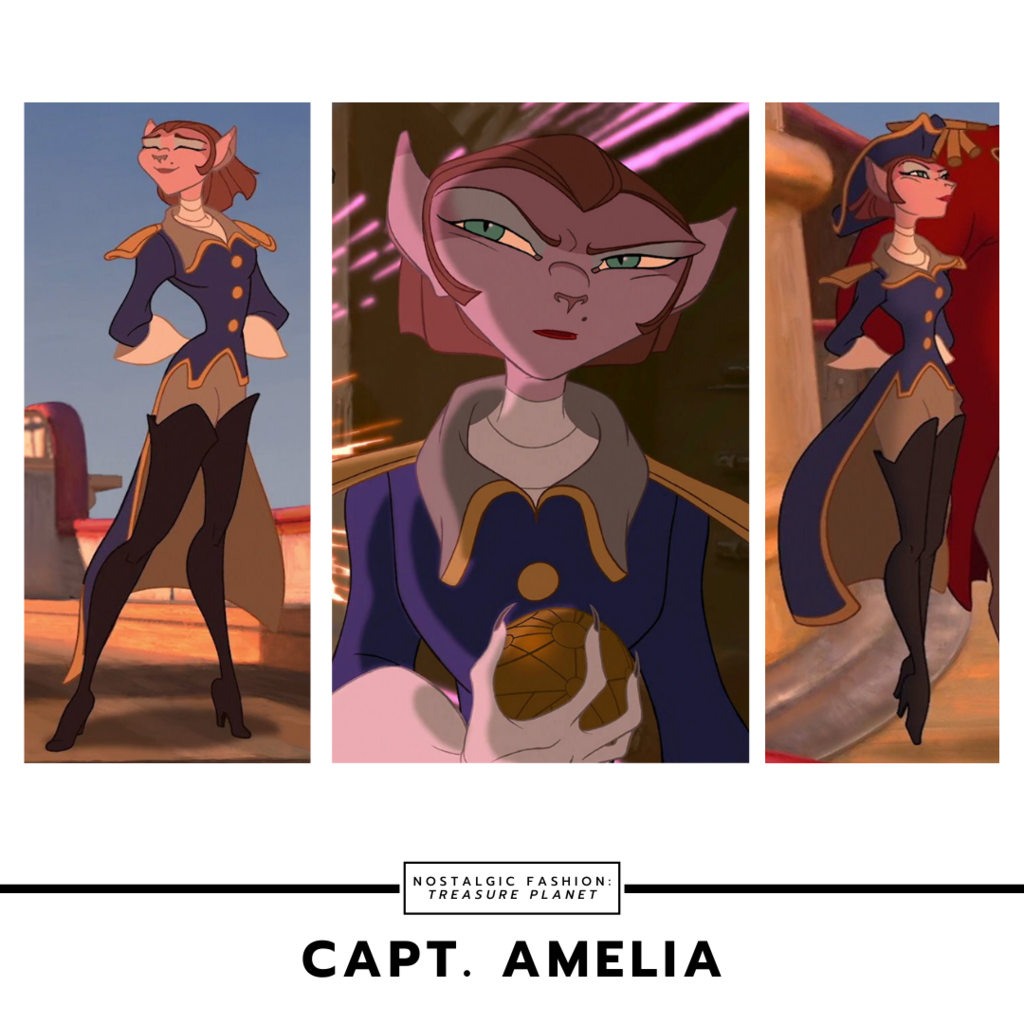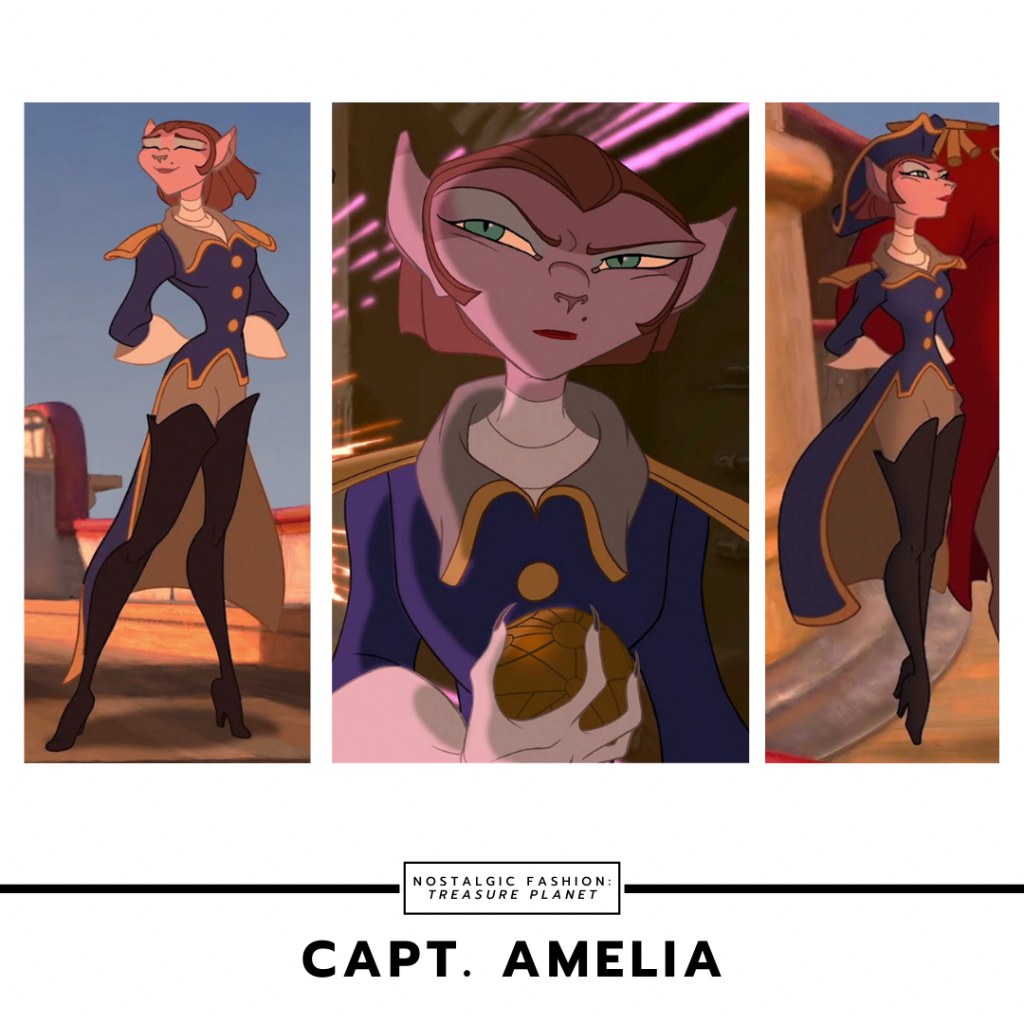 Captain Amelia, played by Emma Thompson, is the experienced and badass captain of the R.L.S Legacy. While she comes off as cold and distant, she is one of the most heroic characters in the film.
Sarcastic and intelligent, Captain Amelia is also one of the most capable and action oriented characters in the movie.
Captain Amelia's outfit is a feline and fitted take on the classic navy blue captain look. Her color scheme is mostly comprised of light neutrals, like beige and white, and a long coat in navy blue with golden details. This shows her sharp mind and bravery, but also her practicality.
Captain Amelia's Style Recreation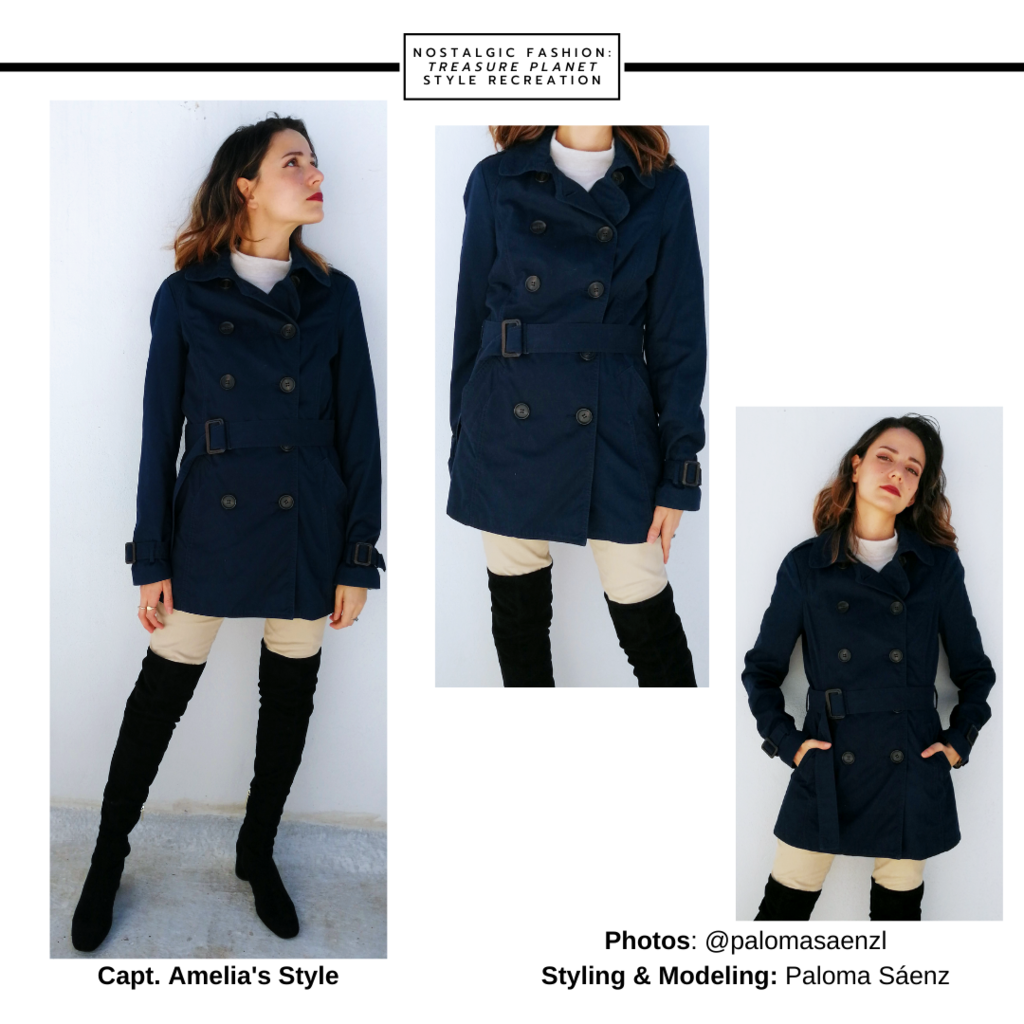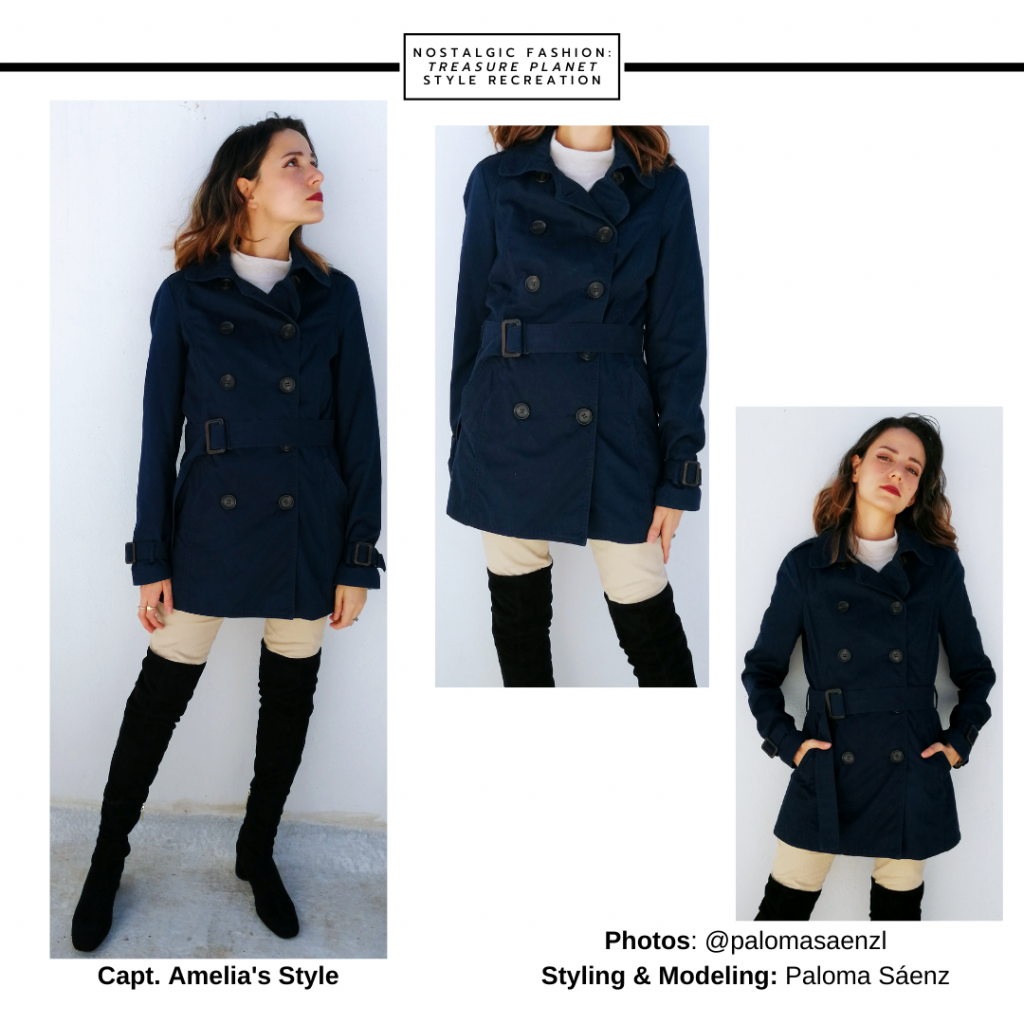 My Captain Amelia style recreation was the most challenging recreation of this post. It was so worth it in the end, though!
My top is a mock neck sweater in light beige. For the bottoms, I wore a pair of beige pants that I borrowed from my mom. Since the pants weren't fitted, I used a belt (not pictured) and the boots to make them fit me better.
For shoes, I wore a pair of black over-the-knee boots. Finally, I used a navy blue coat and buttoned it up, to make everything look like Amelia's outfit.
Captain Amelia's Style Inspiration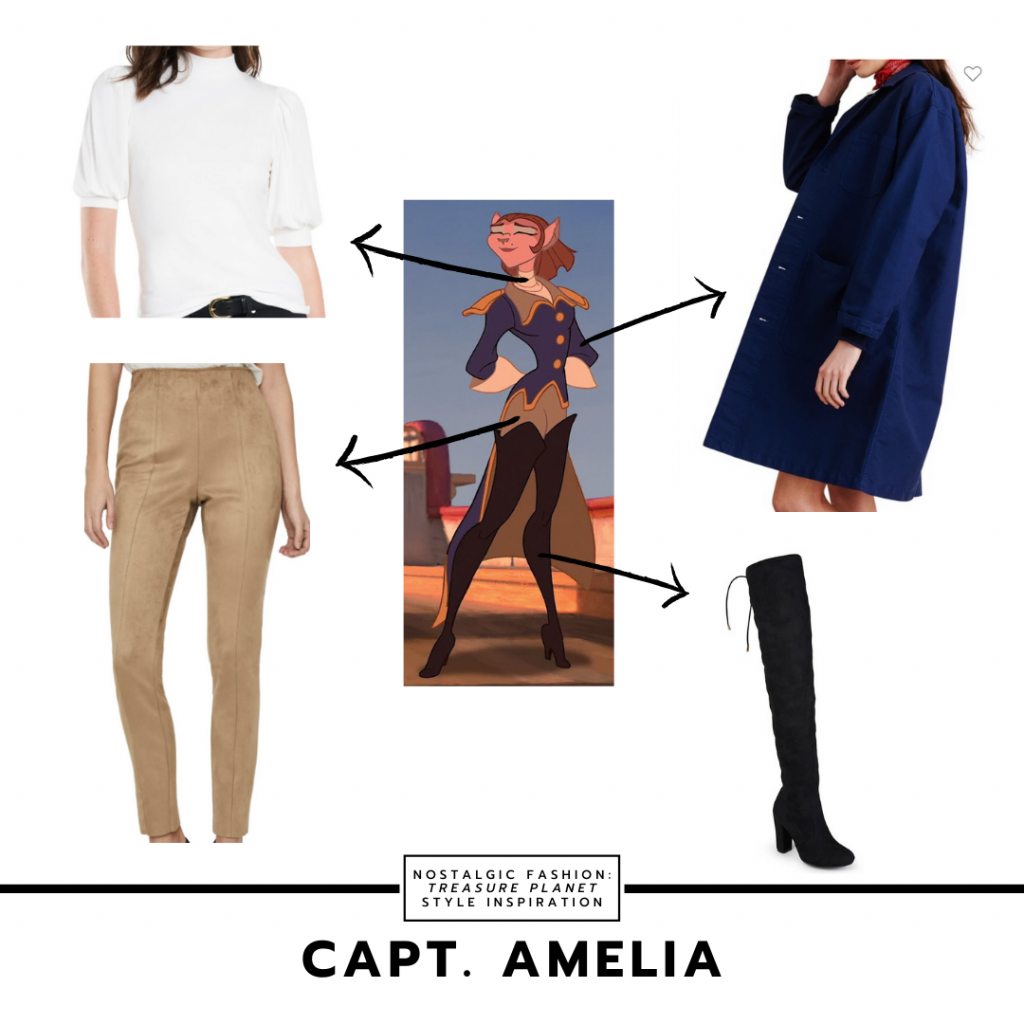 Similar items: Top, Leggings, Coat, Boots
If you want to create a look inspired by Captain Amelia, remember: different textures, neutral colors and fitted items. Her style is an ideal look for fall, so if it is warmer where you live, you might want to change a few things to be comfortable.
Wear an off-white mock neck shirt with a pair of beige suede pants or leggings, the fitter the better. Then, for shoes, use a pair of black over the knee boots, but if you have black riding boots, those will also work. Finally, layer it up with a navy blue coat.
4. Mr. Arrow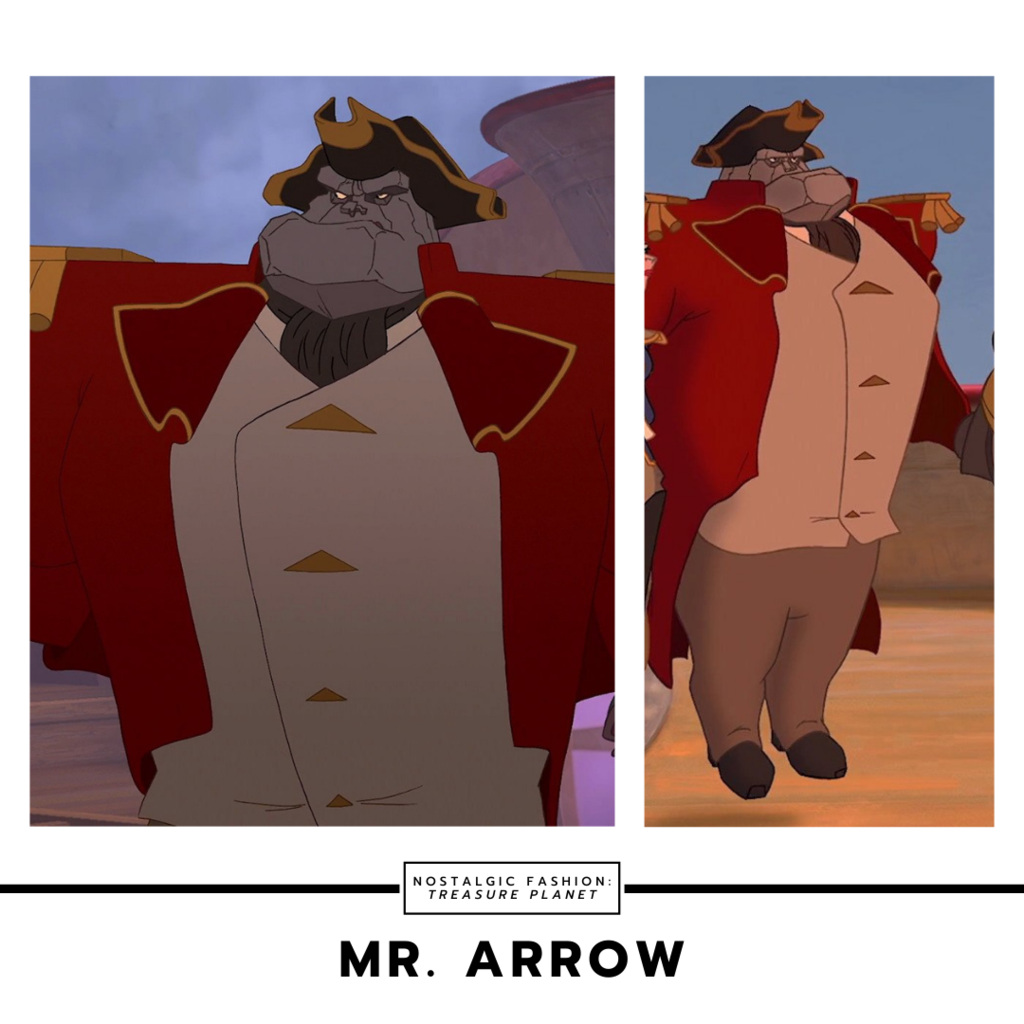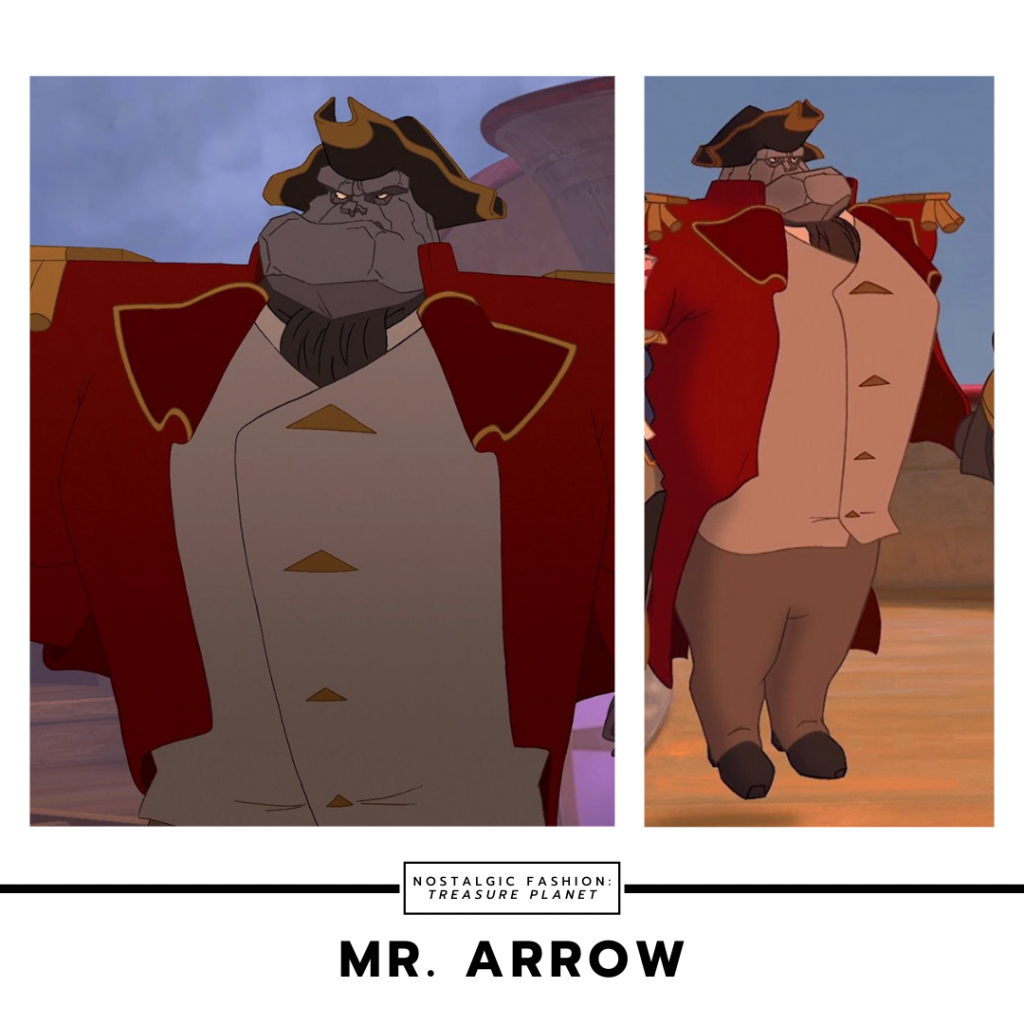 Mr. Arrow is the captain's right hand and the most loyal to her. He is an alien literally made of stone and, as such, he is stoic, honorable and inflexible in his loyalties. Mr. Arrow is a minor character in the film, but he is one of the most memorable of the bunch.
Mr. Arrow's outfit is a typical military look, without any alien-like or steampunk aspect to it. His color scheme is made up of red, white and beige, with very little black. Since he is one of the most heroic characters, it makes sense that his most prominent color is red, followed by white.
Mr. Arrow's Style Recreation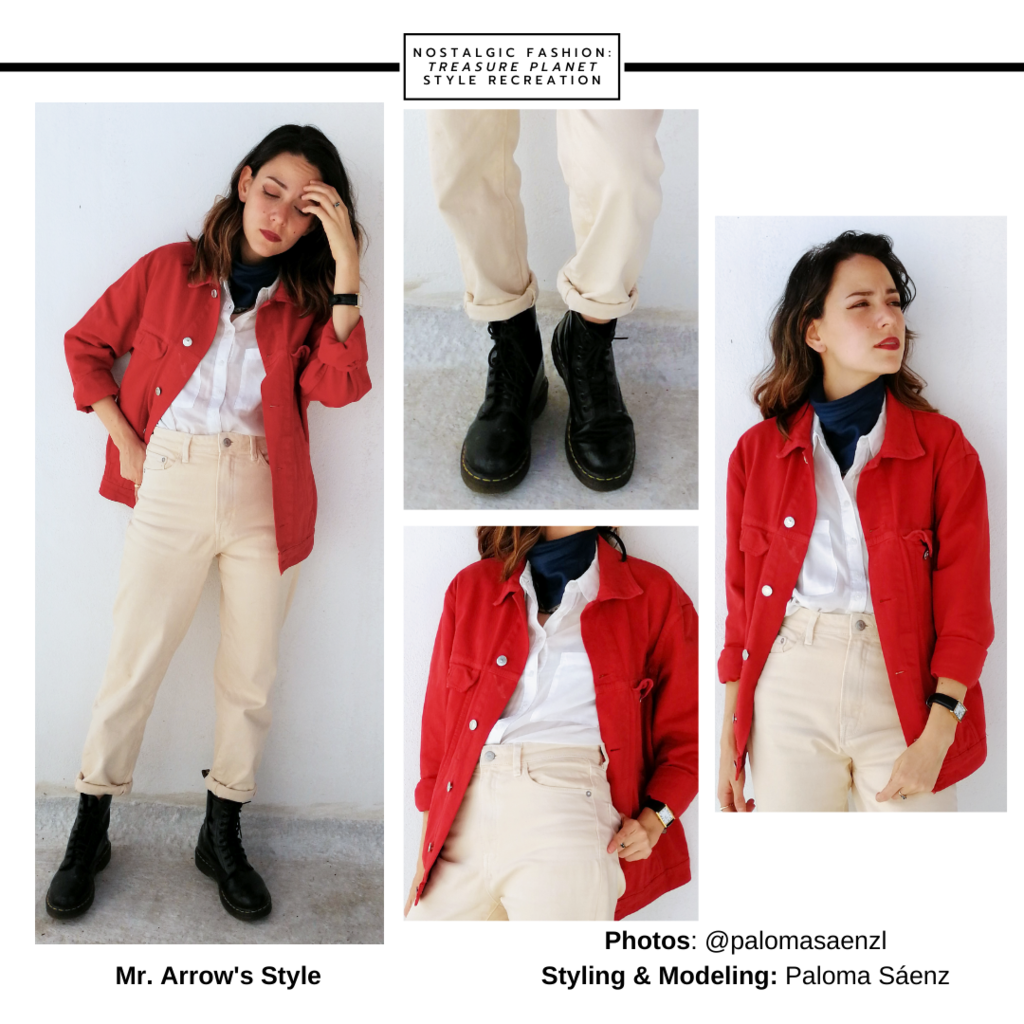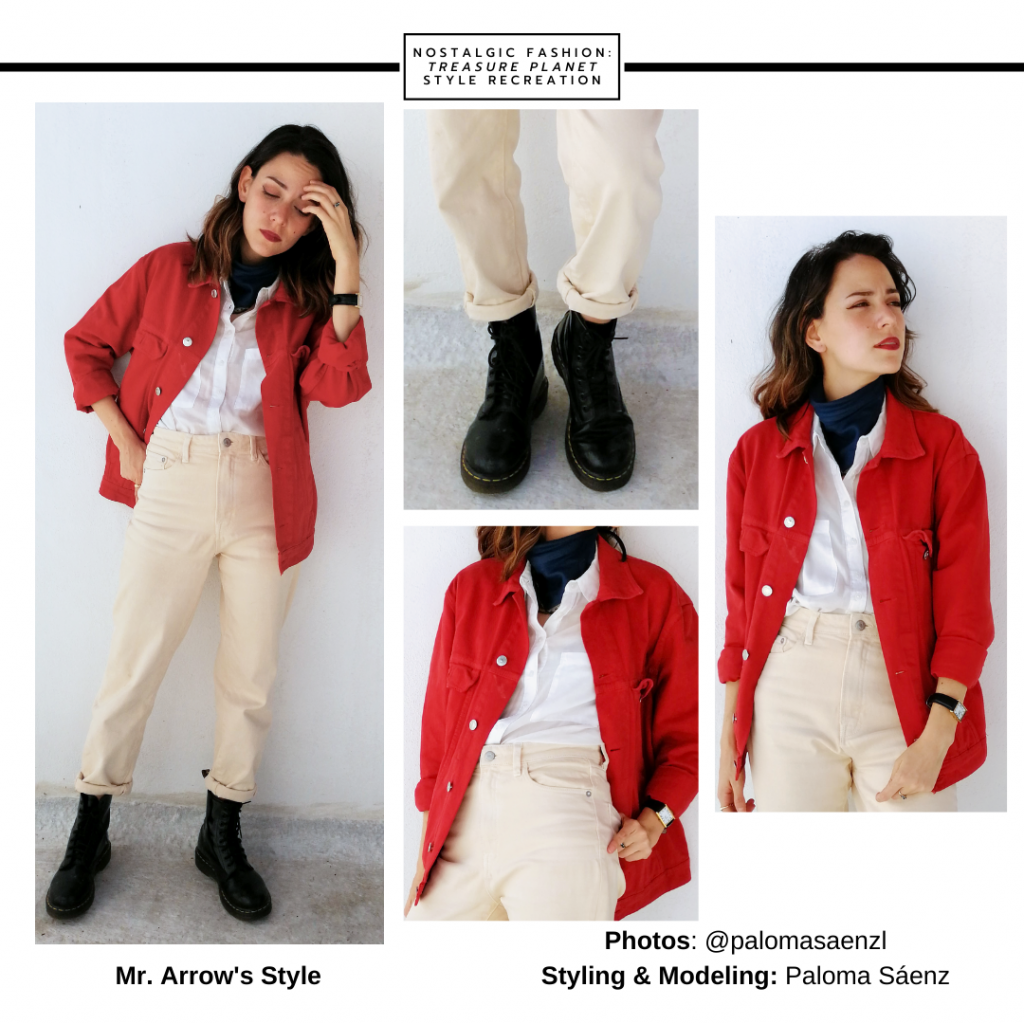 Mr. Arrow's style recreation was the easiest and the closest one to my personal style. As a base, I wore a white button-up shirt and a pair of off-white mom jeans. Then, I used an oversized red jacket and, again, my black Doc Martens. I finished the look by accessorizing with a navy blue ascot, since I didn't have a black one.
Mr. Arrow's Style Inspiration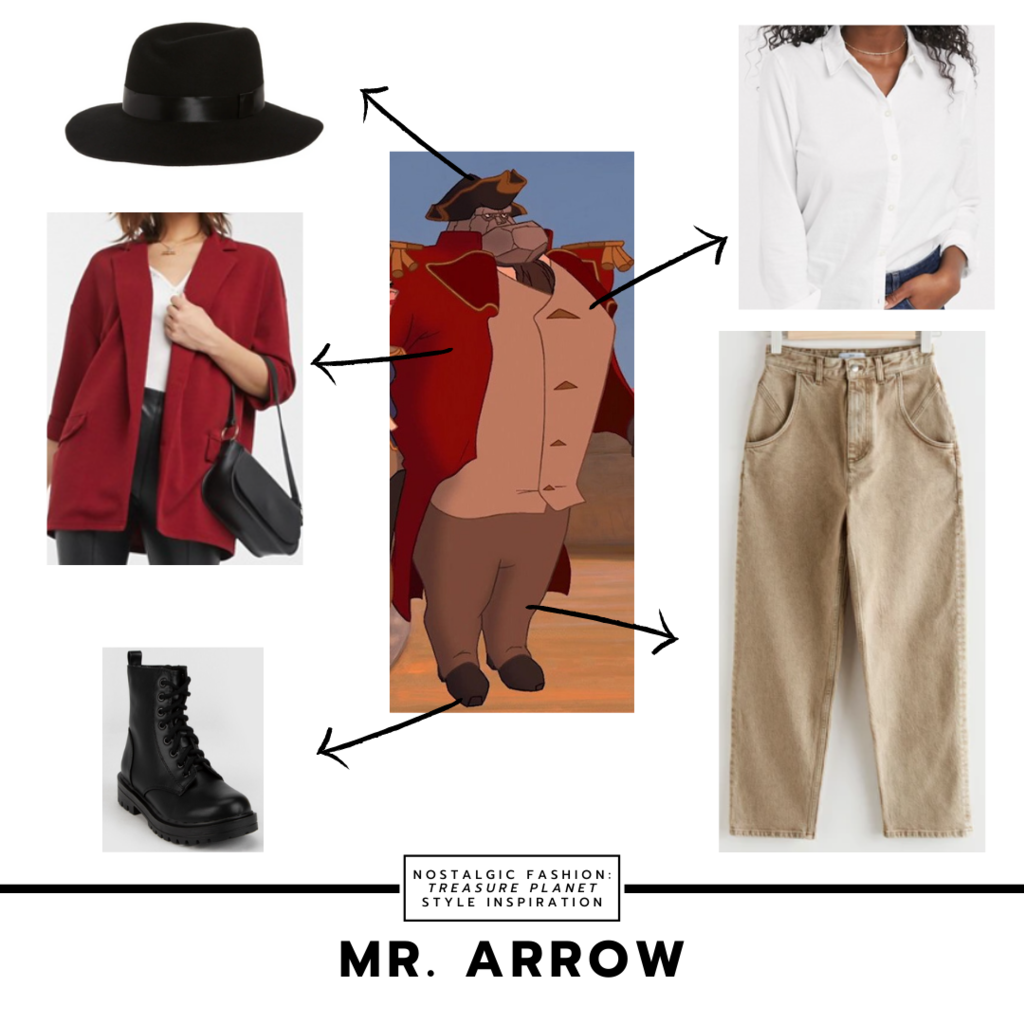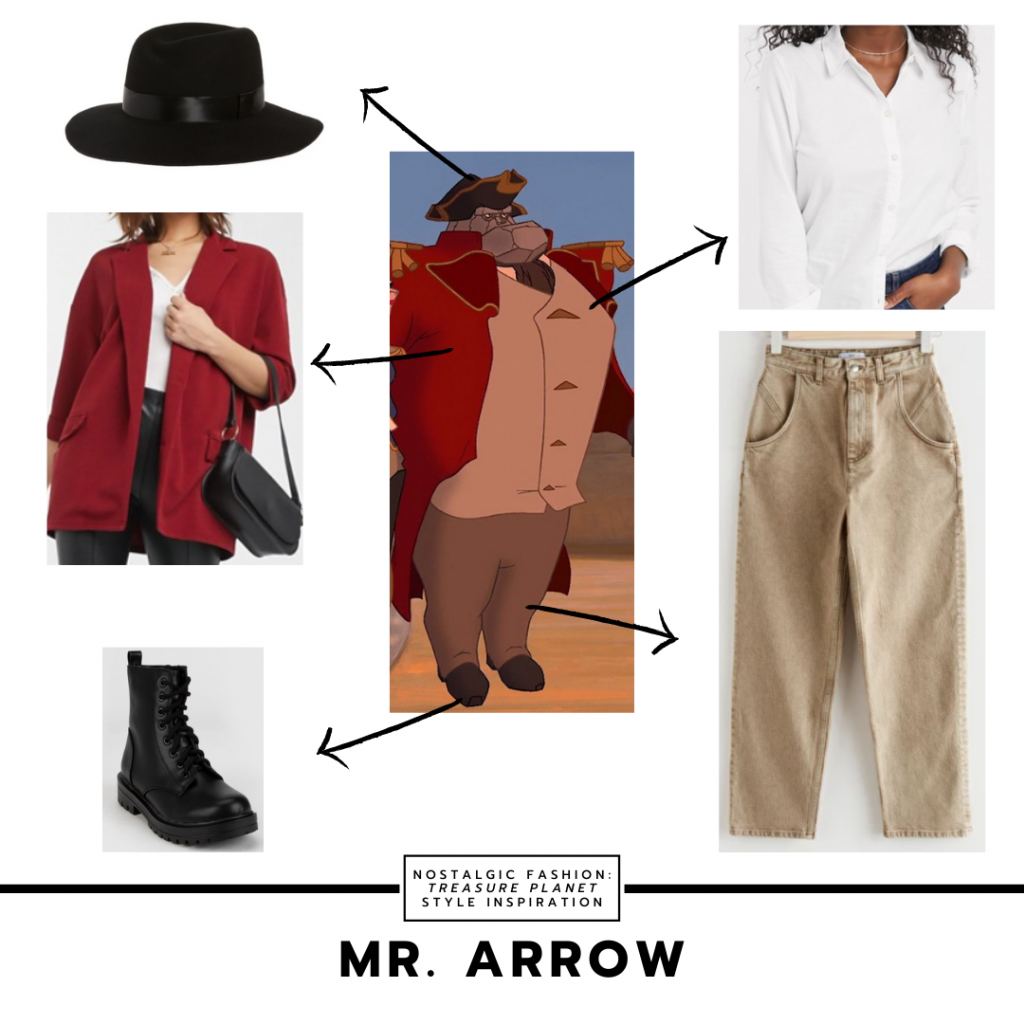 Similar items: Jeans, Top, Jacket, Boots, Hat
To create a look inspired by Mr. Arrow, remember to be both comfortable and polished. This can be accomplished with relaxed but classic items. Also, remember to make red your most prominent color.
Try creating a simple base with a white button up shirt and a pair of beige mom jeans. Layer it with a red loose jacket or blazer. A cardigan could also work, if that's what you have on hand. For shoes, use a pair of black combat boots. Finally, accessorize with a black wide brim hat.
What do you think?
Have you seen Treasure Planet? Do you like this film? Which outfit would you wear? Which character was your favorite? Do you have any movie recommendations? Let us know in the comments below!