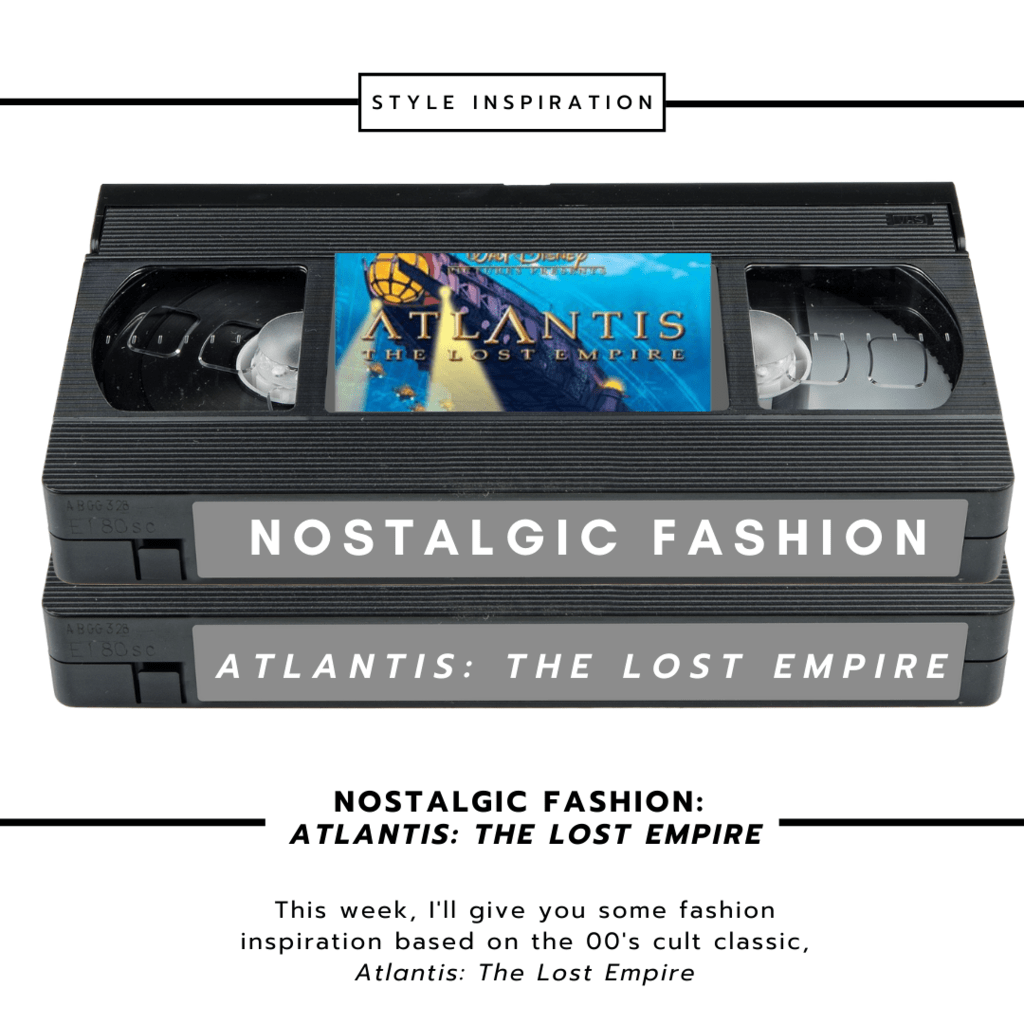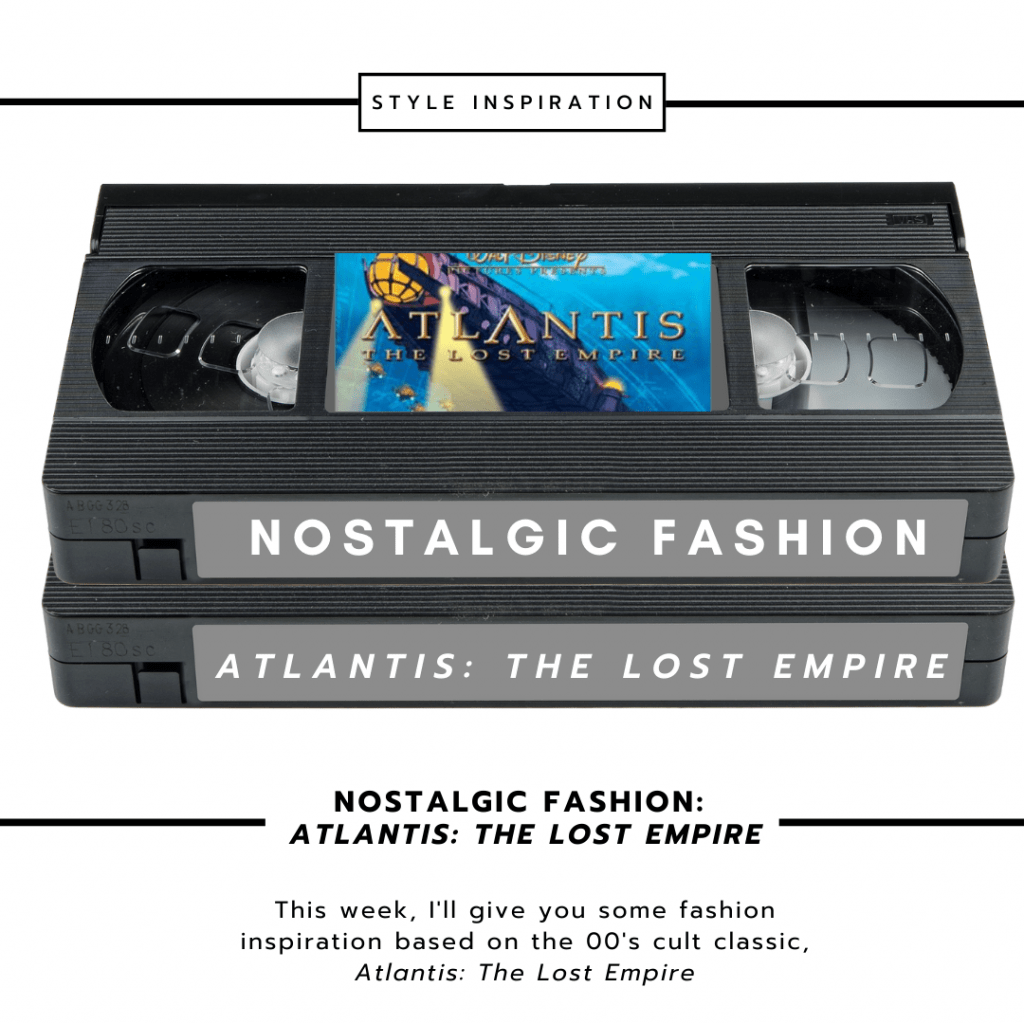 Over the past few months, I've been re-watching classic movies from my childhood and dressing like the characters.
From Disney, I've covered The Rescuers, Oliver & Company, 101 Dalmatians and Robin Hood. From other production companies, I've covered FernGully: The Last Rainforest, Thumbelina, The Swan Princess and Anastasia.
This week, I'm getting outfit inspo from one of the most underrated '00s Disney movies, Atlantis: The Lost Empire.
About Atlantis: The Lost Empire (2001)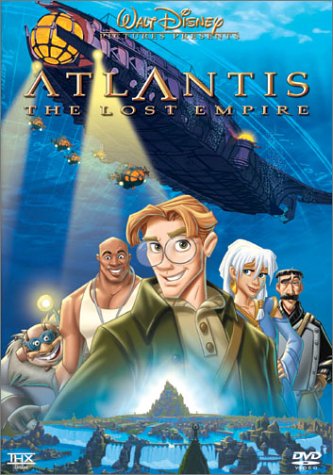 The 41st entry into the Disney Animated Canon, Atlantis: The Lost Empire premiered in 2001. With a star-studded cast including Michael J. Fox, Leonard Nimoy, and James Garner, Atlantis was Disney's attempt to appeal to an older audience.
Unfortunately, the film was a box office bomb and the first project in a set of dominos that cemented Disney's decision to steer away from action-oriented, darker-toned movies. (The film also has a Direct-to-Video sequel called Atlantis: Milo's Return.)
While it has its issues, Atlantis was also ahead of its time in many ways. In the early 2000s, this movie had a diverse cast, a dark-skinned female lead, and a non-toxic male protagonist who was a far cry from the male leads of the adventure genre at the time. All of this and an eclectic-yet-funny cast, has made this movie a cult classic.
A Quick Recap of Atlantis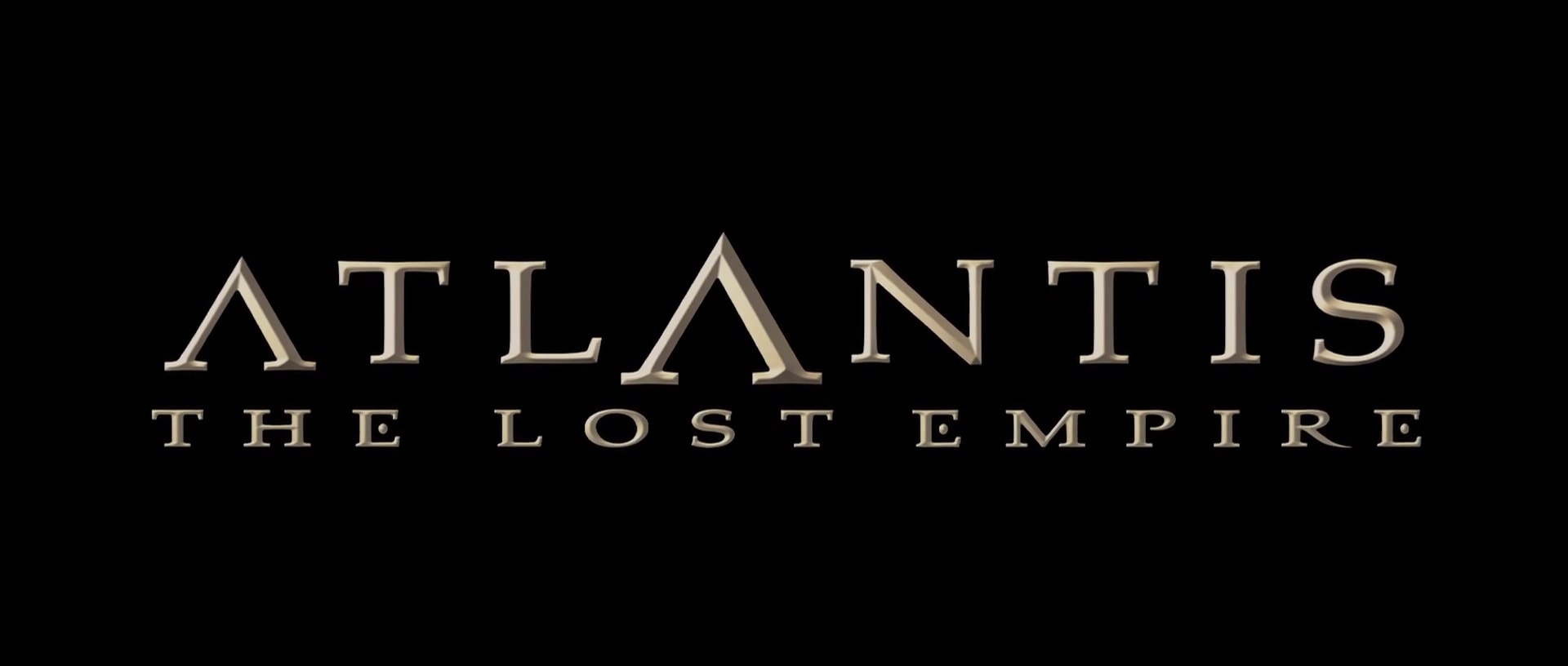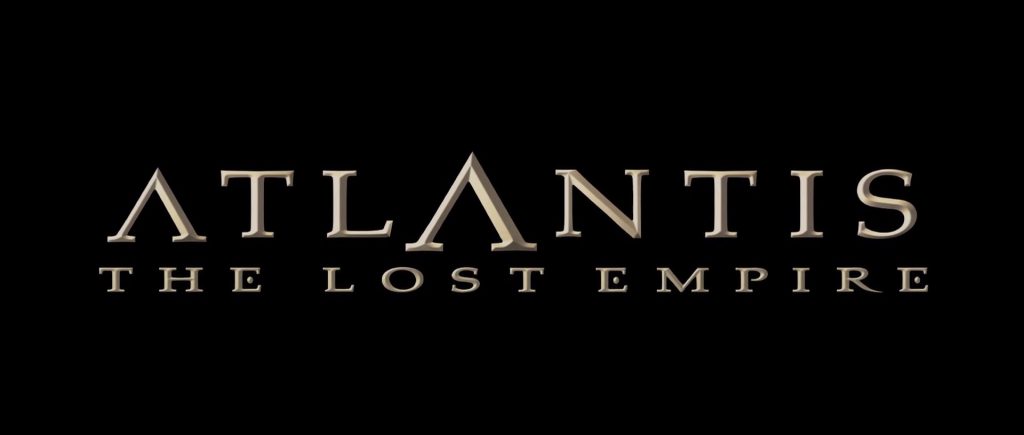 If you haven't seen Atlantis or need a quick refresh of the plot, here it is:
In 1914, Milo Thatch, grandson of the great Thaddeus Thatch, works at a museum investigating the lost city of Atlantis. Milo is sure that it is real and he needs the Shepard's Journal and funding to travel and investigate. The museum refuses his funding, believing Milo to be crazy.
Then, a mysterious woman leads Milo to Preston B. Whitmore, an old friend of his grandfather. Whitmore believes Milo's theory about Atlantis. He provides him with the Shepard's Journal, a submarine, and a crew to make his journey. With an enthusiastic Milo attempting to lead, they travel through the Atlantic Ocean in search of the lost empire.
Atlantis Outfits & Fashion Guide
Before I get into the characters, I have a disclaimer to make. I didn't choose Milo, the protagonist, for my Atlantis outfits.
One of the reasons is because his outfits are quite similar to both Helga's and Kida's looks. I though it would be too repetitive to create a look for him if I was including either of them.
Another reason is that this is the first movie that includes more than two female characters with enough screen time and personality to choose from. I decided it would be better to include them and leave Milo for another day.
1. Kida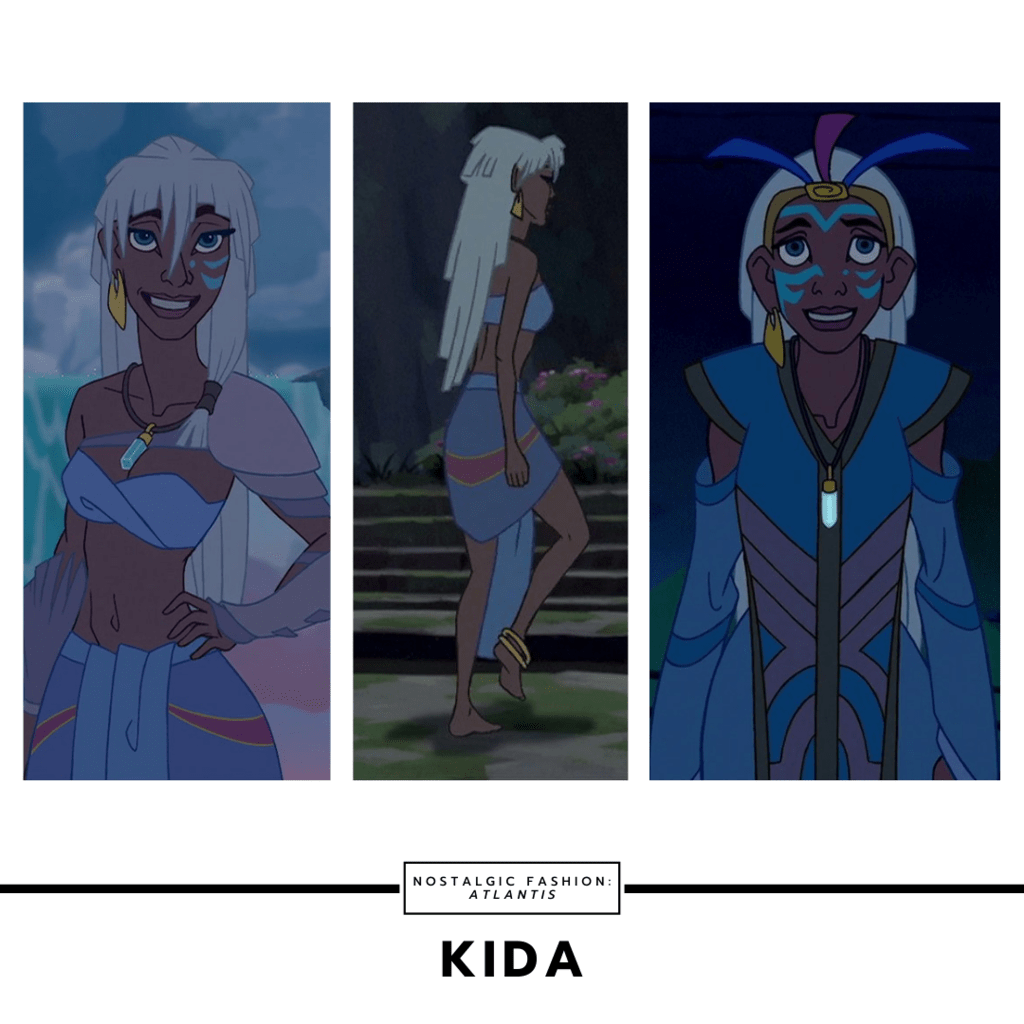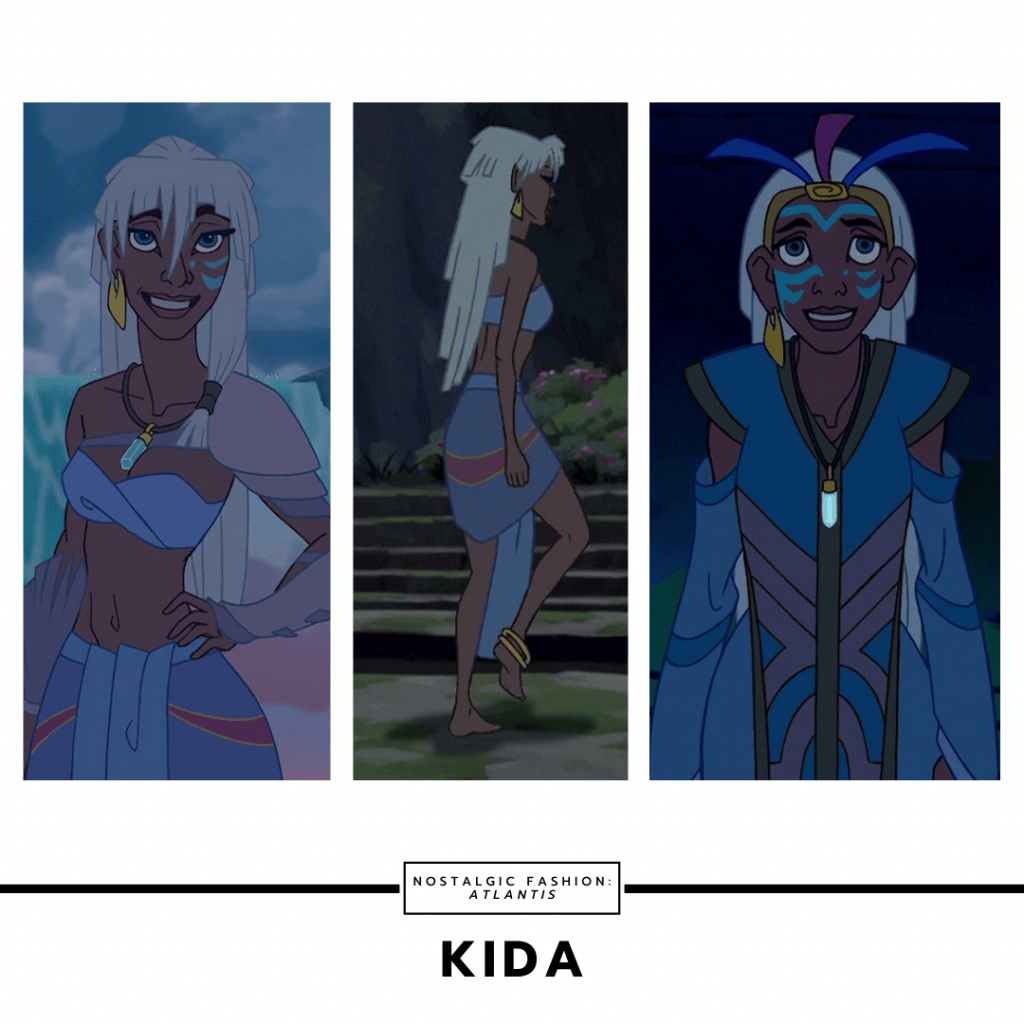 Kida is the female lead and the princess — and later queen — of Atlantis.
She is incredibly smart, a warrior, and, later, a fair leader. Kida is not afraid to say what's on her mind and to fight for her people.
Kida's fashion color scheme is pretty straightforward: she wears any and every shade of light blue, turquoise, and navy blue. This signals her intelligence, her attitude as a kind-hearted and just leader, and also her ruthlessness against the enemies of Atlantis.
Kida's Style Recreation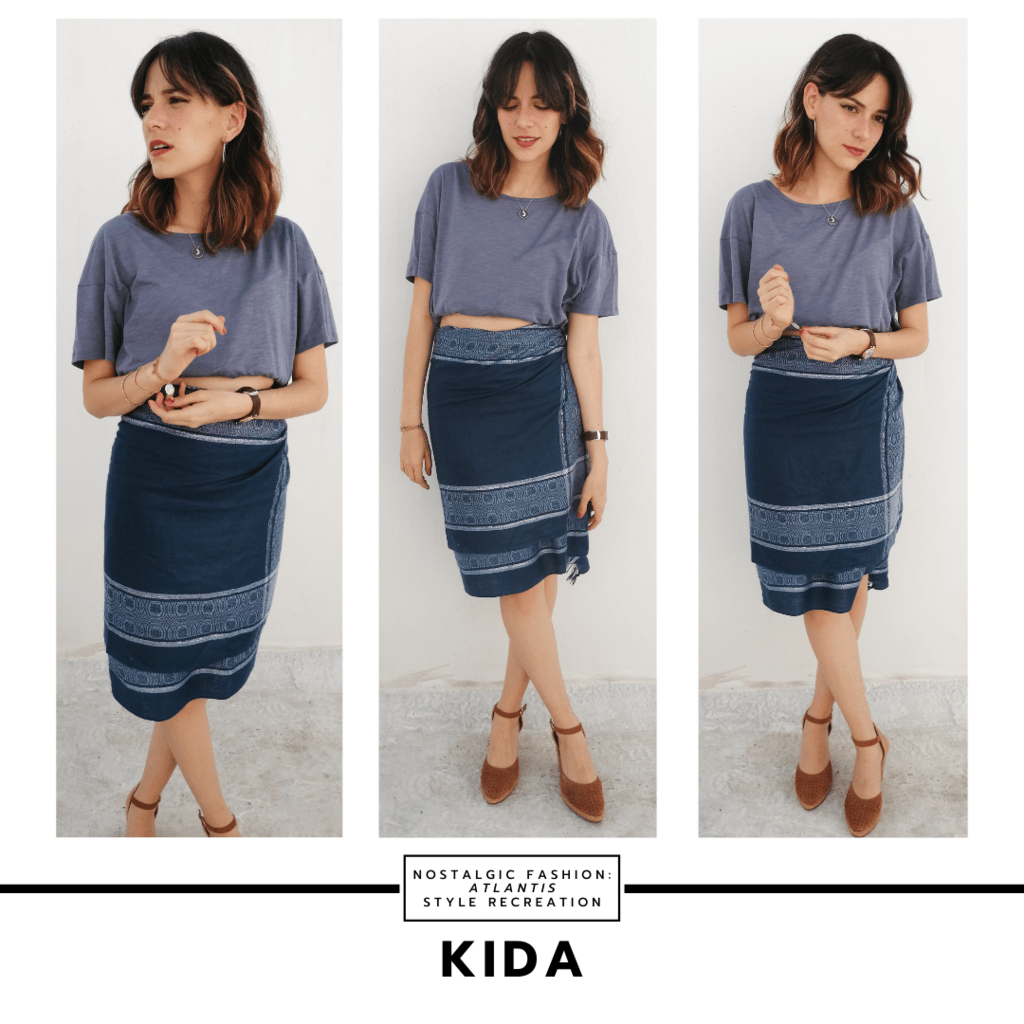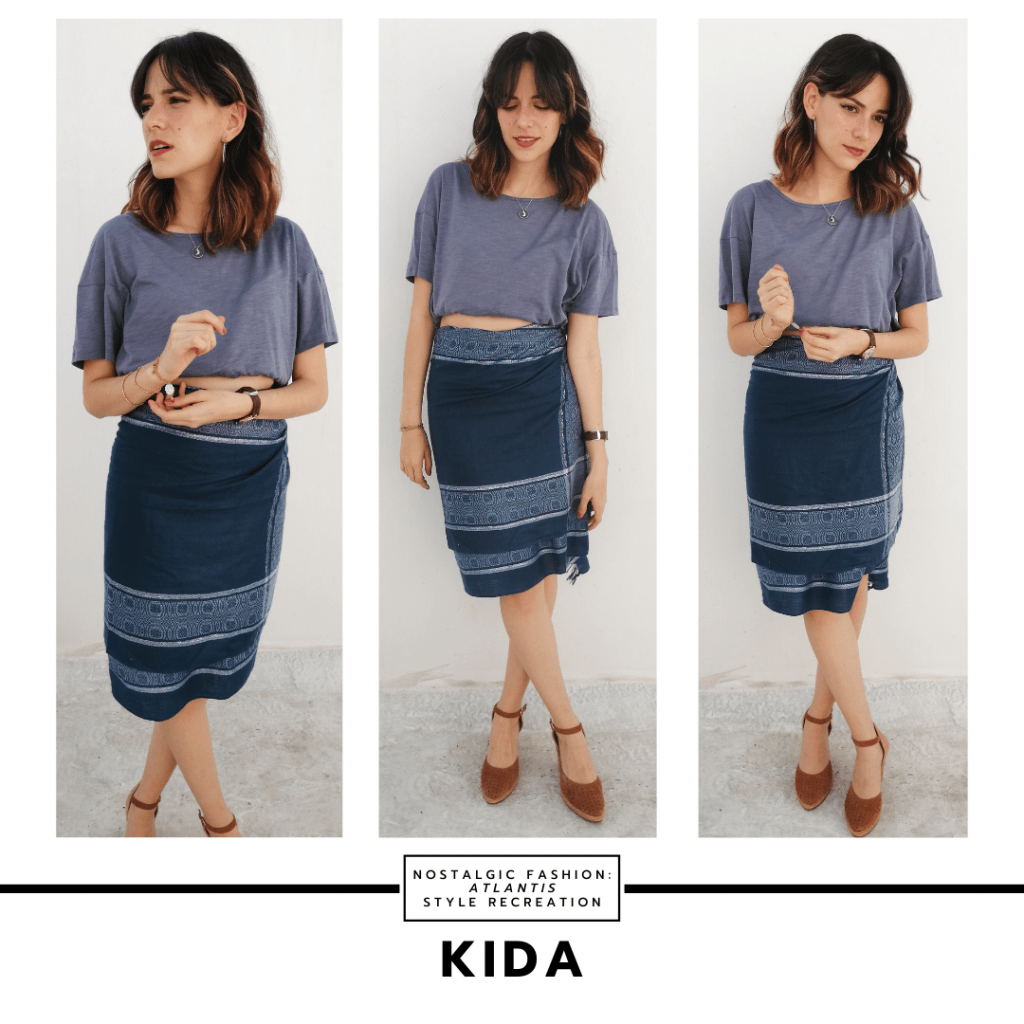 Obviously, I couldn't do an Atlantis outfits guide without Kida!
To recreate Kida's style, I had to rely on improvisation and imagination, a lot. I used a greyish blue shirt and cropped it by doing the bra tuck trick. Since I don't have a blue midi skirt or anything even remotely similar, I borrowed a dark blue and silver pashmina from my mom and wore it like a wrap midi skirt.
Kida is barefoot with only anklets for the entirety of the film, so I chose a pair of tan colored espadrilles with an ankle strap. Finally, for accessories, I chose a couple of golden bracelets, tied a golden necklace with a flower around my wrist like a bracelet, and wore a pair of silver hoops.
Kida's Atlantis Outfit Inspiration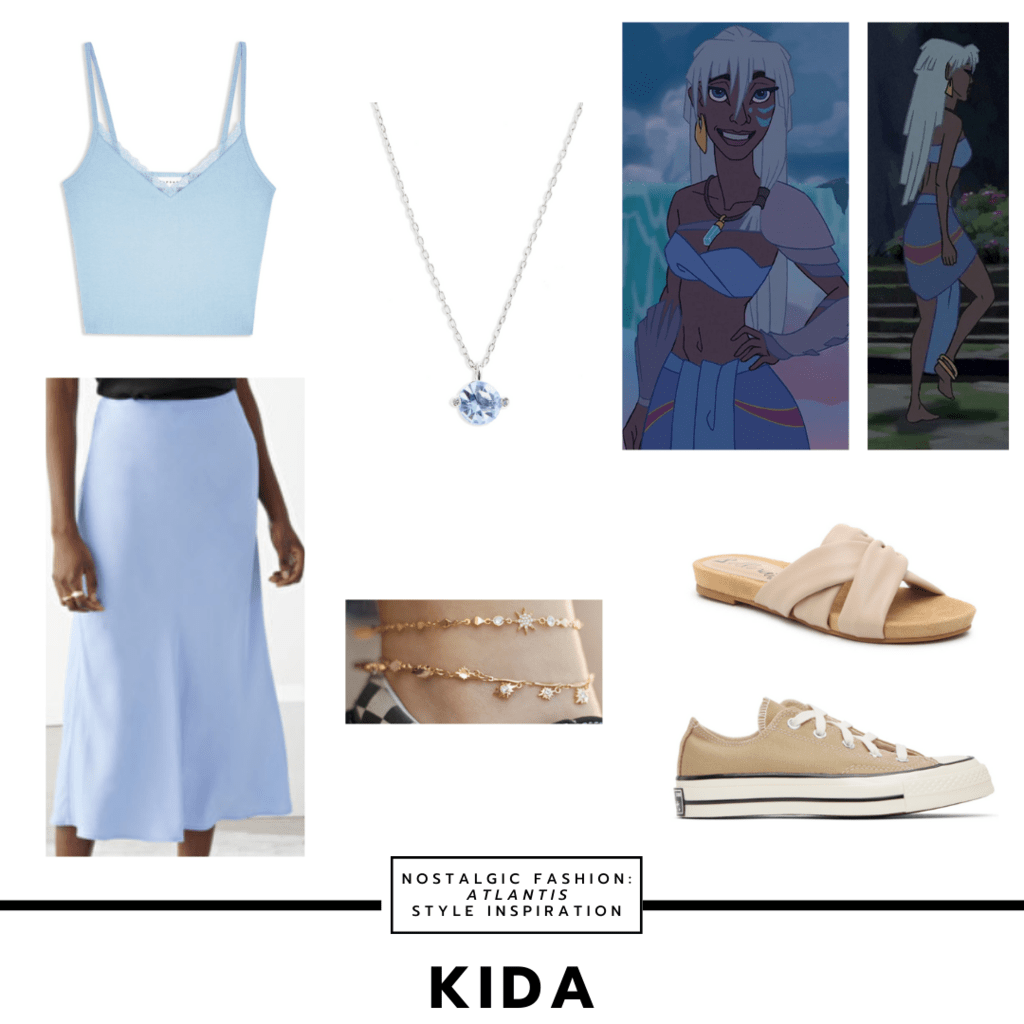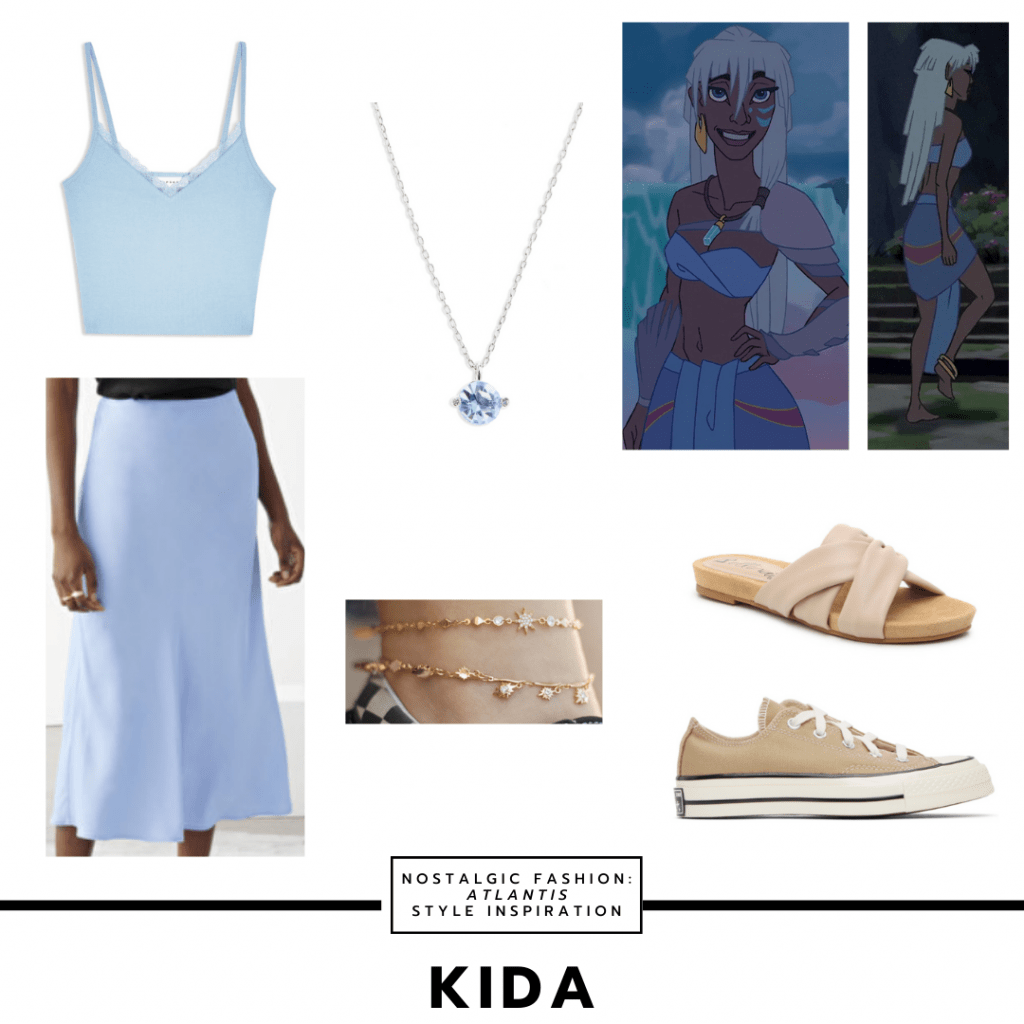 Products: Skirt, Top, Sandals, Sneakers, Anklet, Necklace
If you want to create a look based on Kida's style, try to keep a few things in mind: lots of shades of blue, light fabrics, flowy items, and accessories (especially anklets and bracelets) are key.
Try pairing a light blue midi skirt with a crop top in a similar shade of blue. For shoes, go for nude neutrals, either using sneakers or sandals, depending on what you prefer or the weather you're dressing for. Finally, accessorize with a necklace that has a blue pendant, like Kida's crystal, and a golden anklet.
2. Audrey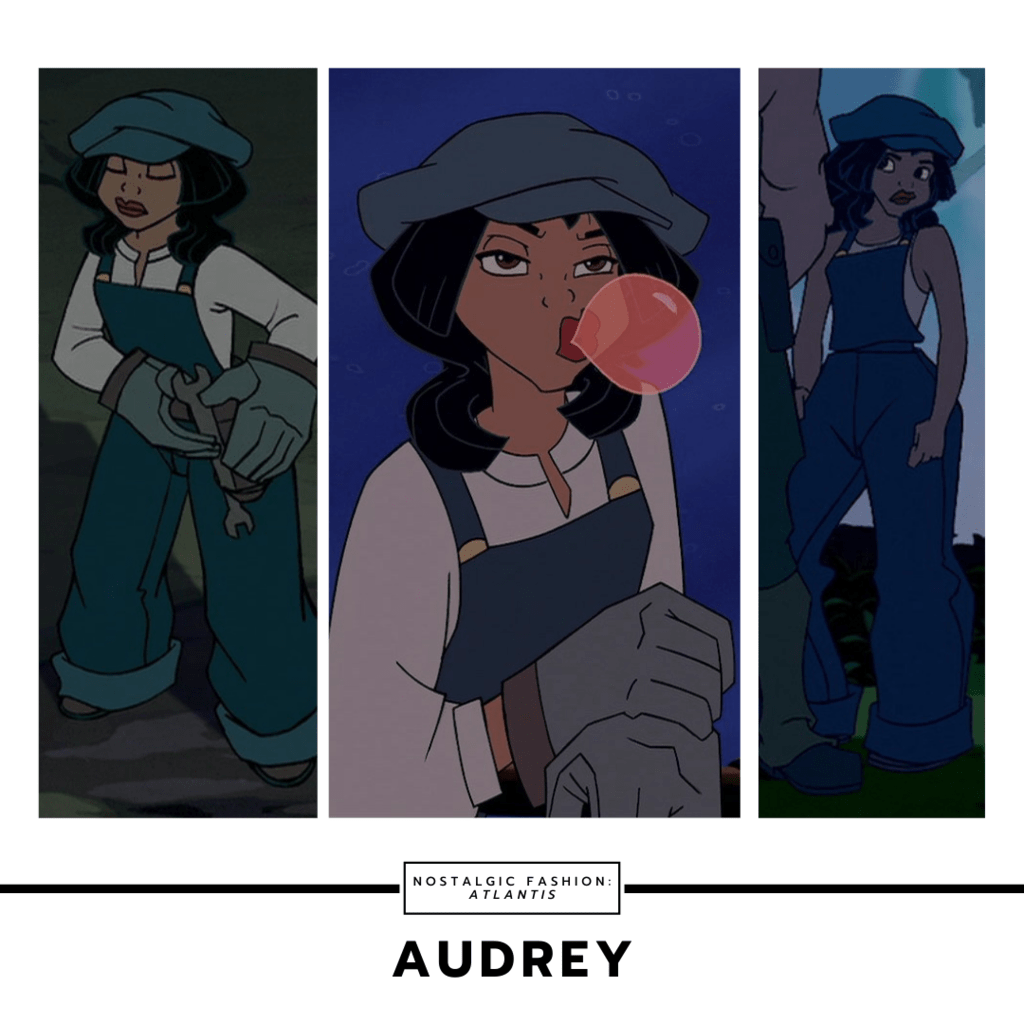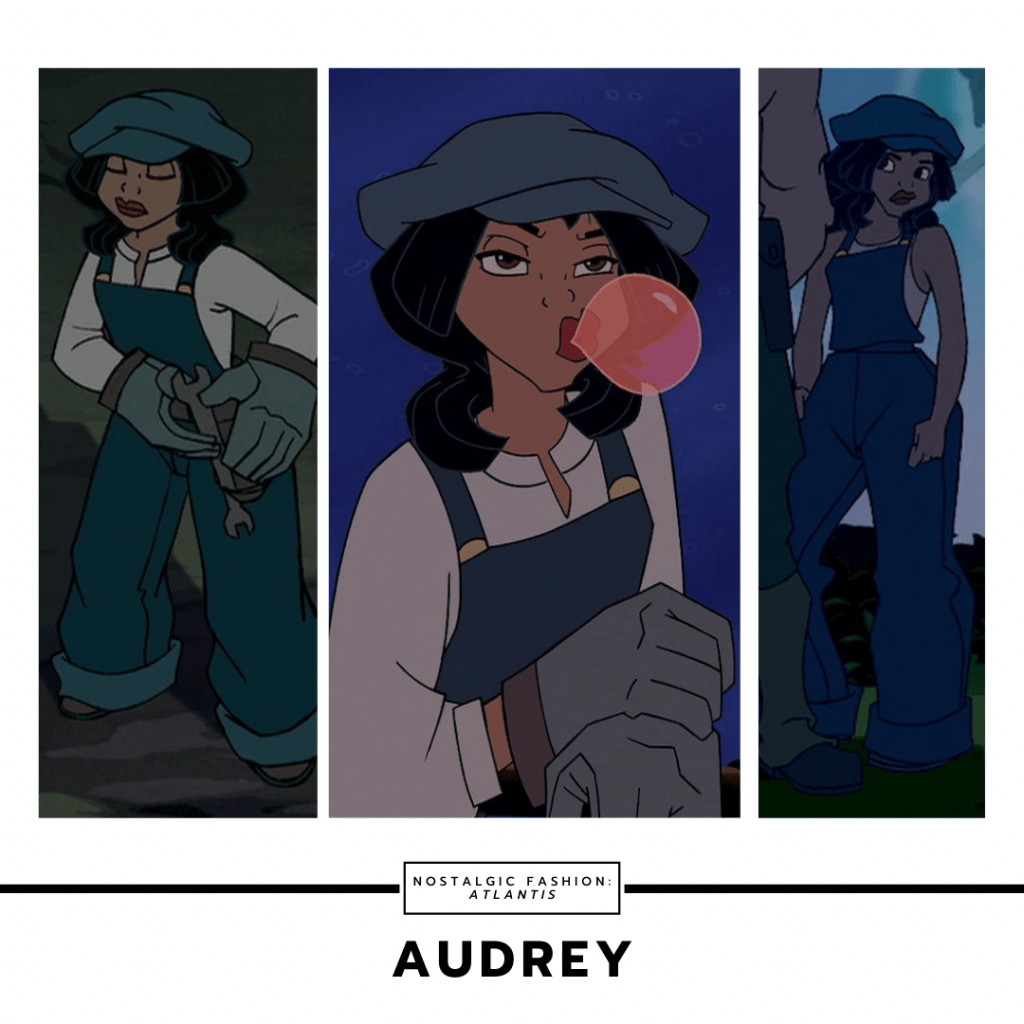 Audrey is the youngest crew member in the expedition. She is sarcastic and strong willed. Her father wanted to have two boys, a boxer and a mechanic, as a result her sister is a boxing champion and Audrey is a mechanical engineer.
Her outfit changes are minimal throughout the film. She only changes her shirt once, and her whole outfit changes only at the very, very end, when she is dressed up at Whitmore's house.
As a tomboy, her overall look is neutral and comfy. She's often seen in navy blue and white.
Audrey's Style Recreation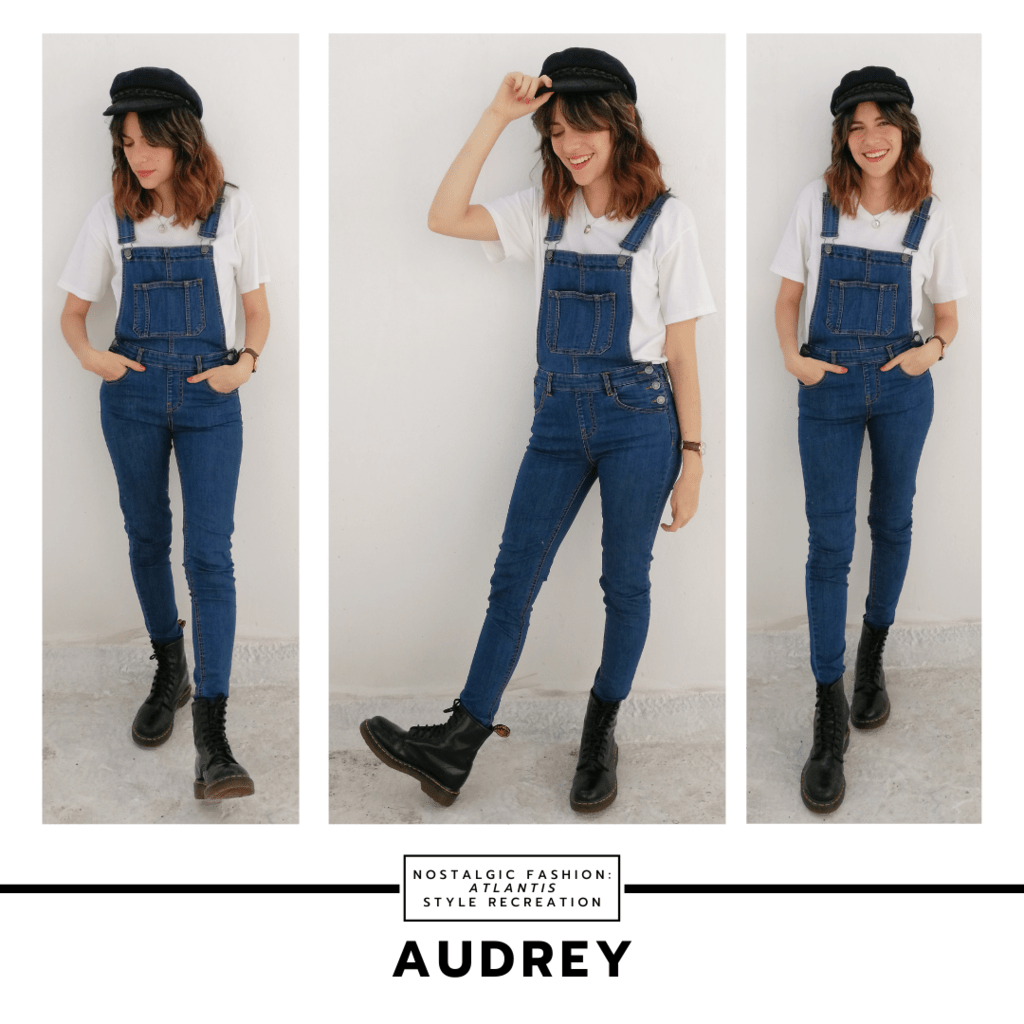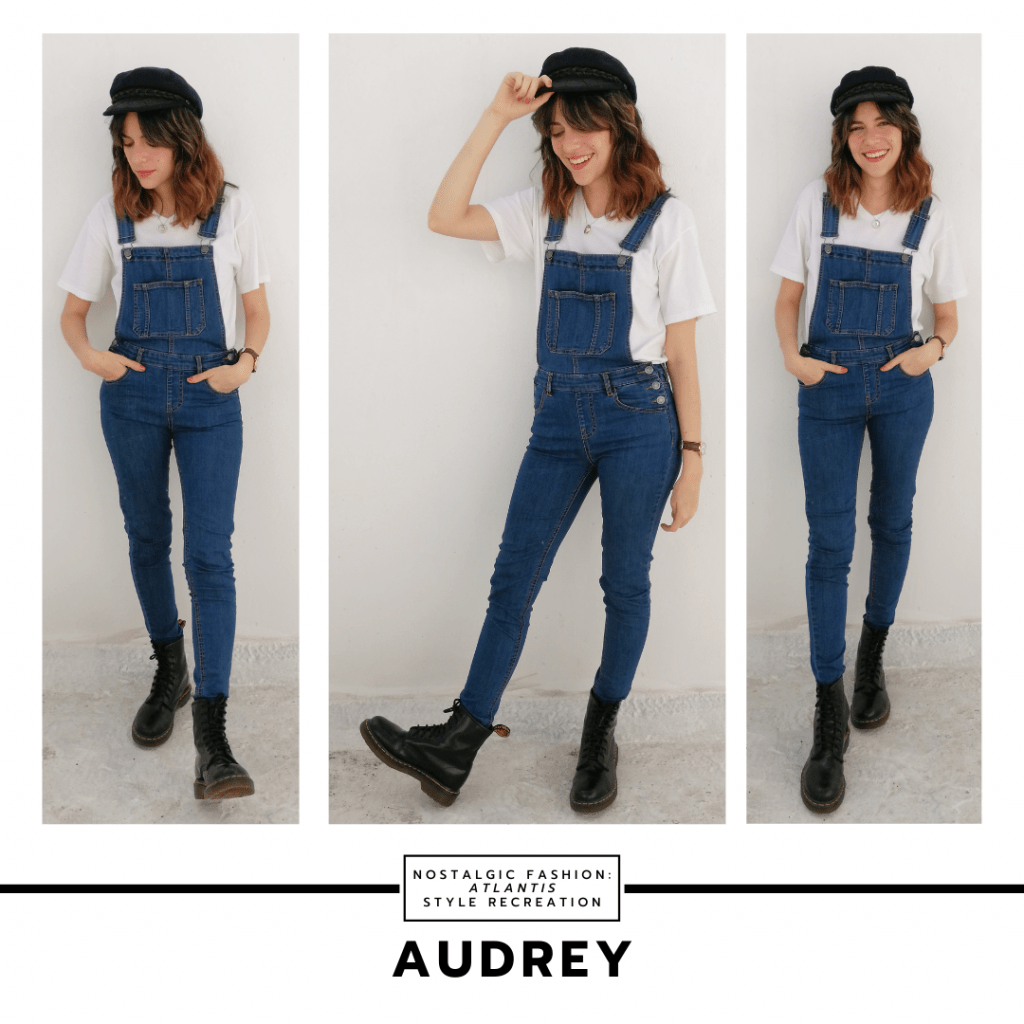 Recreating Audrey's style was easy, since there are only a couple of items you need. I paired a white t-shirt with denim overalls in a dark wash. For shoes, I wore my black Doc Martens, because they have a similar vibe to Audrey's boots.
Audrey's only accessories are a paperboy hat and sometimes a pair of black mechanic gloves. I decided to leave the gloves out and wore a navy blue paperboy hat.
Audrey's Atlantis Outfit Inspiration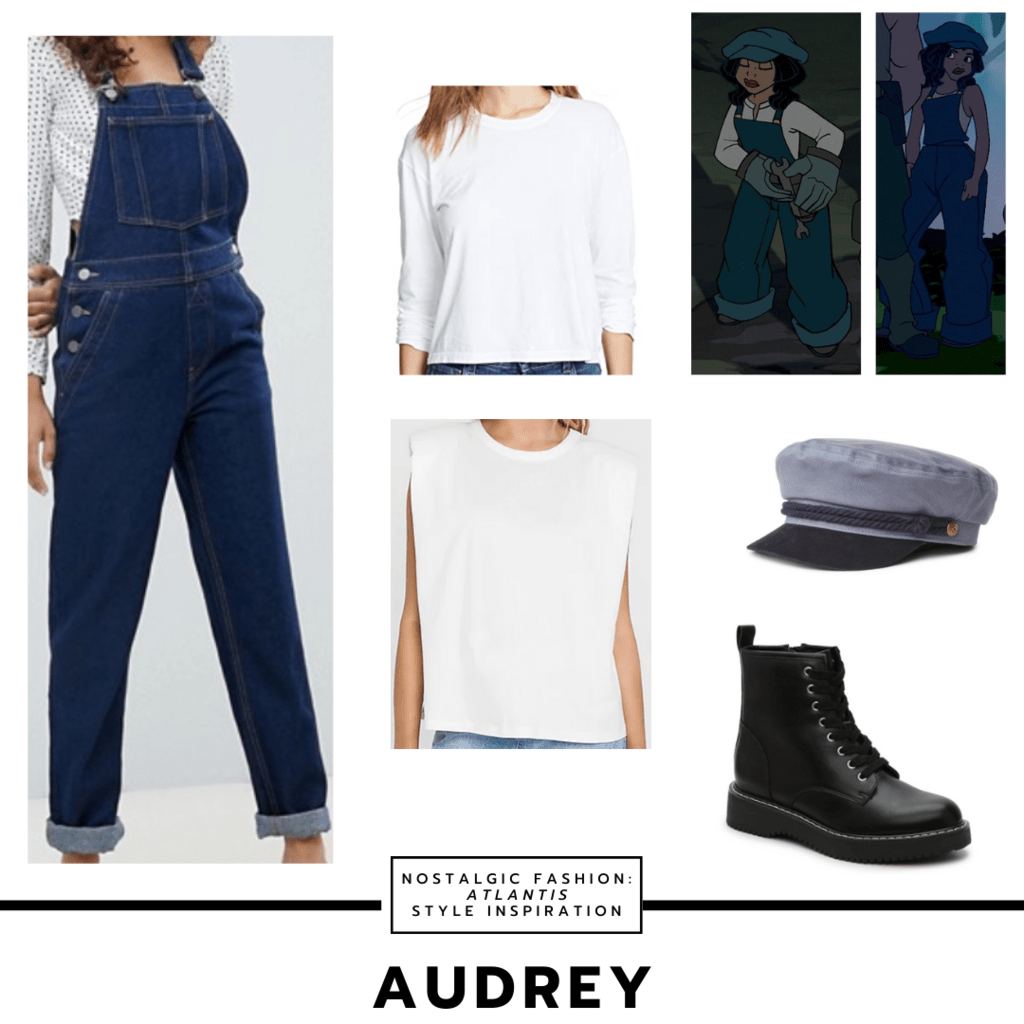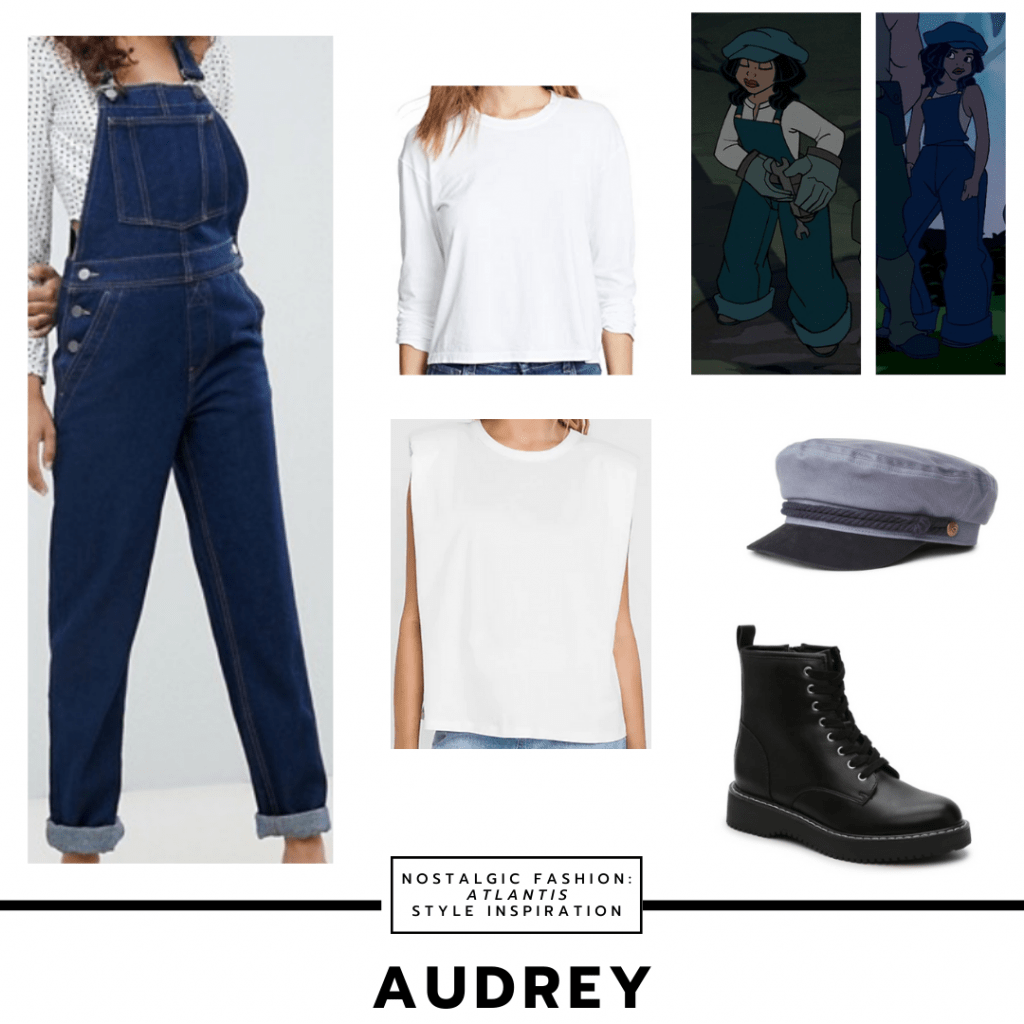 Products: Overalls, Sleeveless T-Shirt, Long Sleeved T-Shirt, Boots, Hat
Creating an outfit like Audrey's is really simple! And comfortable. There are just casual items involved, and you probably already have versions of them in your closet. Some of the elements to consider are denim, combat boots, and a hat.
Start with a pair of denim overalls in a dark wash. As a top, you can go with a white long-sleeved t-shirt or a white sleeveless t-shirt, depending on your own personal style. A pair of black combat boots are key for her style. Finish with a paperboy hat, which can be either blue or black.
3. Helga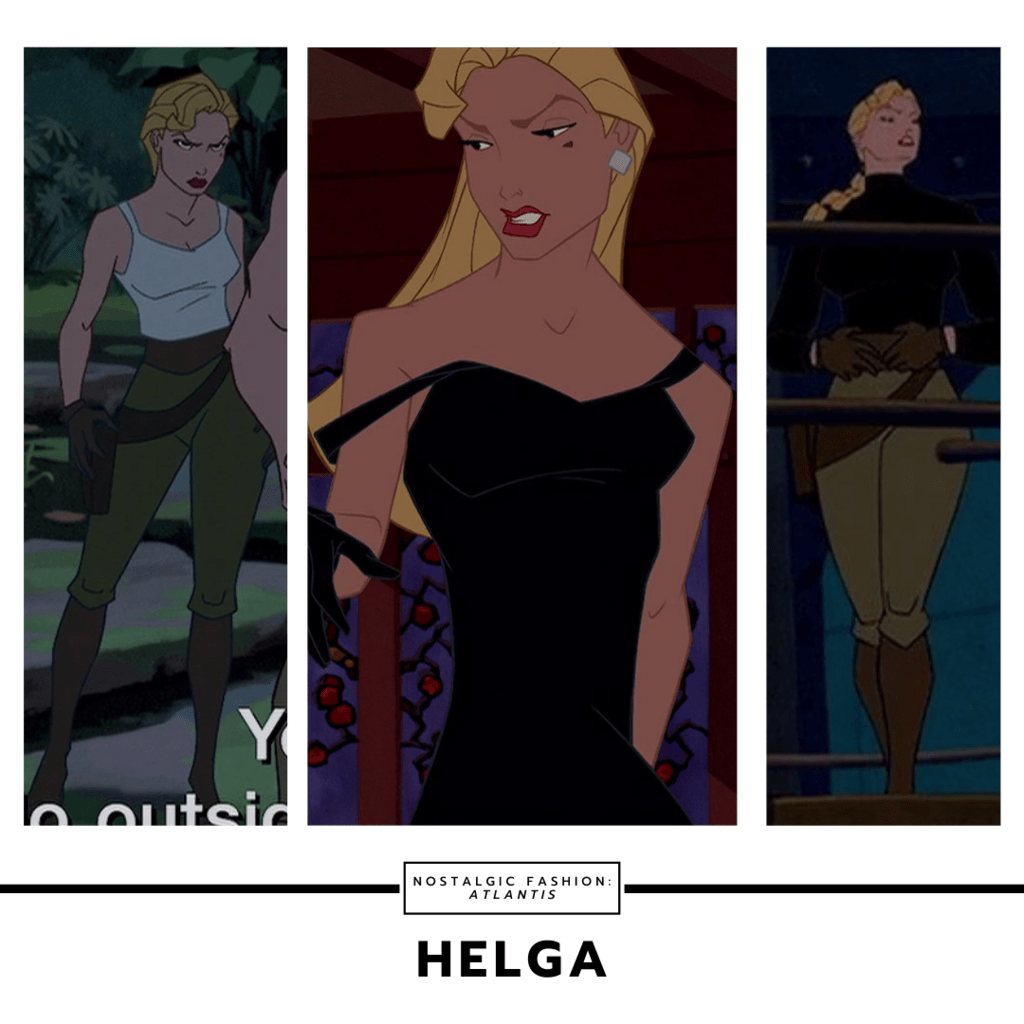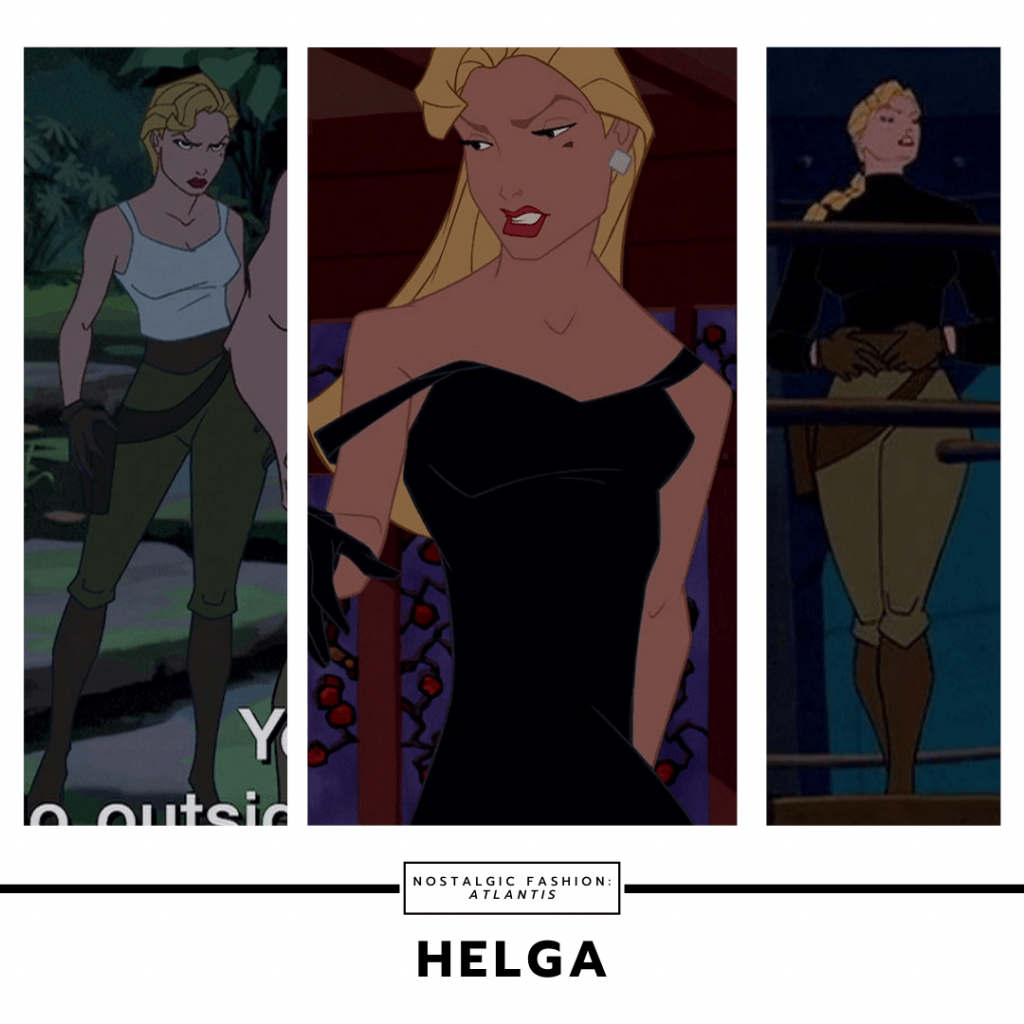 Lieutenant Helga is Commander Rourke's right hand. Helga is a ruthless mercenary and the only crew member 100% on board with the villain's plan. She is a woman who knows how to fight. In spite of being a femme fatale type of character, only her introductory scene shows her in anything remotely feminine, fashion-wise.
Her first scene has her in tight fitting black dress, but her main outfit is more military inspired and conservative. Her color scheme consists exclusively of military green, black, and white.
Helga's Style Recreation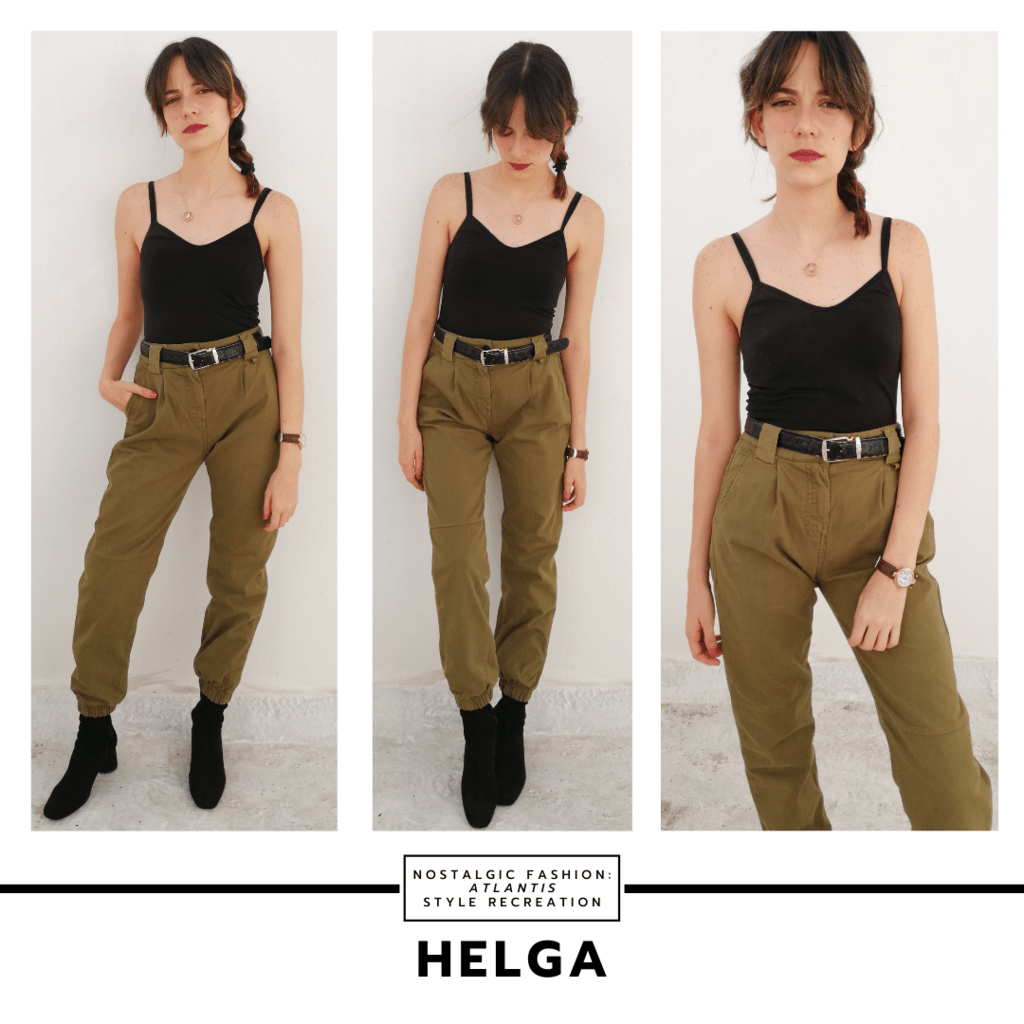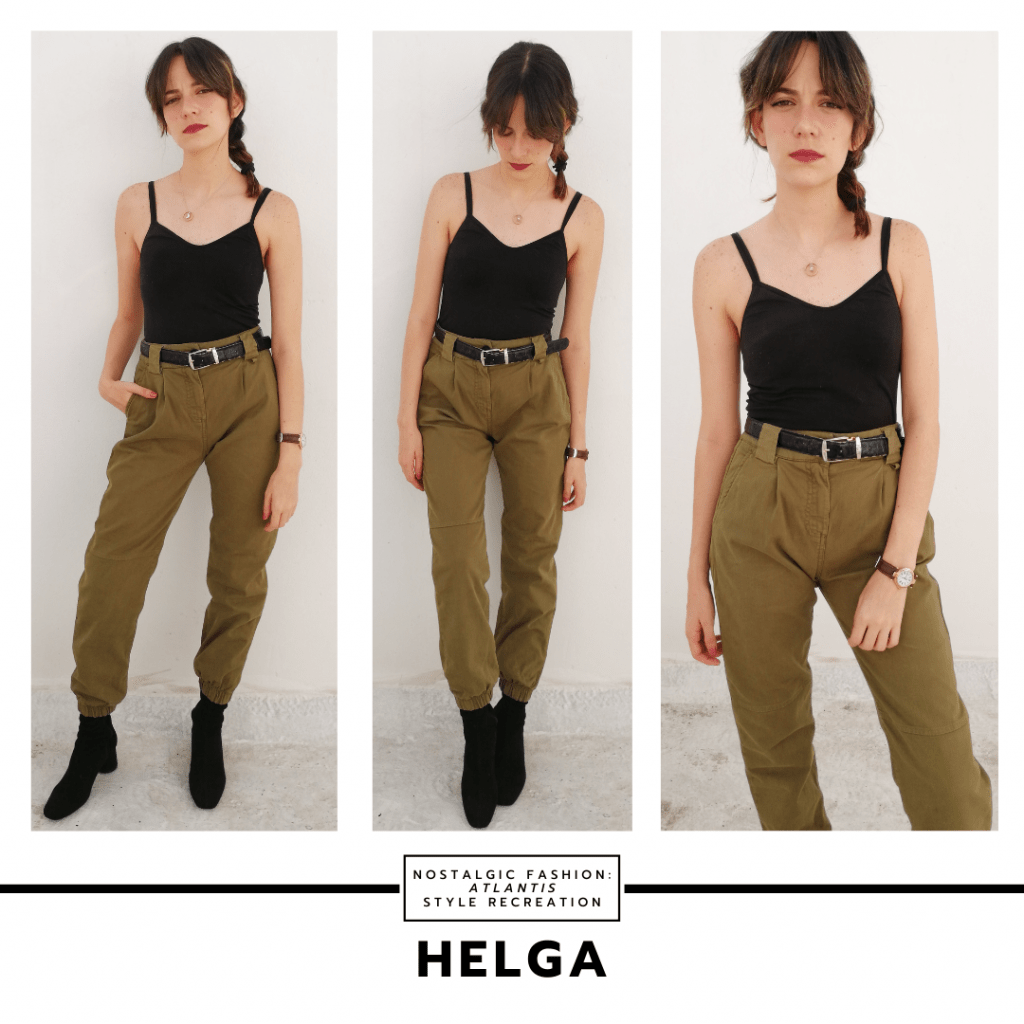 For my Helga outfit, I decided to do a mix between some of the looks she wears through the film, while keeping most closely to her lieutenant look.
For my top, I wore a black fitted camisole, to emulate Helga's strappy dress from her first scene. It also references the first version of her military outfit, since she wears a black top.
On the bottom, I wore my army green pants with a black belt.
For shoes, I wanted a pair that looked slick and chic, like Helga's. As a result, I wore my black over the knee boots under my pants to make them look like sock boots. I also put my hair in a side braid, because that's Helga's go-to hairstyle throughout the film.
Helga's Atlantis Outfit Inspiration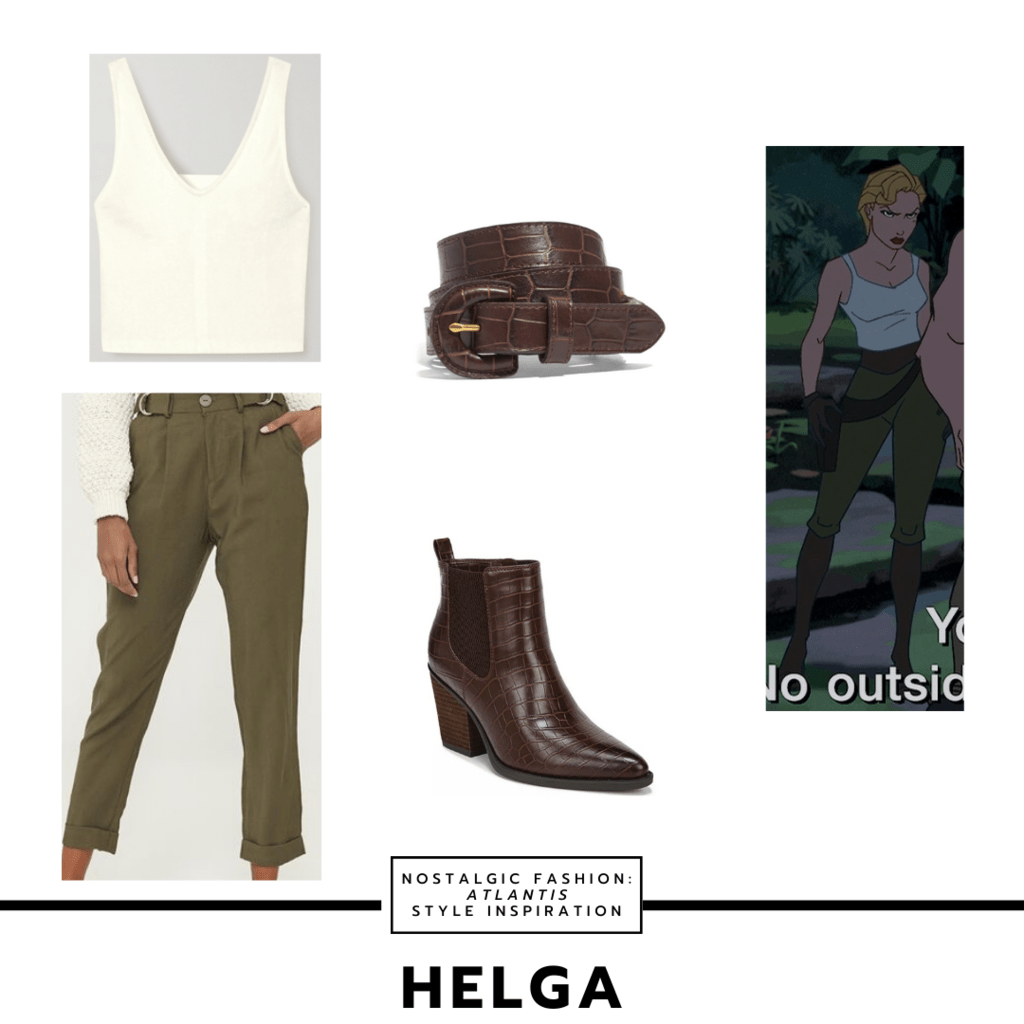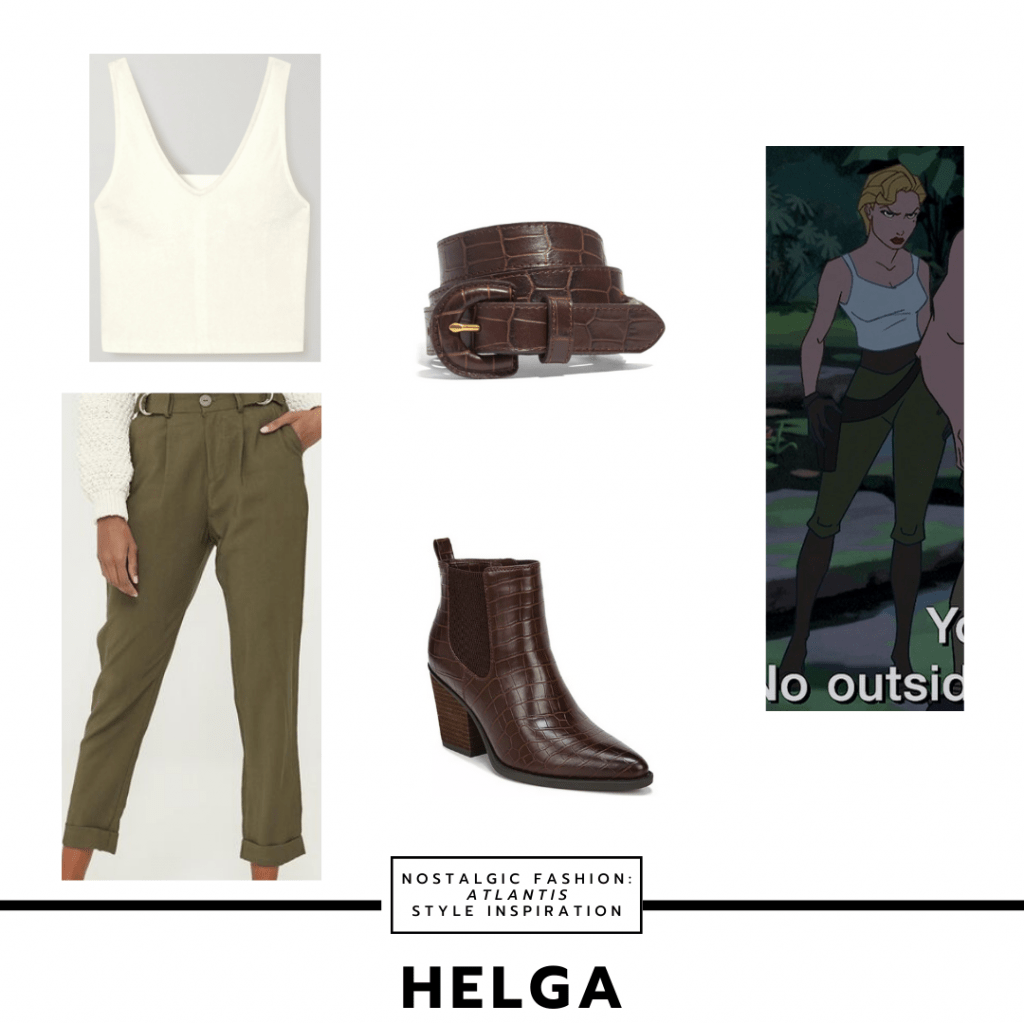 Products: Top, Pants, Boots, Belt
It's really easy to create a look based on Helga's style. Like I mentioned before, there are three key colors she wears: military green, off-white, and black. Her boots are brown, but overall, neutrals are her signature. Comfortable pants and fitted tops are your best options, shape-wise.
Try wearing a pair of green loose pants with an off-white, cropped tank top. This top has a deep V-neck, to emulate her femme fatale vibes. For shoes, go for a pair of brown heeled booties. Finally, accessorize with a brown belt to tie in with the booties.
What do you think of our Atlantis outfits guide?
Have you seen Atlantis? Which character is your favorite? Which outfit would you wear? Do you have any movie you'd like me to cover? Let us know in the comments below!